Sweetcorn Relish is my absolute favourite burger topping, making it at home means none of the gloopy nonsense this is bright & zingy.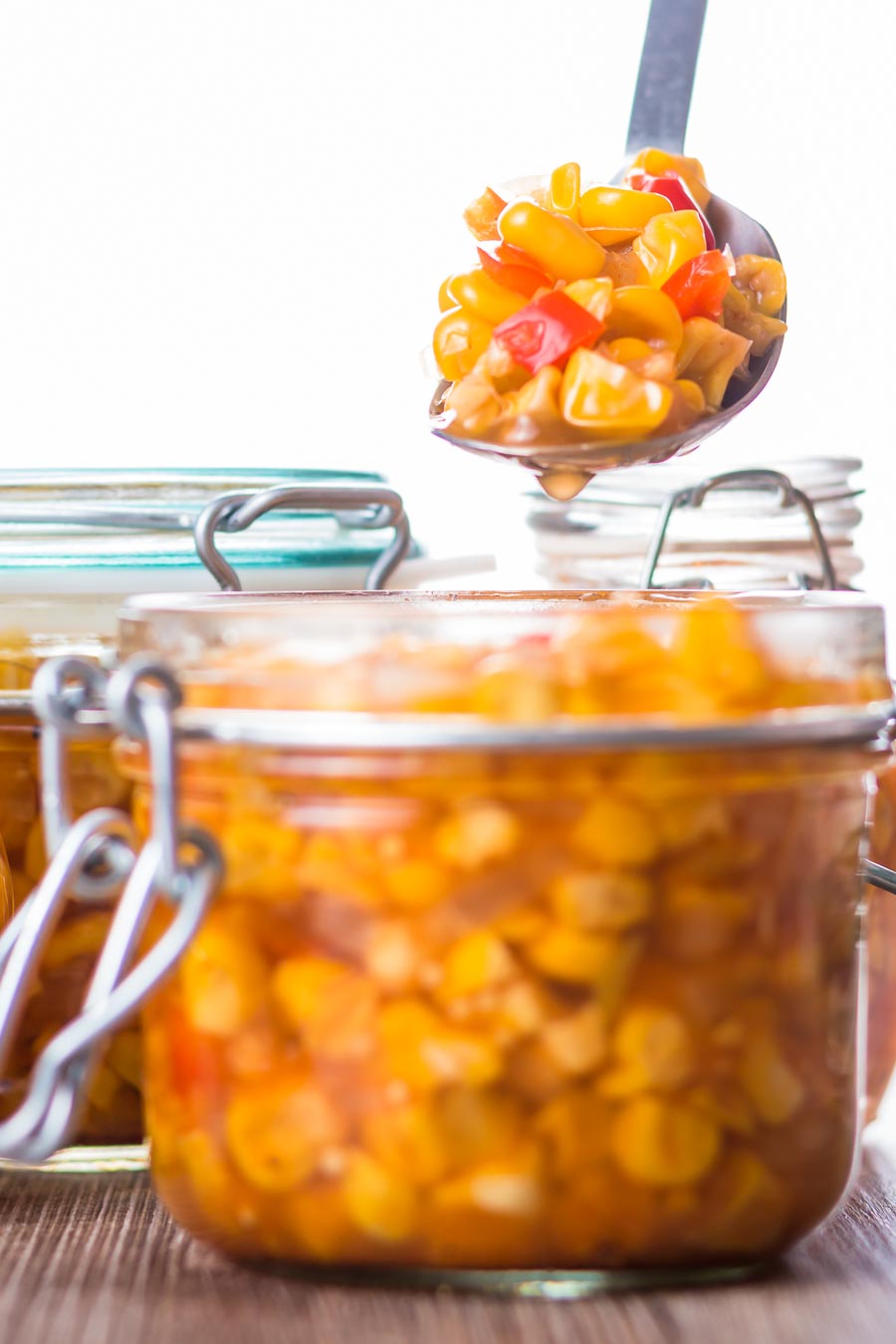 The Ultimate Burger Topping!
Sweet corn Relish really is my favourite thing to have on a beef burger.
Because our sweetcorn crop has done particularly well this year we have plenty to make up a batch of this zingy and bright little relish.
I have to confess to being a bit prudish about the stuff you buy in jars. It seems to have a gloopy horrible texture that reminds me of frog spawn.
As a result, I have reverted to my pickling roots and make it with a vibrant cider vinegar pickle. I add loads of mustard seeds, black pepper and of course chilli which you could leave out.
In many ways, this relish is similar to my pickled chilli recipe!
I love preserving our produce and there are a few recipes knocking around on my site.
Everything from passata and a lovely chili jam feature alongside this recipe.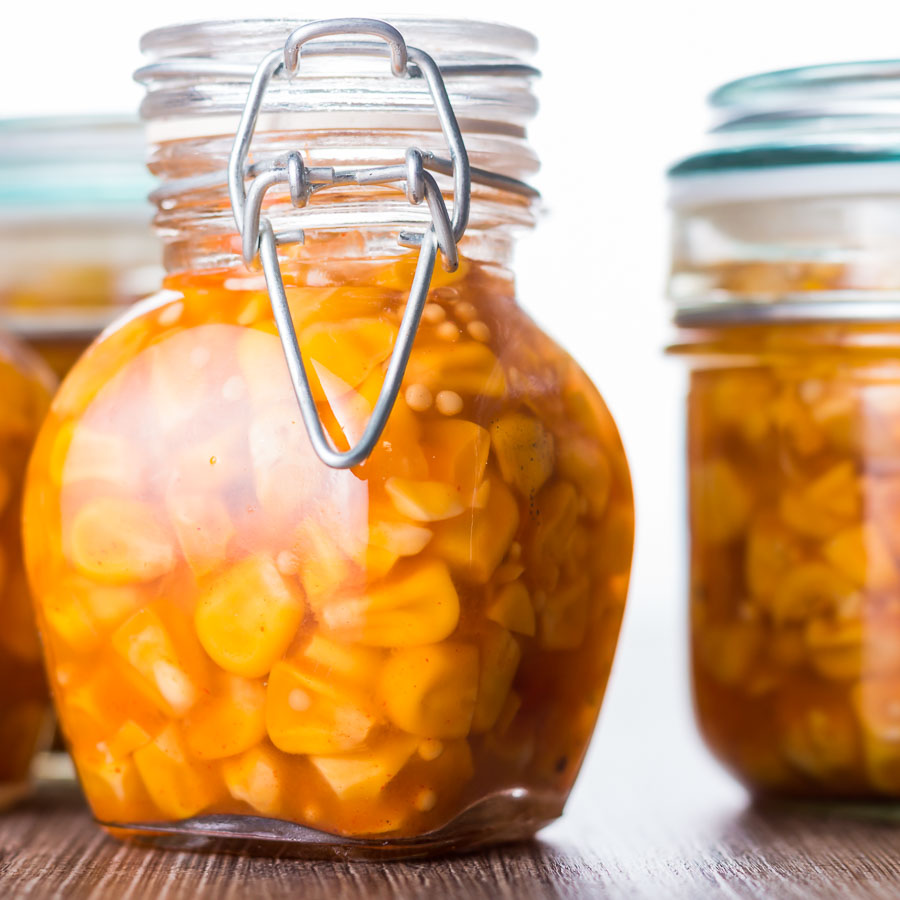 Growing Sweetcorn.
For some strange reason, we had struggled with growing sweetcorn for years. Disappointing as we are surrounded by thousands of hectares of land filled with the stuff.
I have always put it down to the fact that we garden "organically" and don't spray with whatever the local commercial growers do. However, it would seem that we were planting out too early.
This year we delayed planting for a few weeks and they have done wonderfully well.
So much so that there will be more recipes heading your way before the season ends. Naturally, a much larger batch of this Sweetcorn relish making sure it lasts through to next season.
Usually, my cooking instructions for sweetcorn are very simple:
Take a slow stroll up the garden.
Harvest corn.
Run back a quick dunk in boiling water.
Liberally apply butter and black pepper.
However, having so much of it means I can make all of the things I miss out on most years. I guess I am bit strange but I hate buying vegetables.
When you have spent months cultivating produce then it feels very wrong to pop out and buy something off the shelf no matter how much you like it!
As a result, I am overjoyed this year to have enough to make sweetcorn chutney and a host of different chowders and soups.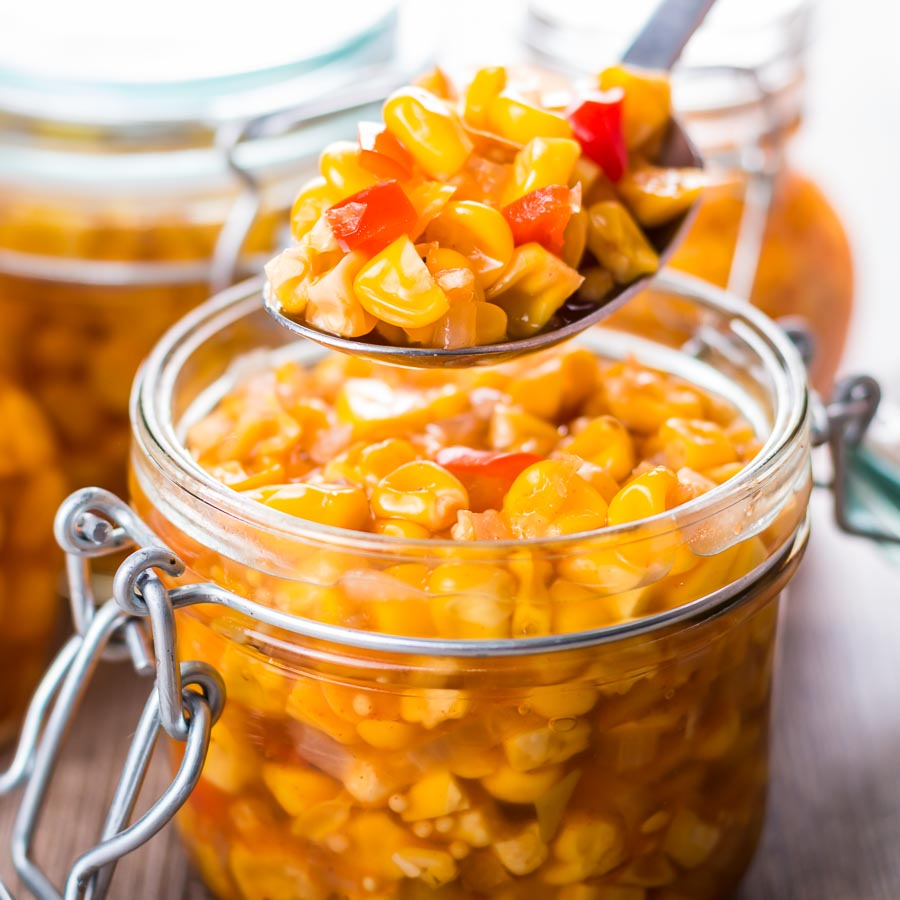 How To Preserve This Relish?
I will not go too much into the canning process as there is so much information out there. Some of which verges on the 'if you don't do this you will die' approach.
However, we have been canning produce since we moved to Hungary in 2008 and have never had a bad batch of anything.
I initially thoroughly wash jars and new lids. Then I scorch in boiling hot water and transfer into a very low oven at 100°C. Leave them there for at least 30 minutes although it is typically and hour.
Finally, I ensure the pickle or chutney I place in them is at a rolling boil before transferring into the jars and sealing immediately.
The sound of the lids popping is a joyous wonder that I never tire of.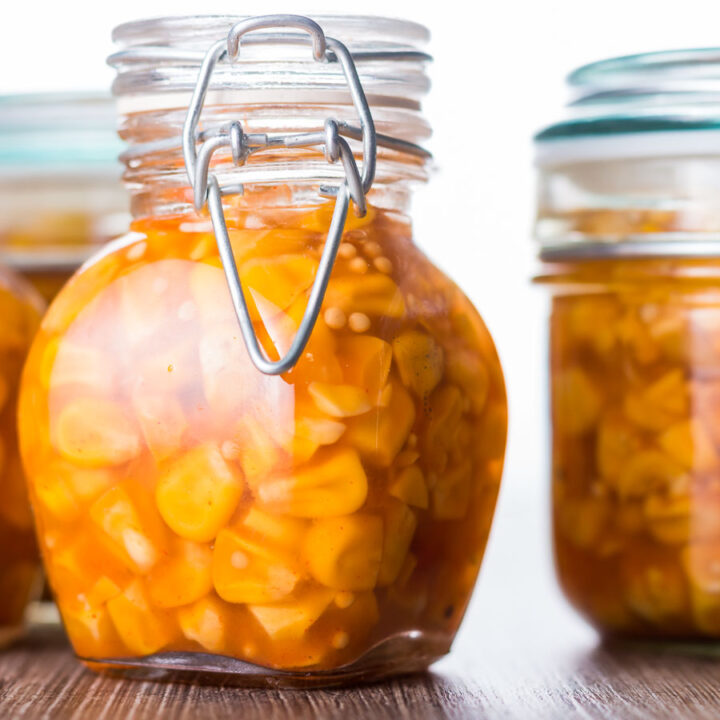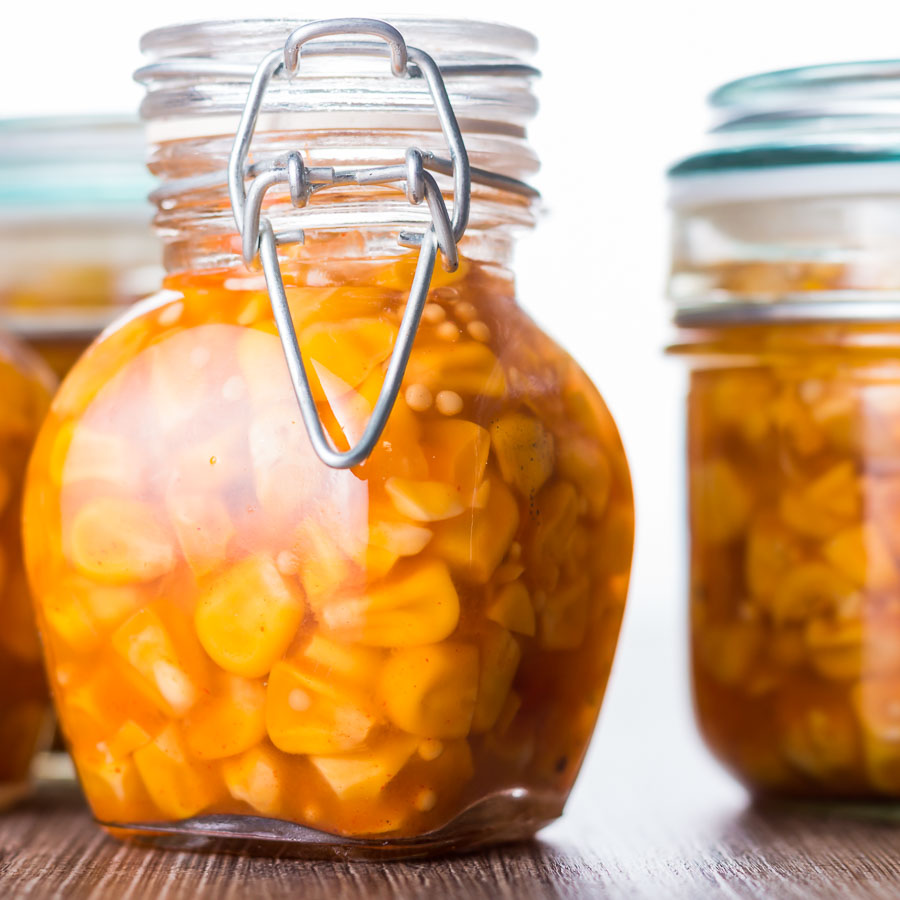 Yield:

Lots
Fecipe for Sweetcorn Relish
Sweetcorn Relish is my absolute favourite burger topping (although never alone), making it at home means none of the gloopy nonsense this is bright & zingy.
Ingredients
700 g Sweetcorn
100 g Onion, Finely diced
100 g Hungarian Hot Wax Pepper, If not available use 100g sweet bell pepper and four finely diced chili pepper
100 g Brown Sugar
2 Tsp Sea Salt
3 Tsp Yellow Mustard Seeds
1 Tsp Sweet Paprika
1 Tsp Black Pepper
250 ml Cider Vinegar
500 ml Water
Instructions
Prepare the corn, pepper and onion trying to chop the pepper to roughly the same size as a kernel of sweetcorn
Add all of the remaining ingredients into a large pan with the vegetables and bring to a boil
When the liquid comes to a boil reduce the temperature and simmer for 10 minutes
Then can to your preference, I have added my method in the description to the left
Notes
This recipe will fill 2 600ml jars.
The calorific value of this recipe is for the full amount.
Nutrition Information:
Yield:
1
Serving Size:
1
Amount Per Serving:
Calories:

1522
Total Fat:

16g
Saturated Fat:

3g
Trans Fat:

0g
Unsaturated Fat:

10g
Cholesterol:

0mg
Sodium:

4927mg
Carbohydrates:

348g
Fiber:

49g
Sugar:

148g
Protein:

41g
Calorific details are provided by a third-party application and are to be used as indicative figures only.