Corn is not just for butter, this 'Mexican' style corn and tomato soup or broth carries a nice kick of chili along with Cumin, Coriander and Oregano.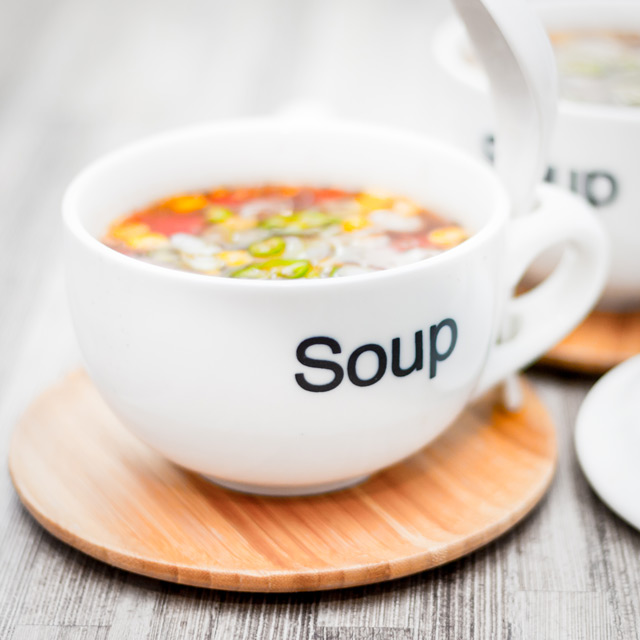 Corn soup tends to come in the form of a chowder and whilst that is delicious I am still stuffed after spending 10 days eating out in Hungarian Restaurants with their very generous portions and hearty food style. I do seem to be on a brothy soup fest at the moment, this Mexican style tomato and corn soup comes hot on the heels of a Chinese inspired Hoisin Chicken Noodle soup that was equally as delicious!
Genuinely I'm not sure why I think this is 'Mexican' in style, the flavours in the spicing remind me so much of Mexican food. I would have added loads of fresh coriander but as our crop failed this year I went with coriander seeds infused in the broth instead.
Infusing a stock after you have made it works really well, as you can see from my recipes I am fond of a whole host of cuisines so when I am making up my stocks I keep them fairly plain and simple. I later add in either herbs or spices later and let them sit for 5-10 minutes.
It's just like making a cup of tea and means that I don't have to make up a whole range of stocks, they can just be flavoured later. It also means I don't have to hunt around our very disorganised freezers to find what I am looking for!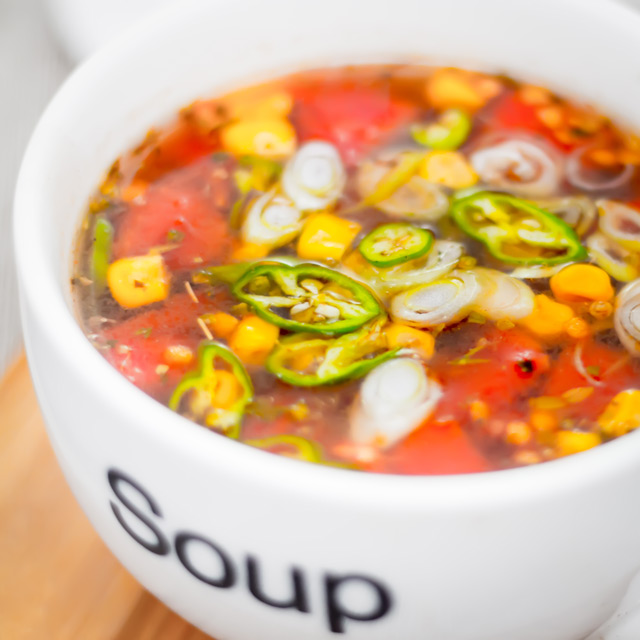 The great thing about this corn soup is it is quick and simple but also packs big bold flavours, it also comes with the wee bonus that pretty much everything comes from my garden. So for me it is incredibly frugal too.
I usually like to keep my sweetcorn simple, I like it as fresh as it can be quickly boiled and then oodles of butter and pepper, then just a little twist of salt and I am happy. However this year our sweetcorn crop has been superb so I have a little to play around with.
It has been a very good year on crops this year all the way around with just a couple of failures, that unfortunately means that we do have a whole load of work to do before the garden becomes unworkable at the end of October. It is our first year growing squashes and I am excited to see some that are very nearly ready to harvest so expect some squash recipes to head your way in the coming weeks.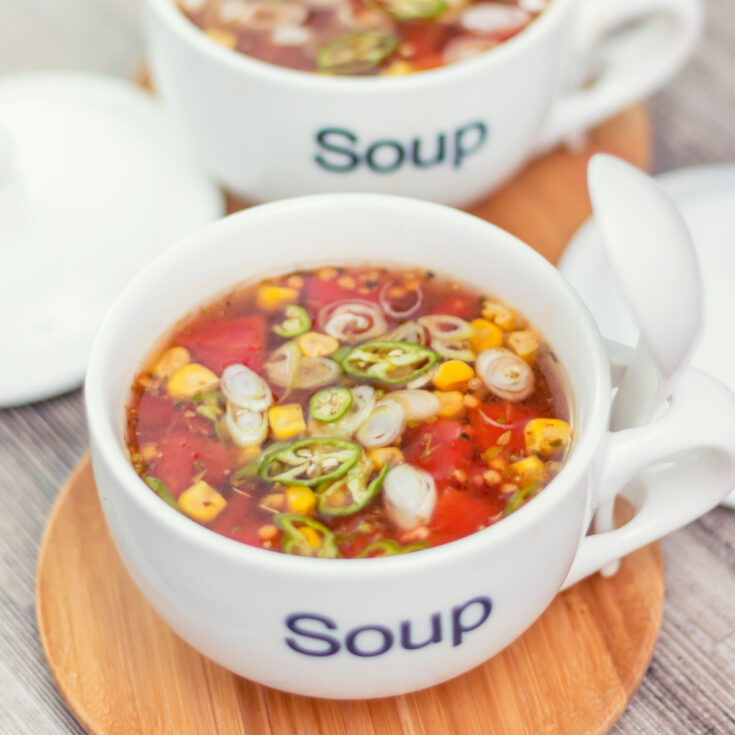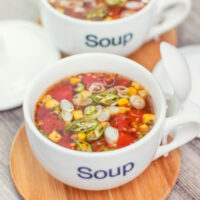 Mexican Tomato and Corn Soup
Corn is not just for butter, this 'Mexican' style corn and tomato soup or broth carries a nice kick of chili along with Cumin, Coriander and Oregano.
Ingredients
500 ml Vegetable Stock, This is the main component of the dish so make it at home or buy as good as you can get
1 Tbsp Cumin Seeds
1 Tbsp Coriander Seeds
2 Cloves Garlic, Bruised
250 g Tomatoes
1/2 Tsp Dried Oregano
1/2 Tsp Sweet Paprika, Mix with 1 Tsp of water to form a paste
1 Ear Sweetcorn, Stripped of Kernels or 125g frozen/tinned Sweetcorn
50 g Carrot, Diced into a 2-3mm dice
1 Jalapeno Chili, Sliced into rings, seeds removed if you wish
Instructions
Bring the Vegetable stock to a very gently simmer and add the cumin, coriander seeds and garlic and allow to steep for 5 minutes with a lid on to allow the flavours to infuse
Then strain the stock removing the seeds and garlic and return to the pan
The make a cross in the base of the tomatoes with a sharp knife and place them into the stock and return the lid for 2-3 minutes
Remove the tomatoes from the stock and skin them, de-seed them and chop the flesh into a 5mm dice. Squeeze as much liquid as you can from the seeds and return that to the stock
Add the diced tomato, corn, carrot, half of the jalapeno chili to the stock along with the dried oregano and the paprika paste and cook for 2-3 minutes
Check for seasoning and then serve garnished with the remaining jalapeno chili and some thinly sliced spring onion
Nutrition Information:
Yield:

2
Serving Size:

1
Amount Per Serving:
Calories:

454
Total Fat:

20g
Saturated Fat:

6g
Trans Fat:

0g
Unsaturated Fat:

9g
Cholesterol:

50mg
Sodium:

1720mg
Carbohydrates:

50g
Fiber:

8g
Sugar:

13g
Protein:

25g
Calorific details are provided by a third-party application and are to be used as indicative figures only.