Making soup at home need not be an onerous task, this simple tomato and corn number cooks in less than 25 minutes!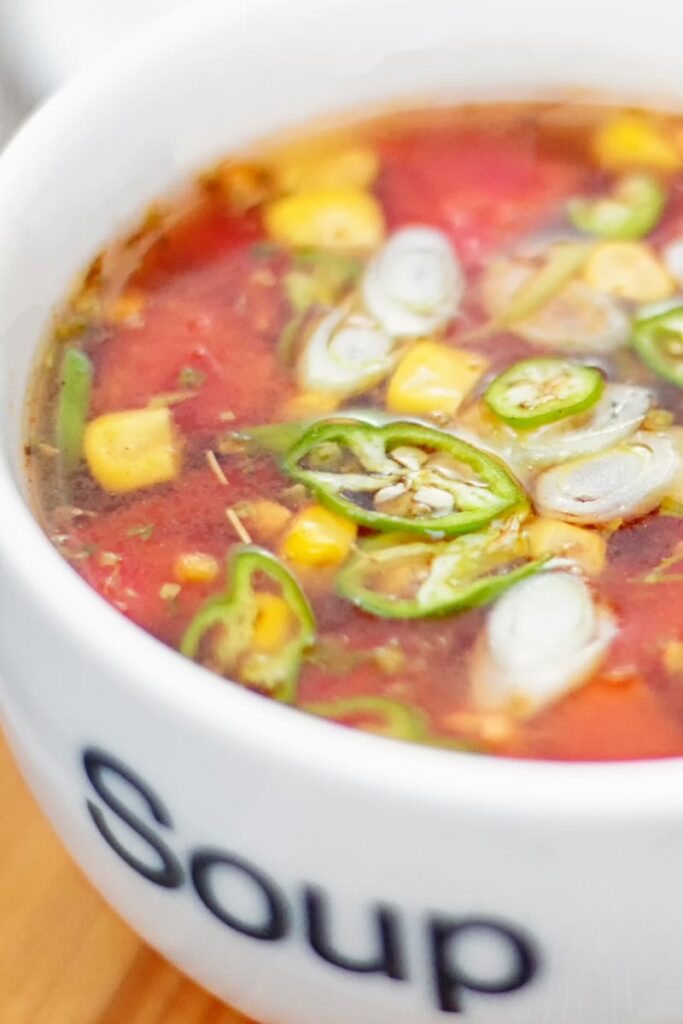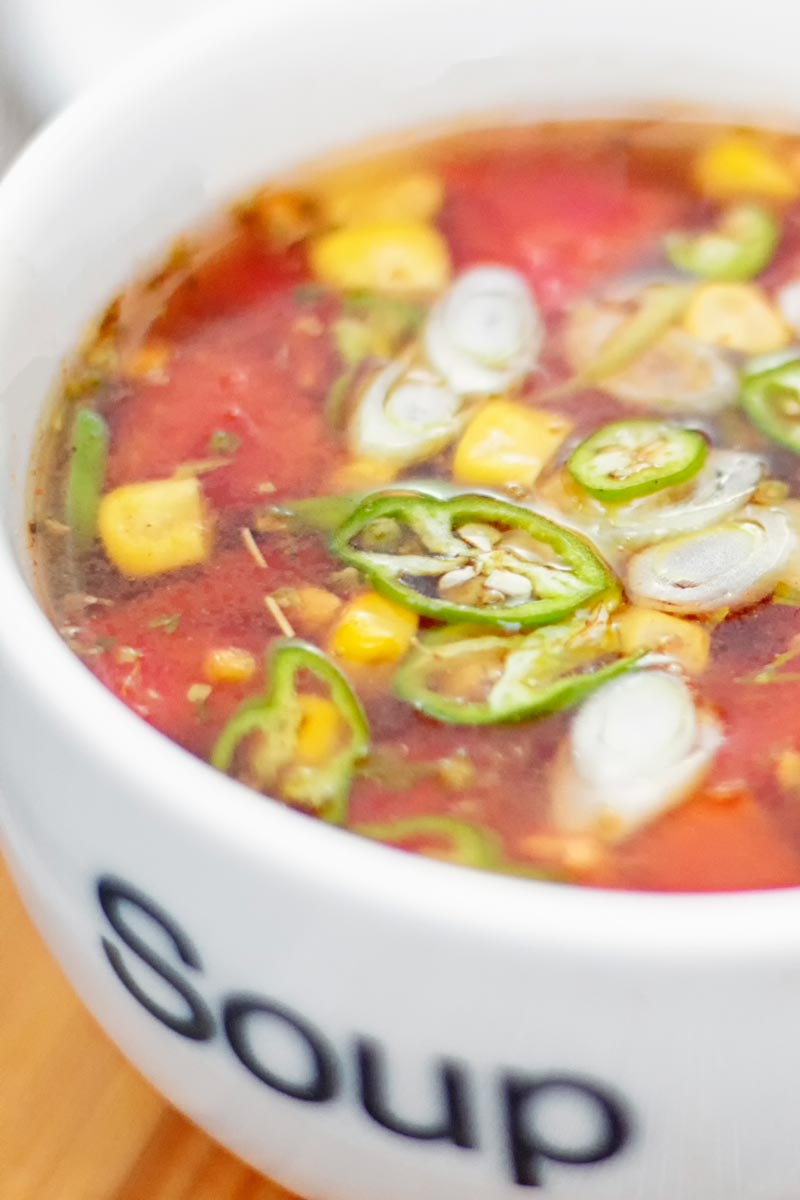 Sweetcorn Soup.
Sweetcorn in a soup usually makes me think of 1 of 2 things, a Chinese chicken and sweetcorn soup or a sweetcorn chowder.
This is neither of those things, it is a recipe born of ingredients that were all in harvest in the garden at the same time.
There is a pretty well-trodden rule in cooking. If it grows well together at the same time, then it probably tastes good together!
It is gloriously quick and tastes great.
It is light, bright and zingy and as far as I am concerned makes a great summer lunch.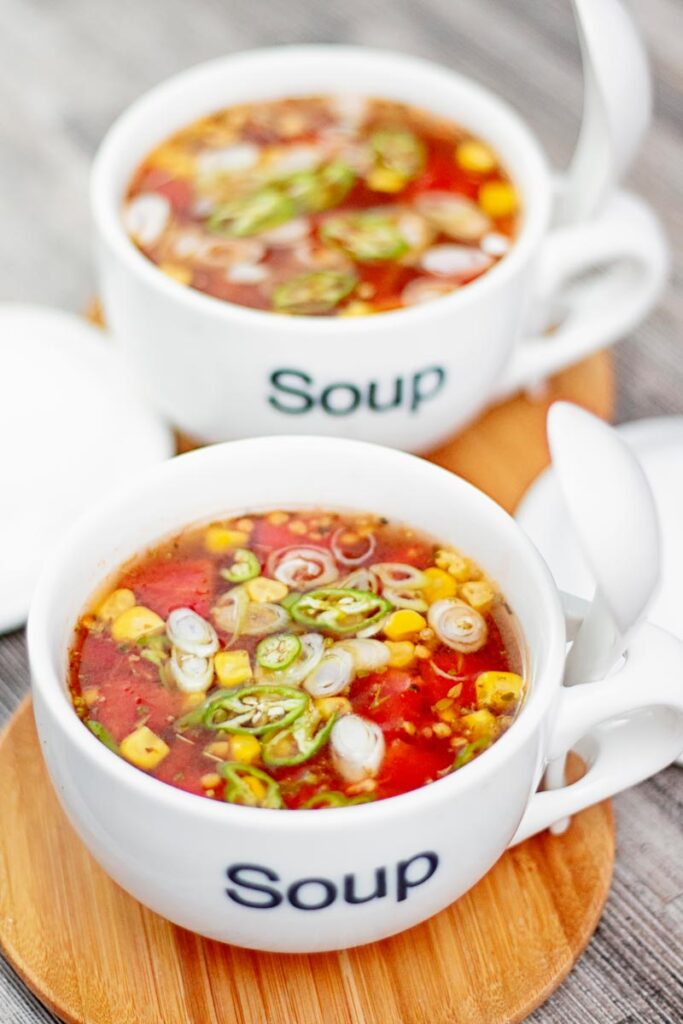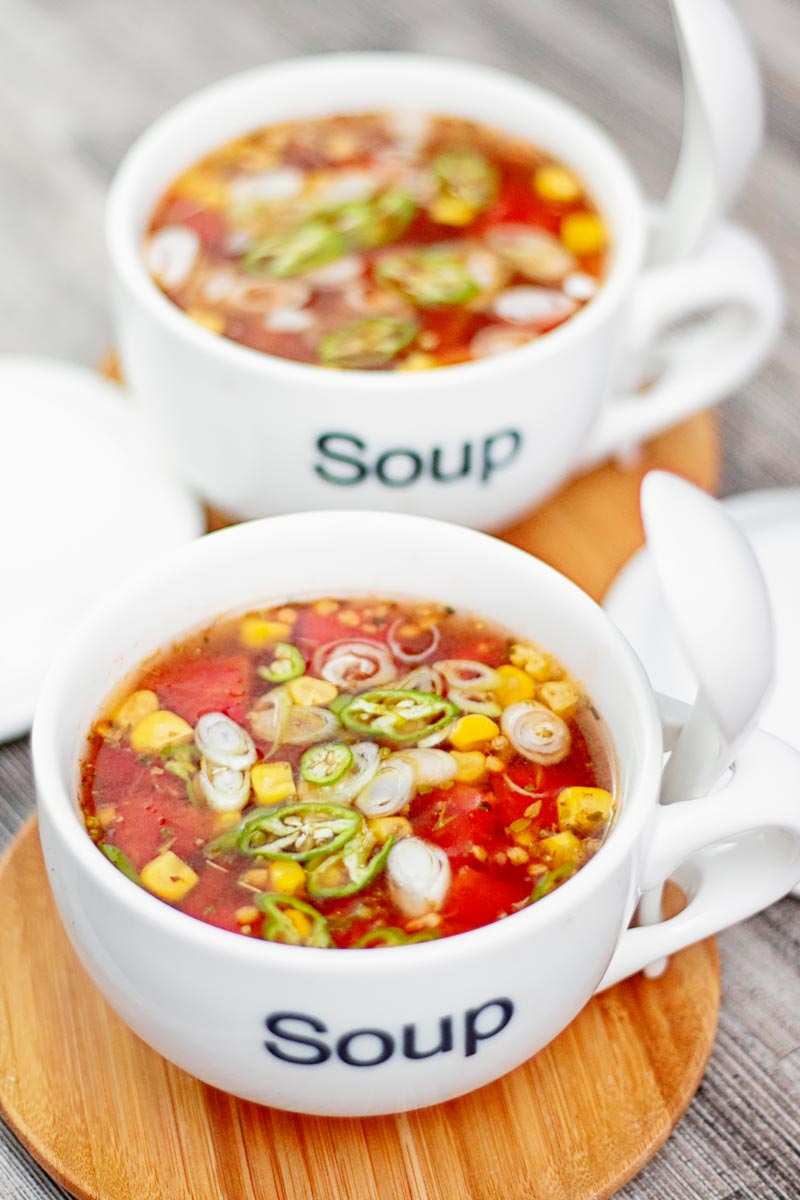 Ingredient Guide.
The foundation of this recipe is the vegetable stock.
Like any stock or broth-based soup if you get this wrong you can end up with a salty unpalatable mess.
I usually save and freeze vegetable offcuts to make my own stock, but I recognise that singles me out as odd!
Most people will use a store-bought stock and that is fine, so long as you choose a good quality stock.
Next up the sweetcorn, I strongly favour fresh or frozen.
Fresh is delicious but it does need to be really fresh, once it has gone past its best there is no rescuing it.
I would avoid the canned stuff if possible.
The tomatoes need to be fleshy and have few seeds, a plum tomato like San Marazano would be ideal.
But just like in my roasted tomato soup, it really does not matter if they are a bit dinged up and overripe. In fact, they will be better!
Finally, the chilli, go for something that you can cope with the heat of, it does not matter if it is jalapeno or cayenne. I also like to take a few slices and add them on top of the soup at the end.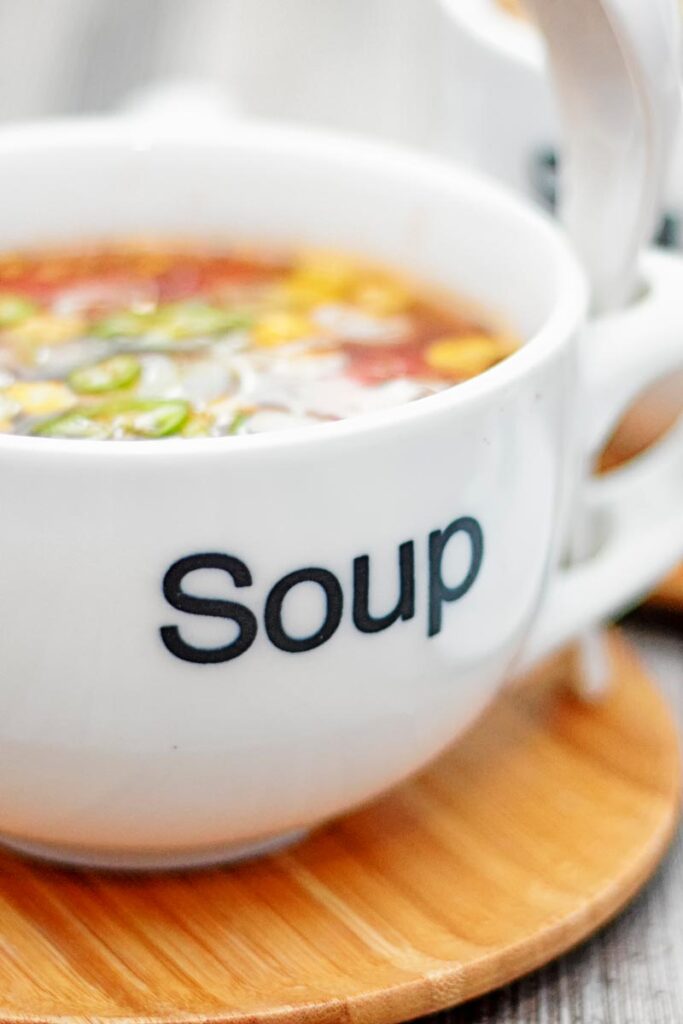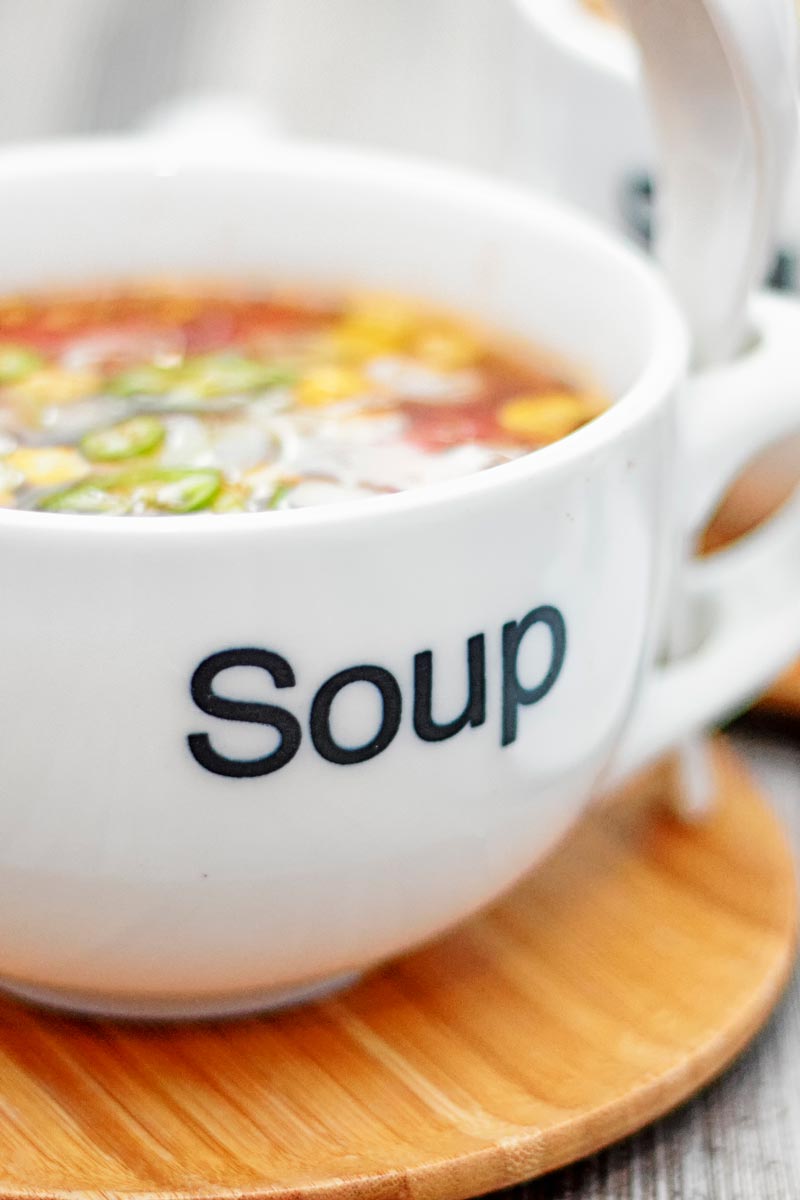 Hints and Tips.
This really is not a soup that you can prepare in advance.
It thrives on the fresh and vibrant flavours and the textures of the chopped vegetables.
Allowing it to cool and reheating it makes those flavours a little muddy and the vegetables a little soft.
It may also be tempting to just chop the tomatoes and throw them into the soup.
But from an eating point of view, removing the skins and seeds really does make this dish so much more enjoyable.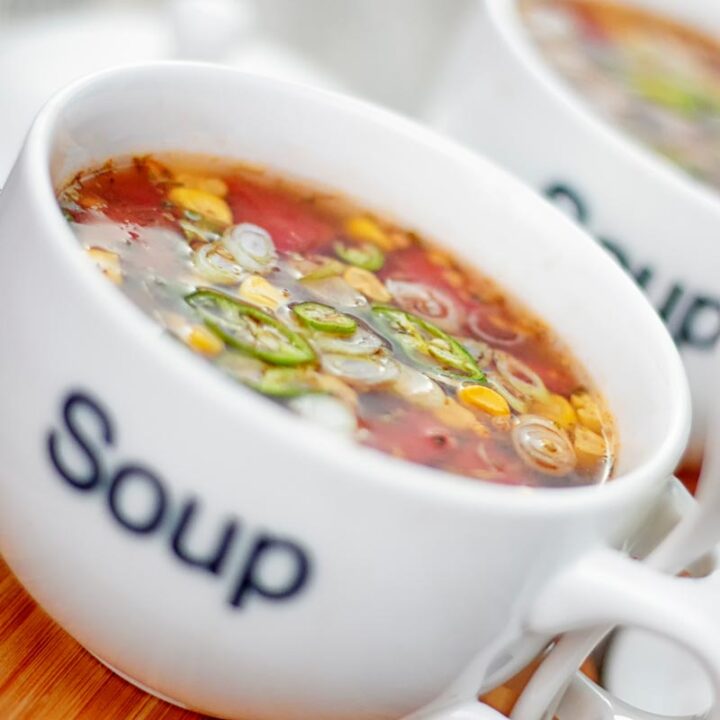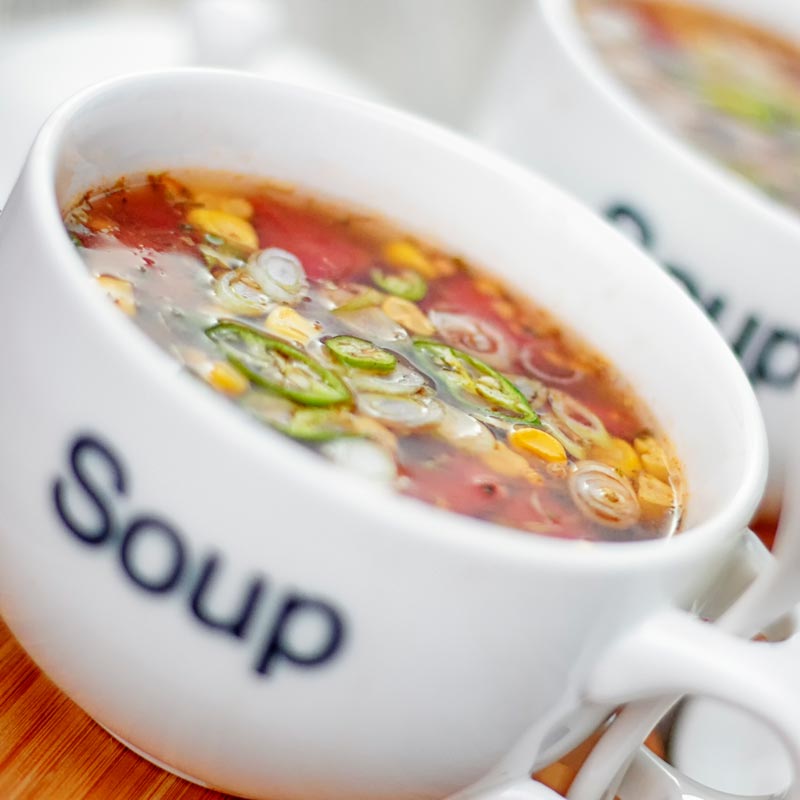 Yield:

2 Servings
Tomato and Sweetcorn Soup Recipe
It is hard to believe how much flavour this simple broth-based tomato and sweetcorn soup can squeeze out in just 25 minutes!
Ingredients
500 ml Vegetable Stock
1 Tbsp Cumin Seeds
1 Tbsp Coriander Seeds
2 Cloves Garlic
250 g Tomatoes
1/2 Tsp Dried Oregano
1/2 Tsp Sweet Paprika
125 g Sweet Corn
50 g Carrot
1 Green Chilli Pepper
1 Spring Onion
1 Lime
Instructions
Bring the Vegetable stock to a gentle simmer.
Press the garlic cloves with the heel of your hand so that they crack open a little.
Add the cumin, coriander seeds and garlic to the stock and allow them to steep for 5 minutes.
Have a taste and add salt as required.
Then strain the stock removing the seeds and garlic and return to the pan.
The make a cross in the base of the tomatoes with a sharp knife and place them into the stock for 2-3 minutes.
Remove the tomatoes from the stock and allow them to cool a little.
Remove the skin from the tomatoes, then de-seed them and chop the flesh into a 5mm dice.
Squeeze as much liquid as you can from the seeds and return that to the stock.
Doce the carrot into a 3mm dice and finely chop the green chilli.
Mix the paprika with 1 tablespoon of water and mix to form a paste.
Add the diced tomato, corn, carrot and chilli to the stock along with the dried oregano and the paprika paste and cook for 4-5 minutes.
Add a squeeze of the lime juice to taste.
Finally, serve with the thinly sliced spring onion sprinkled over the top at the end.
Nutrition Information:
Yield:
2
Serving Size:
1
Amount Per Serving:
Calories:

454
Total Fat:

20g
Saturated Fat:

6g
Trans Fat:

0g
Unsaturated Fat:

9g
Cholesterol:

50mg
Sodium:

1720mg
Carbohydrates:

50g
Fiber:

8g
Sugar:

13g
Protein:

25g
Calorific details are provided by a third-party application and are to be used as indicative figures only.