Chicken parmo is a late-night post booze treat from Middlesbrough, it's a dish of fried breaded chicken topped with bechamel sauce & cheese!
My version combines the cheddar with the bechamel similar to a rarebit and then tops it with parmesan cheese before sliding it under the grill.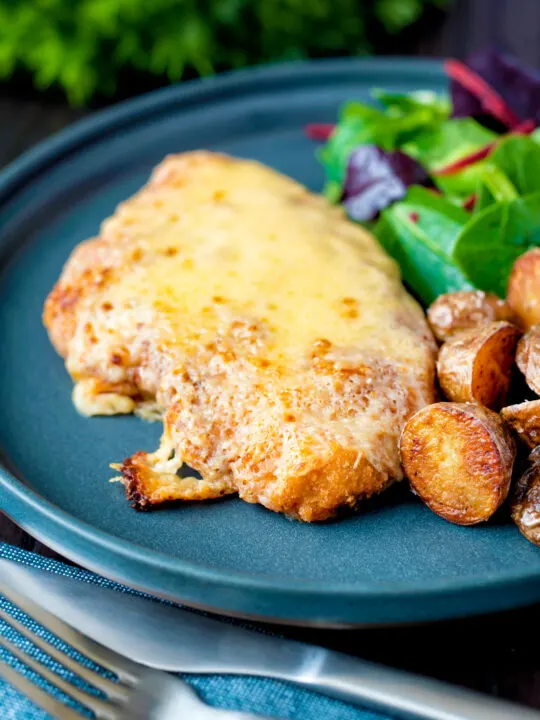 Cheesy Chickeny Indulgence From Boro!
There was a point in time when post beer food was a significant part of my weekend eating plans. After a few beers now I am ready for snoozing and not going out for grub!
Growing up in the British Midlands my choice would usually be a chicken pathia or a Doner kebab.
However, if you are from Middlesbrough or Stockton you would be much more likely to grab yourself a chicken parmo. Chippy chips and chip shop battered fish never got a look in as they were rarely an option at 2am!
It begins with breaded chicken, typically deep-fried, but I shallow fry mine in the same way I do in my chicken katsu curry.
It is then topped with bechamel sauce, the same stuff that forms the base of my parsley sauce. Then it is topped with cheese and popped under the grill or broiler.
Despite the name it rarely contains parmesan cheese, cheddar is usually used.
As is my want, I make a few changes to my version, cheddar gets added to the bechamel to form a cheese sauce. I also add Worcestershire sauce, this gives the whole thing a bit of a Welsh Rarebit feel.
Finally, I add parmesan cheese before grilling, because, well because I love the flavour!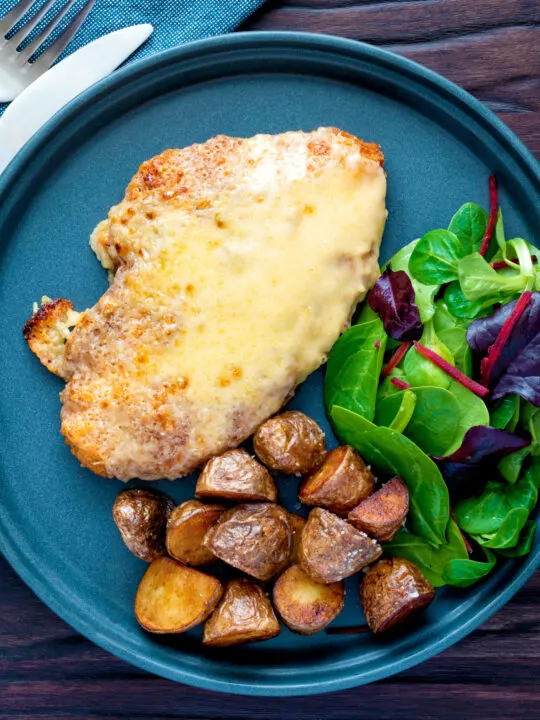 Frequently Asked Questions
Can I bake the chicken?
Yes of course, although given the amount of cheese you will not be saving a great deal!

To bake bread the chicken as per the instructions, then spray with a little oil and bake at 180°C or 350°F for 20-25 minutes. The chicken is done when the internal temperature reaches 73°C or 165°F.

As the chicken will be put under the grill you can remove it 5-7°C below this temperature.
Do I have to use Worcestershire sauce?
Nope, this is not "traditional" in this dish, but it is an addition that I adore. You can add other sauces like Tabasco sauce or Hendersons relish, experiment and make it your own!
Can I make this in advance?
No, not really, but you can do all of the prep work in advance!

You can bread the chicken and it will be fine in the fridge for a 1-2 days. The cheese sauce can again be made in advance and will be fine in the fridge for 2-3 days.

Cooking needs to be done just before you are going to eat.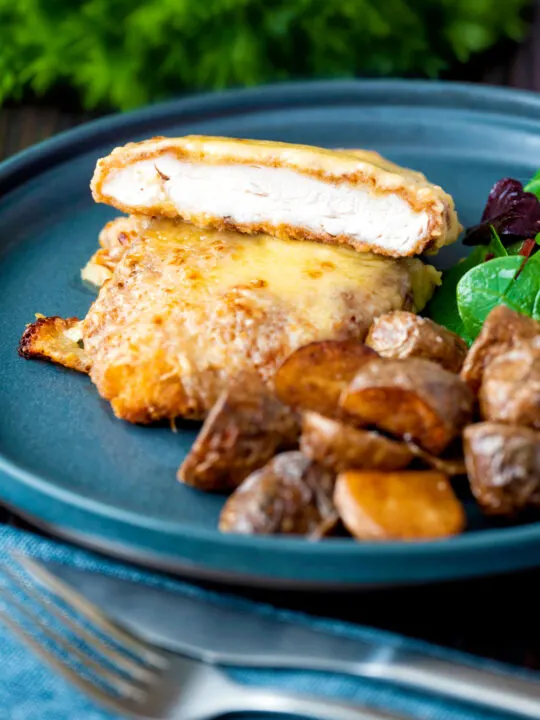 Serving Suggestions
Chicken parmo is an indulgent dish and as far as I am concerned it is in for a penny, in for a pound!
As a result, I love serving this with fried potatoes. They are delicious salty morsels that are perfect with the cheesy chicken.
If you wanted something a little more healthy but still with a potato vibe then air fryer wedges are a great option.
I also add a little salad, but I will make no comment on whether it is only to provide some colour!
Parmo is oftentimes served with a garlic sauce akin to the sort of thing you get with a kebab.
Although my personal preference is for tomato ketchup. Hey, I'm still a child at heart and do not care who knows it!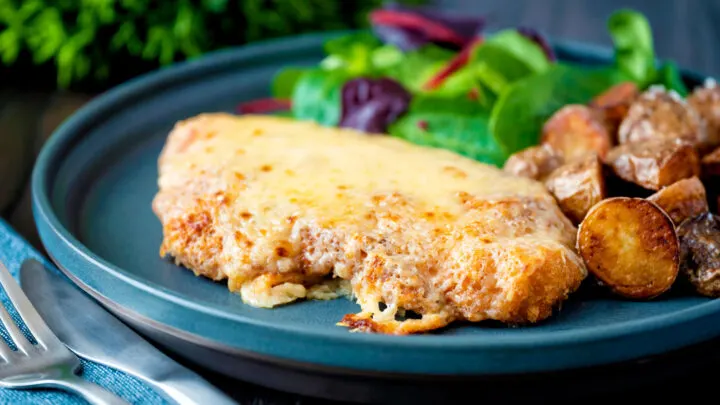 Equipment Used
I only name-check specific brands of equipment if I think they make a material difference to a recipe. If you have any questions feel free to ask them in the comments section below the recipe.
Stovetop.
Oven.
Grill or broiler.
Plates to panne the chicken.
Whisk.
15cm or 6″ saucepan.
35cm or 14″ frying pan.
Kitchen knife.
Chopping board.
Cheese grater.
Fine mesh sieve.
Weighing scales and or measuring cups and spoons.
Quick read meat thermometer (optional).
Kitchen paper.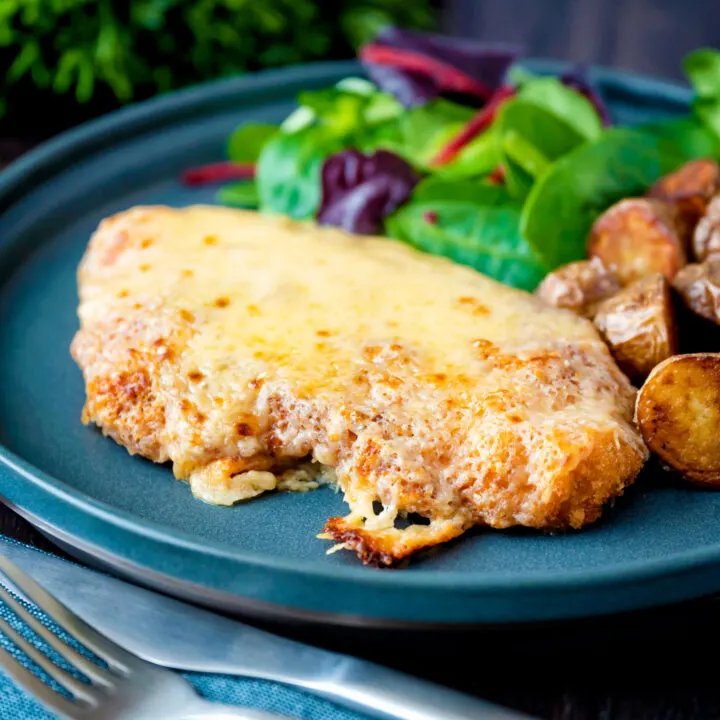 Yield:

2 Servings
Chicken Parmo Recipe
Post pub food for me "growing up" in Birmingham was a curry, in Middlesborough and parts of Teesside it is the chicken parmo. Fried breaded chicken, bechamel sauce, cheese and it is as delicious and as indulgent as that sounds.
Ingredients
2 Skinless Chicken Breasts
1/2 Tsp Coarse Sea Salt
1/4 Tsp Black Pepper
2 Tbsp Flour
2 Large Eggs
50g (⅓-½ Cup) Dried Breadcrumbs
25g (¼ Cup) Grated Parmesan Cheese
Oil for frying
For the Cheese Sauce:
15g (1 Tbsp) Butter
15g (2 Tbsp) Flour
150ml (⅔ Cup) Full Fat Milk
¼ Tsp White Pepper
75g (⅔ Cup) Grated Cheddar Cheese
1 Tbsp Worcestershire Sauce
For flavouring the milk (Optional):
1 Shallot
1 Blade of Mace
1 Garlic Clove
1 Bay Leaf
Instructions
Bash the chicken breasts to an even thickness of around 1cm or 1/4".
Season the chicken with salt and pepper.
Place the flour and breadcrumbs on two separate plates.
Beat the eggs in a wide bowl.
Dip each chicken breast into the flour patting off any excess flour, then into the beaten egg and finally into the breadcrumbs to coat all over.
Pour the milk into a small saucepan (14-15cm or 6")
Bash the garlic clove with the side of a knife.
Grate the cheddar cheese and the parmesan cheese.
Peel the shallot and cut it in half and add it to the milk.
Throw in the mace, garlic clove and bay leaf and bring the milk to a boil, then turn off the heat and allow the milk to cool for 10 minutes.
Melt the butter over a medium heat and when it begins to foam add the butter, then cook for 3-4 minutes stirring continuously.
Strain the flavourings from the milk and then add it to the flour mix a little at a time ensuring that you have created a lump-free paste and later sauce before adding more milk.
Once a sauce has formed reduce the heat to low, then add the cheddar cheese and Tabasco sauce, then stir continuously until it has melted and formed a smooth sauce.
Preheat our broiler as hot as it will go.
Heat a large frying pan (35cm or 14") over a medium high heat with a 5mm deep pool of oil.
Add the breaded chicken breasts and fry for 3-5 minutes on each side until they are golden and have reached an internal temperature of 73°C or 165°F. Then drain on kitchen paper.
Transfer the chicken schnitzels to your grill pan then smoother in the cheese sauce, and sprinkle over the parmesan cheese.
Place under the grill or broiler and cook until the cheese sauce goes bubbly and the parmesan melts and begins to colour.
Nutrition Information:
Yield:
2
Serving Size:
1
Amount Per Serving:
Calories:

868
Total Fat:

48g
Saturated Fat:

18g
Trans Fat:

1g
Unsaturated Fat:

26g
Cholesterol:

358mg
Sodium:

1514mg
Carbohydrates:

42g
Fiber:

3g
Sugar:

8g
Protein:

64g
Calorific details are provided by a third-party application and are to be used as indicative figures only.