These pork meatballs are braised in a beer sauce and served on a cheesy mash… Yes, they are every bit as good and indulgent as that sounds!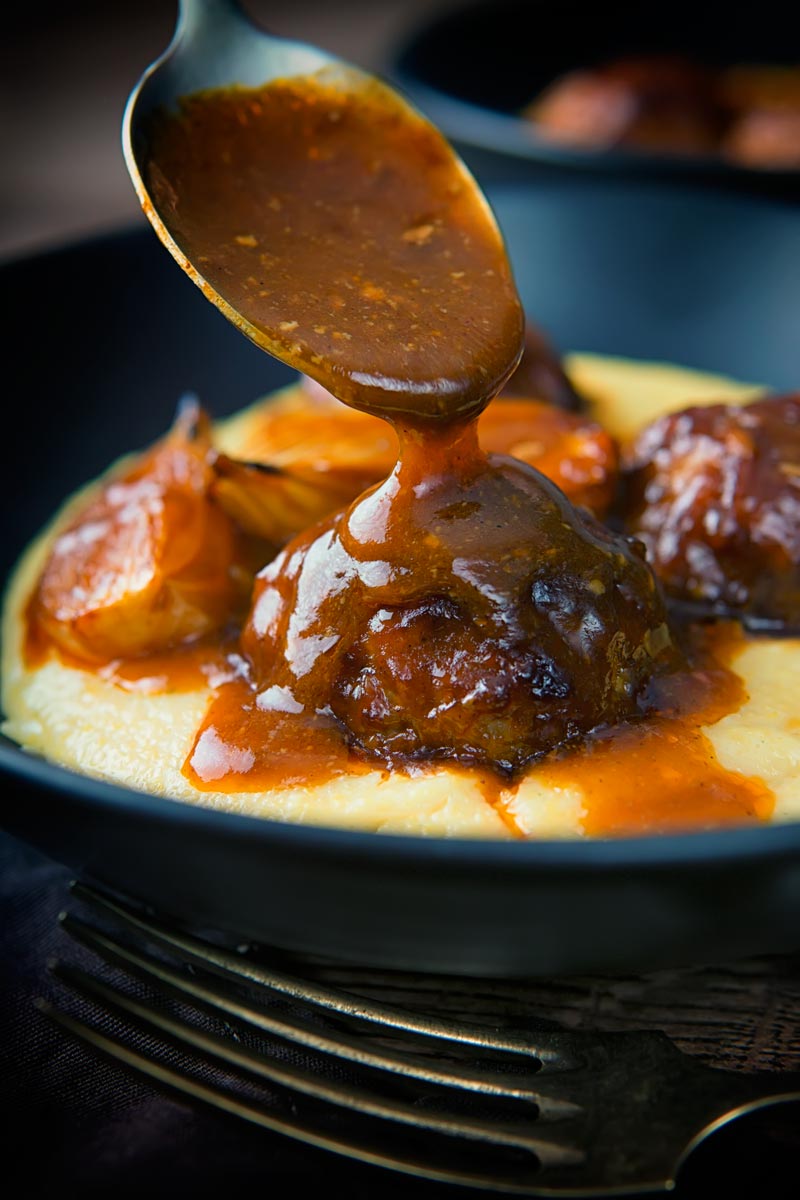 Braised Pork Meatballs in Beer Sauce with Cheesy Polenta.
Like many my first association with meatballs is spaghetti… This dish ain't that, not that there is anything wrong with spaghetti and meatballs!
But meatballs are a global institution and there are countless variations.
This one sees me playing with my balls, behave, to create something new and gloriously indulgent.
The meatballs are flavoured with mustard and thyme, classic combinations with pork. They are then braised in the oven in a sauce made from dark beer and BBQ sauce.
Just to make sure we hit the comfort food jackpot, I serve them on a cheddar cheese polenta inspired by the polenta I made for my beef osso bucco recipe.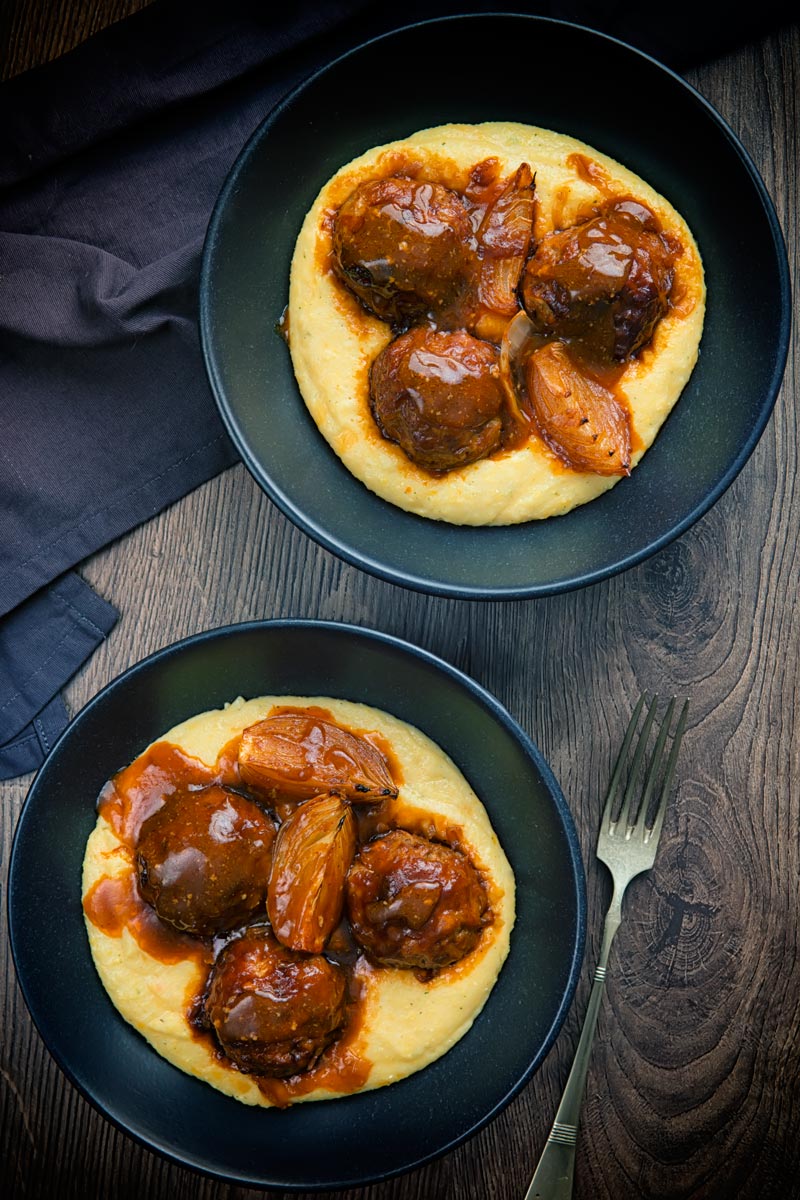 Choosing the Beer and BBQ Sauce.
Naturally, the flavour of this dish is governed by the BBQ sauce you use and the beer you use.
I have made these pork meatballs half a dozen times playing with different flavours and ideas and they all worked really very well.
You want to avoid paring a really sweet sauce with a really sweet beer. Also avoid a really bitter beer with a tart BBQ sauce.
My favourite combination ended up being Leffe Brun which is a dark Belgian Wheat Beer. This was paired with the BBQ Sauce that I made for these BBQ ribs.
A Pilsner style lager gives the most simple flavour profile to these pork meatballs and a Porter or Stout the heaviest, a little too heavy for my liking.
I've also tried a few store-bought BBQ sauces, again they tend to work well. They do however tend to be a little sweeter.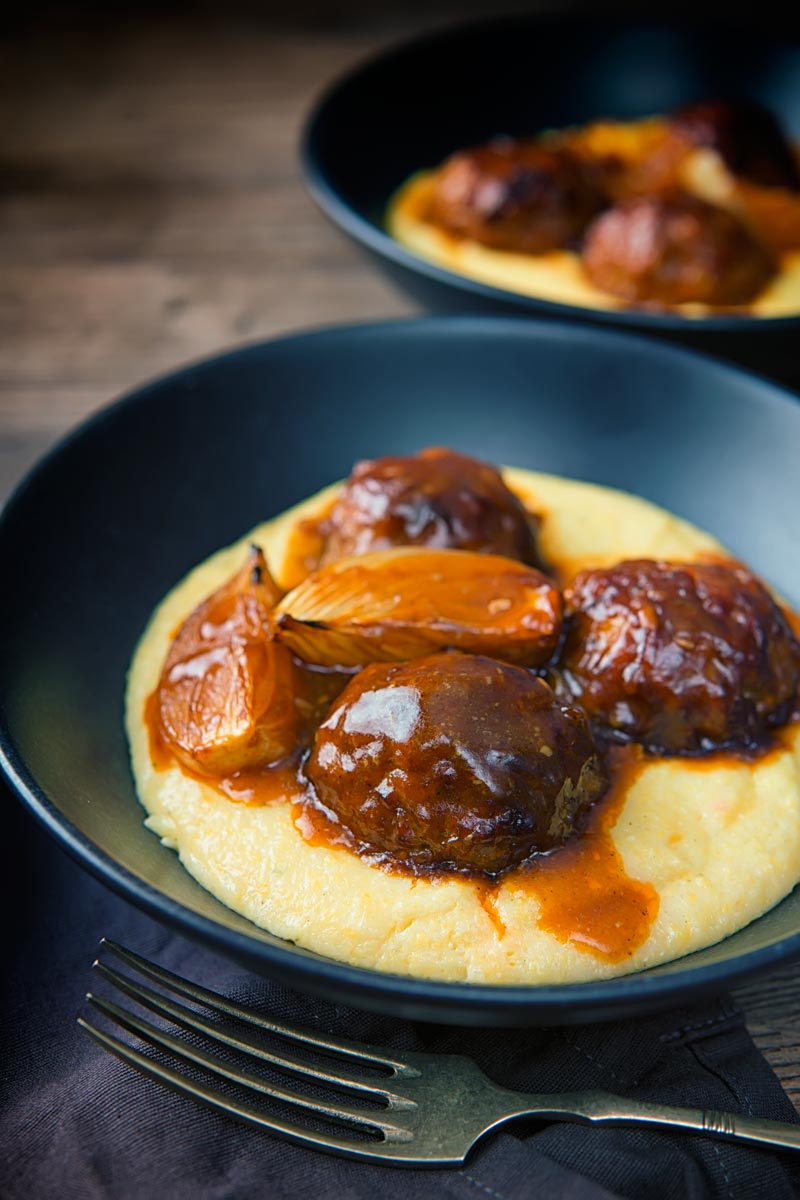 The Cheesy Polenta.
I speak about cooking polenta in my recent mushroom ragu with polenta recipe. As a result, I will not rake over similar ground.
But once again your choice of ingredients will impact the flavour of this recipe massively.
The sauce is quite sweet with a hint of bitterness. So to compliment these flavour profiles I would recommend a cheddar cheese as sharp and mature as you can get it.
It provides the perfect partner to the flavours in the rest of the dish.
One final word of warning, be careful when cooking your polenta.
Keep the heat low as polenta spits when the temperature is too high and can cause burns.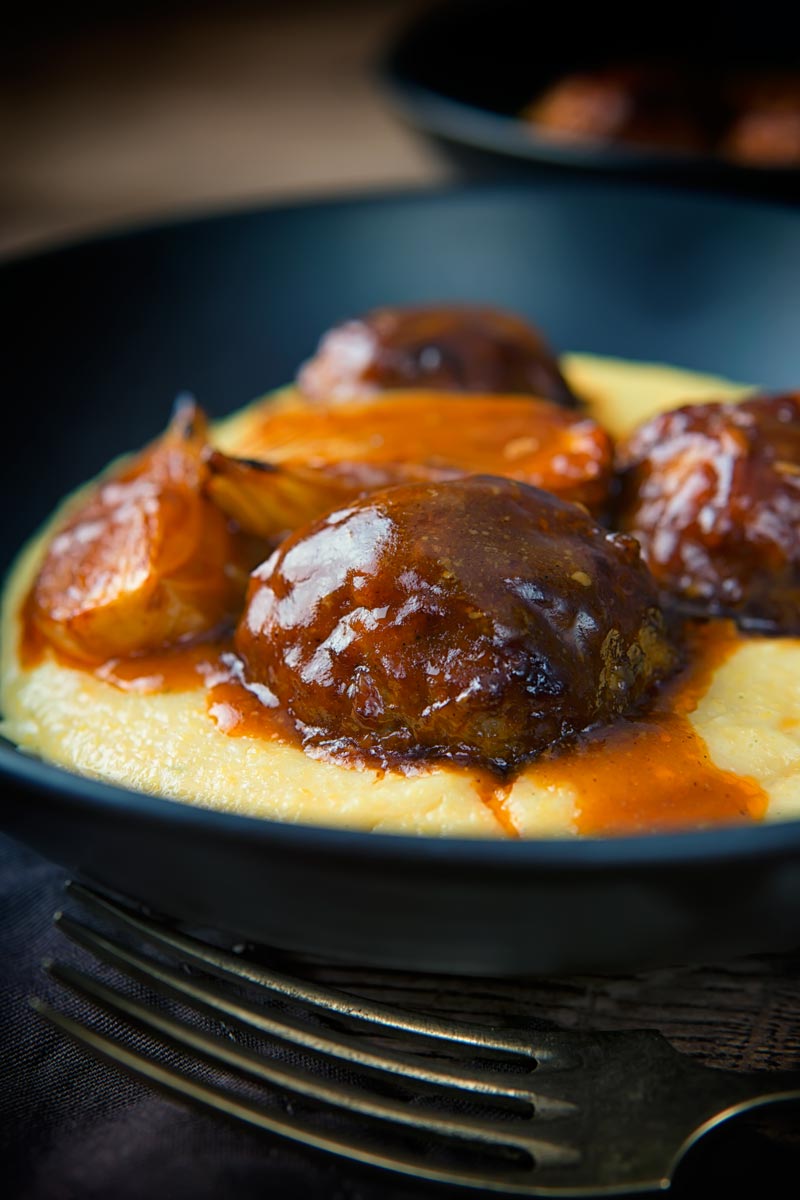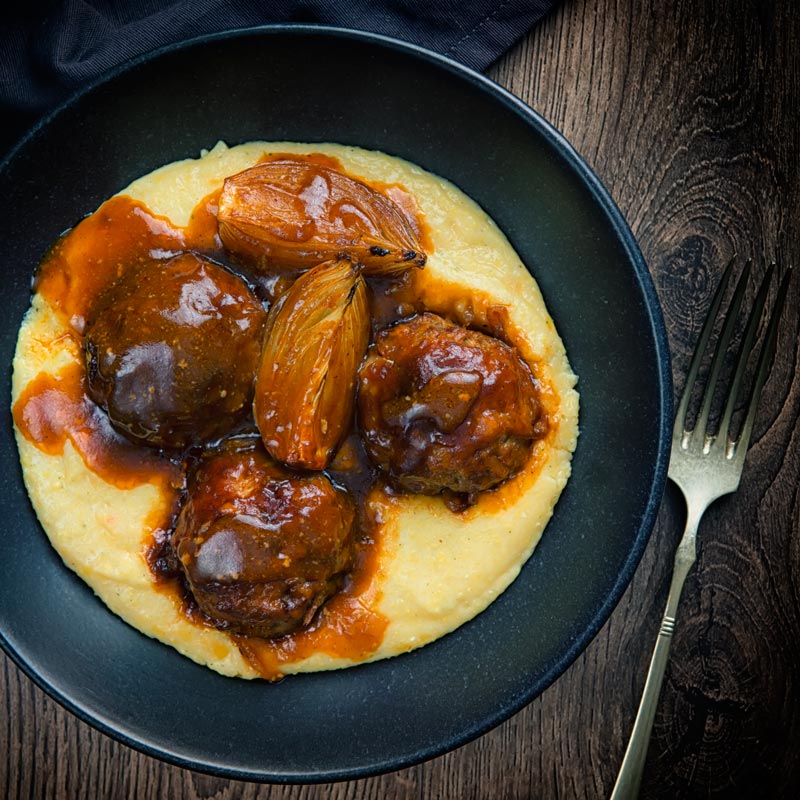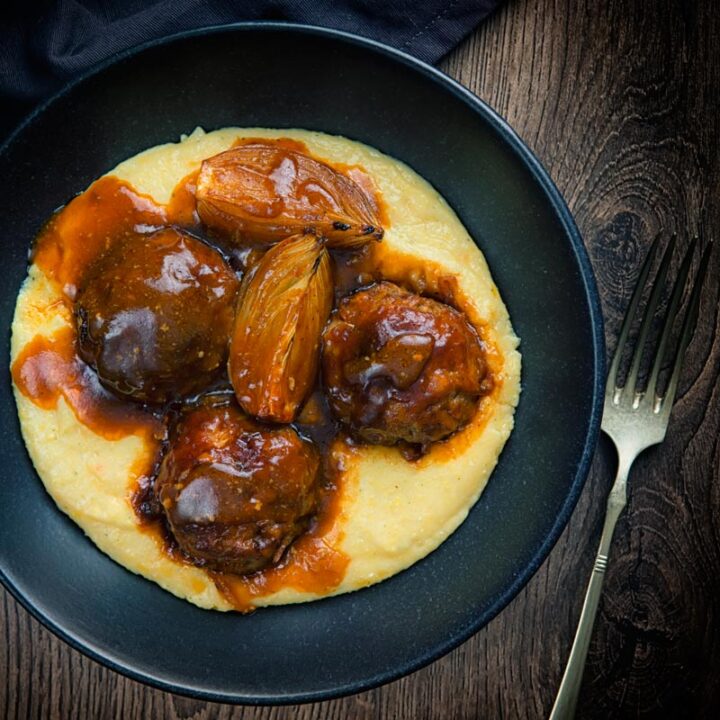 Pork Meatballs in a Beer Sauce on Cheesy Polenta
Total Time:
1 hour
10 minutes
You might want to sit down before considering this... Mustardy porky meatballs in a beer sauce with cheesy polenta... Yes, all that and then some!
Ingredients
For the Polenta
500 ml Vegetable Stock
85 g Polenta
50 g Sharp Cheddar Cheese
For the Meatballs
100 g Potato
300 g Ground Pork Shoulder
1 Egg Yolk
1/2 Tsp Dried Thyme
1 Tbsp Dijon Mustard
Salt and Pepper to taste
For the Sauce
30 g Butter
1/2 Tbsp Plain Flour
75 ml Water
250 ml Dark Beer
100 ml BBQ Sauce
Salt and Pepper
1 Onion
Instructions
Preheat your oven to 180°C or 350°F.
Grate the potato and cut the onion into 4 wedges.
Take the potato, egg, pork shoulder, mustard, thyme, salt and pepper and mix together in a bowl.
Wet your hands and form this mix into 6 evenly sized meatballs and set aside, these meatballs are meant to be really rather wet at this stage so don't worry.
Heat a frying pan that can be transferred to the oven over a medium high heat and melt the butter for the sauce and when melted add the flour and stir to and cook out for 2-3 minutes.
Now pour in your beer, water and BBQ sauce and cook for 3-4 minutes whilst constantly stirring, now check the seasoning and add salt and pepper as required.
Add your meatballs and onion wedges and roll around to get nicely coated in the sauce, then transfer to the oven and cook for 45-50 minutes.
Now we can start the polenta, heat your vegetable stock in a pan and when boiling pour in your polenta stirring all the time.
When your polenta returns to the boil reduce the heat to very low and keep stirring every few minutes for 45 minutes. Now is the perfect time to run some more quality checks on the beer and listen to some tunes.
After 45 minutes stir in the grated cheese and check for seasoning.
Serve in a bowl with the meatballs and if you are feeling so inclined a load of fresh chives.
Notes
You could of course serve these on some mashed vegetables if you cannot be bothered with cooking polenta.
Nutrition Information:
Yield:

2
Serving Size:

1
Amount Per Serving:
Calories:

975
Total Fat:

58g
Saturated Fat:

26g
Trans Fat:

1g
Unsaturated Fat:

26g
Cholesterol:

289mg
Sodium:

2312mg
Carbohydrates:

51g
Fiber:

3g
Sugar:

24g
Protein:

47g
Calorific details are provided by a third-party application and are to be used as indicative figures only.