Let's set spaghetti aside and rock some braised pork meatballs in a beer sauce on a super cheesy polenta base for a change!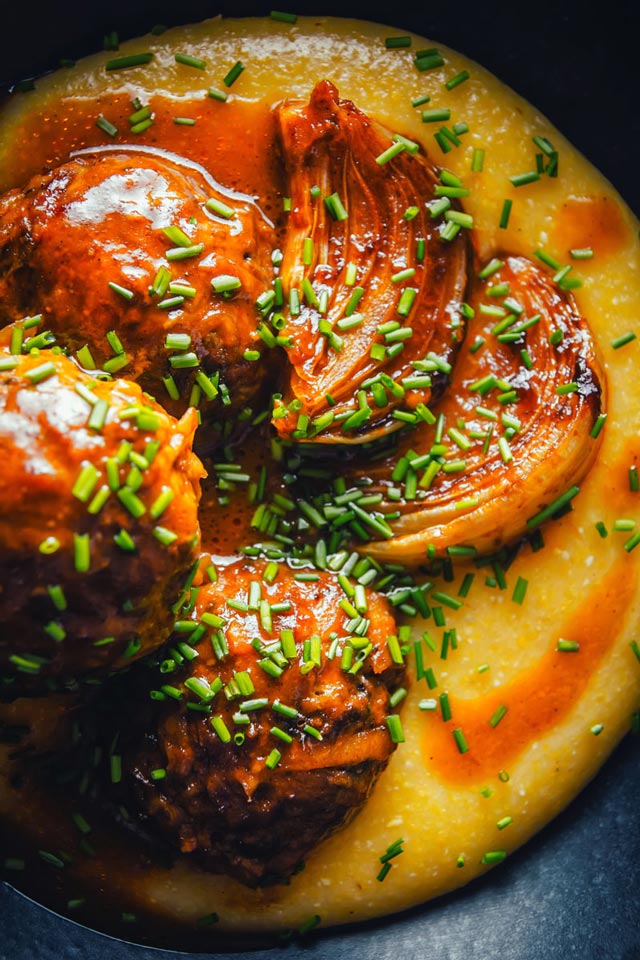 For some strange reason I usually associate meatballs with beef and with pasta so this pork meatball dish was developed to encourage me to do something a little new and different with my balls. Behave! I quite shamelessly lifted the basic idea of the base for the meatballs from my recent beef osso bucco recipe. The cheese has very much changed to be in keeping with the ideas of BBQ sauce and Beer, the other two main influences in this dish.
If you have been following me for a while you may have noticed the occasional mention of beer, I am rather fond of the odd beerverage or two but don't cook with it too often. Ok I often cook with it because there is often a bottle of beer lubricating me as I cook, however it is rarely an ingredient in my cooking. So these Braised Pork Meatballs make a nice change.
Naturally the flavour of this dish is governed by the BBQ sauce you use and the beer you use. I have made these pork meatballs half a dozen times playing with different flavours and ideas and they all worked really very well, but you do want to avoid paring a really sweet sauce with a really sweet beer. Also avoid a really bitter beer with a tart BBQ sauce.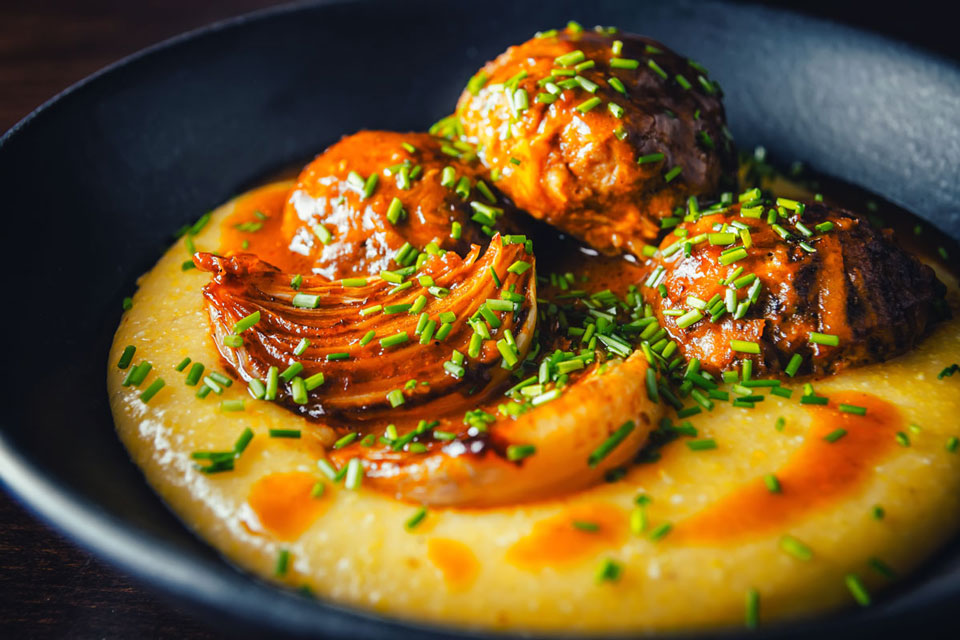 My favourite combination ended up being Leffe Brun which is a dark Belgian Wheat Beer and the BBQ Sauce from these Ribs, it resulted in a wonderfully complex flavour profile, but you should definitely play around and go with what you like.
A Pilsner style lager gives the most simple flavour profile to these pork meatballs and a Porter or Stout the heaviest, a little to heavy for my liking, which is odd as I love a good dark porter or stout. But hey let me know what you used and how it worked for you!
Speaking of beer, it is hard to believe that or first visitors of the year arrive on Monday, always a time when our beer consumption increases considerably. My mother in law is visiting us early this year for the first of three visits and this one just happens to coincide with my Birthday, a year older but definitely not wiser.
The handball team that we follow in Mezőkövesd have an away game in a town with a really nice thermal spa on my Birthday so at the moment that is the plan, plenty of beer, a bit of a soak and a bit of sports, can I claim it as exercise?
I am sure there will be plenty of pictures floating around either on Facebook or Instagram and you will not be deprived of new recipes. I have been busy getting ahead and I have some great stuff heading your way next week whilst I am nurturing my hangovers, which will no doubt be getting worse as I age another year.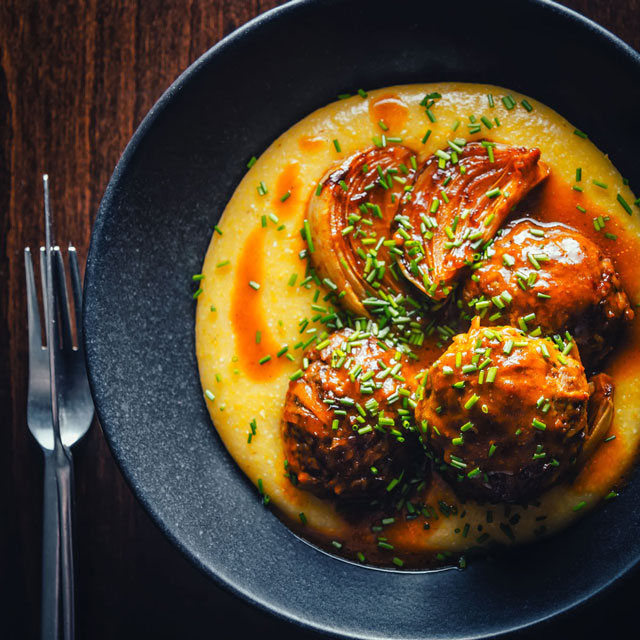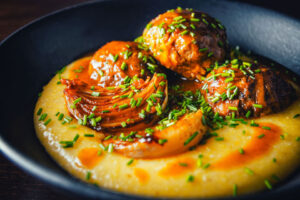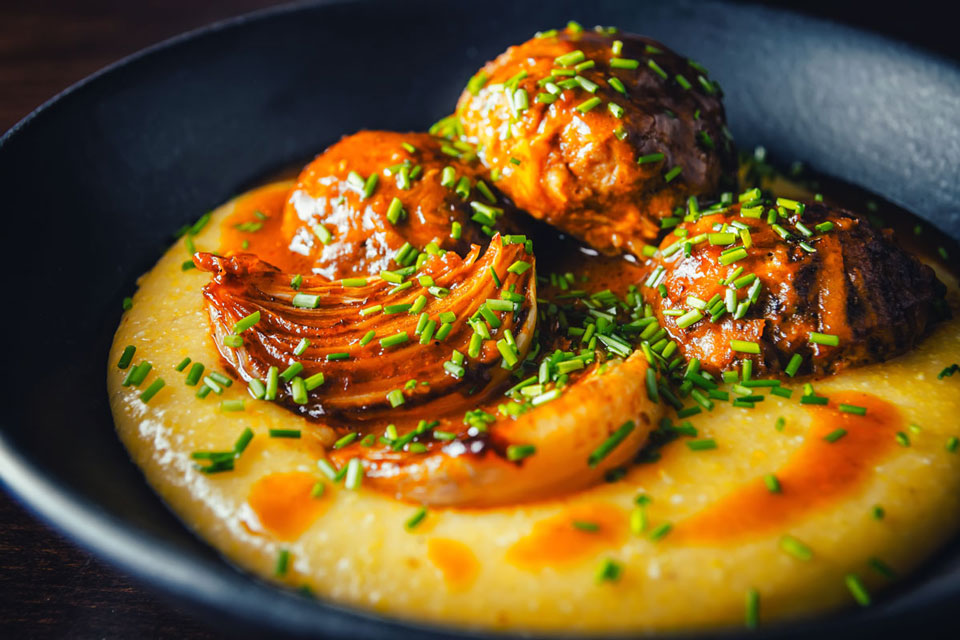 Braised Pork Meatballs in a Beer Sauce on Cheesy Polenta
Let's set spaghetti aside and rock some braised pork meatballs in a beer sauce on a super cheesy polenta base for a change!
Total Time
1
hour
10
minutes
Ingredients
For the Polenta
500

ml

Vegetable Stock

85

g

Polenta

50

g

Cheddar Cheese

Go for something sharp and then grate it
For the Meatballs
100

g

Potato

Peeled and grated

300

g

Pork Shoulder

Medium Ground

1

Egg

1/2

Tsp

Dried Thyme

1

Tbsp

Dijon Mustard

1/4

Tsp

Salt

Black Pepper

Generous grind
For the Sauce
30

g

Butter

1/2

Tbsp

Plain Flour

75

ml

Water

250

ml

Dark Beer

I used a Leffe Brune a dark wheat beer

100

ml

BBQ Sauce

Use your favourite I used a homemade one from but I'll not bash you for store bought

Salt and Pepper

To Taste

1

Onion

Peeled and cut into 6 wedges
Instructions
Preheat your oven to 180°C.

Take the potato, egg, pork shoulder, mustard, thyme, salt and pepper and mix together in a bowl.

Wet your hands and form this mix into 6 evenly sized meatballs and set aside, these meatballs are meant to be really rather wet at this stage so don't worry.

Heat a frying pan that can be transferred to the oven over a medium high heat and melt the butter for the sauce and when melted add the flour and stir to and cook out for 2-3 minutes.

Now pour in your beer, water and BBQ sauce and cook for 3-4 minutes whilst constantly stirring, now check the seasoning and add salt and pepper as required.

Add your meatballs and onion wedges and roll around to get nicely coated in the sauce, then transfer to the oven and cook for 45-50 minutes.

Now we can start or polenta, heat your vegetable stock in a pan and when boiling pour in your polenta stirring all the time.

When your polenta returns to the boil reduce the heat to very low and keep stirring every few minutes for 45 minutes. Now is the perfect time to run some more quality checks on the beer and listen to some tunes.

After 45 minutes stir in the grated cheese and check for seasoning.

Serve in a bowl with the meatballs and if you are feeling so inclined a load of fresh chives.
Notes
You could of course serve these on some mashed vegetables if you cannot be bothered with cooking polenta.