Proper slowly smoked ribs cooked in a BBQ are both delicious and remarkably easy to cook, you just need time and a BBQ with a lid!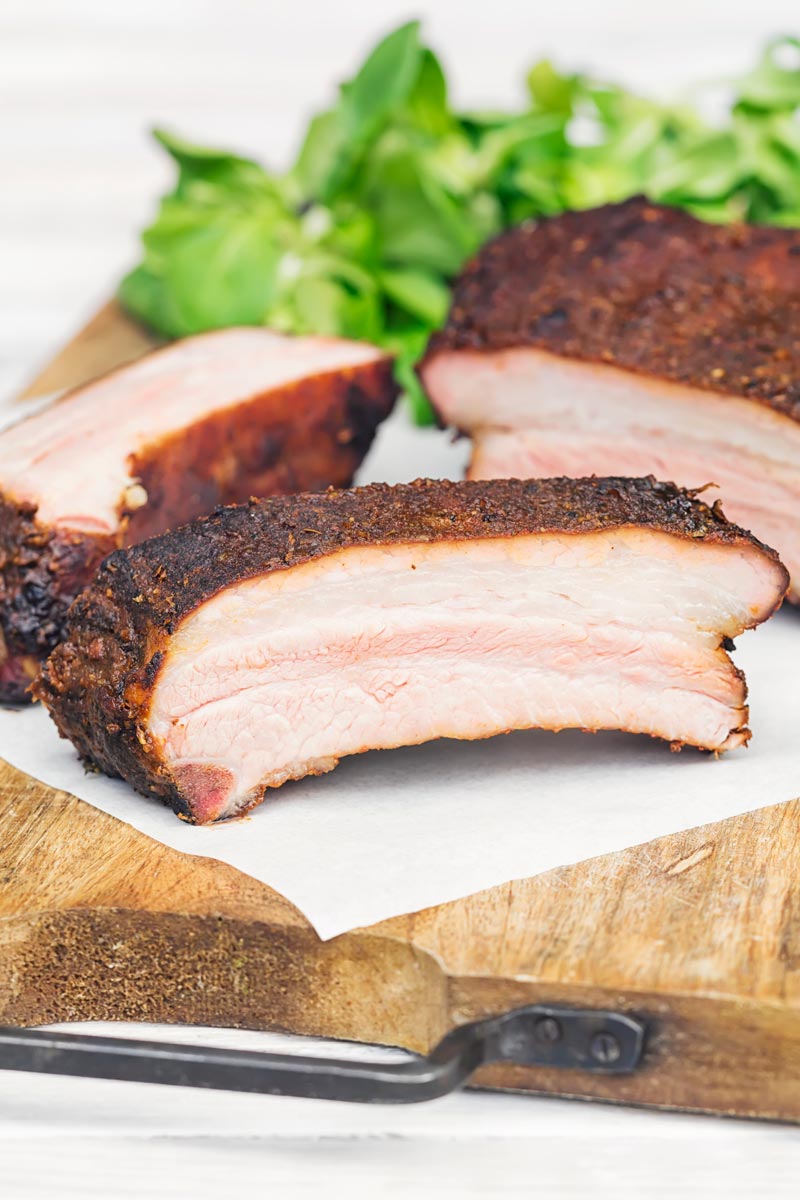 Smokey Sticky BBQ Ribs.
I have a thing about ribs! It does not matter whether they are cooked in the oven, slow cooker like my char siu ribs, Instant Pot like my Chinese Spare Ribs or smoked on the BBQ like these.
Like so many of my meaty BBQ recipes, this one has an overnight marinade is a dry rub.
They are then smoked for 5 hours before getting a final hour basted a couple of times with a bbq sauce.
Yes, that is a long time, but we are talking at a very low temperature here. We aim to keep our smoker somewhere between 100-110°C or 210-225°F.
In the main, it is downtime, and you can get on with your day.
In fact, the secret to perfect smoked ribs is just that!
The less you do to them the better, just leave them well alone.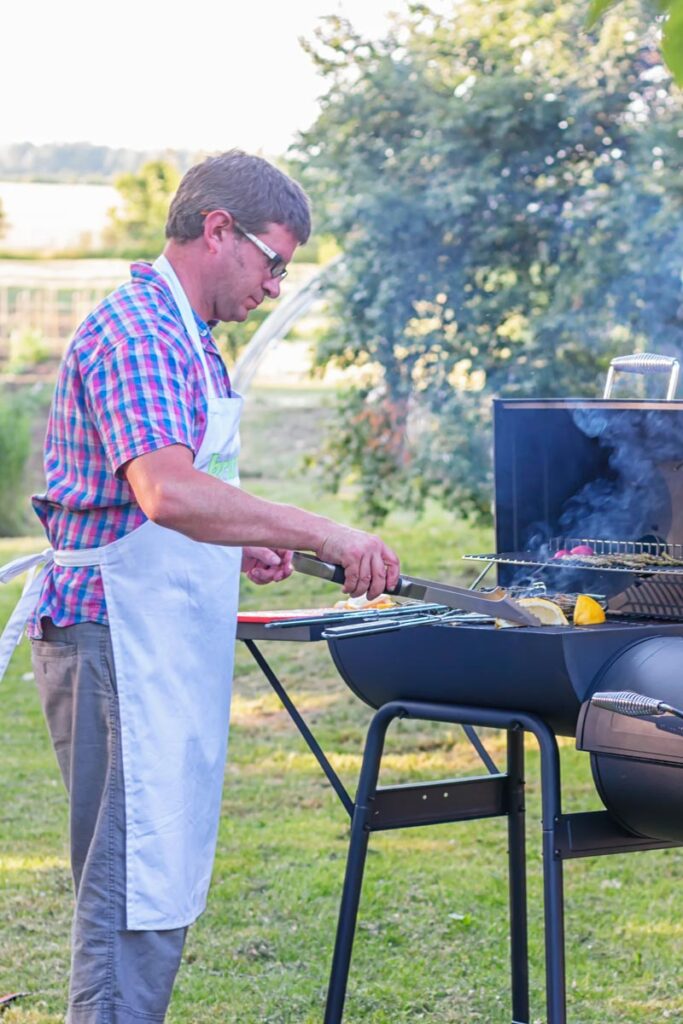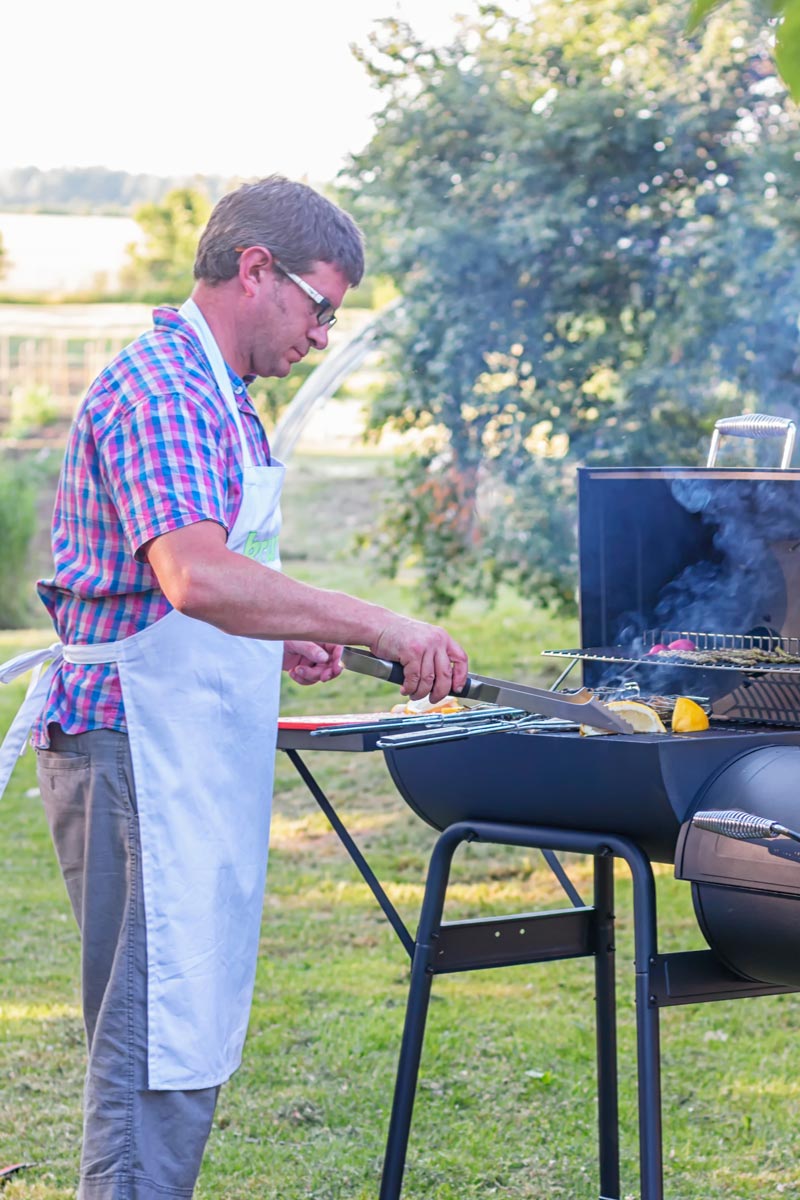 What Equipment Do You Need?
Really you need three things, a smoker, a thermometer and something to create smoke!
There are many different types of smoker, mine is a charcoal smoker.
The sort that looks like a barrel with a smaller barrel on the side. You can see it in the image above!
The most important part of this process is learning the foibles of your particular smoker and how to control its temperature.
This is where the thermometer comes in, it will be much more reliable than the one on your BBQ.
I use a meat thermometer with a probe attached by a cable.
That means I can leave it on the smoker and get an accurate reading whenever I want.
I ordered some whisky barrel chips for these smoked ribs but there are a host of options available.
Depending on where you are in the world will define what you can lay your hands on. They will all subtly change the flavour of your dish.
Apple, cherry and walnut are three of my favourites but Hickory and even oak are good and very popular.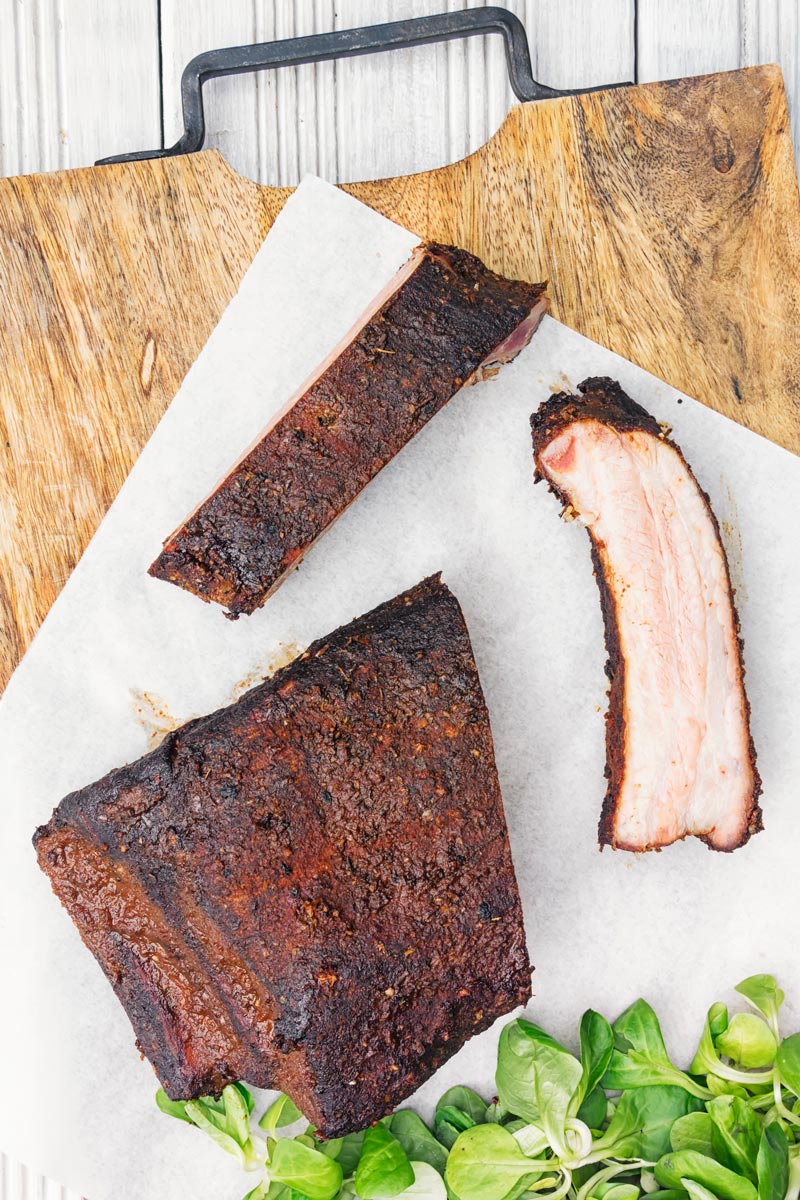 How to Make Smoked Ribs.
I favour a 6-hour, 3 phase cooking process for ribs.
Stage 1: The Smoking… This is 3 hours long and all about getting that smokey flavour into the meat. This is where your smoke chips are added.
Stage 2: Tenderising… Wrapping the meat in foil and cooking for a couple of hours helps break down all the chewy stuff.
Stage 3: A bit more flavour. I use the last hour to add a little bit of a bbq glaze. It primarily adds a little sweetness.
When it comes to buying ribs you want to get some with a good amount of meat and a nice fat content.
You should also look for something even in profile along the length because they will cook more evenly.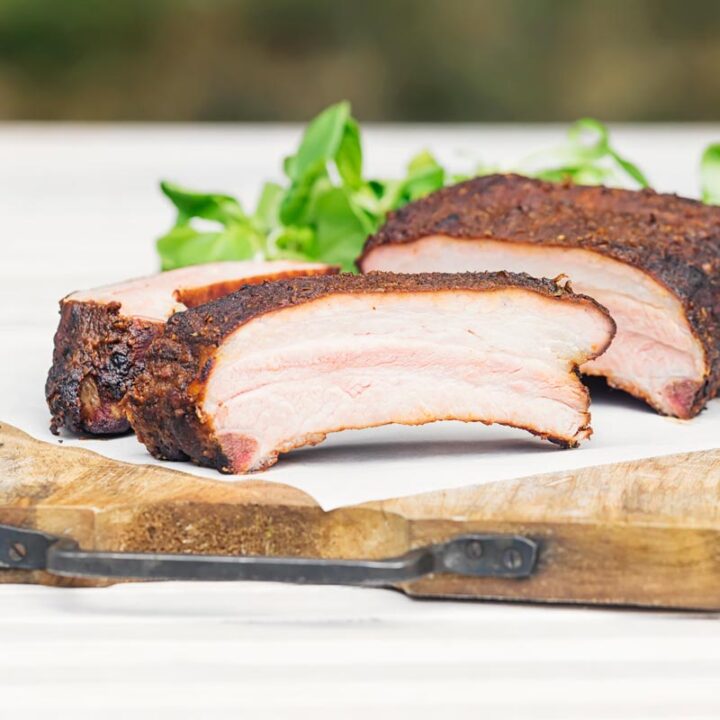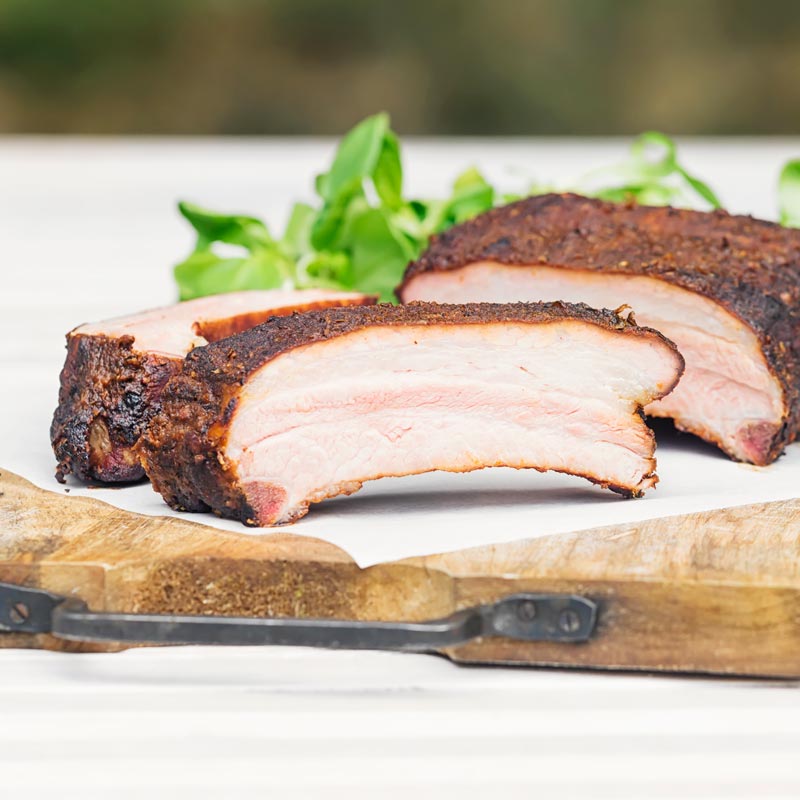 Yield:

2 Servings
BBQ Smoked Ribs Recipe
Total Time:
14 hours
15 minutes
BBQ ribs are fantastic, properly smoked ribs are way beyond insane... These are sweet, smokey, spicy and prove that small scale smoking for two is perfectly possible.
Ingredients
500 g (1 lb) Pork Ribs
1 Tsp Salt
Sprig of Thyme
6 Garlic Cloves
For the Dry Rub
2 Tsp Spicy Paprika
1 Tsp Sweet Paprika
1 Tsp Garlic Powder
2 Tsp Dark Brown Sugar
2 Tsp Dried Oregano
1 Tsp Ground Cumin
1 Tsp Freshly Ground Black Pepper
For the BBQ Glaze
100 g (3.5 oz) Onion
2 Garlic Cloves
100 ml (3.5 fl oz) Tomato Passata
1 Tbsp Worcestershire Sauce
1 Tbsp Tomato Puree
1 Tbsp Apple Vinegar
2 Tbsp Black Treacle or Molasses
1 Tbsp Mustard
1/8 Tsp Tabasco Sauce
Salt and Pepper to season
Instructions
Remove the membrane on the bone side of the rib, do this by simply pulling it away from a corner.
Mix together the ingredients for the dry rub and massage them into the ribs
Place into a freezer bag and set aside overnight to marinate.
The following morning massage in the salt and set aside.
Fire up your smoker, or charcoal grill and get the temperature up to 100-110°C, 210-225°F.
Place a baking tray full of water under the grill where you are going to place your ribs.
Add a good sprig of thyme and the garlic cloves to the water.
Add a couple of handfuls of your chosen chips to the smoker.
Place the pork ribs on the grill above the water and allow to smoke for 3 hours.
You really want to leave the ribs alone during this period, all you need to do is manage the temperature by opening and closing the vents.
After 3 hours remove the ribs closing the smoker behind you to keep the temperature up.
Wrap the ribs in foil and then return to the smoker for 2 hours.
About 20 minutes before the 2 hours up, place all of the ingredients for the glaze in a blender and blitz to a smooth paste.
Reduce this glaze by half on the stovetop.
Remove the ribs from the smoker, again closing the lid behind you.
Remove the ribs from the foil and brush with the glaze.
Return to the smoker for the final hour glazing once more after 30 minutes.
Serve the ribs with the remaining glaze.
Notes
BBQ ribs are fantastic, properly smoked BBQ ribs are way beyond insane... These are sweet, smokey, spicy and prove that small scale smoking for two is perfectly possible.
Nutrition Information:
Yield:
2
Serving Size:
1
Amount Per Serving:
Calories:

1063
Total Fat:

78g
Saturated Fat:

23g
Trans Fat:

1g
Unsaturated Fat:

35g
Cholesterol:

263mg
Sodium:

1735mg
Carbohydrates:

37g
Fiber:

4g
Sugar:

24g
Protein:

56g
Calorific details are provided by a third-party application and are to be used as indicative figures only.