Apple & honey glazed instant pot pork ribs are easy to make and produce tender fall-off-the-bone meat despite a relatively short cooking time.
The ribs sit in a dry rub overnight to get a big bold back flavour, then they get 20 minutes in a pressure cooker and finally 10-15 minutes in a searing hot oven.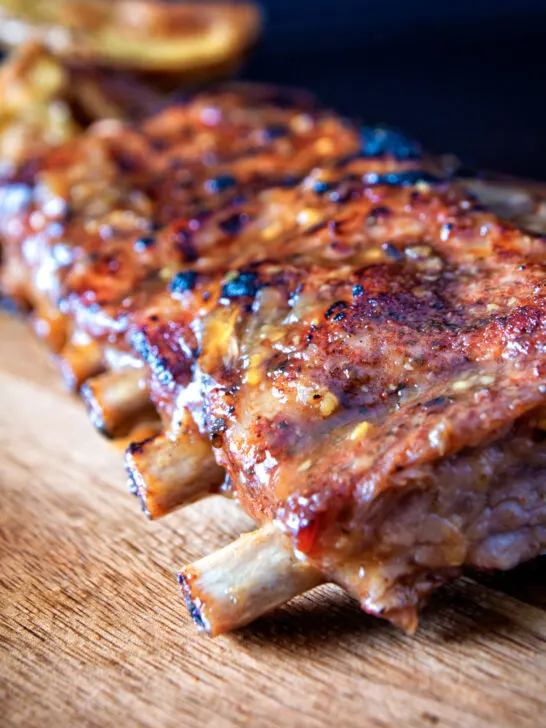 Apple and Honey Glazed Pressure Cooker Pork Ribs
I love ribs they are my favourite sticky finger food, it doesn't matter if they are slowly smoked ribs cooked on the BBQ or my slow cooker char siu influence pork ribs, they just float my boat.
These fall-off-the-bone tender apple and honey-glazed pork ribs are cooked in an Instant Pot or pressure cooker using a similar technique as my Chinese takeaway-inspired spare ribs.
As a result, the cooking time is an awful lot shorter than most rib recipes!
Pork and apple is a match made in heaven, I use the combination in recipes as diverse as Instant Pot braised pork belly with apple and sausage and apple salad.
Here the apple in question is apple juice. After it has been used to cook the ribs in the pressure cooker it is reduced to form a glaze with some honey and mustard.
Finally the ribs are popped into a fiercely hot oven to get a little colour and get that glaze nice and sticky.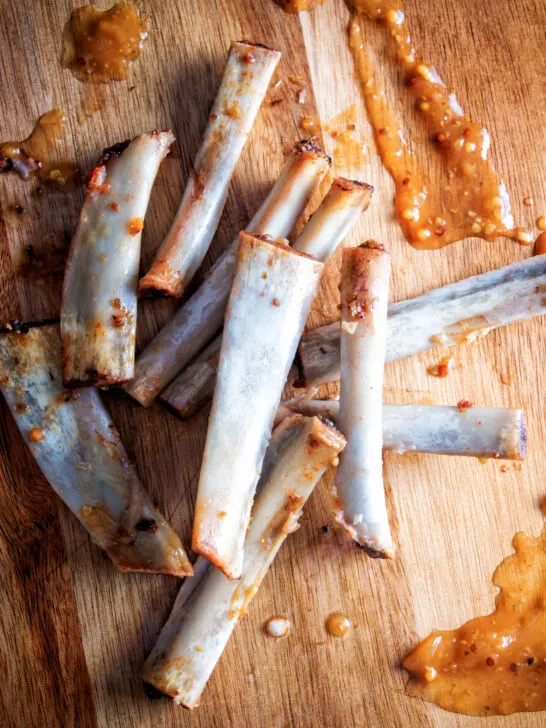 Frequently Asked Questions
What sort of ribs should I use?
A pig has 15 or 16 ribs depending on the breed but 3 are typically left attached to the shoulder. As a result, a full slab of pork ribs will contain 12 or 13 ribs.

Within that set, there are two different types of rib, baby back ribs and spare ribs.

Baby back ribs typically contain more meat and are curved in shape, these are cut from the top of the rib cage near the spine. Spare ribs are longer and flatter and are cut from the bottom of the rib cage.

The choice is yours in this recipe they take the same time to cook. I use baby back ribs because they are a better fit for the Instant Pot.
Can I shorten the marinade time for the pork?
You could, but it will impact both the flavour and the texture. Adding the salt for 8-24 hours draws out some of the moisture and leads to beautiful ribs.
Can I finish these Instant Pot ribs on the BBQ?
Yes, if you have the barbecue fired up you should definitely do this because it produces a beautiful flavour!
Do I have to remove the membrane?
There is much written about this, in terms of removing it improving the flavour penetration and juiciness. I have not found any difference in either of these aspects, but I find that ribs eat better when the membrane is removed.

If it doesn't bother you, by all means, leave it on!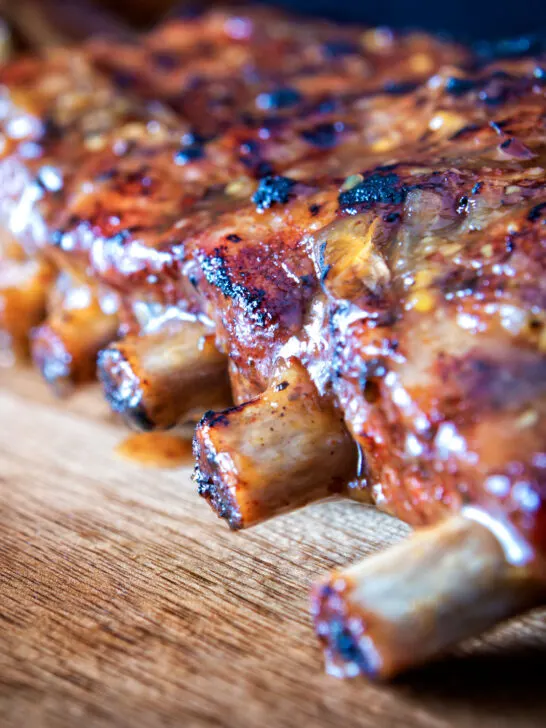 Serving Suggestions
I usually serve these honey and apple-glazed Instant Pot ribs with some form of potatoes.
I usually leverage another piece of kitchen gadgetry and either make some air fryer potato wedges or air fryer chips.
If you are willing to break out a little oil and do some frying then I would think about some straw potatoes or crispy fried new potatoes.
If potatoes aren't your thing then how about some sweet potato fries or even my fried polenta chips?
I nice salad also goes down really well alongside these Instant Pot ribs, everything from a simple green salad to my spicy mango salad would work wonders.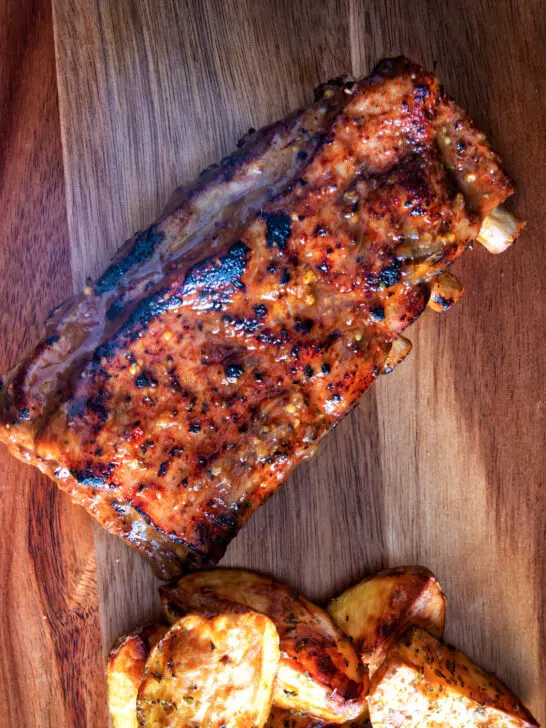 Equipment Used
I only name-check brands of equipment if I think that they make a material difference to a recipe. But if you have any questions feel free to ask them in the comments section below the recipe.
Instant Pot or pressure cooker. I use a 5.7 litre or 6 quart Instant Pot Duo 7 in 1.
Trivet and something to raise the height of the trivet.
Oven.
Kitchen knife.
Chopping board.
Kitchen tongs.
Stirring spoons and a basting brush.
Weighing scales and or measuring jug, cups and spoons.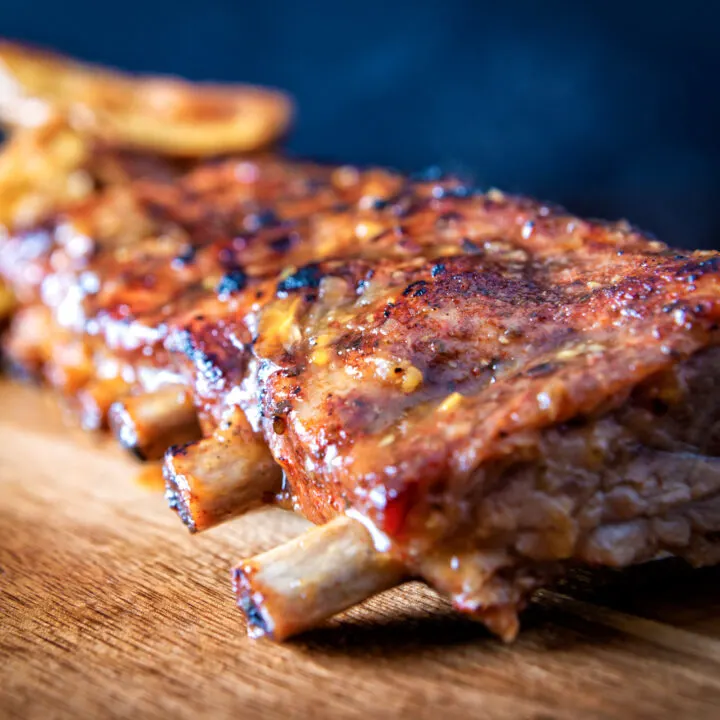 Yield:

4 Servings
Apple and Honey Glazed Instant Pot Pork Ribs Recipe
Total Time:
9 hours
10 minutes
Apple and Pork is a match made in heaven and these Apple Glazed Instant Pot Ribs take that idea to a whole new level.
Ingredients
1.5kg (3lb 5oz) Pork Rib
250ml (1 Cup) Apple Juice
1 Large (250g) Onion
3 Tbsp (60g) Honey
1 Tbsp Whole Grain Mustard
For the Dry Rub
1 Tbsp Sweet Paprika
1 Tsp Garlic Powder
2 Tsp Dark Brown Sugar
2 Tsp Dried Oregano
1 Tsp Ground Cinnamon
1 Tsp Black Pepper, Freshly Ground
1 Tbsp Coarse Sea Salt
Instructions
Peel the onion and cut it into 8 wedges.
Remove the membrane on the bone side of the rib joint, do this by simply sliding a sharp knife under a corner to release the membrane, then pull it away, if you are lucky it will come off in one piece!
Mix together the ingredients for the dry rub, massage them into the ribs and set aside for anywhere between 8 and 24 hours to marinade.
If you are using the trivet that came with your Instant Pot raise it off the base by a couple of centimetres (¾") using a crockery pot.
Cut your side of ribs so that it will fit in the Instant Pot, I usually cook them standing up and curl them around the side of the pot which means there is minimal cutting.
Pour the apple juice into the base of the pot, followed by the onions and finally the ribs, close the lid and cook on manual high pressure for 20 minutes.
Preheat your oven to 220°C and time it so it is hot when your ribs are ready to come out of your pot.
Remove your ribs carefully from the pot and set aside whilst we work on the glaze.
Take out the trivet and the pot you used to raise the height of the trivet, turn the Instant Pot on to saute mode add in the onions, honey and mustard and reduce to form a syrupy glaze, this should take 5-10 minutes, then blend with a stick blender.
Finally, pour the glaze over the ribs, transfer them to the hot oven and get a nice glaze which should take 5-10 minutes, or even better finish on the BBQ.
Nutrition Information:
Yield:
4
Serving Size:
1
Amount Per Serving:
Calories:

629
Total Fat:

18g
Saturated Fat:

27g
Trans Fat:

0g
Unsaturated Fat:

11g
Cholesterol:

210mg
Sodium:

1977mg
Carbohydrates:

29g
Fiber:

2g
Sugar:

23g
Protein:

82g