Apple and Pork is a match made in heaven and these Apple Glazed Instant Pot Ribs take that idea to a whole new level.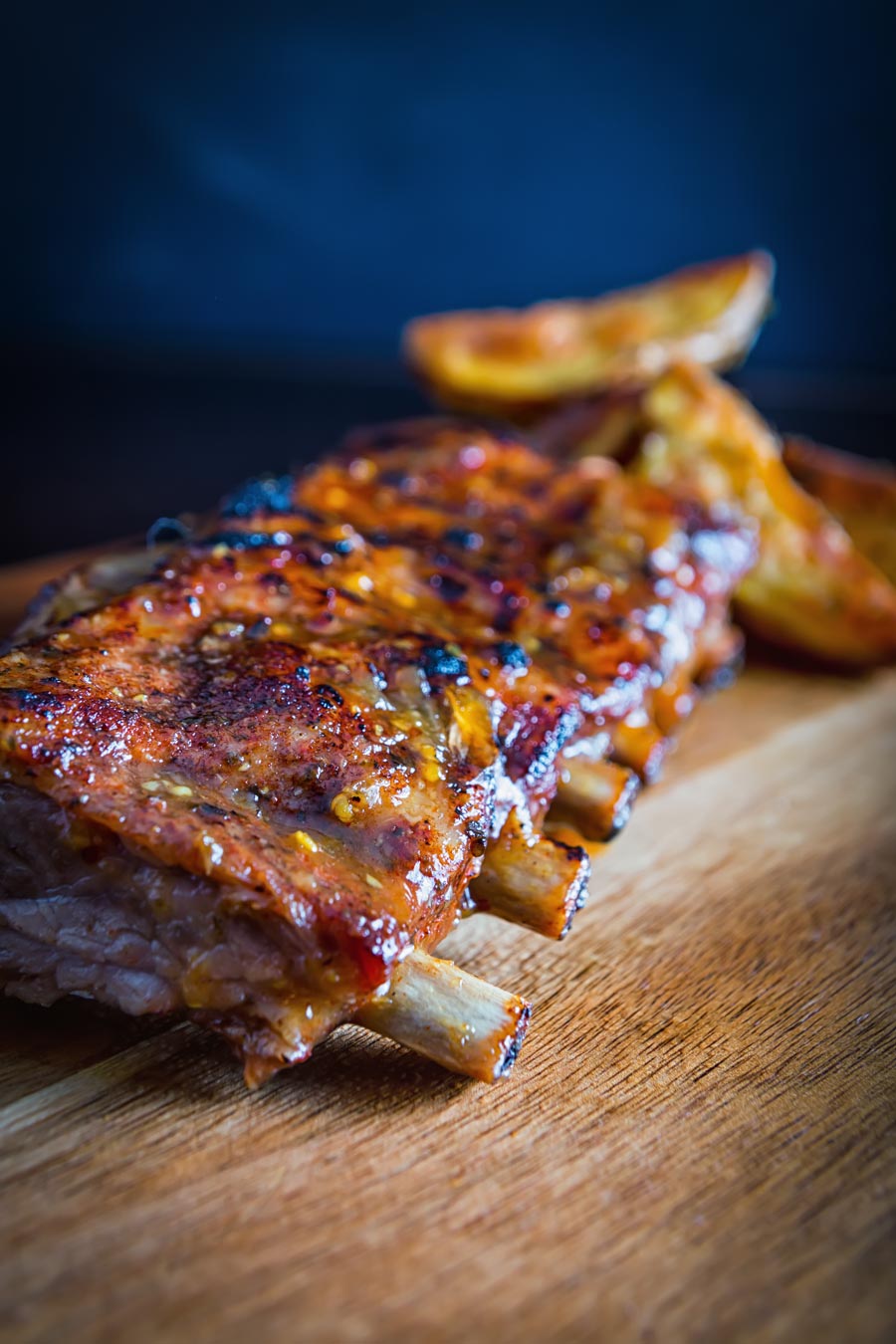 Apple Glazed Instant Pot Ribs.
I have been making apple glazed pork ribs for what feels like forever! So it was inevitable that they turn into Instant Pot ribs!
Let's face it pork and apple and pork are a match made in heaven and it 'just works'.
As far as I am concerned it is just one of those food relationships that are unquestioned. You really must check out my Instant Pot Pork Belly with Apple recipe!
This recipe was the first rib recipe in my Instant Pot, to cut a long story short, it will not be the last.
I have to say more than anything else I have pressure cooked so far, ribs are a stand out winner.
My guess is that cooking under pressure and at a certain temperature does something to the fat and sinew. It seems to render down in a completely different way to other cooking methods.
Now, this is a guess, I am no scientist and I really don't care why it happens. All I know is it is awesome!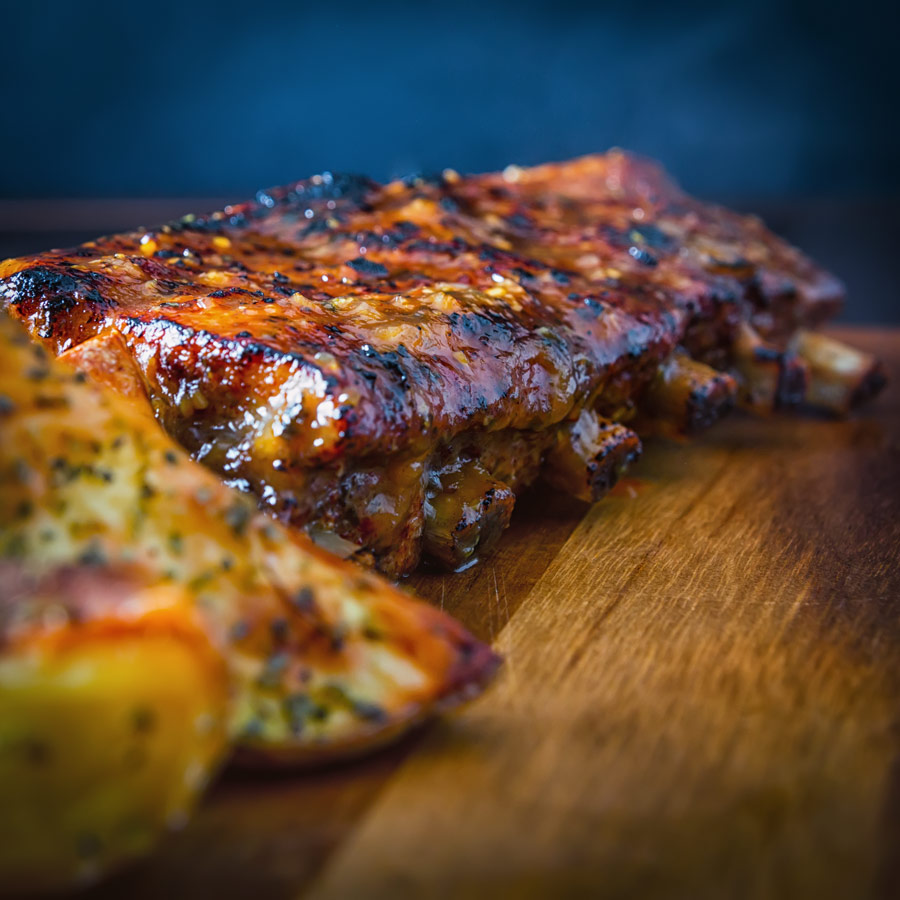 How to Cook Ribs In A Pressure Cooker.
Regular readers will know that I am fond of ribs. This is the 4th rib recipe here on Krumpli, all cooked in a slightly different way.
All really tasty and all get the 'Jones' seal of approval. However, cooking ribs in a pressure cooker is now my favourite way!
All of my rib recipes, not just the apple glazed ribs will become Instant Pot Ribs.
Cooking ribs in the pressure cooker is simple, ribs, flavouring and as little liquid as you can get away with. Then cook at high pressure for between 15 and 30 minutes with a slow pressure release.
But the real secret to cooking ribs in any pressure cooker is in the finishing.
Ribs benefit from a sticky glaze and a pressure cooker is a wet cooking environment. This means no way of getting a glaze!
The best way to achieve this is to fire up your broiler, oven or even BBQ and get it nice and hot. Then when the ribs are resting a little either make a glaze or reduce down the contents of the cooking liquid.
All you have to do then is brush this over and give them 10 minutes to colour and get sticky.
As far as I am concerned the BBQ or Grill is the very best way to do this!
In fact if it wasn't so damn cold out there right now I would be firing up that bad boy as I type this as I am now drooling!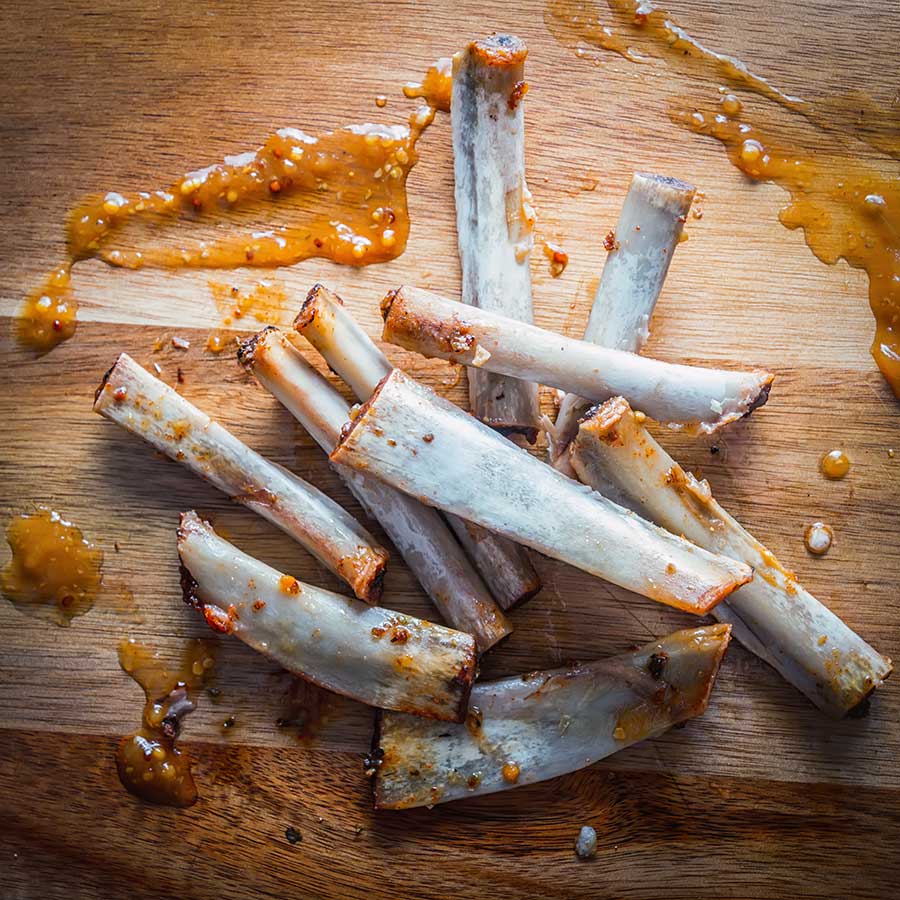 What Sort of Ribs to Buy.
A pig has 15 or 16 ribs depending on the breed but 3 are typically left attached to the shoulder.
As a result, a full slab of pork ribs will contain 12 or 13 ribs.
Within that set, there are two different types of rib, baby back ribs and spare ribs.
Baby back ribs typically contain more meat and are curved in shape, these are cut from the top of the rib cage near the spine.
Spare ribs are longer and flatter and are cut from the bottom of the rib cage, these often contain some of the brisket 'flap'.
As with everything there are variations on this theme such as St Louis style ribs, which contain the central portion and are rectangular in shape.
Then there are country ribs, which are not really ribs but part of the loin of pork.
The choice is yours really I am typically fond of spare ribs, although this recipe uses baby back ribs.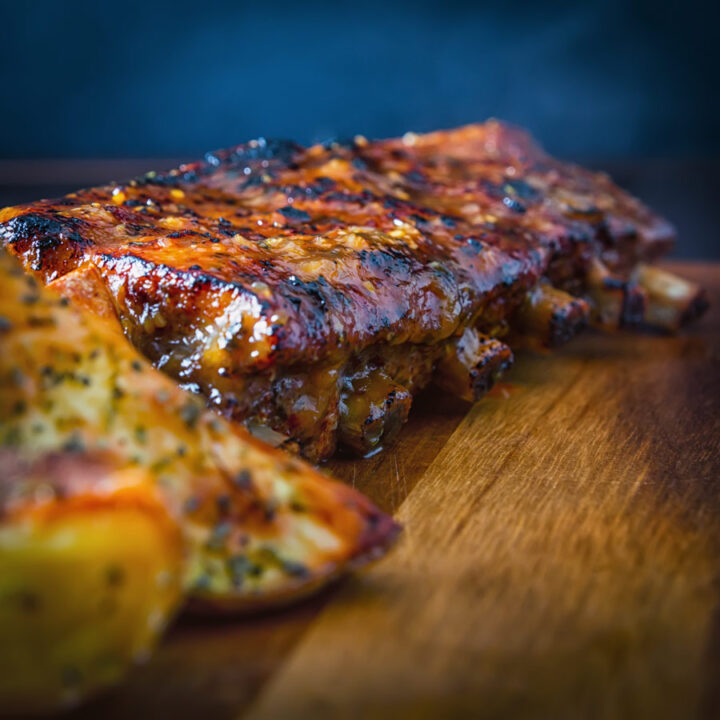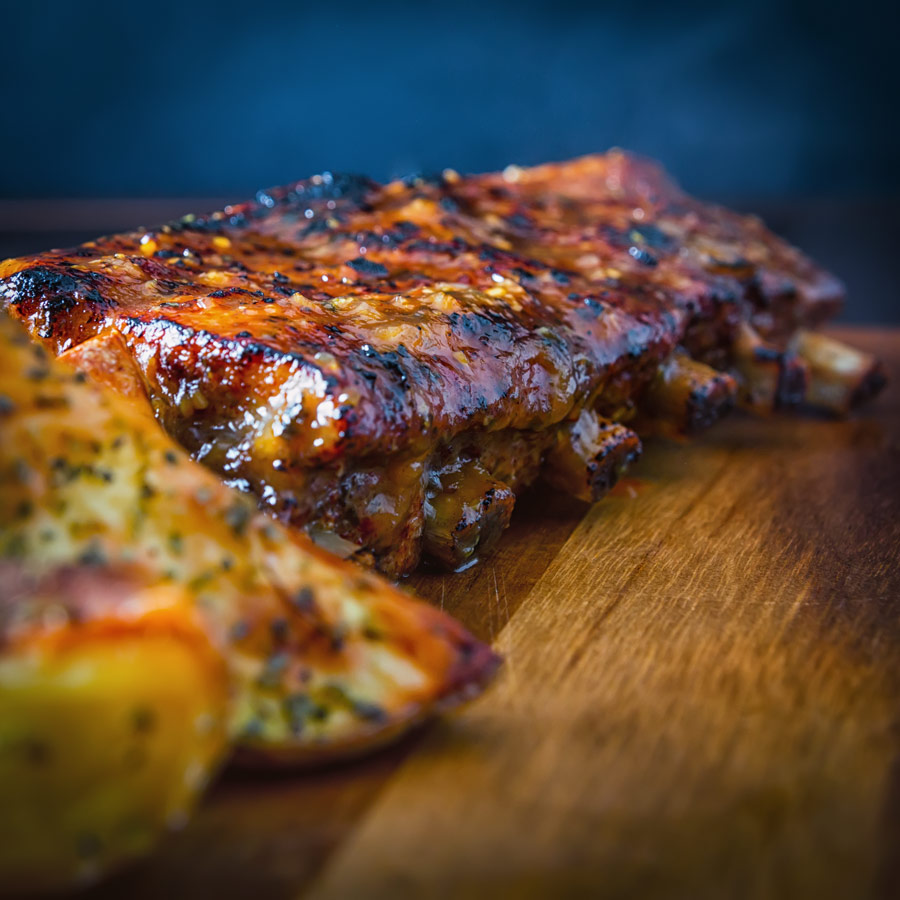 Yield:

4 Servings
Apple Glazed Instant Pot Ribs
Prep Time:
4 hours
35 minutes
Total Time:
5 hours
20 minutes
Apple and Pork is a match made in heaven and these Apple Glazed Instant Pot Ribs take that idea to a whole new level.
Ingredients
1.5 kg Pork Rib
250 ml Apple Juice, Go for the very best quality you can get
1 Onion, Peeled and cut in to 8 wedges
3 Tbsp Honey
1 Tbsp Whole Grain Mustard
For the Dry Rub
1 Tbsp Sweet Hungarian Paprika
1 Tsp Garlic Powder
2 Tsp Dark Brown Sugar
2 Tsp Dried Marjoram
1 Tsp Ground Cinnamon
1 Tsp Black Pepper, Freshly Ground
1 Tbsp Coarse Sea Salt
Instructions
Begin by removing the membrane on the bone side of the rib joint, do this by simply slicing with a sharp knife and pulling it away, if you are lucky it will come off in one piece!
Now mix together the ingredients for the dry rub and massage them into the ribs and set aside for 4-8 hours to marinade.
If you are using the trivet that cam with your InstantPot raise it off the base by a couple of centimeters using a crockery pot.
Pour the apple juice into the base of the pot, followed by the onions and finally the ribs, close the lid and cook on manual high pressure for 20 minutes.
Preheat your oven to 220°C and time it so it is hot when your ribs are ready to come out of your pot.
Remove your ribs carefully from the pot and set aside whilst we work on the glaze.
Turn your InstantPot on to saute mode add in the onions we just removed with the ribs, honey and mustard and reduce to form a syrupy glaze, this should take 5-6 minutes and then blend with a stick blender.
Finally pour over the glaze and transfer to the hot oven and get a nice glaze which should take 5-10 minutes, or even better finish on the BBQ.
Serve with potato wedges.
Notes
If you want to marinade over night just omit the salt and season up to 8 hours before you cook.
Nutrition Information:
Yield:
4
Serving Size:
1
Amount Per Serving:
Calories:

1299
Total Fat:

90g
Saturated Fat:

27g
Trans Fat:

1g
Unsaturated Fat:

40g
Cholesterol:

303mg
Sodium:

2944mg
Carbohydrates:

63g
Fiber:

3g
Sugar:

51g
Protein:

62g