This delicious Cauliflower Veloute with Turmeric Potatoes is a soup that combines classic French techniques with Indian flavours.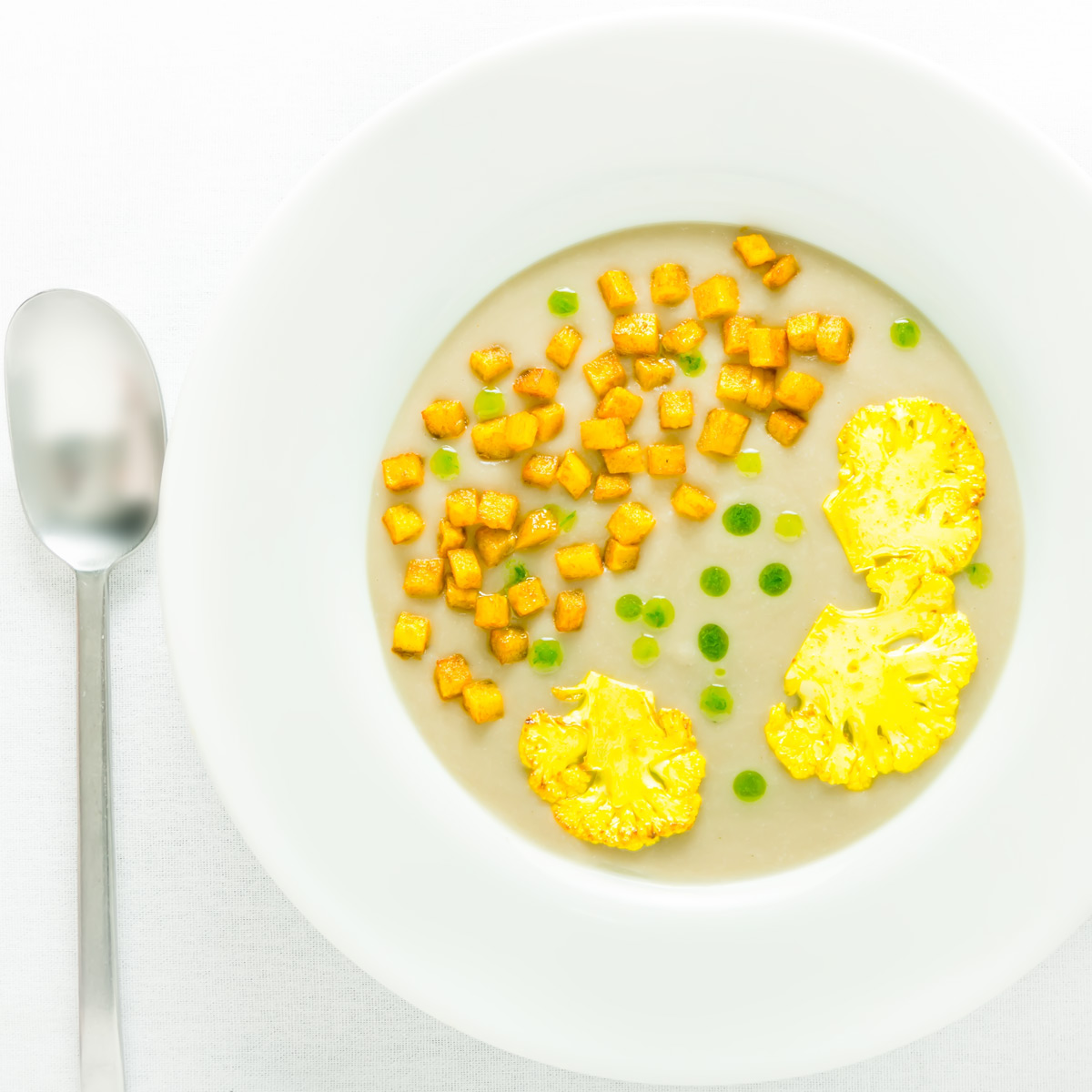 I don't do a great deal of real 'fusion food' however this delicious Cauliflower Veloute with Turmeric Potatoes definitely falls into that category, with some pretty classical French ideas and techniques all give a little tickle with the Indian flavours I love.
To be honest with you I have absolutely no idea where this dish came from, it is a dish I have been kicking around for a few weeks and now I have it right about where I want it.
For those of you not so experienced with Indian flavours, this is a great starting point, the flavours are fragrant and all really very distinct and I know at least one of my readers will be delighted that this Indian dish contains no chili what so ever. Of course there will be many others deeply disappointed!
Like all veloute, this cauliflower veloute lives and dies on it's stock, essentially all we have is a stock thickened and turned into a sauce with a roux. A really old technique, so get your stock as good as you can.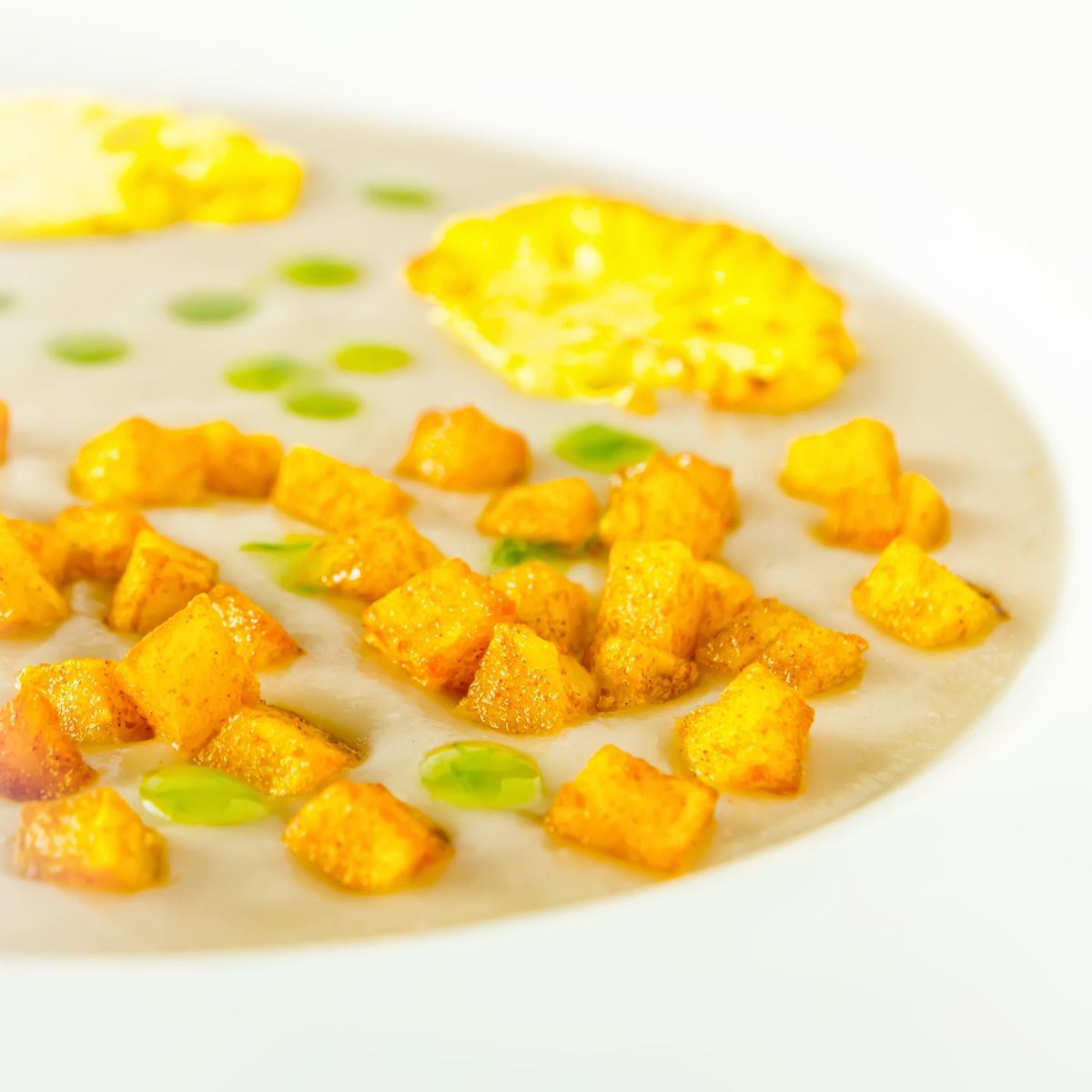 I make my own stocks most of the time, but I appreciate that is a step too far for many, so go out and buy a good vegetable stock and you will be all good. Whilst we are on the topic of stock I had a rather amusing 'interaction' on one of the most 'famous' foodie forums whilst I was developing this dish all about stock.
Now I'm a bit playful when it comes to calling out food bullshit. This whole conversation started when I made a rather sarcastic comment on a post that stated stock is made from bones and broth is made from meat unless it is bone broth then it is made from bones.
Apparently I was incredibly childish and stupid for asking where I get my bones for my vegetable stock. Incidentally, I say there is no difference between a stock and a broth other than the fact that we tend to write the word stock in recipes and broth on menus.
All of which is deeply unimportant, unlike the quality of your broth, stock or bouillon if you are so disposed which is incredibly important in my Indian/French cauliflour veloute with turmeric potatoes.
Oh yes I am sure I am meant to say something about the magical healing properties of turmeric, however you all know I don't do that silly sort of thing and will instead say that they are really, really tasty and these potatoes need to be consumed in vast quantities for that reason and that reason alone 😉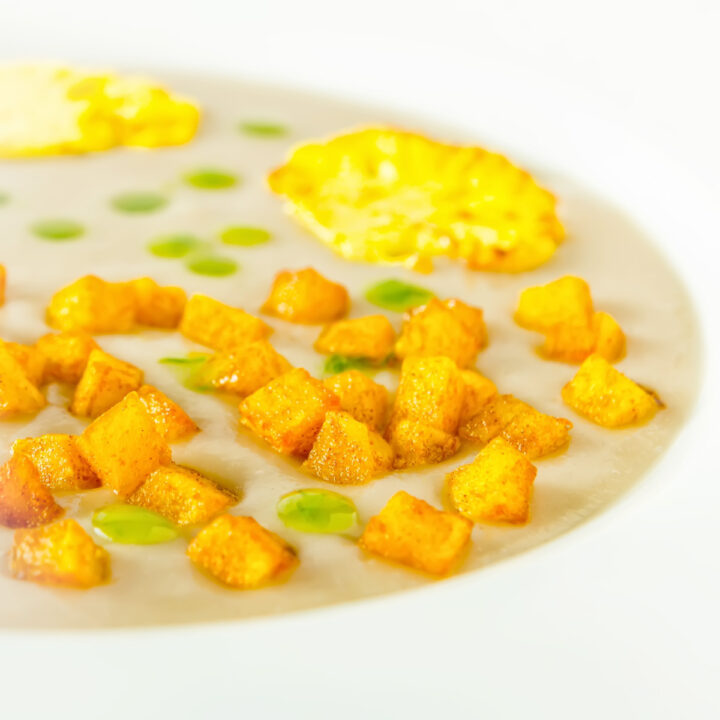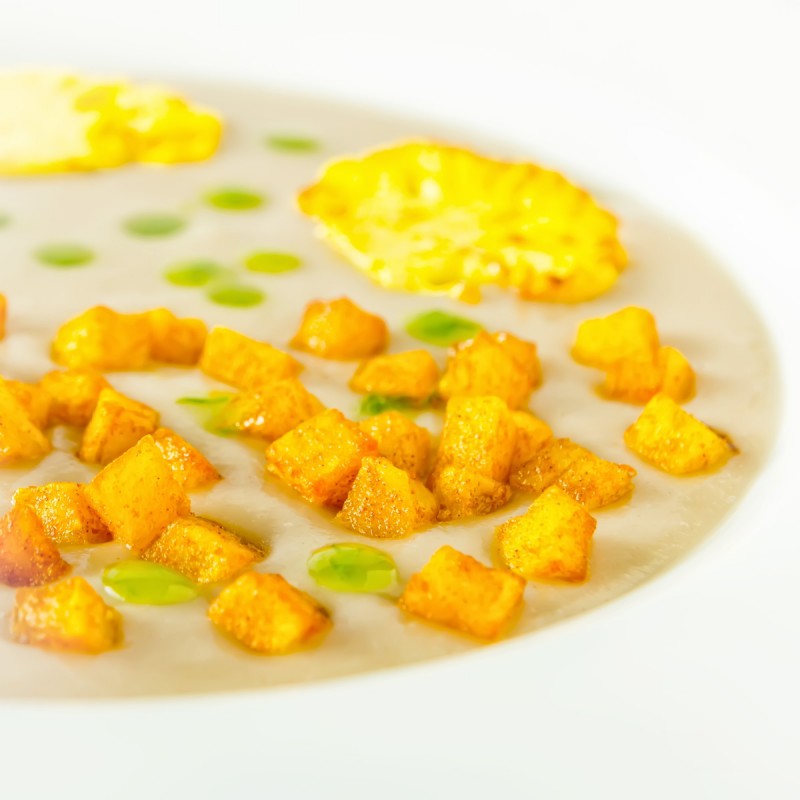 Yield:

2 Servings
Cauliflower Veloute with Turmeric Potatoes
This delicious Cauliflower Veloute with Turmeric Potatoes is a soup that combines classic French techniques with Indian flavours.
Ingredients
250 g Cauliflower, Broken into florets
500 ml Vegetable Stock, Use the best stock you can get
1 Tbsp Dried Fenugreek Leaves
1 Tbsp Coriander Seeds
1 Tsp Cumin Seeds
1 Tsp Black Pepper Corns
30 g Butter
30 g Plain Flour
1 Tsp Black Onion Seeds
1/2 Tbsp Flavourless Cooking Oil
75 g Potato, Cut into a 5mm dice
1/2 Tsp Ground Turmeric
1 Garlic Clove
Instructions
Begin by taking your cauliflower florets and breaking them down into florets roughly the same size and steam until very soft and gives easily with a knife, I like to reserve a few slices to fry up and serve as a garnish.
Bring the vegetable stock to the boil and then reduce to a simmer, add in the fenugreek, coriander seeds, cumin seeds, onion seeds and black pepper and allow to steep for 5 minutes to impart flavour.
Melt the butter in a medium saucepan over a medium heat and when melted add the flour and stir to form a roux, you want the flour to cook through but you do not want to create any colour, this should take 3-5 minutes.
Now stir in the warm stock we created earlier a little at a time stirring all the while, this will eventually come together to create a silky smooth veloute, set this aside whilst we deal with the cauliflower.
Place the oil in a saute pan and heat over a medium high heat and add in the garlic clove that you have bashed, the turmeric and potatoes and saute until crispy and cooked through, which should take 5-7 minutes, adding cauliflower slices at the end for 60 seconds if you saved some.
By know the cauliflower should be steamed, add to a blender to form a smooth puree and pass through a fine mesh sieve, add a little of the steaming water if required.
Add this into your veloute and stir.
If needed bring the veloute back to temperature being careful not to boil and serve, sprinkled with the potatoes and cauliflower slices.
Notes
I like to add drops of chive oil to add a hint of onion, simply mash some fresh chives with ground nut oil in a pestle and mortar or mini blender.
Nutrition Information:
Yield:
2
Serving Size:
1
Amount Per Serving:
Calories:

402
Total Fat:

20g
Saturated Fat:

9g
Trans Fat:

1g
Unsaturated Fat:

9g
Cholesterol:

36mg
Sodium:

1003mg
Carbohydrates:

49g
Fiber:

8g
Sugar:

9g
Protein:

12g