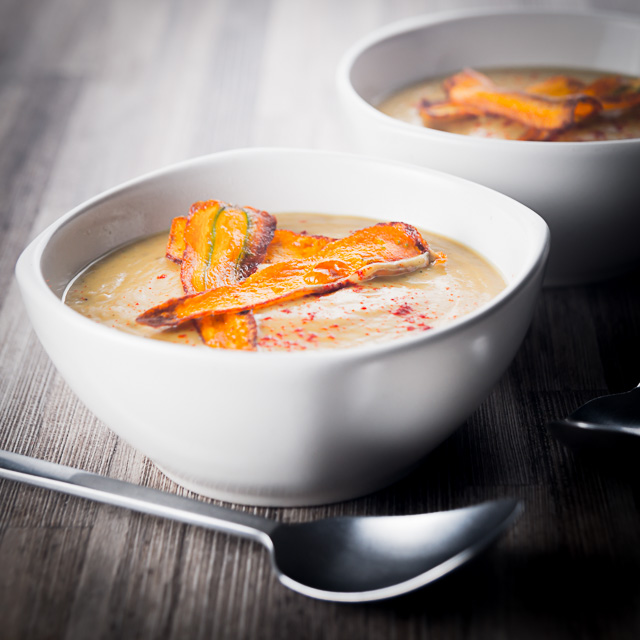 I love curried parsnip soup and one of the great triumphs in our garden this year is finally the success of parsnips, a vegetable rarely heard of in Hungary, the relatively similar but definitely not the same parsley root rules the day out here and it just does not work in this type of soup! No matter what we have tried in our 6 growing seasons so far has worked, however we persisted and got a new variety of seed shipped in and this year we have finally managed to grow them, they are 'fugly', gnarly things but the taste is sublime sweet and earthy in flavour and perfect for my curried parsnip soup!
Like many of the recipes posted here I have been cooking this for years but never written down a recipe and the process is often frustrating but wonderful to actually have something to refer back too, I confess to having cooked this 3 times so far in the couple of weeks we have been harvesting! Most of it has been batch cooking but as with all the recipes here I do cook a small batch so I know that the recipe works for a two person serving size. You can of course use shop bought curry powder for this recipe but I like to mix my own blends from raw spices where ever possible as powders and pre-blended often have a much shorter shelf life and end up tasting of very little by the time you get round to the end of the packet.
I love the arrival of Autumn and Winter, roasting things does something really special to them, you will have seen something similar if you have seen my roasted tomato soup. Despite being a self confessed food addict I have a very modest, some would say tiny kitchen, couple that with our house with 60cm thick walls built of mud and straw then firing up our oven in summer is not a good thing to do. I digress, roasting the parsnips for this curried parsnip soup allows them to caramalise a little around the edges and that caramalisation is where the magic happens for me, those little darkened crispy bits add a sweetness in a way that can not be replicated in any other way.
Regular readers will know I have no interest in 'healthy' I reckon this dish in a a sensible world is very healthy, sure you could get rid of the butter and maybe not serve it with the deep fried carrots, but why would you do that? Food is all about love and smiles and these little flourishes are the 1% of the dish that take it from Mmmmmm and take it all the way to 'Oh My God, Gimme Some More'! So if you are so inclined feel free to trade out the butter and deep fried elements and replace them with what ever you wish, but either way even less the 1% this Roasted Curried Parsnip Soup is one to enjoy on a wonderful Autumn or winter night!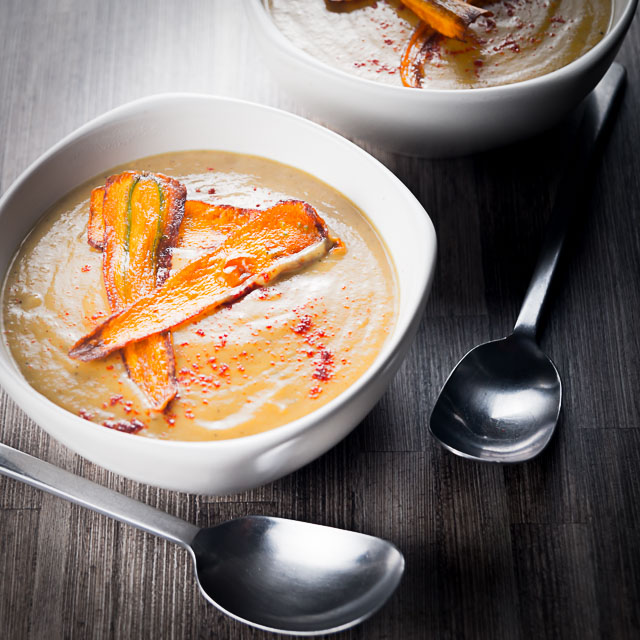 Print
Roasted Curried Parsnip Soup
Roasting the Parsnips in this curried parsnip soup give a depth to the sweetness of the parsnip that marries perfectly with the mild curry flavours!
Total Time
1
hour
10
minutes
Ingredients
1

Tbsp

Cooking Oil.

Neutral.

100

g

Onion.

Roughly Chopped.

4

Cloves

Garlic Cloves.

Skin on lightly bruised.

450

g

Parsnip.

Scrubbed rather than peeled and cut in half lengthways

1/2

Tbsp

Cumin Seeds.

750

ml

Vegetable Stock.

30

g

Unsalted Butter.

10

g

Grated Ginger.
For the curry powder (Sub for shop bought if you like):
1/2

Tsp

Coriander seeds.

1/8

Tsp

Cumin Seeds.

1/2

Tsp

Fenugreek Seeds.

4

Green Cardamom Pods.

Split and seeds removed.

1/4

Tsp

Ground Turmeric.

1/4

Tsp

Kashmiri Chili Powder.

15

g

Unsalted Butter
Instructions
Pre-heat your oven to 200°C

Place the onion, parsnip, garlic and cumin into a roasting try and add 1 Tbsp of cooking oil and roast until the Parsnips are cooked and have a nice caramalisation on the edges. Depending on size this should take about 40 minutes

Place the roasted parsnip, onion and garlic in a small pan and add 500ml of vegetable stock and blend with a stick blender until smooth and then pass through a rotary food mill or fine seive

Melt the butter over a medium heat and when melted add the ginger and stir for a minute until fragrant and then add the curry powder and stir for a further minute, then return the parsnip paste to the pan and stir to combine and add the remaining 250ml of vegetable stock and allow to cook on for 5 minutes

If you are making your own Curry powder mix toast off the Coriander, Cumin, Fenugreek and

Cardamom in a dry pan and then blitz to a fine powder in a spice grinder, then add the kashmiri chili powder and ground turmeric

Cook off the the curry powder in the butter and add it to the soup and stir it through to combine
Recipe Notes
Serve with some deep fried carrot ribbons.