These honey mustard pork chops are baked in the oven together with parsnips and broccoli to create a simple but stunningly tasty complete meal.
Honey Mustard Pork Chops With Parsnip and Broccoli.
You could be forgiven for thinking me and pork chops have a thing going on because these chops join an ever-growing list of pork chop recipes here on krumpli.
I don't care how they come they really are one of my favourite things to cook.
This pork chop recipe is pretty much a one-pot roast in the oven. After that take it to the table and tuck in.
Here we use bone-in thick cut centre loin pork chops, the same cut I use in my slow cooker pork chops in a tomato sauce. We pair them up with parsnips and broccoli and roast it all together in a honey mustard sauce.
Honey and mustard are a real killer combination to use with pork. I use it in recipes as diverse as this smoked pork loin salad to these apple glazed pork ribs or even in this honey and mustard glazed salmon fillet.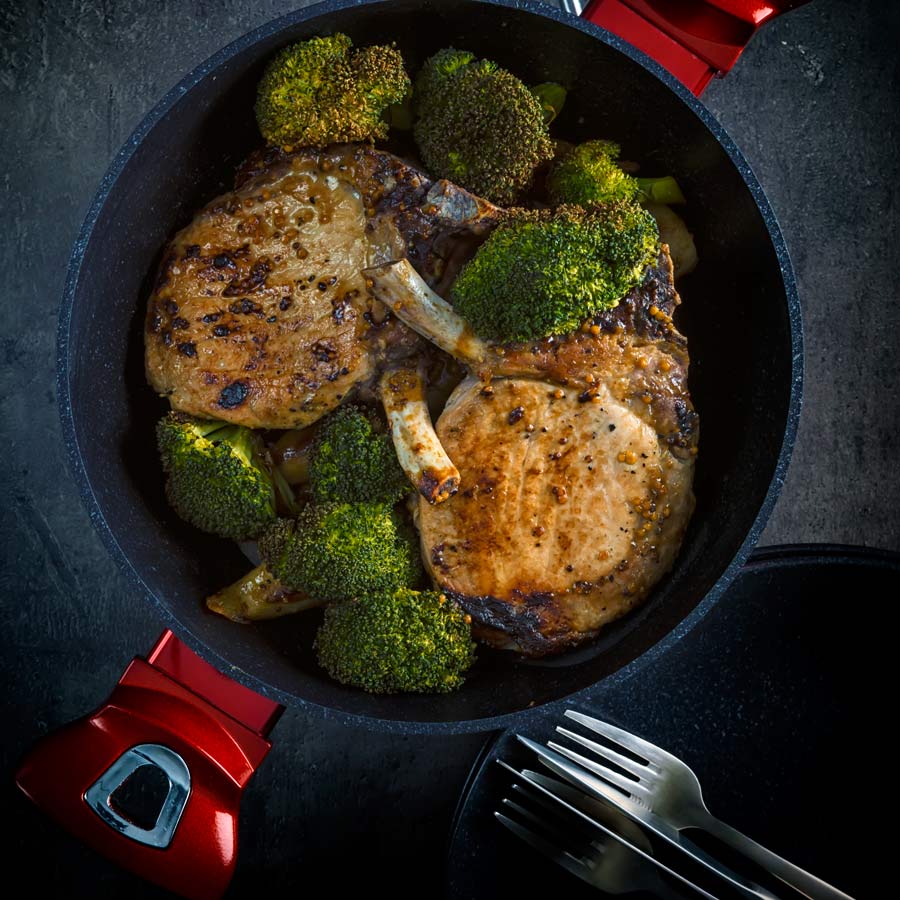 Pork Chop Love.
Pork chops have for the longest time been a stalwart of my cooking repertoire.
I love them, whether they are boneless pork blade chops with beans or this beautifully elegant simply baked pork chop with blackberries, they are always a favourite.
They can be dressed up or down, have much more flavour that chicken and are often really cheap.
It wasn't until I started my website that I realised that there are some folk out there that are less than keen on a bit of pig.
Most of the things I hear about pork is that people think that it is dry.
I think this comes from the fact that in years gone by the official guidance on cooking pork meant a pretty dry piece of meat.
That guidance changed in the US in 2011 and earlier than that in much of Europe.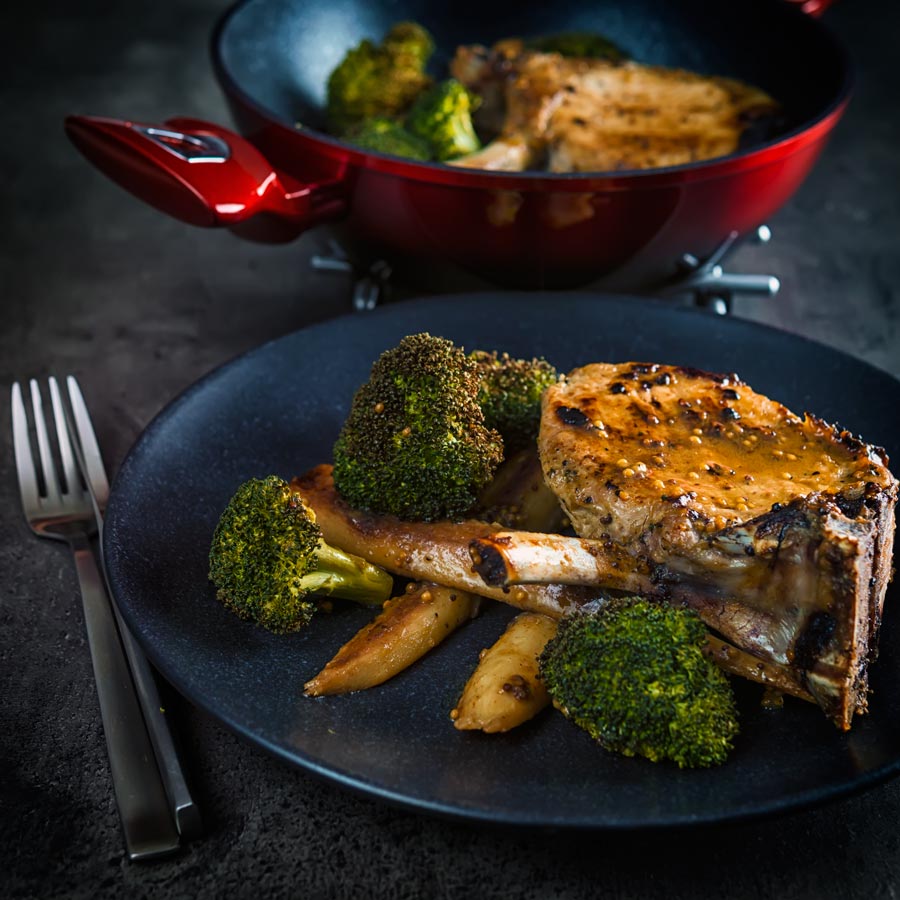 How To Perfectly Cook Pork.
The first thing you need to do to perfectly cook pork is pony up some cash.
We are not talking about a lot of money here. A decent quick read meat thermometer should cost no more than 8-12 British pounds or 10-15 US dollars.
It will immediately make you a better cook! If I could advise one purchase to improve your cooking (if you are a meat eater) it would be a meat thermometer.
Pork is perfect when the internal temperature reaches 62°C or 145°F. If you have a fattier cut like pork belly then you have more room to cook to a higher temperature.
But for a lean cut of meat like we have in these honey mustard pork chops then that is where you want to be.
You must also consider that your meat will continue to cook after you take it off the heat. Resting is also important, so remove the meat from the heat when it reaches 58°C or 135°F.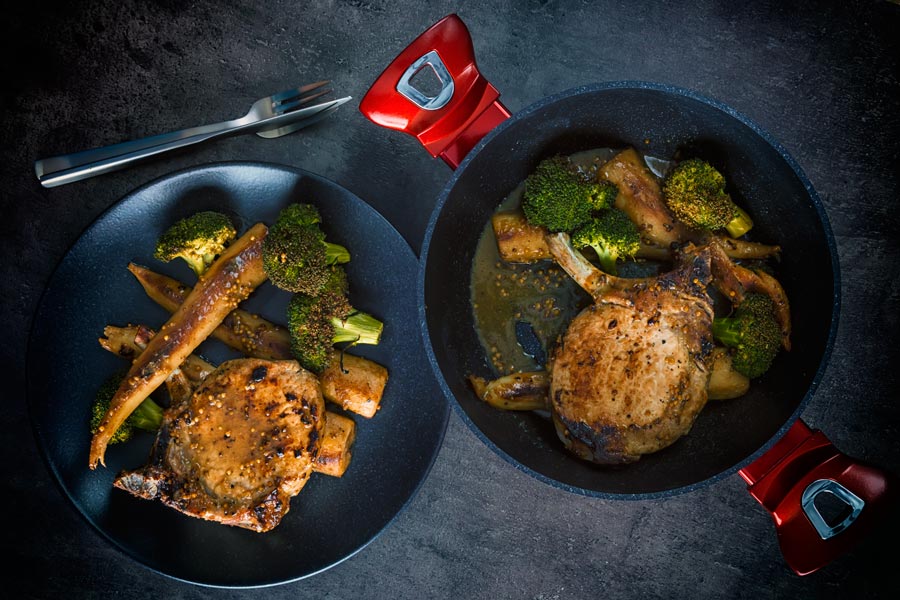 Parsnip Recipes.
The parsnips in this pork chop recipe cook underneath the pork chops in the honey and mustard sauce.
As a result, they soften and almost confit in the delicious sweet mustrady sauce.
I love parsnips, they are so versatile, they will cook down like this but are just a comfortable roasted crispy.
But they also make the most incredible cream of parsnip soup, you can even dice them and use them as you would potatoes in any other soup.
However, they are not done yet, steam or boil them and they make a wonderful puree or mash. They are seriously one of the most wonderful ingredients in the kitchen at this time of year!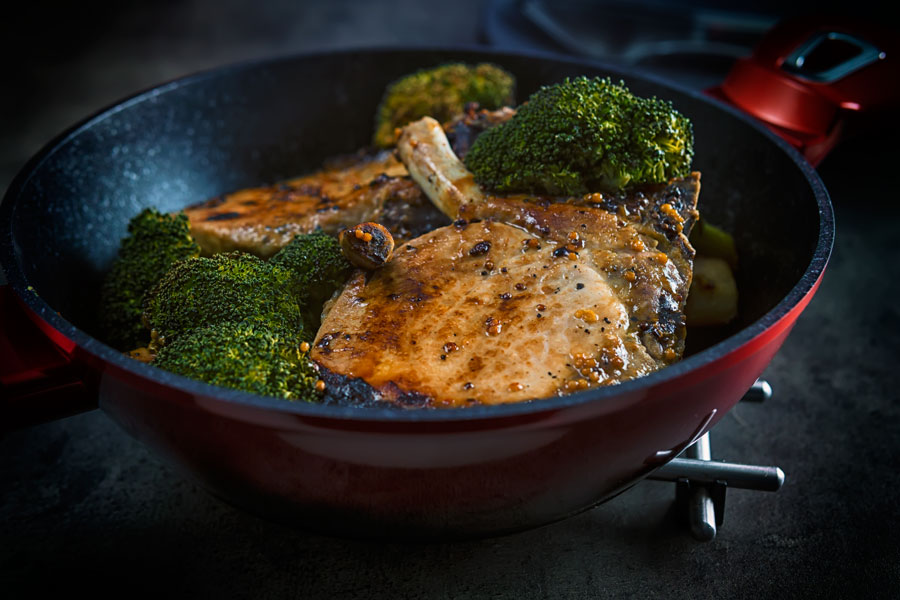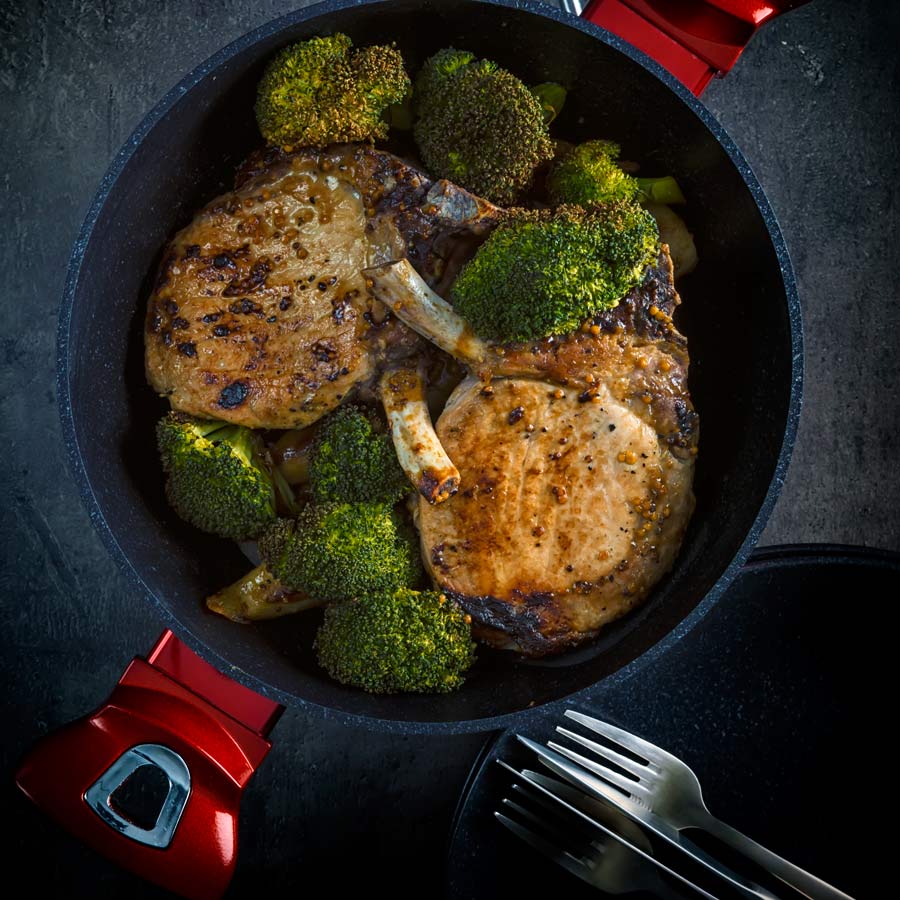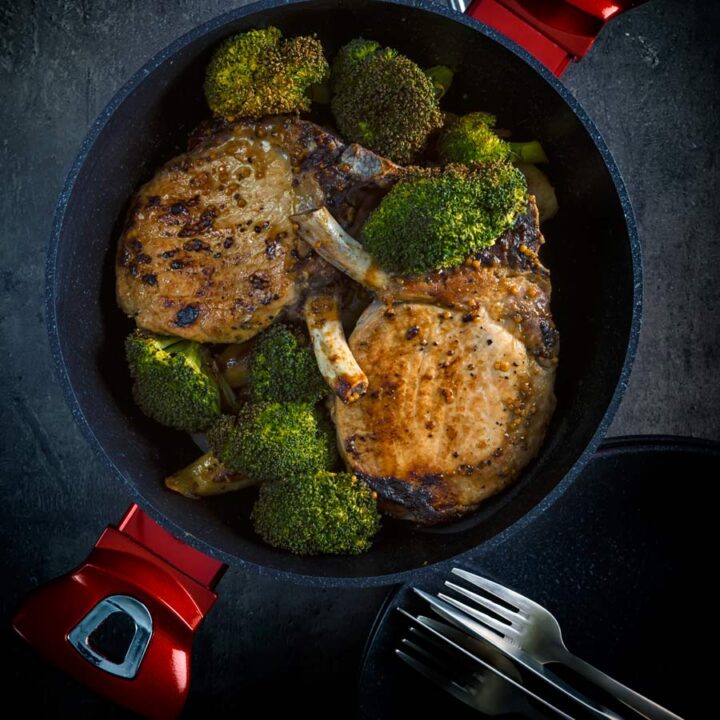 Honey Mustard Pork Chops With Parsnip and Broccoli
These honey mustard pork chops are baked in the oven together with parsnips and broccoli to create a simple but stunningly tasty complete meal.
Ingredients
2 Pork Chops, Thick cut bone in pork chops
400 g Parsnips
350 g Broccoli
1 Tbsp Strong English Mustard
1 Tbsp Wholegrain Mustard
1 Tbsp Worcestershire Sauce
1 Tbsp Honey
35 g Butter
Salt and Pepper, To taste
Instructions
Bring a pan of water to the boil and add a generous amount of salt.
Peel and cut the parsnips in half and then add to the boiling water and parboil for 10 minutes.
Trim up your pork chops, I like to French trim mine because it means less mess fingers when I pick up the bone to gnaw it clean later.
Break your broccoli down into florets.
After your parsnips have been boiling for 10 minutes remove from the water and place in a sieve to steam dry for 2-3 minutes.
Heat a pan that will transfer to the oven over a high heat.
Mix together the mustards, honey and Worcestershire sauce and season with salt and pepper to taste.
Melt the butter in a hot pan and then toss in the parsnips and caramalise for 4-5 minutes to get a nice colour.
Season the pork chops with salt and pepper and nestle into the pan.
Pour over the honey and mustard sauce.
Add in the broccoli and roast in the oven for 30 minutes or until the thickest part of the pork chop reaches 58°C or 135°F.
Rest with a lid on for 5 minutes or until the temperature of the chop reaches 62°C or 145°F
Nutrition Information:
Yield:

2
Serving Size:

1
Amount Per Serving:
Calories:

869
Total Fat:

42g
Saturated Fat:

18g
Trans Fat:

1g
Unsaturated Fat:

18g
Cholesterol:

235mg
Sodium:

734mg
Carbohydrates:

58g
Fiber:

14g
Sugar:

22g
Protein:

68g
Calorific details are provided by a third-party application and are to be used as indicative figures only.