Thick-cut pork chop traybake, the chops are coated in smoked paprika and then cooked with red wine vinegar, honey, peppers, and onions.
This recipe will go from your fridge to your table in around an hour, including preparation and it is very easy!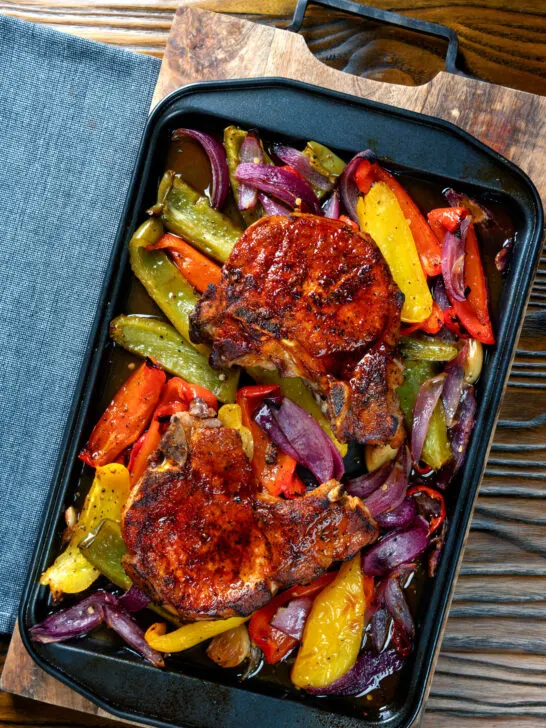 Baked Pork Chops with Peppers and Onions
You can't beat a good tray-bake recipe for a simple low-maintenance dinner, they are gloriously simple and always really tasty.
I have everything from a tray baked whole sea bass and preserved lemon chicken tray bake to a cracking beef sausage tray bake.
My latest offering is some glorious tray-baked thick-cut pork chops that are cooked with bell peppers, sweet red onions and garlic.
The peppers get a lovely crust thanks to being seared before being added to the veggies, then a generous sprinkling of smoked paprika.
The veggies get a bit of a sweet and sour vibe from a mix of honey and red wine vinegar which brings a wonderful balance to the recipe.
If pork chops are your thing then you really need this recipe on your table right now!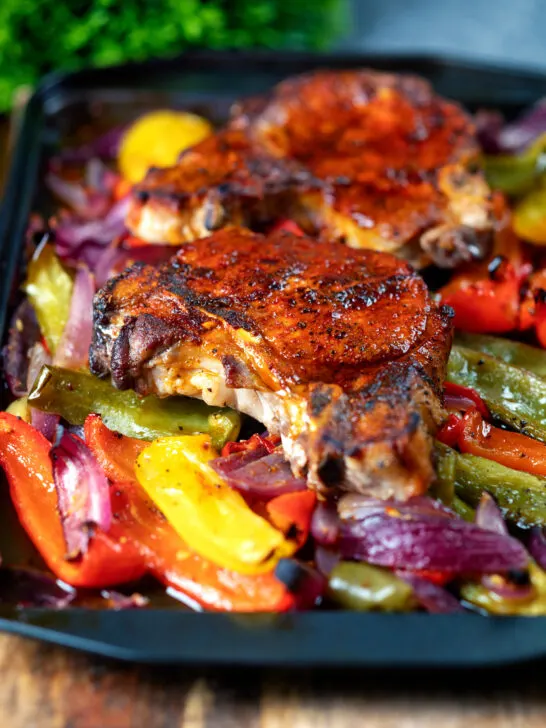 Frequently Asked Questions
What sort of pork chops should I use?
This recipe uses bone-in centre-cut pork loin chops. They are similar to a beef t-bone steak in that they have both the loin and the fillet.

I use them in dishes like my Normandy pork chops and honey and mustard pork chops.
Do I have to use red wine vinegar?
No, but, I like the flavour that it gives this dish. You could substitute it with anything from white wine vinegar, sherry vinegar or even cider vinegar.
How do I tell when pork is perfectly cooked?
I personally use internal temperature as my guide to when all meat is cooked because it is both accurate and repeatable.
The safe recommended temperature for pork is 63°C or 145°F, this temperature should be held for a few minutes.
Do I need to use a meat thermometer?
No, but I swear by mine and I would probably consider it to be one of my most treasured pieces of kitchen kit.

Could I cook well without one, yes… would I want to, absolutely not!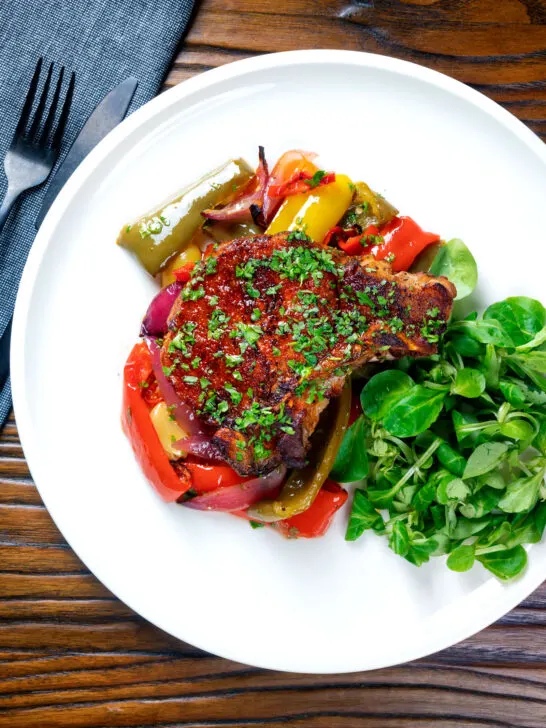 Serving Suggestions
I consider this pork chop tray bake to be a complete meal and rarely add anything other than a simple green side salad or some salad leaves.
If you wanted to make it a little heartier you could add a side of bread or even potatoes.
My choice would be something salty and crispy. Something like my straw potatoes or fried crispy potatoes would work perfectly.
Some jacket potatoes would work wonderfully too, especially if you stuff the potato some of the peppers and onions.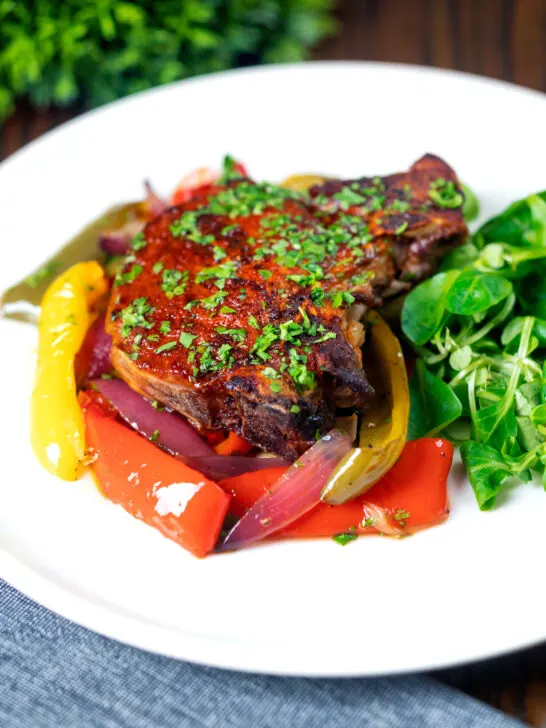 Equipment Used
I only mention brands of equipment if I think that they make a material difference to a recipe. But if you have any questions feel free to ask them in the comments section below the recipe.
Oven.
Stovetop.
35cm x 22cm (14″ x 9″) baking tray.
28cm or 11″ frying pan.
Kitchen tongs.
Chopping board.
Kitchen knife.
Mixing bowl.
Weighing scales and or measuring cups and spoons.
Quick read meat thermometer (optional).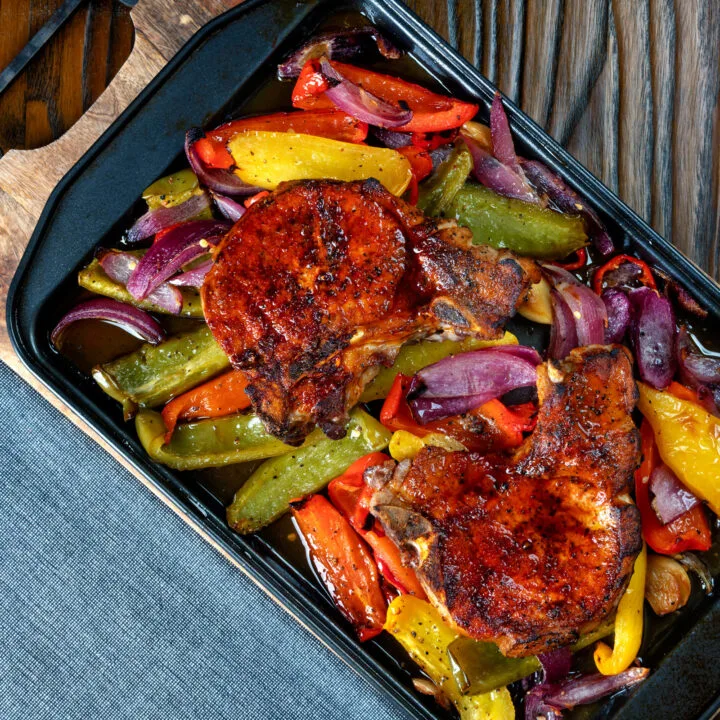 Yield:

2 Servings
Pepper and Onion Pork Chop Traybake Recipe
This delicious traybake recipe is wonderfully simple, chop some veggies and throw them in a pan add some honey and vinegar and whilst they are getting a head start in the oven you can sear off your pork chop, add some paprika and pop them on top of the peppers.
Ingredients
3 Bell Peppers (Around 550g Unprepared Weight)
1 Medium Hot Red Chilli Pepper
1 Large Red Onion (Around 200-225g)
6 Garlic Cloves
2 Tbsp Olive Oil
3 Tbsp Red Wine Vinegar
1 Tbsp (20g) Honey
½ Tsp Salt
½ Tsp Black Pepper
For the Pork Chops:
2 Thick Cut (300g Each) Bone-in Pork Chops
½ Tsp Salt
¼ Tsp Black Pepper
½ Tbsp Olive Oil
1 Tsp Smoked Paprika
Instructions
Remove the stems and seeds from the bell peppers and roughly cut them into 25-30mm (1") strips and place them in a bowl.
Cut the chilli pepper into 2-3mm (⅛") thick rounds and chuck them in with the peppers.
Top and tail the red onion, cut it in half, peel it then cut each half into 4 wedges and add them to the bowl.
Cut the root off the garlic cloves, lightly crush them with the heel of your hand, then peel off the skin and place them in the bowl.
Add the olive oil, red wine vinegar, honey, salt and black pepper to the veggies toss them to thoroughly coat, transfer them to a 35cm x 22cm (14" x 9") baking tray and pop them in the oven at 200C or 400F for 40-45 minutes.
Whilst the veggies are getting a head start, prepare the pork chops. Remove the rind and trim the fat to an amount you are happy with and then score the fat.
Rub the pork chops with the cooking oil and then season generously with salt and pepper.
25 minutes after the peppers have gone into the oven sear the pork chops on all sides until you have a nice colour in a 30cm or 12" frying pan, beginning with the fat, then on each side. This will take around 5-8 minutes in total.
Sprinkle the pork chops with the smoked paprika, then place them on top of the peppers in the oven and cook for the remaining 10-12 minutes. Or until the pork chops reach an internal temperature of 63°C or 145°F.
Nutrition Information:
Yield:
2
Serving Size:
1
Amount Per Serving:
Calories:

832
Total Fat:

46g
Saturated Fat:

11g
Trans Fat:

0g
Unsaturated Fat:

29g
Cholesterol:

210mg
Sodium:

1313mg
Carbohydrates:

38g
Fiber:

5g
Sugar:

19g
Protein:

68g
Calorific details are provided by a third-party application and are to be used as indicative figures only.