Sausage tray bake with onions, potatoes and broccoli… a super simple and delicious meal that is as easy to cook for 2 as it is for 8.
This dish uses beef sausages but pork work just as well and it has a delicious Worcestershire sauce and mustard vibe!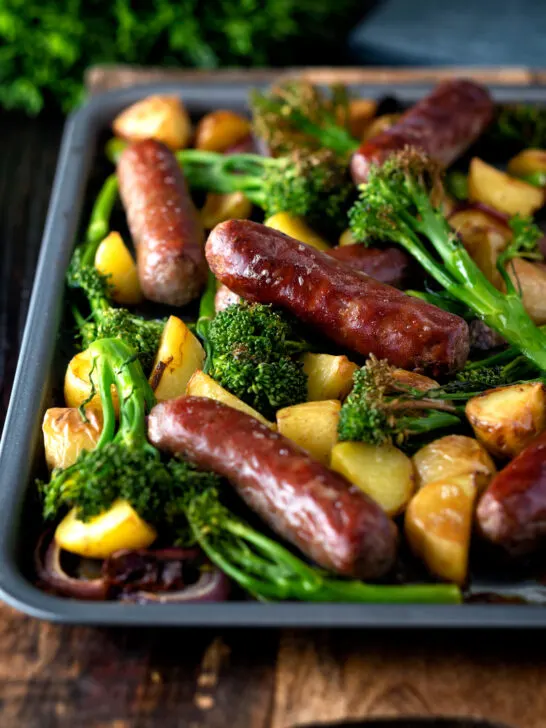 Roasted Sausages with Potatoes, Onions and Broccoli
To say that us Brits are fond of the occasional sausage would be a great understatement.
Since returning from Hungary I have been working on loads of sausage recipes taking advantage of some great locally produced bangers.
This sausage and potato tray bake uses beef sausages, a type that I have become very fond of lately.
They appear in dishes as diverse as my Indian-inspired sausage curry and easy sausage and lentil casserole to my potato-topped sausage pie.
I've also taken to using them as my first choice sausage in for a toad in the hole!
Here they are joined by onions, potatoes and broccoli, and roasted in a combination of beef stock, English mustard and Worcestershire sauce.
The veggies work so well in dishes like this, many of them also feature in by lemon chicken tray bake.
It's proper old-school cooking and it is magic!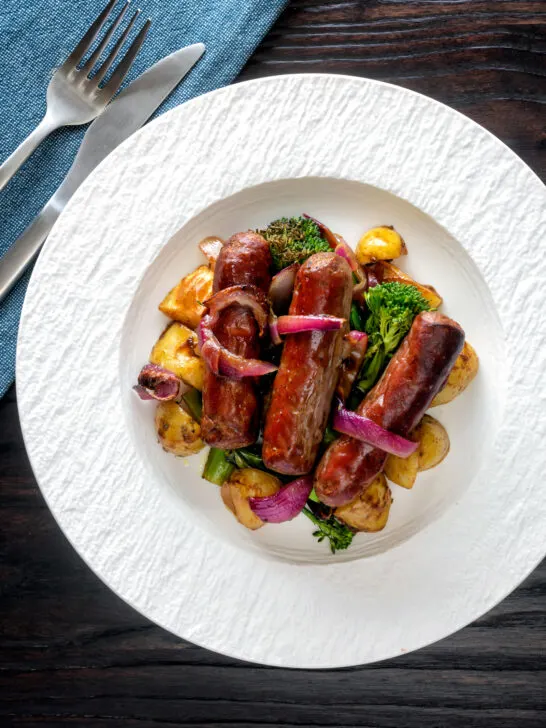 Frequently Asked Questions
Do I have to use beef sausages?
No not at all, I make this with beef bangers because they match so well with the mustard and Worcestershire sauce. They would match equally well with game sausages like venison or wild boar.

But this tray bake works well with pork sausages too, although I would avoid anything with chilli and or paprika.
Do I have to parboil the potatoes?
It is a step that I would not skip, it really does give the potatoes a headstart on cooking time. But also ensures that they cook through evenly.
Do I have to use new potatoes?
No, you could use floury potatoes if you wish. They will have a slightly different texture, but it will be just as tasty.
Do I have to use English mustard?
No, you can use any mustard that you like, English mustard is very strong and I like that in this recipe.

If you wanted to scale it back try German mustard or American mustards which tend to be a little milder, but they are both broad umberellas. If you wanted to go all the way back try Dijon or even wholegrain mustard.
Can I cook this in an air fryer?
Yes, but you will need to place all of the ingredients in a bag or Tupperware dish and shake in the mustard, beef stock and Worcestershire sauce.
Add the potatoes, onions and sausages and cook for 15-20 minutes at 180°C or 350°F. Halfway through give it all a bit of a gentle shake and pour over a little of the liquid.
Add the broccoli then cook on for a final 5-7 minutes, pouring over more liquid at the start of this process. Add any remaining liquid about a minute before the time is up.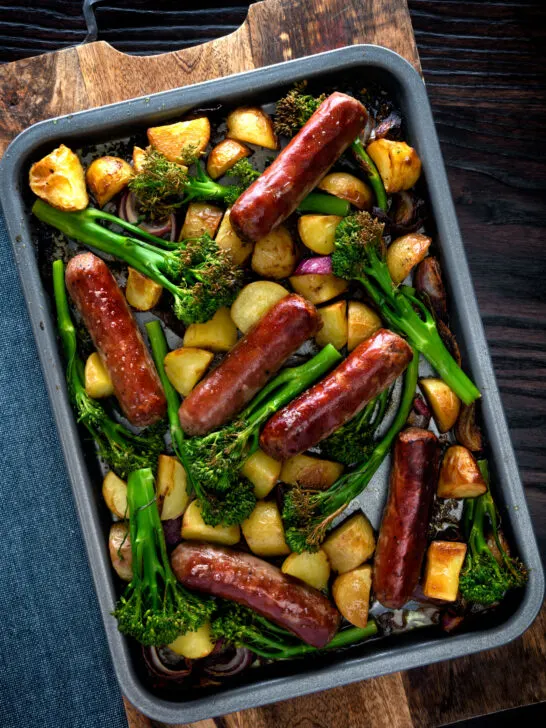 Serving Suggestions
This sausage tray bake is designed to be a one-stop main course meal for two, and as a result, there are no serving suggestions for sides.
Although a nice lump of bread on the side never goes a miss, I would usually warm up some ciabatta or focaccia in the oven for a few minutes. You get bonus flavour if you rest push it into the tray to mop up some juices first.
But, that does not mean that I have no more suggestions, there are plenty of ways to change up this recipe and give a bit of variation.
You can swap out the veggies, and change this up with whatever you have left over.
The potatoes can be swapped for celeriac, swede, carrot or even sweet potato and any combination of these veggies that you want.
You can swap the tenderstem broccoli for cauliflower, regular broccoli or even something like courgette (zucchini).
Other notable mentions go to peppers, aubergine (eggplant) and tomatoes.
The first of these three I would cook for the same amount of time as the potatoes, although I would not parboil them. The latter I would throw in for 10 minutes at the end to just warm through.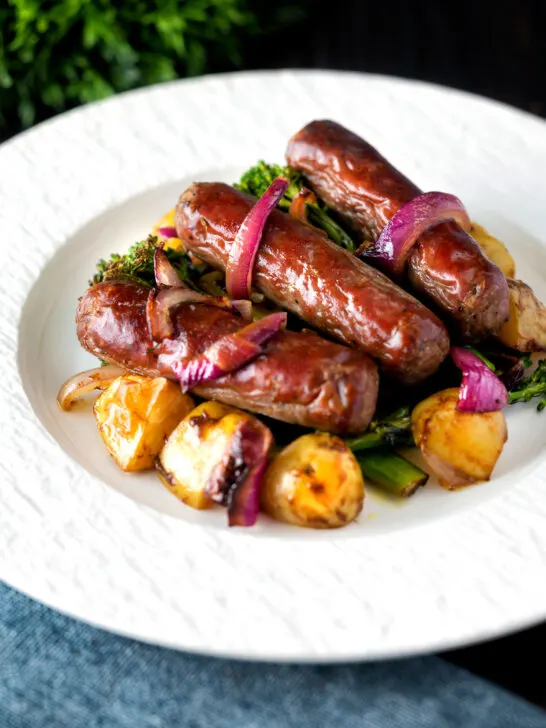 Equipment Used
I only recommend specific brands of equipment if I believe they make a material difference to a recipe. If you have any questions feel free to ask them in the comments section below the recipe.
Oven.
Stovetop.
20cm or 8″ saucepan.
35cm or 14″ baking tray.
Weighing scales and or measuring cups and spoons.
Chopping board.
Sharp kitchen knife.
Mixing bowl or jug.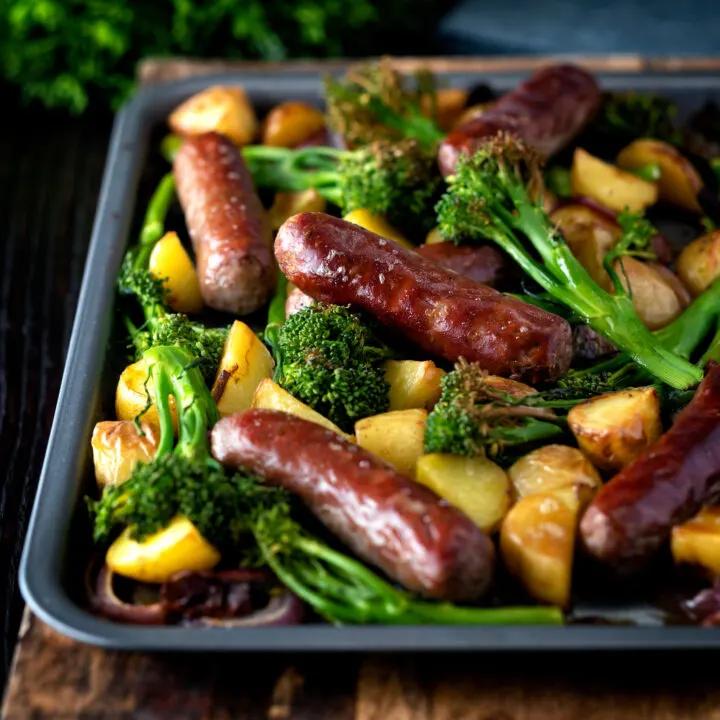 Yield:

2 Servings
Beef Sausage Tray Bake Recipe
This beef sausage tray bake is a perfect lazy night dinner, parboil some potatoes for a few minutes, chop some potatoes and onions and then chuck it in the oven with some mustard & Worcestershire sauce, what's not to love?
Ingredients
360g (12oz) Beef Sausages
1 Tbsp Cooking Oil
375g (2-3 Cups) New Potatoes
1 (150g) Red Onion
200g (8-10 stems) Tenderstem Broccoli
75ml (⅓ Cup) Beef Stock
½-1 Tbsp English Mustard
1 Tbsp Worcestershire Sauce
Instructions
Bring a medium pan (20cm or 8") of water to a boil.
Cut the new potatoes into a 1.5cm-2cm dice and parboil them for 4-5 minutes.
Top and tail the red onion, cut it in half, peel it, and then cut it into 7-8mm thick strips.
Mix together the beef stock, Worcestershire sauce and mustard.
By now the potatoes will be parboiled, drain them and allow them to air dry for 2-3 minutes.
Grease a 35cm x 22cm baking tray with the cooking oil, then add the potatoes and onions, then toss them in the oil.
Add the sausages and pour over the beef stock mix.
Bake for 25 minutes at 180°C or 350°F.
After 25 minutes, remove the tray from the oven and remove the sausages, add the broccoli, return the sausages and pop it back into the oven for 10 minutes.
Nutrition Information:
Yield:
2
Serving Size:
1
Amount Per Serving:
Calories:

984
Total Fat:

69g
Saturated Fat:

27g
Trans Fat:

4g
Unsaturated Fat:

32g
Cholesterol:

151mg
Sodium:

1763mg
Carbohydrates:

55g
Fiber:

8g
Sugar:

7g
Protein:

37g
Calorific details are provided by a third-party application and are to be used as indicative figures only.