Beer braised beef cheeks, a great way of tenderising a tough cut of meat & unlock its glorious flavour. With oven & slow cooker instructions!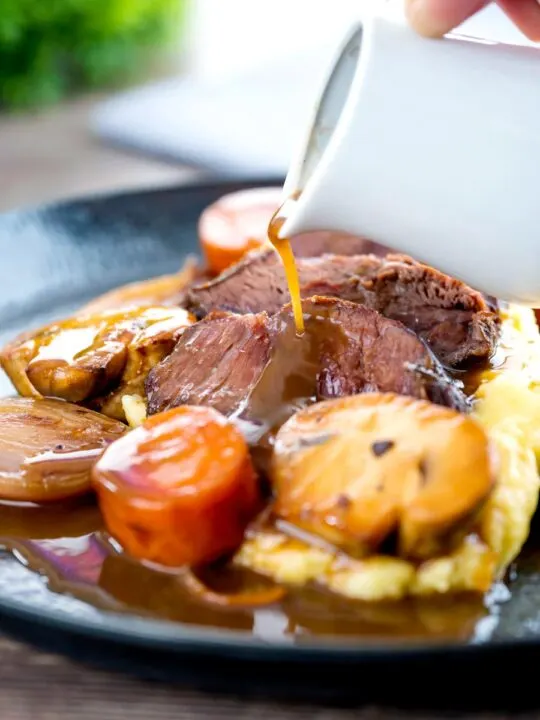 Comforting Slow-Cooked Beef Cheeks
Beef cheeks used to be a really cheap cut of meat that has gained popularity in recent years.
This is mainly because of their incredible flavour and texture but now the cat is out of the bag the price is rising. But it is still a relatively affordable cut of meat and one that is made for slow cookling.
I use it in all sorts of stews, everything from my Hungarian marha porkolt, to my Indonesian beef rendang, my French beef daube and I have even used it on my Greek kokkinisto recipe.
I also have a beef cheek ragu that is stunning stirred through pasta or even used to top a jacket potato!
We use a load of stock vegetables in this recipe to amp up the flavour in the gravy and add a Worcestershire sauce and a nice dark beer.
These beer-braised beef cheeks are proper old-school British comfort food.
If you like this recipe you will love this braised beef shin and my braised steak and onions recipe!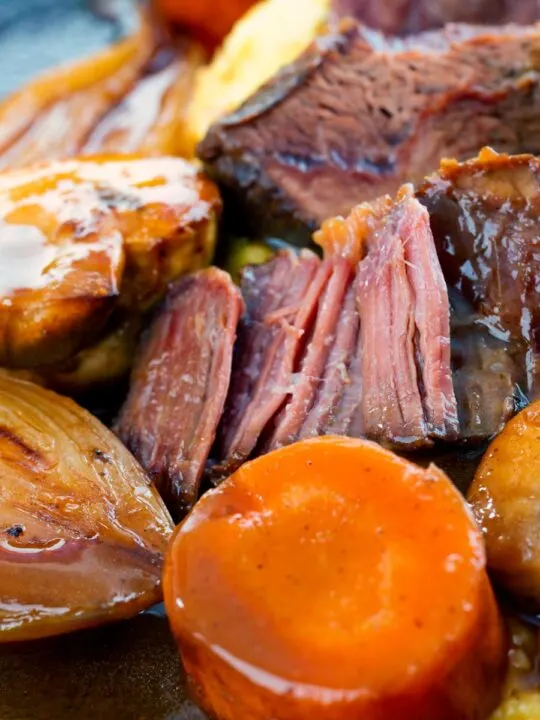 Frequently Asked Questions
How do I prepare beef cheeks?
The best way is to get your butcher to do it for you!
But if you are doing it yourself the first thing to do is remove the skin on the outside of the cheek. You need a sharp long knife for this.
Place the beef cheek skin side down on a chopping board and place your palm flat on top of the beef cheek with a moderate amount of pressure.
Then slide your knife parallel with the chopping board cutting just the
skin from the beef cheek.
Then just slice off the remaining sinew from the outside of the meat.
What beer should I use?
I like a nice dark ale or a porter for this recipe. Avoid a stout as it is a little too heavy and adds a bitterness that I am not fond of.
Do I have to throw away some of the vegetables?
Of course not, you can eat them if you wish, but they will be mushy.
You can also blend them into the gravy if you want, but by pushing them through a fine-mesh sieve you have extracted all of the good stuff.
So all you are throwing away are the fibres and making a much smoother gravy.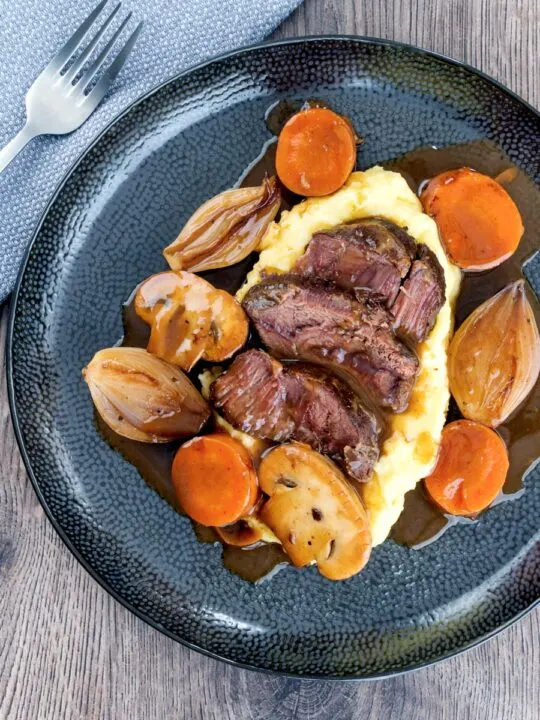 Serving Suggestions
In all but name this beef cheek recipe is a stew. A cheaper cut of meat slowly cooked and served in its cooking juices.
That means this recipe is all about comfort and feeling warm and cosy. That means you could reasonably stop your hunt for a side dish at mashed potato!
But there are a few other options to consider that deserve honourable mentions.
Either celeriac mash or carrot and swede mash would make a great side dish to this recipe.
One final suggestion out of left field is a cheesy polenta porridge, it is definitely an indulgent option but a delicious one!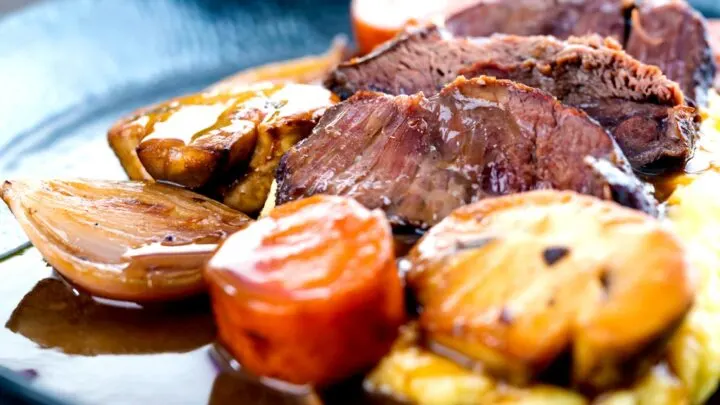 Equipment Used
I only name-check brands of equipment if I think that they make a material difference to a recipe. But if you have any questions feel free to ask them in the comments section below the recipe.
Stovetop.
Oven, or 4 litre (4 quart) slow cooker.
30cm or 12″ frying pan or skillet, not nonstick if possible.
24cm or 10″ Dutch oven, this is not required if you are using a slow cooker.
Kitchen knife.
Chopping board.
Weighing scales and or measuring jug, cups and spoons.
Fine mesh sieve.
Stirring and serving spoons.
Kitchen tongs.
Whisk.
Small mixing bowl.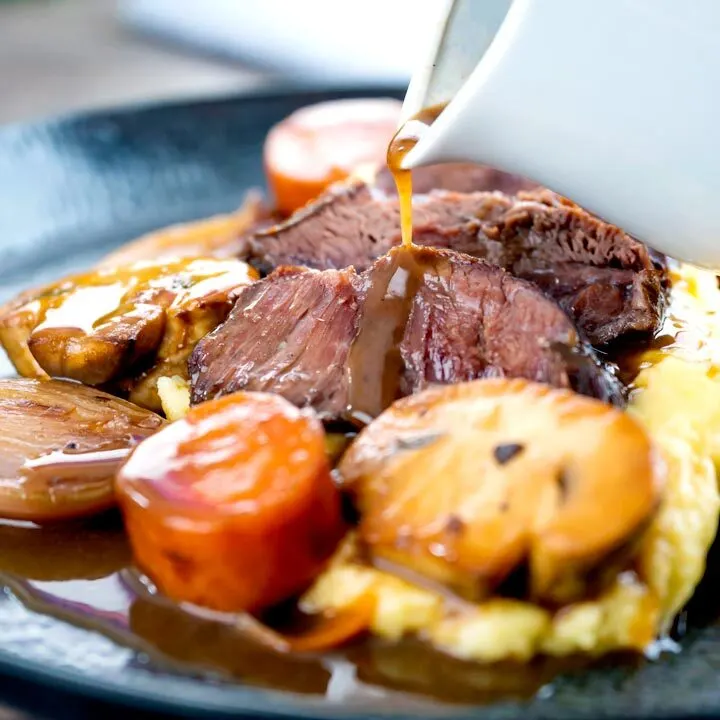 Yield:

2 Servings
Beer Braised Beef Cheeks Recipe
Cook Time:
4 hours
30 minutes
Total Time:
1 day
4 hours
45 minutes
These beer braised beef cheeks are the epitome of comfort food and come served with the most delicious beef gravy.
Ingredients
350g (12oz) Beef Cheeks
2 Tbsp Cooking Oil
250 g (~1⅔ Cup) Onion
2 Garlic Cloves
2 Tbsp Flour
200g (~1½ Cup) Carrot
100g (~1 Cup) Celery
2 Tbsp Flour
330 ml (11oz bottle or can) Dark Beer
250ml (1 Cup) Beef Stock
50ml (3 Tbsp + 1 Tsp) Worcestershire Sauce
1 Bay Leaf
2 Large Mushrooms (about 75g or 3oz each)
3 Shallots
½-¾ Tsp Salt
¼ Tsp Black Pepper
1 Tbsp Cornflour (Corn Starch in the US)
Instructions
Trim the beef cheeks of any sinew and slice them around 15mm (½") thick.
Season the beef generously with salt and pepper.
Heat half of the cooking oil in a 30cm or 12" frying pan over a medium-high heat and sear the beef cheeks on both sides and then transfer to a 4 litre (4 Quart) slow cooker. If you are cooking this on the stovetop sear them in a 24cm (10") Dutch oven, then remove and set aside.
Peel the garlic and bash with the side of a knife.
Peel the onion and chop it into large 2-3cm (¾-1¼") chunks.
Cut the celery into roughly the same-sized pieces as the onion.
Return the pan to the heat and add in the garlic, onion, carrot and celery.
Fry for 3-4 mins to start getting some colour then either transfer them to the slow cooker with the beef or return the beef to the Dutch oven.
Add the flour to the beef and vegetables and stir to coat.
If you are cooking in a slow cooker, deglaze the frying pan with the beer then pour it over the beef, if you are cooking in a slow cooker pour in the beer and bring it to a boil.
Add the beef stock and Worcestershire sauce and stir.
Transfer to the oven and bake at 150°C or 300°F for 3-4 hours or in a slow cooker for 6 hours on low or 4 hours on high.
An hour before serving cut your large mushrooms in half then peel and cut the shallots in half lengthways removing most of the root.
Add the other half of the oil to a 30cm or 12" frying pan and sear these vegetables on the cut side only.
Transfer to the pot that the beef is cooking in and cook for another 45-50 minutes.
When you are ready to serve strain the cooking gravy through a fine mesh sieve into a hot frying pan and reduce by 10-15%.
Pull out the beef (carefully it will fall apart), shallots, mushrooms, and carrots for serving then push any liquid out of what remains before discarding the pulp in the sieve.
Mix the cornstarch with a tablespoon of water and whisk it into the gravy and cook until you have the desired thickness, return the solids and serve.
Nutrition Information:
Yield:
2
Serving Size:
1
Amount Per Serving:
Calories:

975
Total Fat:

49g
Saturated Fat:

15g
Trans Fat:

0g
Unsaturated Fat:

29g
Cholesterol:

152mg
Sodium:

1054mg
Carbohydrates:

58g
Fiber:

9g
Sugar:

19g
Protein:

56g
Calorific details are provided by a third-party application and are to be used as indicative figures only.