Braised beef shin on the bone that is slowly simmered in stock & Worcestershire sauce until perfectly cooked served with peas & asparagus.
The beef cooks for three hours in the oven, and I have slow cooker instructions too. As a bonus, you get a wonderful beef stock to freeze and use later too!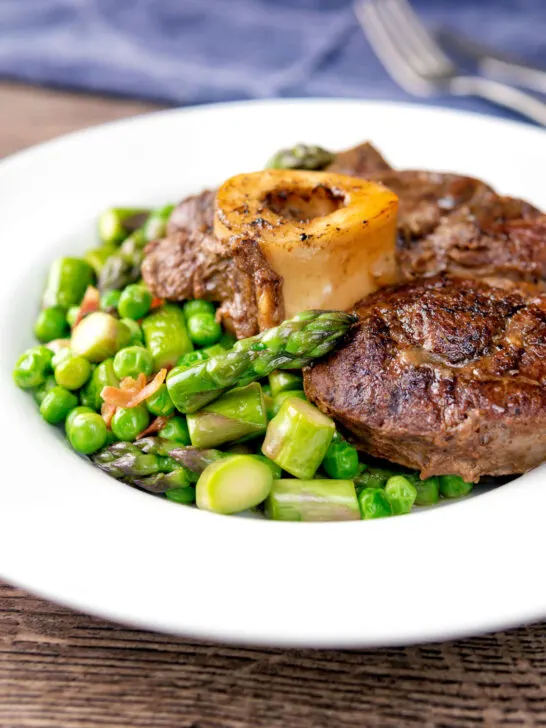 Slow Cooked Beef Shin with Bacon, Asparagus and Peas.
As far as I am concerned beef shin is one of the tastiest parts of the cow! It is also known as shank or foreshank and it will come as no surprise that it comes from the lower part of the leg.
Essentially it is the same piece of meat as the lamb shank but it is cut across the leg into a steak rather than being served whole.
We all know how good lamb shanks are, and if you don't check out my minted lamb shanks recipe!
Both are hard-working cuts of meat and as a result, can be a tough old lump.
But as with all tougher cuts of meat treat them right and you will be rewarded with some of the tastiest meat you can buy.
It is also a lot cheaper than the more prized cuts of meat!
I use it in recipes as diverse as my Instant Pot Beef Osso Bucco through to my Beef Vindaloo!
In this recipe, it is braised in a good quality beef stock and then served on a bed of asparagus and peas cooked in bacon and butter… I know… Right????
If this dish is your kinda mojo then you must check out my braised steak and onions recipe.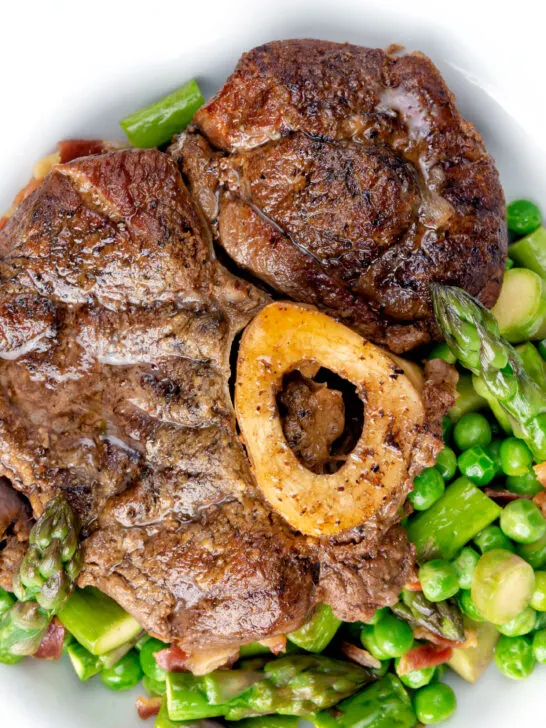 Frequently Asked Questions
Can I cook this in a slow cooker?
Yes, I have added instructions to the recipe to cook this in a slow cooker.
Can I cook this in an Instant Pot or pressure cooker?
In theory yes, although I have not tested the recipe. I would estimate that the cooking time should be around 50 to 60 minutes with a natural pressure release.
Can I use another cut of meat?
In theory, yes, but make sure that you use a tougher cut of meat. If I were to choose a different cut I would go for something like short ribs or even oxtail.
Can I save the cooking liquid?
Yes, in fact, I would insist on it if I may be so bold!

Strain the stock through a fine mesh sieve and allow it to cool, skim off the fat, and then freeze it up.

It would make a great stock in a Mushroom risotto, It would also make a spectacular base for this beef minestrone soup!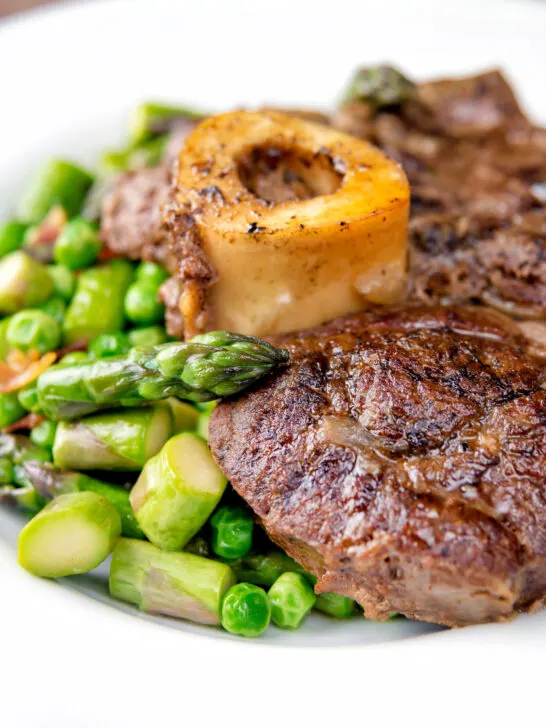 Serving Suggestions
Whilst the pea and asparagus side for this braised beef is both delicious and simple, it is far from the only option.
I would highly recommend petit pois a la Francaise, a wonderful braised pea and lettuce dish. You can also use some of the braising liquid from the beef in that too.
Of course, potatoes make a great addition to this recipe, if I am going full-on indulgent then I would opt for some fondant potatoes, but mashed potatoes are awesome too.
On the topic of mash, potatoes ain't the only "fruit". Both swede and carrot mash and celeriac mash work great with this slow-cooked beef!
One final option would be cabbage, a less than popular veg at the moment but one that I love! This braised savoy cabbage with bacon or some simple buttered cabbage would be awesome with this beefy offering.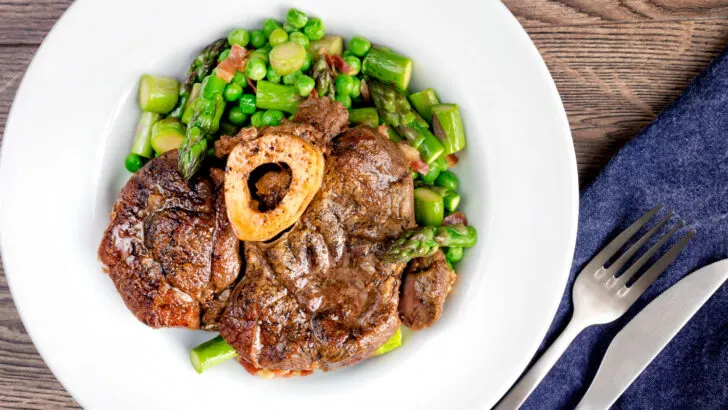 Equipment Used
I only recommend specific brands of equipment if I believe they make a material difference to a recipe. If you have any questions feel free to ask them in the comments section below the recipe.
Stovetop.
Oven or slow cooker (4 litre or 4 quart is large enough).
Large (30cm or 12″) oven-safe pot with a lid, or a pan for searing the beef.
24cm frying pan.
Sharp kitchen knife.
Chopping board.
Sieve.
Weighing scales and or measuring cups and spoons.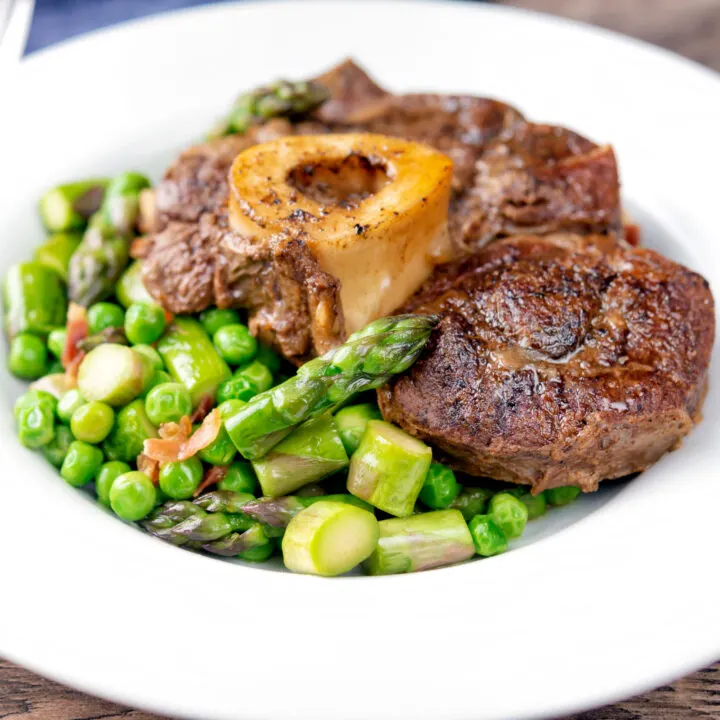 Yield:

2 Servings
Braised Beef Shin Recipe with Asparagus, Peas and Bacon
Cook Time:
3 hours
15 minutes
Total Time:
3 hours
20 minutes
This simply braised beef shin steak is slowly simmered in aromats, beef stock and Worcestershire sauce until fork tender. Then it is served on a bed of peas and asparagus cooked in bacon and butter.
Ingredients
For the Beef
700g (24oz) Bone-in Beef Shin Steaks
2 Tbsp Canola Oil
150g (1 Cup) Onion
2 Sticks Celery
6 Garlic Cloves
4 Anchovy Fillets
3 Tbsp Worcestershire sauce
1 Litre (4 Cups) Beef Stock
2 Sprigs of Thyme
¼ Tsp Salt
¼ Tsp Black Pepper
For the Asparagus and Peas
75g (3-4 Rashers) Streaky Bacon
250g (8-10) Asapargus Spears
150g (1 Cup) Peas
35g (2 Tbsp) Butter
Instructions
Bash the garlic cloves with the side of a knife.
Peel the onion, cut it in half and cut it into a 1cm dice.
Cut the celery into 1 cm dice.
Heat a heavy-based pan that can be placed in the oven over a medium-high heat when it is hot add the oil.
Season the beef with the salt and pepper and then sear the beef shin steaks on both sides until you get a nice deep brown colour, then remove the beef and place it on a plate.
Add the anchovies to the pan along with the celery, onions and garlic and cook for 10 minutes stirring regularly.
Pour in the Worcestershire sauce and reduce it by half.
To Cook in a Slow Cooker:
Transfer the vegetables to a slow cooker, then place the beef on top along with any resting juices.
Add the thyme and pour over the beef stock, add the lid and cook for 6-7 hours on low.
To Cook in the Oven:
Add the beef to the pan with the vegetables along with any resting juices.
Pour over the beef stock, add the thyme and then taste adding salt and pepper as required.
Add a lid and then place in the oven and roast at 150°C or 300°F for 3 hours.
The Peas and Asparagus:
Roughly 15 minutes before the beef is ready to be served slice the bacon into batons.
Snap the asparagus to remove the woody ends and then cut off the spears, then chop the remaining stalks into 1cm long pieces.
Run the peas under cold water for a few minutes if you are using frozen to defrost them.
Heat a medium (24cm or 10") frying pan over a medium heat and cook the bacon for 5-7 minutes until crispy.
Add in the asparagus and cook for a further 3-4 minutes.
Throw in the butter and peas and cook for another 2 minutes.
Remove the beef from the oven and add strain 75ml (⅓ Cup) of the cooking liquid into the asparagus mix and simmer for a minute or two.
Nutrition Information:
Yield:
2
Serving Size:
1
Amount Per Serving:
Calories:

1303
Total Fat:

87g
Saturated Fat:

32g
Trans Fat:

1g
Unsaturated Fat:

47g
Cholesterol:

277mg
Sodium:

2391mg
Carbohydrates:

37g
Fiber:

6g
Sugar:

15g
Protein:

91g
Calorific details are provided by a third-party application and are to be used as indicative figures only.