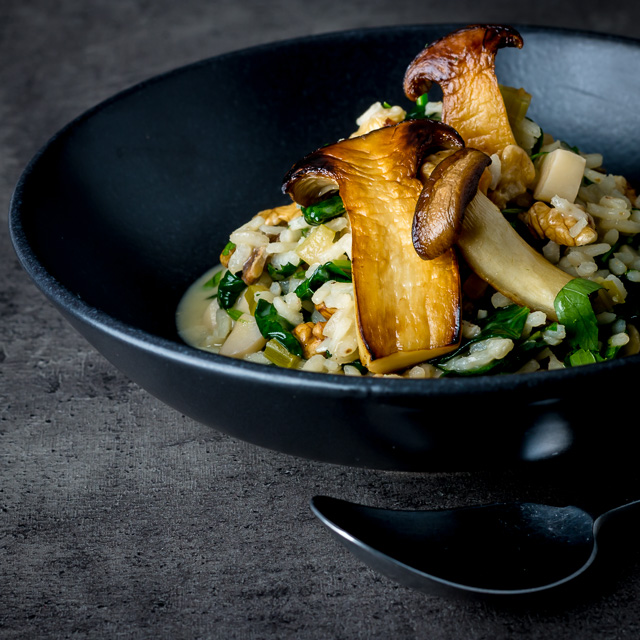 I've waxed lyrical about risotto here a few times so I will avoid the same old ode to the joys of cooking a proper risotto when talking about this Spinach, Mushroom and Walnut Risotto… Well maybe I will just reinforce that it is pretty much the law that you must sup wine whilst stirring a risotto, so there! This recipe is full on Autumn, a walnuts and mushrooms are so seasonal right now and no doubt I'll be making walnut risotto again in the near future as walnut trees grow like stink here and they are looking heavy with harvest this year.
Growing up we only ever had walnuts in the house at Christmas and they were always impossible to open so sat in a bowl on the table until they were thrown away well into the new year. Now I use them in all sorts of recipes, you must check out this pureed pumpkin risotto with walnuts that seems to be very popular with my readers right now. I'm guessing getting 'gifts' of 10's of kilos every year kinda does that to you!
I was delighted to find these wonderful mushrooms in our local market this year for this spinach, mushroom and walnut risotto, they look like ceps/porcini mushrooms but they are no where near that expensive. They are king oyster mushrooms also known as French horn mushrooms and they have a fabulous 'umami' flavour and a great mushroom texture, I'm not daft enough to think that these shrooms will be available in your local store but I encourage you to be adventurous. See what you can get your hands on and have a play with something new, but of course if you want to use regular old mushrooms this recipe works just as well with those too!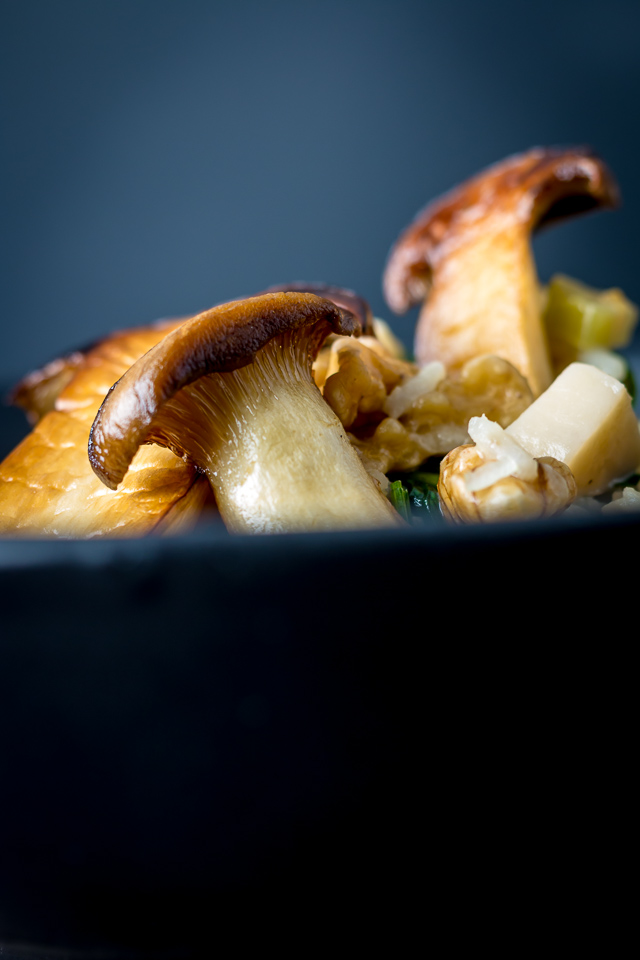 Print
Spinach, Mushroom and Walnut Risotto
There is just something about risotto that is comforting, this spinach, mushroom and walnut risotto plays with autumnal flavours for the win!
Ingredients
50

g

Celery:

Diced.

50

g

Shallot:

Finely diced.

150

g

Mushrooms:

I used some king oyster mushrooms but any old shrooms are good.

2

Cloves

Garlic.

Finely diced.

50

g

Butter.

125

g

Risotto Rice.

100

ml

White Wine.

Something dry.

500

ml

Vegetable Stock.

50

g

Spinach.

100

g

Walnuts.

50

g

Parmesan Cheese.
Instructions
If using larger king oyster mushrooms slice 3 of them in half and heat a little oil in a pan and sear over a high heat to get a nice colour. Dice the rest *SEE NOTE BELOW*

Remove from the pan and reduce the heat to medium and add 35g of the butter and when it foams the celery and the shallot.

Cook until softened which should take 4-5 minutes.

Add the diced mushroom and garlic cooking on for a further 2-3 minutes.

Tip in the rice and fry off for 2-3 minutes stirring all the time.

Turn up the heat to medium high and add the white wine stirring until evapourated,

Reduce the heat to medium again and add the stock a little at a time, stirring as often as possible only adding more stock when the last has been all taken up.

When the rice is cooked and the stock all gone, turn off the heat and add the remaining butter, Parmesan cheese, spinach, Walnuts and previously fried mushrooms and allow to sit for 5 minutes.
Recipe Notes
If using regular mushrooms, do something similar fry off a few of the larger mushrooms for presentation later and dice the rest.