Tom Yum Soup in a rush, 10 minutes prep and 10 minutes cooking and you have a bright vibrant spicy Thai prawn soup ready to go!
This takes just 10 minutes to prepare, 5 if you are in a hurry, and just 10 minutes to cook!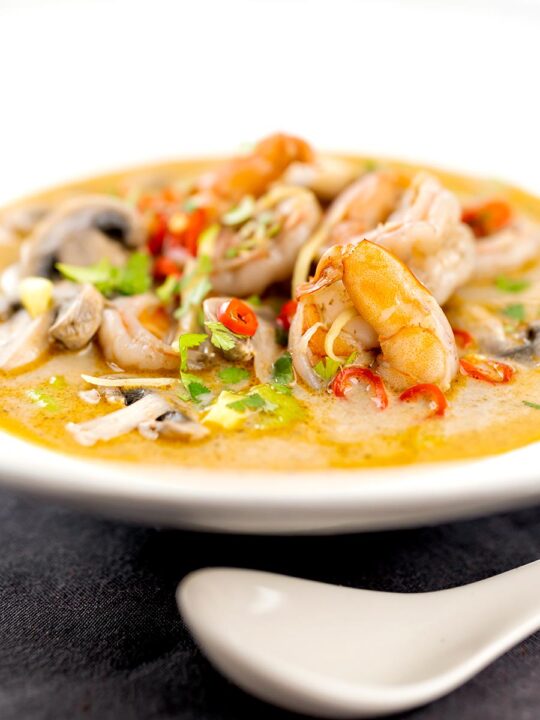 Thai Prawn Soup
I love Thai flavours, there is just something magical about the way they combine sweet, sour, salty, and of course spicy.
Unlike some of my previous That offerings like my beef massaman curry or my green chicken curry this recipe tom yum soup recipe is pure convenience.
Most of the ingredients should be available from your local Asian store or even a well-stocked supermarket and it's so quick.
Even as a committed foodie, I purchase tom yum paste for this recipe although this works just as well with my Thai Red Curry paste.
Tom yum soup is not something I cook often enough to justify making the paste from scratch.
I vary from a classic tom yum soup by using coconut milk. Traditionally it would be made with evaporated milk.
I prefer my version feel free to try it with evap and let me know your thoughts.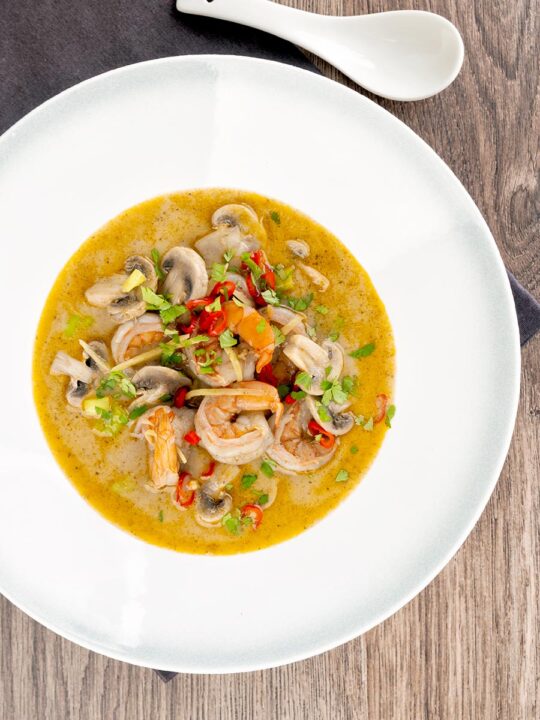 Store Bought Tom Yum Paste
As with all store bought curry pastes your final dish will be very much defined by the paste that you purchase.
Most pastes will be founded on core tom yum ingredients. Lemongrass, galangal, lime leaves and a smoked chilli paste called nam prik pao.
The subtle smoked flavour of the chilli is another good reason to buy store bought. I can't find nam prik pao anywhere!.
I usually use one of three brands. Lobo or Maesri are my usual go-to choice as they are readily available and pretty good.
The third is less readily available but it is the best that I have tried and that is Maepranom.
However, use whatever you can get and if needs be add more lemongrass, ginger or galangal and lime to get the balance where you want it to be.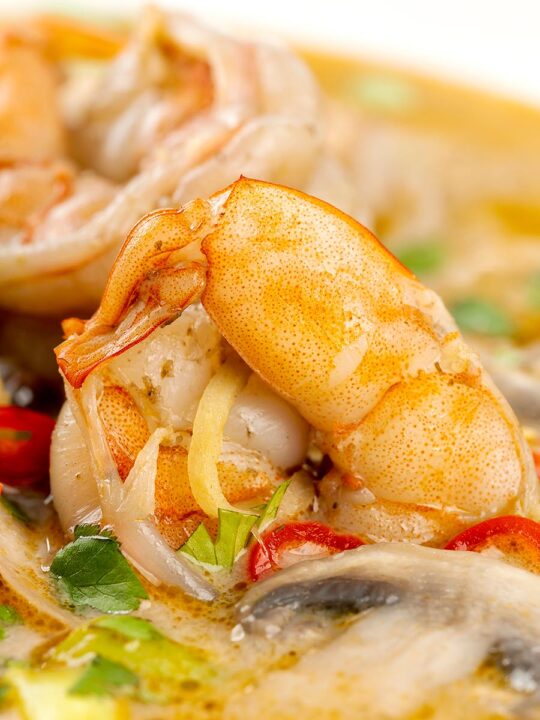 Buying The Prawns.
Prawns appear here regularly in everything from curries like my Thai Red Prawn Curry and quick Indian prawn cuury to my squid ink pasta with prawns.
I live in landlocked Hungary and frozen prawns are the way to go for me. I love 'em so much that I will use whatever I can get my hands on.
These are made with some size 16-20 head off shell on raw frozen prawns. The number always refers to how many prawns there are per pound.
I always defrost prawns before cooking them and typically do it in a rush by running them under cold water.
You can use "blanched" or precooked prawns and I do regularly. But you need to add them in right at the end of the process.
Essentially just throw them in with the coconut milk for the last 2 minutes.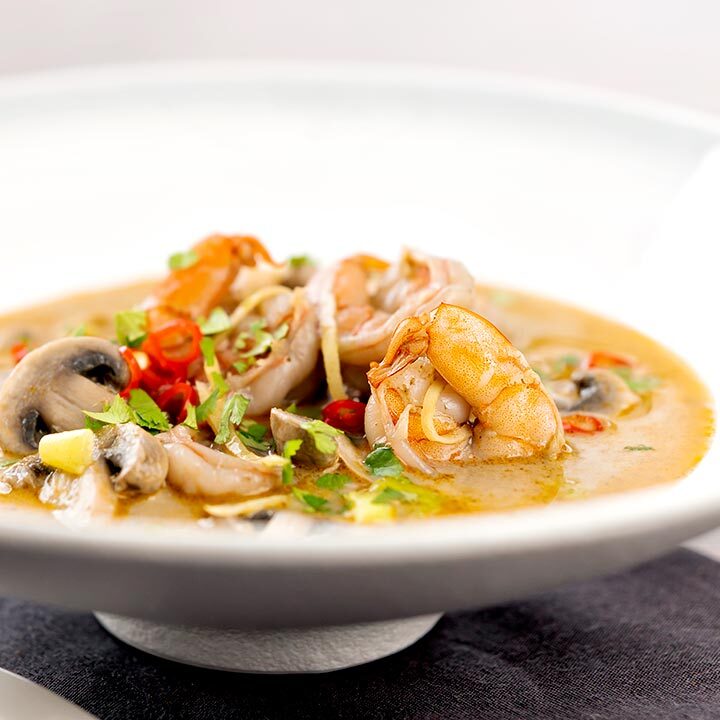 Yield:

2 Servings
Tom Yum Soup Recipe
Tom yum soup is a Thai mainstay with thousands of versions of the recipe out there, this one is mine, characteristically (for me) spicy and warming and packed with shrimp and mushrooms
Ingredients
250 g (9 oz) Large Prawns
50g (2.5-3 Tbsp) Tom Yum Paste
500 ml (2 Cups) Chicken Stock
2 Spring Onions
1 Clove Sliced Garlic
30 g (Thumb Sized Piece) Ginger Batons
100 g (1 1/3 Cup) Sliced Mushrooms
165 ml (2/3 Cup) Coconut milk
1 Tbsp Fish Sauce
1 Tsp Brown Sugar
1 Tsp Cooking Oil
1 Medium Tomato
1 Tbsp Lime Juice
1 Red Chilli Pepper
1 Handful Chopped Coriander
Instructions
Finely slice the chilli.
Cut the ginger into batons as finely as you can.
Slice the mushrooms into 3-4mm thick slices.
Cut the spring onions into 1cm long slices.
Cut the tomato into 8 wedges then deseed them.
Slice the garlic as finely as you can.
Heat a wok over a high heat.
When hot add the oil and the red tom yum paste, then fry for 30 seconds.
Add the garlic and cook for another 30 seconds.
Pour in the stock and bring to a simmer.
Add in the ginger, fish sauce, spring onion, mushrooms, tomatoes, and prawns then for 3-4 minutes.
Add in the sugar and lime juice and stir before adding in the shrimp, mushrooms and tomato and simmering for 3-4 minutes.
Pour in the coconut milk, lime juice, and brown sugar, stir and cook for a final minute or two.
Serve with the chopped coriander and fresh chilli.
Nutrition Information:
Yield:
2
Serving Size:
1
Amount Per Serving:
Calories:

595
Total Fat:

30g
Saturated Fat:

17g
Trans Fat:

0g
Unsaturated Fat:

11g
Cholesterol:

271mg
Sodium:

2836mg
Carbohydrates:

49g
Fiber:

16g
Sugar:

11g
Protein:

44g
Calorific details are provided by a third-party application and are to be used as indicative figures only.