Tom yum soup is a Thai mainstay with thousands of versions of the recipe out there, this one is mine. Characteristically (for me) spicy and warming and packed with shrimp and mushrooms and a real comforting treat!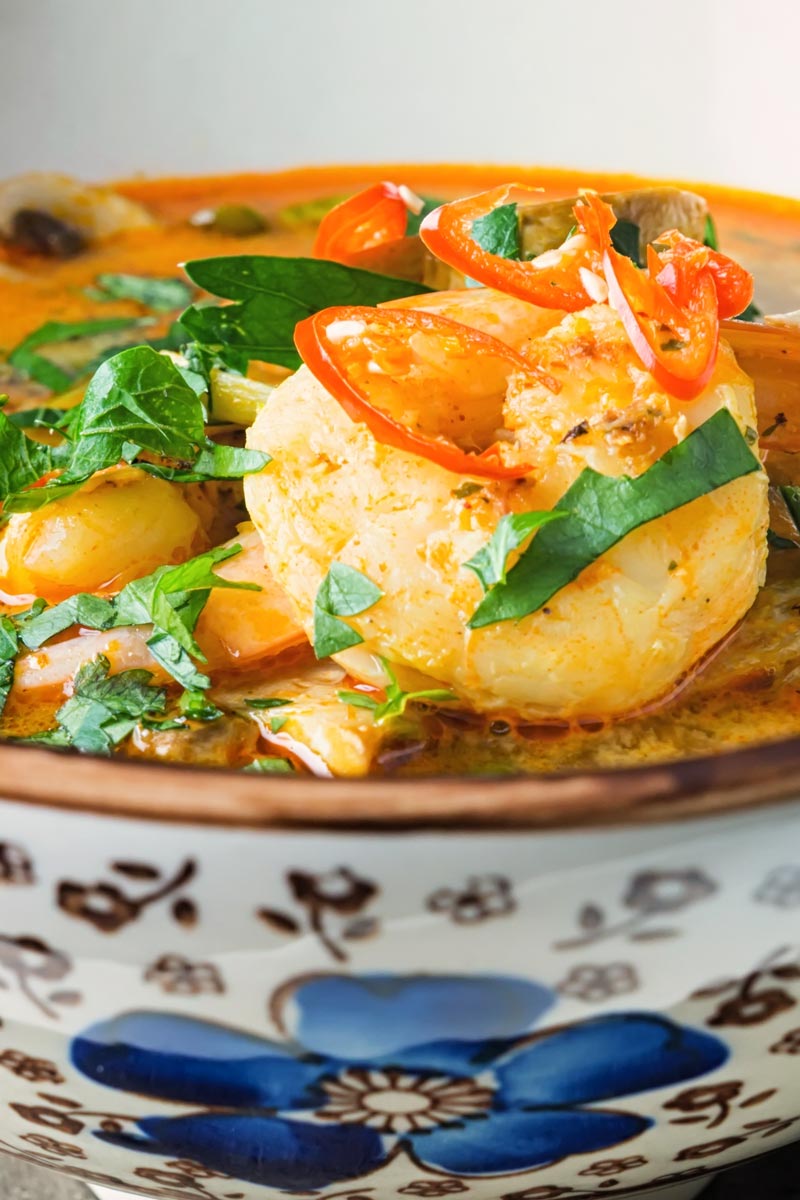 Tom Yum Soup.
I love Thai flavours, there is just something magical about the combinations of flavours that are pure magic.
This Tom Yum Soup recipe relies on all of the flavours you associate with that part of the world. Lemongrass, kaffir lime leaf, fish sauce and of course chili all feature in this soup.
A soup that takes less than 20 minutes to cook and prepare. Yes, 20 minutes!
Most of the ingredients here should be available from your local Asian store or even well-stocked supermarket.
Being the committed foodie I am I make my own red Thai curry paste, but use whatever works for you. If you have a favourite store-bought brand then drop that in here.
However, if you are interested in making your own red curry paste for this tom yum soup then you can find it here in my Thai Red Duck Curry recipe.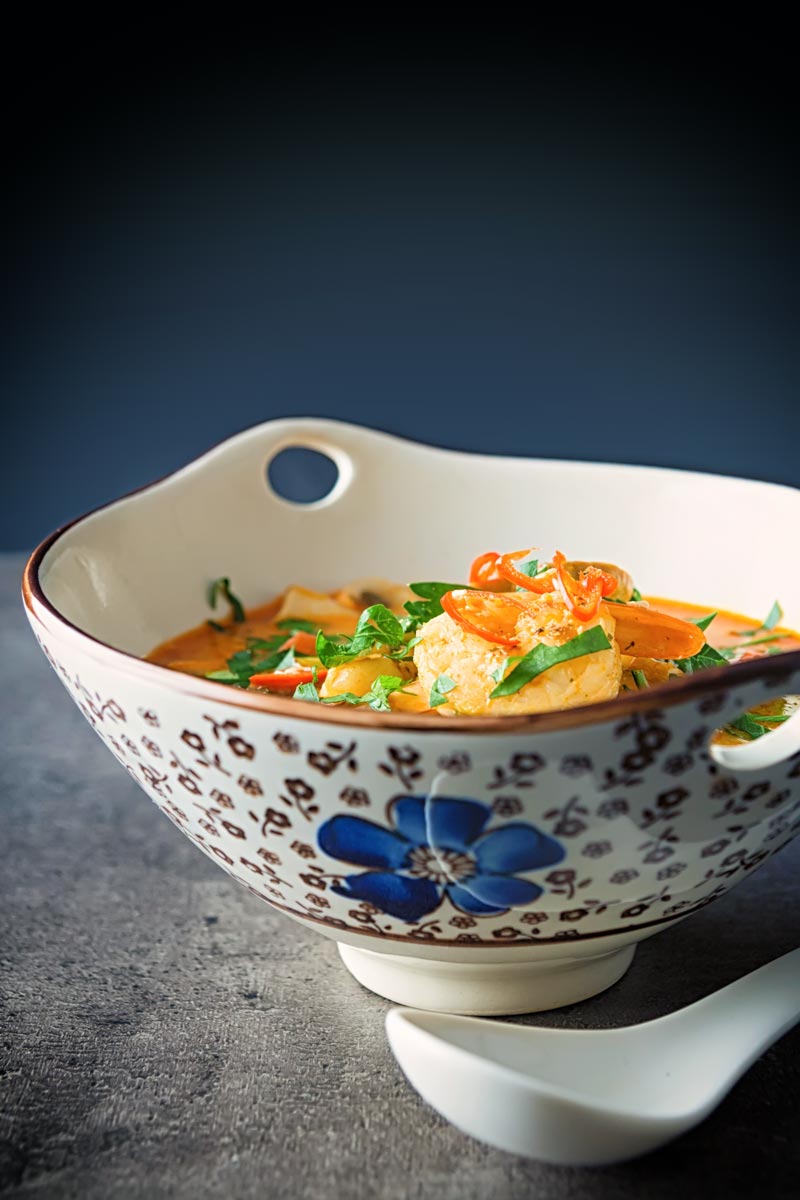 Thai Cuisine…
Thai Food is typically very light touch when it comes to preparation and relies on aromatic flavours and a 'hint' of spice.
As a result, Thai cuisine is a great option for throwing something together very quickly. This Tom Yum Soup definitely characterises that being a practical midweek meal.
Regular readers will know that I have a rather liberal approach to authenticity. As far as I am concerned food in the main is to be enjoyed and not analysed for interloping ingredients or processes.
As such I am certainly not afraid of playing around with meals using flavours from a nation. For example, this Tom Yum Soup definitely influenced this shrimp hot and sour soup. If you like it is a lighter more summer focused version of this tom yum soup recipe.
It also influenced this Quick Thai Chicken and Prawn Soup!
I push the boundaries even further with my Thai inspired Steak salad recipe!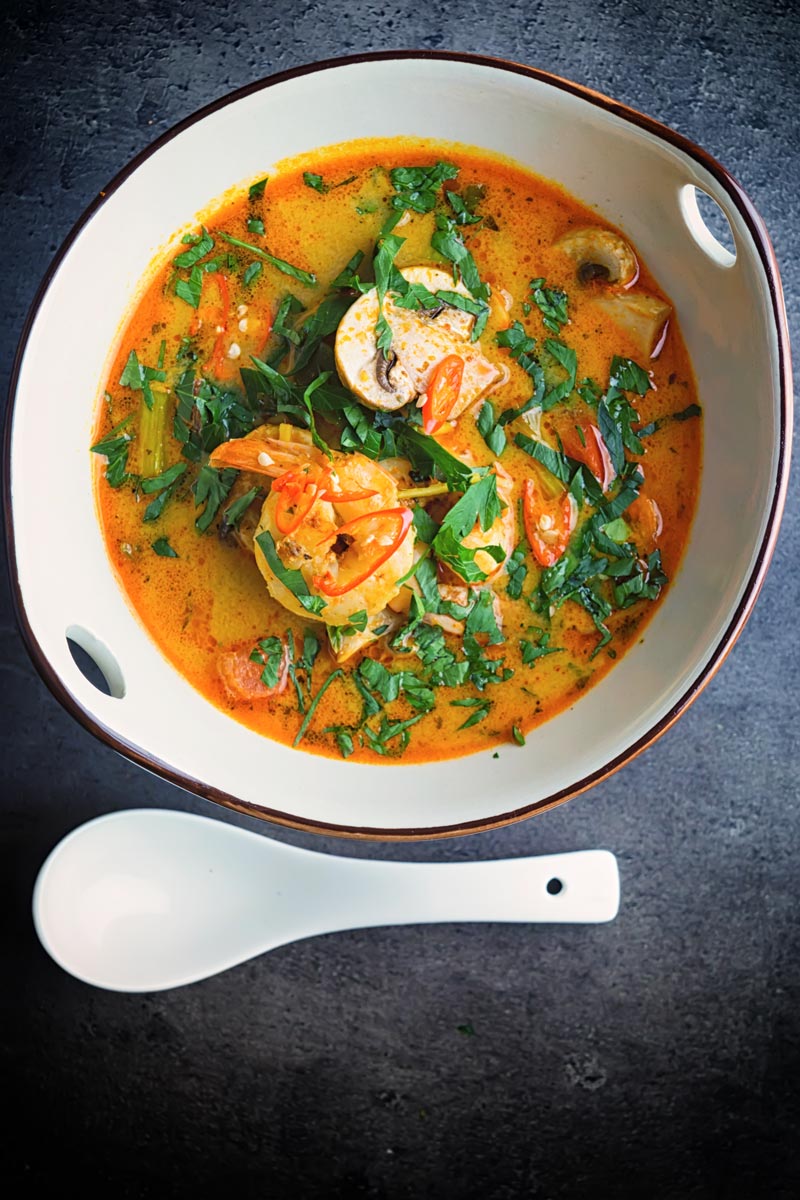 For The Love Of Soup!
Soup recipes are among the most popular recipes on my site and one of my favourite things to put on my table.
I have amassed a huge range of soups from around the globe. They are great they can be simple and quick like this tom yum soup or outrageously showy like this tomato consomme with tortellini.
Despite having strong associations with winter I am a year-round soup eater. They do not need to be hearty and comforting like this minestrone soup. They can be light and refreshing like my spring cream of asparagus soup, which is simply divine!
Sticking with the fishy theme, I even have a lightened Salmon Chowder that is lifted with lime and chili and is perfect all year round.
Do you have a favourite soup recipe? Drop it in the comments below, I would love to add more to my "must cook" list!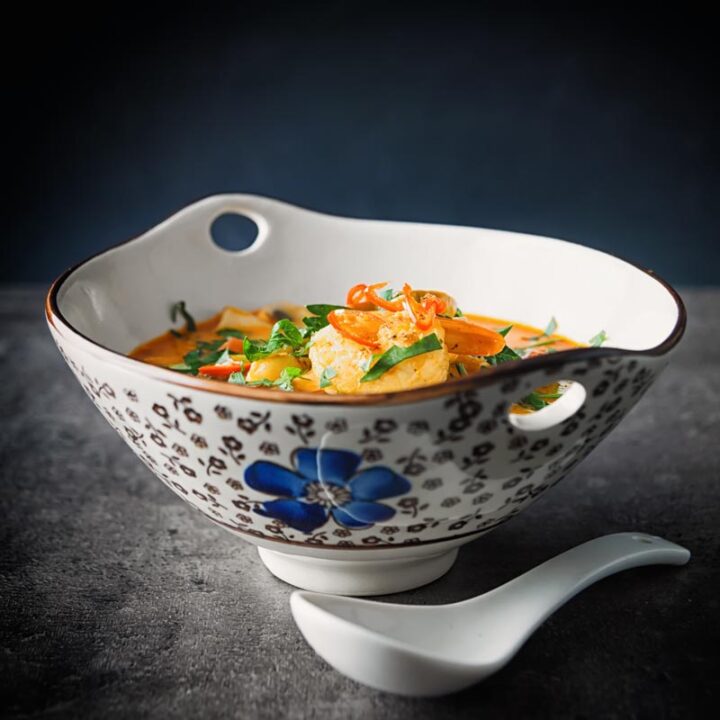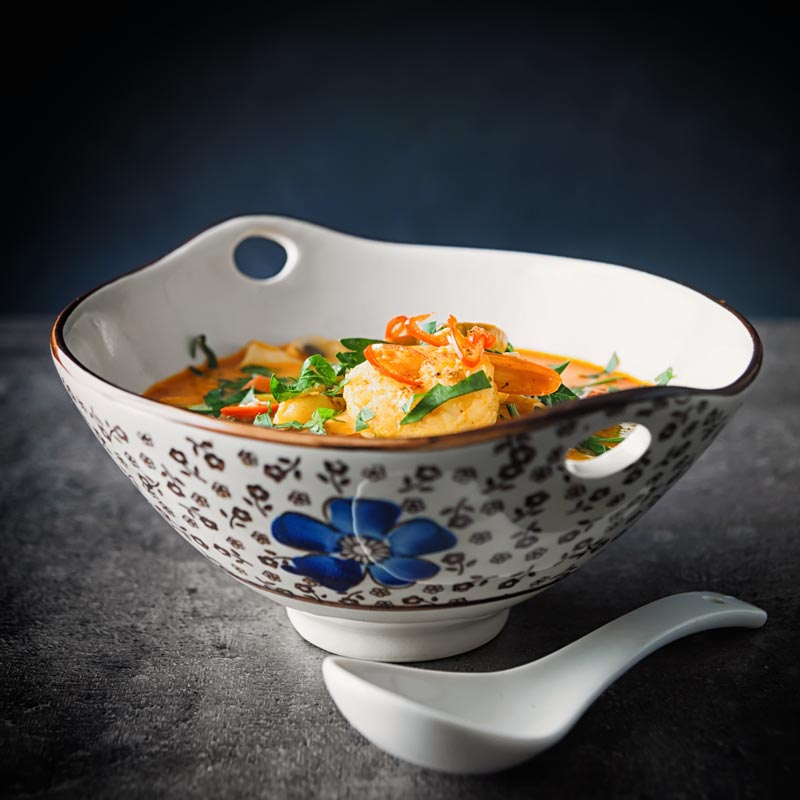 Yield:

2 Servings
Tom Yum Soup
Tom yum soup is a Thai mainstay with thousands of versions of the recipe out there, this one is mine, characteristically (for me) spicy and warming and packed with shrimp and mushrooms
Ingredients
50g Thai Red Curry Paste
500 ml Chicken Stock
2 Spring Onions, Cut into 1cm long 'coins'
1 Clove Garlic, Finely sliced
30 g Ginger, Cut into batons as thin as possible
100 g Musrooms, Sliced about 3mm thick
250 g Shrimp, I use frozen but defrosted
150 ml Coconut milk
1 Tbsp Fish Sauce
1 Tsp Brown Sugar
1 Tsp Cooking Oil, Neutral
1 Tomato, Cut into 8 wedges and deseeded
1 Tsp Lime Juice
1 Red Chili, Finely sliced
1 Handful Coriander, Roughly chopped
Instructions
Heat the oil in a wok over a high heat and add the red Thai curry paste and fry for 30 seconds.
Add the garlic and cook for another 30 seconds.
Now pour in the stock and reduce the temperature to medium and add in the ginger, fish sauce and spring onion and cook for 5 minutes.
Add in the sugar and lime juice and stir before adding in the shrimp, mushrooms and tomato and simmering for 3-4 minutes.
Finally stir through the coconut milk and bring back to temperature and serve with the fresh chili and chopped coriander.
Notes
If you have shell on shrimp by all means cook them in there shells and then peel before serving to amp up the flavour.
Nutrition Information:
Yield:
2
Serving Size:
1
Amount Per Serving:
Calories:

852
Total Fat:

46g
Saturated Fat:

21g
Trans Fat:

0g
Unsaturated Fat:

18g
Cholesterol:

322mg
Sodium:

3502mg
Carbohydrates:

62g
Fiber:

15g
Sugar:

11g
Protein:

61g