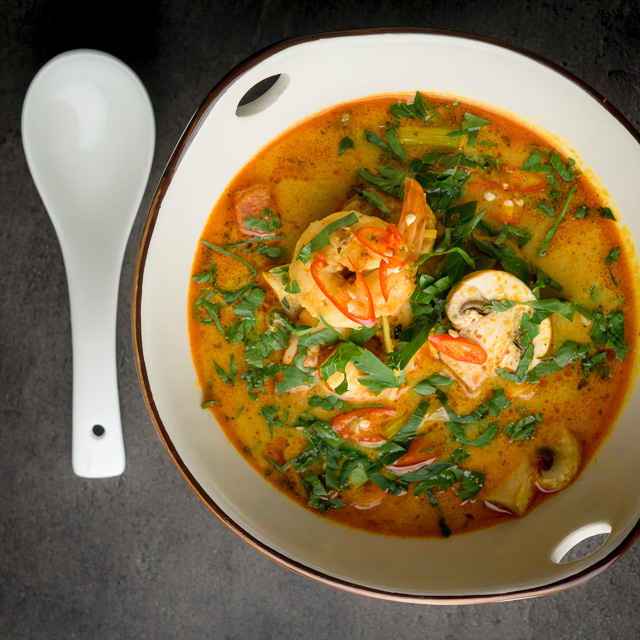 I love Thai flavours, there is just something magical about the combinations of flavours that are pure magic, this Tom Yum Soup relies on all of the flavours you associate with that part of the world, lemongrass, kafir lime leaf, fish sauce and of course chili all feature in this soup. A soup that takes less than 20 minutes to cook and prepare! Most of the ingredients here should be available from your local Asian store or even well stocked supermarket, being the committed foodie I am I make my own red Thai curry paste, but use what ever works for you, if you have your favourite brand then drop that in here. However if you are interested in making your own red curry paste for this tom yum soup then you can find it here in my Thai Red Duck Curry recipe or you could of course just click here.
As a food blogger or writer or what ever you want to call me this week always comes as a bit of a relief, my social media feeds are chocked full of food, I'm surrounded by the stuff all day long… However I have been overwhelmed by Halloween 'food' for the last few weeks and I swear it has been worse this year than any other, it does not help that it is a 'tradition' I just don't get but as far as I am concerned it is responsible for some of the greatest food nonsense I see all year. Yes my news feed will be full of Thanks Giving food for the next few weeks and of course Christmas is looming but in many ways at least those tow traditions mean edible food. Halloween just means making food look like shitty plastic Halloween tat from the supermarket. Anyway rant aside I promise that my site will always be kept a 'food of the week' free zone, just good old recipe to fill yer belly for lunch or dinner, no go to the kitchen and make yourself some Tom Yum Soup.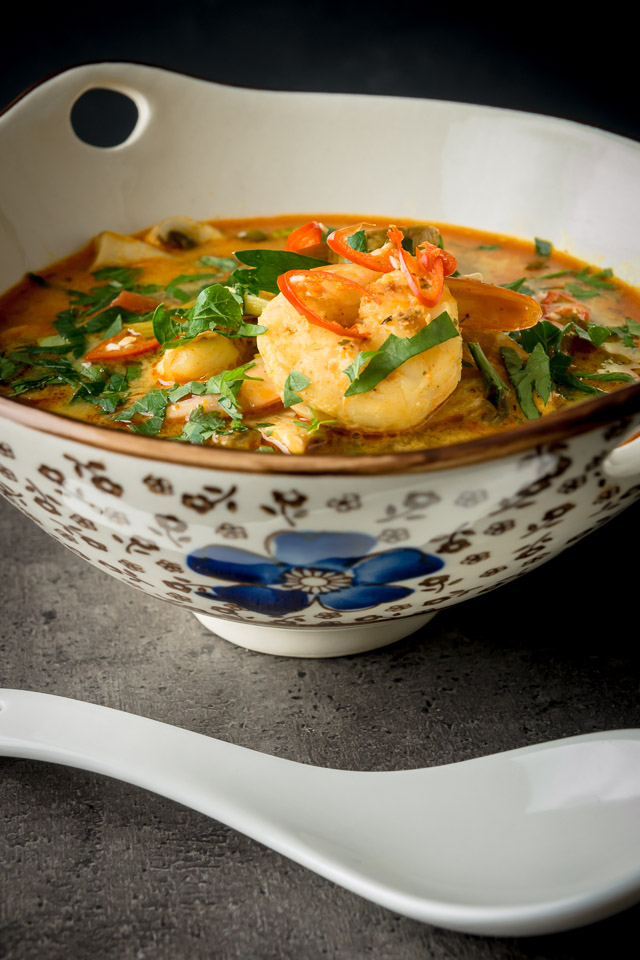 Print
Tom Yum Soup
Tom yum soup is a Thai mainstay with thousands of versions of the recipe out there, this one is mine, characteristically (for me) spicy and warming and packed with shrimp and mushrooms
Ingredients
1/2

Tbsp

Thai Red Curry Paste.

500

ml

Chicken Stock.

2

Spring Onions:

Cut into 1cm long 'coins'.

1

Clove

Garlic.

Finely sliced.

30

g

Ginger:

Cut into batons as thin as possible.

1

Kafir Lime Leaf.

100

g

Musrooms:

Sliced about 3mm thick.

250

g

Shrimp.

I use frozen but defrosted.

150

ml

Coconut milk.

1

Tbsp

Fish Sauce.

1

Tsp

Soy Sauce.

1

Tsp

Brown Sugar.

1

Stick

Lemon Grass.

Outer leaves removed and sliced.

1

Tsp

Cooking Oil:

Neutral.

1

Tomato:

Cut into 8 wedges and deseeded.

1

Tsp

Lime Juice.

1

Red Chili:

Finely sliced.

1

Handful

Coriander:

Roughly chopped.
Instructions
Heat the oil in a wok over a high heat and add the red Thai curry paste and fry for 30 seconds.

Add the garlic and cook for another 30 seconds.

Now pour in the stock and reduce the temperature to medium and add in the lemon grass, kafir lime leaf, ginger. Soy sauce, fish sauce and spring onion and cook for 5 minutes.

Add in the sugar and lime juice and stir before adding in the shrimp, mushrooms and tomato and simmering for 3-4 minutes.

Finally stir through the coconut milk and bring back to temperature and serve with the fresh chili and chopped coriander.
Recipe Notes
If you have shell on shrimp by all means cook them in there shells and then peel before serving to amp up the flavour.