Chicken and Mushroom Pie is a family favourite comfort food classic. This one takes the pot pie approach using shop bought puff pastry for a quick and simple midweek dinner.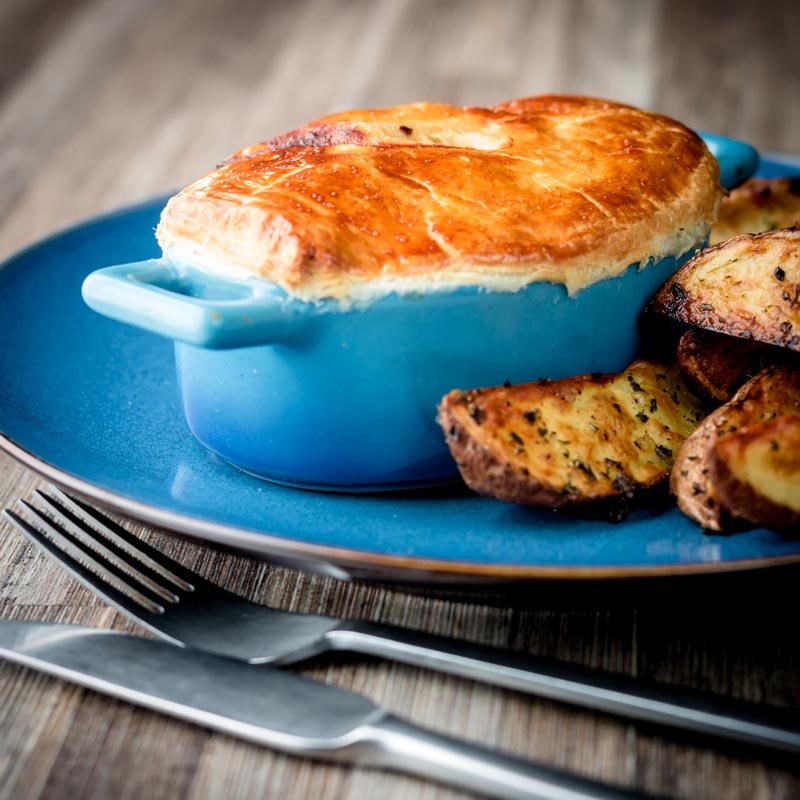 Chicken and Mushroom Pie!
It would seem that food from my youth is increasingly becoming a thing at the moment. This chicken and mushroom pie recipe joins my recent Mutton Hotpot and broccoli and stilton soup.
That is ignoring the wondrous treats I have for you in the pipeline.
I suppose it is no surprise to me that my inner 'Brit' comes out in a food sense when we hit autumn.
Soups, stews and pies really are what us Brits do best when it comes to food, particularly if you are of a certain age… And that age is not particularly ancient!
The filling for this chicken pie recipe is wonderful and really simple.
The clue really is in the name it really is just a chicken and mushrooms with a creamy sauce.
The addition of spinach and mustard round out the creamy filling, which makes a cracking sauce for the wedges I served it with!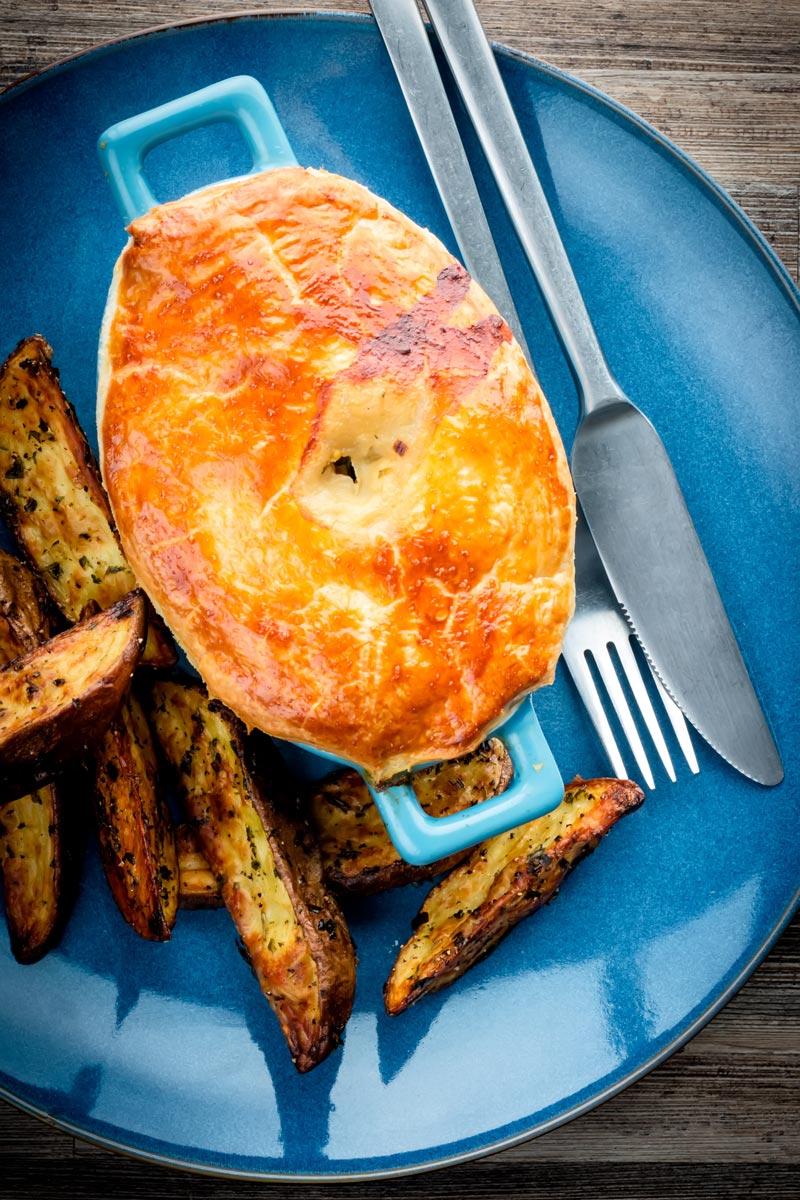 Is it OK to Use Store-Bought Puff Pastry?.
I have a complicated relationship with pastry. Sure I can make it but it always seems like a boatload of work for very little positive gain.
I only insist on making two types of pastry from scratch. Hot crust pastry for a pork pie and the like and suet pastry for steak and kidney pudding… Which despite the name is definitely a pie!
But when it comes to things like this easy chicken and mushroom pie recipe then store-bought puff pastry is fine. In fact, it is not just fine, it is perfect!
Good quality store-bought puff pastry will likely be superior to anything you can make at home.
Mechanisation is not always a bad thing.
The ability to keep everything cold and work the pastry very little is very important. It leads to a better pastry than you can make in your hot kitchen!
I am sure there are many out there that consider this sort of chicken and mushroom pie cheating!
You will be surprised to know that I really don't care…
A pie entirely encased in pastry is a wonderful thing. However, a simple puff pastry topping to a great filling is good enough for a recipe to tick the pie box for me!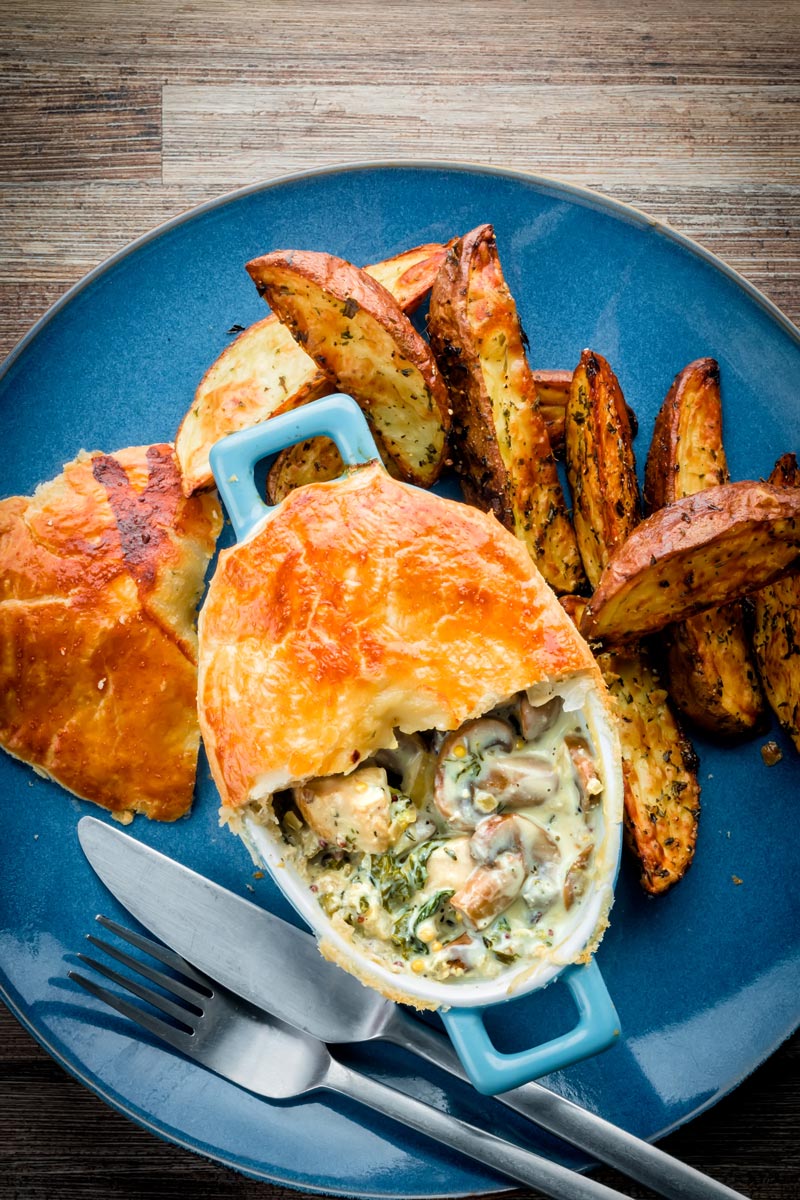 British Pie Recipes.
In the main, the word pie to most British people means a savoury recipe. There are notable exceptions like apple pie or lemon meringue pie.
Whether it be a pasty like these Cornish pasties, which would be called hand pies in the US or a beef and ale pie our pie tastes are definitely savoury.
In the UK pies are available everywhere, whether that be pub menus through to bakers shops and of course the halftime pie at football matches.
Of course, there are then the infamous pie and mash shops in the east end of London, sadly a dwindling tradition!
But not all of our pies are pastry based, the mutton hotpot I mentioned earlier is a free-form kinda pie…
And if you tell a Brit that a shepherds pie or cottage pie is not a pie you will be shunned… And rightly so!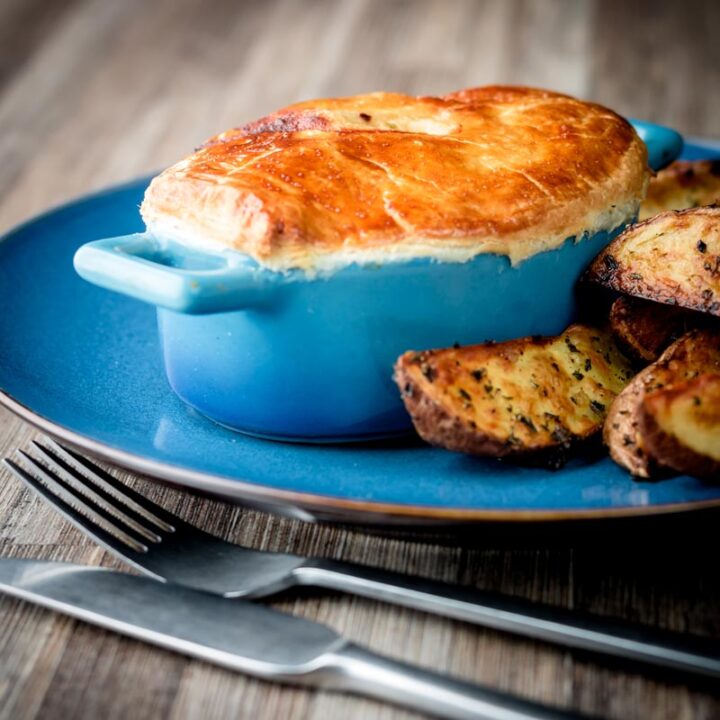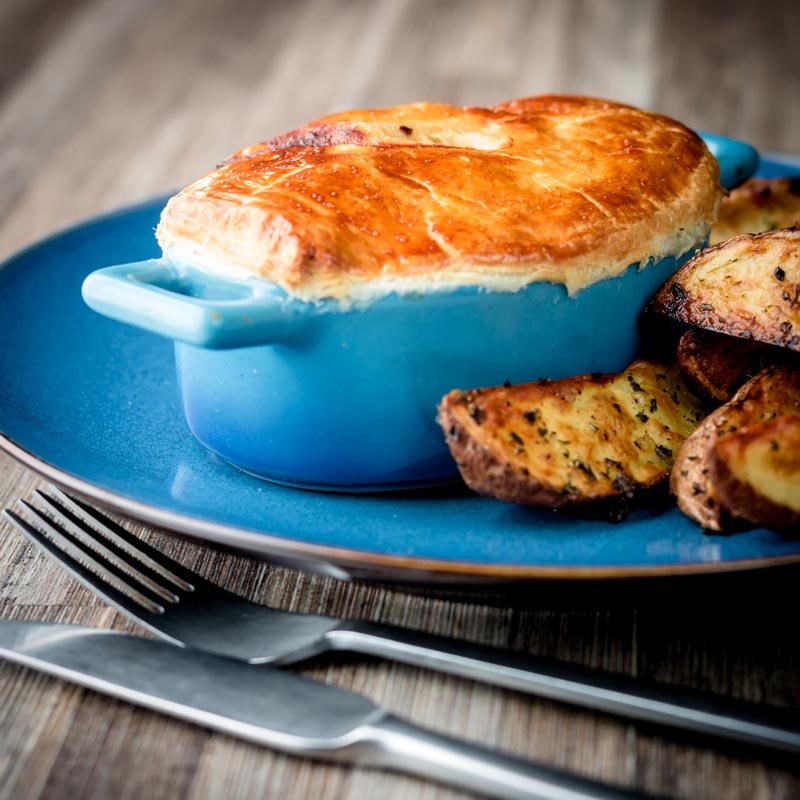 Yield:

2 Pies
Chicken and Mushroom Pie
Chicken and Mushroom Pie is an all time classic pie, this one takes the pot pie approach using shop bought puff pastry for a quick and simple midweek dinner
Ingredients
50 g Banana Shallot
1 Clove Garlic
250 g Skinless Chicken Thighs
50 g Spinach
1 Tsp Cooking Oil
125 g Mushrooms
1/4 Tsp Salt
Black Pepper
1/4 Tsp Dried Thyme
175 ml Double Cream
1 Tbsp Grainy Mustard
1 Sheet Puff Pastry
1 Egg
Instructions
Finely dice the shallot and garlic, then slice the mushrooms.
Cut the chicken thighs into 1-1.5cm chunks.
Heat the cooking oil in a heavy based pan over a medium heat and fry off the shallot for 2-3 minutes.
Now add the garlic and cook for a further 30 seconds.
Turn up the heat a little and fry off the mushrooms for 3-4 minutes.
Add in the chicken and repeat the frying process for 3-4 minutes and season with salt and pepper.
Throw in the spinach and thyme then add a lid until wilted which should take no more than a couple of minutes.
Remove from heat and stir in the sour cream and grainy mustard then transfer to your pie dishes.
Run a little beaten egg around the edge of your pie dish and then place over a piece of puff pastry larger than your dish.
Trim with a sharp knife and use a pastry brush to brush the top with some beaten egg and place in the oven at 200°C or 400°F for 20-25 minutes.
Notes
This recipe makes two individual pies each pie dish holds 250ml of water as a guide.
Nutrition Information:
Yield:
2
Serving Size:
1
Amount Per Serving:
Calories:

712
Total Fat:

52g
Saturated Fat:

25g
Trans Fat:

1g
Unsaturated Fat:

24g
Cholesterol:

345mg
Sodium:

714mg
Carbohydrates:

24g
Fiber:

4g
Sugar:

9g
Protein:

40g
Calorific details are provided by a third-party application and are to be used as indicative figures only.