Steak and ale pie is a true Britsh institution, these individual hand raised pies are packed with beef and mushrooms in a stunning gravy.
The crispy hot crust pastry is made with beef dripping turning the beefiness of this dish right up to 11!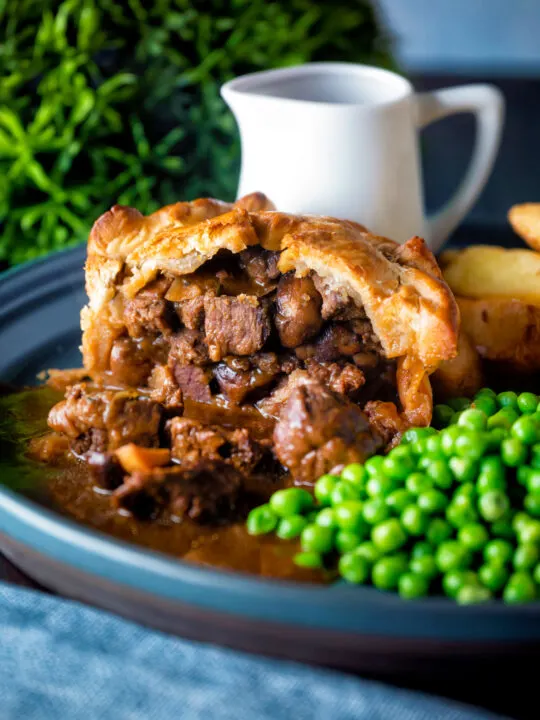 Hand Raised Beef and Ale Pie
Savoury pies are a stalwart of British food and these pies represent just a small part of a rich tapestry of traditional pie dishes.
We have plate pies, like my meat and potato pie and cheese and onion pie, with shortcrust pastry, of course, there are double crust individual pies like my ham stuffed fidget pie. Then we have "pot pies" like my pork and apple pie and chicken and leek pie that feature a puff pastry lid.
This recipe has a sister recipe in the guise of a steak and stilton pie, which is made without alcohol.
Then you have the majesty that is pasty I have both a Cornish pasty and a cheese and onion pasty recipe, they are quite simply the most wonderful and simple hand pie!
The filling for this pub-style individual steak and ale pie is a beef and mushroom stew cooked slowly in a bold gravy.
The pastry case is a hot crust pastry, one that is typically associated with a classic British pork pie, I also use it to make Scotch pie and my pork and apple sausage rolls.
For me, it is the best pastry for this type of pie! it has a wonderful texture and is really robust and holds in all of that wonderful gravy.
Whilst the cooking time is fairly long, both the stew and the pastry can be prepared in advance.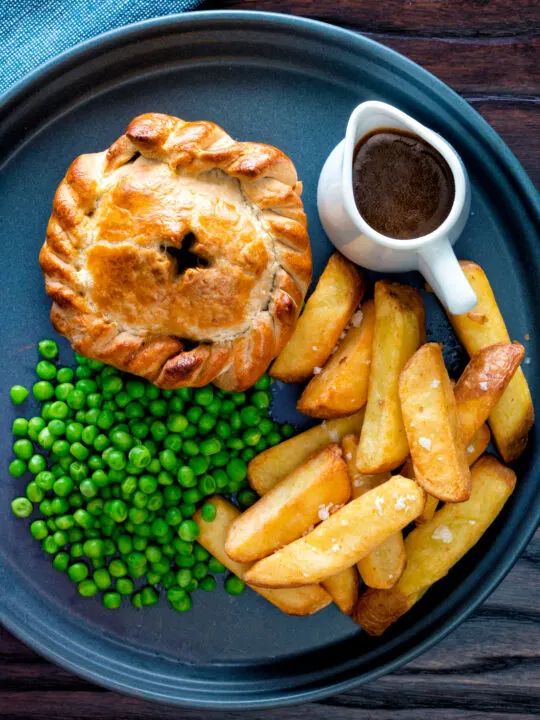 Frequently Asked Questions
Can this pie be made in advance?
No, the pies should be made up just before cooking. But as I mentioned above the pastry and the pie filling can be made a couple of days in advance and stored in the fridge.

But be sure to bring the pastry to room temperature for an hour or two because it is hard to work with when it is cold.
Can I cook the beef in a slow cooker or pressure cooker?
Yes, absolutely! You will need to sear the beef and onions as well as reduce the beer. But I have added some timings below.
Cook in an Instant Pot or standard pressure cooker for around 40 minutes with a natural pressure release.
Cook in a slow cooker on low for 6 hours.
What sort of beer should I use?
Any beer from a light amber ale to a heavy stout will work in this recipe. For instance, I've been using Newcastle Brown Ale to make this of late, each choice will give a different flavour to the gravy.

I would avoid pilsner-style lagers because they do not have enough body to give a punch to the dish.
What is Stewing Steak?
It is a generic name for a series of cuts of meat that also goes by the name of braising steak.

It is likely to contain cuts of meat like skirt, flank, chuck and parts of the leg. All cuts of meat with great flavour and as a result, they are perfect in this beef and ale pie.
What is beef dripping?
A question I am often asked by my American readers. Beef dripping is known as beef tallow in the US. You could use lard instead.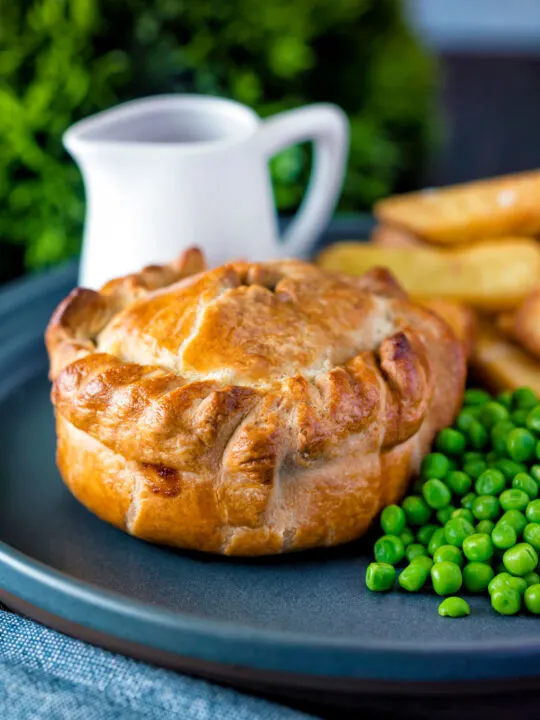 Serving Suggestions
My favourite sides for my steak and ale pie are with chips and peas, you also get bonus points if you go for mushy peas.
Air fryer cooked potato wedges or similarly, fried polenta chips make a good substitute for the chips.
Mash is also another great side dish, mashed potato is the obvious choice! However, swede and carrot mash or celeriac mash would be great too.
Finally, if peas ain't your thing some air fyrer asparagus or even some braised cavolo nero would make a lovely addition.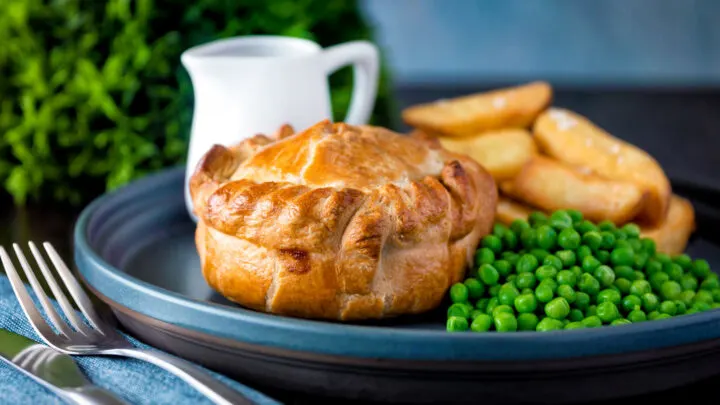 Equipment Used
I only mention brands of equipment if I think that they make a material difference to a recipe. If you have any questions feel free to ask them in the comments section below the recipe.
Stovetop.
Oven.
Weighing scales and or measuring cups and spoons.
Chopping board.
Kitchen knife.
20cm or 8″ saucepan.
24cm or 10″+ frying pan.
15cm or 6″ saucepan.
Food processor (Optional).
Cling film and baking parchment.
9cm x 5cm (3½" x 2″) round cookie cutter.
Rolling Pin.
Pastry brush.
Baking tray.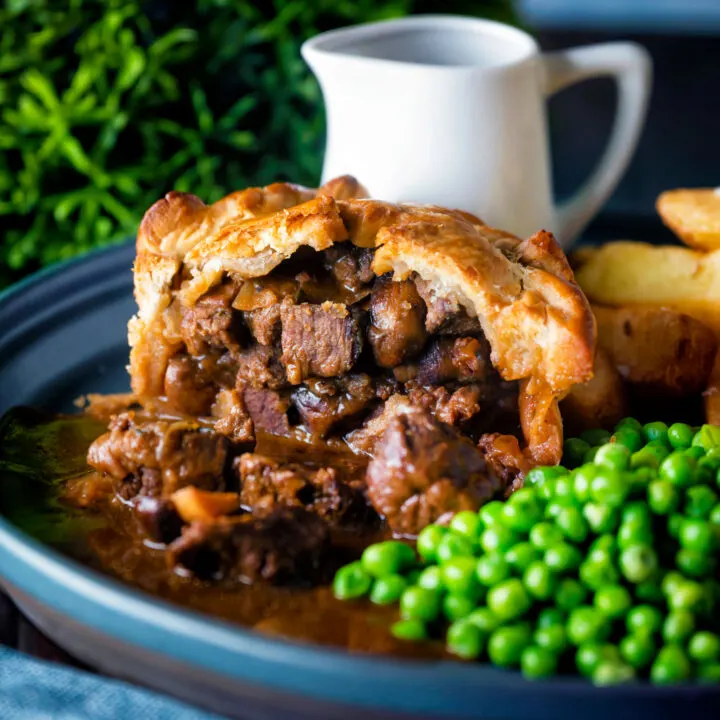 Yield:

2 Servings
Steak and Ale Pie Recipe
Cook Time:
2 hours
20 minutes
Total Time:
3 hours
50 minutes
A slowly cooked beef and mushroom stew is at the heart of this delicious steak and ale pie that is wrapped in a crispy golden hot crust pastry.
Ingredients
For the Pie Filling:
300g (10oz) Stewing Steak
150g (1 Cup) Onion
1 Tbsp Cooking Oil
½ Tsp Salt
½ Tsp Black Pepper
3 Anchovy Fillets
1½ Tbsp Flour
250ml (1 Cup) Beer or Ale
1 Tbsp Worcestershire Sauce
1 Tbsp English Mustard
½ Tbsp Marmite
175ml (¾ Cup) Beef Stock
1 Tsp Fresh Thyme
2 Tbsp Butter
150g (1½ Cups) Baby Mushrooms
For the Hot Crust Pastry:
100g (¼ Cup + 3 Tbsp) Beef Dripping or Beef Tallow
100ml (¼ Cup + 3 Tbsp) Water
250g (2 Cups minus 1 Tbsp) Plain flour
½ Tsp salt
1 Egg Yolk
For the Egg Wash:
Instructions
Cut the beef into 1.5-2cm (1/2-3/4") cubes.
Peel the onion and cut it into chunks the same size as the beef.
Heat the oil in a medium (20cm or 8") saucepan over a medium high heat, add the diced onion and cook for 7-10 minutes stirring occasionally.
Season the beef with salt and pepper.
Add the anchovy fillets to the onion and cook for 1-2 minutes stirring constantly.
Turn the heat under the onions to high, add the beef, and cook them until they are nicely coloured, 7-10 minutes.
Sprinkle the flour over the beef and cook for another 1 minute stirring constantly.
Pour in the beer and reduce it by half, this will take around 10-12 minutes.
Reduce the heat to low and add the English mustard, Worcestershire sauce, marmite, beef stock, and thyme, then add a lid and gently simmer for 75 minutes.
Add the butter to a frying pan (24cm or 10"+) 5 minutes before the beef is finished and when it begins to foam add the baby mushrooms and sautee for 5-7 minutes.
Add the mushrooms to the beef, remove from the heat and allow to cool completely before filling the pies.
Put the water and beef dripping into a small (15cm or 6") saucepan and heat it over a medium heat until the dripping just melts.
Place the flour, egg yolk and salt into a food processor and blitz to combine.
Slowly pour the hot water and dripping mix into the food processor whilst it is spinning until a dough ball forms.
Turn the pastry out and wrap it in cling film and set it aside until it is almost completely cool.
Take the cooled pastry and cut off a chunk around a third of the total size. Make sure you rewrap the pastry that you are not using.
Lightly flour our work surface and roll the pastry out to a thickness of around 3mm, then using a 9cm x 5cm deep pastry cutter, cut out two circles. These will for the lids, sandwich between baking parchment whilst you continue to work.
Cut the remaining pastry in half and roll it out to around 3mm thick and cut it into a 16-17cm circle, then repeat with the remaining pastry.
Take the 9cm pastry cutter and use it as a form to create a pastry case for the pie filling, taking care not to tear the pastry. There will be 2-3cm of pastry sticking out the top.
Fill the pie with half of the beef mix and pour in as much gravy as it will take.
Add the lid then brush the edges of the lid and overhanging pastry with water using your fingertip.
Roll over the overhanging pastry to form a crimped edge making sure that the edges are completely sealed and tightly crimped.
Remove the pie from the pastry cutter and place it on a baking tray lined with baking parchment.
Repeat the process with the second pie, you should have some leftover gravy, keep it for later to serve with the pie.
Using a sharp paring knife cut a cross into the centre of each pie.
Mix the egg and milk for the egg wash and use it to coat the pies.
Bake in the oven for 40 minutes at 180°C or 350°F.
Nutrition Information:
Yield:
2
Serving Size:
1
Amount Per Serving:
Calories:

1498
Total Fat:

83g
Saturated Fat:

38g
Trans Fat:

1g
Unsaturated Fat:

40g
Cholesterol:

313mg
Sodium:

2055mg
Carbohydrates:

128g
Fiber:

7g
Sugar:

8g
Protein:

38g
Calorific details are provided by a third-party application and are to be used as indicative figures only.