My beef and ale pie is an autumn-winter stalwart in our house, it is hearty and simple food. Served in individual portions with a store-bought puff pastry lid mean that this recipe can be a mid-week dinner with a bit of planning.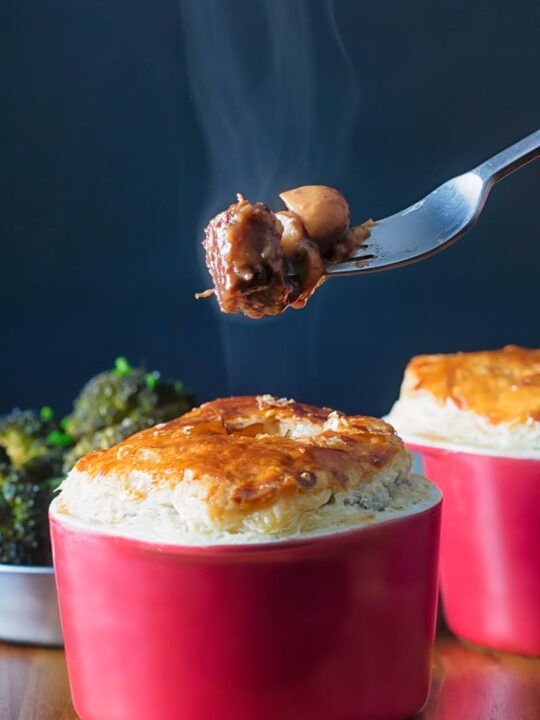 Beefy and Boozy Pie, Perfect Comfort Food.
I have no idea why but most of the time this recipe calls for steak and becomes a steak and ale pie. For me, this type of dish is calling for something like shin of beef or shoulder.
Something cheap and a cut of beef that just loves being cooked slowly with plenty of flavour.
Essentially this is a beef stew with a pastry lid. I am well aware that there is a vocal minority online that claim that unless it is pastry all round then it aint a pie.
Those people are wrong! But if you are one of those people then you must check out my meat and potato pie and my cheese and onion pie and my favourite corned beef and potato pie!
As for beer choose something that you like to drink. I personally usually use a stout in this recipe but experiment and play around!
The beer you use will have a profound impact on the taste of the recipe.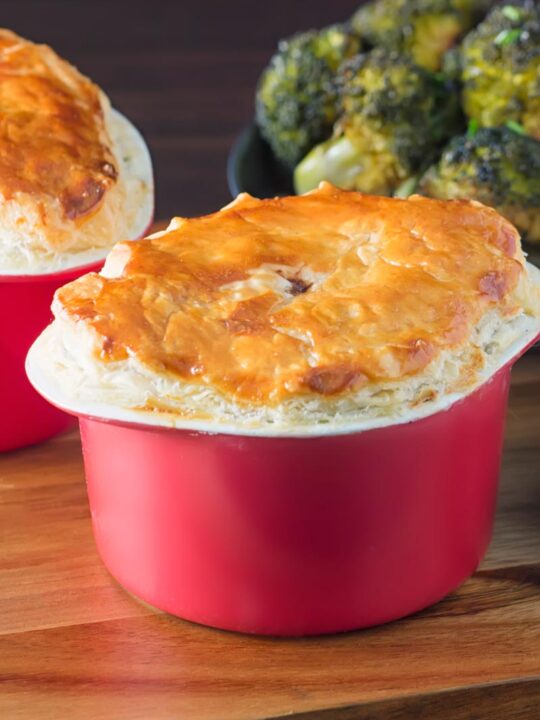 Can I Use Store-Bought Puff Pastry?
Absolutely, in fact I would encourage you to make this pie with store-bought puff pastry!
I made puff pastry for my pork pie with apple and cider not so long back. It is a labour of love and to be honest not as good as good store-bought pastry.
There are some recipes that just come together better in an industrial facility and I think puff pastry is one of them.
Now not all pastry is better from the store, in fact, using anything other than a homemade pastry for a sausage roll or a traditional Cornish pasty should be punishable in the worse way possible.
But for puff pastry, go right ahead!
I also prefer a tall pie dish for this recipe but it would work out just as well as a plate pie.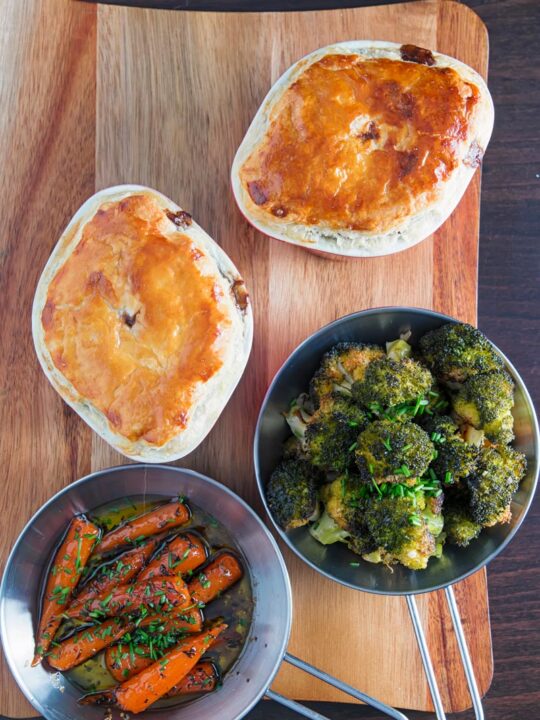 Can this be Prepared in Advance?
Most definitely, in fact, any slow cooked beef dish will likely taste better and improve on day 2.
So feel free to cook up the filling a day or two in advance and then simply pop on a lid and bake it in the oven!
If you wanted to you could cook the filling for this beef and ale pie in a slow cooker or even an electric pressure cooker.
Use the ingredients I have mentioned and follow my instructions as to what to saute.
Cook in an Instant Pot for around 40 minutes with a 10-minute natural pressure release.
Cook in a slow cooker on low for 8 hours.
If using either of these methods then you will want to thicken your sauce.
I prefer to mix an equal quantity of butter and flour and stir it through. But you could also use cornflour or arrowroot mixed with water to gain your desired sauce.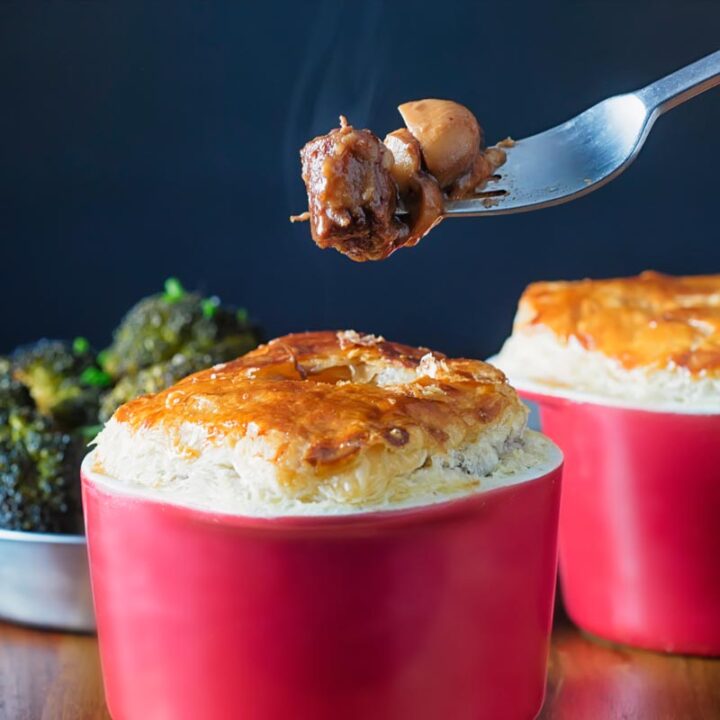 Yield:

2 Servings
Winter Warming Beef and Ale Pie
Cook Time:
2 hours
30 minutes
This beefy and boozy pie definitely falls into the territory of being a pot pie. It is a glorious slow cooked beef stew under a puff pastry lid and it is delicious!
Ingredients
2 Tbsp Cooking Oil
100 g Onion
300 g Diced Shin of Beef
2 Tbsp Plain Flour
1/4 Tsp Coarse Sea Salt
1/4 Tsp Ground Black Pepper
1 Tsp Dried Thyme
1 Tbsp Worcestershire Sauce
150 ml Stout
150 ml Beef Stock
1 Tbsp Grainy Mustard
1 Bay Leaf
20 g Butter
125 g Button Mushrooms
1 Tablespoon Plain Flour
1 Tbsp Water
Ready Made Puff Pastry
1 Egg Beaten
Instructions
Cut the onion into a medium dice and cut the beef into 1.5-2cm cubes.
Cut the button mushrooms into bite sized pieces.
Heat the oil in a frying pan over a low-medium heat and add half of the oil.
Fry off the onions until a dark gold colour which should take 10-15 mins and then transfer to a medium pan.
Place the flour, salt, pepper and dried thyme in a bag along with the beef and toss it around to coat.
Batch fry off the beef in the frying pan with the remaining oil until nicely seared.
Transfer to the same pot as the onions.
Deglaze the frying pan with the Worcestershire sauce and then pour in the stout, beef stock and then bring to the boil.
Pour this over the beef and onion mix, stir in the grainy mustard, add the bay leaf.
Simmer over a low heat for 90 mins.
Melt the butter in a frying pan
Cut the mushrooms into pieces about the same size as the beef.
Saute the mushrooms for 5 mins and add to the beef and then continue too cook for a further 30 mins.
Allow to cool, you can do this as far in advance as you wish, you can even freeze it.
Fill the pie dishes to the top.
Roll out the pastry.
Mix together the flour and water and brush on to the edges of the pots.
Take a thin strip of puff pastry and stick it around the edges.
Now take a larger piece of the puff pastry and cover the top pie dish trimming away the excess pastry, repeat with any remaining pots.
Brush with beaten egg before placing in the oven and baking for 30 mins.
Notes
My pie pots are 10cm in diameter and 5cm deep, I like to serve with honey and butter glazed carrots and roasted broccoli.
Nutrition Information:
Yield:
2
Serving Size:
1
Amount Per Serving:
Calories:

909
Total Fat:

60g
Saturated Fat:

19g
Trans Fat:

0g
Unsaturated Fat:

35g
Cholesterol:

245mg
Sodium:

700mg
Carbohydrates:

28g
Fiber:

2g
Sugar:

5g
Protein:

48g
Calorific details are provided by a third-party application and are to be used as indicative figures only.