Ain't nothing quite like a good sausage roll and this wee apple and these mustard laced beauties are wrapped in a simple but great shortcrust pastry.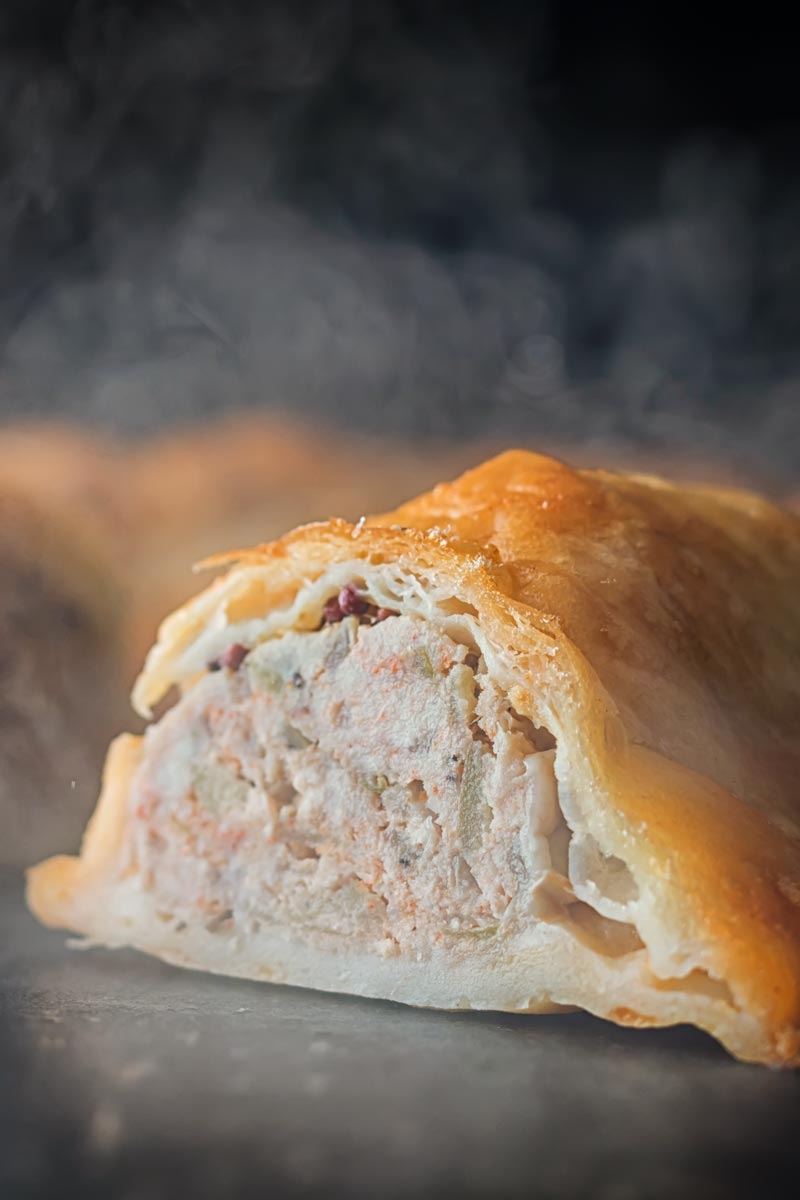 Apple and Mustard Sausage Roll.
Sausage rolls were probably as much part of my growing up as any other food stuff that I can think of.
They still have a real place in my heart and I love them.
These apple and mustard sausage roll are pretty traditional with a shortcrust pastry with a couple of twists.
Looking around the big wide interweb it would seem that lots of folk advise buying good sausages, splitting them and using that to stuff shop bought puff pastry…
Well to start off puff pastry wrapped sausage rolls are what you bought frozen from the cheap freezer store growing up.
Mine are a little more crafted and well worth the effort. A homemade sausage meat mix with apple and mustard wrapped in a homemade shortcrust pastry.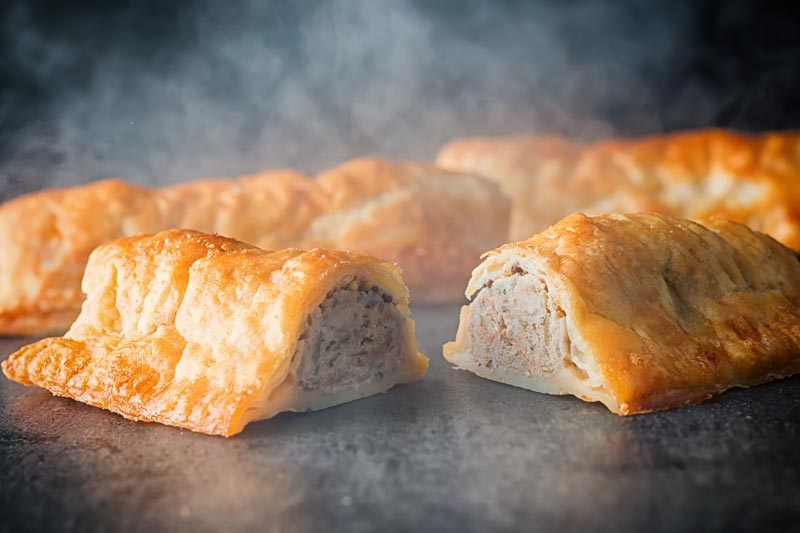 What Meat to Use in a Sausage Roll.
Of course, the base ingredient is Pork, I prefer blade. This comes from the part of the shoulder closest to the shoulder blade.
Not only does it have the right amount of fat but that fat is also the perfect type of fat.
I would consider myself a bit of a sausage connoisseur and I can say that with a straight face! Well almost…
I am British after all.
I have a couple of sausage recipes here on Krumpli, a pretty standard British Breafast Sausage and a Cumberland sausage, I also have a pork pie recipe.
All three of these would create a great fillings.
However, for a dedicated sausage roll recipe, I reduce the fat content a little bit which allows me to omit the 'cereal' component in sausages.
Don't worry these aint "skinny", the all butter shortcrust pastry looks after that.
Cereal serves a purpose in sausages it absorbs liquid which helps prevent your banger from going bang. That is definitely not required here.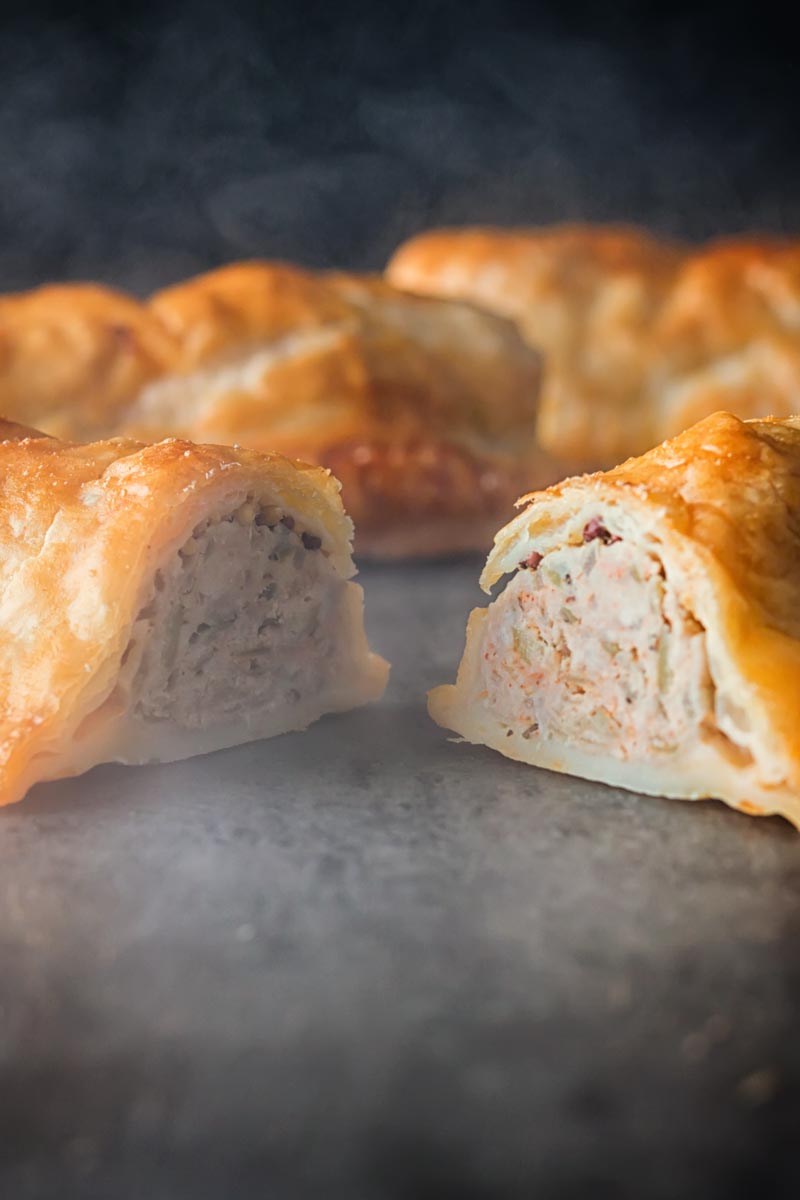 Homemade Shortcrust Pastry.
I have a complicated relationship with pastry.
It is definitely my least favourite thing to make in the kitchen and avoid it as far as possible.
But there really is no substitute for this when it comes to a good gourmet sausage roll.
The key to getting this pastry perfect is to work quickly and keep it cold!
We work quickly so that we do not overwork the pastry, we work cold so that the pastry is manageable.
I personally favour using all butter, but you can add lard/shortening if you like just ensure that the fat content remains the same.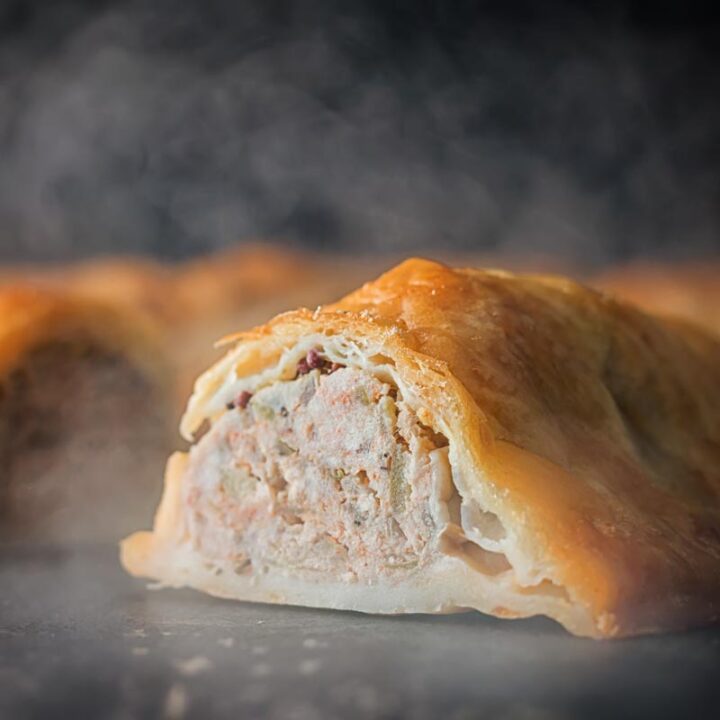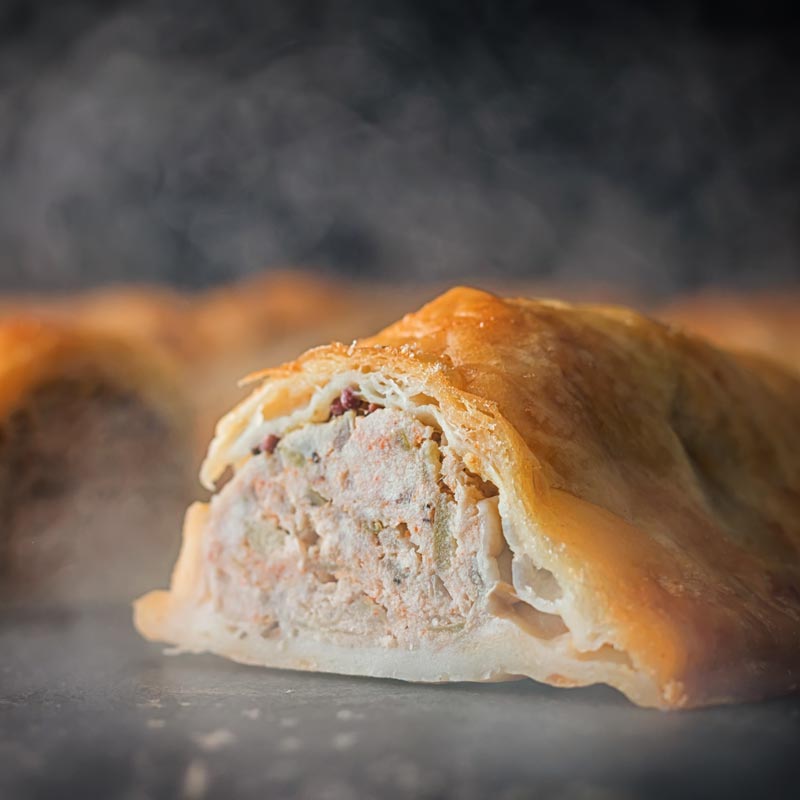 Yield:

6 Rolls
Apple and Mustard Sausage Roll
Prep Time:
1 hour
30 minutes
A good sausage roll is a beautiful thing and this apple and mustard sausage roll is stunning... A perfectly cooked filling wrapped in a perfect homemade shortcrust pastry.
Ingredients
For the Pastry:
150 g Frozen Butter
225 g Plain Flour
1/8 Tsp Salt
75 ml Cold Water
For the Sausage Roll:
400 g Pork blade
100 g Pork Shoulder
75 g Shallot
150 g Apple
6 Tsp Wholegrain Mustard
1 Tsp Dried Sage
1 Tsp Paprika
1/2 Tsp Black Pepper
1 Tsp Salt
1 Egg
Instructions
For the Pastry:
Mix together the flour and salt and grate in the frozen butter working as quickly as you can.
Stir the butter in to the flour with the back of a knife adding the cold water as you go.
Bring together to fall a ball with your hands working the pastry as little as possible before wrapping in cling film and transferring to the fridge for an hour.
For the Sausage Meat:
Grind to pork first on a medium grinding disk and then for the second time on a fine grinding disk.
Dice the shallot as finely as you can.
Grate the apple.
Now add the shallot, dried sage, black pepper, paprika, salt and grated apple and mix together.
Divide the sausage meat into 6 balls around 125g each (this will vary a little and place in the fridge.
Sausage Roll Time:
Preheat your oven to 200°C.
Take a 70-75g chunk of the pastry and roll out into a rectangle roughly 15cm by 18 cm.
Roll the ball of the sausage meat out to fit in the pastry and spread over 1 Tsp of mustard then roll over the pastry pressing shut and using a fork to secure.
Transfer to the fridge and cool for 30 minutes before cooking.
Remove from the fridge when firmed, brush with beaten egg and cook for 30 minutes.
Notes
You can of course ask your butcher to grind the meat for you I always prefer to do my own.
Nutrition Information:
Yield:
6
Serving Size:
1
Amount Per Serving:
Calories:

562
Total Fat:

35g
Saturated Fat:

18g
Trans Fat:

1g
Unsaturated Fat:

14g
Cholesterol:

158mg
Sodium:

715mg
Carbohydrates:

35g
Fiber:

2g
Sugar:

4g
Protein:

27g
Calorific details are provided by a third-party application and are to be used as indicative figures only.