Making Italian Sausages at home is not a difficult task, even stuffing them and forming sausage links falls well within the reach of all home cooks. All it takes is a sense of adventure and no real skill, it is also a massive giggle if you are childish like me!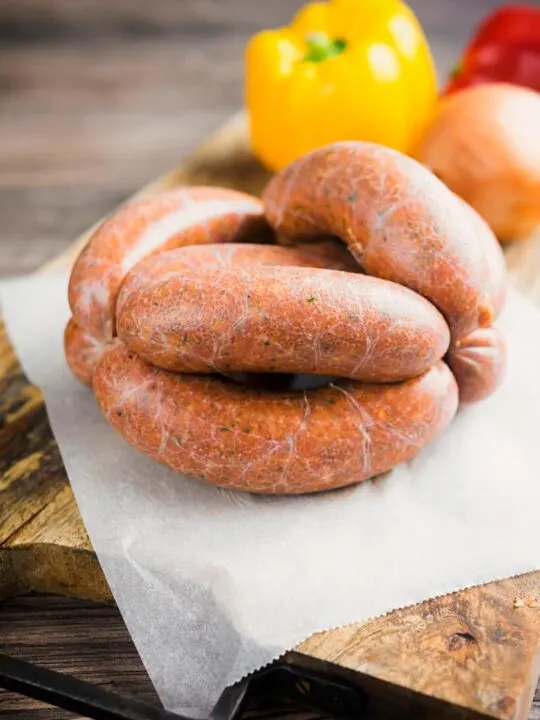 How to Make Italian Sausages.
The first step in making your own sausages is to ensure you have the right tools. Now, this is not an expensive task, most meat grinders will come with a sausage stuffing attachment.
You can also get manual sausage stuffing machines as well as attachments for stand mixers like the Kitchen Aid.
I personally find the meat grinder the best option, this is probably because I always grind my own meat. So as far as I am concerned it is an essential kitchen tool.
Don't bother with an expensive brand, I have a cheap off-brand model that I have been using for 8 years. I went through two grinders of very well known brands the two years prior to that!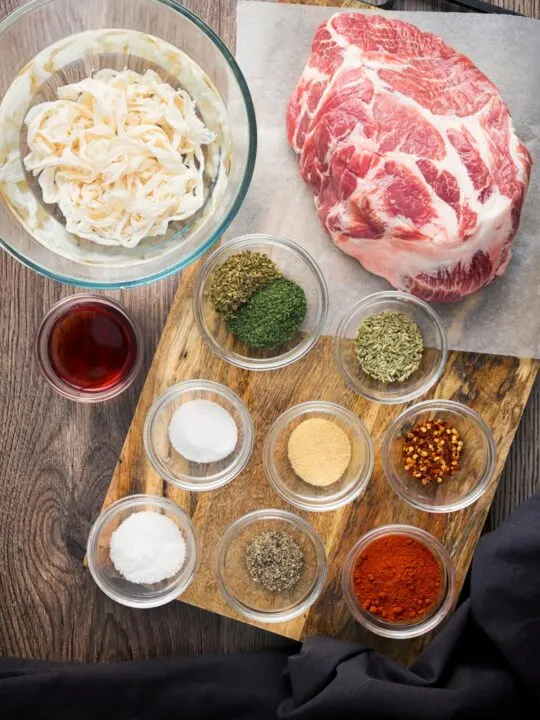 The Ingredients.
After we have our kit we need the ingredients!
We start with pork, I personally prefer pork blade. It is a cut of meat between the shoulder and the neck, as you can see from the image above it has great fat content.
If you cannot find this cut of meat then use 50% shoulder and 50% belly.
The core ingredients other than this are red wine vinegar, paprika and fennel, you can adjust the balance of these to your own taste. There is no such thing as the right balance.
Finally, we have salt. Salt plays an important part in this recipe, it is not just a seasoning it is essential in holding the sausage together.
Unlike British sausages such as the Cumberland sausage or good old fashioned breakfast banger, there is no 'cereal' content to hold the Italian sausage together.
Salt fulfils this purpose, work on a tablespoon of salt per kilogram.
Then we have the casings. Buy natural casings, they typically come packed in salt and need 30 minutes soaking and then rinsing.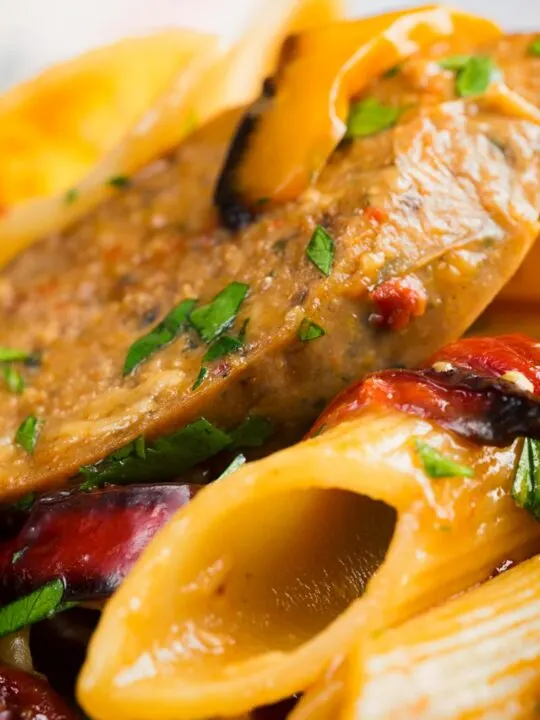 The technique!
Once we have the toys and the ingredients we just need the skills.
Forget the daft clips you have seen on the television of the uninitiated working on industrial machines firing sausage meat out at a rate of knots.
Your average domestic sausage stuffer works at a much more leisurely pace as you can see from the video above.
You can stop and start and work in a way you are comfortable with working. The only thing to ensure is that you have no air at the start of the sausage.
Do this by tying off the sausage after you have got the sausage meat through the stuffing machine.
That is of course if you want links for something like a hotdog or my sausage pasta recipe. If you want to make my Italian sausage ragu or a classic Italian sausage soup you can leave it as ground meat.
They also smoke really well, I mention it in my smoked BBQ ribs recipe.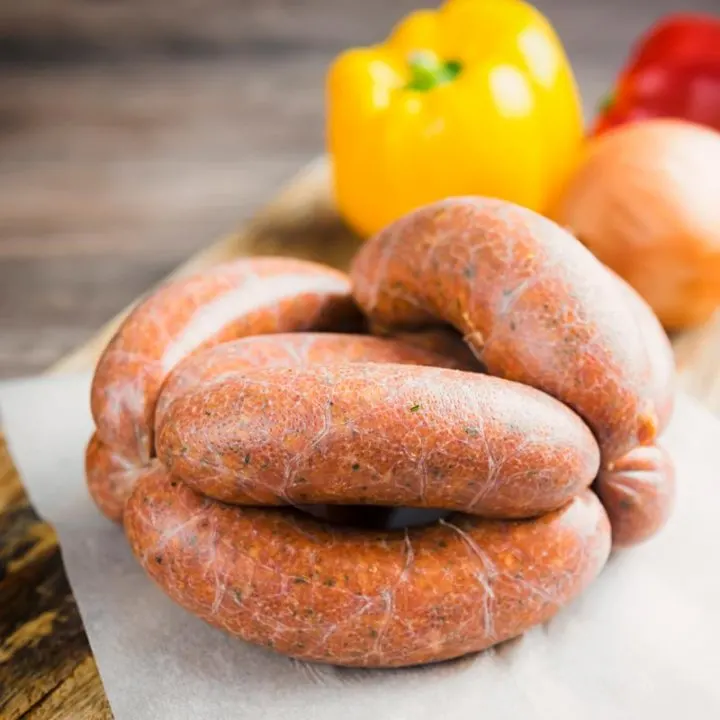 Yield:

12 Sausages
How to Make Italian Sausages
Making sausages at home is not difficult and is a great giggle, these Italian Sausages are styled on the Italian American version. Whether you are using them in a pasta dish, soup, ragu or even in a hotdog they are really special!
Ingredients
1 kg Pork Blade
1 Tbsp Salt
1 Tbsp Fennel Seeds
2 Tbsp Paprika
1 Tsp Dried Chili Flakes
2 Tbsp Red WIne Vinegar
1 Tsp Black Pepper
1 Tsp Garlic Powder
1 Tbsp Dreid Oregano
1 Tbsp Dried Parsley
1 Tsp Sugar
Natural Sausage Casings
Instructions
Soak you sausage skins as per the instructions on the packet.
Grind the pork blade on a medium coarse blade.
Add the remaining ingredients and allow them to steep for 15 minutes.
Form a small patty of the sausage mix and fry it off.
Taste and adjust the seasoning to your liking.
Thread the sausage skins onto the sausage stuffing machine a stuff.
You can either form links or just twist off to form sausage lengths.
I personally thing that a 10cm 4" length, which equates to around 12 sausages for this amount is perfect.
Notes
If you cannot get pork blade use 500g of pork shoulder and 500g of fairly fatty pork belly.
Calorific value is per sausage.
Nutrition Information:
Yield:
12
Serving Size:
1
Amount Per Serving:
Calories:

226
Total Fat:

13g
Saturated Fat:

5g
Trans Fat:

0g
Unsaturated Fat:

7g
Cholesterol:

77mg
Sodium:

678mg
Carbohydrates:

2g
Fiber:

1g
Sugar:

1g
Protein:

23g
Calorific details are provided by a third-party application and are to be used as indicative figures only.