Asparagus is often served as a side dish, but here it is at the heart of a summer asparagus salad that contains lentils, tomatoes and Roquefort cheese. A simple recipe that relies on great ingredients and simple cooking techniques.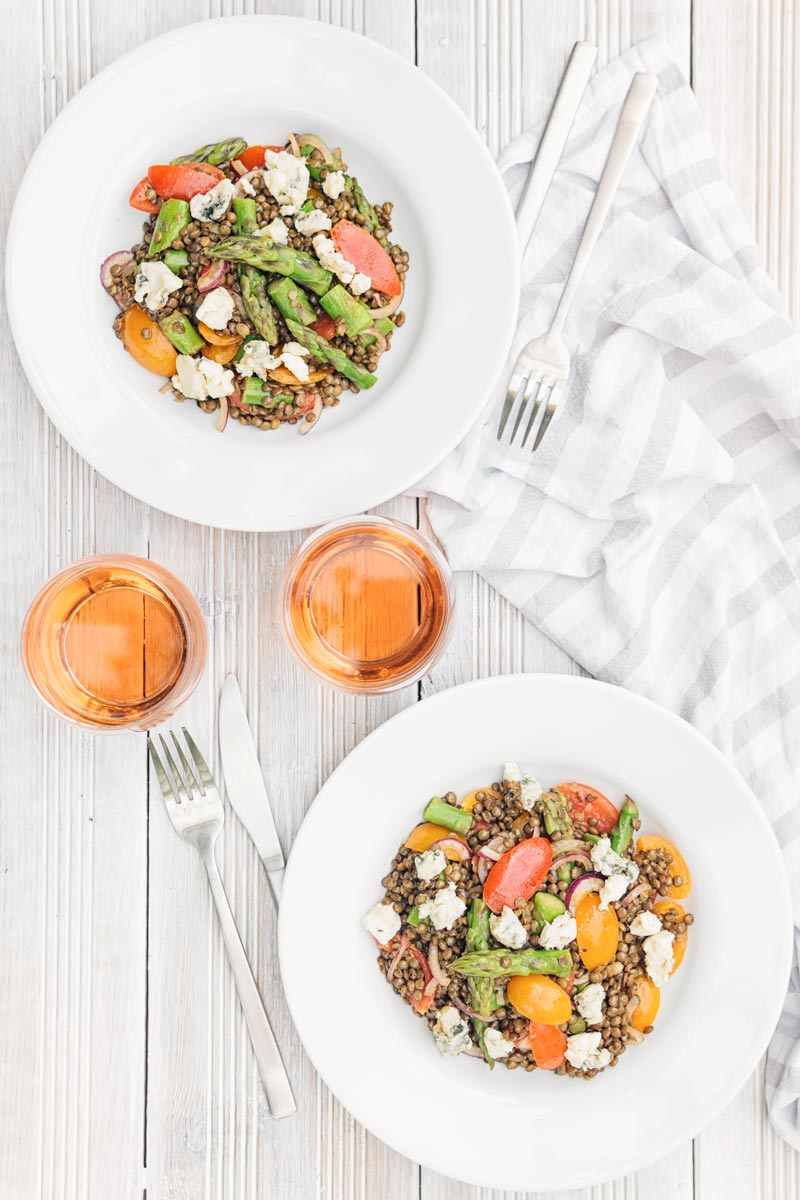 Lentil and Asparagus Salad with Tomato and Roquefort Cheese.
Sitting outside in the garden with a glass of wine and a main course salad is the perfect way to eat dinner. There is a simplicity to eating this way and even making this recipe feels relaxed.
Most of the effort involved in "cooking" this recipe is in the chopping. In particular the removal of the tomato seeds.
I personally try and do this in most recipes when tomatoes are to be eaten raw.
Primarily because my wife does not like the seeds, but they also hold less aroma and flavour than the tomato flesh.
Feel free to leave yours in if you can't be bothered!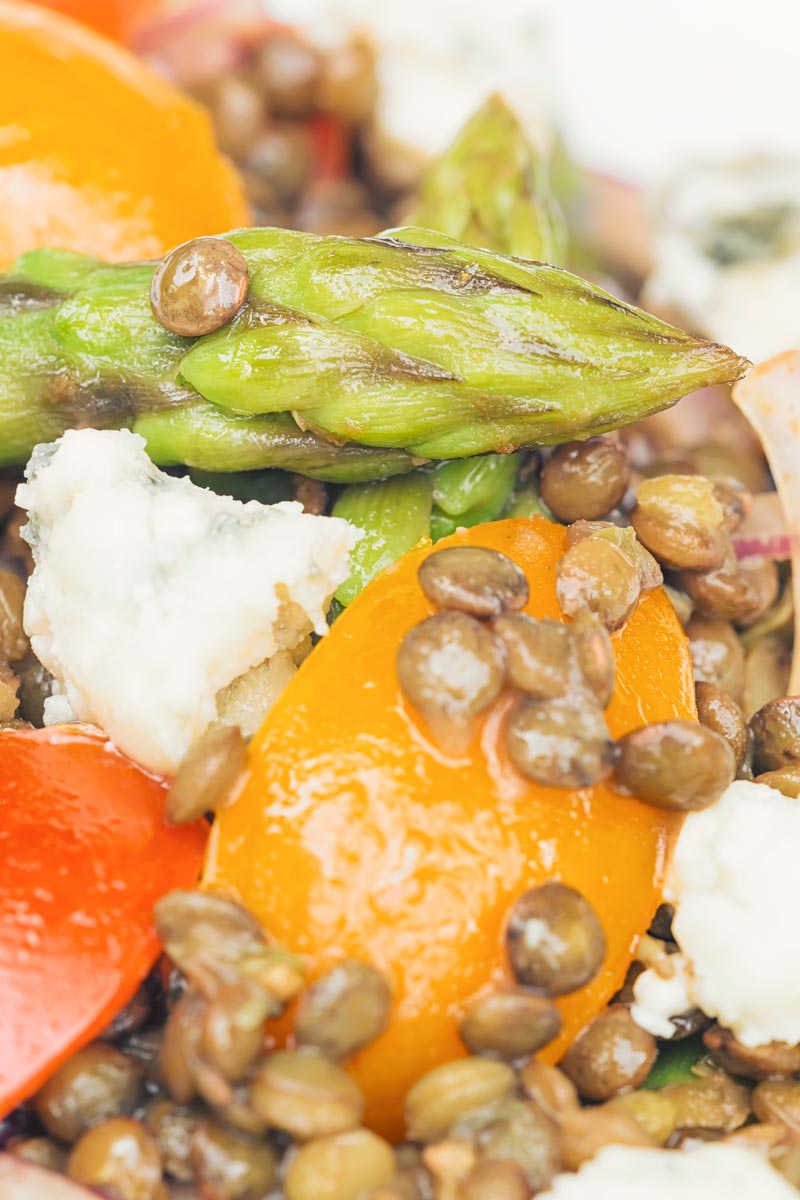 Lentil Salad…
Is this an asparagus salad or a lentil salad, I don't know, let's say it is both.
I love using lentils in salads, they add a nutty and earthy flavour. Most importantly they add much-needed body to main course salads, especially vegetarian salads.
I personally think that lentils need to be cooked from dry if they are going to be used in a salad.
This is because freshly cooked lentils will suck up flavour from any dressing better when warm.
Heating canned lentils and dressing really does not result in the same results.
It is a technique I always use when serving lentils at room temperature. It does not whether that be in my puy lentil salad or my peach and feta cheese salad.
You can do this up to 24 hours in advance if you like, in fact, it will be even better!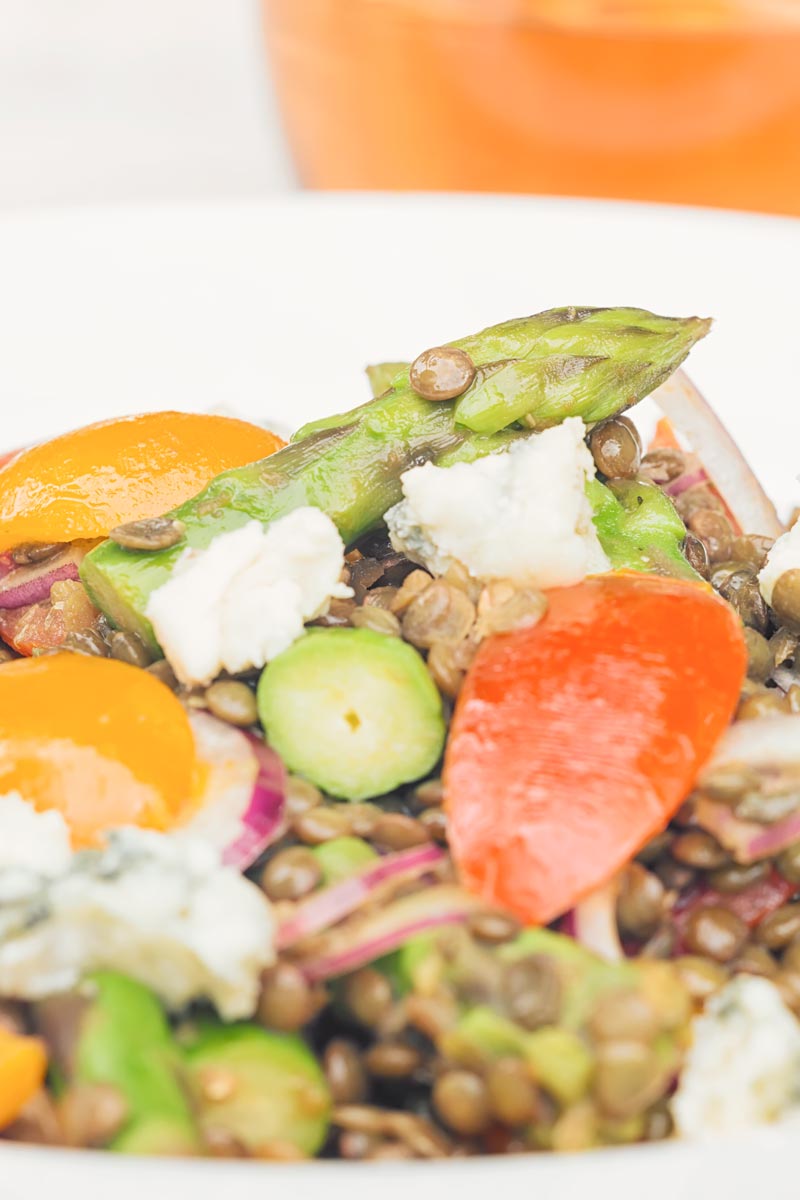 What Type of Lentils Are Best for Salad?
I usually use either puy or green lentils, you can flip between the two freely although puy lentils have a slightly better flavour.
They do not require soaking, take only 25 minutes to cook and have a great texture and flavour.
To be perfectly honest I don't care whether I am making lentil and bacon soup or cabbage and lentils I usually use whichever of these I have in the cupboard.
On that note, off you go… You have shopping to do!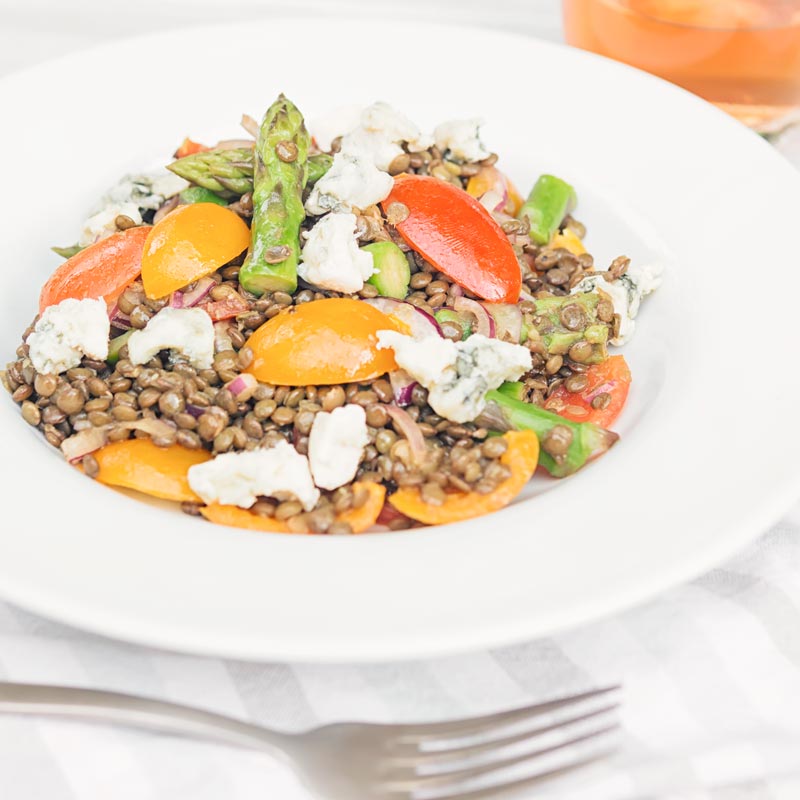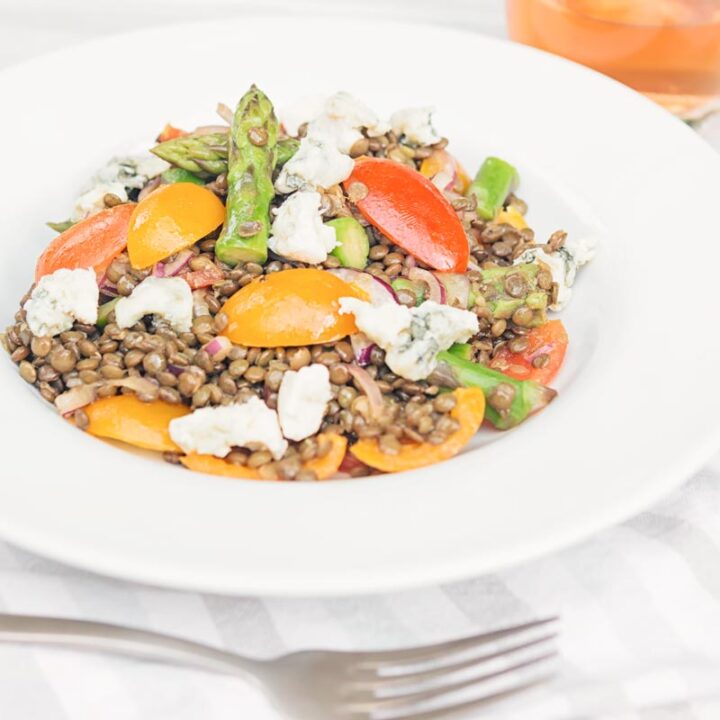 Lentil and Asparagus Salad
Nothing screams summer more than Asparagus, Tomatoes and Salad in the garden... That means that this main course Asparagus salad is simply summer in a bowl!
Ingredients
150 g Puy Lentils
1 Small Onion
2 Bay Leaves
200 g Asparagus
125 g Tomatoes
35 g Red Onion
25 g Butter
50 g Roquefort Cheese
For the Dressing:
1 Tbsp Balsamic Vinegar
3 Tbsp Olive Oil
1 Tbsp Capers
Salt and Pepper to taste
Instructions
Place a small to medium pan two thirds full of water on the heat.
Cut the onion in half and add it to the water along with the bay leaves.
When the water is boiling add the lentils and reduce the heat to a simmer.
Cook for 25 minutes or until the lentils are cooked.
Prepare the asparagus by snapping off the woody ends.
I like to use small "date" tomatoes in both red and yellow then cut into quarters and remove the seeds.
Peel the red onion then cut in half and slice into fine half moons.
Crumble the Roquefort cheese.
Roughly chop the capers and place them in a jar with the remaining ingredients for the dressing and give them a good shake.
Drain the lentils when cooked and remove the onions and bay leaves.
Whilst the lentils are still hot add the dressing, mix well and have a taste adjusting the salt and pepper as necessary.
Allow them to cool a little whilst we cook the asparagus.
Add a little water (2cm) to the base of a frying pan and bring to a boil.
Throw in the asparagus and cook for 2 minutes.
Remove the asparagus and throw away the water placing the pan back on the heat (medium heat).
Chop the asparagus to 1.5cm long for the stems keeping the spears whole.
Add the butter to the pan and saute the asparagus for 60 seconds.
Transfer to the lentils along with the remaining ingredients except the cheese.
Divide between two bowls and then crumble over the Roquefort cheese.
Notes
The weight for the asparagus and tomatoes refers to the prepared weight.
Nutrition Information:
Yield:

2
Serving Size:

1
Amount Per Serving:
Calories:

511
Total Fat:

39g
Saturated Fat:

14g
Trans Fat:

0g
Unsaturated Fat:

23g
Cholesterol:

49mg
Sodium:

804mg
Carbohydrates:

29g
Fiber:

10g
Sugar:

8g
Protein:

16g
Calorific details are provided by a third-party application and are to be used as indicative figures only.