I love 'party in your mouth' food and this quick & easy Chinese pork stir fry recipe really delivers on that front.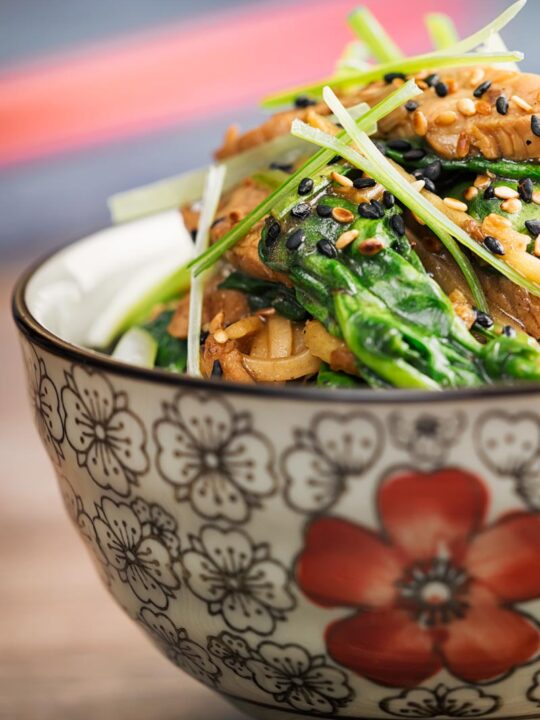 Chinese Pork Stir Fry.
To say that this super quick recipe is loaded with flavour is an understatement. Your tastebuds will be dancing long after you have washed up after dinner.
The combination of lots of fiery ginger like this ginger chicken leg recipe and the fizz of Szechuan pepper make sure that this 20 minute wonder is as memorable as it is fast!
This recipe is light and is just as good as a summer fakeaway as it is for a winter warmer.
The spinach and whole wheat noodles provide a really earthy flavour base for the recipe.
You can swap out the whole wheat noodles for any other noodles you want. Just cook them for 30-60 seconds less than the packet says.
This earthiness is punched through with ginger as a high note and Szechuan pepper offering a glorious tongue numbing fizz.
In that sense, this recipe is similar to my Szechuan prawns and Szechaun Chicken recipes.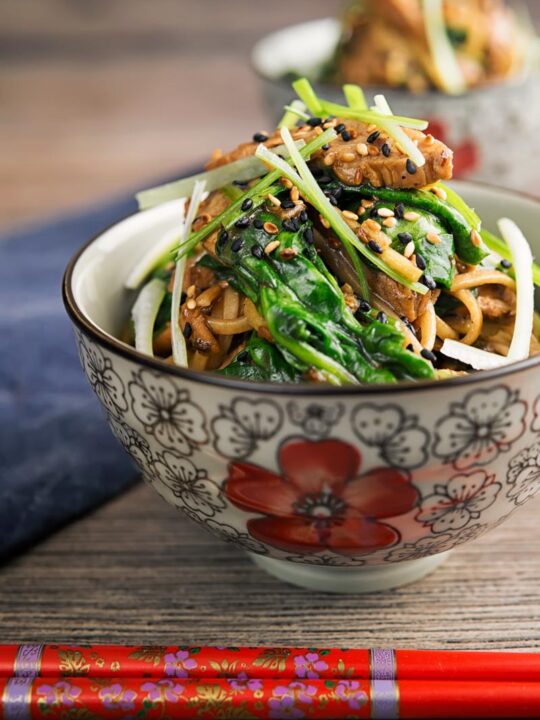 Choosing Protein for a Stir Fry.
All stir fry recipes have two things in common, speed and heat!
This one is no different and when adding meat to a stir fry two things are your enemy… Fat and sinew!
Both of these things need time to cook down and become tender.
As a result of this, you want something that is fairly lean and tender right out of the box.
For instance, if you are making a beef stir fry, sirloin as in this chili beef and noodles recipe is perfect.
You could even go as far as fillet of beef it is a little pricey for my pocket but the texture is perfect.
However when it comes to pork then tenderloin or fillet is the way to go. It is hands down the best cut of pork for this kind of cooking.
Quick to cook, really tasty and most importantly takes on the most wonderful texture and so soft and juicy!
Depending on where you are pork tenderloin can be difficult to find. You can substitute straight-up pork loin in this recipe and it will work well.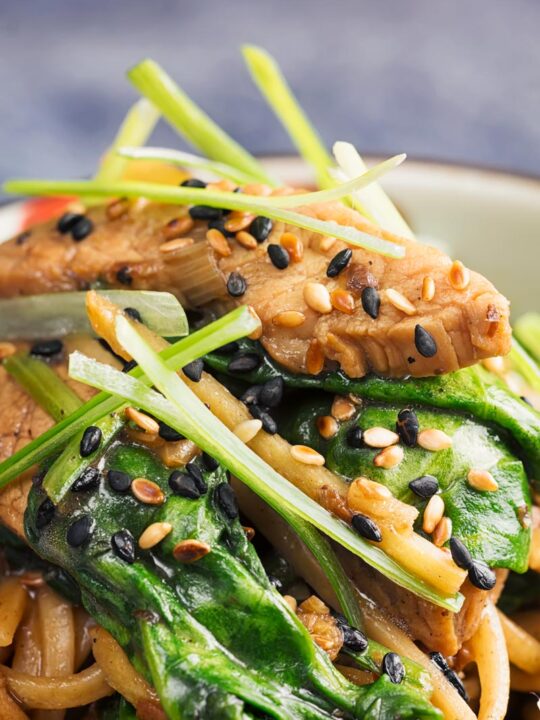 Failure to Prepare…
Here comes my standard disclaimer, if you are stir frying then prepare in advance!
Make no bones about it, if you start mixing sauces or chopping vegetables in the middle of this recipe then it will fail.
You have no time! It is the same as all stir fried dishes, whether that is my duck stir fry or even my vegetarian sweet and sour stir fried noodles.
It helps to have bowls to put things in, and round-bottomed bowls are even better. They help you get things sticky sauces oyster or hoisin from the bowl into the wok efficiently.
Line thing up in the order they are going to go into the wok.
When you are ready take a deep breath and just go for it… Prepare in advance and you will have the perfect quick-cook dinner!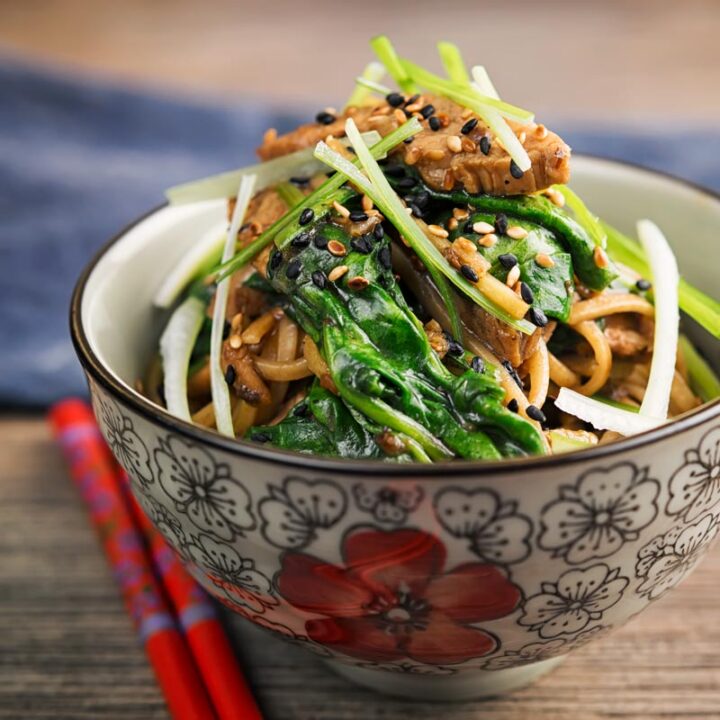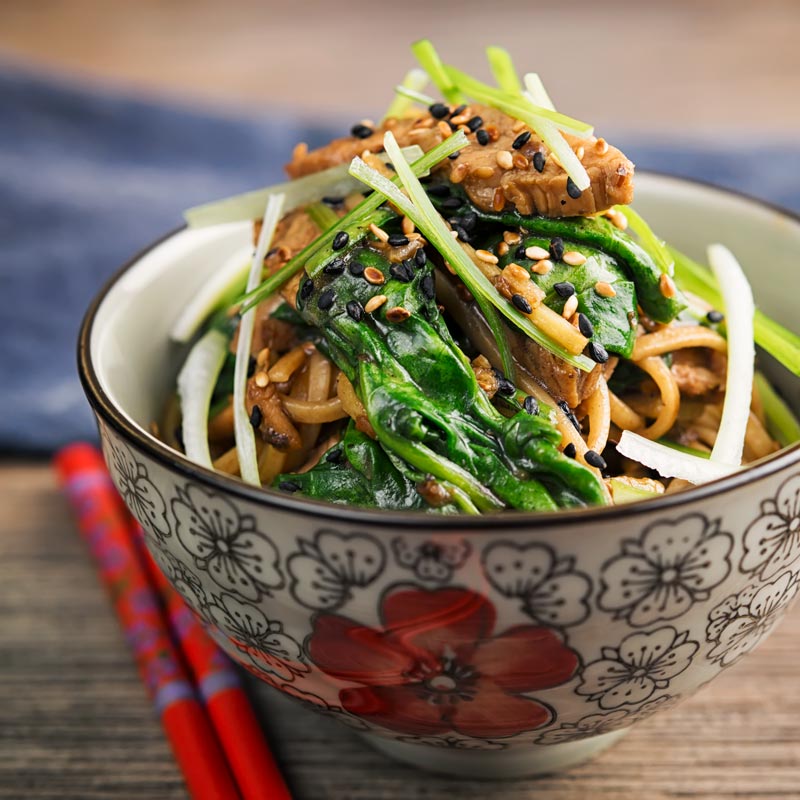 Yield:

2 Servings
Recipe for Szechuan Ginger Pork Stir Fry
All aboard the quick dinner train, this Szechuan Pepper and Ginger Pork Stir fry recipe is all done and dusted in 20 minutes and only 10 of that is cooking time. Of course, none of that matters if the taste aint right and this has got great taste to burn, it is a real vibrant treat.
Ingredients
250 g Pork Tenderloin
75 g Baby Spinach
100 g Whole Wheat Egg Noodles
50 g Ginger
2 Spring Onions
1 Tsp Szechuan Pepper
1/2 Tsp Black Sesame Seeds
1/2 Tsp Sesame Seeds
2 Tbsp Oil
For the Marinade:
1 Tsp Dark Soy
1 Tbsp Light Soy Sauce
1 Tsp Cornflour
1 Tbsp Water
For the Sauce:
1 Tbsp Light Soy Sauce
1 Tbsp Chinkiang Vinegar
1 Tbsp Oyster Sauce
1 Tsp Brown Sugar
Instructions
Slice the pork tenderloin into 3-4mm thin slices.
Mix together the water and cornflour for the marinade and then add the two soy sauces.
Add the pork and mix whilst you prepare the remaining ingredients.
Pick the big stalks from the baby spinach.
Cut the ginger into long thin batons.
Cut the white part from the spring onion and finely slice.
Then take the green parts of the spring onion and cut into 5cm long thin batons.
Heat your wok over a dry heat and toast the black and normal sesame seeds, then remove.
Then repeat the process with the Szechuan pepper and then crush in a pestle and mortar.
Mix together the ingredients for the sauce and set aside.
Bring a pan of water to the boil and when boiling simmer the whole wheat noodles for 3 1/2 - 4 minutes, then remove and refresh under cold water.
Place your wok over a high heat then add the oil when hot.
In with the ginger, white parts of the spring onion and then the szechuan pepper and stir fry for 90 seconds.
Now in with the pork and fry for 2 minutes.
In go the noodles and spinach and toss for 30 seconds
Finally in with the sauce and cook for a final 30-60 seconds.
Serve in a bowl sprinkled with with sesame seeds and the green parts of the spring onion
Notes
You can substitute tenderloin for pork loin in this recipe if you wish.
Nutrition Information:
Yield:
2
Serving Size:
1
Amount Per Serving:
Calories:

648
Total Fat:

23g
Saturated Fat:

3g
Trans Fat:

0g
Unsaturated Fat:

17g
Cholesterol:

114mg
Sodium:

1447mg
Carbohydrates:

66g
Fiber:

9g
Sugar:

3g
Protein:

47g
Calorific details are provided by a third-party application and are to be used as indicative figures only.