A glorious homemade Cumberland Sausage is the star of this very British bangers and mash recipe that comes with an onion gravy recipe to boot.

Spicy with black pepper and heady with sage, mace and nutmeg this curled sausage is a real crowd pleaser.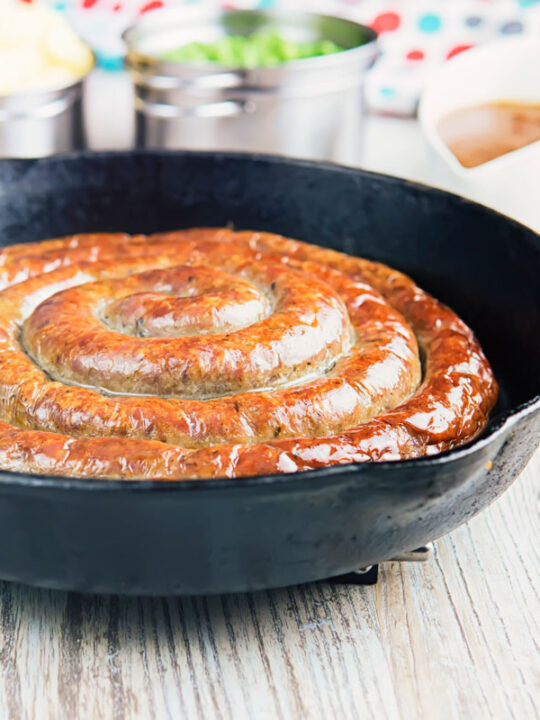 What Is Cumberland Sausage?
You will be surprised to hear that it is a sausage from the British county of Cumbria!
Us Brits are rather fond of a good sausage. One of the first things I taught myself to make when we moved to Hungary was a good British Homemade sausage.
This sausage recipe is an extension and refinement of that.
Traditionally this sausage is unlinked and sold by length or as in this recipe sold and cooked coiled.
Flavourwise this sausage should be spicy! Despite a slanderous reputation for bland food we Brits are fond of spice and have been for a very long time.
Cumberland sausages date back 500 years and as far back as the 18th Century they have been synonymous with spice.
In particular black pepper, nutmeg and mace!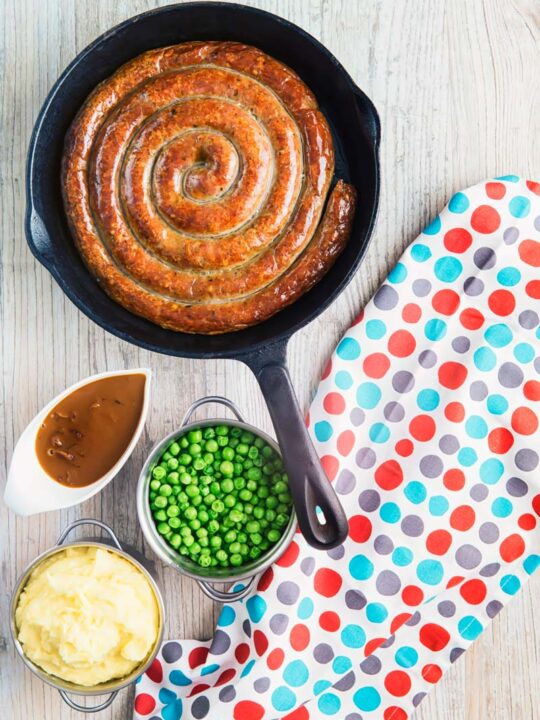 How To Make Sausages At Home.
Sausages have a bad reputation for containing all sorts of crap and when it comes to cheaper sausages it is a well-deserved rep.
But the process of making sausages is simple as you can see from my video.
The greatest plus point of making your own sausages is knowing what is in them.
It is not a case of making them 'lean' as all sausages need a reasonable fat content.
But instead, it is a matter of making sure that you are not eating the crap that your 'supermarket' or butcher cannot get rid of any other way!
I am no advocate of kitchen gadgets and comparatively speaking my kitchen is sparse on that front. But a meat grinder is an absolute must-have tool as far as I am concerned.
Of course another great positive of making your own sausages at home are the giggles!
Seriously if you are not making childish and puerile jokes as you go then you are a better person than me.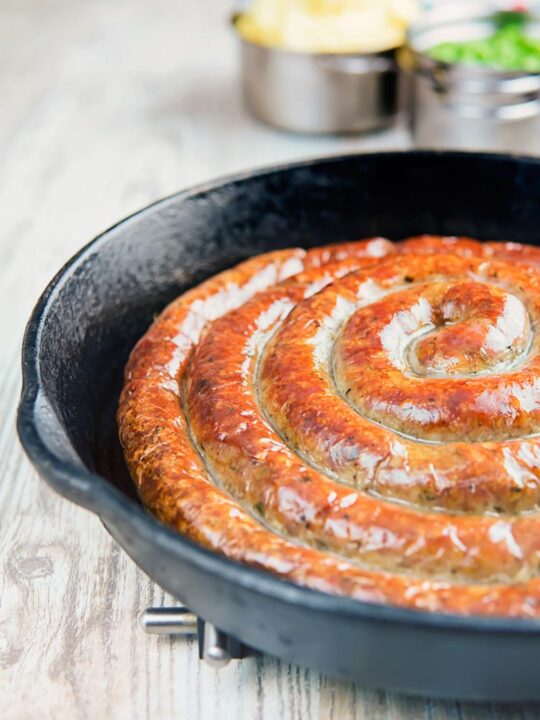 How To Prepare Sausage Skins.
The most important part of this Cumberland sausage recipe is to buy the right sausage skins.
Ensure that you buy natural sausage skins rather than manufactured sausage skins which are nothing short of nasty!
After that, it is a simple case of rinsing the salt off them. Then soaking in room temperature water for 45 minutes to an hour.
You can do this whilst you prepare your ingredients and grind your pork.
Then give them another rinse and transfer to some fresh water whilst you thread onto the sausage stuffing nozzle.
If the skins feel a little rigid increase the temperature of the soaking water a little. It will help soften it up a little but do not go too hot!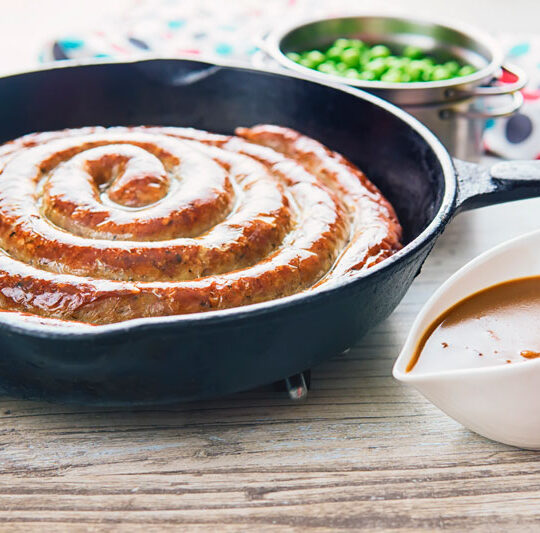 Serving Suggestions.
There is no discussion to be had on this!
The most quintessentially British way to serve sausage is as part of Bangers and Mash.
That is sausages and mashed potato, this must be accompanied by onion gravy. Failure to do so will result in incarceration in the Tower of London.
I wrote at some length about mashed potato in my recent guide to mashed potatoes.
The last, but far from the least, thing to mention is the onion gravy.
Mine is very similar to the gravy I use in my faggots and mash recipe.
But if you are looking for something a bit different you could portion these and links and serve them in a sausage and apple casserole.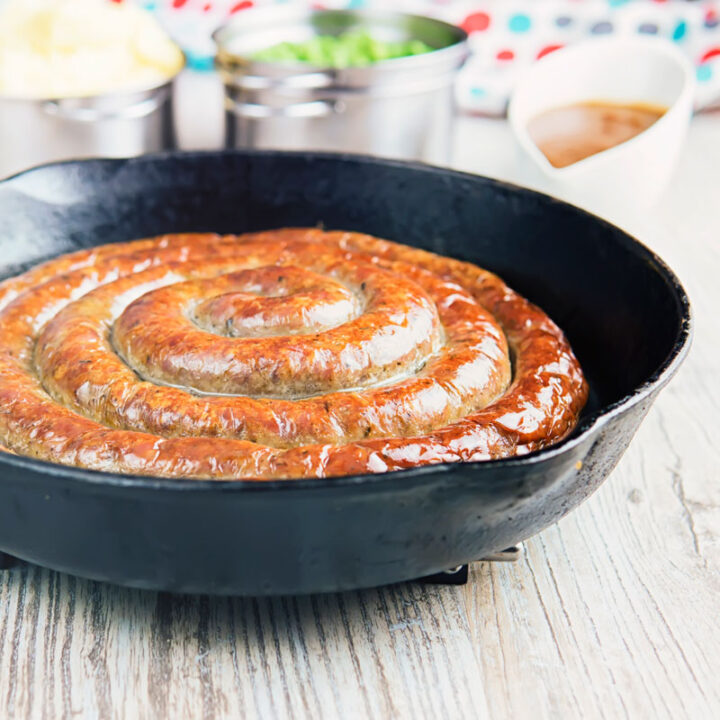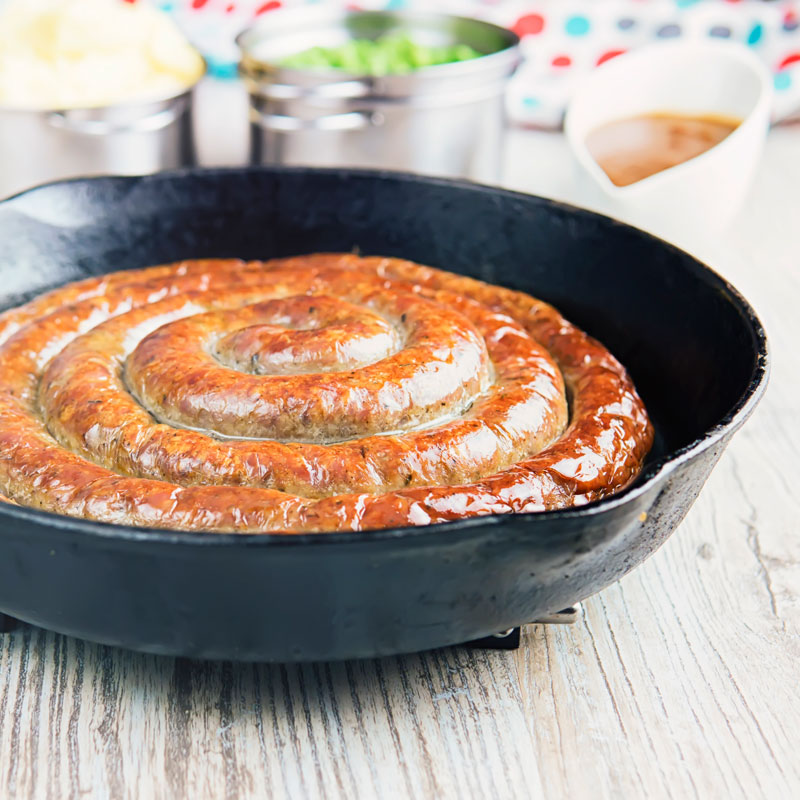 Yield:

Serves 4
Homemade Cumberland Sausage Recipe with Onion Gravy
Prep Time:
1 hour
10 minutes
Total Time:
1 hour
55 minutes
A glorious made from scratch coiled Cumberland Sausage is the star of this very British bangers and mash recipe that also has a kick ass onion gravy!
Ingredients
For the Sausage:
1.5 kg (3lb 6 oz) Pork Blade
5 Tsp Coarse Sea Salt
3 Tsp Black Pepper
1 Tsp White Pepper
4 Tsp Dried Sage
1 Tsp Ground Nutmeg
1/2 Tsp Ground Mace
1/2 Tsp Cayenne Pepper
150 g (1 1/3 Cup) Dried Breadcrumbs
50 ml (3 Tbsp + 1 Tsp) Water
2.5 m Natural Sausage Skins
For the Gravy:
250 g (1 2/3 Cup) Onion
15 g (1 Tbsp) Beef Dripping or Lard
30 g (2 Tbsp) Butter
2 Tbsp Flour
400 ml (1 2/3 Cup) Beef Stock
1 Tbsp Worcestershire Sauce
1 Tbsp English Mustard
Salt, To taste
For the Mash:
1 Kg (2 lb 3 oz) Potato
100 g (1/4 Cup + 3 Tbsp) Butter
50 g (1/4 Cup) Cream
Salt, To taste
For the Peas:
250 g (1.5 Cups) Frozen Peas
Instructions
For the Sausage:
Soak your sausage skins as per the packet instructions.
Pour the water into the breadcrumbs and set aside.
Take the pork and cut it into large chunks, then either chop into a 5mm dice or grind in a meat grinder with a 5-8mm plate.
Add the seasoning to the pork along with the breadcrumbs and combine them together.
Thread the sausage skins onto a sausage nozzle, ensuring you make appropriately childish jokes.
Fill the sausage skins tying off at the start and finish.
Curl a sausage to the same size as your cooking pan, this recipe will make two large sausage spirals so freeze one for another time.
Place a sausage spiral in cast iron pan or heavy based pan and roast in the oven at 200°C or 400°F for 25 minutes.
For the Gravy:
Heat the dripping or lard in a pan and add the sliced onion, this is best done without using a non stick pan
Cook over a medium heat for 30 minutes stirring occasionally.
When the onions are a nice rich colour add the butter and the flour and stir.
Pour in the beef stock and add the Worcestershire sauce and mustard, stir and simmer for 10 minutes.
For the Mash:
Peel and cut the potatoes to an even size and then bring to a boil in well-salted water.
Boil for 25-30 minutes and then allow to steam dry for a minute or two.
Gently heat the cream.
Either mash or pass your potatoes through a potato ricer, I prefer the latter.
Add the warmed cream and butter then stir being careful not to overwork.
For the Peas:
Boil your frozen peas for 2-3 minutes in salted water.
Notes
This recipe will make two 24cm Cumberland sausage spirals.
They freeze wonderfully and can also be broken down into single link sausages although a traditional Cumberland sausage is sold by length rather than in links.
The calorific value of this recipe refers to a single portion of the sausage, mash and onion gravy meal and not the extra sausages we get to freeze up!
Nutrition Information:
Yield:
4
Serving Size:
1
Amount Per Serving:
Calories:

1303
Total Fat:

67g
Saturated Fat:

32g
Trans Fat:

1g
Unsaturated Fat:

29g
Cholesterol:

265mg
Sodium:

4261mg
Carbohydrates:

104g
Fiber:

12g
Sugar:

13g
Protein:

72g