Steak and Stilton pie is a true British classic loaded with tender slow-cooked beef in a rich gravy & the unmistakable taste of blue cheese.
You can either use store-bought shortcrust pastry for this beef pie or my delicious recipe for beef-dripping shortcrust pastry!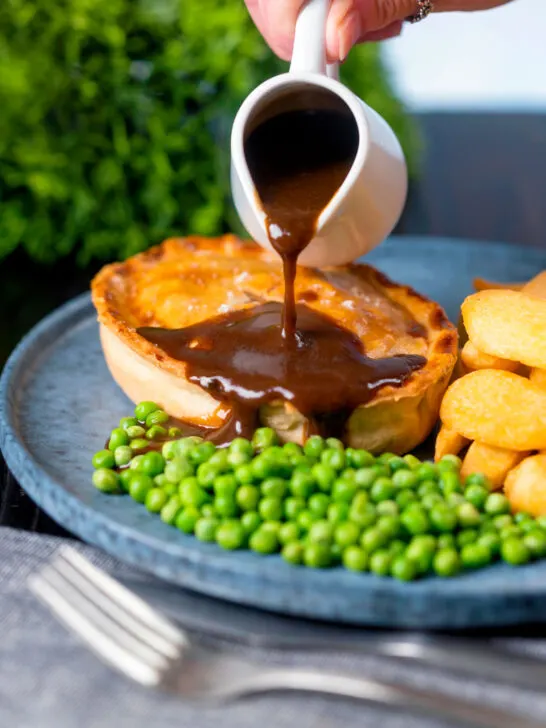 Individual Beef and Blue Cheese Pies
Us Brits have a wee thing for a savoury pie and whilst they take a little work they are my idea of comfort food heaven!
I have lots of options to try here, with everything from the classic Scotch pie to the apple and ham stuffed fidget pie and corned beef and potato pies with a hot crust pastry to barn-storming steak and ale pies.
My latest offering is a delicious steak and stilton pie loaded with tender slow-cooked beef and caramelised onions.
It also produces a wonderful gravy, an absolute treat poured over the pie when it comes out of the oven.
The stilton provides a wonderfully pungent almost sweet and nutty aftertaste and aroma to the pie without overpowering the dish.
Whilst it takes a while to make these individual pies you can prepare both the pastry and the filling in advance.
If you do this the pie takes about 20 minutes to pull together and 40 minutes to bake when you are ready to eat.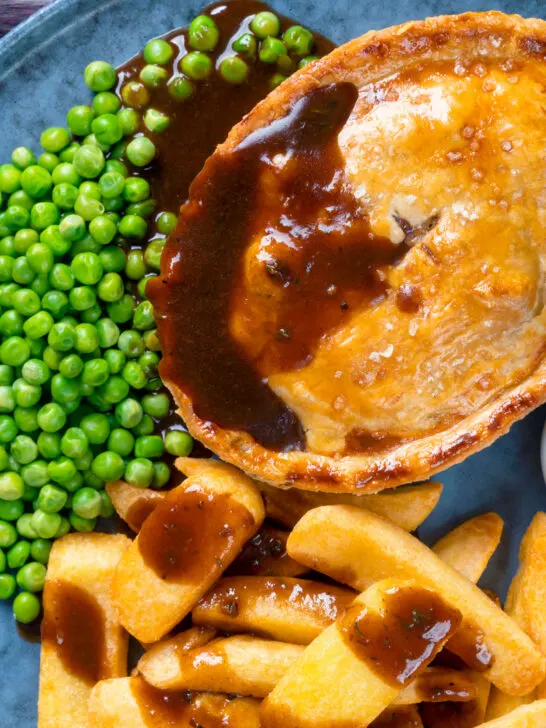 Frequently Asked Questions
What sort of beef should I use?
You want any form of braising or stewing steak, anything from chuck to flank or bavette.
Can I use something other than stilton cheese?
If you want something with a little less punch or you struggle to get hold of Stilton you could use gorgonzola, Roquefort or dolcelatte.
Why do you make so much pastry?
I find it much easier to line a pie tin if I have too much pastry, it means you spend less time trying to roll it to the perfect size.

None of the trimmings go to waste, you can easily use them to make my pork and apple sausage rolls or even Cornish pasties!
Is it ok to use store-bought pastry?
Absolutely! Take whatever shortcuts you feel are necessary.

Store-bought shortcrust pastry is perfectly fine for this dish.
Do I really have to cook the onions for an hour?
If you want properly caramelised onions yes, there are no shortcuts for the time and it really does ad so much to the gravy.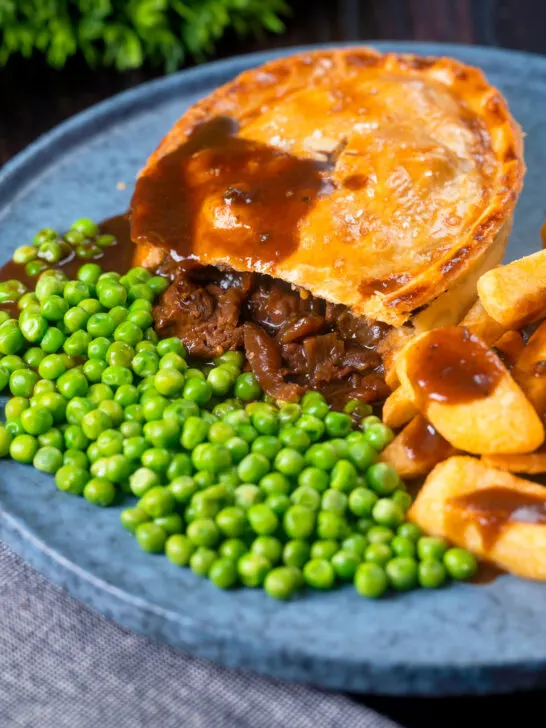 Serving Suggestions
I've served my steak and stilton pie here with some air fryer chips and peas.
Whilst the pies are cooking in the oven it is so easy to throw some oven chips in there and be done! You could do something very similar with Parmentier potatoes.
Mash is another favourite, you could rock some mashed potato, celeriac mash or even swede and carrot mash.
As for the greens, you have plenty of options there too.
You could just as easily have some buttered savoy cabbage or braised cavolo nero.
Although I would probably be more inclined to knock up some roasted tenderstem broccoli because the oven is already on!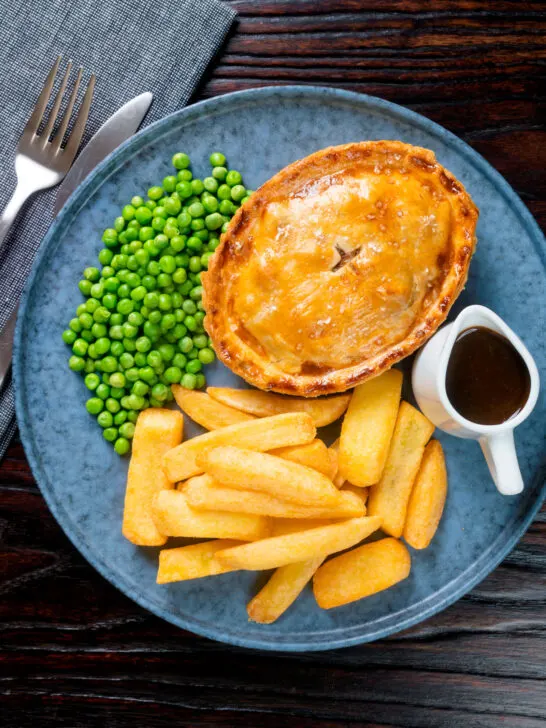 Equipment Used
I only name-check specific brands of equipment if I think they make a material difference to a recipe. If you have any questions feel free to ask them in the comments section below the recipe.
Stovetop.
Oven.
15cm or 6″ saucepan, not nonstick if possible.
20cm or 8″ saucepan.
Two 15cm x 11cm x 3cm pie tins (6″ x 4½" x 1¼"), they should hold around 250ml or 1 cup of liquid.
Food processor if you are making your own pastry. You could also do this by hand in a large mixing bowl.
Whisk.
Pastry brush.
Rolling pin.
Stirring spoons.
Weighing scales and or measuring cups and spoons.
Chopping board.
Kitchen knife.
Slotted Spoon.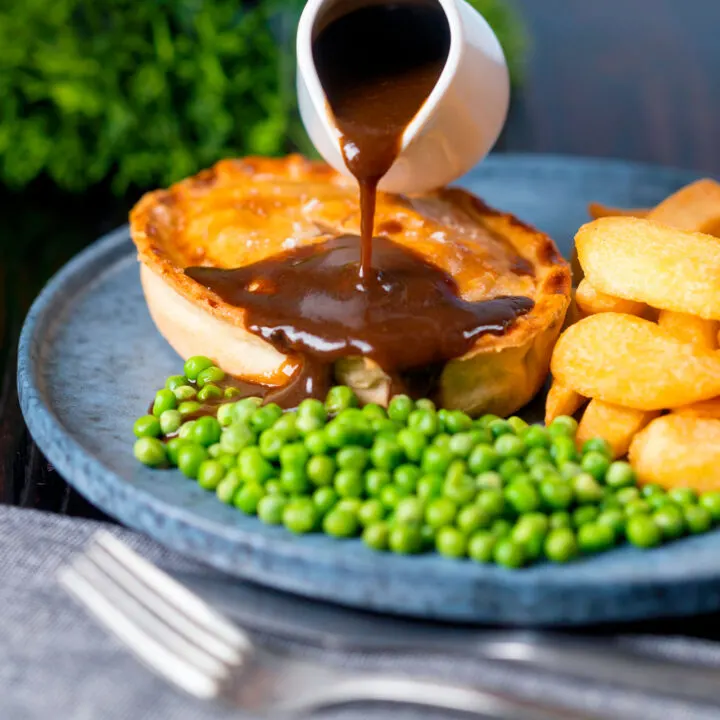 Yield:

2 Servings
Steak and Stilton Pie Recipe
Total Time:
5 hours
20 minutes
This very British steak and stilton pie may be a labour of love but it is rich, glorious and all sorts of comforting with a beef and caramelised onion filling laced with the iconic blue cheese!
Ingredients
300g (2 Cups) Onion
2 Tbsp Vegetable Oil
275-300g (10oz) Braising or Stewing Steak
½ Tsp Salt
¼ Tsp Black Pepper
1 Tbsp Flour
500ml Beef Stock
2 Tbsp Worcestershire Sauce
1 Tbsp Marmite
2 Sprigs Fresh Thyme
100g (1 Cup) Stilton Cheese
For Homemade Beef Dripping Shortcrust Pastry:
165g (1⅓ Cups) Flour
60g (4 Tbsp) Beef Dripping
20g (1 Tbsp + 1 Tsp) Butter
~50ml (~3 Tbsp + 1 Tsp) Cold Water
½ Tsp Salt
1 Egg Yolk (For the egg wash)
1 Tbsp Milk (For the egg wash)
Pinch of Coarse Sea Salt
Instructions
Cut the onions in half, then peel them and cut them into 1cm (½") thick half-moon shapes.
Heat half of the oil in a 15cm or 6" saucepan (not nonstick if possible) over a low heat and add the onions. Then cook gently for 1 hour stirring occasionally until properly caramelised. Then remove and set aside.
Cut the steak into 1-1.5cm (½") cubes and season it with the salt and pepper.
Heat a 20cm or 8" saucepan over a high heat and add the remaining oil.
Dust the beef with the flour and then brown half of it all over, then remove and set aside. Repeat with the other half of the meat. You may need an extra splash of oil for the 2nd batch.
Return the other half of the beef to the pan along with the caramelised onions, fresh thyme, the beef stock, Worcestershire sauce and the Marmite and give it all a stir.
Reduce the heat to low and simmer for 2 hours, then remove from the heat and allow to cool completely. If you have refrigerated the pie filling remove it from the fridge around 30 minutes before making the pie.
Instructions For Homemade Short Crust Pastry:
If you are using homemade pastry add the flour, salt, beef dripping and butter to a food mixer and pulse to form "breadcrumbs".
Pour the water for the pastry into the mixer little by little until it forms a ball.
Remove the and wrap the pastry ball in cling film and chill for at least 3 hours. Remove the pastry from the fridge 30 minutes before using.
Build & Cook The Pie:
Roll out the pastry until it is 3-4mm (⅛") thick and cut it in half then cut a piece off large enough to form the lid of each pie.
Grease and flour two small pie dishes, I use oval pie dishes that hold around 250ml (1 cup) of liquid that are 15cm x 11cm x 3cm (6" x 4½" x 1¼").
Line the pie dishes leaving a very generous overhang.
Remove the "solids" from the gravy with a slotted spoon and divide it between the two. The gravy should be quite thick when cold and you should not need to add more to the pie. Keep the gravy to be reheated and served poured over the pie.
Crumble the stilton cheese over the top of the pie filling.
Brush the edge of the pie case with water using your finger then add the lid, and seal by pressing the edges, I use my thumb and work my way around until it is all sealed.
Trim off the excess pastry, you should have only used half to two-thirds of the pastry.
Whisk together the egg yolk with the milk and brush over the top, then sprinkle with a little sea salt and cut a cross in the centre of the pie lid.
Place in the oven and cook for 40-45 minutes at 180°C or 350°F.
Allow them to cool for 5 minutes before turning.
Whilst the pies are cooling reheat the leftover gravy, if you want to thicken it a little mix half of a teaspoon of cornflour with one teaspoon of water and whisk it into the hot gravy.
Notes
The recipe for the pastry will make around double the amount needed but you need extra in order to be able to have anough of a overhang to make the pies easily.
Nutrition Information:
Yield:
2
Serving Size:
1
Amount Per Serving:
Calories:

1016
Total Fat:

61g
Saturated Fat:

26g
Trans Fat:

2g
Unsaturated Fat:

10g
Cholesterol:

215mg
Sodium:

2661mg
Carbohydrates:

53g
Fiber:

5g
Sugar:

10g
Protein:

64g
Calorific details are provided by a third-party application and are to be used as indicative figures only.