Fidget pie is an old English dish with variants across the England, mine features potatoes, ham, cheddar cheese & apple in a double pastry case.
This individual pie recipe comes bundled with a glorious easy creamy cider sauce which is the perfect match for the filling!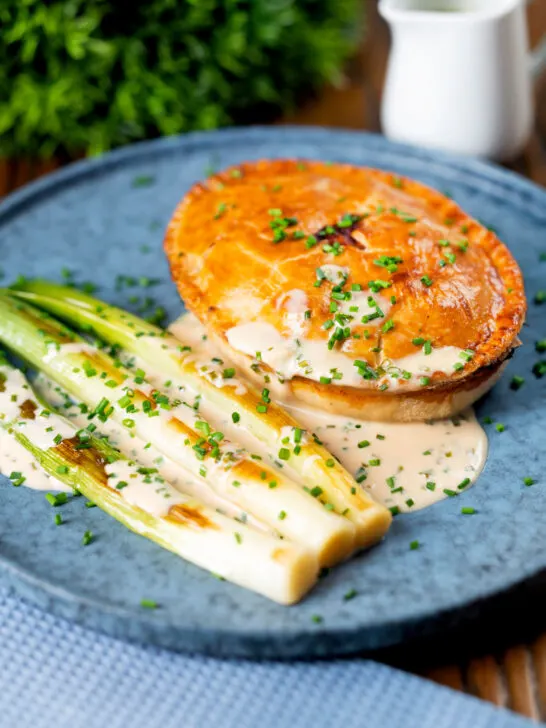 English Fidgety Pie
Like so many Brits one of my greatest food crushes is an old-school pie.
Whether it is something classic with a double crust like my steak and ale pie or Scotch pie, a pot pie like my puff pastry topped chicken and leek pie or even a sideways look at pie in the shape of my chicken hotpot, they are among my favourite meals!
The little-known fidget or fidgety pie has a contested history and there appears to be no consensus as to where it comes from or even where its name comes from.
Shropshire, Huntingdon, Cheshire and Derbyshire are often mentioned in conjunction with the name fidgety pie!
Like all of my recipes, this one is largely all me! I've taken the common ingredients of ham, apple, potato and cheese and put them together in a way that I think works.
And boy does it work! This hearty pie is a proper belly filler and it tastes awesome whether you eat it hot or cold.
Do yourself a favour and try something new because this pie is a little cracker.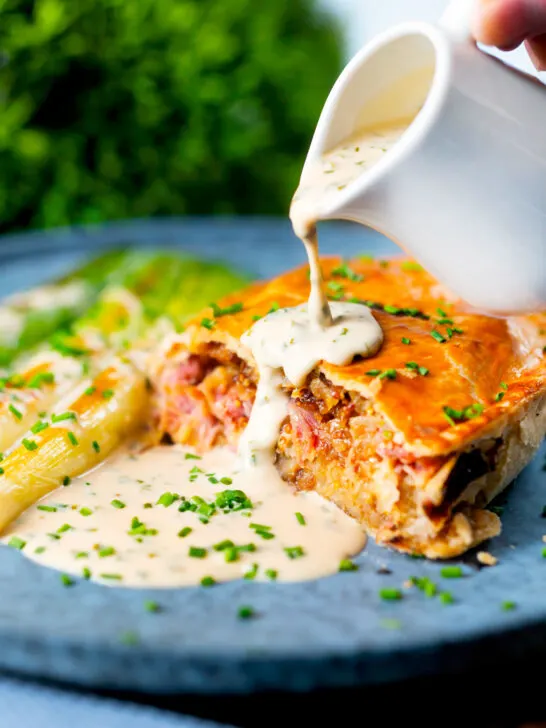 Frequently Asked Questions
Can I use store-bought pastry?
Absolutely, store-bought shortcrust pastry is a great product and I use it a lot.

Packets tend to be quite large but you can use up leftover pastry to make something like Cornish pasties or my pork and apple sausage rolls!
What sort of cider should I use?
Look for a good quality dry cider, don't buy anything that says medium, sweet or semi-sweet.

A note for US visitors: Cider outside of the US refers to what you guys know as hard cider!
What sort of ham should I use?
I tend to go get some really thick-cut Wiltshire-style ham (4-5mm thick) from the deli counter at a supermarket. Although they are getting harder to find sadly.
Can this be made in advance?
Yes, the pies reheat really well in the oven or even in an air fryer, they can even be eaten cold.

They are wonderful with pickles and a bit of salad!
Can I use different types of cheese?
Definitely, just make sure that it has a nice bold flavour. Avoid mild cheese because they get lost in all the other big flavours.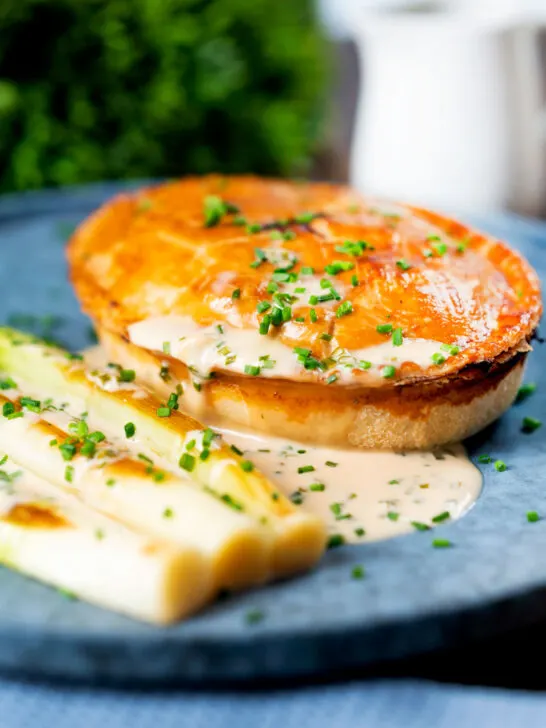 Serving Suggestions
This fidget pie is loaded with potatoes, cheese, ham and apple and as a result, you only need a light side to serve with it.
Here it is pictured with some simply charred baby leeks cooked in a little stock but there are plenty of alternative options.
Sticking with the idea of leeks, it would work wonderfully with some creamed leeks. If you want carrots then look no further than my glazed Chantenay carrots recipe.
I also love to serve this hearty pie with a pit of cabbage, if I want something hearty then I go for buttered cabbage.
But this pie can also be served cold and it works wonderfully with a nice red cabbage slaw, it's also great with my samphire salad!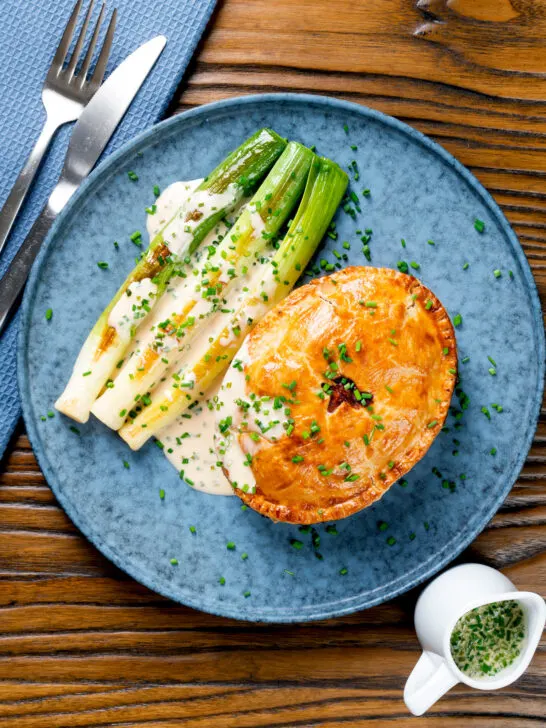 Equipment Used
I only name-check brands of equipment if I think they make a material difference to a recipe. If you have any questions feel free to ask them in the comments section below the recipe.
Food Processor, if you are making your homemade pastry.
Cling film.
Weighing scales and or measuring cups and spoons.
Stovetop.
Oven.
15cm or 6″ saucepan.
30cm or 12″ frying pan.
Grater.
Kitchen knife.
Chopping board.
Mixing bowl.
Fine mesh sieve.
Rolling pin.
15cm x 11cm x 3cm (6″ x 4½" x 1¼") oval pie dishes (two of), they should hold around 250ml (1 cup) of liquid.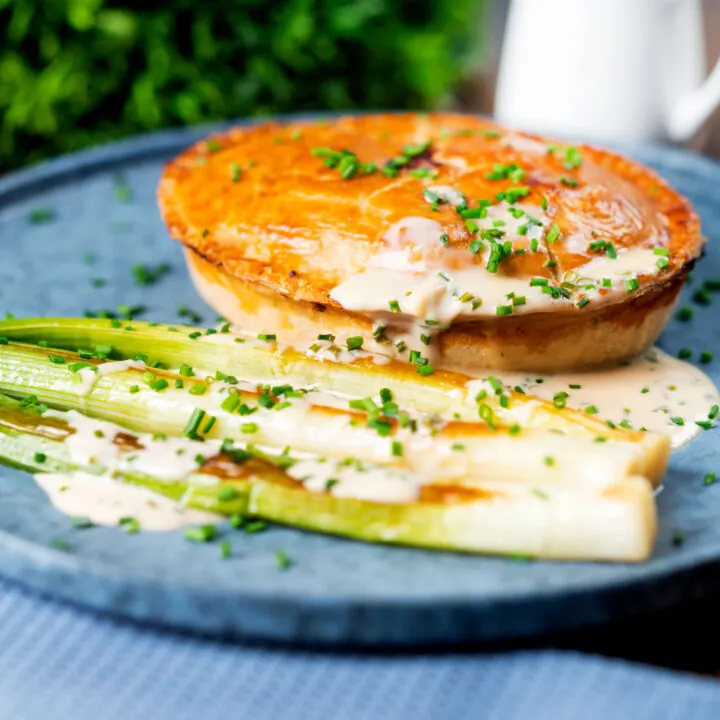 Yield:

2 Servings
Ham, Potato, Cheese and Apple Fidget Pie Recipe
Cook Time:
1 hour
15 minutes
Total Time:
2 hours
45 minutes
The curiously named fidget or fidgety pie is an old-school English recipe that contains ham (gammon or bacon) and apple and in my case cheese and potato and my version comes with a creamy cider sauce.
Ingredients
For the Shortcrust Pastry:
125g (1 Cup) Plain Flour
30g (2 Tbsp) Lard
30g (2 Tbsp) Butter
¼ Tsp Salt
25-35ml (1¾-2¼ Tbsp) Cold Milk
For the Pie Filling:
150g (1 cup) Onion
300g (2 Cups) Potato
½ Tsp Coarse Sea Salt
2 Tbsp Cooking Oil
1 (175g) Apple
100g (1 Cup) Cheddar Cheese
125g (4½oz) Thick Cut Ham
2 Tbsp Wholegrain Mustard
For the Cider Sauce:
500ml (2 Cups) Cider
125ml (½ Cup) Chicken Stock
75ml (⅓ Cup) Double Cream
Instructions
For the Pastry:
Add the flour, salt and diced lard and butter to a food processor and pulse to form a breadcrumb-like texture.
Pour in the milk and process until it forms a ball, you may not need all of the milk or you may need a splash more.
Turn out, wrap in cling film and then place in the fridge to cool for 30 minutes.
For the Pie Filling:
Heat a small 15cm or 6" saucepan over a high heat and pour in the cider, then reduce it by two-thirds. This will take between 10 and 20 minutes depending on the heat.
Heat a 30cm or 12" frying pan over a medium-high heat.
Peel and grate the onion.
Add the oil to the frying pan and then throw in the grated onion and cook it for 8-10 minutes stirring every couple of minutes. The onions should be nicely golden and the moisture should have evaporated.
Grate the potato and add it to the onion along with the salt and cook for 10-12 minutes stirring every couple of minutes. This again should result in a nice golden mix that will have dried out and have a tendency to stick together like a badly form rosti.
Transfer the potato and onion mixture to a mixing bowl and allow it to cool.
Core the apples then grate them into a bowl, then pour over the reduced cider mix and allow it to cool.
When the potatoes have cooled stir through the mustard until well combined.
Grate the cheddar cheese.
Shred the ham.
Pour the apple and cider mix through a fine mesh sieve to separate the solids and liquids.
Building and Cooking the Pie:
Roll out the pastry until it is 3-4mm (⅛") thick and cut it in half then cut a piece off large enough to form the lid of each pie.
Grease and flour two small pie dishes, I use oval pie dishes that hold around 250ml (1 cup) of liquid that are 15cm x 11cm x 3cm (6" x 4½" x 1¼").
Line the pie dishes leaving a very generous overhang.
Take a quarter of the potato mix and press it into the base of one of the pies.
Add half of the apple mix, followed by half of the shredded ham, then sprinkle with almost half of the cheese.
Press on another quarter of the potato mix and sprinkle with a little more cheese. Drizzle over 2-3 tablespoons of the apple cider liquid.
Add a lid for the pie and press down the sides, then trim off any excess pastry.
Repeat the above processes to make a second pie.
Cut a cross in the centre of each pie and then brush with an egg wash.
Cook in the oven at 180°C or 350°F for 45 minutes.
For the Sauce:
Whilst the pies are cooking place any leftover cider from the apple mix into a small saucepan with the chicken stock and reduce by half.
When the mix has been reduced by half whisk in the cream and keep warm.
Nutrition Information:
Yield:
2
Serving Size:
1
Amount Per Serving:
Calories:

1161
Total Fat:

58g
Saturated Fat:

25g
Trans Fat:

1g
Unsaturated Fat:

27g
Cholesterol:

156mg
Sodium:

1972mg
Carbohydrates:

109g
Fiber:

9g
Sugar:

46g
Protein:

34g
Calorific details are provided by a third-party application and are to be used as indicative figures only.