Pork chops are served along side a silky Jerusalem artichoke puree with a cider and blackberry sauce on this perfect late summer early autumn dish.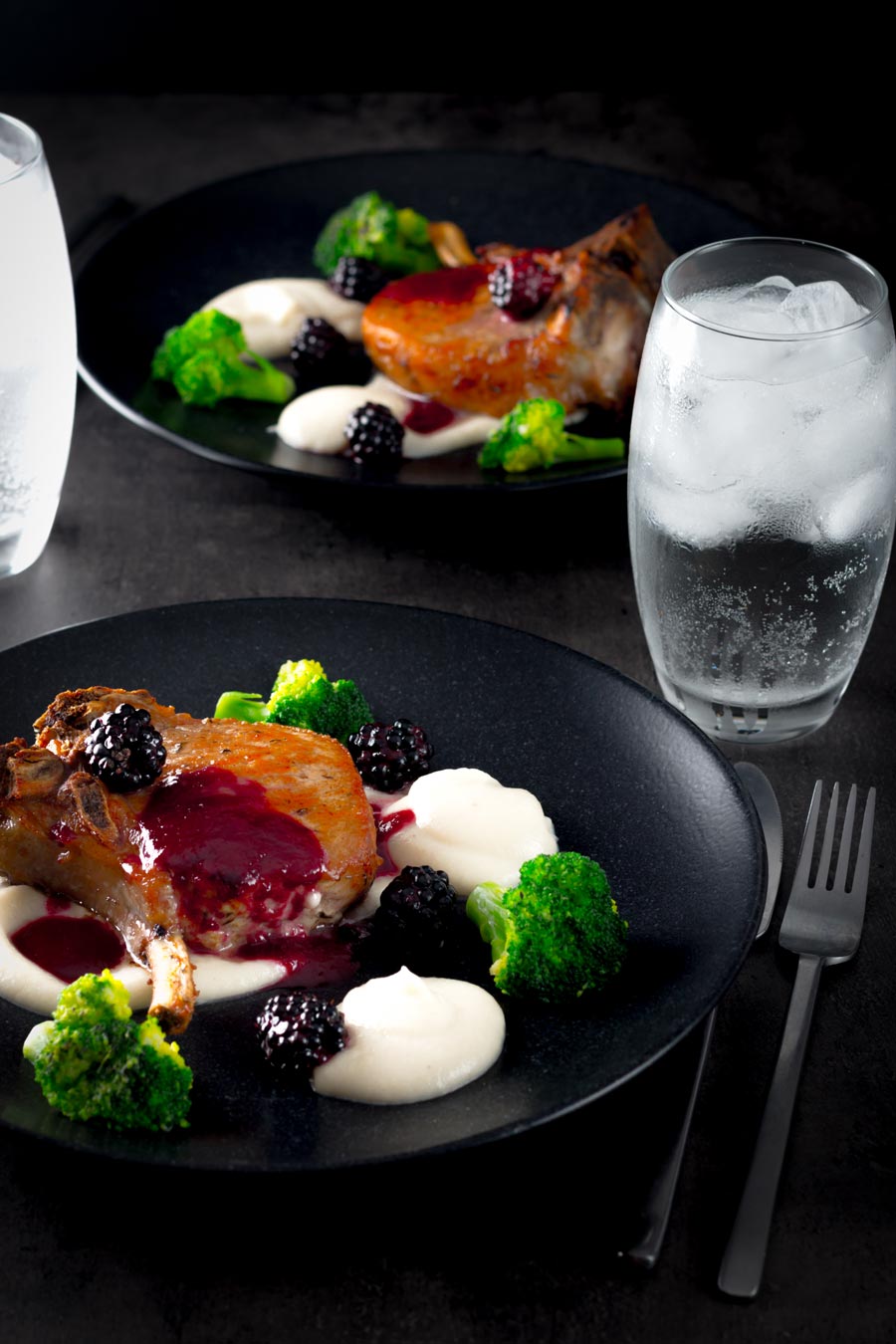 Pork Chops With Jerusalem Artichoke Puree And Blackberry Sauce.
Yowsers it only feels like 5 minutes ago I was writing excitedly about the arrival of spring vegetables. Then all of a sudden this Pork Chops with Jerusalem Artichoke Puree marks my foray into autumnal recipes.
Like each time the seasons change I get very excited about food and this is no different.
This is a really simple recipe but proper showy and full of accessible non-challenging flavours.
Whilst the presentation is all very neat and impressive it is meat and two veg with a gravy.
If you have never tried Jerusalem artichokes before I would urge you to give them a try. This Jerusalem artichoke puree is the perfect introduction before maybe moving on to my Jerusalem artichoke soup.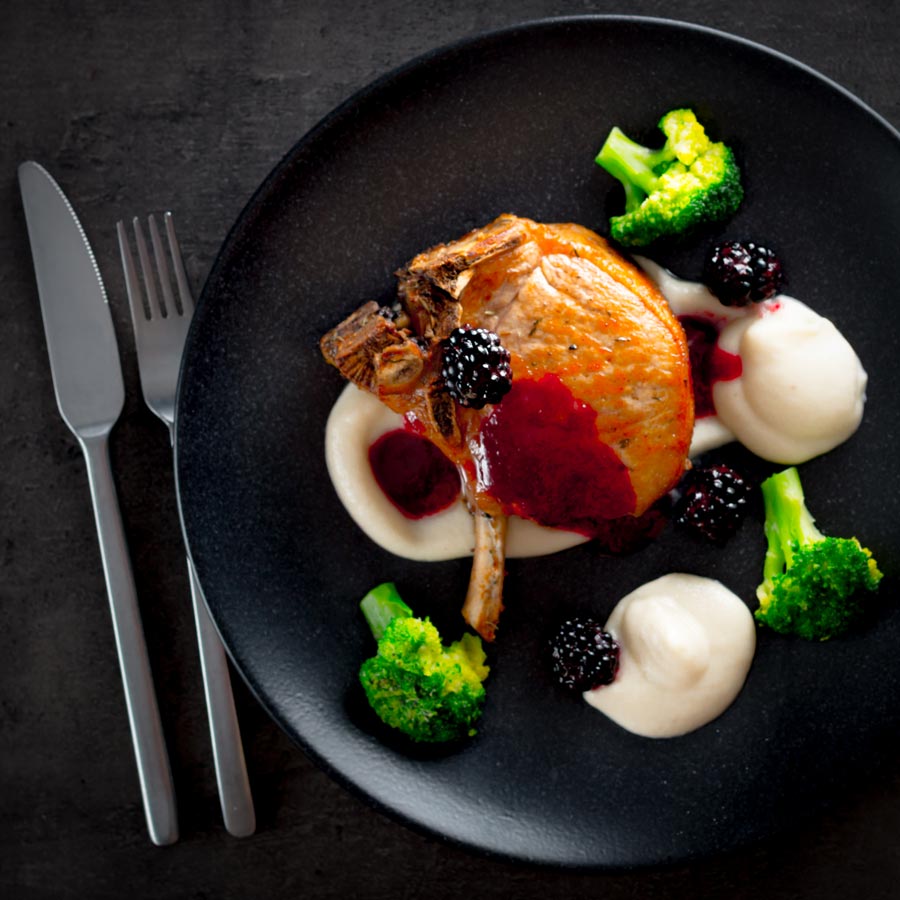 How To French Trim Pork Chops.
Of course, you do not need to french trim your pork chops. The recipe will taste no different whether you do or not.
I like to do it as it makes my fingers a little less messy when nibbling the last little bit of pork from the bone.
The process of doing this is pretty simple, you trim up with pork chop around the loin and then along the bone.
Roughly chop away and of the meat on the bone. Then using a scraping motion slowly work along the bone pushing back the flesh and sinew.
Once you get your flow going it is a simple and quick job that adds a little finesse.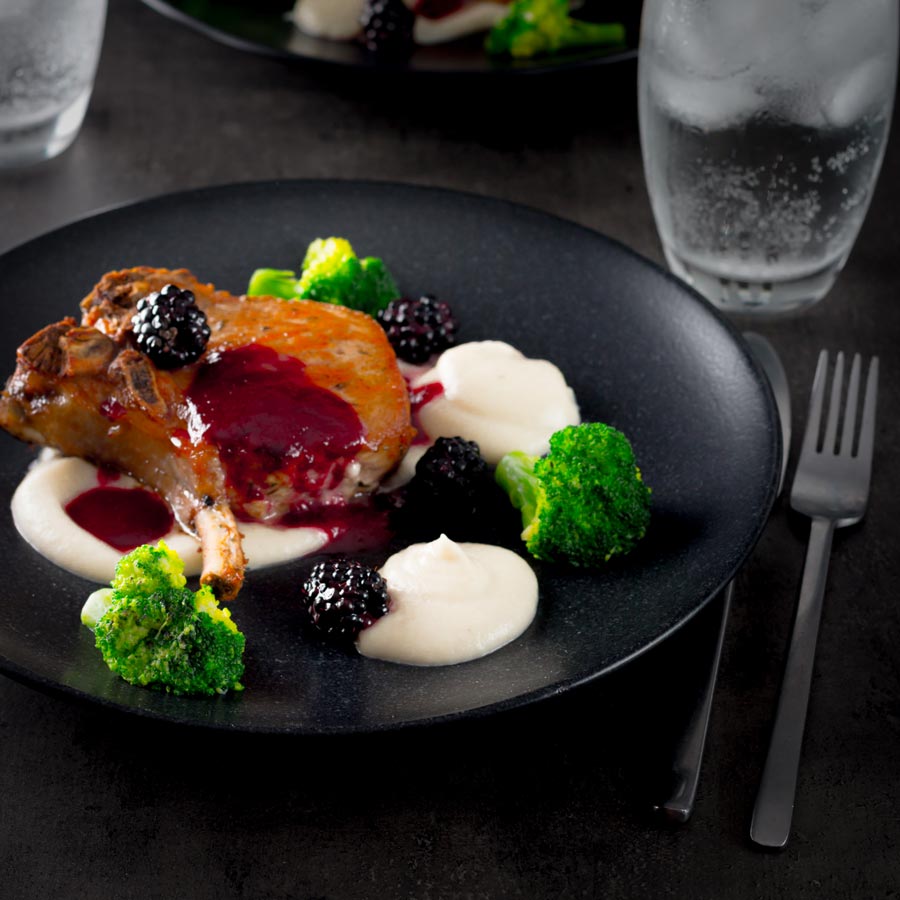 The Sides.
I love this style of cooking, it is all about simple flavours and balancing them out to create a whole meal.
Here we have a very simply, but perfectly cooked pork chop that has been flavoured with garlic and thyme.
Alongside that we have a silky earthy Jerusalem artichoke puree it provides a soft almost sweet side to the dish.
Broccoli gives us that wonderful rich flavour of 'greens' and yet another texture. Although some green beans with almonds would be a great replacement for this.
Finally, we round all this up with a sweet and sour Blackberry sauce.
But you could omit both the broccoli and blackberry sauce and add these baked pears with blue cheese instead!
Sweet and sour flavours are at the heart of much of what I cook. Unsurprisingly in dishes like my sweet and sour chicken but also in ideas like my ham and cheese salad with pickled peaches.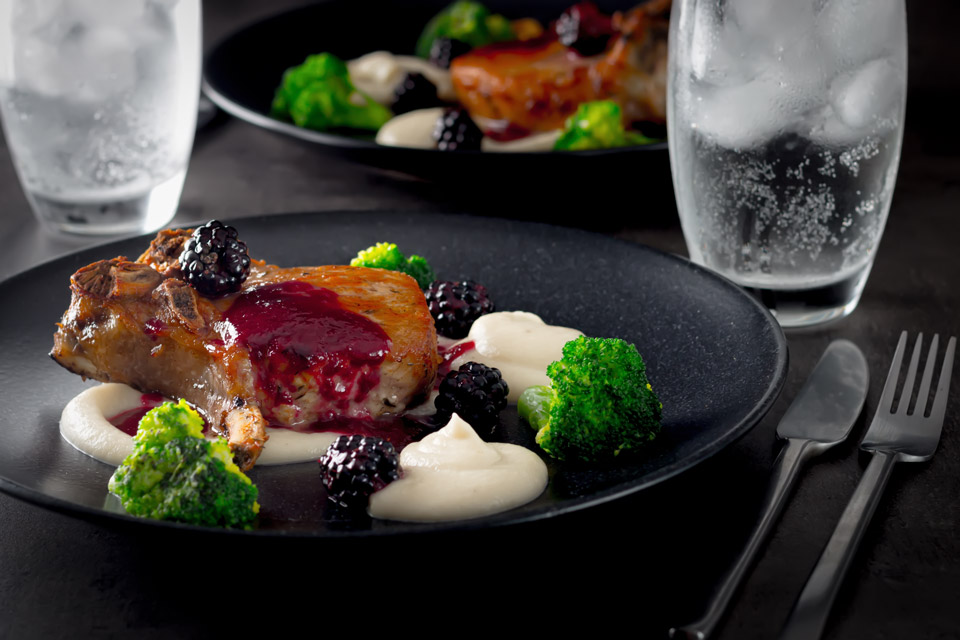 Blackberry Memories
Blackberries are out for their inaugural appearance here on Krumpli.
I have so many childhood memories of blackberry picking but they are difficult to find in Hungary. We planted a few canes last year and now have some to play with.
Probably not enough to feature heavily this year but they will be in a few recipes I am working on. They will definitely be back with force next year.
This recipe is written to impress your friends, family, a hot date, well anyone really but also to be stress free on the cook.
No one likes inviting people around to have a nice time and then spending hours in the kitchen. Slaving over hot pots and pans whilst your guests are helping themselves to your wine is no hosts idea of fun.
With this recipe, you can spend an hour or so in the afternoon making up the Jerusalem artichoke puree and the sauce and set them aside.
All you then need to do is wave your magic wand over it later.
Once you are ready to go, you will be spending less than 10 minutes in the kitchen to pull all the rest together. you can even join your guest or guests for a wee slurp whilst the pork is finishing off in the oven.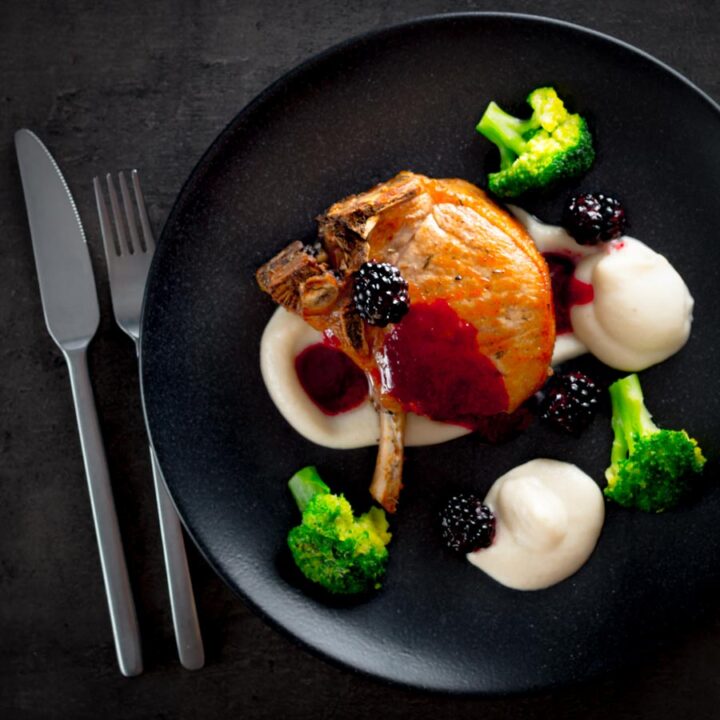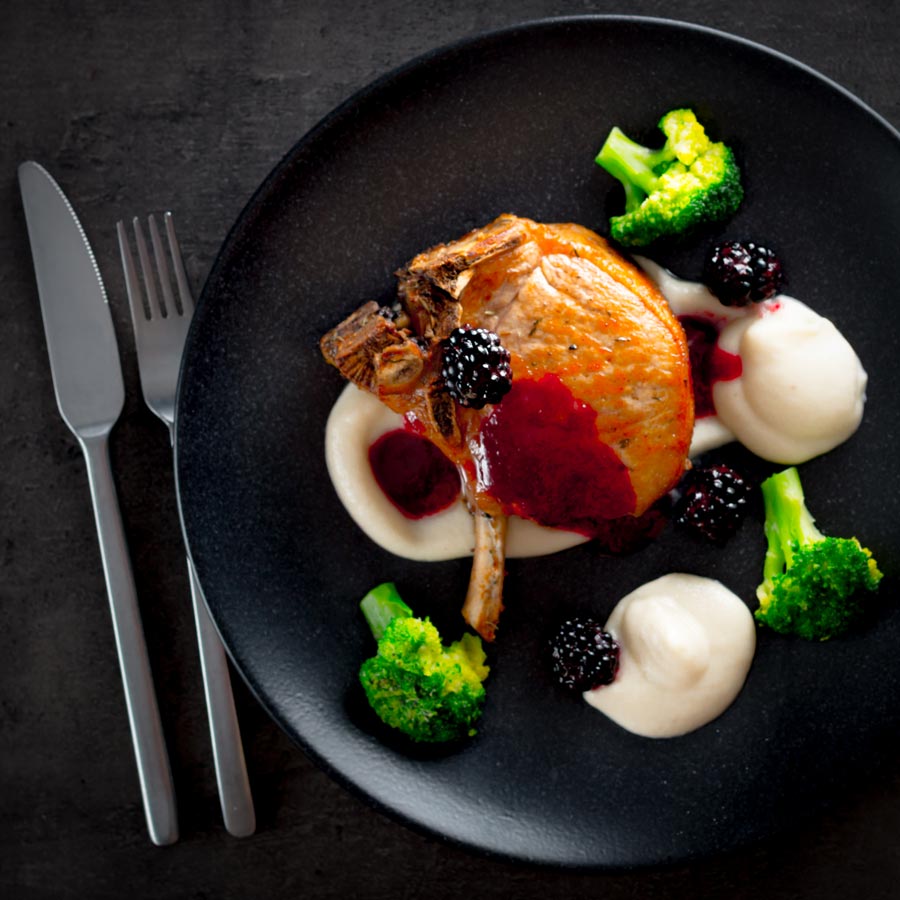 Yield:

2 Servings
Pork Chops with Jerusalem Artichoke Puree
Pork chops are served along side a silky Jerusalem artichoke puree with a cider and blackberry sauce on this perfect late summer early autumn dish.
Ingredients
For the Jerusalem Artichoke Puree:
300 g Jerusalem Artichoke, AKA Sunchokes
150 ml Double Cream, Heavy cream in the US
Salt, To taste
Pepper, To Taste
For the Cider Blackberry Sauce:
125 g Blackberries
250ml Dry Cider
1 Shallot, Thinly sliced
25 g Butter
For the Pork Chop:
350 g Pork Chops
50 g Butter
3 Cloves Garlic, Bashed with the back of a knife
1 Sprig Thyme
100 g Broccoli, Cut into florets
Salt, To taste
Pepper, To taste
Instructions
For the Jerusalem Artichoke Puree:
Peel the Jerusalem artichokes and boil in lots of boiling salted water until soft, timing will depend on the size they are cut. I cut in to 25g chunks and they take 40 minutes.
When tender drain, return to the pan and add the cream bringing to the boil, then blend to a smooth puree.
Pass through a smooth puree and set aside to reheat later.
For the Cider Blackberry Sauce:
Heat a small pan over a high heat and when hot pour in the cider.
Now add in the blackberries, reserving 8 to serve later and the shallot.
Reduce this by three quarters and then blend and pass through a fine mesh sieve and set aside to serve later.
For the Pork:
Preheat your over to 180°C.
Heat a frying pan over a medium high heat.
Season your pork chops with salt and pepper.
When your frying pan is hot add in the butter and as it foams add the pork chops thyme and garlic cloves and cook until golden brown which should take 3-4 minutes.
Now flip and place in the oven until the internal temperature of the thickest part of the chop reaches 60°C, around 20-25 minutes.
When cooked remove and rest for 5 minutes before serving.
Bringing together:
If you are working like I tend to and preparing each element separately then the pork resting time is perfect for bringing all the items together.
Bring a pan of salted water to the boil and cook the broccoli florets for 2-3 minutes.
Reheat the puree and the sauce.
Just before we are ready to serve whisk in the butter for the sauce and then throw in the blackberries we set aside earlier just to heat a little.
Notes
This is an ideal dinner party/date night dish, make the puree and sauce earlier in the day or even the night before then pull it all together like magic at the last minute 😉
Nutrition Information:
Yield:
2
Serving Size:
1
Amount Per Serving:
Calories:

1240
Total Fat:

83g
Saturated Fat:

46g
Trans Fat:

3g
Unsaturated Fat:

29g
Cholesterol:

330mg
Sodium:

982mg
Carbohydrates:

73g
Fiber:

10g
Sugar:

42g
Protein:

55g