Roast pork chops are always fab and these boneless pork blade or Boston butt steaks are roasted on a bed of green beans and white beans in a tomato sauce.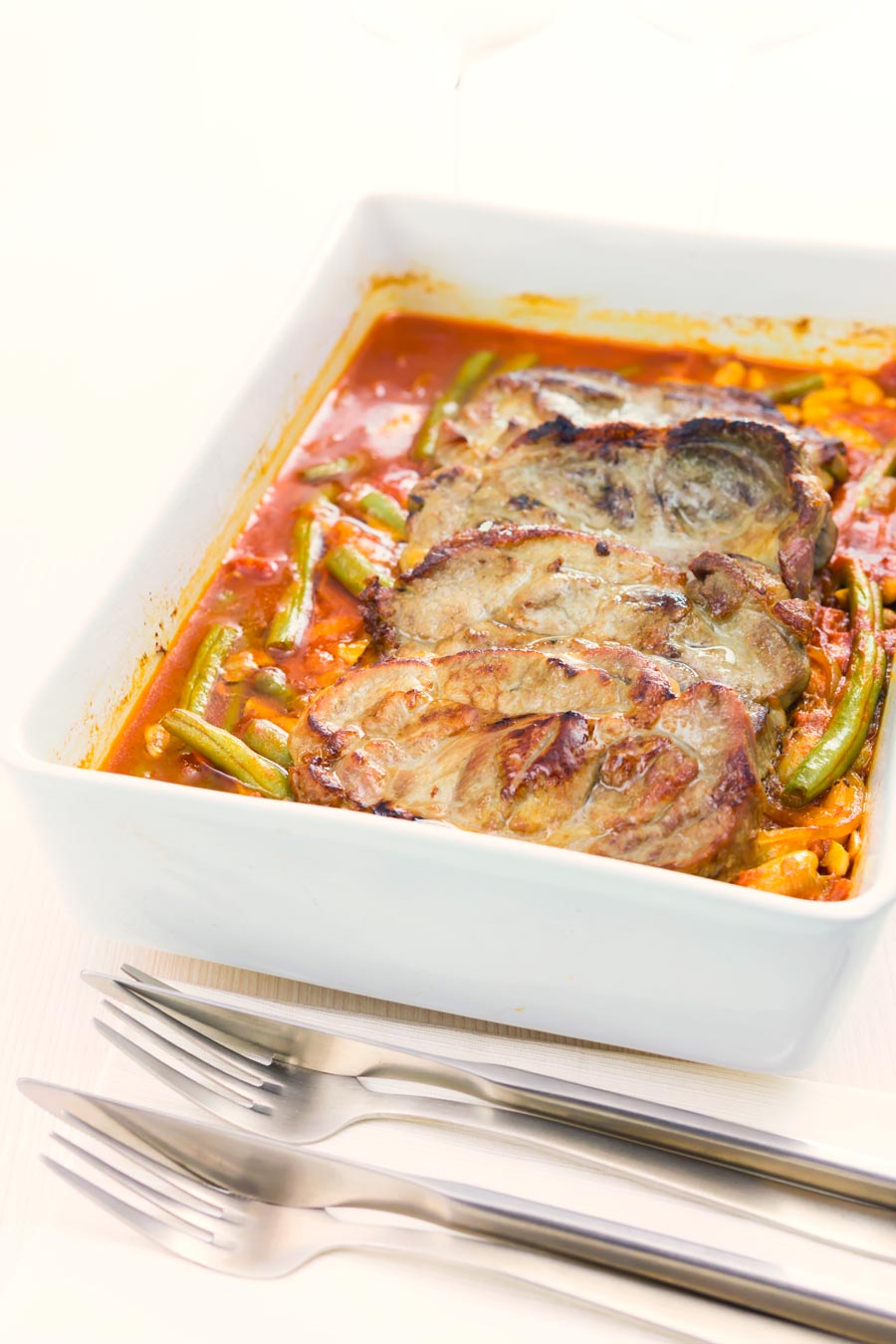 Roast Pork Chops With Beans.
These chops represent a slightly different approach to cooking than my norm. What can I say I like to play and change things up in the kitchen.
I guess you could call this a casserole or a stew, throwing things together and getting them to cook in the oven is something I don't often do.
The reason for that is probably two-fold.
The first is that I love cooking, I find nothing more relaxing than chilling in the kitchen with a glass of something nice, some loud music and good ingredients.
The second is that we moved here to Hungary to not have to compromise on the things we love doing!
As a result, I usually do not cook like this. I have however had great fun playing around with a few ideas this autumn.
These pork chops are loosely Spanish in influence and in many ways is a riff on my honey roast pork loin with beans.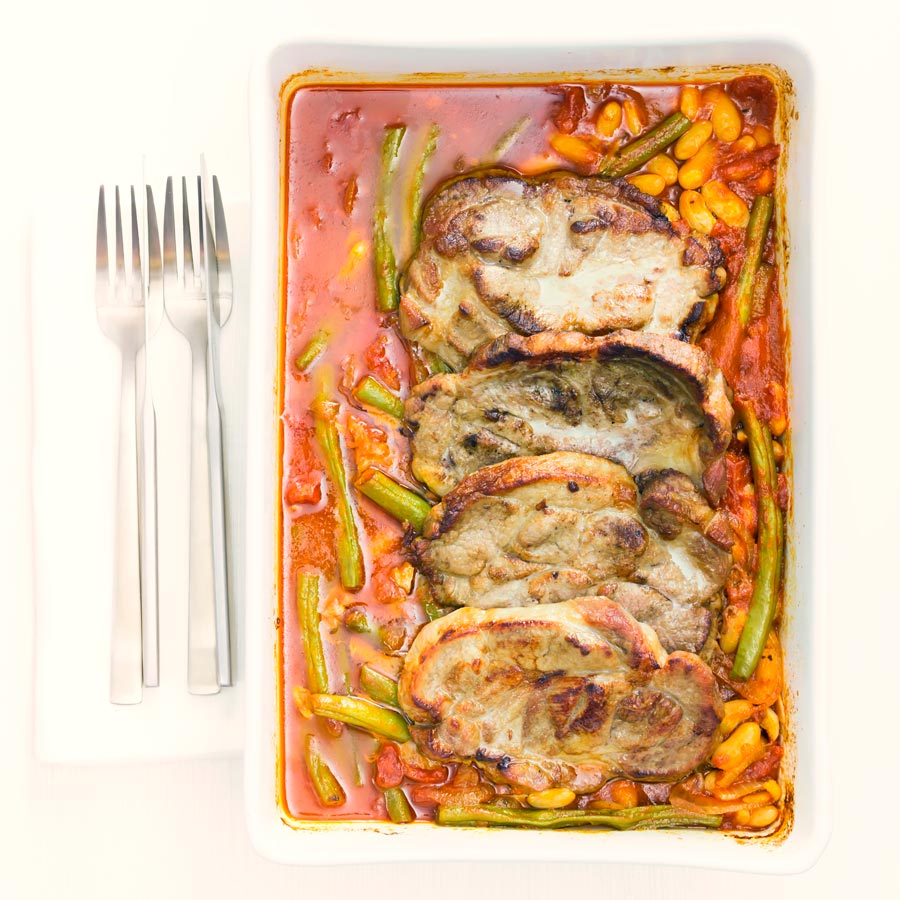 What Type Of Pork Chop Is Best To Roast!
One of the complaints I hear most about pork is that it is often tough and difficult to cook.
These complaints are often due to poorly chosen cuts of meat and cooking methods.
Most pork chops are from the loin, it is a really lean piece of meat and overcooking it even a little will result in boot leather.
If you want to cook loin pork chops, take a look at my pork chop with Jerusalem artichoke puree or harissa pork chop recipe. Be sure not to try them in this recipe it will not work!
If you wanted something low maintenance you could even try my pork chop tray bake.
These roast pork chops, however, are different. They are boneless pork chops taken from the blade or Boston butt as my American readers will know them.
Very much a unfavoured, and as a result cheap cut of meat. But it has the most wonderful flavour, much more so than the loin.
The connective tissue and fat make it perfect to roast for an hour or so. As a bonus, as that fat renders out of the roasted pork chop it enriches the tomato sauce we are roasting it over.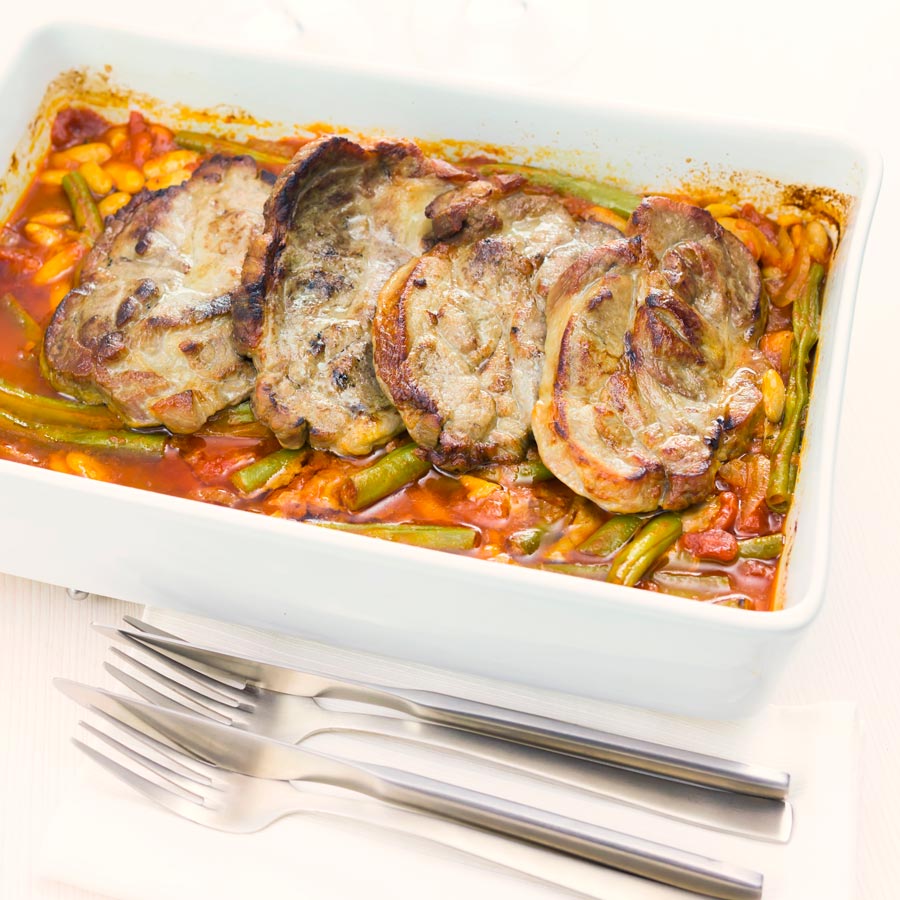 Why Do Cheaper Cuts Of Meat Taste Better?
The simple answer to this is the fat and connective tissue I mention above.
A lean cut of meat will never have the same punch of flavour a fattier cut will have!
Now that flavour comes at a cost. you can not chuck a fatty cut of meat on a grill or in a pan, give it a couple of minutes and expect to serve it.
You need to render down that fat and connective tissue, allow it to baste the meat. Just as we do here in this roasted or baked pork chop recipe!
Whilst I do use quicker cuts of meat like chicken breast and pork tenderloin, my true love always lies with the cheaper cuts.
Gimme chicken thighs or drummers, pork belly and beef shin over their pricier counterparts any day of the week!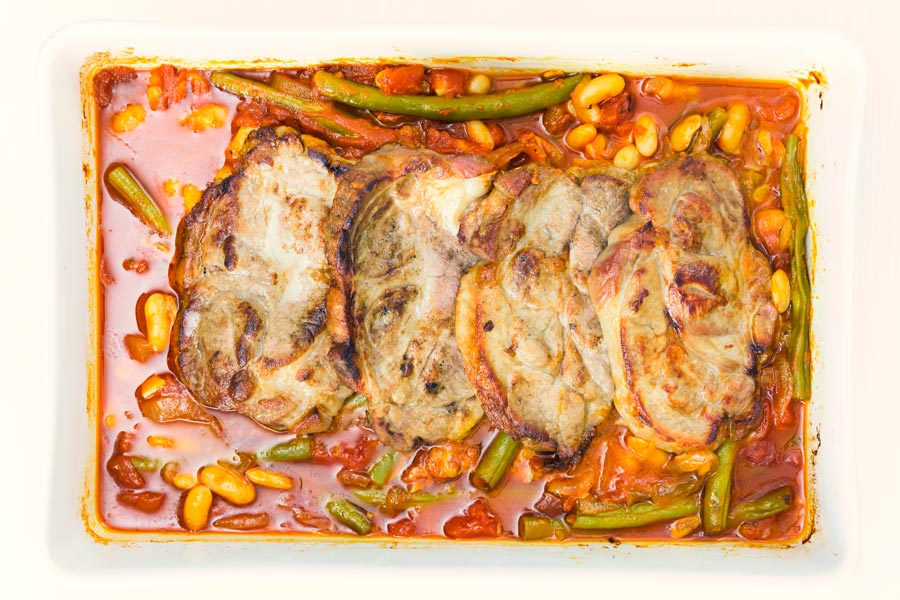 Cooking Frugal.
I have no idea why but I seem to be on a frugal push at the moment. Maybe I am subconsciously saving pennies for Hexmas. Who knows!
This is the second dish this week that uses beans. Just as in my last recipe of Pasta e Fagioli, I would urge you to use dried beans rather than canned.
Not just for economic reasons either, cooking the beans in the sauce really does add to the recipe.
But beans are a wonderful way of adding bulk to a dish without spending a lot of money.
I use beans all of the time and they are one of our major crops. You must check out a couple of my other bean soups, maybe my Hungarian bean goulash or my Crockpot bean soup.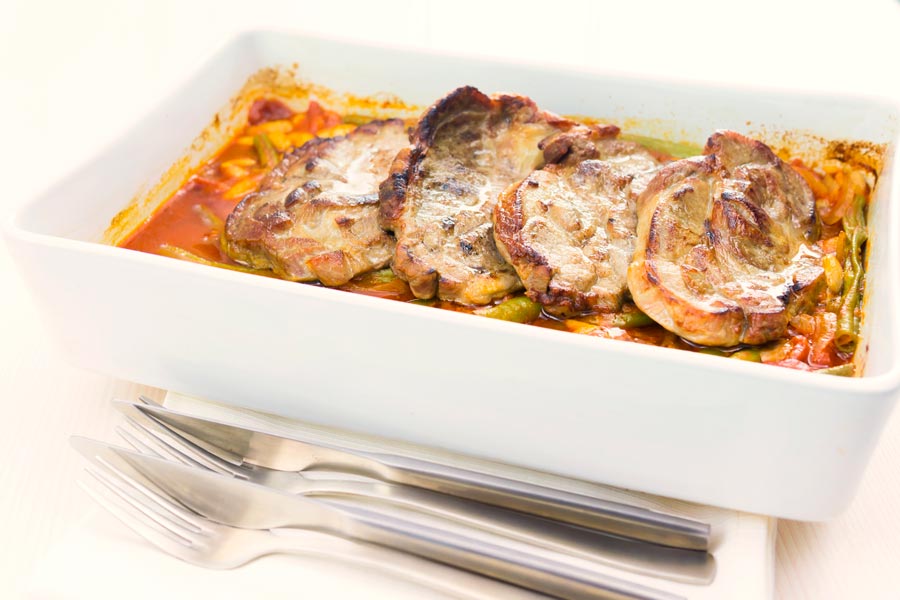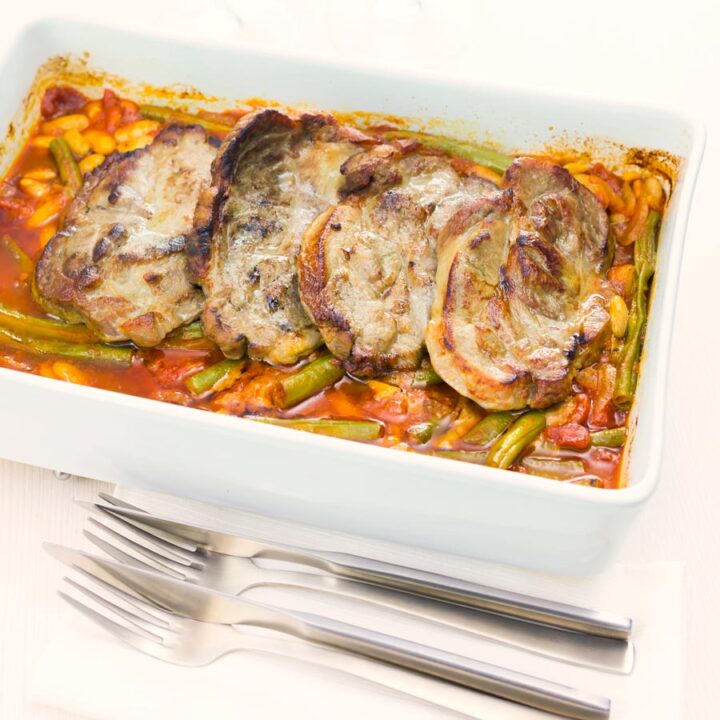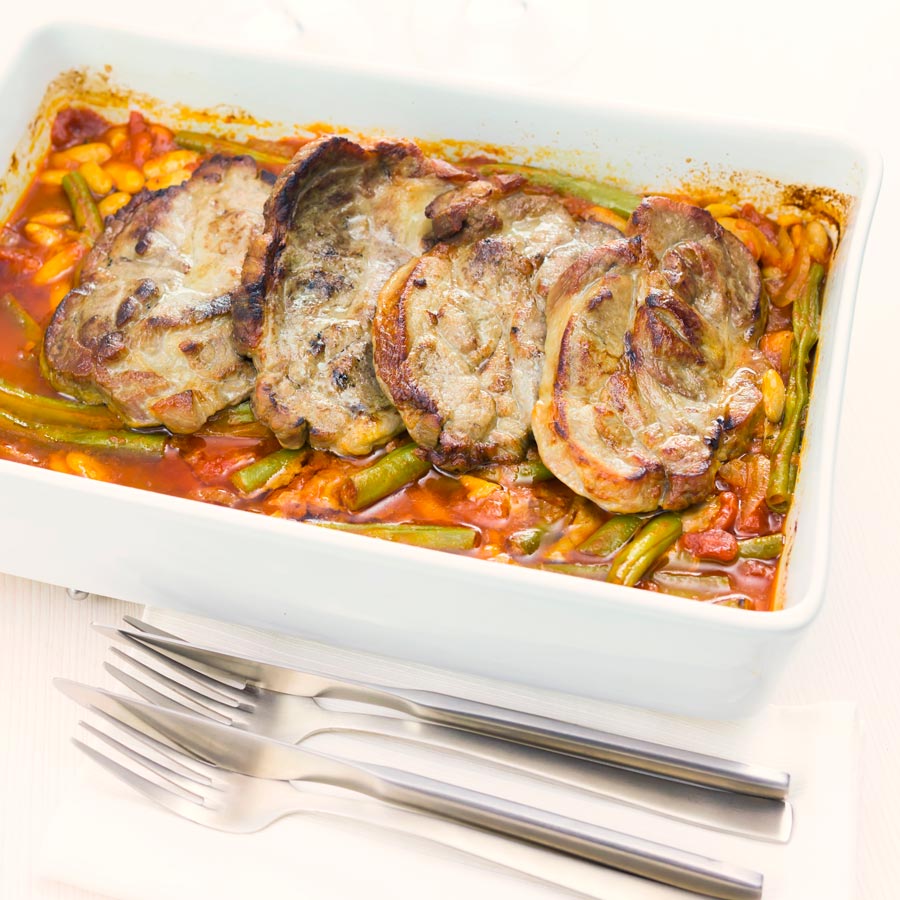 Yield:

2 Servings
Roast Pork Chops With Beans
Cook Time:
1 hour
20 minutes
Total Time:
4 hours
30 minutes
Roast pork chops are always fab and these boneless pork blade or Boston butt steaks are roasted on a bed of green beans and white beans in a tomato sauce.
Ingredients
400 g Pork Blade Chops, AKA Boston Butt Steaks
250 g Canned Tomatoes
100 g Onion
100 g White Beans
150 g Green Beans
3 Cloves Garlic
1 Tbsp Tomato Puree
2 Tsp Spicy Smoked Paprika
1 Tbsp Red Wine Vinegar
1 Tsp Honey
Salt and Pepper
1 Tbsp Cooking Oil, Neutral
Instructions
Begin by soaking your beans for at least three hours and as long as overnight.
Peel and slice your onion into half moons and then slicing your garlic cloves.
Heat a large frying pan over a high heat, whilst this is happening coat the chops in oil and then season generously with salt and pepper.
Fry the chops in the pan to get a nice colour, then remove and set aside.
Throw the onions into the pan and then cook for 10 minutes again until they begin to colour.
Add in the garlic and cook for another minute.
Pour in the tomatoes and then add the tomato puree, red wine vinegar, honey, smoked paprika and then stir.
Have a teste when it begins to bubble and season to taste with salt and pepper.
Stir in the white beans and then top and tail the green beans and add them too.
Transfer to a casserole dish and then layer the pork chops on top ensuring you pour in and resting juices.
Wet a piece of baking parchment and scrunch it up, then lay on top of the casserole dish tucking down the sides.
Bake in the oven at 180°C or 350°F for one hour.
Take to the table and enjoy.
Notes
This makes for a hearty dinner for two if you wanted you could add a potato side dish and stretch this to a meal for 4.
Nutrition Information:
Yield:
2
Serving Size:
1
Amount Per Serving:
Calories:

1126
Total Fat:

64g
Saturated Fat:

21g
Trans Fat:

0g
Unsaturated Fat:

35g
Cholesterol:

320mg
Sodium:

502mg
Carbohydrates:

34g
Fiber:

10g
Sugar:

12g
Protein:

100g