Chicken Dhansak is an Indian curry that features a boldly spiced lentil sauce and is considered to be the ultimate Parsi comfort food!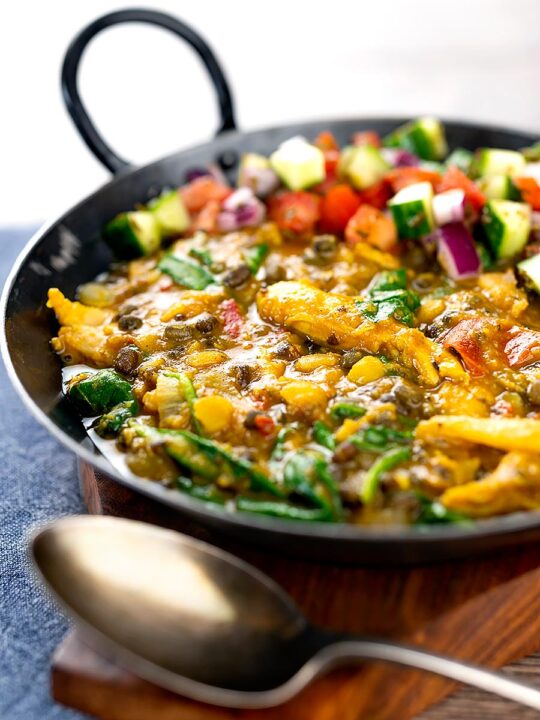 Lentil and Chicken Curry.
I have used the phrase many times here on krumpli, a curry is never just a curry! This chicken dhansak recipe is another one that demonstrates the diversity of that simple name.
Regular readers will know I am somewhat of a curry fiend with more than 50 curry recipes here already.
Everything from the well known chicken tikka masala and chicken rogan josh to the lesser-known chicken pathia gets a look in.
The Dhansak curry is a Parsi dish from North West India and Pakistan, fusing Gujarati food with Persian ideas.
It is essentially a dhal, cooked with meat and it is traditionally made with mutton or lamb.
Although the chicken variant is also exceptionally popular chicken curry recipe.
Whilst I was tucking into to a roast chicken for my Sunday Lunch many of my friends with families from Pakistan and Northern Indian were chowing down on chicken dhansak.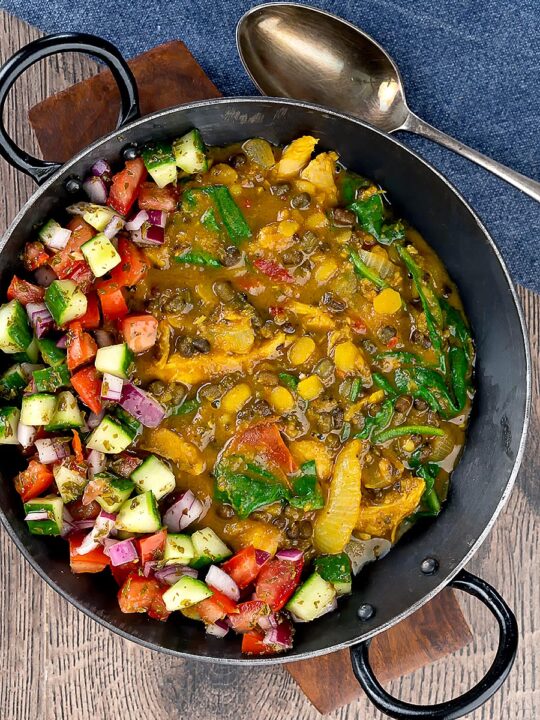 How To Cook A Dhansak Curry.
The first thing to do is not to panic! Yes, that ingredient list is long… Really, really long!
But the recipe is actually really simple to cook!
The key to the very best chicken dhansak curry is to add the spicing at the end as far as I am concerned.
This keeps the spices vibrant and bold and fresh. Yes, it does add a bit of washing up but boy is it worth it!
Cooking the wet and dry masalas in rich ghee creates the perfect spice blend for the dish and the smell is out of this world.
You can puree the dhansak sauce if you like or keep it chunky as I do.
I just crush some of the lentils with the back of a spoon or ladle against the side of the pan in much the same way I do with my rajma masala curry.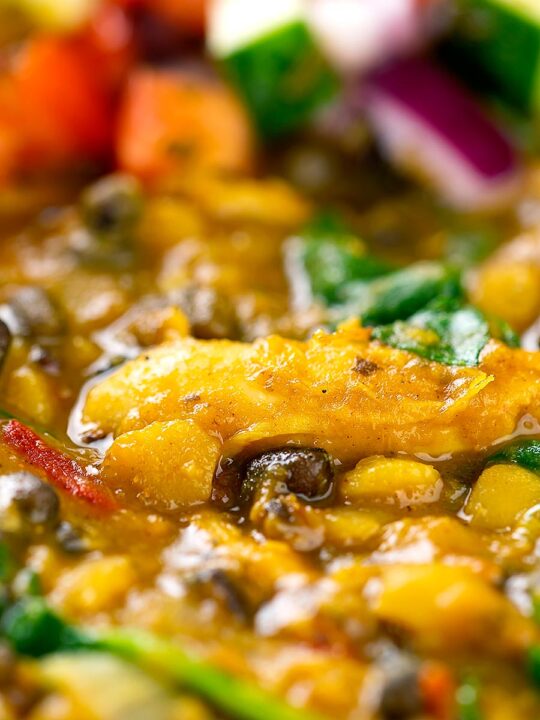 Serving Suggestions.
I often see chicken dhansak curries served with rice, invariably brown rice.
However, for me the dish does not need rice, the lentils add more than enough body.
I do however usually add a simple kachumber salad.
The bite of the vegetables and the sharp sweet flavour are the perfect contrast to the thick smooth curry.
The sauce also screams for naan bread which will help get them bowls squeeky clean when you are finished.
But this is a big hearty recipe, so the slightly less filling chapati may be a more prudent choice.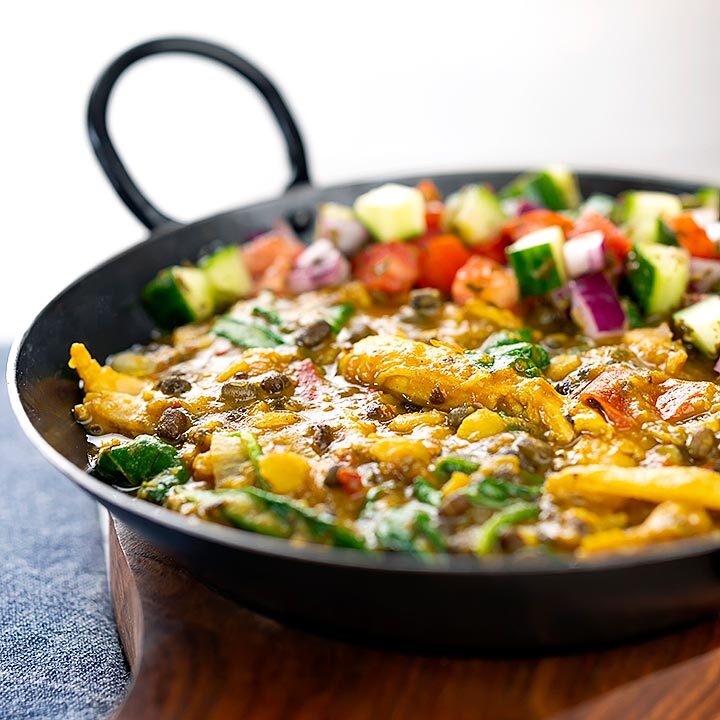 Yield:

2 Servings
Chicken Dhansak Recipe
Cook Time:
1 hour
15 minutes
Total Time:
5 hours
20 minutes
A chicken Dhansak is a perennial family and restaurant favourite curry. A Parsi recipe from North West India it features a rich boldly spiced lentil sauce.
Ingredients
40 g (1/4 Cup) Red Lentils
50 g (1/4 Cup) Toor Dal
75 g (1/3 Cup) Mung Beans
4 Chicken Drumsticks (Bone-in, Skin on)
1 Bay Leaf
200g (1 1/3 Cup) Onion
125g (1 medium) Tomato
80g (2 Cups) Spinach
50g (3 Tbsp) Ghee
Wet Masala:
2 Green Chilli Pepper
3 Dried Red Chilli Pepper
30g (Thumb Sized Piece) Ginger
3 Cloves Garlic
Dry Masala:
1 Tsp Ground Coriander
1 Tsp Ground Cumin
1 Tsp Ground Turmeric
1/2 Tsp Black Pepper
1/2 Tsp Asafoetida
1/2 Tsp Black Mustard Seeds
1/2 Tsp Ground Cardamom
1/4 Tsp Ground Cinnamon
1/4 Tsp Ground Cloves
1 Tbsp Dried Fenugreek Leaves
Instructions
Start the Lentils:
Wash the lentils and mung beans and add them to a medium (20cm) saucepan.
Add the chicken drumsticks and bay leaf.
Add enough cold water to cover and season generously with salt.
Bring to a boil.
Whilst this is happening, slice half of the onion into 1cm thick half-moons.
Roughly chop your tomato.
Add the onion and tomato to the lentils, add a lid, reduce the temperature to low, and allow to simmer for 45 minutes.
The wet masala:
Deseed the chillies, you can leave the seeds in but it will be a very hot curry!
Peel the ginger and garlic.
Now add all of the ingredients for the wet masala into a mini blender.
Add just enough hot water to get it to come together as a smooth paste and set aside.
The dry masala:
Place all of the ground ingredients in a bowl and mix.

Returning to the lentils:
Remove the chicken drumsticks from the pan and allow them to cool for a few minutes.
Check the lentils if the mung beans need another 5 or 10 minutes then simmer for a little longer.
Once cooked strain the lentil pan and reserve the liquid.
Strip the chicken from the bone discarding both the skin and bone.
Cut the remaining half of the onion into 1 cm cubes.
Heat the ghee in a wide based frying pan over a medium high heat.
Cook the diced onion for 10 minutes until it begins to take on a colour.
Add the wet masala and cook for 2 minutes.
Sprinkle in the dry masala and cook for 60 seconds.
Pour in the lentil mix crushing gently with the back of a lentil until you get a nice rough textured dal.
Add as much of the cooking liquid as you like to form a consistency that you like.
Add the shredded chicken and spinach.
Stir for long enough to warm the chicken and wilt the spinach.
Nutrition Information:
Yield:
2
Serving Size:
1
Amount Per Serving:
Calories:

707
Total Fat:

42g
Saturated Fat:

20g
Trans Fat:

0g
Unsaturated Fat:

19g
Cholesterol:

295mg
Sodium:

312mg
Carbohydrates:

29g
Fiber:

9g
Sugar:

8g
Protein:

53g
Calorific details are provided by a third-party application and are to be used as indicative figures only.