A chicken Dhansak is a perennial family and restaurant favourite curry. A Parsi recipe from North West India it features a rich lentil sauce.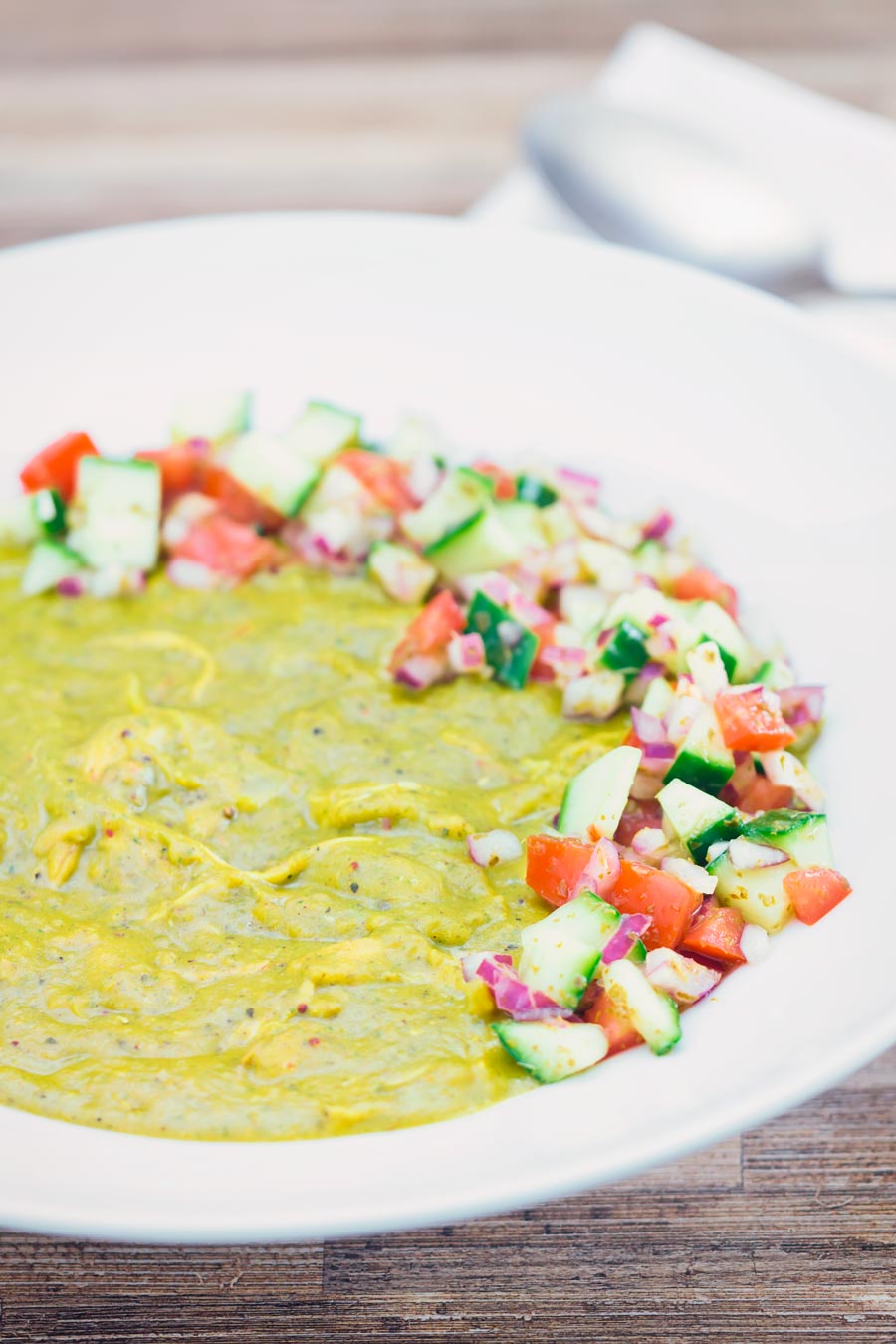 Chicken Dhansak.
I have used the phrase many times here on krumpli, a curry is never just a curry! This dhansak recipe is another one that demonstrates the diversity of that simple name.
Regular readers will know I am somewhat of a curry fiend with more than 3 dozen curry recipes here already. My true love sits with British Indian curries but if it is sold with that magic 5 letter word I am gonna give it a try.
The Dhansak curry is a Parsi dish from North West India, fusing Gujarati food with Persian ideas.
It is essentially a dhal, a lentil based thick sauce and it is traditionally cooked with mutton. Although the chicken variant is also exceptionally popular chicken curry recipe.
Many of my Indian friends in the UK would consider a dhansak curry their go to Sunday lunch.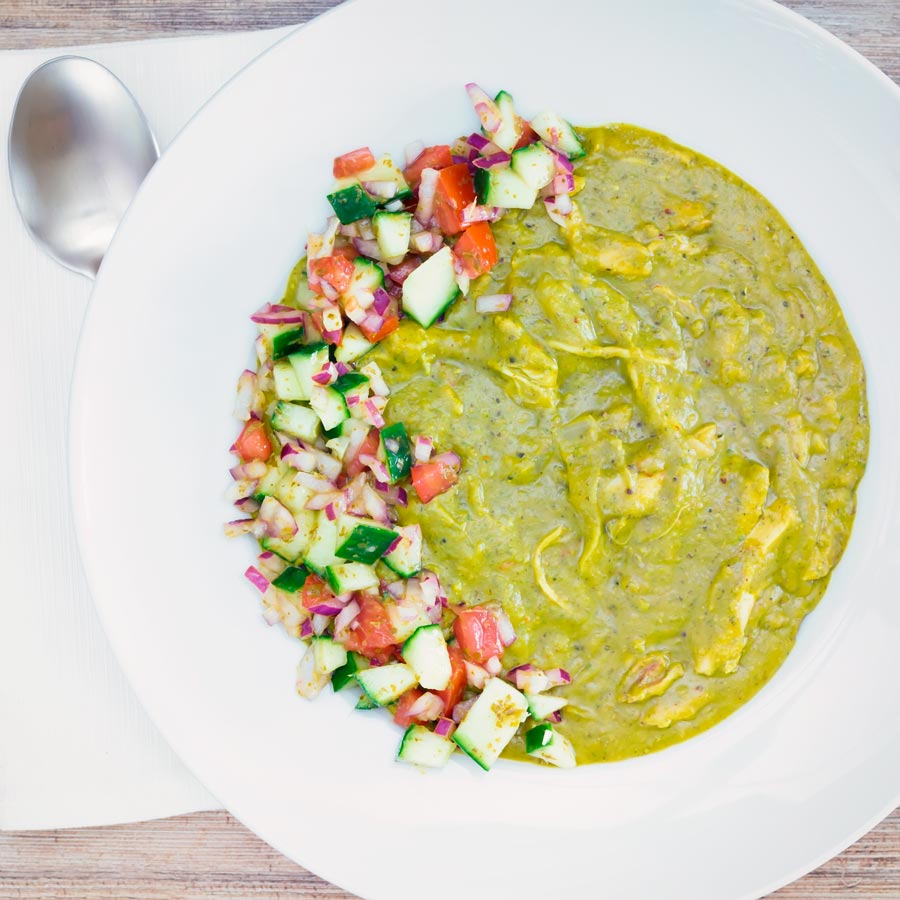 How To Cook A Dhansak.
The first thing to do is not to panic! Yes, that ingredient list is long… Really long!
However, what we have are three separate entities really. You can use any lentil you like, I prefer to use a mix, but if you only have one type then so be it.
The same thing goes for the vegetables, use whatever you wish, think regular potatoes, carrots, even aubergine (eww) if that is your thing.
Chuck em all in the pan with the meat and vegetables, the meat stays beautifully moist and you can pick this later to return to the curry.
We then have two masalas one, wet and one dry. There are a lot of ingredients in them, but in reality you have to do nothing more complicated than peel, or remove seeds from them.
I personally prefer to blend my dhals and dhansak lentils, you can just mash them if you like. I prefer the smooth texture rather personally
Then it is just a case of putting it back together and chopping some vegetables for the kachumber salad.
What Is A Kachumber Salad?
A kachumber salad is a simple salad consisting of onions, tomatoes and cucumber. It typically features a sweet and sour element and for me personally mint.
Although the mint element is certainly a nod to my love of British Indian food!
Differing versions feature as a side dish to both my tandoori fish and tandoori chicken recipes.
It provides a wonderful, vibrant and light accompaniment to the earthy notes of the lentil vegetable sauce.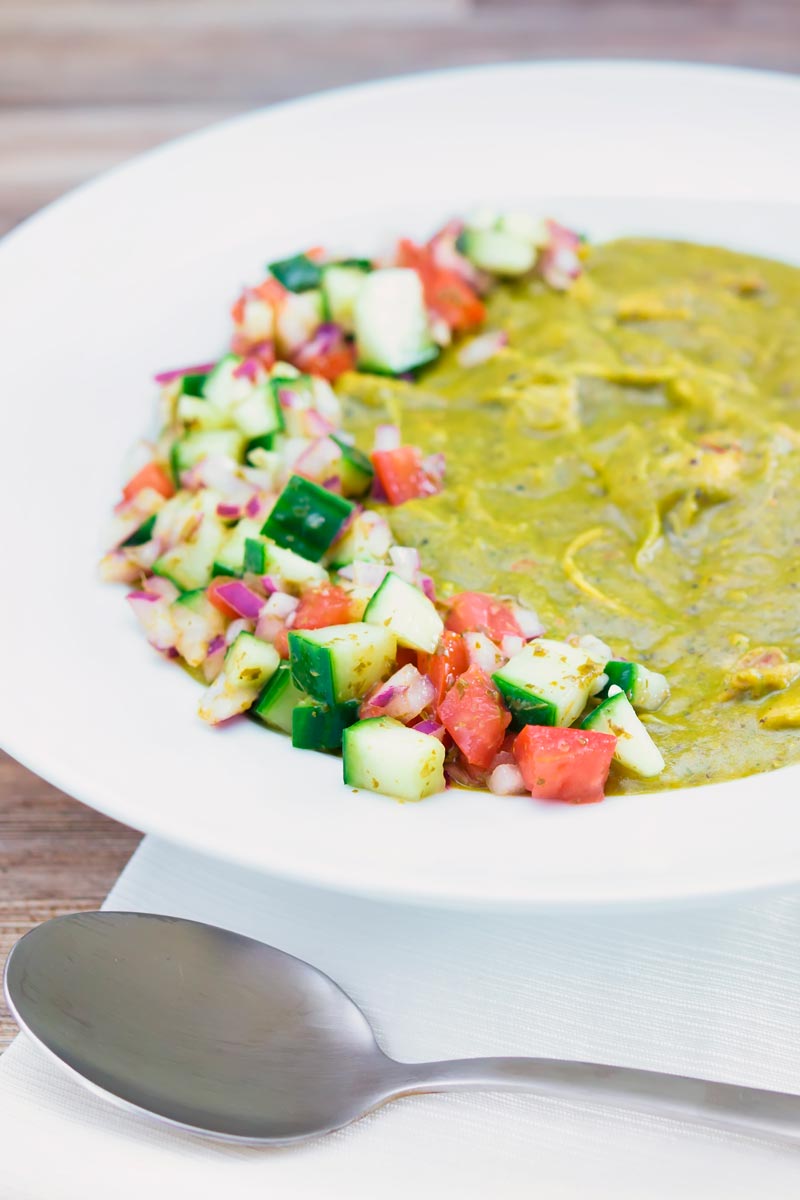 What To Serve With Chicken Dhansak.
A dhansak curry is usually served with brown rice… Now to me that just seems odd and something I don't usually do.
I do love brown rice and cook with it frequently, but the presence of all those lentils with the brown rice alongside the vegetables just seems wrong.
So personally speaking I stick with just the kachumber salad that I mentioned above combined with an Indian flat bread.
The thick sauce really screams for naan bread which will help get them bowls squeeky clean. But for me this is a big hearty recipe, so usually opt for the slightly less filling chapati.
Having said that I know someone who would always order this with chips, fries for you Americans. Not that I advocate that of course!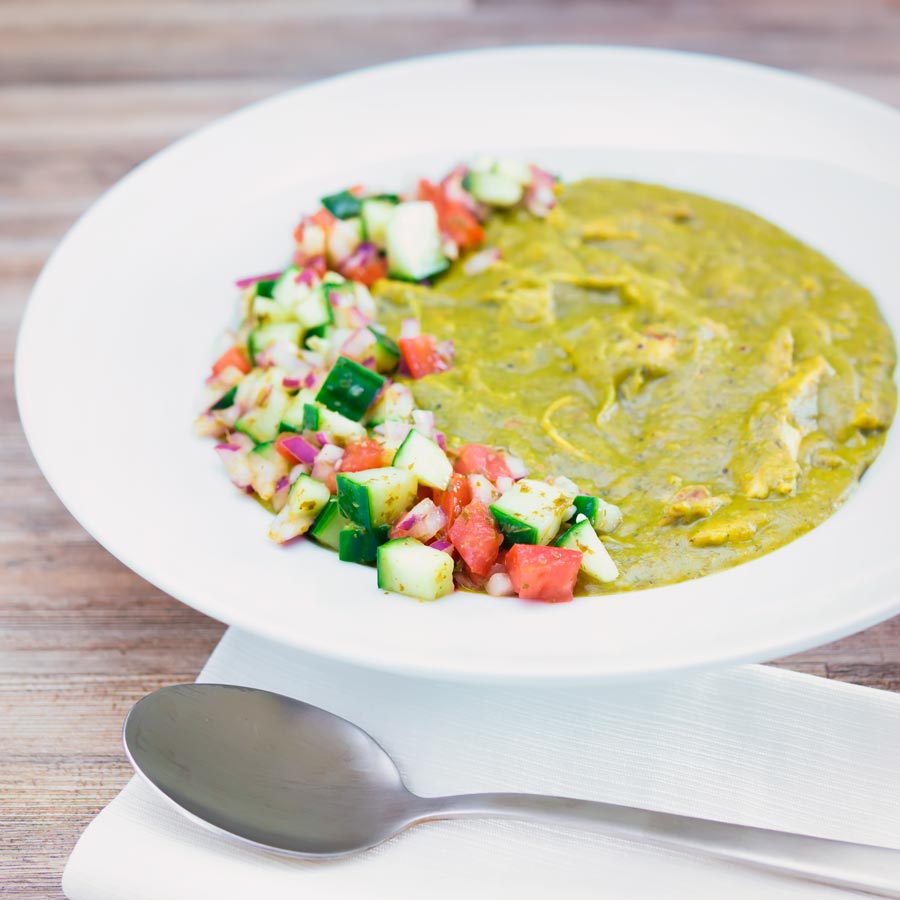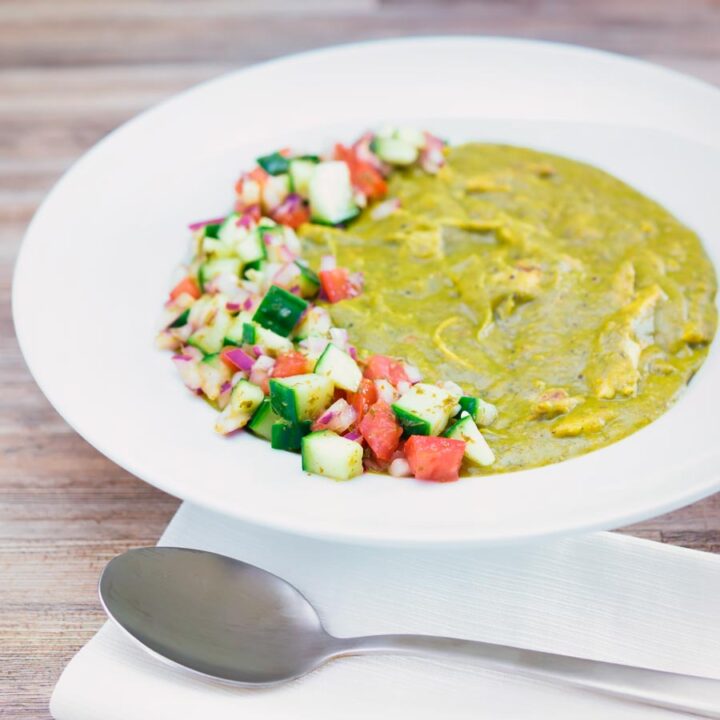 Chicken Dhansak
Cook Time:
1 hour
25 minutes
Total Time:
5 hours
30 minutes
A chicken Dhansak is a perennial family and restaurant favourite curry. A Parsi recipe from North West India it features a rich lentil sauce.
Ingredients
35 g Red Lentils
35 g Split Yellow Lentils
35 g Mung Beans
500 g Chicken Thighs
125 g Sweet Potato
200 g Onion
100 g Tomato
50 g Spinach
50 g Ghee
Wet Masala:
2 Green Chili Pepper
3 Dried Red Chili Pepper
20 g Ginger
3 Cloves Garlic
1 Tsp Dried Mint
Dry Masala:
1 Tsp Ground Coriander
3/4 Tsp Ground Cumin
3/4 Tsp Ground Turmeric
1/8 Tsp Ground Cinnamon
1/8 Tsp Black Pepper
1/8 Tsp Ground Fenugreek
1/8 Tsp Ground Cloves
2 Green Cardamom
1/2 Tsp Black Mustard Seeds
Kachumber Salad:
100 g Red Onion
100 g Tomato
100 g Cucumber
1 Tbsp Mint Sauce
Salt to taste
Instructions
Soak your red lentils, yellow lentils and mung beans for a minimum of 4 hours.
Drain the lentils and place in a pan with the chicken thighs.
Add enough cold water to cover and season generously with salt.
Bring to a boil and then reduce the temperature to low, add a lid and simmer for 15 minutes.
Whilst this is happening, slice the onion into half moons, dice your sweet potato into 1cm dice and roughly chop your tomato.
After 15 minutes add the half the onion, all of the sweet potato and tomato to the pan, return the lid and cook for another 30 minutes.
We will now make the wet masala:
Deseed the chillies, you can leave the seeds in but it will be a very hot curry, this way we get maximum flavour with a pleasant heat!
Peel the ginger and garlic.
Now add all of the ingredients for the wet masala into a mini blender and add just enough hot water to get it to come together as a smooth paste and set aside.
We will now make the dry masala:
Place all of the ground ingredients in a bowl.
Crush the cardamom pods and remove the shells and add remaining cardamom to the bowl.
Lightly crush the mustard seeds and add to the bowl and set aside.
Returning to the lentils:
By now the lentil, vegetable and meat mix should have had 30 minutes, check the sweet potato is soft and then fish out the chicken thighs and set aside.
Strain the remaining lentil and vegetable mix reserving some of the liquid.
Add this to a blender with the spinach and then blend to a paste using the cooking liquid to get the desired texture. Make it as smooth or chunky as you wish!
Strip the chicken from the bone discarding both the skin and bone.
Add the ghee to a wide based frying pan and over a medium high heat.
Add the remaining onion and cook until golden.
Then add the wet masala and cook out for 2 minutes.
Pour in the dry masala and cook for 60 seconds before pouring in the pureed lentils and chicken.
Reduce to low, have a taste and add salt as required, then cook out for another 15 minutes.
Now we make the salad:
Finely dice the onion.
Remove the seeds from the tomato and cucumber and again finely dice.
Stir in the mint sauce and season with salt to taste.
Nutrition Information:
Yield:

2
Serving Size:

1
Amount Per Serving:
Calories:

1016
Total Fat:

61g
Saturated Fat:

26g
Trans Fat:

0g
Unsaturated Fat:

33g
Cholesterol:

384mg
Sodium:

865mg
Carbohydrates:

56g
Fiber:

12g
Sugar:

20g
Protein:

70g
Calorific details are provided by a third-party application and are to be used as indicative figures only.