These leeks are wrapped around a mixture of pork, pine nuts, fennel, and thyme and matched up with a fantastic pear and cider sauce!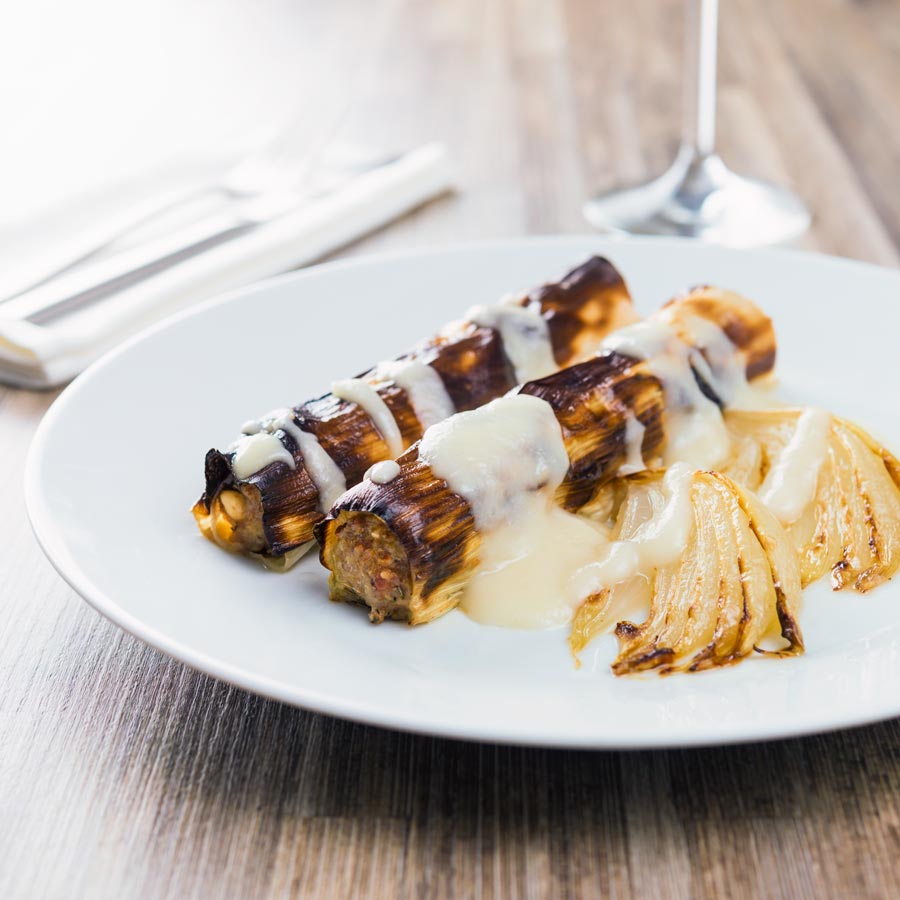 Stuffed Leeks With Cider and Pear Sauce.
The idea behind this recipe came from a Hungarian magazine I was flipping through.
I love leeks, they are the mildest of the onion family and never really thought of using them as a way to hold together a stuffing before.
So I set out playing with some ideas that are fitting for the unseasonably mild weather we are currently experiencing. This is perfect, in many ways it tastes like a leek and fennel sausage, but without the sausage making hassle.
Now I have no problem with making sausages, you can check out my recipe and technique. But this is meant to be a quick meal that tastes great with ingredients that are often lying around.
I have no idea whether these are really leeks stuffed with pork or ground pork wrapped in leeks. I do know they are super simple and really tasty.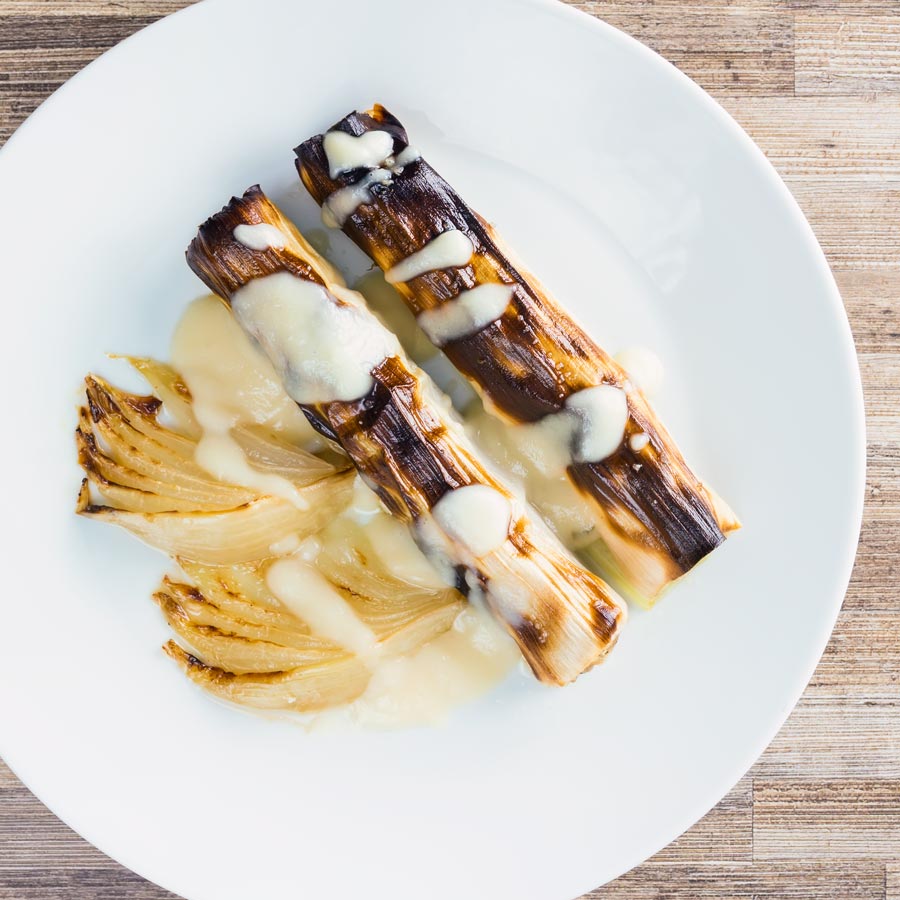 Savoury Pear Sauce.
Pork always works so well with fruit and this sauce is an homage to that. This is not the first pork with pear recipe here on krumpli.
It is a match made in heaven, I roast sliced pears over pork chops. I roast whole pears with blue cheese and serve it with a pork loin steak. And here we make a pork and cider sauce with plenty of butter to nap over the leeks.
It is a simple sauce with a sweet and sour edge, which is meant as a counterpoint to the very savoury pork stuffing.
It is so simple and will work well with a host of pork dishes and makes a lovely change from a gravy style sauce.
When is Cider not Cider?
In other news, I had a revelation a few weeks ago.
I thought the word cider was pretty much understood to mean alcoholic apple or pear juice.
Well wasn't I wrong? Apparently, cider to Americans is apple juice and fermented apple juice is called hard cider.
My mind was suitably confused and have spoken with a number of Americans to try and understand why and I am no further forward. Although most of the web attributes it to prohibition and varying attitudes in the US to alcohol.
But apparently, if you are American the unprocessed juice of an apple is cider, not apple juice.
Apple juice is the processed juice of an apple and not just the juice of an apple.
Fermented apple juice or cider is called hard cider.
Just to clear this up, and for the sake of consistency, the unprocessed juice of an orange is called orange juice in the US.
But if you are reading this in the US please make my pear sauce with hard cider.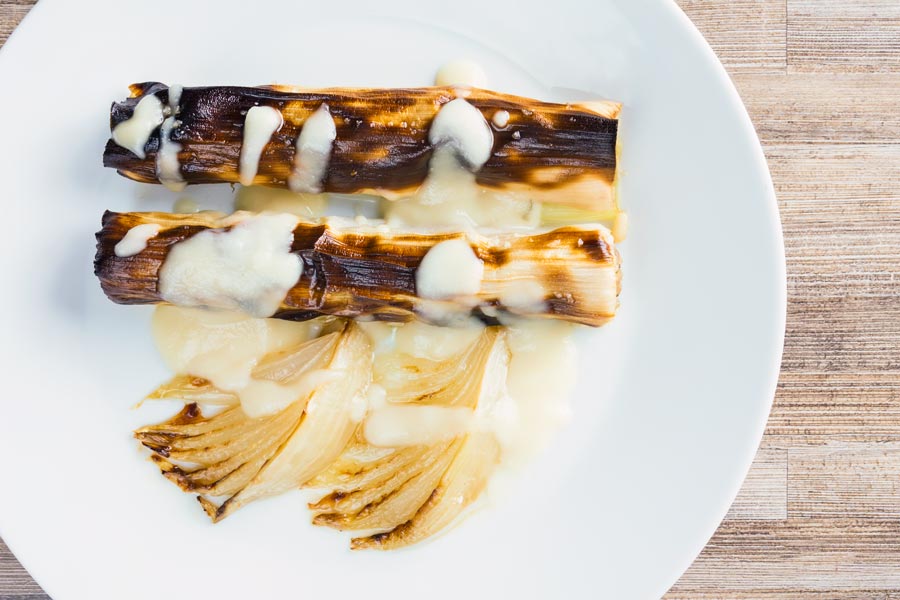 What To Do With Left Over Leeks.
This recipe only uses the outer few layers of leeks and I hate waste.
But fear not good people of internetland, I love leeks and use them a lot! So with your leftover leeks why not take a look at some of these recipes?
I guess you best be heading off to the kitchen now, enjoy!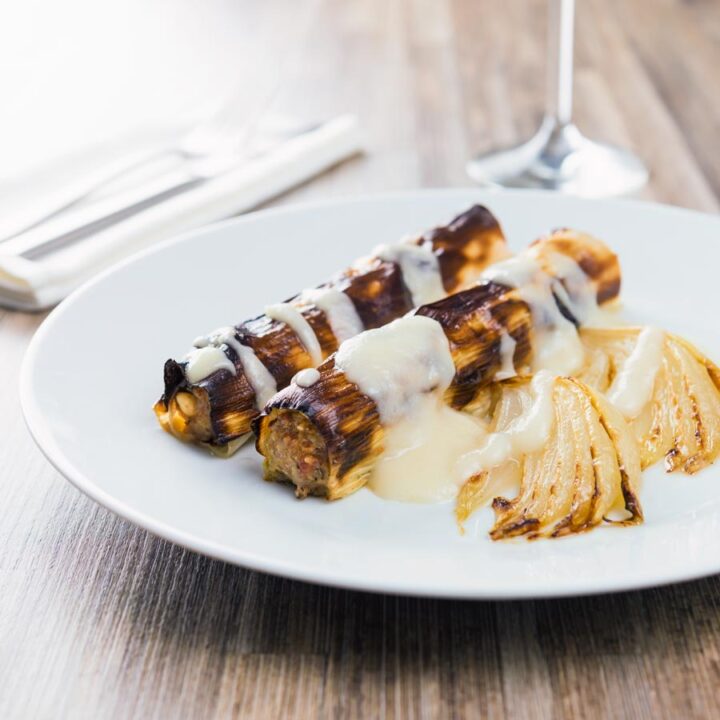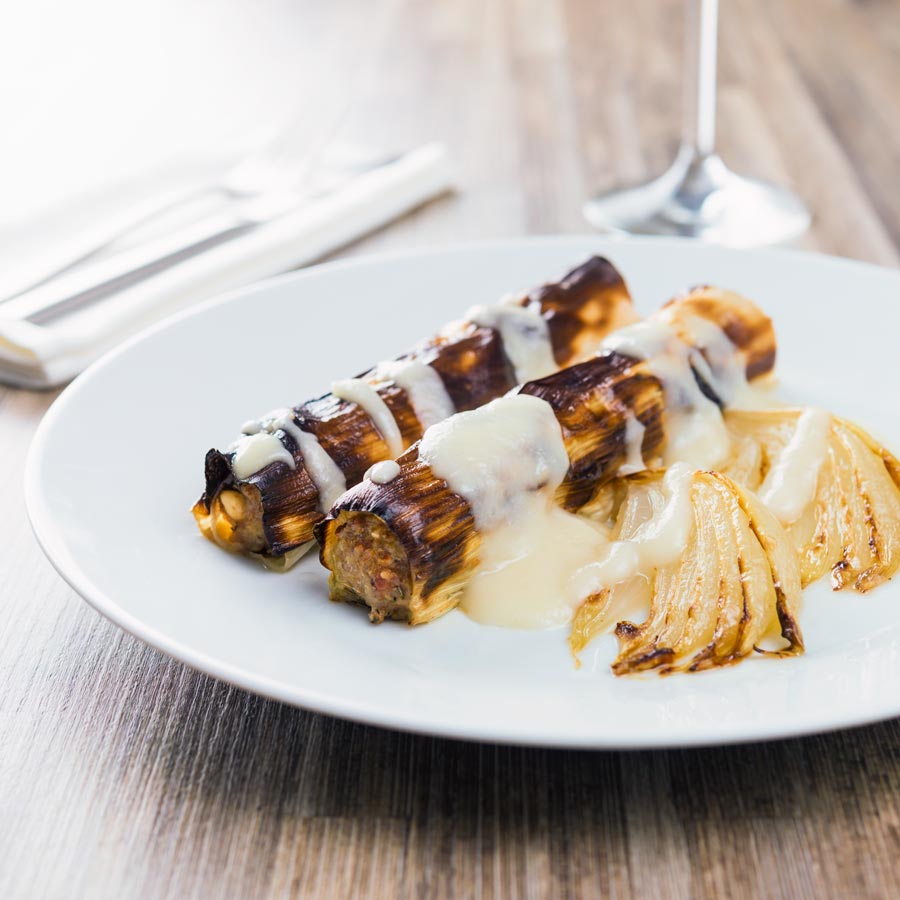 Yield:

2 Servings
Stuffed Leeks With Cider and Pear Sauce
These leeks are wrapped around a mixture of pork, pine nuts, fennel, and thyme and matched up with a fantastic pear and cider sauce!
Ingredients
For the Stuffed Leaks:
125 g Leeks, 8 outer leaves of leek only, cut into 15cm lengths
400 g Ground Pork
50 g Pine Nuts
1/2 Tsp Salt
8 Black Pepper Corns
1 Tsp Fennel Seeds
1 Tsp Dried Thyme
150 g Onion
1 Tbsp Olive Oil
For the Sauce:
35 g Butter
1 Pear
150 ml Hard Cider
Salt, To taste
Instructions
Begin by mixing together the ground pork, pine nuts, thyme, and salt in a bowl.
Now take the black pepper and fennel seeds and lightly crush in a spice grinder or pestle and mortar, then add it to the pork.
Take your leek and cut it into 15cm lengths.
Now slice lengthways, DO NOT cut all the way through, you should only go half way through on the long cut.
Now peel off the layers of the leek, you will need 8 in total.
Separate your pork mix into 4 portions.
Now take 2 pieces of leek and unroll them, lay them next to each other.
Add in a portion of the pork, spread out like a sausage and then roll up!
Repeat with the remaining ingredients and then place on baking tray lined with baking parchment. Ensure the seam is at the bottom.
I like to serve this with some roasted onion wedges, so take your onion, peel and cut into wedges leaving the root end on so that they hold together.
Place the onion wedges on the baking tray then drizzle with the olive oil and add a sprinkle of salt.
Place in the oven and cook at 200°C or 400°F for 20 minutes.
Whilst this is cooking place the butter for the sauce in a pan and melt over a medium-high heat.
Peel the pear, then core and chop into 1cm chunks.
Add the pear to the butter and cook for 5 minutes.
Turn up the heat to high and pour in the cider, and reduce by half.
Blend the pear with either a stick blender or in a mini blender before serving.
Notes
Do not waste your remaining leek, scroll up a bit and take a look at some other leek based recipe suggestions.
Nutrition Information:
Yield:
2
Serving Size:
1
Amount Per Serving:
Calories:

1189
Total Fat:

81g
Saturated Fat:

27g
Trans Fat:

1g
Unsaturated Fat:

46g
Cholesterol:

226mg
Sodium:

1153mg
Carbohydrates:

56g
Fiber:

10g
Sugar:

23g
Protein:

60g