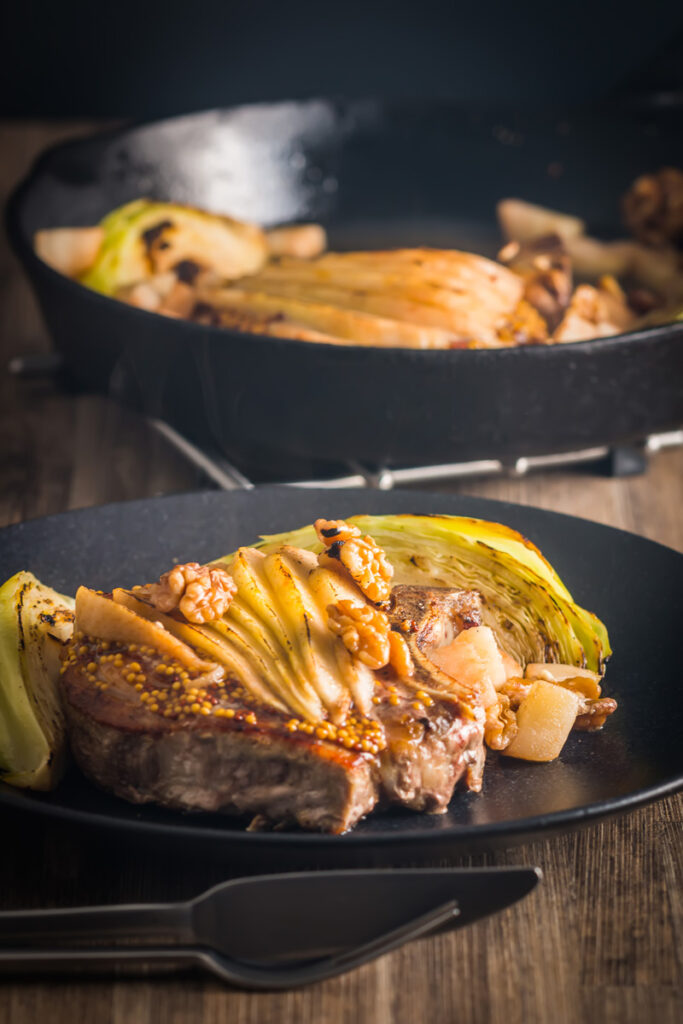 This Skillet Pork Chop with Cabbage, Pear and Walnuts recipe just screams autumn in these parts, both pears and walnuts are pretty much ubiquitous in these parts and despite not having either a walnut tree or a pear tree in our garden I have not paid a single brass farthing for either of these ingredients since we moved here. Confessing to a Hungarian that you are fond of an ingredient is a dangerous thing to do, generosity runs deep in these parts, too deep on occasions and it is very easy to be over supplied with stuff you kinda like because you once mentioned something in a casual conversation. The pears and walnuts have already started to arrive and I have no idea who the first lot came from, we went out shopping a couple of days ago and just found a box of them on our doorstep when we got home. I am sure this is not the first time this will happen this Autumn!
I am sure to many people those two ingredients scream a cake or a dessert of some sort but you all know I am pretty ambivalent to sweet stuff, I saw these ingredients and immediately drooled over a big fat pork chop, Mmmmmmm pork. Food like this is great just putting together a load of ingrdients in a pan and letting the magic just happen whilst you take it easy and a good skillet pork chop really is the best, but do go to a butcher… Don't accept some skinny ass piece of pig from a supermarket shelf for this dish, it will be dry and over cooked by the time it has any colour. Go to your butcher and get something at least 2.5cm thick, nudging towards 3-3.5cm, with the bone in that should weigh in at around 300g and should allow you to roast it nicely in the oven and stay lovely and moist.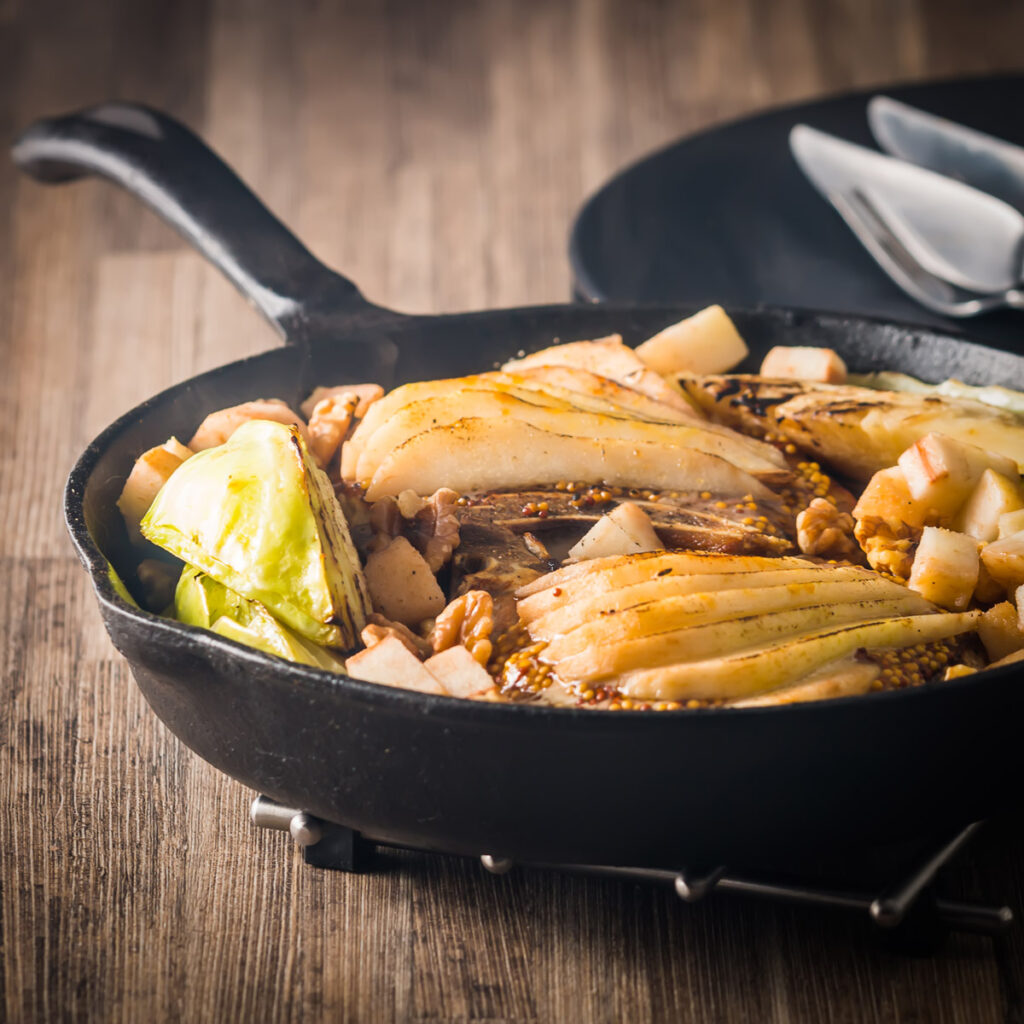 Print
Skillet Pork Chop with Cabbage, Pear and Walnuts
Skillet Pork Chop with Cabbage, Pear and Walnuts is a simple one pot wonder packed full of Autumnal flavours and textures.
Ingredients
2

Thick Cut Pork Chops.

2-3cm thick bone in skin off.

1/2

Head Small Cabbage.

1

Pear.

Pealed and cored and cut in half.

50

g

Shelled Walnuts.

Cooking Oil

Neutral

Salt & Pepper.

2

Tbsp

Whole Grain Mustard.

1

Tsp

Brown Sugar.
Instructions
Preheat your oven to 180°C.

We only want the heart of the cabbage for this recipe, so remove the outer leaves and then cut the cabbage in half through the stalk. Then cut that half into quarters and set aside.

Dice half of the pear into 1cm dice, take the other half cut it in half again and then slice into 5mm slices.

Now heat your skillet over a high heat.

Rub the pork chops with oil and season with salt and pepper and sear on both sides until you have a nice colour, 1-2 minutes per side, then remove from the pan and set aside.

Sear the cabbage quarters in the pan as you did with the pork and when seared pour in 250ml boiling water and 1/4 teaspoon of salt and cover with a lid or tin foil whilst you finish preparing the pork.

Back to the pork, spread 1 tablespoon of whole grain mustard one side of each pork chop and then fan out the pear slices on the top and sprinkle with the brown sugar.

Now return to the pan with the cabbage which has hopefully been on a rapid boil for a couple of minutes.

Pour off the water and add the pork chops to the pan and squeeze in the cabbage around the sides, sprinkle over the remaining diced pear and walnuts cover with tin foil, place in the oven and cook for 20 minutes.

Cooking times will depend on the thickness of your chop mine were a full 3cm thick so after 20 minutes my internal temperature was 60°C this is the perfect time to remove the foil lid and continue cooking for a further 4-5 minutes until the internal temperature reaches 65°C.

If you like you pork really well done increase the temperatures by 10°C and then allow to rest before serving.
Recipe Notes
You can replace the pear with apple if you wish.