Pork chops with pears & creamy tarragon, cider sauce, the chops are cooked on the bone and finished in the oven whilst the sauce is made.
The rind is crisped up in a medium pan to get the fat rendering and the crackling to crisp before they get a flash in a hot oven to finish cooking.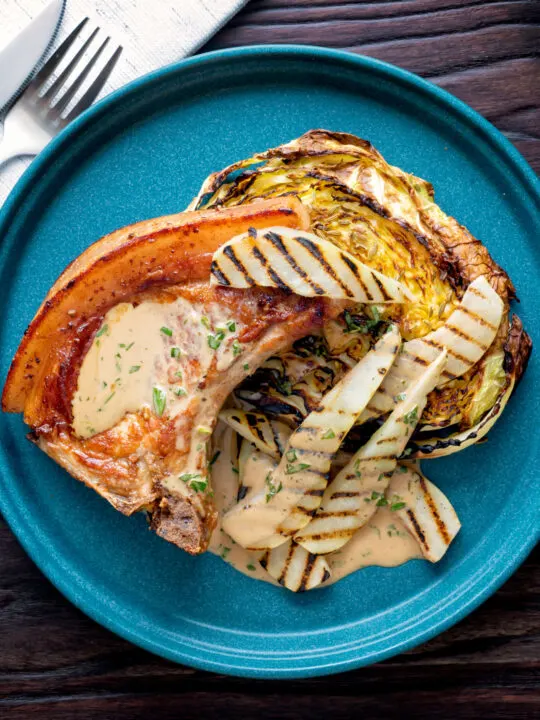 Pork, Cider, Tarragon and Pears
I love pork chops and they are no stranger to my site.
Whether it be my favourite sweet and sour pork chops or slightly more elegant pork chops with blackberry sauce and Jerusalem artichoke puree, they are never far from our weekly meal plan.
Most of the time I cook them with the rind removed, as I do in my Spanish influenced pork chops, Instant Pot pork chops and Normandy pork chops.
But here they are cooked with the rind and fat on. My time in Hungary has given me a real love of pork fat, so I eat the lot.
But you can remove it if you like after the chops have been cooked, keep the crispy crackling though!
In this recipe keeping the chop whole helps the meat cook in a beautifully even way. It delivers the most succulent pork chops.
The recipe is rounded out with a simple creamy cider and tarragon sauce and griddled pears, similar flavours to my skinless pork sausages recipe.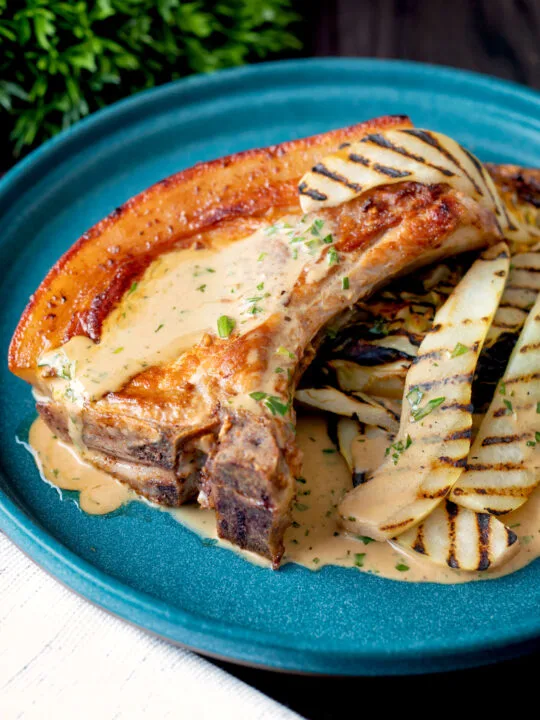 Frequently Asked Questions
Do I have to use thick-cut pork chops?
For this cooking technique, yes! Skinny pork chops that you get from the supermarket will overcook and be dry if you cook them using this method.

Go and chat with your butcher and get some chops that are 25-35mm thick. That's an inch to an inch and a half for the Americans visiting.
Do I have to use a meat thermometer?
If you want to take the guesswork out of cooking meat, then yes! Buy one, they will make you a better cook and they cost very little.
What sort of cider should I use?
A note for my American readers, Cider means booze in most of the world. As a result, you need to make this recipe with hard cider, a dry cider at that.

I used an Aspall premier cru for this recipe!
Can I replace the pears with apples?
Yes, absolutely! They are a direct replacement, treat them in exactly the same way as the pears.
Why do the pears get put in lemon water?
This is purely about practicality!

If you do not do this and slice the pears early they will go brown. You can slice them when they are ready to cook and skip this step if you wish.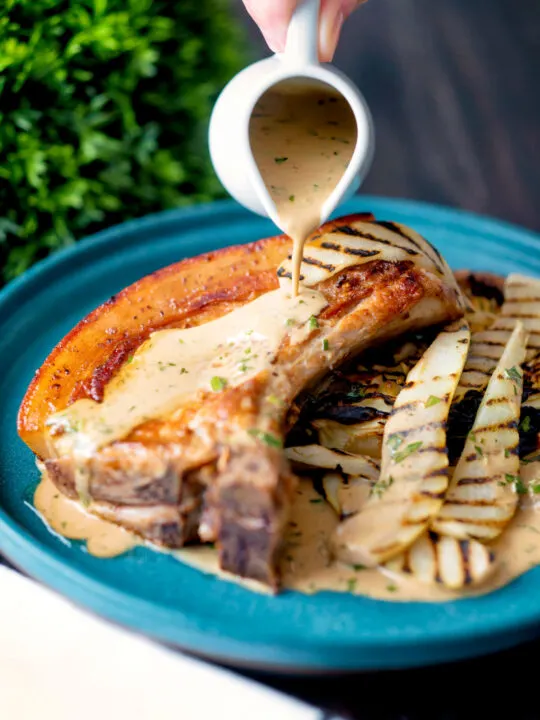 Serving Suggestions
These crispy pork chops with pears are a centrepiece that works so well with so many different side dishes.
It is particularly good with cabbage, here it is pictured served with some roasted cabbage slices.
But they would be equally good with some braised red cabbage, or even some simple buttered cabbage.
Other sides that would work particularly well are petit pois a la Francaise, braised cavolo nero, roasted tenderstem broccoli or some glazed Chantenay carrots.
Of course, potatoes make a great side for this too.
Now we have the oven at a really high temperature, so roast potatoes are off the menu, but it is a perfect excuse to double down and break out the fondant potatoes.
A final suggestion would be some comforting mash. Mashed potatoes are the obvious choice, but celeriac mash or swede and carrot mash both work wonderfully.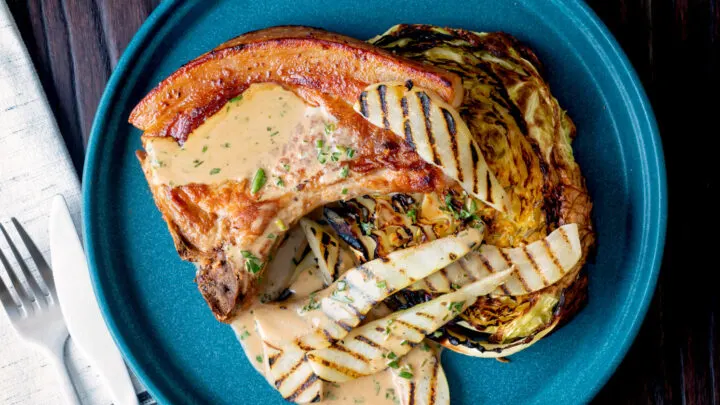 Equipment Used
I only mention brands of equipment if I believe they make a material difference to a recipe. If you have any questions feel free to ask them in the comments section below the recipe.
Stovetop.
Oven.
Baking tray.
28cm or 11″ frying pan.
Griddle pan.
Kitchen knife.
Chopping board.
Vegetable peeler.
Weighing scales and or measuring cups and spoons.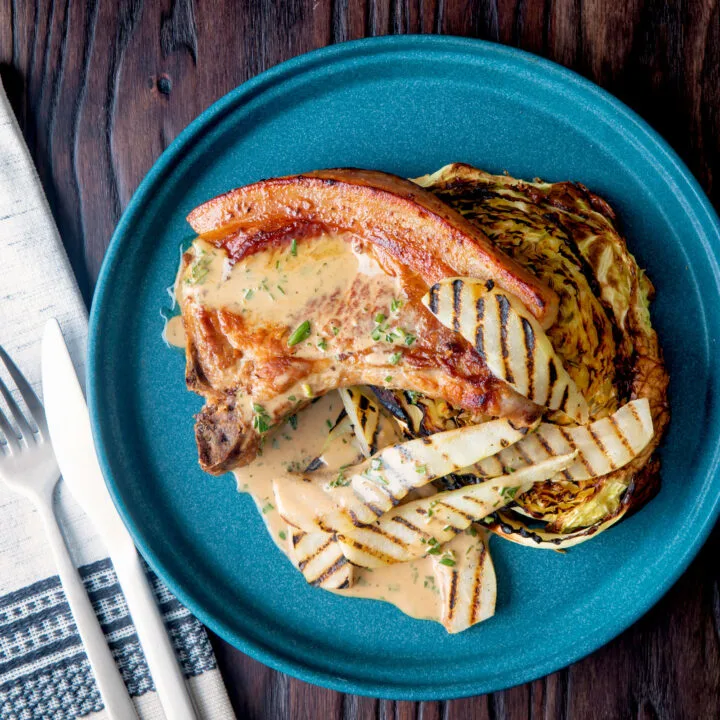 Yield:

2 Servings
Pork Chops with Pears Recipe
Thick cut pork chops cooked to perfection served with seared pears and a creamy tarragon cider sauce.
Ingredients
2 Thick Cut Pork Chops
1 Tbsp Cooking Oil
¾-1 Tsp Salt
1 Pear
1 Tsp Lemon Juice
1 (35g) Shallot
50g (3 Tbsp + 1 Tsp) Butter
250ml (1 Cup) Dry Cider
125ml (½ Cup) Chicken Stock
75ml (⅓ Cup) Double Cream, Heavy Cream in the US
20g (2-3 Tbsp) Fresh Tarragon
Instructions
Peel the pear, cut it in half lengthways and then remove the core with a spoon. Cut the pear into slices that are 3-5mm thick.
Mix the lemon juice with enough water to just cover the pear slices when placed in a bowl.
Peel the shallot then dice it as finely as you can.
Strip the tarragon leaves from the stems, discard the stems then finely chop the leaves.
Heat 28cm or 11" frying pan (not non-stick) over a medium heat.
Coat the pork shops in the oil then season generously with salt, paying particular attention to the rind.
Cook the pork chops rind side down in the frying pan for around 10. The idea is to begin rendering down the fat and to crisp up the rind. I hold them together and then stand there and sear one half of the rind first then rock them to sear the second half.
Once the rind has begun to crisp turn the heat up to high and when the pan is hot flip the chops down onto the flesh side and cook for 6 minutes.
Flip the chops, cook for 1 more minute to sear the other flesh side a little, then transfer to a preheated baking tray in an oven at 220°C or 430°F and cook for a further 6-7 minutes.
Return the pan to a medium heat and add the butter, when it begins to foam toss in the shallots and cook for 1-2 minutes stirring continuously.
Pour in the cider and chicken stock, turn the heat up to high and reduce by two-thirds, this will take between 5-10 minutes. Ensure you scrape any crispy bits from the bottom of the pan and incorporate them into the sauce.
Whilst the sauce is reducing heat a griddle pan over a high heat.
By now the pork will have had its time in the oven, check the temperature of the pork using a meat thermometer, I aim to remove the meat from the oven at 62°-65°C or 145°-150°F. Then rest the meat for 7-10 minutes. This will result in a perfectly cooked pork chop that has just a little pinkness when rested.
Once the sauce has been reduced turn the heat down to a gentle simmer and then pour in the cream and add the tarragon. Gently heat until the pork is ready to serve.
Finally, dry the pear slices and cook them in a griddle pan for 1-2 minutes per side.
Nutrition Information:
Yield:
2
Serving Size:
1
Amount Per Serving:
Calories:

858
Total Fat:

60g
Saturated Fat:

28g
Trans Fat:

2g
Unsaturated Fat:

26g
Cholesterol:

230mg
Sodium:

1230mg
Carbohydrates:

38g
Fiber:

5g
Sugar:

25g
Protein:

45g
Calorific details are provided by a third-party application and are to be used as indicative figures only.