Lamb goulash, a take on a birka (mutton) gulyas from the Great Hungarian Plain, a simple and delicious soup packed with root veg and paprika.
True Hungarian goulash or gulyás is always a soup and one that I became obsessed with during my 13 years living in the Hungarian countryside.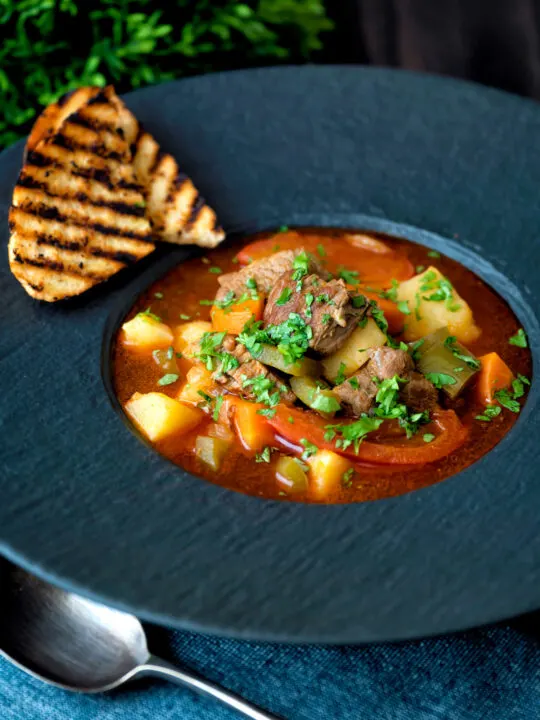 Hungarian Barany Gulyas
Goulash or gulyás as it is called in Hungary is a much-loved dish across central Europe.
No matter what you will read on the internet, the only hard rule for a true and "authentic" goulash is that it is a soup and not a stew.
It is a spectrum of dishes if you like. I have a classic Alfoldi Hungarian Goulash that features little balls of homemade pasta (csipetke).
I also have a babgulyas recipe which is a meat and bean goulash based on the dish served every year at the village day where we lived.
This lamb goulash recipe is based on a delicious birkagulyas. One that I used to order all the time from a local restaurant. That dish was made with mutton, although I have opted to use lamb here to make the dish more accessible.
A couple of other notable changes to a traditional goulash are the inclusion of parsnip and green pepper.
A white pepper would be traditionally used, they are common across central Europe. Green pepper is used as a sub here, you could add red or yellow peppers but they add a little too much sweetness for my liking.
Secondly, the inclusion of parsnip is in place of the parsley root that would be used in Hungary. It does add sweetness but I love the flavour, you could also use celeriac here.
If you want a Hungarian meat stew, check out my marha porkolt , a delicious beef stew and birkapörkölt or Hungarian Mutton Stew.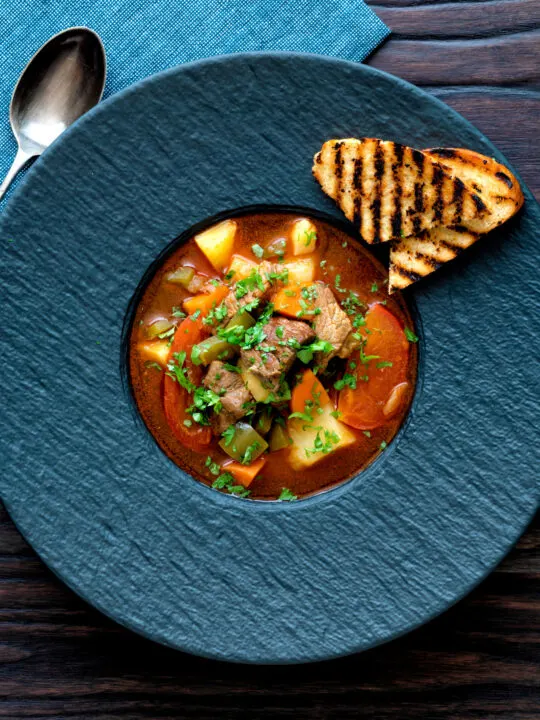 Frequently Asked Questions
Can I use smoked paprika?
You can, however, it will be very different to any goulash that you get in Hungary.

Smoked paprika is only available in either specialist stores or big supermarkets in Hungary. It is never really used in Hungarian cooking.
What cut of lamb should I use?
I typically use a bit of lamb leg or shoulder. Lamb neck fillet also works well, although that seems to be stupidly expensive for what it is in the UK.
Why use lamb stock and water?
I use lamb stock to make up for the relative lack of flavour between lamb or mutton. It gives the dish a little boost, but don't use all lamb stock, it masks the flavour of the paprika.
Why do you cook the paprika on top of the ingredients rather than mix it through?
Despite its bold flavour paprika is a delicate beast. Paprika is easy to burn and that makes it bitter, steaming it on top of the vegetables releases its flavour and as a result, keeps it nice and sweet.
Can I make this in advance?
Absolutely! In fact, give this a couple of days in the fridge and it will improve. It will store in the fridge for 3-4 days in an airtight container.
Can I freeze this?
Technically yes, but I find that the process of freezing dulls the flavours considerably, particularly of the paprika.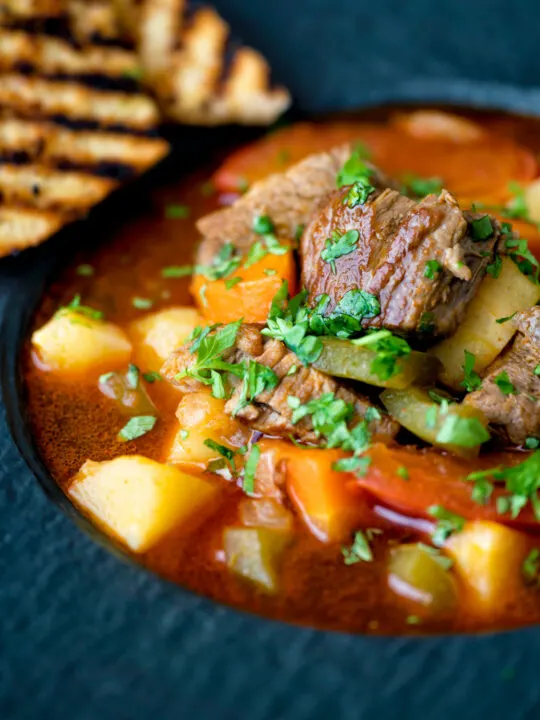 Serving Suggestions
I like to serve this lamb goulash recipe with some griddled bread that I have rubbed with a garlic clove.
I'd typically use something like a french stick and cut off a couple of slices.
Typically in Hungary dried hot peppers are served on the side of the dish and would be sprinkled on top if desired.
There is also a thick chilli paste called Eros Pista, it is essentially coarsely minced chilli peppers and salt.
I have taken to stirring sambal olek through some of my goulash dishes. It is definitely not Hungarian, but it adds a lovely flavour!
You can also add pasta.
Ignore folk that tell you that it is not done! There are dozens of "soup pastas" for sale in Hungary and it is fairly common to bulk out goulash with them.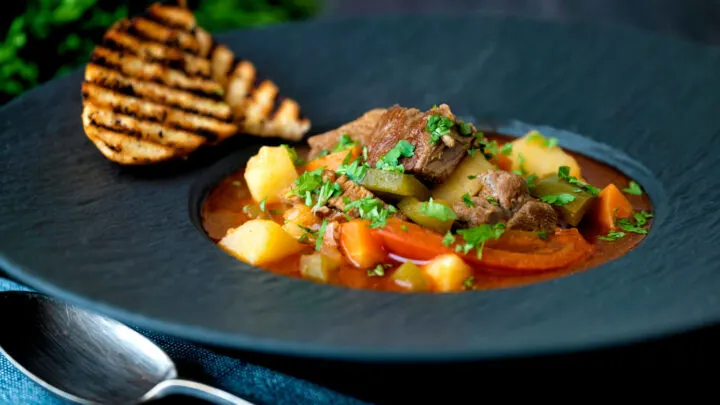 Equipment Used
I only mention specific brands of equipment if I think they make a material difference to a recipe. If you have any questions feel free to ask them in the comments section below the recipe.
Stovetop.
20-24cm or 8-10″ heavy-based saucepan with a lid.
Chopping board.
Kitchen knife.
Weighing scales and or measuring cups and or spoons.
Vegetable peeler.
Stirring and serving spoons.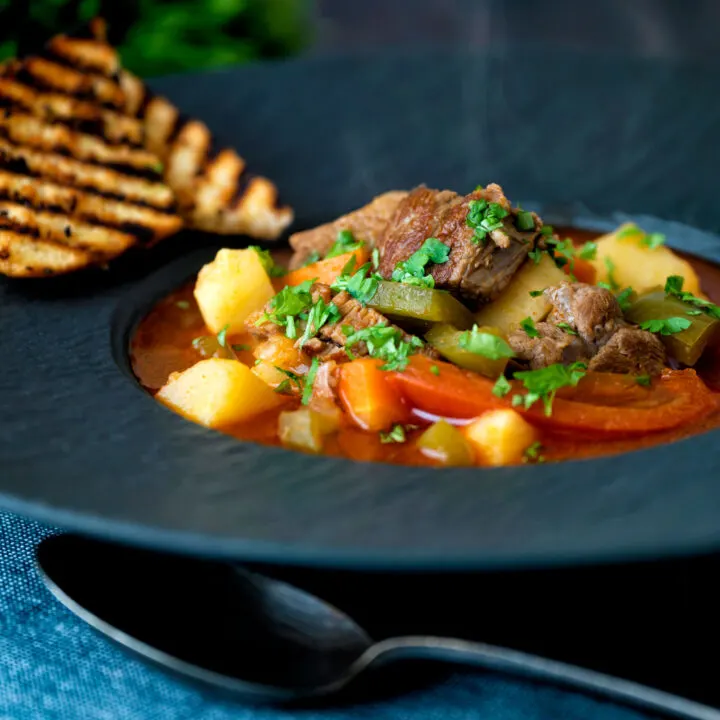 Yield:

2 Servings
Hungarian Lamb Goulash Recipe
Cook Time:
1 hour
20 minutes
Total Time:
1 hour
30 minutes
This lamb goulash uses ingredients easy to find in the UK and the US but still tastes like those served in the Hungarian countryside.
Ingredients
300g (10oz) Lamb
30g (2 Tbsp) Lard
100g (⅔ Cup) Onion
100g (⅔ Cup) Parsnip
150g (1 Cup) Potato
100g (⅔ Cup) Carrot
2 Medium (100g each) Tomatoes
1 Green Pepper
3 Tbsp Sweet Hungarian Paprika
500ml (2 Cups) Lamb Stock
250ml (1 Cup) Water
½ Tsp Salt
Instructions
Cut the lamb into a 2cm dice.
Peel and cut the onion into a 1cm dice.
Peel the potato and cut it into 2cm cubes.
Chop the parsnip and carrot into a 1cm dice.
Cut each tomato into 8 wedges.
Chop the green pepper into a 1cm dice.
Heat heavy-based saucepan with a lid (20-24cm or 8-10") over a high heat and add the lard..
Once the lard has melted add the lamb and cook it for 3-4 minutes stirring occasionally.
Add the chopped onion, parsnip, carrot, potato and salt, then cook for 5 minutes stirring regularly.
Turn the heat down to very low and sprinkle over the paprika, it is important that the paprika sits on top of the vegetables and not in the fat at the bottom of the pan. Then add a lid and cook gently for 10 minutes.
Remove the lid, add the tomatoes, green pepper and then pour in the stock and water.
Have a taste and add more salt as required, before simmering on low for 45-60 minutes.
Nutrition Information:
Yield:
2
Serving Size:
1
Amount Per Serving:
Calories:

870
Total Fat:

51g
Saturated Fat:

22g
Trans Fat:

0g
Unsaturated Fat:

25g
Cholesterol:

169mg
Sodium:

1117mg
Carbohydrates:

55g
Fiber:

10g
Sugar:

17g
Protein:

49g