Petits Pois a la Francaise is a classic French bistro recipe of braised peas and lettuce that features bacon, baby onions cream and butter.
It is a fantastic and easy side dish that cooks in well under half an hour that is equally good served with either meat or fish.
French Braised Peas and Lettuce.
French food has a reputation for being a bit "lahdedah". Whilst it is responsible for dishes like the fancy sounding but quite simple duck a l'orange much of the fayre is big bold and rustic.
Petits pois a la Francaise is one of those gloriously simple bistro-style dishes made from really simple ingredients.
It is very much in the same style as chicken forestière, coq au vin blanc or beef daube.
It is a quick and simple dish that comprises of braised peas, lettuce with bacon and baby onions. Throw in a bit of garlic, some stock, butter and a little cream and that is the lot.
It is a wonderful side dish that cooks in around 15 minutes in a single pan.
Preparation does take 10 minutes but all of it can be done well in advance and left in the fridge until you are ready to cook.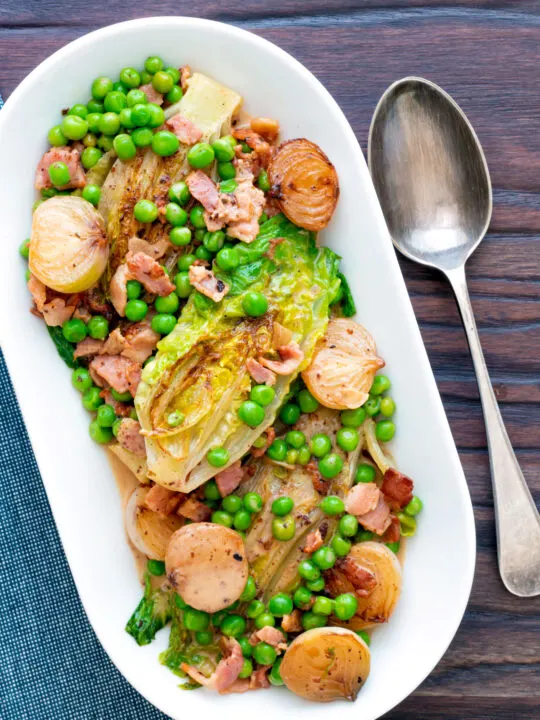 Frequently Asked Questions
Can I use frozen peas?
Absolutely. Frozen peas are genuinely the best of the frozen vegetables as far as I am concerned! I use them in everything from my pasta with peas recipe to my pea pesto!

To be perfectly honest unless you are growing your own peas or getting them really fresh from someone who is frozen peas are the best to use.

That does not mean that you cannot use fresh, I do… Although it takes twice as long to make this recipe as I eat at least half of what I pod.
What bacon should I use?
I like to use good old fashioned smoked streaky bacon. When it cooks it gives off the most wonderful fat that mingles with the butter and the cream.

I also find that the smokey flavour really works well with the sweet peas and lettuce.
Can I add herbs?
Yes, you can add many herbs to this dish. You should choose something that matches whatever you are serving this with.

If I am adding it to pork or chicken then use fresh thyme, if you are serving it with lamb then mint is the herb you want.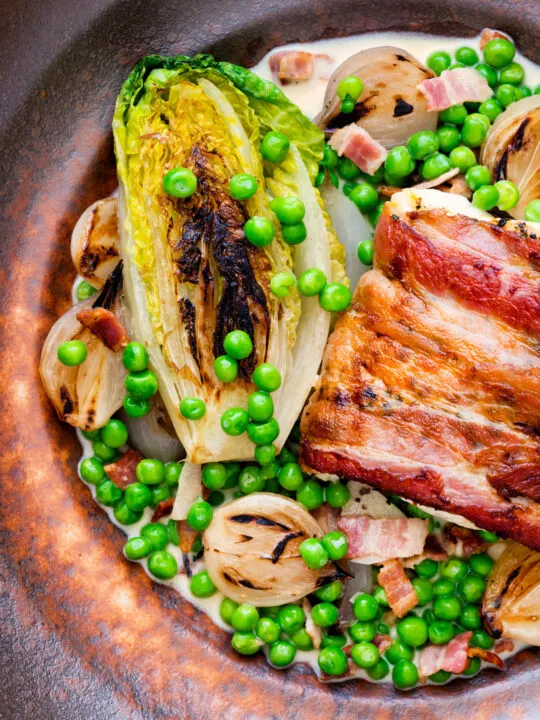 Serving Suggestions.
To be perfectly honest I could eat petits pois a la Francaise on its own… Locked in the kitchen… Straight from the pan… Just so I don't have to share!
But this recipe is a perfect dish to pair with any simply cooked meat or fish. The flavours, whilst being fairly big and bold, are complementary to most things.
Some personal favourites would be my herb crusted salmon or simply cooked pork belly slices.
But it would be equally as good served in a big bowl alongside a Sunday lunch. Some perfectly roast chicken or roast pork shoulder would be a grand main to serve alongside this simple French side.
You could practically throw anything alongside this recipe so long as it is not overly spiced and it would be divine!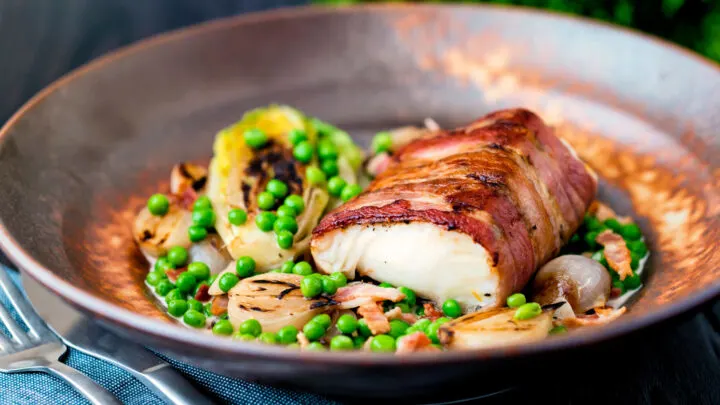 Equipment Used
I only mention brands of equipment if I think they make a material difference to a recipe. If you have any questions feel free to ask them inthe comments section belwo the recipe.
Stovetop.
30cm or 12″ nonstick frying pan or skillet.
Chopping board.
Kitchen knife.
Weighing scales and or measuring cups and spoons.
Stirring and serving spoons.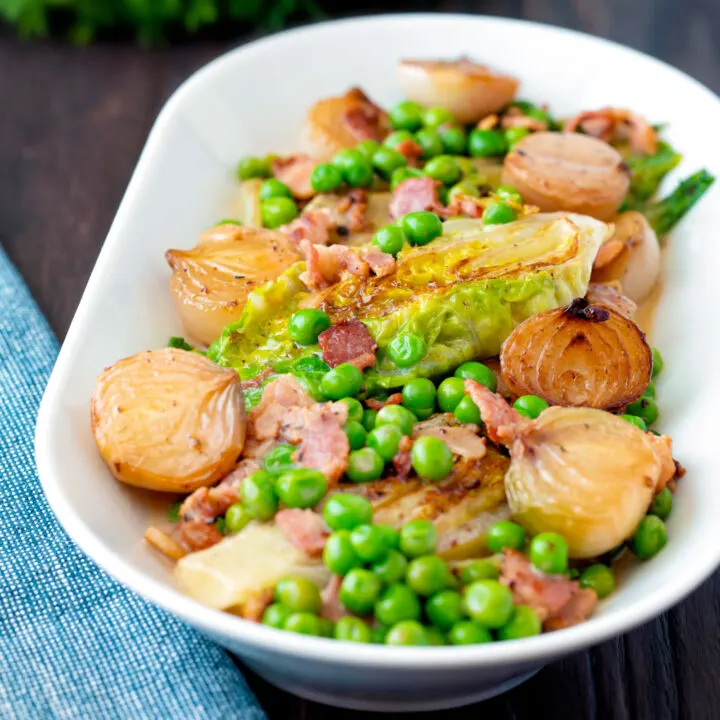 Yield:

2 Servings
Petits pois a la Francaise Recipe
Don't be put off by the fancy name petits pois a la Francaise is a simple rustic braised pea and lettuce dish from France.
Ingredients
100g (5-6 Rashers) Smoked Streaky Bacon
100g (6-7) Baby Onions
1 Garlic Clove
2 Baby Gem Lettuce
150g (1 Cup) Garden Peas
125ml (½ Cup) Chicken Stock
50 ml (3 Tbsp + 1 Tsp) Double Cream
½ Tsp Black Pepper
25g (1 Tbsp + 2 Tsp) Butter
Instructions
Cut the bacon into strips 5-6mm (¼") thick across the width of the rasher.
Cot the baby onions in half lengthways, then peel them and trim up the root end.
Finely slice the garlic cloves.
Remove the outer leaves from the lettuce, trim the base then slice each lettuce in half lengthways.
Run the peas under cold water to defrost them.
Heat a 30cm or 12" frying pan or skillet (non stick) over a medium high heat and when hot add the bacon and cook for 2-3 minutes.
When the bacon is starting to crisp crispy, turn the heat up to high and add the butter, garlic and stir.
Push the ingredients to the side and place the onions in the pan cut side down and sear for 3-5 minutes.
Once the onions have caramelised on the cut side push them to the side of the pan with the bacon and place the lettuce cut side down in the centre of the pan.
Cook the lettuce for 3 minutes again until it starts to take on some colour.
Flip over the lettuce and pour the chicken stock into the pan and reduce the heat to low, flip over the lettuce and stir everything together and cook for 2 minutes.
Add the peas, cream and black pepper and cook for a final minute or two before serving.
Nutrition Information:
Yield:
2
Serving Size:
1
Amount Per Serving:
Calories:

529
Total Fat:

38g
Saturated Fat:

18g
Trans Fat:

1g
Unsaturated Fat:

17g
Cholesterol:

107mg
Sodium:

1028mg
Carbohydrates:

23g
Fiber:

6g
Sugar:

9g
Protein:

25g
Calorific details are provided by a third-party application and are to be used as indicative figures only.