Krumpli at the movies… Watch the video and if you like it share it 😀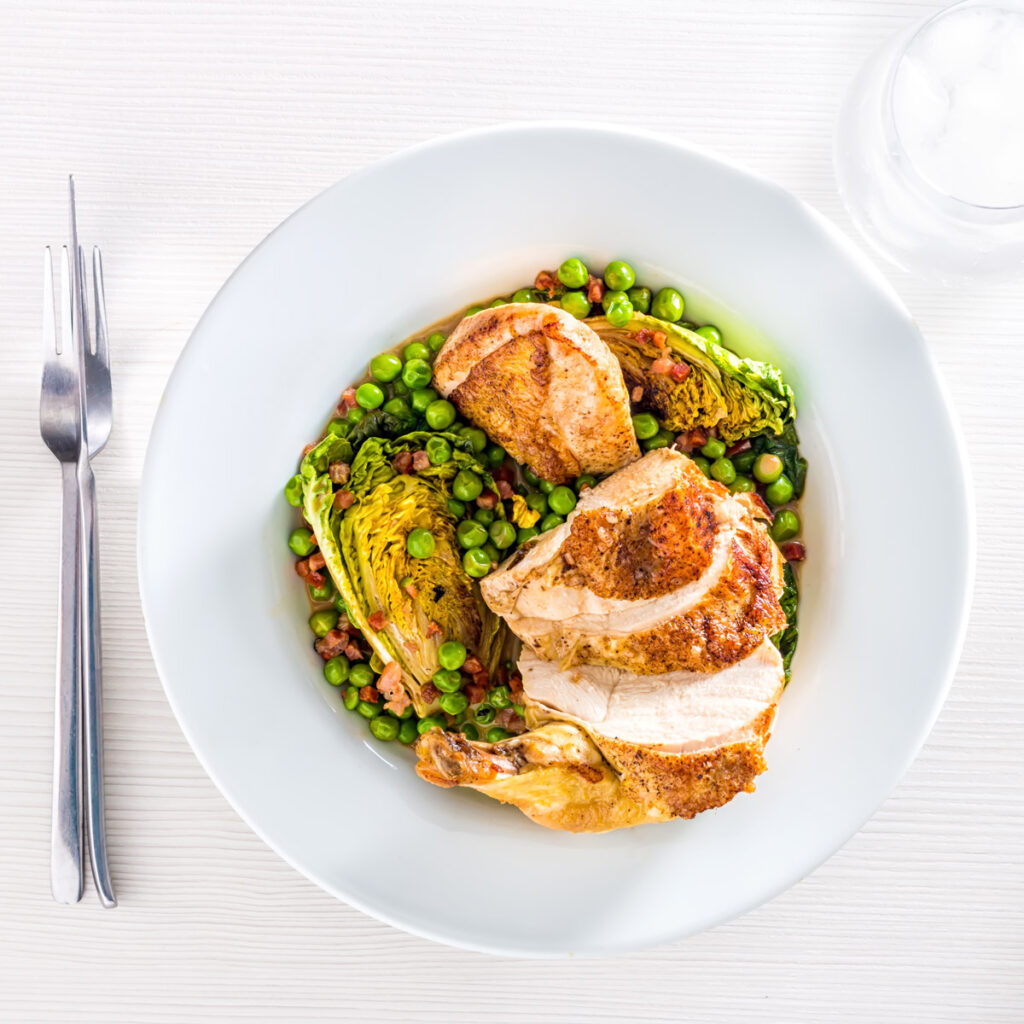 Don't you just love the French language, everything always sounds so effortlessly cool and sexy, however petits pois a la Francaise means nothing more sexy than French peas… Now, if like me, you love peas you know that they are pretty foxy but sexy? I'm not so sure. The dish though is the very epitome of why French food is held in such high esteem, it is so simple, essentially braised peas and lettuce with some bacon, garlic, butter and cream and I defy anyone not to fall in love at first bite. At this time of year I can feel free to use up all of our frozen peas from last year as we have already planted our new crop and petits pois a la Francaise is my go to dish to use them. I've served these with a simple butter roasted chicken supreme, but hell serve it with what ever you like, it just works, to be honest I would be happy with just a massive bowl of this and nothing to go with it!
In other news it is April, pretty much my favourite month of the year, now admittedly I am currently feeling a little battered, gardening has begun in earnest and my 4-5 months of inactivity is telling on my old bones. And I LOVE it, I may weep myself to sleep at night but growing food is what we moved here to do so getting back at it is always a euphoric time of the year, no matter how much pain  it brings. As a bonus by the end of the month I can put away my grown up long trousers and live in shorts and flip flops until winter comes back. Oh yeah, and there will be fresh peas before I know it, so even more petits pois a la Francaise!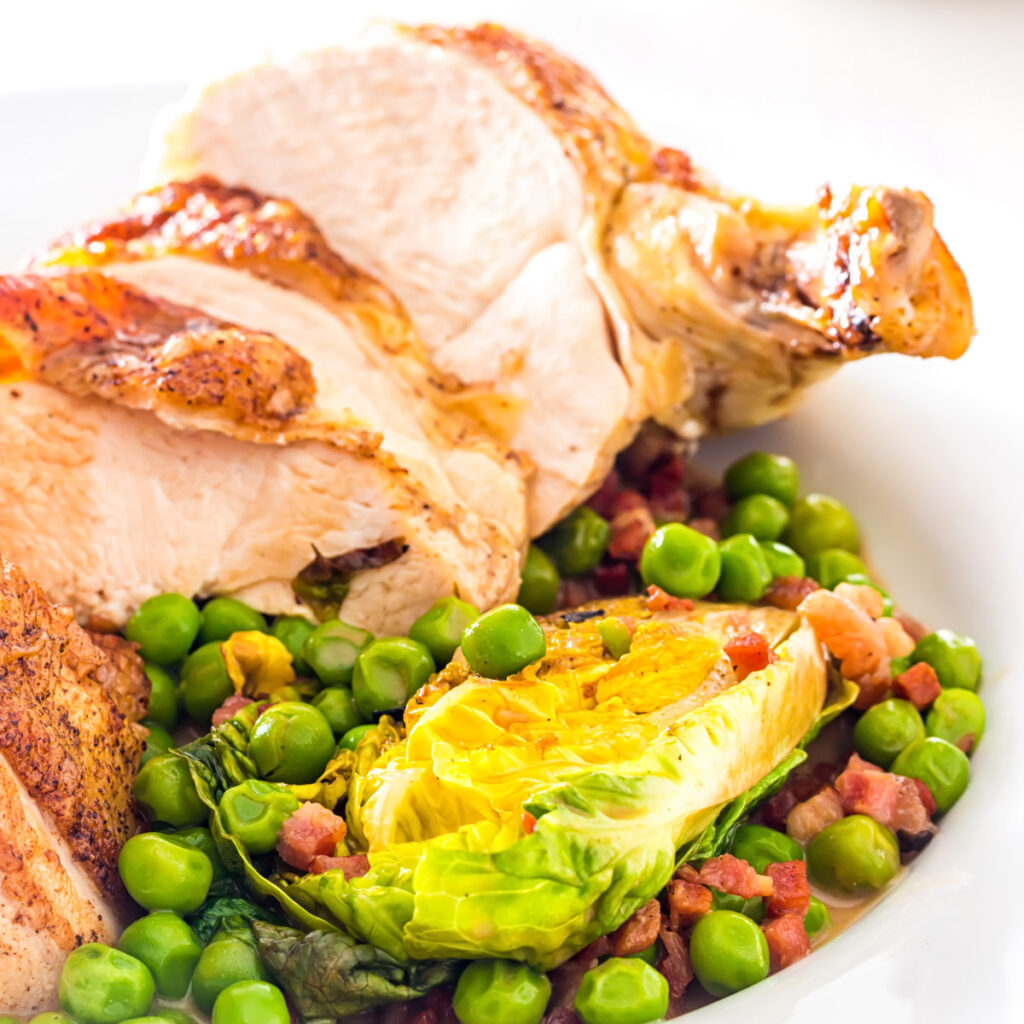 Print
Petits pois a la Francaise With Roast Chicken Breast
Don't be put off by the fancy name Petits pois a la Francaise is a simple rustic braised pea and lettuce dish from France and I serve it with a perfectly Roasted Chicken Breast.
Ingredients
2

Chicken Breast.

I prefer to use the Chicken Supreme cut but regular skin on chicken is fine

50

g

Salted Butter.

50

g

Streaky Bacon.

Cut into small 5mm chunks.

1

Garlic Clove

Finely sliced.

3

Baby Gem Lettuce.

Outer leaves removed and cut in half.

150

g

Garden Peas.

Frozen are just peachy, just defrost them before using.

100

ml

Chicken Stock.

50

ml

Double Cream.

Heavy Cream in the US.

Salt and Pepper

To taste.
Instructions
Preheat your oven to 180°C

Heat an oven proof frying pan over a medium high heat and when hot add in half the butter.

When the butter begins to foam add in the chicken breasts which you have seasoned with salt and pepper and sear on the skin side until golden. Should take 3-4 minutes. Then flip and transfer to the oven.

The chicken breast should take around 20 minutes to cook but you are looking for an internal temperature of 73°C.

Around 6-7 minutes before the chicken is ready heat another frying pan over a medium heat and when hot add the bacon and cook for 2-3 minutes.

When the bacon is crispy, turn the heat up a little add the garlic and sear the baby gem lettuce on the cut side for 2 minutes.

Flip over the lettuce and then add in the remaining butter and when it foams the chicken stock and double cream.

When this mixture comes to temperature add in the peas and cook for a further minute until the peas are warm.

Taste and add salt and pepper as required