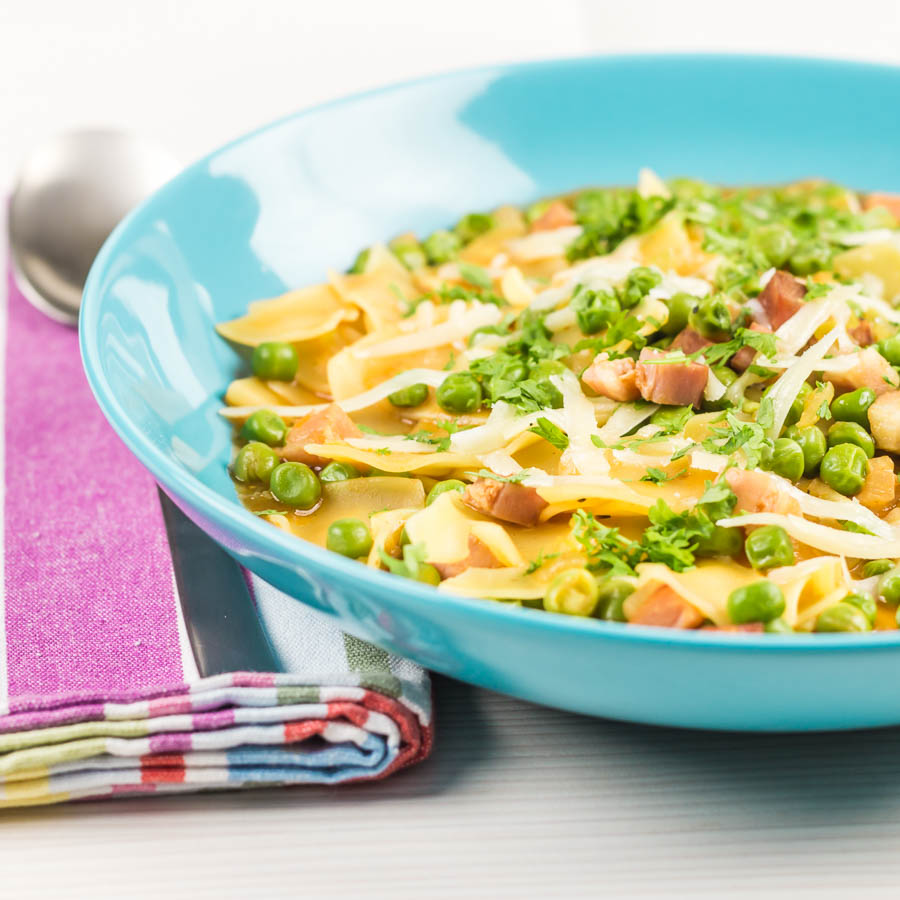 Pea, Bacon and Pasta Soup.
My latest recipe of Pea, Bacon and Pasta Soup may sound unusual. However, it is actually based on an old Italian recipe of pasta squares and peas in broth.
A recipe that I believe hails from the Lazio region surrounding Rome. Although I am happy to be corrected on that.
It is also a recipe carrying on the theme of peas and ham. One that I explored in my recent pea and ham risotto with goats cheese recipe.
And one more also… It is one of those stupidly simple recipes that manages to straddle being both light and filling all at the same time.
This is pretty much perfect for me at this time of year.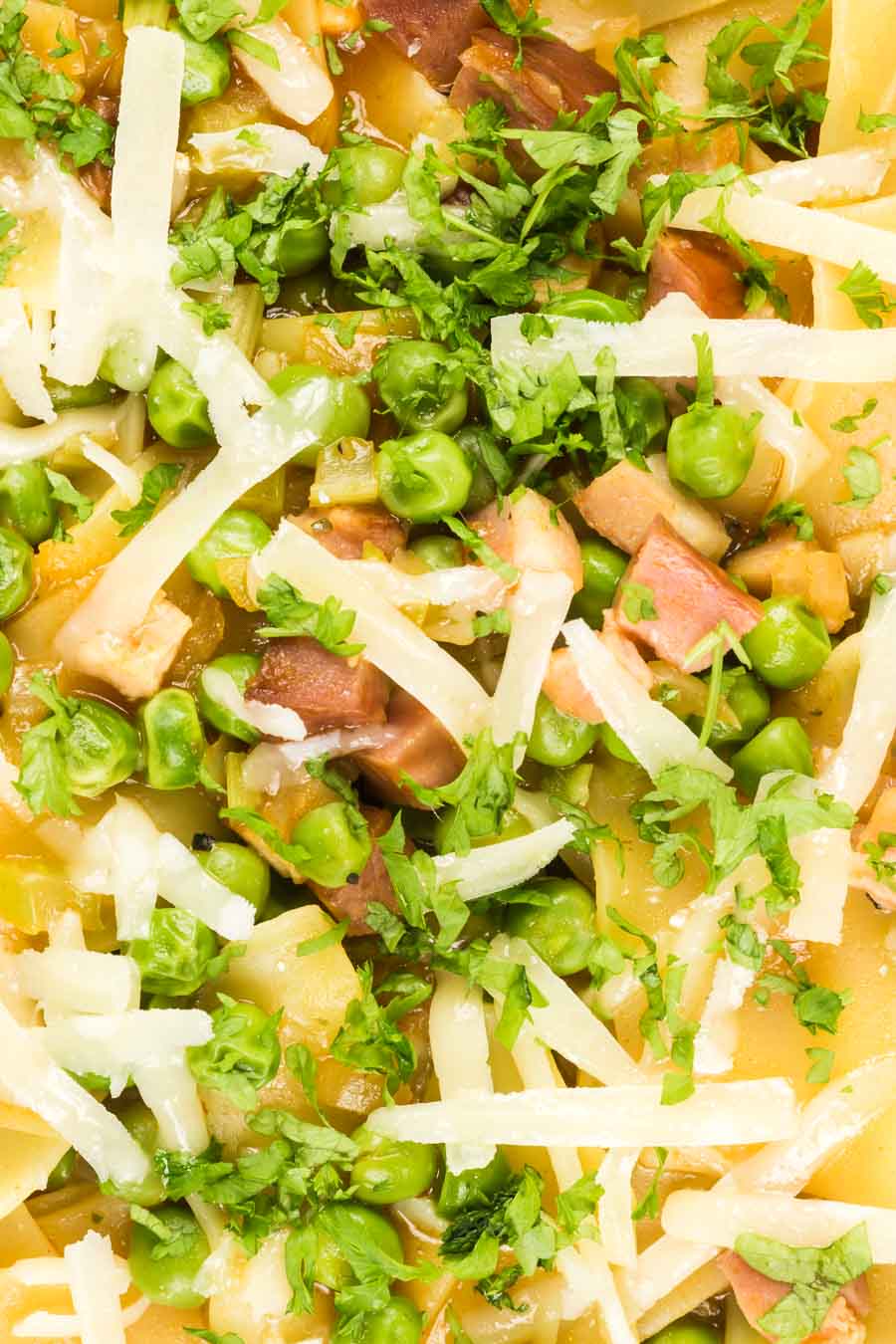 Spring is springing.
In case you had not noticed it is April on Sunday? How the hell did that happen? Anyway as a result of this many of our crops are in the ground. The first of our peas have managed to poke their head through the soil.
For that reason we are very blazé about using up the last of our frozen peas. In fact looking back through my recipe archive it would seem that this time of the year really is 'pea time' for me.
I guess it is because I know I am 8-10 weeks away from topping up our freezer with another 12-15kg of fresh peas. That of course does not count the ones I use fresh or just nibble on as a snack.
Yes I am perfectly happy nibbling on peas in the same way many people nibble on nuts or crisps. Crisps, for my American readers, are what you guys call chips!
Anyway, even if you are not trying to deplete your freezer stock, you should definitely give this pasta soup a run through the mill!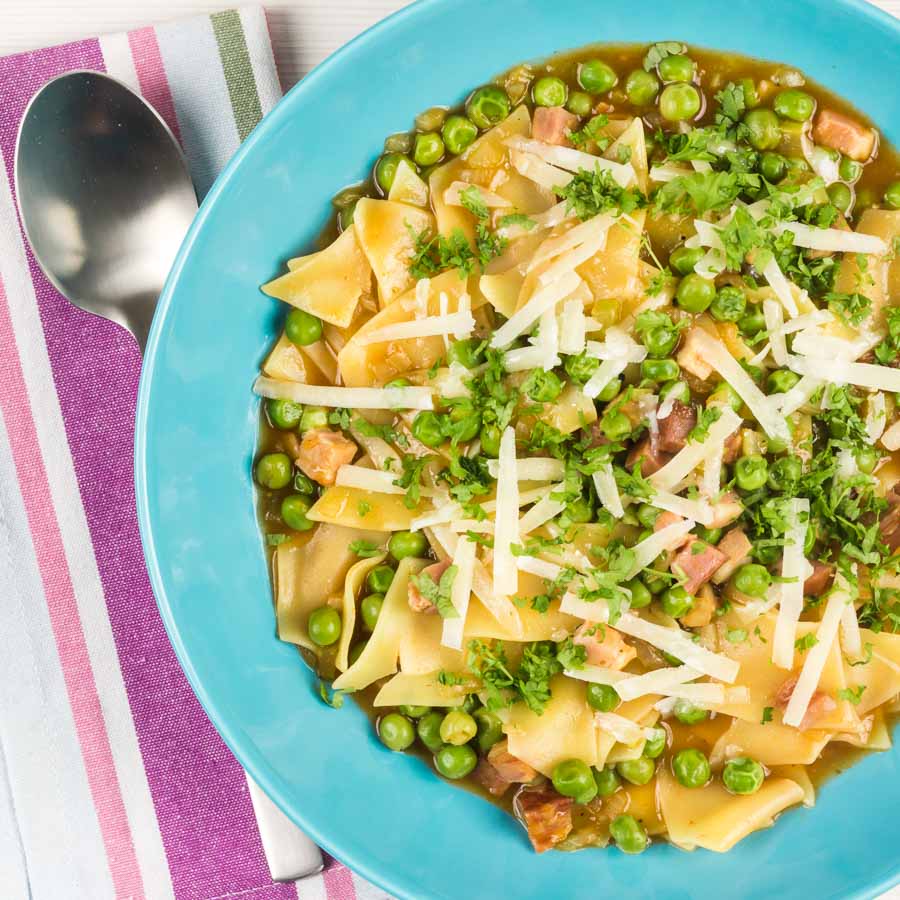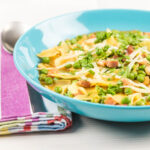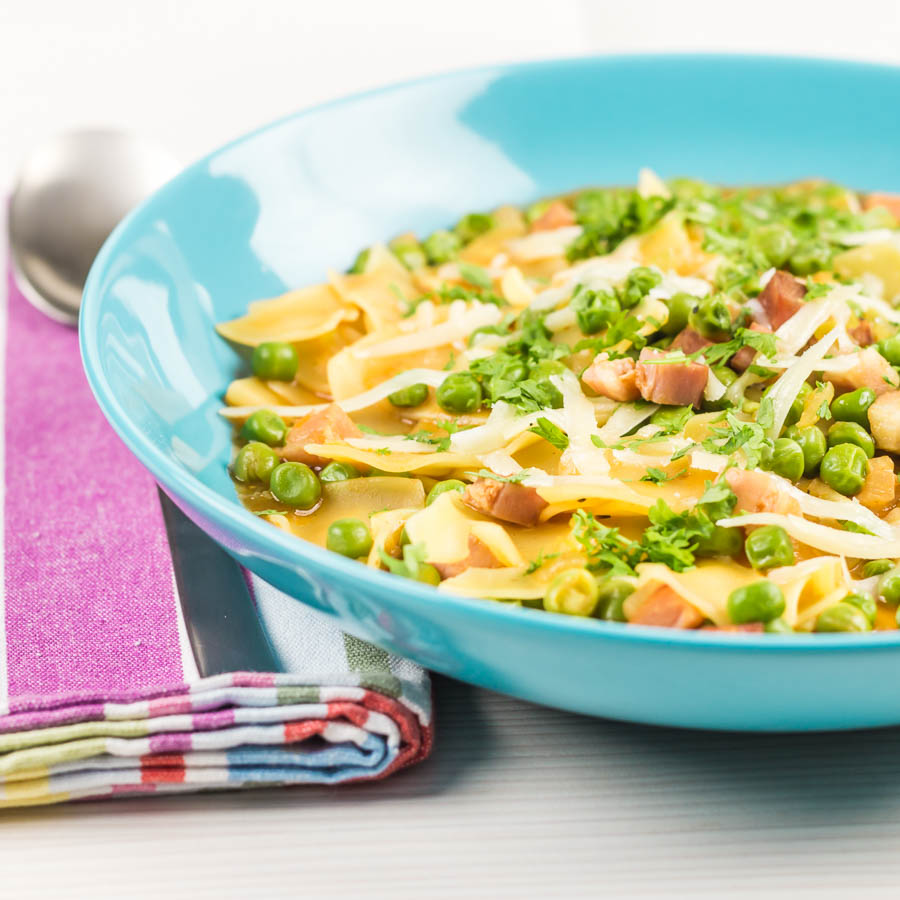 Pea, Bacon and Pasta Soup
Adding pasta to a soup is a long held way of adding bulk to simple flavours and this pea, bacon and pasta soup embraces that idea to create satisfyingly simple but filling dish for early spring!
Ingredients
75

g

Onion

Finely diced.

30

g

Celery

Finely diced.

1

Tbsp

Olive Oil

100

g

Pancetta

Cut into a 5mm dice.

200

g

Frozen Peas

1

Tsp

Tomato Puree

500

ml

Chicken Stock

150

g

Pasta Squares

Use chopped up lasagna if you wish.

Salt and Pepper

To taste.

Parmesan Cheese

Optional.
Instructions
Heat a pan over a medium heat and when hot add the oil.

Afterwards add the onion, celery and half of the pancetta and cook for 10 minutes.

Whilst this is cooking par cook the pasta for 4-5 minutes in boiling water.

Add the frozen peas to then pan and stir until defrosted.

Shortly after this pour in the chicken stock and add the tomato puree and stir.

Once this has come to the boil add in the pasta squares and remaining pancetta, then reduce the heat and simmer until the pasta is cooked.

Serve sprinkled with coarsely grated Parmesan cheese and freshly chopped parsley.