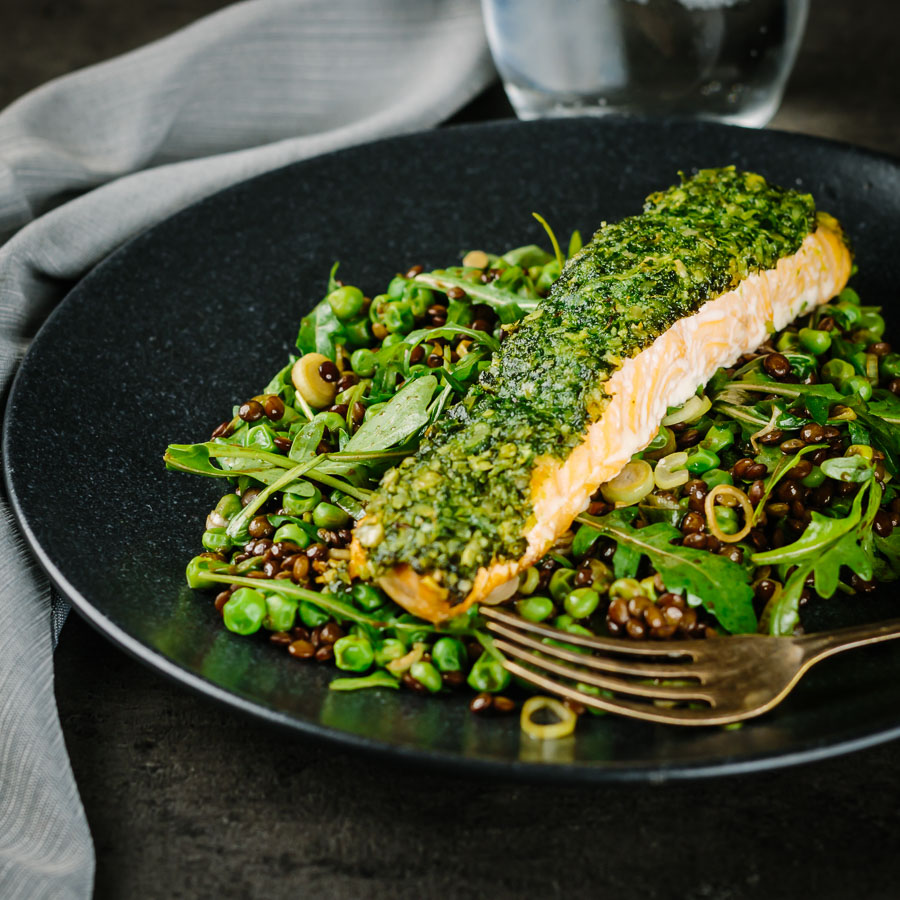 Herb Crusted Baked Salmon With Peas and Rocket
I typically grill or fry salmon because it is quick and simple but I love a bit of baked salmon too and this verdant green number is inspired by the changing content of our supermarket shelves. It may only be the end of February but the green stuff is returning and I will be shortly planting crops, in fact this time next month. As a result I am also not worried about using up our peas from last year.
This recipe is glorious, peppery from rocket which compliments the almost peppery flavour of puy lentils and a little sweet and sour flavour from the peas and balsamic to sit along side the rich baked salmon.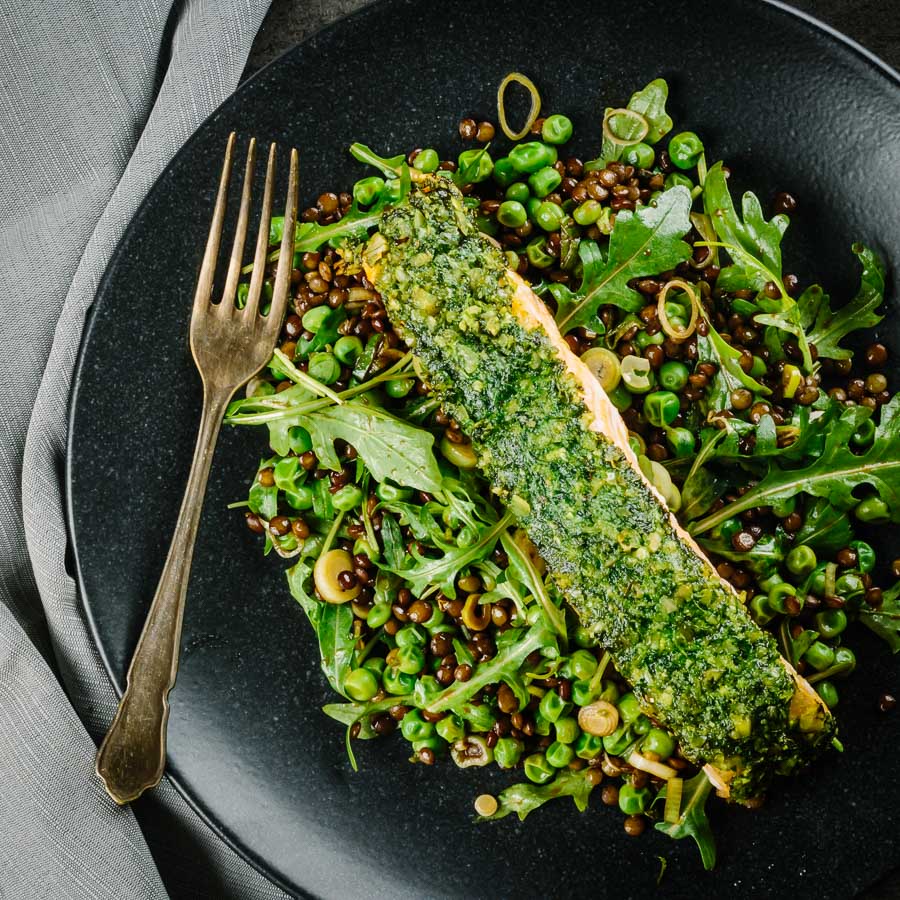 Sadly salmon does not appear here as often as I would like. Consequently it is typically very expensive here and of questionable quality, but I found a nice big piece that looked good so snaffled it up to work on this idea.
Most of my salmon recipes here are like my quick Korean salmon or teriyaki salmon, because they are flavours I know just work. But this baked salmon dish is much more European in concept with the herb crust being a favoured approach with a rack of lamb.
It is however one that works fantastically with the richness of the salmon. Fingers crossed for more colour over the coming weeks and a little less brown!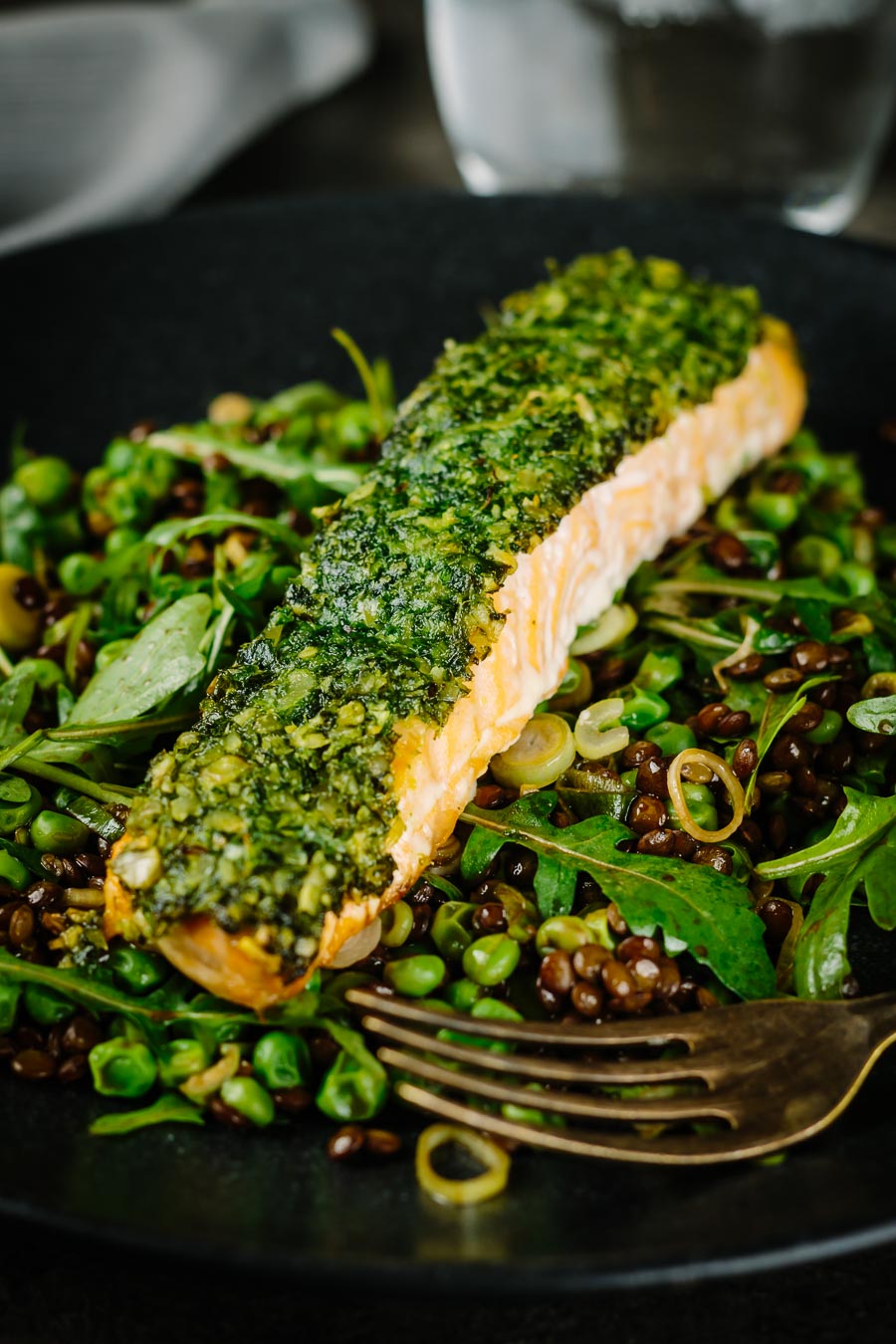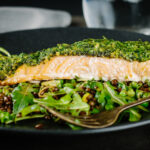 Herb Crusted Baked Salmon With Peas and Rocket
Baked salmon is a beautiful thing and this herb crust salmon is served with a vibrant green warm lentil salad and a simple but great balsamic dressing.
Ingredients
240

g

Salmon Fillet:

Cut into two portions.

35

g

Hazelnuts.

15

g

Parsley.

20

g

Rocket.

2

Tbsp

Olive Oil.

1

Tsp

Salt.

75

g

Puy Lentils.

1

Bay Leaf.

50

g

Spring Onions:

Finely sliced.

150

g

Peas:

Frozen is fine.

2

Tbsp

Balsamic Vinegar.

1/2

Tsp

Dijon Mustard.

1

Handful

Rocket.
Instructions
Place the 15g of parsley and 20g of rocket in a blender with one tablespoon of olive oil and half a teaspoon of salt and blend to a paste.

Add in the hazelnuts and pulse you do not want to take this all the way down to a smooth paste.

Sandwich between two pieces of baking parchment and roll out so that it is big enough to cover the top of both slices of salmon and chill for 20 minutes.

Place a pan of water on the stove and add the lentils, bay leaf and a quarter of a teaspoon of salt and bring to a boil.

When boiling reduce the heat to low and allow to simmer for 25-30 minutes.

Heat your oven to 180°C or 350°F.

Top your salmon with the crust and then place in the oven and cook for 15 minutes (timed to finish cooking 30 minutes after the lentils go to simmer).

Meanwhile cook your peas for a couple of minutes so that they are still hot when your lentils and salmon is cooked.

Mix together together the balsamic vinegar with a tablespoon of olive oil, mustard and a quarter of a teaspoon of salt to form a dressing.

Add the peas, lentils, spring onions to the dressing and toss to coat.

Mix in the rocket leaves to the lentils then place on the base of the plate.

Top with the salmon and serve.