The baked cod ain't your run of the mill fish supper, it looks fantastic, tastes delicious and can go from your fridge to table in 40 minutes, and that includes everything. Much of it can be prepared in advance too, making it a great date night dinner built to impress!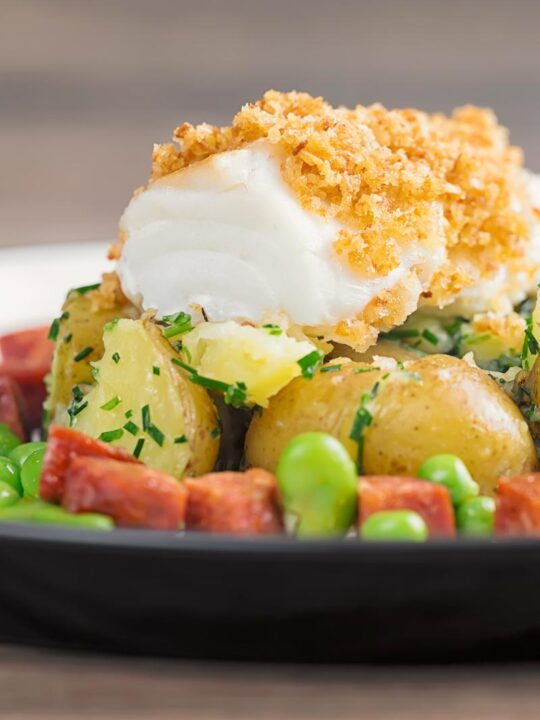 Baked Cod Fillet, Crushed New Potatoes, Chorizo, Broad Beans and Peas.
When I was growing up a fish supper was fish and chips from the chip shop if I was lucky!
It remains a firm favourite although a fancy fish supper is more likely to resemble this cod recipe, my sea bass curry or my pan-fried skate wings.
As far as I am concerned recipes like this need to be presented as a single recipe.
Each aspect of this complete meal is designed to add something to the dish and removing any part does no favours to the recipe.
The centrepiece is the cod fillet which we bake and top with some crunchy buttery bread crumbs.
Now cod is an expensive and luxury piece of fish. Fortunately, it has a big flavour and a little goes a long way. I use the same 135-150g loin portion that I use in my baked cod in tomato sauce recipe.
We pair it up with some crushed new potatoes that we add some chives and more butter too.
We add a bit of paprika in the guise of some beautiful chorizo sausage, which adds a little flavour and piquancy to the sweet fresh peas and broad beans.
Chorizo works so well with fish and seafood, it also features in my fried calamari rings recipe.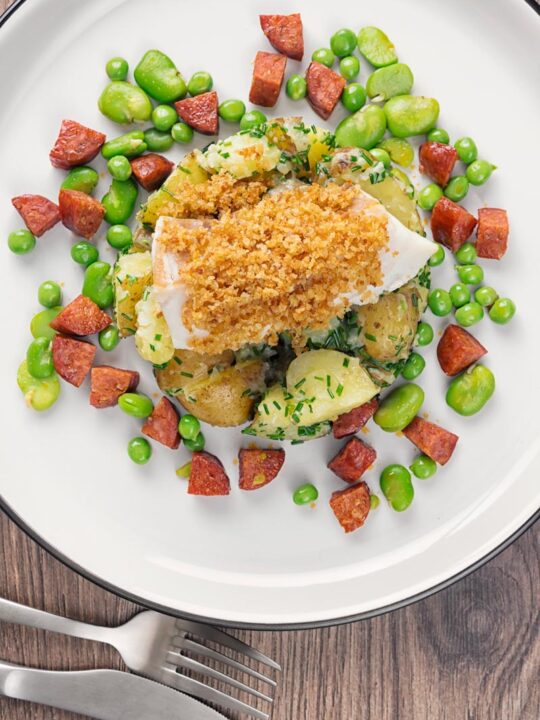 Advance Preparation.
Much of this recipe can be prepared in advance if you wish, making it an ideal date night dinner. My methodology talks you through creating this meal in one go, but this section will help you cut out much of the time in the kitchen
We have three aspects to this recipe, the baked cod… Now that really needs to be cooked right at the end. But you can prepare the buttered bread crumbs up to a day in advance.
Likewise, the chorizo sausage and broad beans can be prepared the morning of the meal and cooked at the last minute. I'll cover preparing broad beans in more detail in the next section.
Then we have the new potatoes, these take 6 or 7 minutes longer to cook than the fish. They really need cooking at the same time, however, you can scrub and chop them in advance.
If all your prep is done your timeline should look like this
0 Minutes: Put on potatoes to cook and preheat the oven.
6 minutes: Place cod in the oven.
10 minutes: Add Chorizo to a pan.
16 minutes: Add breadcrumbs to fish and return to the oven.
18 minutes: Add peas and broad beans to the Chorizo.
20 Minutes: Crush the potatoes with butter and chives.
21 Minutes: Plate up!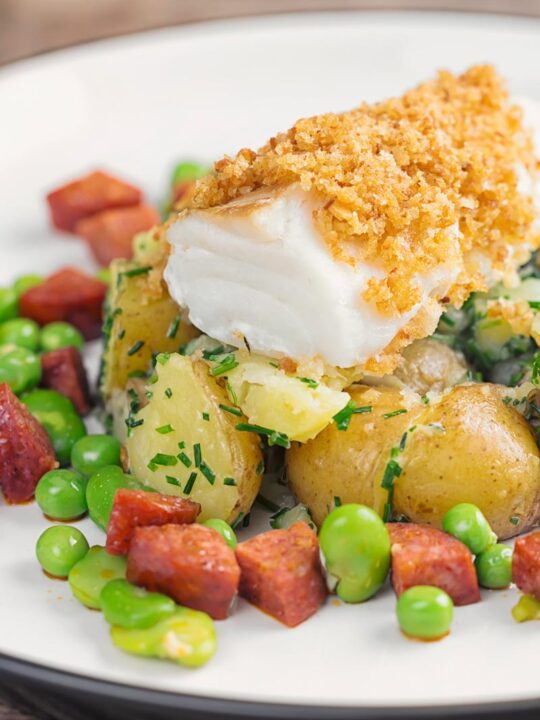 How to Prepare Broad Beans.
I love broad beans, they are also known as Fava Beans, you know the beans that Hannibal liked with liver and a nice Chianti.
They are delicious but they require a little more work to use them in a recipe like this.
When fresh they come in a pod, just like all beans and peas. All you need to do is crack open that pod and remove the bean.
You will note that they are pale green/white and have a leathery skin.
So long as they are young then they are not unpleasant to eat like this, in fact, this is how they are used in my Traditional Paella recipe.
But when used in a salad you need to pop off that skin.
To do this they need boiling for 2 minutes and then cooling in cold water. Then if you pinch the bottom they should slide right out.
If you do not boil them then you will just damage the delicate green bean below.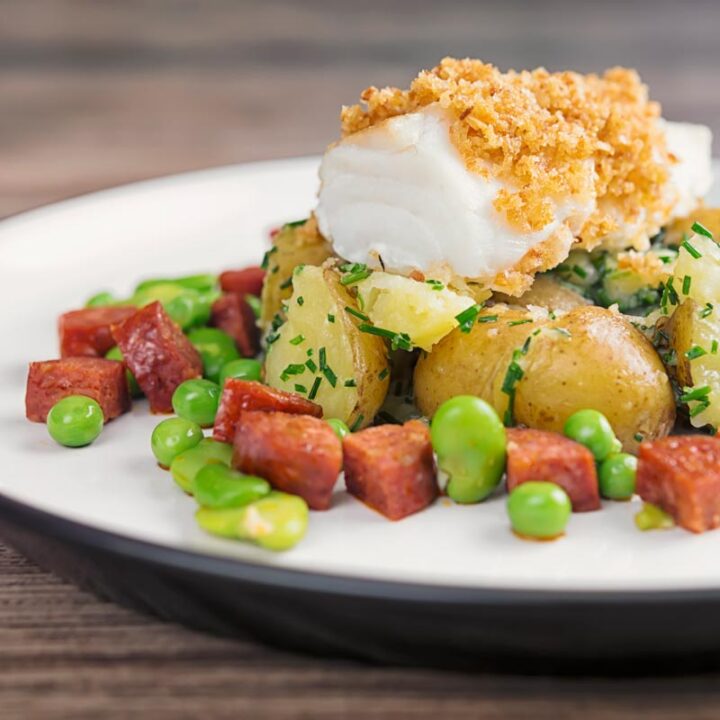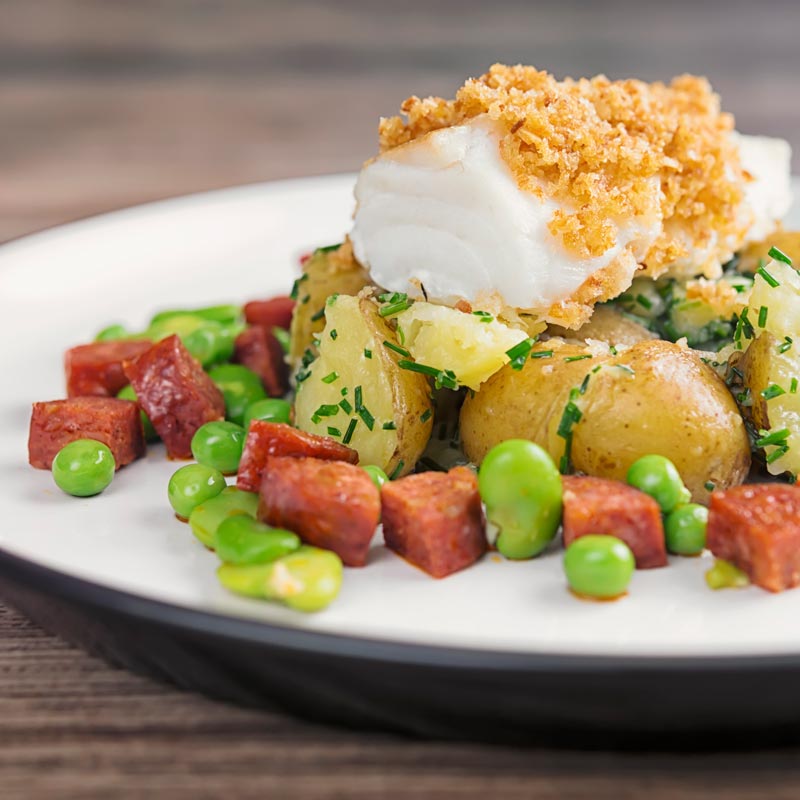 Yield:

2 Servings
Baked Cod Fillet with Crushed New Potatoes
Great ingredients do not need a lot of work, here we take a simple baked cod fillet with a crispy topping. Then serve it on top of some lightly crushed new potatoes and serve along side broad beans, peas and Chorizo sausage.
Ingredients
250 g (9 oz) Cod Fillets
300 g (2 Cups) New Potatoes
75 g (1/2 Cup) Chorizo Sausage
100 g (2/3 Cup) Broad Beans*
50 g (1/3 Cup) Peas
50 g (3 Tbsp + 1 Tsp) Butter
10 g (1/3 Cup) Chives
Salt to taste
Instructions
Cut the new potatoes into quite small portions, around 15g each.
Bring a pan of salted water to the boil.
When the water boiling throw in the potatoes and cook for 20 minutes.
Dice the Chorizo sausage into 5mm coins and then into quarters.
If you are using whole broad beans remove them from the pod then plunge them into rapidly boil water.
HINT: Pop the broad beans in a colander and stick it in the boiling water of the potatoes for two minutes.
Cook for two minutes and then plunge into iced water.
Pop the broad beans out of their leathery jackets and set aside.
After the potatoes have been cooking for 6 minutes season the cod fillets with salt and place in a hot oven at 200°C or 400°F and cook for 10 minutes.
Melt half of the butter over a medium heat and add the breadcrumbs.
Cook until golden which should take 5 minutes.
Remove the bread crumbs and set aside.
Wipe out this pan and then place back on a medium low heat.
Add the Chorizo sausage and slowly heat allowing the fat to slowly render out.
Your fish should now have had 10 minutes.
Remove from the oven and arrange the bread crumbs on top of each fillet.
Return to the oven and cook for another 3-4 minutes.
Chop the chives.
A couple of minutes before the potatoes and fish are cooked, drop the peas and broad beans into the pan with the Chorizo and heat through gently.
The potatoes should now be cooked, drain them and place in a bowl with the butter.
Stir to melt the butter and gently crush, we do not want mashed potato.
Add the chives and combine.
We are now ready to plate. Start with some of the crushed potatoes in the centre of the plate. I use a form to get a nice neat shape.
Add the cod on top of the potatoes.
Spoon around the Chorizo and broad bean mix.
Notes
*The weight for the broad beans refers to the prepared weight. If you are working with broad beans in the pod work on between 225g and 250g to yield 100g of beans.
Nutrition Information:
Yield:
2
Serving Size:
1
Amount Per Serving:
Calories:

698
Total Fat:

36g
Saturated Fat:

19g
Trans Fat:

1g
Unsaturated Fat:

15g
Cholesterol:

156mg
Sodium:

1148mg
Carbohydrates:

46g
Fiber:

8g
Sugar:

4g
Protein:

47g
Calorific details are provided by a third-party application and are to be used as indicative figures only.