Homemade tartar (tartare) sauce blows its store-bought counterpart out of the water when made from scratch and it is remarkably quick & easy.
The base of this classic French sauce is a homemade mayonnaise which is then flavoured with cornichons, capers and dill.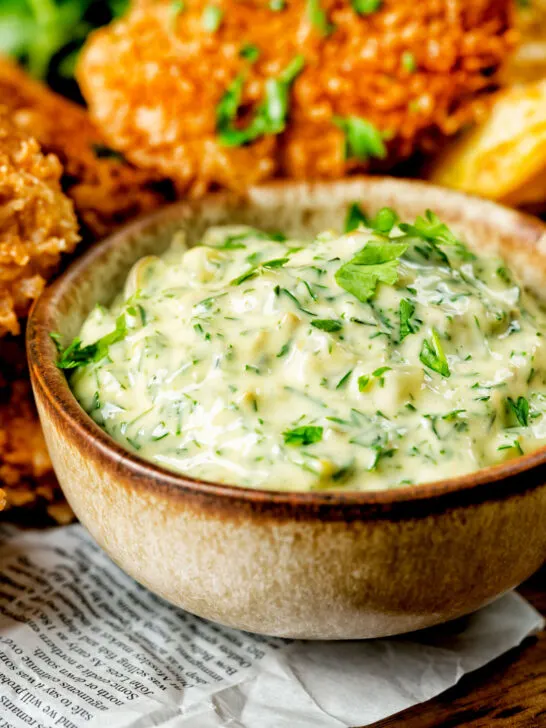 Classic French Sauce Tartare
The origins of tartar (originally tartare) sauce are a little muddy, it has been knocking around in French cookbooks since the 1800's.
It is generally believed to have originated in France in the late 1700's, not too long after the first preparations of mayonnaise.
It is very closely associated with fish in modern cooking. However, it was originally mentioned as a side for steak tartare, which probably explains the name.
At the heart of the sauce is a classic mayonnaise, I make mine from scratch, because it is so good. I also usually have the ingredients in the cupboard and it takes just 10 minutes.
Then it's in with pickles and herbs and some form of acid.
I always use cornichons, little French gherkins and capers. I usually play a little loose with my choice of herbs, here I have gone with dill, but you could use parsley and tarragon is also very good.
Then you chuck it all in a bowl and give it a mix with some lemon juice or vinegar. I use the vinegar from the jar of cornichons to keep the flavours all in the same area.
That's it, once you learn how to rustle this up you'll never want the jarred tartar sauce again!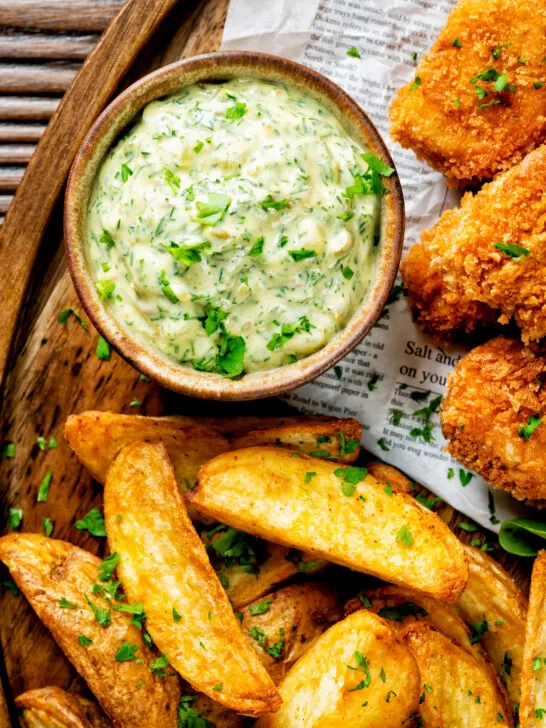 Frequently Asked Questions
Can I use store-bought mayonnaise?
Yes, of course. You just need to chop your herbs and veggies and add them then tweak the flavours to your liking.

You should get the best mayo you can find though in order to get the best tartar sauce.
Do I have to make the mayonnaise by hand?
No, I talk through making mayonnaise in a food processor in my homemade mayonnaise recipe.

Depending on your food processor you will likely need to double the recipe to get the ingredients to emulsify.
Can I make this in advance?
Yes, this should be good in the fridge for up to 5 days.

However, I think it is at its best after 3-4 hours, if I am planning ahead I would make the mayo, put it in the fridge and then add the flavouring a few hours before I need the sauce.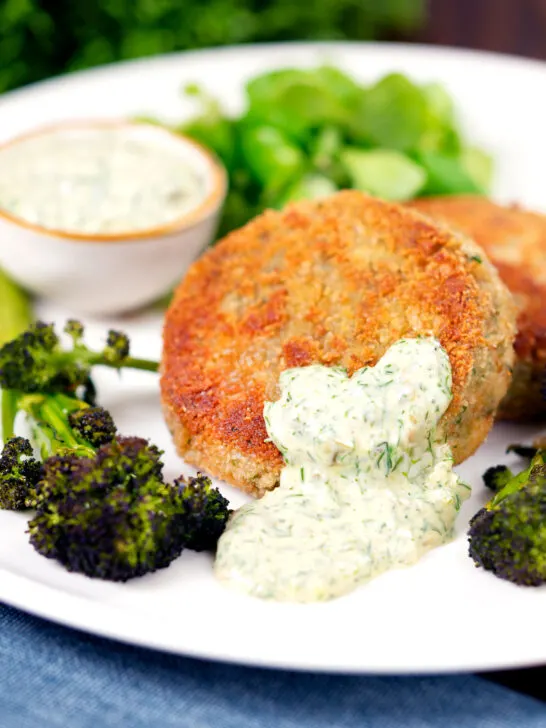 Serving Suggestions
A classic tartar sauce has a long-standing affinity with fish and I pretty much exclusively use it for fish dishes.
It is pictured below with some fish goujons and above it is served with my tinned mackerel fish cakes.
My smoked haddock fish cakes, fresh salmon fish cakes or even some yummy crab cakes would make equally good partners for this sauce.
I love to serve it with breaded fish, it is superb with my baked cod in lemon and thyme breadcrumbs, I've even served it with my breaded calamari rings.
Finally, break out the fish and chips because they are always a winner with tartar sauce.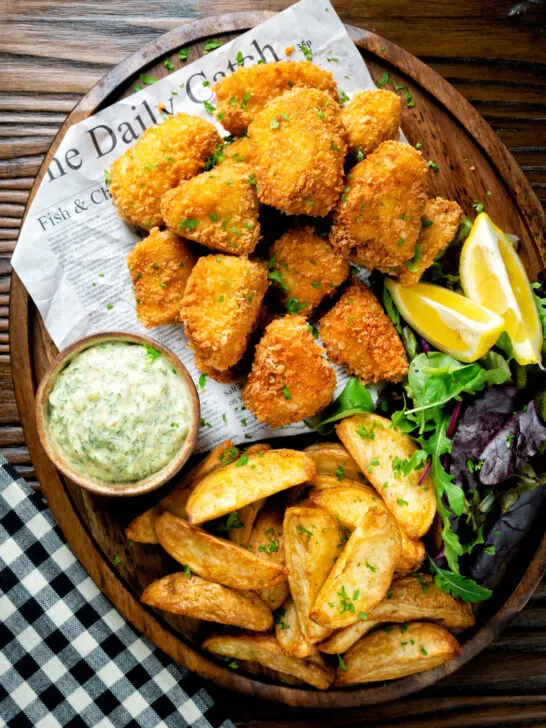 Equipment Used
I only mention brands of equipment if I think that they make a material difference to a recipe. But if you have any questions feel free to ask them in the comments section below the recipe.
Mixing bowl.
Whisk, you can use an electric whisk or even a food processor. If you are using a food processor you may need to double the recipe.
Chopping board.
Kitchen knife.
Weighing scales and or measuring jug, cups and spoons.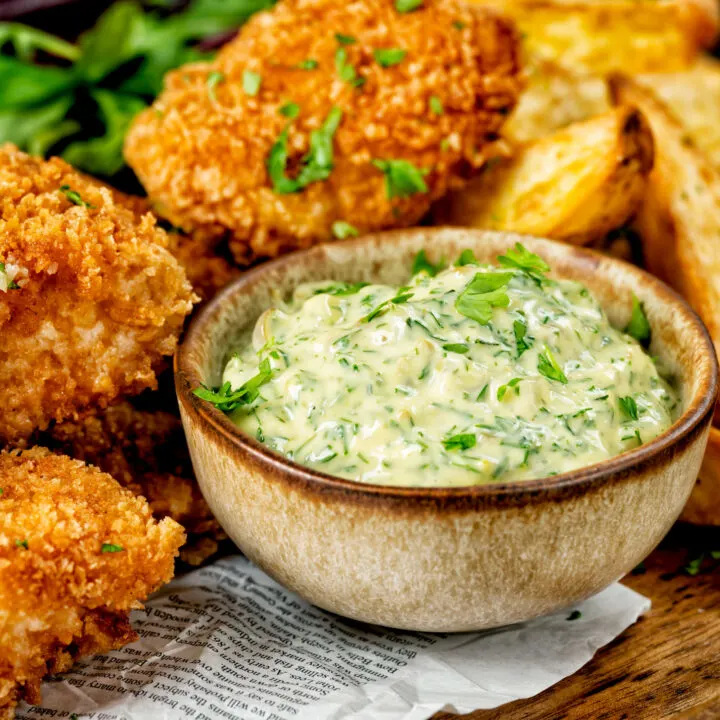 Yield:

Approximately 175ml or ¾ Cup
Homemade Tartar Sauce Recipe
Tartar or tartare sauce is one of the all-time classic French sauces that dates to the mid-1800s, it is a mayonnaise-based sauce with capers, and cornichons, my version includes dill.
Ingredients
1 Large Egg Yolk (at Room Temperature)
½ Tbsp Dijon Mustard
125ml (½ Cup) Groundnut or Rapeseed
20g (2 Tbsp) Capers
25g (2-3) Cornichons
2-3 Tsp Pickling Juices from the Cornichons
¼ Tsp Salt
20g (⅓-½ Packed Cup) Fresh Dill
Instructions
Add the egg yolk and Dijon mustard to a bowl and whisk until combined.
Add half a teaspoon of oil and whisk until completely emulsified, then add a teaspoon of oil and whisk again until your mix is completely emulsified.
Repeat this process until all of the oil is added and you have a thick mayo, as you get past the first 3-4 teaspoons you can start adding more oil at a time.
Dice the cornichons and add them to the mayonnaise.
Roughly chop the capers and add them to the mayonnaise.
Finely chop the dill, add it to the mayo with the salt then give it a stir.
Have a taste and add in the pickling juices from the cornichons, you should do this to taste. You can also swap this out for vinegar or even lemon juice.
Nutrition Information:
Yield:
1
Serving Size:
1
Amount Per Serving:
Calories:

1216
Total Fat:

128g
Saturated Fat:

11g
Trans Fat:

1g
Unsaturated Fat:

111g
Cholesterol:

370mg
Sodium:

1459mg
Carbohydrates:

9g
Fiber:

2g
Sugar:

5g
Protein:

11g
Calorific details are provided by a third-party application and are to be used as indicative figures only.