Salmon and tinned sardines combine in these beautifully simple fish cakes that feature hints of chives, tarragon and garlic.
These fish cakes are easy to make but do take a while, however, they can be made in advance, stored in the fridge or frozen and once made they take less than 10 minutes to cook.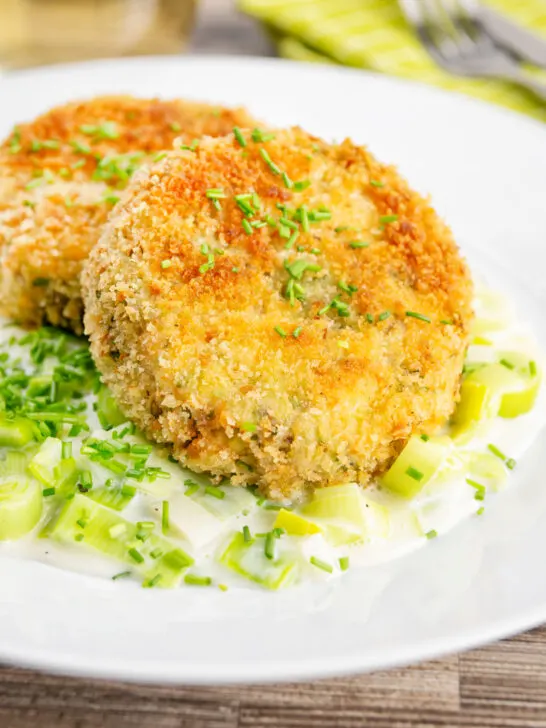 Crispy Golden Fish Cakes
Regular visitors here will know that I have a thing for fish cakes.
I adore them, they were always a favourite of mine on school dinner menus, I always had them with chips or fried potatoes… because the youthful me could never get enough spuds!
Looking back at those memories, I am pretty sure that those fishcakes were awful, but fond memories often blur the reality.
However, those memories have led to a slew of recipes that are very much not awful they are pure magic!
I have everything from tinned mackerel fish cakes, to classic smoked mackerel fish cakes, and even some spicy tuna fish cakes.
My latest iteration is some delicious salmon fish cakes that combine fresh fish with canned sardines.
They are simple to make and absolutely delicious!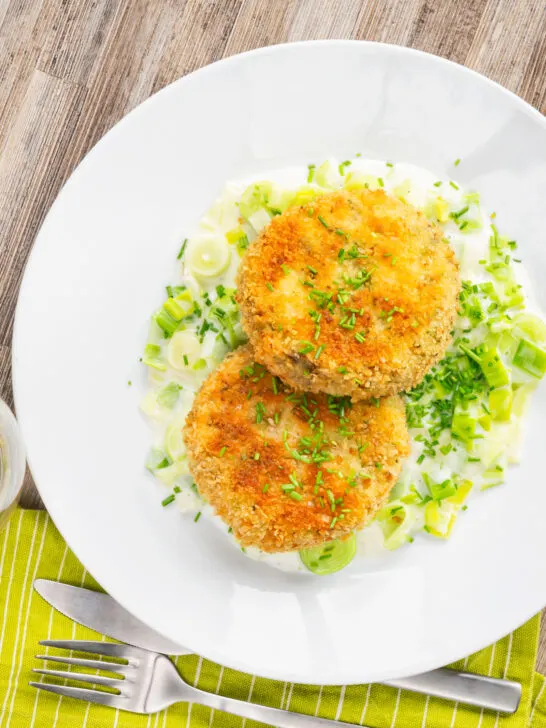 Frequently Asked Questions
Can I make these in advance?
Yes, once you have made up these fish cakes they will sit in the fridge for a day or two without any problems.

You can also freeze them for up to 3 months. Be sure to slide some baking parchment between the fish cakes before you freeze them.
How do I cook frozen fish cakes?
If you are cooking them from frozen, which I would recommend, then the best way to cook them is in the oven or air fryer.
Cook them in the oven at 180° or 350°F for 35-40 minutes or until cooked through. If you are cooking them in an air fryer allow around 25-30 minutes at the same temperature.
Can I bake or air fry fresh fish cakes?
Yes, but you will not get the same golden crumb as you do when you fry them.

You can replicate this by frying the breadcrumbs in butter prior to coating them, but I would guess that negates your desire to not fry these fish cakes.

If you are cooking fresh in the oven bake them for 10-15 minutes at 200°C or 400°F or air fry for 9-12 minutes at the same temperature.
Do I have to bake the salmon?
No, you could cook it any way that you like, however, I like to cook it this way because the white wine and tarragon cooking juices add flavour to the fish cakes.
Can I use leftover mashed potato?
You can, but I prefer not to, the dairy in the mash really does double down on the richness of the oily fish and makes everything a bit rich.
Serving Suggestions
I've served these salmon fishcakes with some creamed leeks in these pictures. I love leeks they are, as far as I am concerned, an overlooked member of the onion family and they match this dish perfectly.
My samphire salad or this shaved asparagus recipe would also be wonderful with this recipe!
Dishes like my braised cavolo nero and pickled fennel and lentil salad also work well because the tartness in both contrast beautifully with the oily fish.
If you are looking for a sauce then you can't go wrong with a classic tartar sauce.
However, I would be much more likely to serve them with a classic parsley sauce.
They are also awesome dropped on a bun with your favourite toppings and turned into a carby fish burger!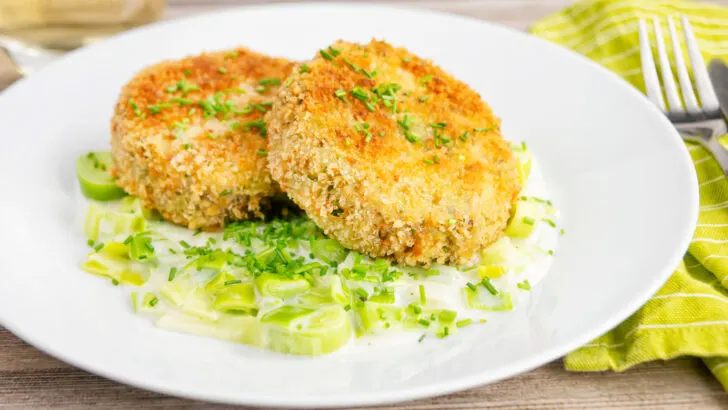 Equipment Used
I only mention brands of equipment if I think that they make a material difference to a recipe. But if you have any questions feel free to ask them in the comments section below the recipe.
Stovetop.
Oven.
15cm or 6″ saucepan.
30cm or 12″ frying pan.
Small baking dish.
Kitchen foil.
Chopping board.
Kitchen knife.
Vegetable peeler.
Potato ricer or masher.
Weighing scales and or measuring cups and spoons.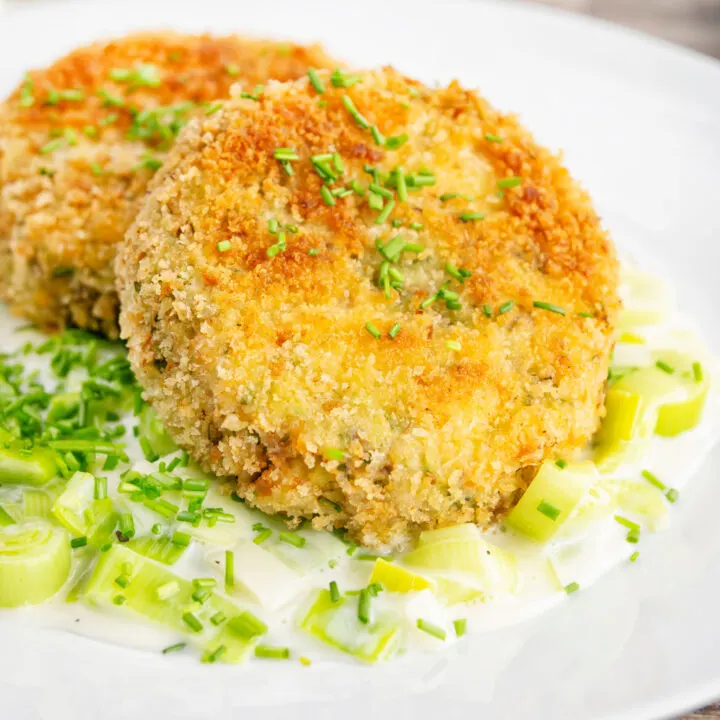 Yield:

2 Servings
Recipe for Sardine and Salmon Fish Cakes
Total Time:
1 hour
25 minutes
Big flakes of fresh salmon and tinned sardines are the stars of these simple yet delicious potato fish cakes.
Ingredients
350g (¼-½ Cup) Potatoes
225g (8oz) Salmon
1-1½ Tsp Salt
1 Clove Garlic
1 Bay Leaf
½ Tsp Dried Tarragon
125ml (½ Cup) White Wine
120g (4oz) Tin of Sardines in Oil
10g (¼ Cup) Chives
20-25g (⅓-½ Cup) Coarse Dried Breadcrumbs
1 Egg
2 Tbsp Flour
Oil for frying the fish cakes
Instructions
Peel then cut the potatoes into 2cm (¾") cubes.
Bring a 15cm or 6" pan of salted water (1 Tsp) to the boil and cook the potatoes for 15-20 minutes or until they are tender and cooked.
Mash the potatoes until smooth or pass them through a potato ricer, do not use any butter or cream and allow to cool.
Whilst the potatoes are cooking season the salmon with half a teaspoon of salt and place it in a small oven-proof bowl.
Pour over the white wine add the bay leaf, bash the garlic with the blunt side of the knife and throw it in, then add the tarragon. Cover the bowl with tinfoil and bake at 180°C or 350°F for 15 minutes, then remove and allow to cool for 5 minutes with the foil still on.
Flake up the fish, discard the skin and bay leaf then mix together the salmon with the potatoes.
Snip the chives and add them to the potatoes.
Drain the tinned sardines and add them to the bowl with the potatoes and salmon, mix everything together adding as much of the salmon cooking liquid as you need to be able to form fairly firm fish cakes. You should have taste here and add more salt if required.
Dredge the fish cakes with the flour, then dip them in the egg and finally into the breadcrumbs.
Set these aside to firm in the refrigerator for 30 minutes.
Heat a 30cm or 12" frying pan with a scant coating of cooking oil over a medium-high heat then fry the fish cakes in oil until golden brown and warmed through which should take 3-4 minutes per side.
Nutrition Information:
Yield:
2
Serving Size:
1
Amount Per Serving:
Calories:

712
Total Fat:

25g
Saturated Fat:

5g
Trans Fat:

0g
Unsaturated Fat:

17g
Cholesterol:

236mg
Sodium:

1325mg
Carbohydrates:

63g
Fiber:

5g
Sugar:

4g
Protein:

51g
Calorific details are provided by a third-party application and are to be used as indicative figures only.