This Instant Pot Pork Belly recipe gets finished in the oven to create a crispy crackling & is served with maple syrup apples.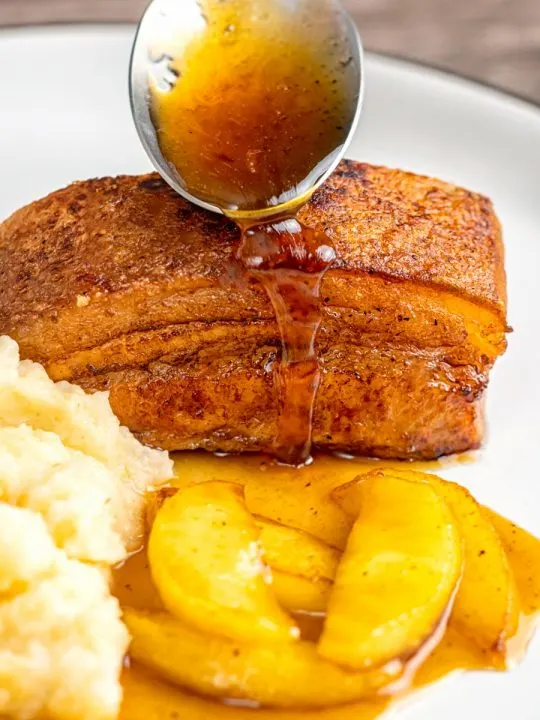 Pressure Cooker Pork Belly
Pressure cookers definitely do some things better than others! This recipe takes advantage of what it does well before using an oven to make up for the things it does less well.
Cooking fattier cooks of pork like belly is definitely one of the things that the Instant Pot does exceptionally well.
I cook ribs in a pressure cooker in the shape of apple glazed ribs and Chinese spare ribs regularly.
I even have a pressed pork belly recipe that gets cooked and then pressed overnight before being finished in the oven.
It is essential that you finish this recipe in the oven . Lots of the flavour comes from the second cooking method and of course the crispy crackling.
I use a cast-iron skillet although any heavy-based pan that is oven safe will do.
I start the caramelisation process with the skin side of the pork but be careful here. It is like toasting nuts… It sits there for ages with no colour and can jump to burnt in the blink of an eye.
Finally, we reduce down some of the cooking juices from the Instant Pot to create a gorgeous sauce to serve with our pork belly. Adding some sharp apples and sweet maple syrup for contrast.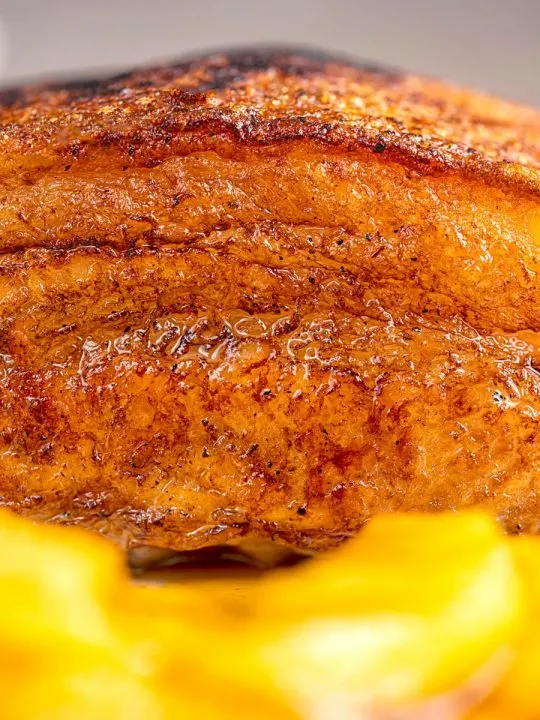 Increasing Portion Size
Like most of my recipes, this one is developed for two people!
But because I am an all-around hero, read greedy bugger, I have tested this recipe for 4 too!
To feed 4 you need to double to size of the pork belly, pretty obvious huh?
But do not double the liquid in the pot you only need to increase by 50%. So 300ml and 375ml of Apple Juice and Chicken Stock respectively.
In my testing I found adding 10 minutes to the cooking time in the pot was plenty.
The pork belly should almost "wobble" like jelly when it comes out of the pot.
Do not be tempted to push down on the pork belly when you are caramelising the skin.
When it comes out of the pressure cooker the fat has very little stability. Pushing down too hard can cause it to delaminate and turn into a porky mess!
Also do not be tempted to try and dry the skin, your kitchen towel will stick.
As a result, you need to be careful of any liquid content spitting, so do not put too much oil in your skillet.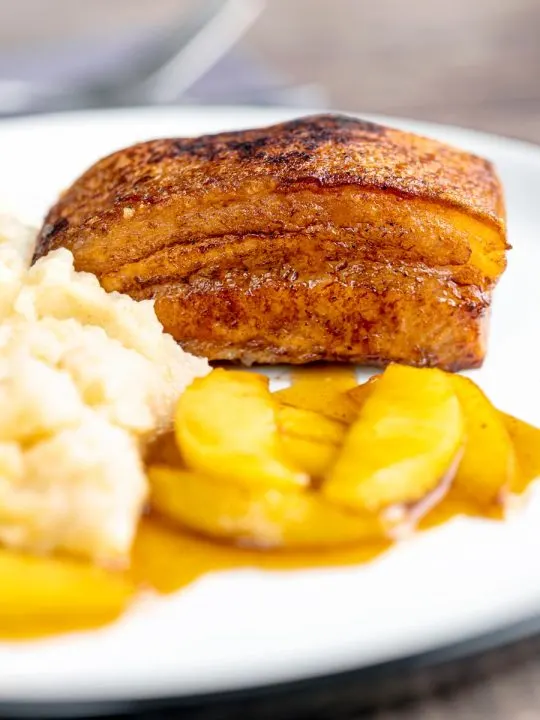 Serving Suggestions.
Whether it is a classic piece of roast pork belly my sticky pork belly with pineapple or my roast pork belly slices, this is an ingredient that screams COMFORT FOOD at the top of its voice.
And as far as I am concerned this Instant Pot Pork Belly is best served with a mash.
My personal favourite is a buttery celeriac mash, although mashed potato is glorious too!
If swede (rutabaga) were not impossible to find here I would also add a swede and carrot mash into the rotation!
You could also go down the roast dinner route.
Adding roast potatoes or parsnips would be great but will require some jiggling of cooking time.
Don't forget some greens, this braised cavolo nero kale would be a perfect addition.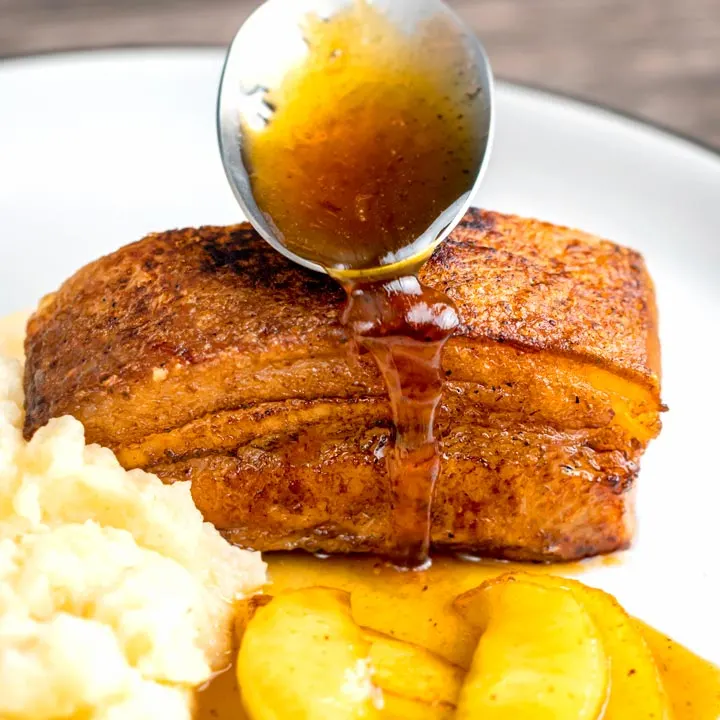 Yield:

2 Servings
Instant Pot Pork Belly Recipe
Cook Time:
1 hour
40 minutes
Additional Time:
1 minute
Total Time:
1 hour
46 minutes
Rich and indulgent pork belly is cooked in the Instant Pot and then finished in a hot oven to give it colour and render out some fat. It is then served with tart apples in a maple syrup sauce and yes it is every but as good as it sounds!
Ingredients
For the Pork:
375 g Pork Belly
200 g Onions
200 ml Apple Juice
250 ml Chicken Stock
1 Bay Leaf
Salt to taste
1 Tbsp Cooking oil
Pepper to taste
For the Apples:
1 Apple
30 ml Maple Syrup
Instructions
Peel, top and tail the onion and cut into 1cm thick half moon shapes.
Arrange the onions on the base of your Instant Pot.
Pour over the apple juice and chicken stock and add the bay leaf.
Season the pork belly with salt and pepper.
Add a trivet and place the pork belly on top.
Add the lid and cook for 50 minutes at high pressure.
Allow a 10-minute natural pressure release.
Heat your oven to 200°C or 400°F.
Remove the pork belly form the Instant pot.
Heat a heavy-based skillet over a medium high heat.
Add the pork belly and sear on all sides, this should take 5-10 minutes.
Drain the fat from the pan and flip the pork.
Transfer to the oven and cook for a further 20 minutes.
Remove the pork from the oven and trasfer to a trivet and rest for 10 minutes.
Core and chop the apple.
Pour all but a scant covering of fat from the skillet and place on a medium-high heat.
Add the apples and cook for 5 minutes.
Pour over the maple syrup and add 200 ml of the pork cooking juices from the Instant Pot.
Reduce by half and serve alongside over the pork.
Notes
You can conventionally braise this dish in a low oven but allow around 3-4 hours at 150°C or 300°F.
Nutrition Information:
Yield:
2
Serving Size:
1
Amount Per Serving:
Calories:

852
Total Fat:

49g
Saturated Fat:

16g
Trans Fat:

0g
Unsaturated Fat:

32g
Cholesterol:

161mg
Sodium:

659mg
Carbohydrates:

54g
Fiber:

4g
Sugar:

38g
Protein:

48g
Calorific details are provided by a third-party application and are to be used as indicative figures only.