This Pan Fried Cod recipe features leeks and peas is livened up with a little salami and represents the best of early spring for me!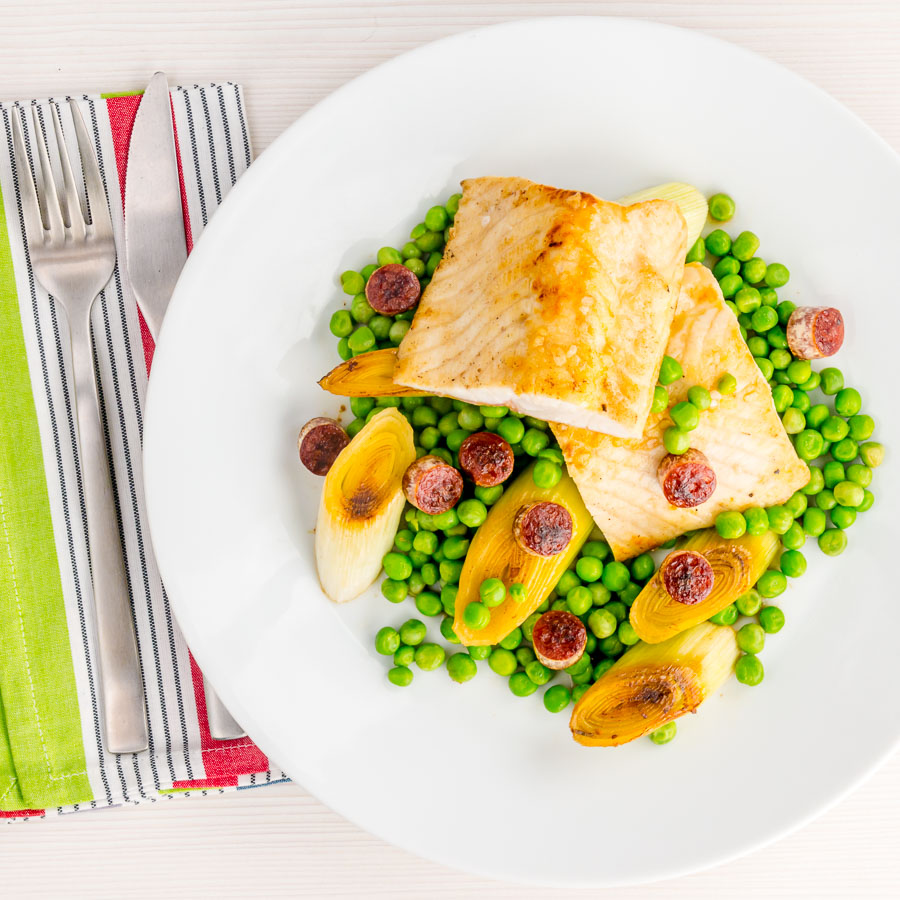 Pan Fried Cod with Peas and Leeks.
Cod is a rare find here in Hungary as a result I wanted to keep this dish simple and opted the simplest of all methods. A simple pan fried cod fillet.
I really do wish I could cook with cod or pollock more often, alas it is a rare treat.
Peas have definitely featured here a fair bit in recent weeks. My desire to use up my stock is strong and I am sure I have previously mentioned my love of peas.
In a slightly different twist, I use similar flavours in this baked cod fillet with peas and broad beans recipe. But cod is wonderfully versatile and sits just as comfortably in this cod in tomato sauce recipe.
I've actually been working on a mushy pea recipe for quite some time and have been failing miserably. So if you have a reliable recipe you know of please drop it in the comments section at the base of this page.
However without doubt though my favourite way to eat peas is just like this. Really simple bright fresh and sweet.
In many ways this recipe is relatively similar to my herb crusted baked salmon recipe. However the peas element has much more in common with petits pois a la Francaise.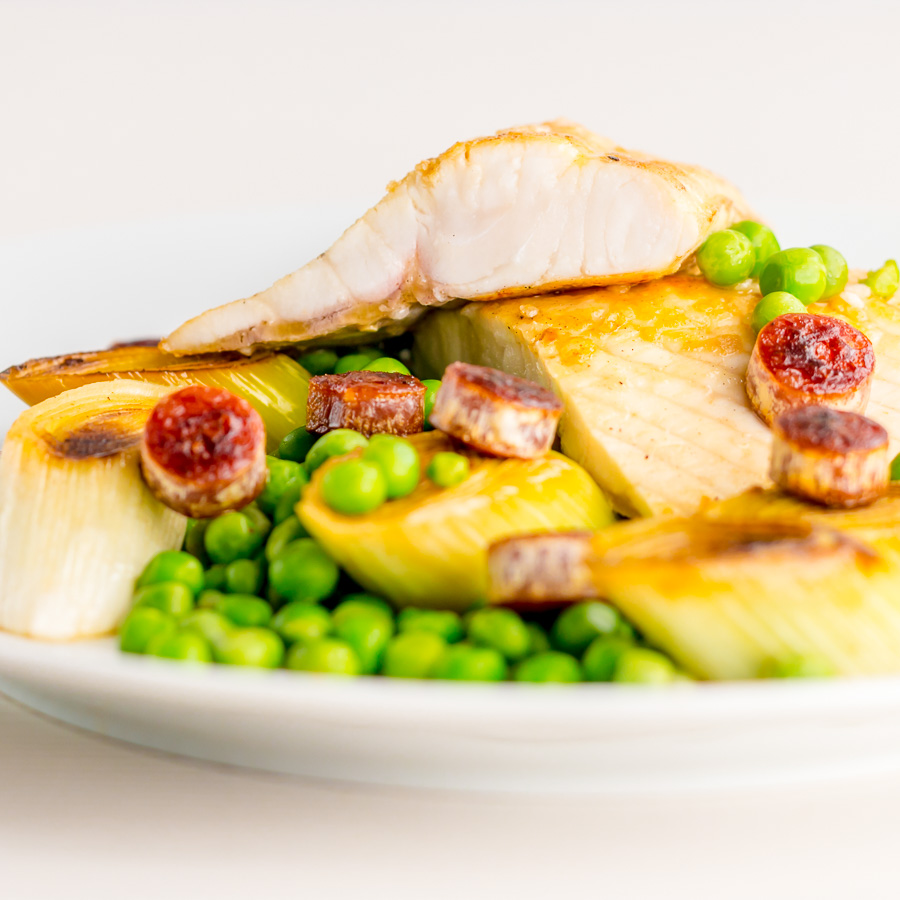 A Few Good Things
This recipe definitely falls into the category of an ensemble dish. A few good things that just work well together.
Peas and leeks are very much a classic combination and provide a beautiful base for the cod. I did not want to hide the beautiful subtle flavour of the cod it is just accented with some salami.
You should choose whatever salami works for you, I went with some Mangalica Salami from a local producer. However, anything you like will work although I would personally avoid anything spicy. You will not here me say that often!
In this pan fried cod recipe the salami is there to provide a piquant seasoning to the beautiful cod. You could also use chorizo sausage as I do in my chorizo pasta recipe.
The Mangalica pig is a Hungarian icon, a furry pig that produces the most wonderful meat owing to the wonderful fat that it produces.
It is undeniably true that I am old school when it comes to cooking. I very much believe when it comes to meat, fat equals flavour!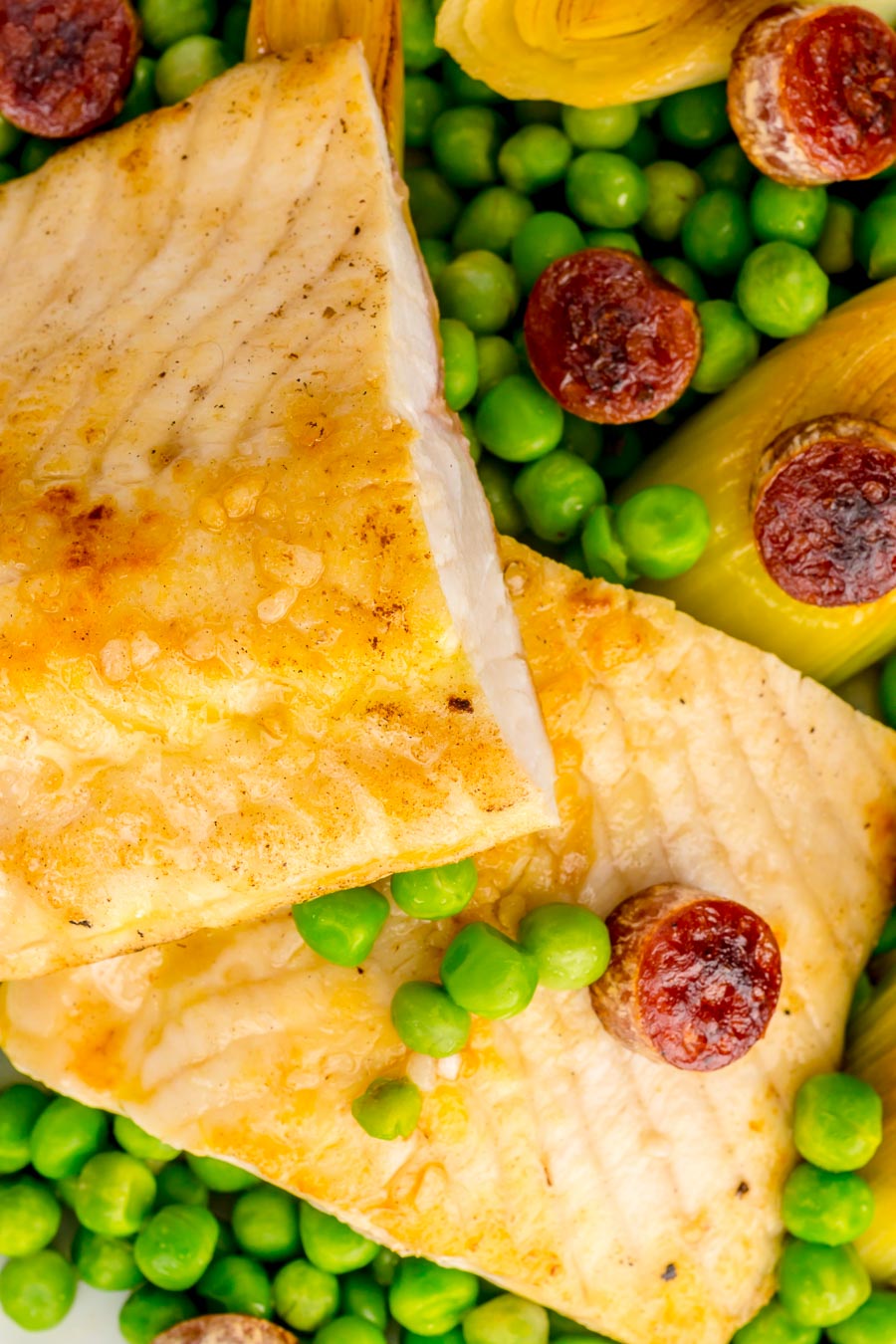 The Secret to Pan Fried Cod Loin.
The secret to perfectly cooked cod loin is the same as all other fish. Simply the answer is not to overcook it!
Like all other food taking it out of the pan or out of the oven does not mean that it immediately stops cooking. The heat near the surface will continue to permeate the food and cook it further.
As a result, with fish cook the inside so it is just translucent. The great thing about pan fried fish is you can literally see the cooking process happening.
The flesh will become opaque as you watch and it will spread up away from the source of heat.
It is the same process I use for my pan fried teriyaki salmon, it is superbly simple and so effective.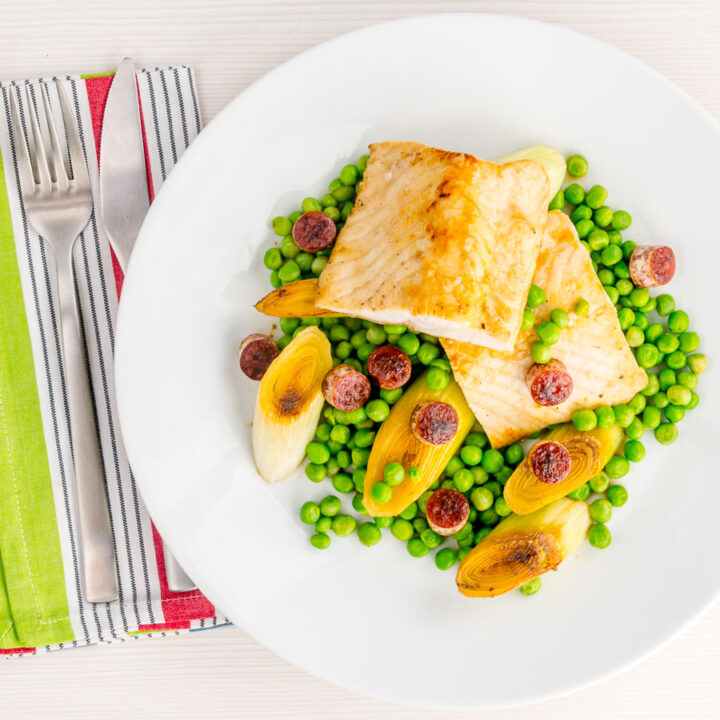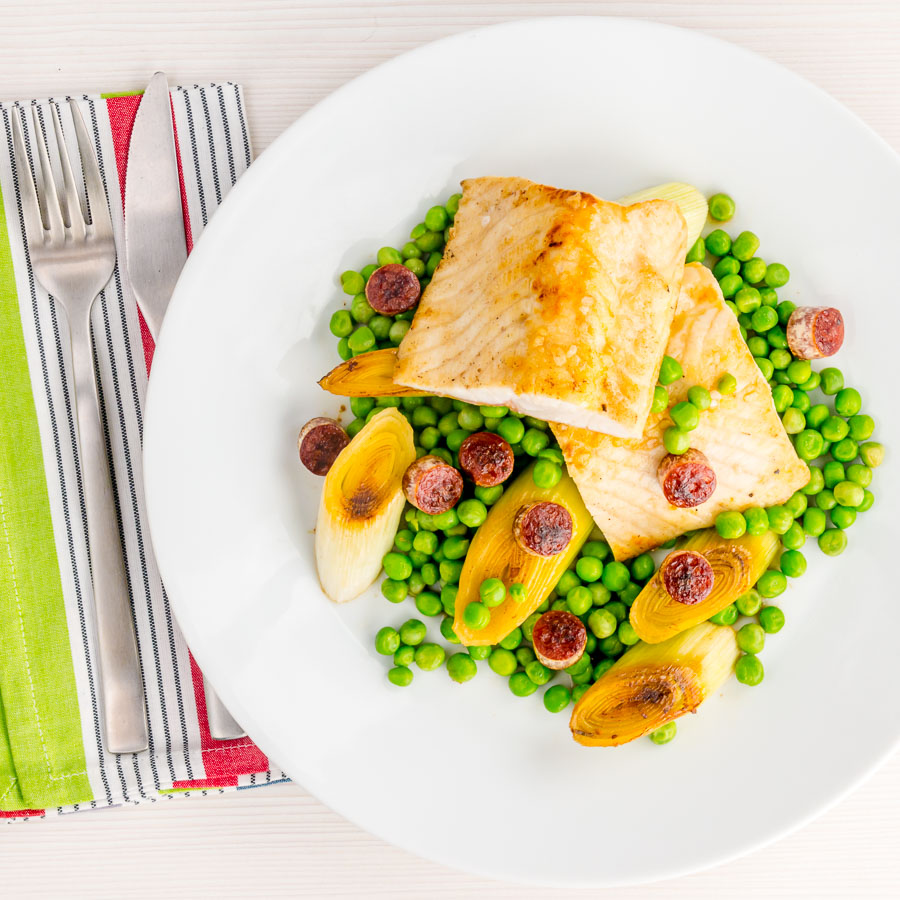 Yield:

2 Servings
Pan Fried Cod with Peas and Leeks
This Pan Fried Cod with Peas and Leeks is livened up with a little salami and represents the best of early spring for me, and the kicker is it is all ready in well under 30 minutes!
Ingredients
350 g (12 oz) Cod Fillets
1 Tsp Cooking Oil
100 g (3/4 Cup) Salami
60 g (1/4 Cup) Butter
150 g (1 1/3 Cup) Leeks
200 g (1 1/3 Cup) Peas
125 ml (1/2 Cup) White Wine
Salt, To taste
Instructions
Begin by slicing your salami into 1cm coins and than placing in a pan over a medium low heat and allow to slowly cook whilst.
Slice your leeks into 3-4cm lengths on an angle.
Afterwards melt the butter in a large frying pan over a medium high heat.
Before it burns reduce the heat to medium and then add in the leeks cut side down and allow to cook for 4-5 minutes.
Pour in the white wine and reduce the heat again, this time to low and add salt then a lid and cook for a further 10 minutes.
5 minutes before your leeks are done, heat a third pan over a high heat, rub the fish with the cooking oil and season with salt.
Add the peas and cook until they just heat up.
Finally cook your fish, presentation side first and cooking until golden before flipping and finishing.
Notes
The cooking of the fish will very much be defined by it's shape so use our 'cooks' instinct, the rest of the ingredients will wait.
Nutrition Information:
Yield:
2
Serving Size:
1
Amount Per Serving:
Calories:

721
Total Fat:

40g
Saturated Fat:

19g
Trans Fat:

1g
Unsaturated Fat:

19g
Cholesterol:

204mg
Sodium:

1479mg
Carbohydrates:

23g
Fiber:

6g
Sugar:

8g
Protein:

57g