Pan fried or seared halibut fillet served with clams and samphire cooked in butter & white wine, fancy food that is incredibly easy to cook!
Preparation aside (which takes 20 minutes), cooking this dish is all done and dusted in 10 minutes which makes this showy dinner a real treat for a midweek meal.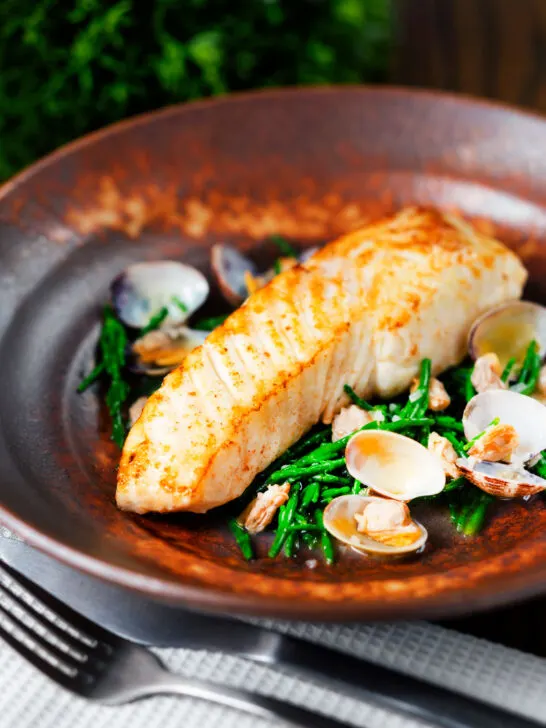 Pan Seared Halibut Fillet with Clams
For all of my love for curries balancing loads of complex flavours or complex pies, this recipe embraces my favourite way of cooking.
A few beautiful ingredients, cooked quickly but carefully to create a jaw-dropping but surprisingly easy meal.
This pan-fried halibut recipe joins examples like my classic French lemon sole meuniere, pan-fried hake with chorizo, an amazing bacon-wrapped cod loin and pan-fried spiced grey mullet fillet with
The beautiful golden fish is joined by samphire, a wonderful foraged sea "herb" that is becoming increasingly available. It adds an unmistakable salty fresh punch to the white wine and butter sauce.
It is all finished with clams, arguably most famous for being used in dishes like spaghetti alle vongole. But they are often served alongside big lumps of fish because they make the most incredible sauce.
Whilst this dish may cost a few "quid", it is wonderfully easy to cook and will go from your fridge to your table in under half and hour.
Go ahead, treat yourself!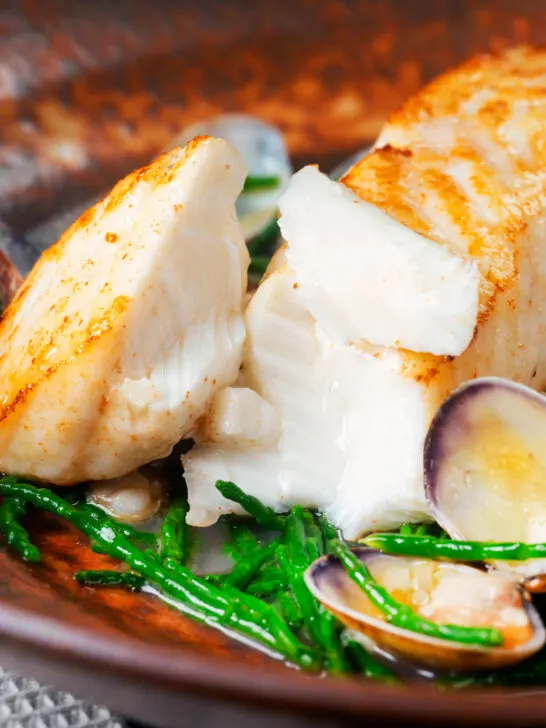 Frequently Asked Questions
Do I have to remove the skin from the halibut fillet?
Yes, because halibut has thick old skin and it really does not crisp up like salmon or cod.

It is best removed before cooking because unlike other fish it does not peel off easily after cooking either.
Do I have to soak the clams?
It depends on where you source your clams, generally speaking they are cleaned and soaked before you buy them.

But if they are not they can contain grit and that can ruin a meal. Soaking them does not take long and it eliminates the risk.
How do I cook clams safely?
Many people are intimidated by shellfish because of the horror stories, however, there are really simple steps to make sure you are as safe as houses.

The first thing to do is discard any clams that are damaged, then if any are open given them a firm tap on the work surface. If they do not close in a couple of seconds discard them.

Finally, when you have cooked your dish discard any clams that have not opened, DO NOT try to open them!
Is there a substitute for samphire?
Not really, it is a unique ingredient with no direct substitution.

But if you cannot find it and want to do something similar but different use thin asparagus in exactly the same way.
What wine should I use?
Use a light crisp dry white wine that does not have too much body. A pinot grigio or a sauvignon blanc would be perfect, avoid anything that is either sweet or medium.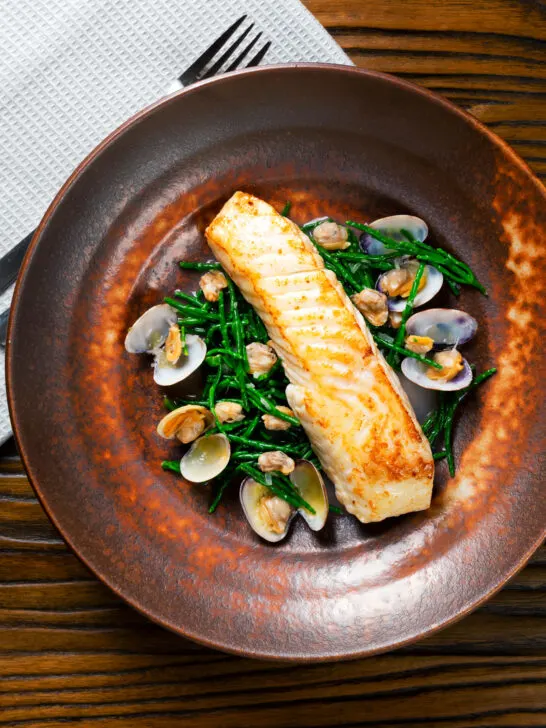 Serving Suggestions
I consider my pan-seared halibut fillet recipe to be a perfect light meal and it does not need anything else.
Well, when I say nothing else, a bit of bread to mop up the juices from the clams and samphire rounds it out wonderfully.
I would go for some nice ciabatta usually, you really do not want to leave anything in the bowl!
If you wanted to bulk out the dish with some carbs I would add some boiled and buttered herby new potatoes.
The flavours in this dish are relatively subtle and finely balanced so you should avoid anything with big bold flavours.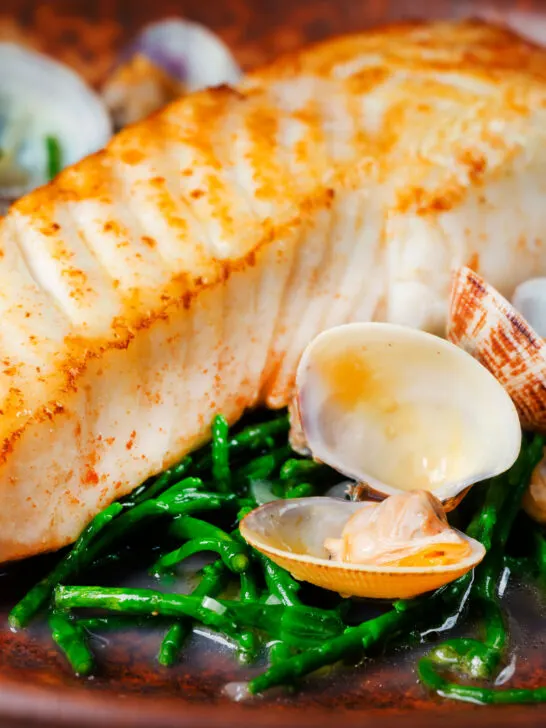 Equipment Used
I only mention specific brands of equipment if I think they make a material difference to a recipe. If you have any questions feel free to ask them in the comments section below the recipe.
Stovetop.
30cm or 12″ nonstick frying pan.
20cm or 8″ saucepan with a lid.
Kitchen knife.
Chopping board.
Weighing scales and or measuring cups and spoons.
Fish slice or spatula.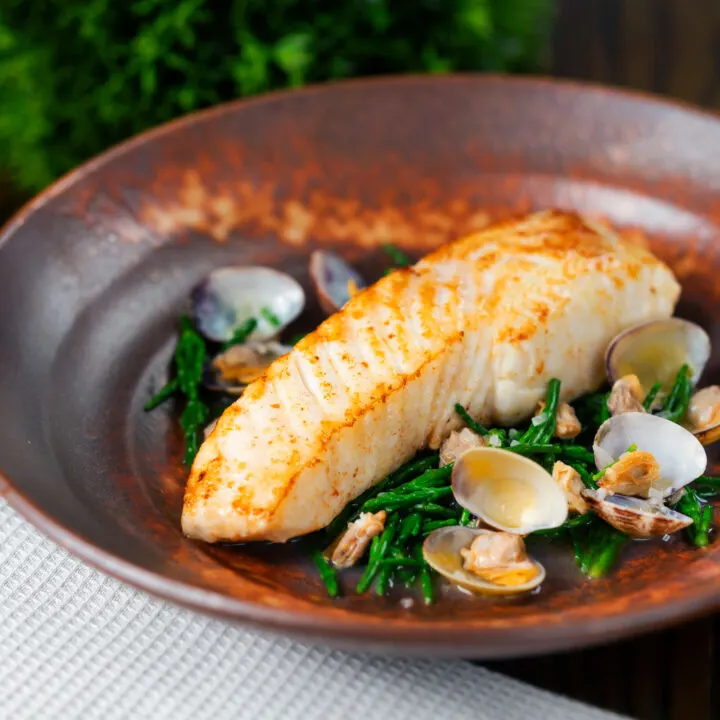 Yield:

2 Servings
Pan Fried Halibut Recipe with Clams and Samphire
This pan fried halibut recipe may look and sound rather fancy but it is all built on simple cooking techniques and it cooks really quickly, the clams and samphire cook whilst the fish is seared meaning this recipe can go from your fridge to your table in under 30 minutes!
Ingredients
2 (Around 200g Each) Skinless Halibut Fillets
2 Tbsp Olive Oil
75g (5 Tbsp) Butter
¼ Tsp Salt
For the Clams and Samphire
1 (35g) Banana Shallot
35g (2 Tbsp) Butter
100g (1 Cup) Samphire
75ml (⅓ Cup) White Wine
300g (1½-2 Cups) Clams
1 Lemon
Instructions
Place the clams in cold water that has been heavily salted, I use 2 litres (8 cups) of water and 1 tablespoon of salt. Make sure you discard any broken clams or any open clams that do not close when firmly tapped on the work surface.
Cut the shallot in half, peel it and then dice it as finely as you can.
If your halibut fillets have skin on them, then remove it.
Heat a 30cm or 12" nonstick frying pan over a medium-high heat and a 20cm or 8" saucepan over a medium-high heat.
Season the halibut with the salt.
Pour the olive oil into the frying pan and when it is hot add the halibut fillets presentation side down and then add the butter, cook on the first side for 3-4 minutes, it should go nice and golden.
When the fish has been in for 2 minutes add the butter for the clams to the saucepan.
Add the shallot and cook for 1 minute stirring regularly.
Add the clams and white wine, then add a lid and cook for 90 seconds.
Flip the fish and cook for another minute or two.
Remove the lid from the clams add the samphire return the lid and swirl it all around and cook for another 45-60 seconds,
Remove the fish and let it rest for a minute.
Squeeze as much lemon juice as you like into the clams and serve.
Nutrition Information:
Yield:
2
Serving Size:
1
Amount Per Serving:
Calories:

718
Total Fat:

30g
Saturated Fat:

13g
Trans Fat:

1g
Unsaturated Fat:

14g
Cholesterol:

266mg
Sodium:

2399mg
Carbohydrates:

16g
Fiber:

1g
Sugar:

4g
Protein:

84g
Calorific details are provided by a third-party application and are to be used as indicative figures only.