Spaghetti alle vongole is a classic Italian clam pasta, mine is inspired by Southern versions & features tomatoes, chilli & loads of garlic!
It is a super quick dish with preparation taking 15 minutes and roughly about the same for cooking, which makes this a perfect midweek meal.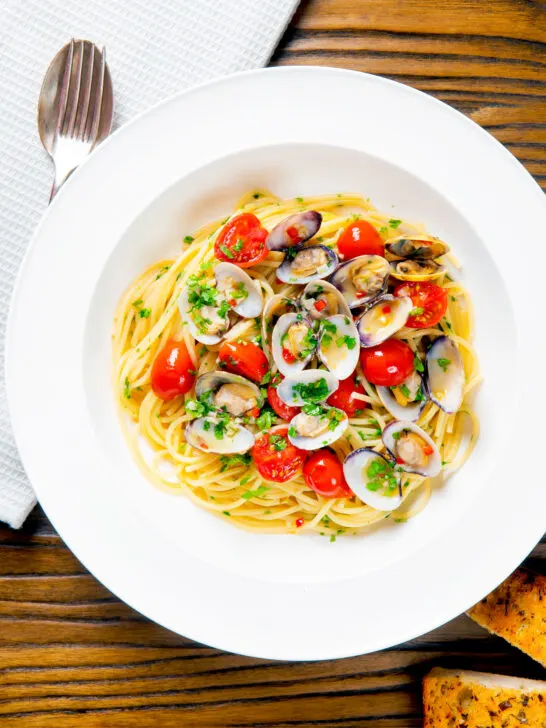 Clam Pasta with Tomatoes, Chilli and Garlic
Folk are quite often intimidated by cooking shellfish and it is unwarranted.
It is food of the gods and I love it, mussels are my favourite and they appear here in a beer-steamed mussels recipe and a really foxy Indian curried mussels recipe.
But clams are superb too, a little pricier but we are all worth a wee treat every now and then.
Spaghetti alle vongole or pasta is a simple and popular Italian dish on many restaurant menus.
But it is an outrageously easy dish to cook at home, all you need to do is boil some pasta and steam some clams in a little wine. Chuck it all together and dinner is served.
It really is as simple as that!
My recipe leans on influences from southern Italy and adds some cherry tomatoes and a little chilli.
But it makes it no more complicated and it all comes together in well under 30 minutes.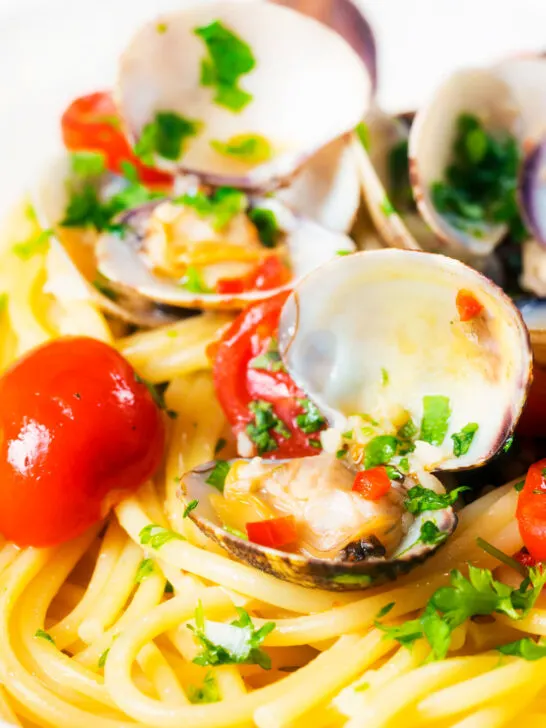 Frequently Asked Questions
Do I have to soak the clams?
It really depends on where you source them; as a result, I do it as a matter of course.
Soaking them purges them of grit, which is the curse of seafood dishes, it also helps season the final dish.
What wine should I use?
You should use any relatively light dry white wine, I use either a pinot grigio or a sauvignon blanc. You could get away with a chardonnay or viognier, but they are a little richer and are better in cream sauces.

Avoid anything that calls itself sweet or medium white wine.
Do I have to use chilli?
No, you can omit it if you wish.
Can I use a different type of tomato?
Yes, of course, any small cherry tomato will work just fine.

Try and get something of decent quality though, quite often cherry tomatoes can be a bit bland, and there is nowhere to hide when it comes to flavour in this recipe.
Can I use a different type of pasta?
Yes, use whatever you like, clams with linguini is a classic combination, but you could use any long pasta. Everything from fettuccini to tagliatelle would work equally well.
Can I make this in advance?
Not really, fish and particularly seafood does not reheat very well, shellfish in particular have a tendency to become very chewy.
Can I serve the clams outside of the shells?
Yes, if you want to do this start cooking them as soon as you drop the pasta in the water because it takes a few minutes to pick them out.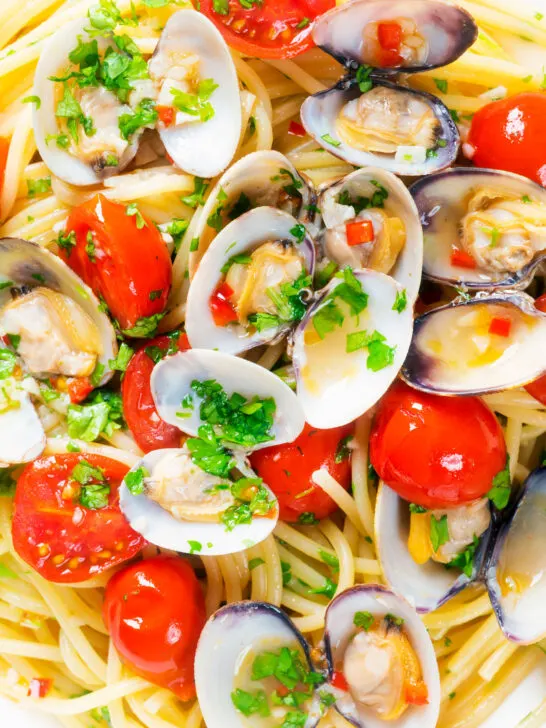 Serving Suggestions
I keep my sides for this spaghetti all vongole really simple in keeping with the dish.
I personally favour a chunk of ciabatta or slices of focaccia bread to mop up the beautiful sauce.
My wife on the other hand prefers garlic bread, considering I've seen her order it instead of a dessert course, I could write this on any recipe!
If you wanted to add some green to this dish you could par boil some asparagus tips and throw it in at the very end with the tomatoes.
Another wonderful and totally in-keeping addition would be some asparagus.
Salads are a popular addition to pasta dishes, they personally don't do it for me.
But if it is your thing consider a light simply dressed green salad or maybe something like my samphire and asparagus salad, which would serve as a nice "starter" with a bit of bread.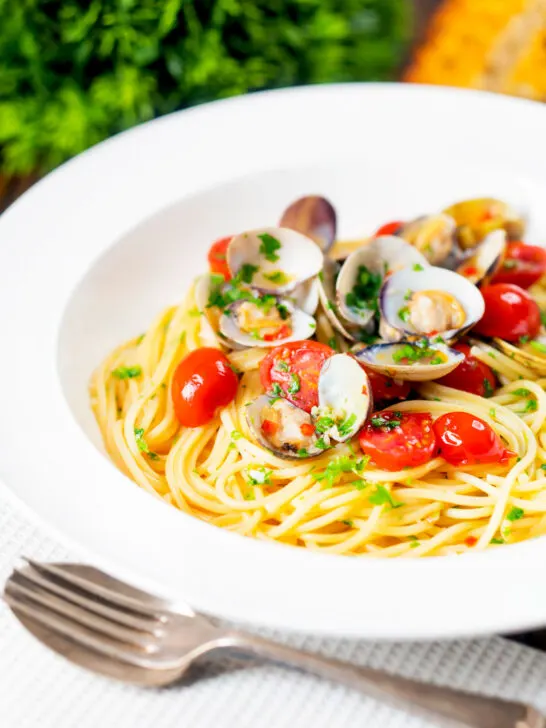 Equipment Used
I only name-check specific equipment brands if I think they make a material difference to a recipe. If you have any questions feel free to ask them in the comments section below the recipe.
Stovetop.
20cm or 8″ saucepan.
28cm or 11″ frying pan with a lid.
Large bowl.
Sieve or colander.
Chopping board.
Kicthen knife.
Weighing scales and or measuring cups and spoons.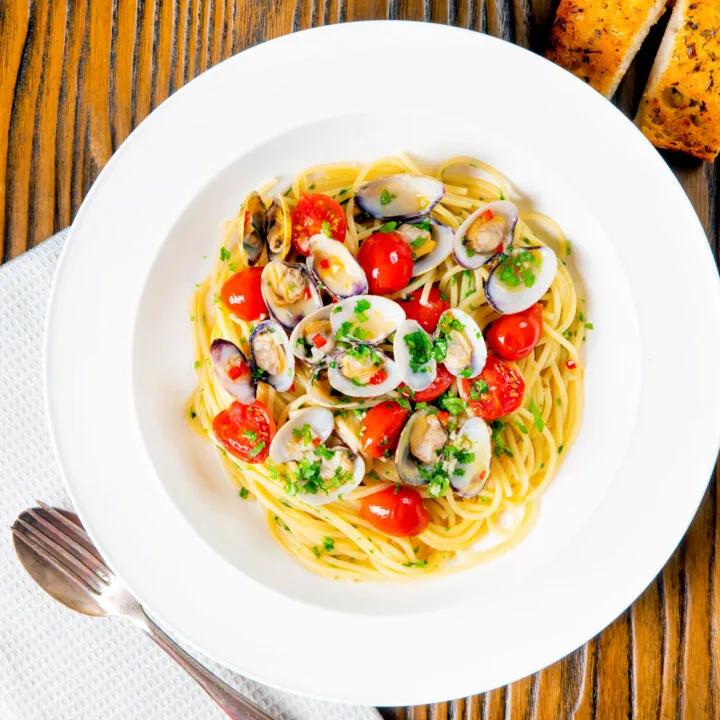 Yield:

2 Servings
Spaghetti alle Vongole Recipe with Cherry Tomatoes
Pasta with clams is a classic Italian dish and my version of Spaghetti con vongole is built with Southern Italian influences and adds baby San Marzano tomatoes, a little chilli and more than a healthy sprinkling of garlic!
Ingredients
500g (2½-3 Cups) Clams
6 Garlic Cloves
1 Medium Hot Chilli Pepper
150g (1 Cup) Cherry Tomatoes
185g (6½ oz) Spaghetti
Lots of Freshly Chopped Parsley
3 Tbsp Olive Oil
75ml (⅓ Cup) Dry White Wine
Salt for Boiling Pasta
Instructions
Place the clams in cold water that has been heavily salted, I use 2 litres (8 cups) of water and 1 tablespoon of salt. Make sure you discard any broken clams or any open clams that do not close when firmly tapped on the work surface.
Peel the garlic cloves and dice them as finely as you can.
Remove the stems and the seeds for the chilli pepper and dice it as finely as you can.
Chop the parsley, use as much as you like!
Cut the cherry tomatoes in half.
Bring a 20cm or 8" saucepan of water to a boil and season generously with salt, I use 1½ teaspoons of salt in a pan this size. When the pan comes to a boil add the pasta and cook as per instructions.
Heat a 28cm or 11" skillet (with a lid) over a medium heat and 5 minutes before the pasta is cooked add the olive oil, garlic and chilli and cook for 90 seconds stirring regularly. If the garlic begins to colour reduce the heat.
Drain the clams.
Increase the heat to medium high, pour the white wine over the garlic and chilli, add the clams and then add a lid and cook for 2-3 minutes or until the clams begin to open.
Remove the lid and add the tomatoes and swirl to mix. The aim is not to cook the tomatoes but just to warm them through.
Drain the pasta and add it to the pan along with the parsley and a little of the pasta cooking liquid.
Carefully mix and discard any clams that have not opened and serve with more parsley.
Nutrition Information:
Yield:
2
Serving Size:
1
Amount Per Serving:
Calories:

905
Total Fat:

27g
Saturated Fat:

4g
Trans Fat:

0g
Unsaturated Fat:

19g
Cholesterol:

168mg
Sodium:

3313mg
Carbohydrates:

80g
Fiber:

4g
Sugar:

5g
Protein:

76g
Calorific details are provided by a third-party application and are to be used as indicative figures only.