Don't be afraid of canned fish, the good stuff really can make great fast and really tasty dishes like these canned mackerel fish cakes.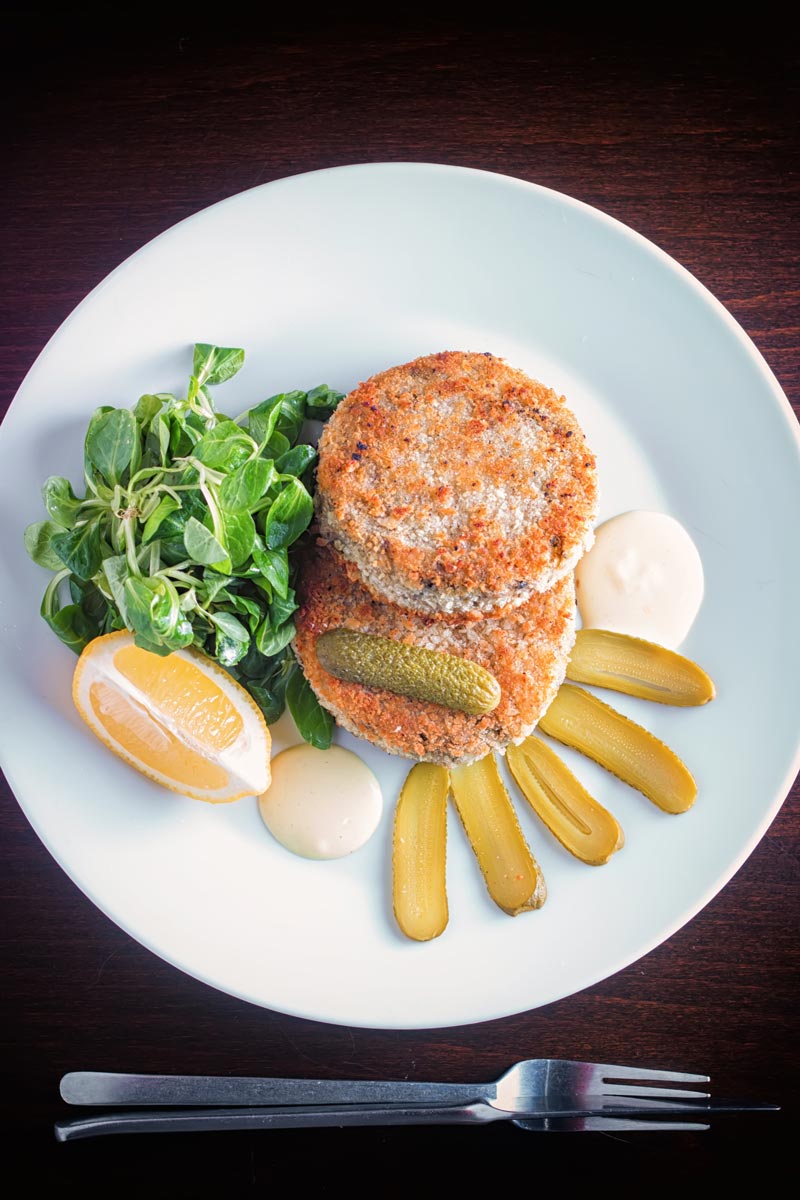 Canned Mackerel Fish Cakes.
I am often to be found here bemoaning the seriously limited access I have to great fresh fish and seafood.
This canned mackerel recipe is just one way of me dealing with that.
To be perfectly honest I have seldom cooked with canned fish until fairly recently. With the exception of canned tuna for a tuna salad sandwich and let's face it that is hardly cooking.
However, I was leafing through a Gordon Ramsey cookbook and he was extolling the virtues of good quality canned mackerel.
So I figured I would give his pasta dish a punt and loved it. Although that original inspiration morphed into a smoked mackerel pasta recipe.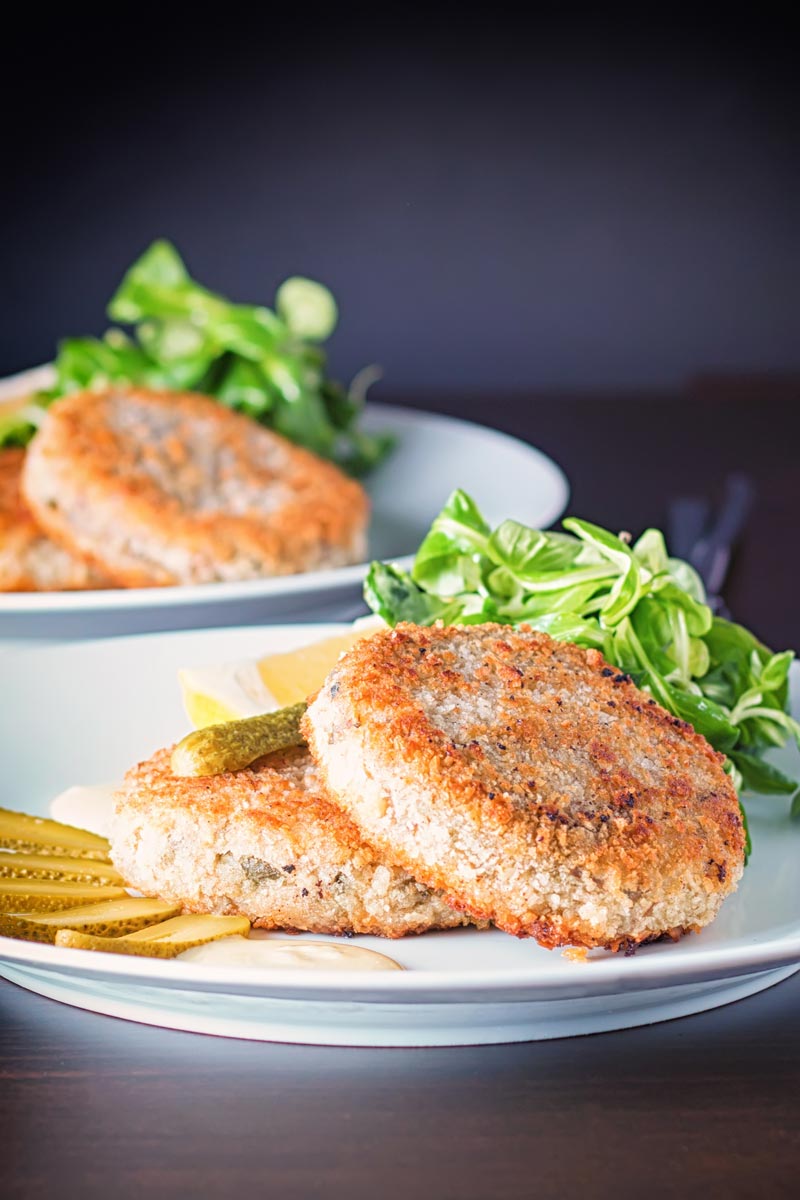 Fish Cake Recipes.
Buoyed by this experience I was on a mission and I have spent a couple of months working on some fish cake recipes.
These mackerel fishcakes are the first I got absolutely nailed on.
They are seriously indulgent, super quick to make and if you are like me you probably have most of the ingredients in your pantry.
They also freeze wonderfully, you can either freeze before the panne process or after. Chill first and wrap in baking parchment and freeze.
As everything in these fish cakes is already cooked you don't really need to cook so it is just a case of bringing to temperature.
They just need shallow frying for a couple of minutes to get a nice colour and then straight in the oven. They typically take about 15-20 minutes to cook from frozen as opposed to the 10 minutes when fresh.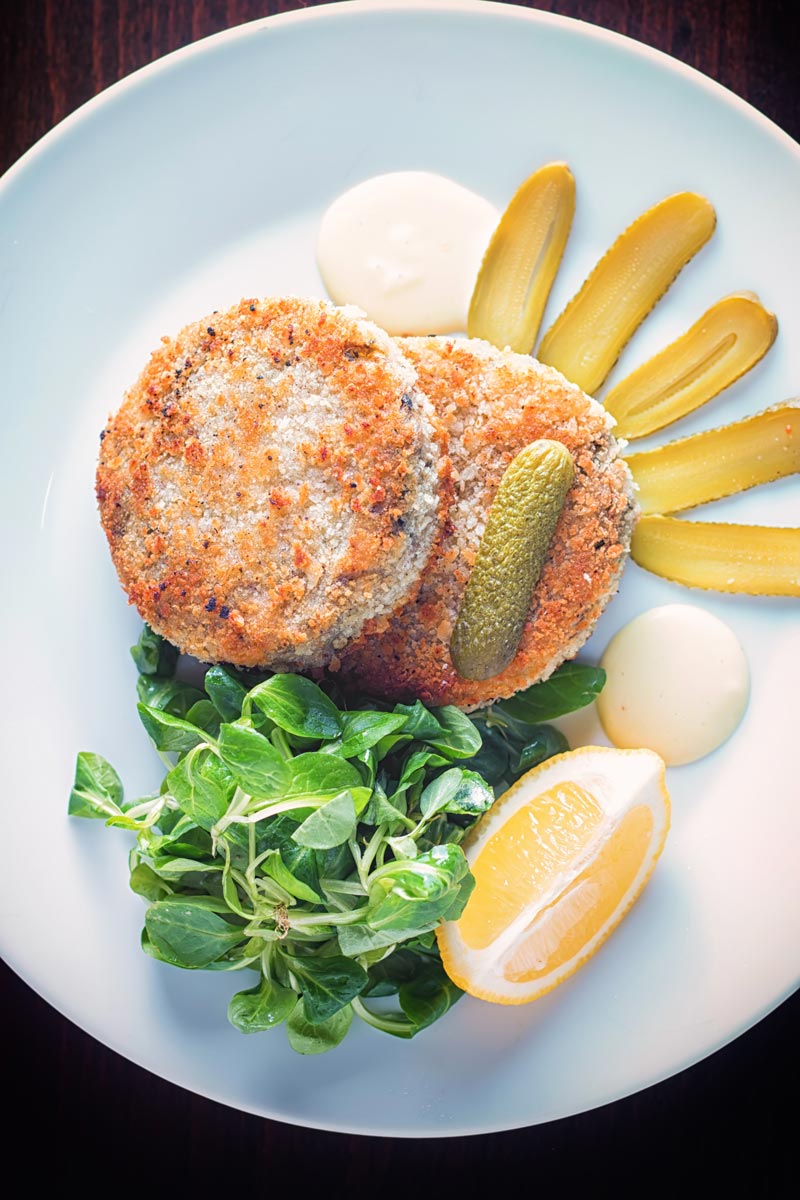 Cooking With Canned Fish.
Growing up in the UK, great quality fresh fish is not difficult to find.
So cooking with canned fish never really a thing for me. Since moving to Hungary I have discovered a whole new range of produce.
I'm definitely a convert to canned fish, naturally, the quality varies and the cheap stuff is beyond nasty.
But invest in the good stuff and you have an amazing product that I consider more than worthy to grace my table. A canned mackerel recipe really does live and dier on the quality of the mackerel!
It is particularly good in fish cakes and not just mackerel either. Canned Sardines make an appearance in these salmon fish cakes and spiced up tuna in these Thai fish cakes.
But it is not just great in fish cakes. This Nicoise pasta salad shows yet more diversity and is the perfect pasta accompaniment!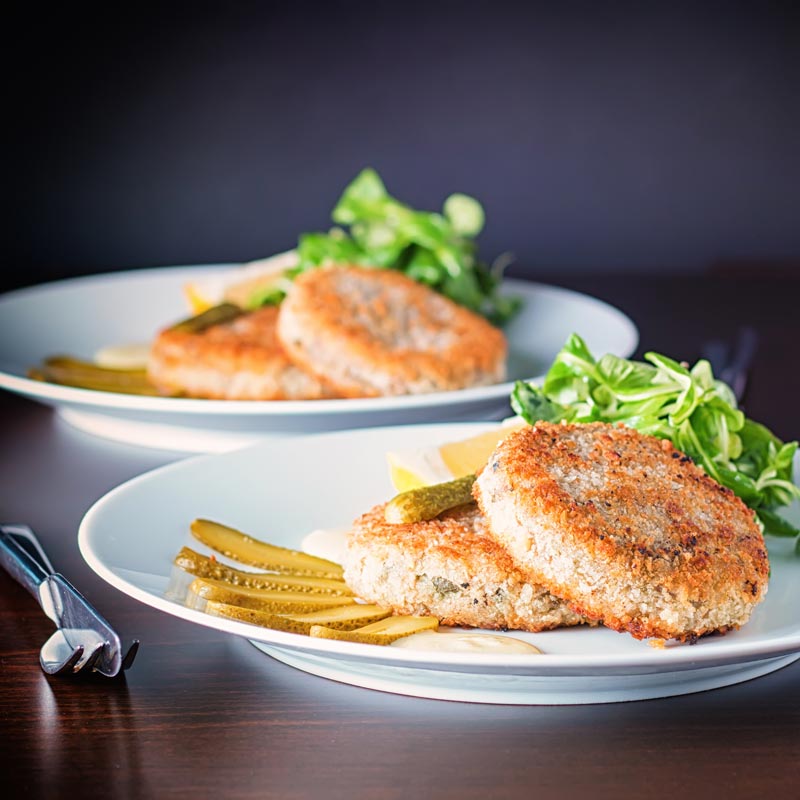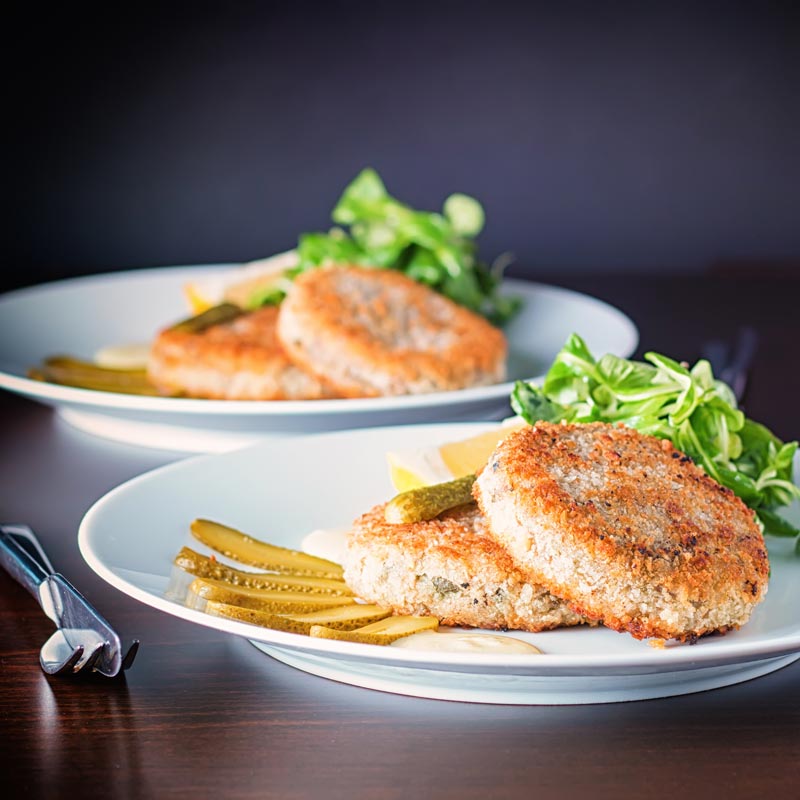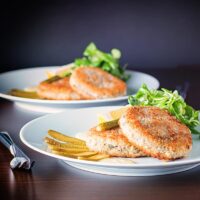 Canned Mackerel Fish Cakes
Canned or Tinned Mackerel is at the heart of these seriously indulgent and insanely tasty mackerel fish cakes. Forget the nasty 'industrial' fish cakes of your youth these are sublime and so very simple!
Ingredients
300 g Potato
50 g Butter
Salt
150 g Tinned Mackerel
50 g Capers
15 g Fresh Parsley
Salt and pepper
1 Tsp Ground Fennel Seed
4 Tbsp Plain Flour
1 Egg
50 g Breadcrumbs
2 Tbsp Cooking Oil
Instructions
Peel the potato and chop into 2cm cubes.
Boil in salted water until soft which should take 15-20 minutes depending on the size.
Rice the potato when warm and add the butter.
Mix to form mashed potato and set aside.
Flake the fish then roughly chop the capers and parsley.
Mix together the flaked fish, mashed potato, parsley and the capers and have a taste, add seasoning as required.
Split the mix in to 4 even portions and use your hands to form into a circular shape about 1cm thick.
Place in the refrigerator to firm up, you can do this the night before if you wish, they also freeze really well at this point.
Preheat your oven to 180°C or 350°F.
Mix together the plain flour and ground fennel seed and add some salt an pepper to season, then begin to pane the fish cakes.
So first into the flour fennel mix, then the egg, then the bread crumbs.
Heat a little oil in the bottom of a frying pan that can be transferred to the oven over a medium high heat.
Now add the fish cakes and cook until a nice golden brown then flip and place in the preheated oven for 10 minutes.
Notes
I like to serve this with some homemade mayonnaise that I let down with the juice from some gherkins and some sliced gehrkin and a simple leaf salad, lambs lettuce in this case and a wedge of lemon.
Nutrition Information:
Yield:

2
Serving Size:

1
Amount Per Serving:
Calories:

843
Total Fat:

52g
Saturated Fat:

18g
Trans Fat:

1g
Unsaturated Fat:

30g
Cholesterol:

203mg
Sodium:

1487mg
Carbohydrates:

64g
Fiber:

6g
Sugar:

4g
Protein:

31g
Calorific details are provided by a third-party application and are to be used as indicative figures only.