Tinned mackerel fish cakes loaded with parsley & capers and a crisp breadcrumb coating go a long way to prove that canned fish isn't rubbish!
Preparing these fishcakes takes a while but it is very easy and all of the preparation can be done in advance. Once the preparation is complete it takes less than 10 minutes to cook them.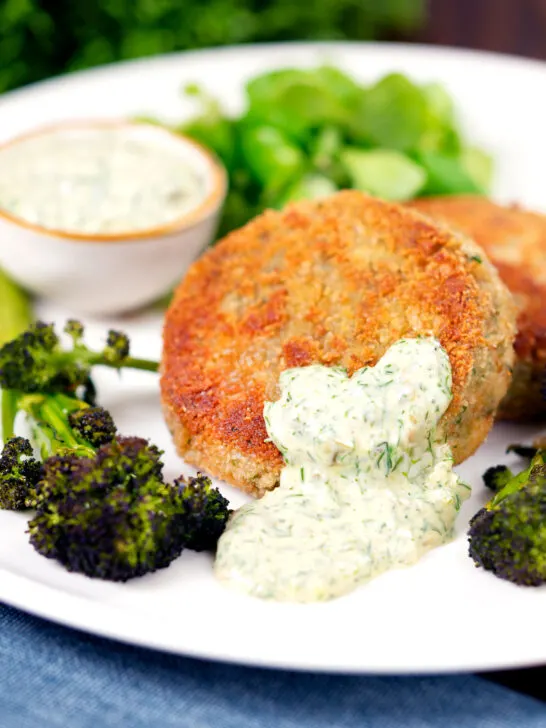 Canned or Tinned Mackerel Patties
I have always had a thing for fish cakes, it kinda goes all the way back to my school days… but also fish cakes were the only fish that was considered affordable from the chippy when I was growing up.
Now I have a confession, those fish cakes were rubbish, but I have plenty of examples that I genuinely adore.
I have everything from classic and indulgent smoked haddock fish cakes to spicy Thai tuna fish cakes and some delicious fresh salmon fish cakes too.
My latest offering fish cake offering uses tinned mackerel and they are stunning.
The idea came from a pasta dish in a Gordon Ramsey cookbook and he was extolling the virtues of good quality tinned fish and mackerel in particular.
The oily fish is glorious with the sharp capers that I pair them with and loads of fresh parsley lightens everything up.
Mashed potato holds everything together before they are coated in a crispy crumb… which I think must be fried in butter.
I do have suggestions for air frying and oven baking them too for those of you watching your waistline!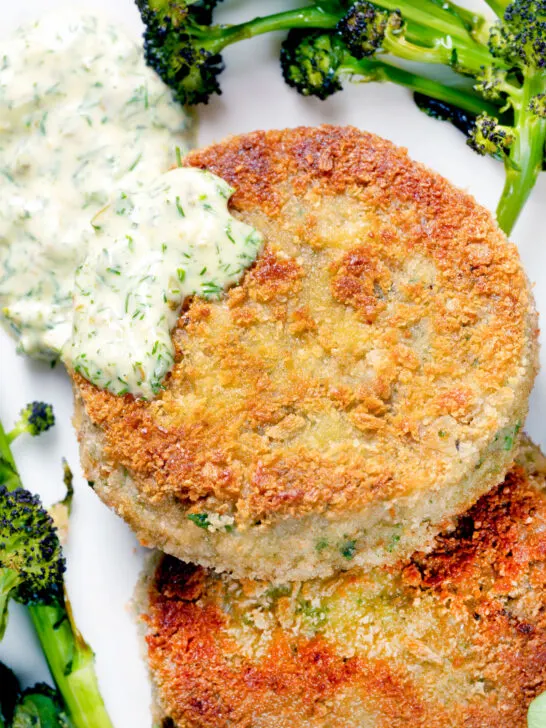 Frequently Asked Questions
Can I make these fish cakes in advance?
Yes, you can prepare the fish cakes and then chill them for up to 2-3 days before cooking them.
Can I freeze these fish cakes?
Yes, once you have your patties breadcrumbed place them in the fridge to firm up for at least 10-15 minutes. Then sandwich a piece of baking parchment between them before popping them in a bag and freezing them.

I cook frozen fish cakes by frying them on one side until golden, then flip them and transfer them to an oven at 180°C or 350°F for 15-20 minutes.
Can I cook these in the oven or air fryer?
You can, although they will never get the same crisp golden crumb as they do when you cook them in butter.

To oven bake them cook them at 180°C or 350°F for 12-15 minutes, to air fry them cook them for 10-12 minutes at 170°C or 340°F.
Can I use leftover mashed potato?
First of all… leftover mashed potato??? That really does not compute for me!

Secondly yes, but with a caveat, the more indulgent your mash the less good it is in this recipe because the dairy content in the mash can make everything too soft and squidgy.

If you are going to use dairy-rich mashed potato then I would use tinned mackerel in spring water rather than in oil.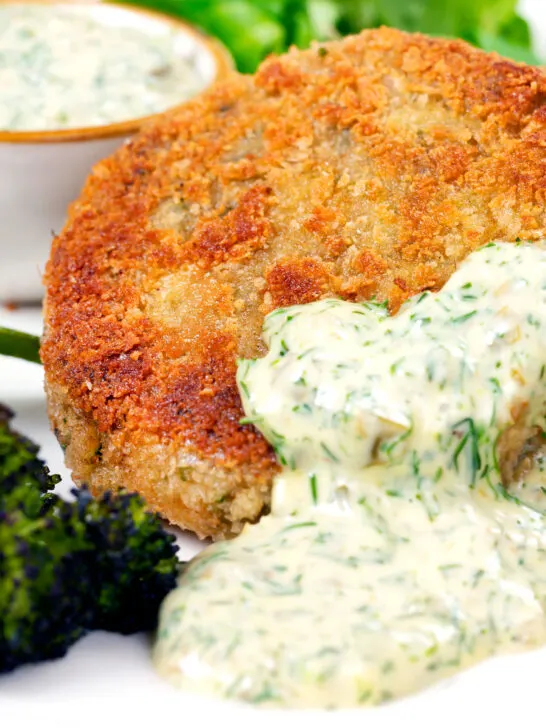 Serving Suggestions
I have served my tinned mackerel fish cakes with some homemade tartar sauce and roasted tenderstem broccoli in these pictures.
If you want a warm sauce then a simple parsley sauce would be absolutely perfect.
Creamed leeks are also an awesome side to serve with fish cakes and the subtle onion flavour is perfect with oily fish too.
A nice salad works incredibly well with these crispy golden treats, my pickled fennel salad with lentils would work really well and my samphire and pea salad would be genius too.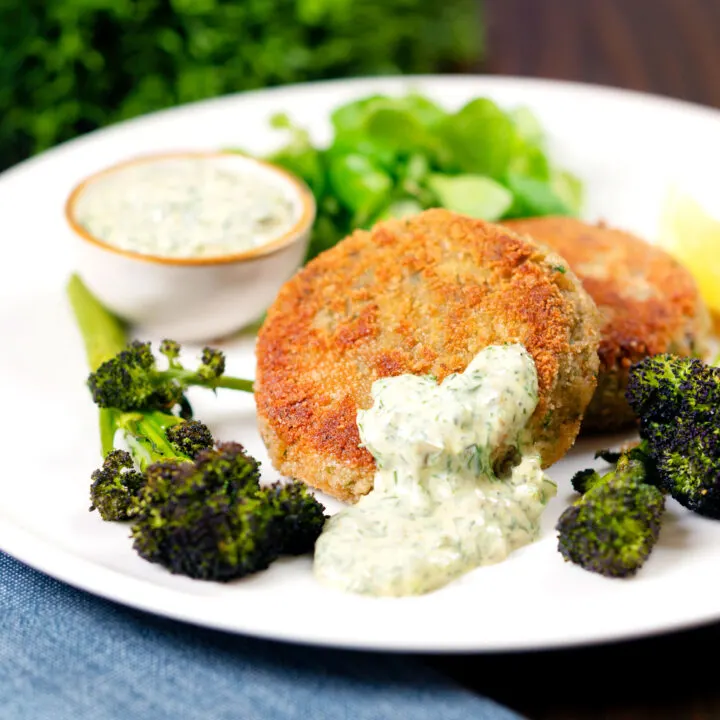 Yield:

2 Servings
Tinned Mackerel Fish Cakes Recipe
Canned or Tinned Mackerel is at the heart of these seriously indulgent and insanely recipe, forget the nasty 'industrial' fish cakes of your youth these are sublime and so very simple!
Ingredients
350g (2½ Cups) Potato
Salt for Boiling Potatoes plus Extra if Required
2 X 125g (4oz) Tins Mackerel in Olive Oil
50g (¼ Cup) Capers
20g (⅓-½ Cup) Fresh Parsley
1 Tsp Fennel Seeds
4 Tbsp Plain Flour
1 Egg
50g (½ Cup) Dried Breadcrumbs
1 Tbsp Cooking Oil
50g (3 Tbsp) Butter
Instructions
Peel the potato and chop it into 2cm (¾) cubes, then boil them in a 20cm or 8" saucepan of salted water (1 use 1 teaspoon of salt in a pan this size) until cooked which should take 12-15 minutes.
Drain the potatoes and let them steam dry for a minute or two then mash or rice them into a medium mixing bowl.
Drain the tins of mackerel, flake the flesh, and add the flesh to the mashed potatoes.
Roughly chop the capers and add the to the potato mix.
Finely chop the parsley and add them to the potato mix, then give everything a stir, have a taste and add salt if required.
Form 4 fish cakes from the potato mix and transfer to the fridge to firm up for 10 minutes. This fish cakes will weigh around 125g or 4oz.
Place the flour in one bowl, and the egg in another and lightly beat it, then place the breadcrumbs in a final bowl.
Lightly crush the fennel seeds, add them to the flour and mix through.
Dip the firmed-up fish cakes into the flour first, then into the egg and finally into the breadcrumbs, then place them back in the fridge for 10 minutes.
Heat a 30cm or 12" frying pan over a medium-high heat and add the cooking oil followed by the butter 1 tablespoon of the butter.
When the butter begins to foam, add the fish cakes and cook them for 2-3 minutes. Flip the fish, add the remaining butter and cook for a final 2-3 minutes basting the patties as you go.
Nutrition Information:
Yield:
2
Serving Size:
1
Amount Per Serving:
Calories:

843
Total Fat:

52g
Saturated Fat:

18g
Trans Fat:

1g
Unsaturated Fat:

30g
Cholesterol:

203mg
Sodium:

1487mg
Carbohydrates:

64g
Fiber:

6g
Sugar:

4g
Protein:

31g
Calorific details are provided by a third-party application and are to be used as indicative figures only.