Calamari rings are arguably probably the most recognisable way that most people encounter squid. My version goes with breadcrumbs and a bit smoked paprika, chorizo and a tomato sauce with a slight Spanish influence.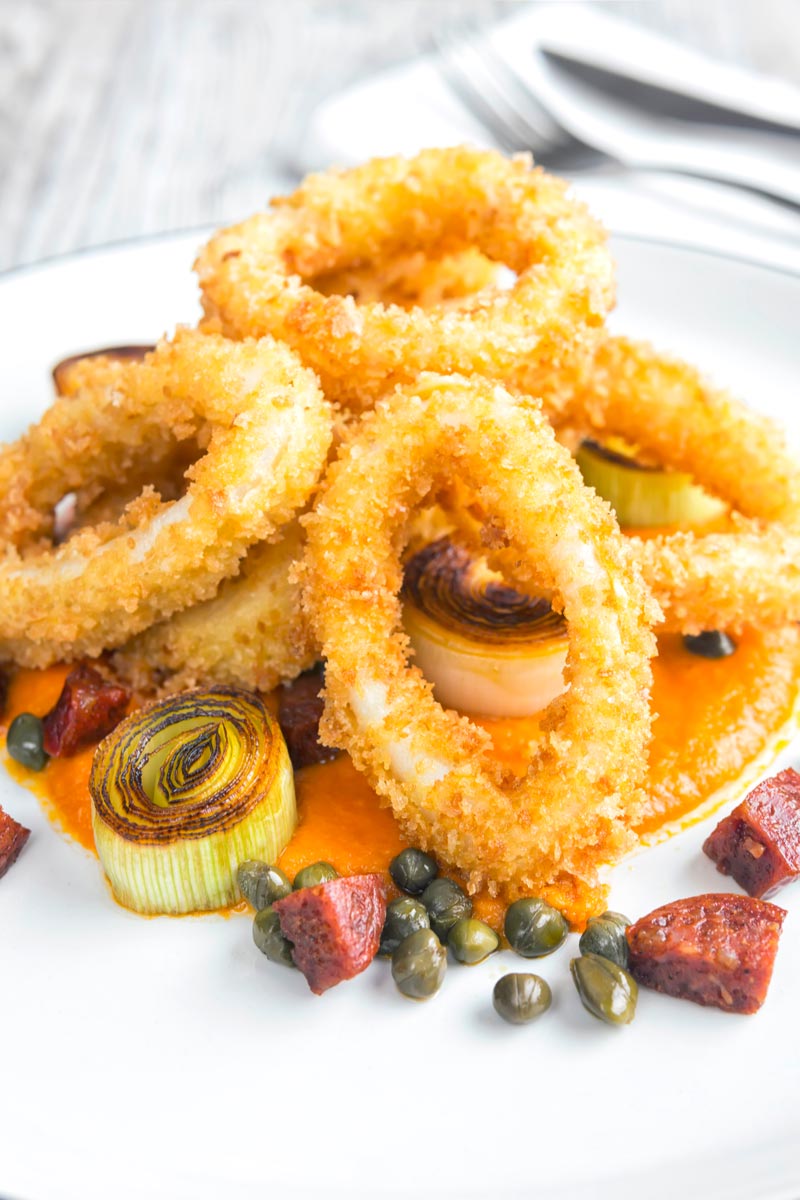 Fried Calamari Recipe with Tomato Sauce, Leeks and Chorizo.
As is usually the way in my corner of the internet I try to create complete meals. Not a pick and mix approach to food and this delicious "surf and turf" affair is a meal I adore.
It does require a bit of planning but none of the techniques here are difficult.
Most importantly despite a long list of instructions and ingredients, you can knock this out for 2 or 10 in not a lot longer than 40 minutes!
The squid rings take minutes to prepare, are gloriously crisp on the outside and tender on the inside.
I very much prefer my squid in breadcrumbs rather than batter.
I have nothing against batter on fish, in fact, the beer batter on my fish and chips recipe would work really well on these rings as would the batter I use on my fish tacos.
The tomato sauce is the perfect foil to that fishy crispness and the chorizo, leek and caper mix pull everything together.
It is a delicious meal that looks like you spent far more time on it than you did!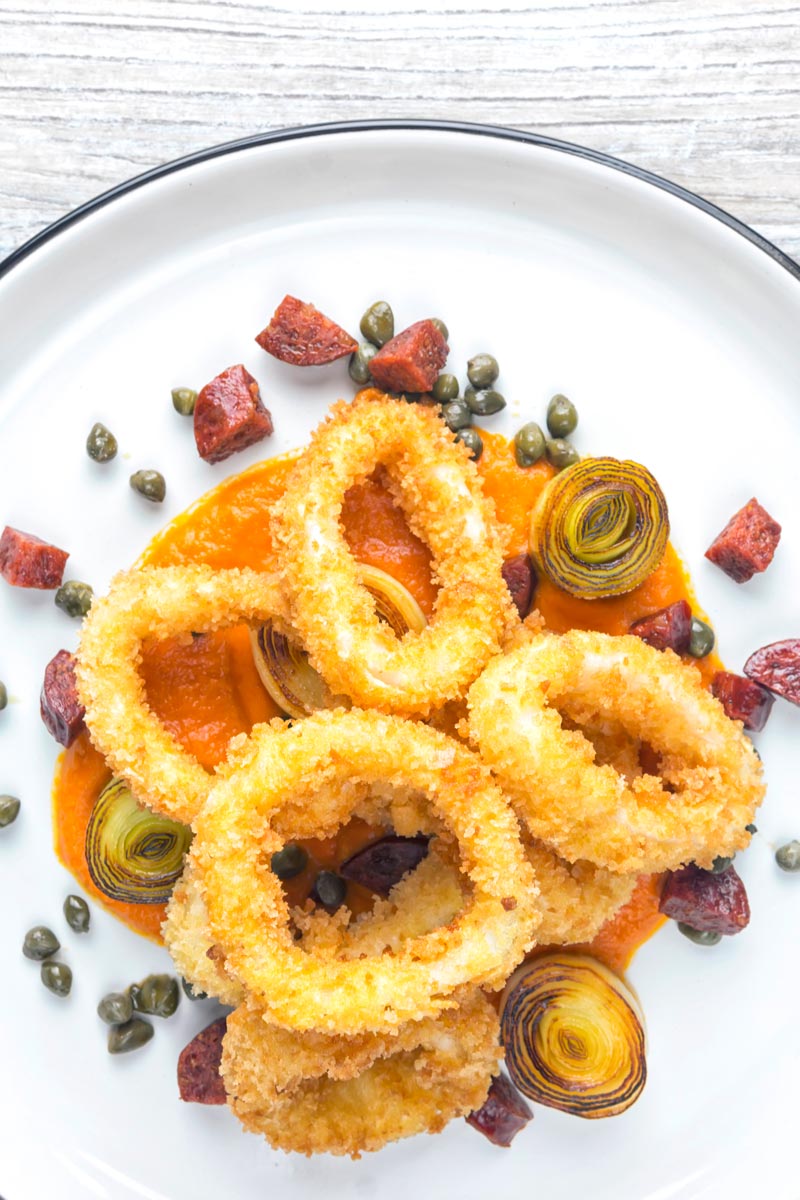 Is Frozen Squid Any Good?
Oh good god yes… There is a great deal of snobbery when it comes to frozen produce. Of course, some of it is good and some of it less so.
Squid is one of the good guys, it is also the only squid I can get my hands on. I use it in my crispy fried salt and pepper squid as well as this fried calamari recipe.
In fact, there is some evidence that shows freezing and defrost squid helps break down the proteins and leads to more tender squid.
The great thing about buying frozen is that you do not need to clean your squid as it is usually done for you.
Now I have no problem cleaning a fish, but a squid is a completely different matter.
So knock yourself out and get some frozen squid in the freezer!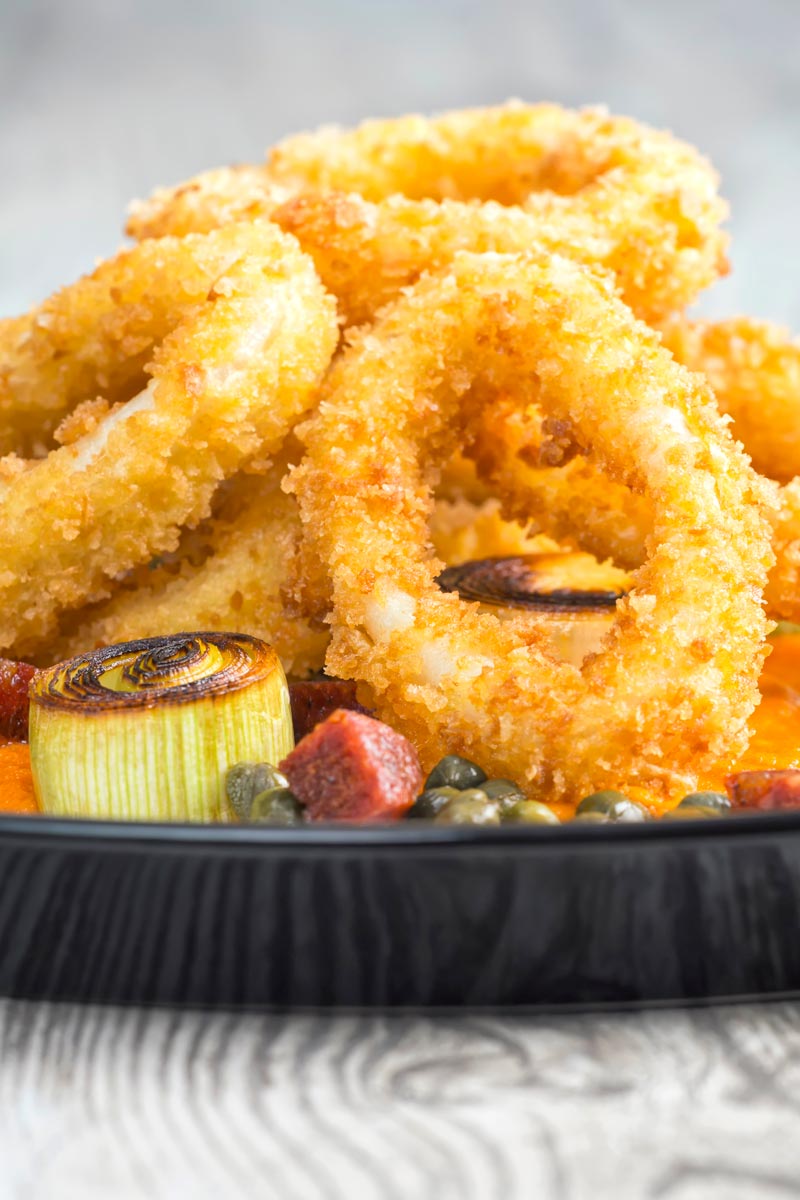 Recipe Hints and Tips.
This recipe is designed to be a treat, deep-fried food is not everyday fodder… It is also a perfect date night dinner.
My thought process behind recipes like this is to allow as much prep in advance as possible.
So just like my pan fried duck breast or fancy fish curry the idea is that the food is special and memorable. But your date night is not dominated by you spending time in the kitchen.
You can make the tomato sauce for this recipe days in advance. The fried calamari rings can be cut in the afternoon, likewise, the chorizo can be prepared hours in advance.
The leeks are fine to be cut an hour before you cook, you can also add the bread crumb coating to the squid up to an hour in advance and store in the fridge.
This means you have at most, 10 minutes cooking in the kitchen cooking.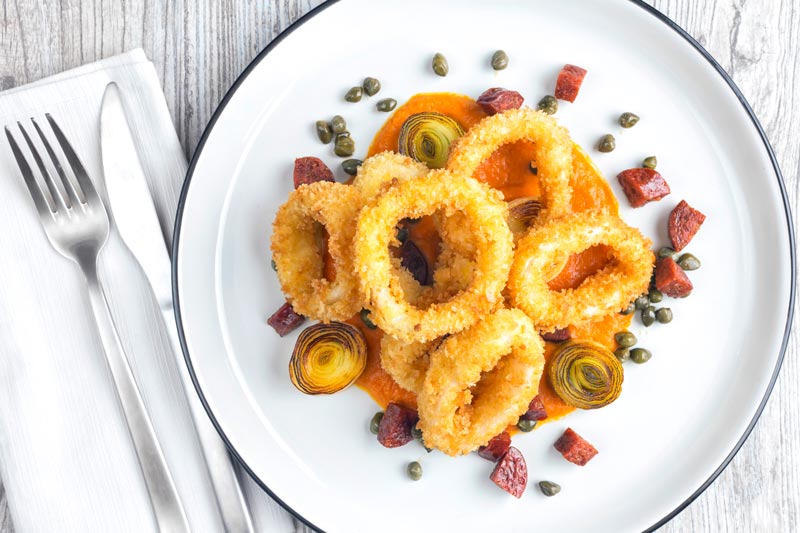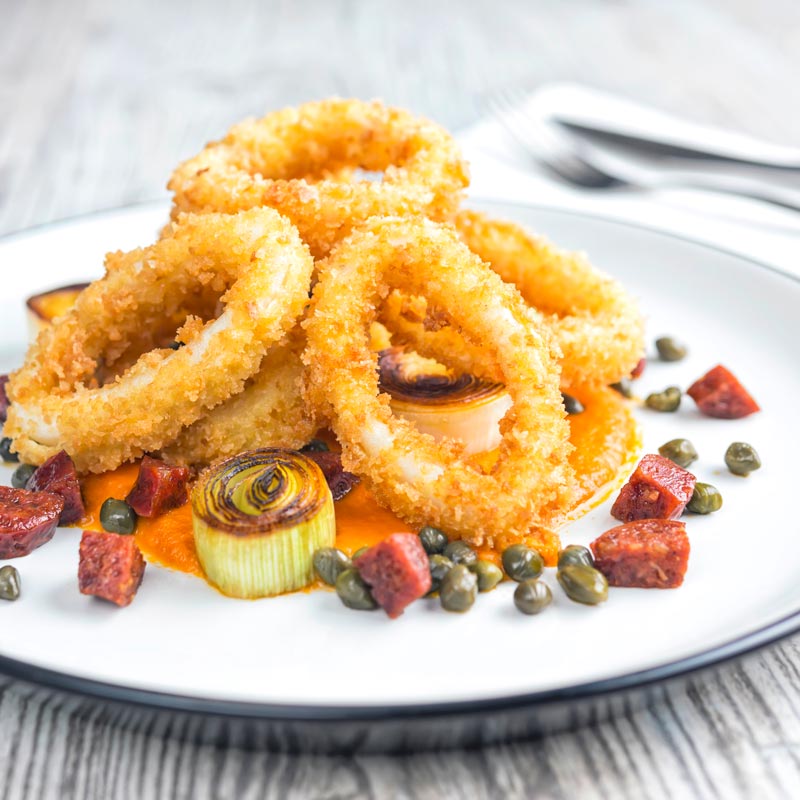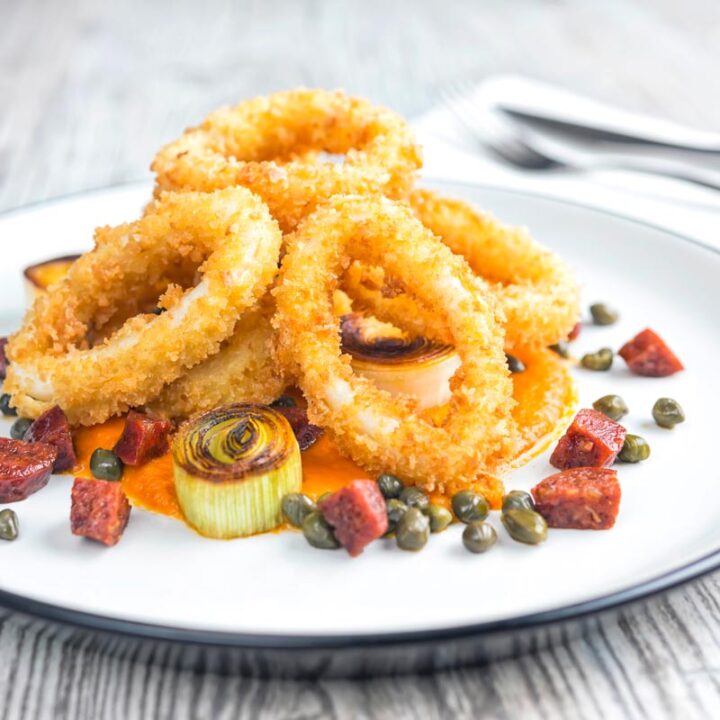 Fried Calamari Rings with Tomato Sauce and Chorizo
These calamari rings are served with a tomato sauce, leeks, chorizo sausage and capers... Despite the long list of things to do the recipe is quick to make and blows people away with great flavour.
Ingredients
For The Calamari:
350 g Squid Tubes
1 Egg
50 g Flour
25 g Bread Crumbs
Pinch Smoked Paprika
Salt to Taste
Oil for Frying
For the Sauce
500 g Tomatoes
1 Tbsp Olive Oil
50 g Shallot
2 Garlic Cloves
1/2 Tsp Smoked Paprika
100 ml White Wine
Salt to Taste
For the Rest
100 g Leeks
75 g Chorizo Sausage
2 Tbsp Capers
Parsley to Serve
Instructions
For the Sauce:
This sauce can be prepared days in advance if you want.
Finely dice the shallots and garlic for the sauce.
Heat the olive oil in a pan over a medium heat and when hot add the shallots and cook for 5 minutes.
Add the garlic and cook for a further minute.
Chop the tomatoes and add them to the pan.
Sprinkle in the smoked paprika for the sauce and season with salt.
Cook for 5 or 6 mins or until the tomatoes begin to break down.
Pour in the white wine and turn the heat up to medium high and reduce so that you have a thick sauce.
Blend this sauce and pass it through a fine-mesh sieve.
For the Rest:
Dice your chorizo sausage into 1cm chunks.
Slice your leeks into 1cm thick rings.
Clean and cut your squid tubes into 1cm thick rings.
Finely chop the parsley.
Heat a pan over a medium heat ad add the chorizo, cook stirring occasionally for 10-12 mins.
Meanwhile, heat the oil in a pan or fryer to 180°C or 350°F.
As soon as the chorizo begins to give off some oil, this should be a minute or two add the leeks.
Flip the leeks after 5 mins to cook the other side.
Sprinkle the squid with salt and a pinch of smoked paprika.
Then dip them into the flour, followed by the egg and finally into the bread crumbs.
3-4 minutes before the chorizo is cooked, heat your sauce and begin to fry the squid.
You should batch fry the squid in two batches if your pan is large enough. Each batch should take 2 minutes to brown and cook through.
Throw the capers in with the leeks and chorizo and heat for 60 seconds.
To Plate Up:
I begin with a pool of the tomato sauce followed by a scattering of the chorizo, leeks and capers. Then pile on our squid rings and sprinkle with lots of parsley.
Nutrition Information:
Yield:

2
Serving Size:

1
Amount Per Serving:
Calories:

696
Total Fat:

28g
Saturated Fat:

8g
Trans Fat:

0g
Unsaturated Fat:

17g
Cholesterol:

534mg
Sodium:

1476mg
Carbohydrates:

55g
Fiber:

6g
Sugar:

11g
Protein:

48g
Calorific details are provided by a third-party application and are to be used as indicative figures only.