My Slow Cooker Daube of Beef is a take on a French red wine beef stew with prunes. Comfort food at its best.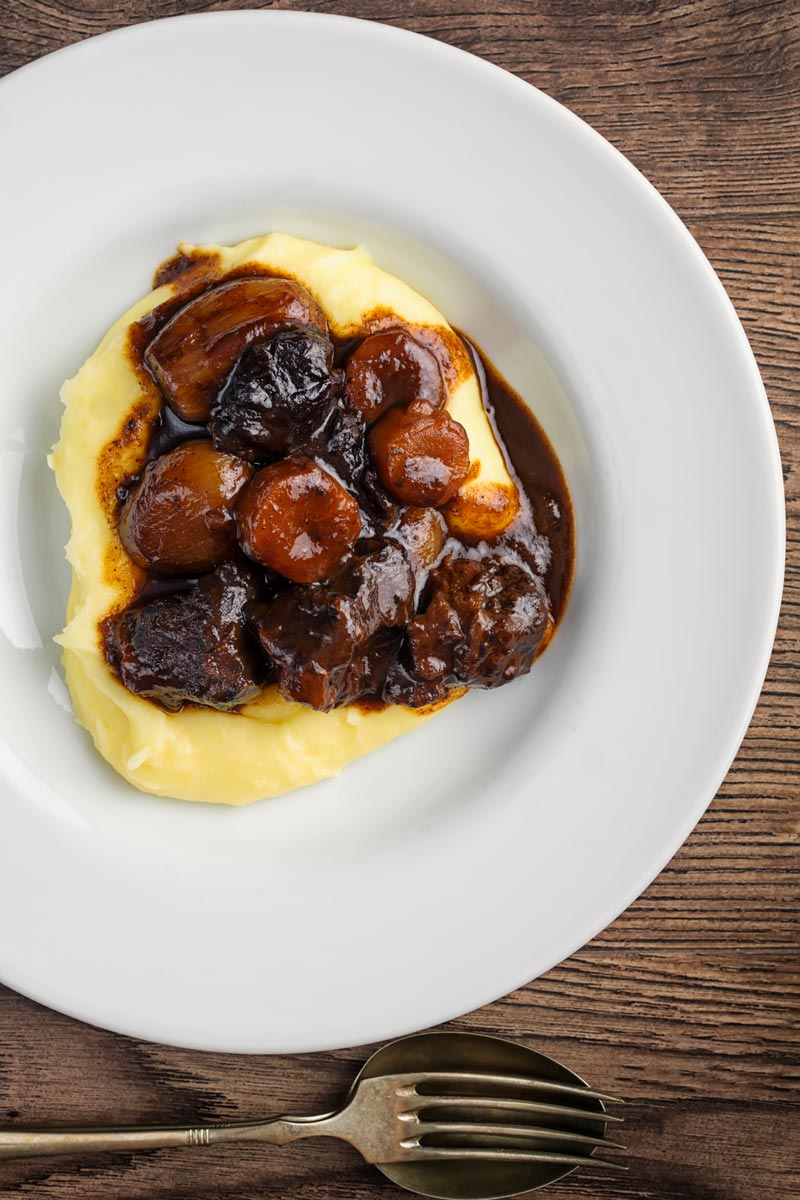 Simple Slow Cooker Classic French Beef Stew.
Ain't no finer winter warmer than a good beef stew and this one hails from the Provence region of France. Traditionally cooked in a terracotta pot called a daubière my version leans on the slow cooker.
France is often known as the home of lah-di-dah fancy food, but it has a wonderful portfolio of comfort food.
Whether it be Coq au Vin or another beefy stew, Beef Bourguignon the French rock homely simple comfort food!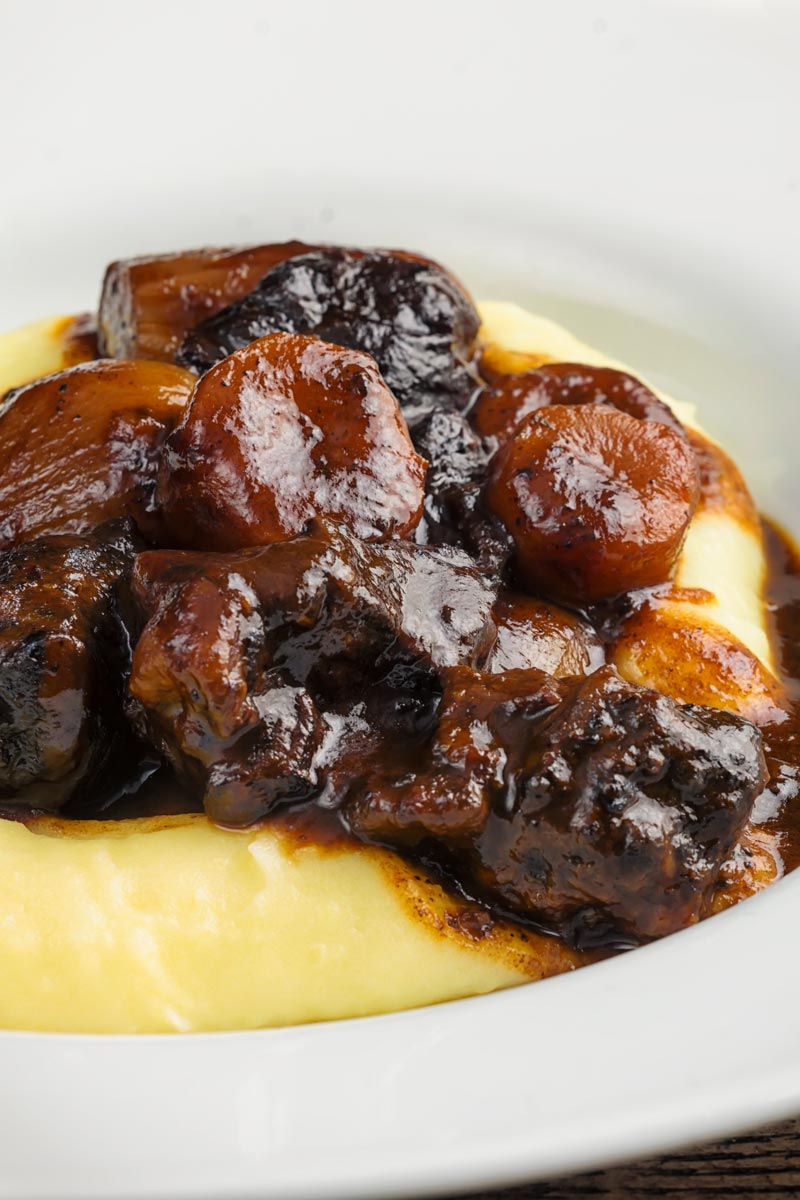 What Cut of Meat to Use.
My recipe calls for some stewing beef. Now that just means a fairly fatty cut of beef that does a lot of work.
My favourite cut of beef for a stew is shin of beef, it has a lot of connective tissue. When it is slow-cooked this breaks down it adds a body to the resulting sauce that cannot be replicated with another cut.
It is what I use in my traditional British Beef Stew along with so many other recipes.
Some recipes call for a combination of short rib and shin, but I actually made this recipe with beef cheek.
A less popular but wonderful piece of meat if you can get your hands on it. You simply must check out my beer braised beef cheek recipe.
However, you can use any of these cuts of meat or even chuck and the recipe will work out just fine!
Just trim off the majority of the sinew and off you go.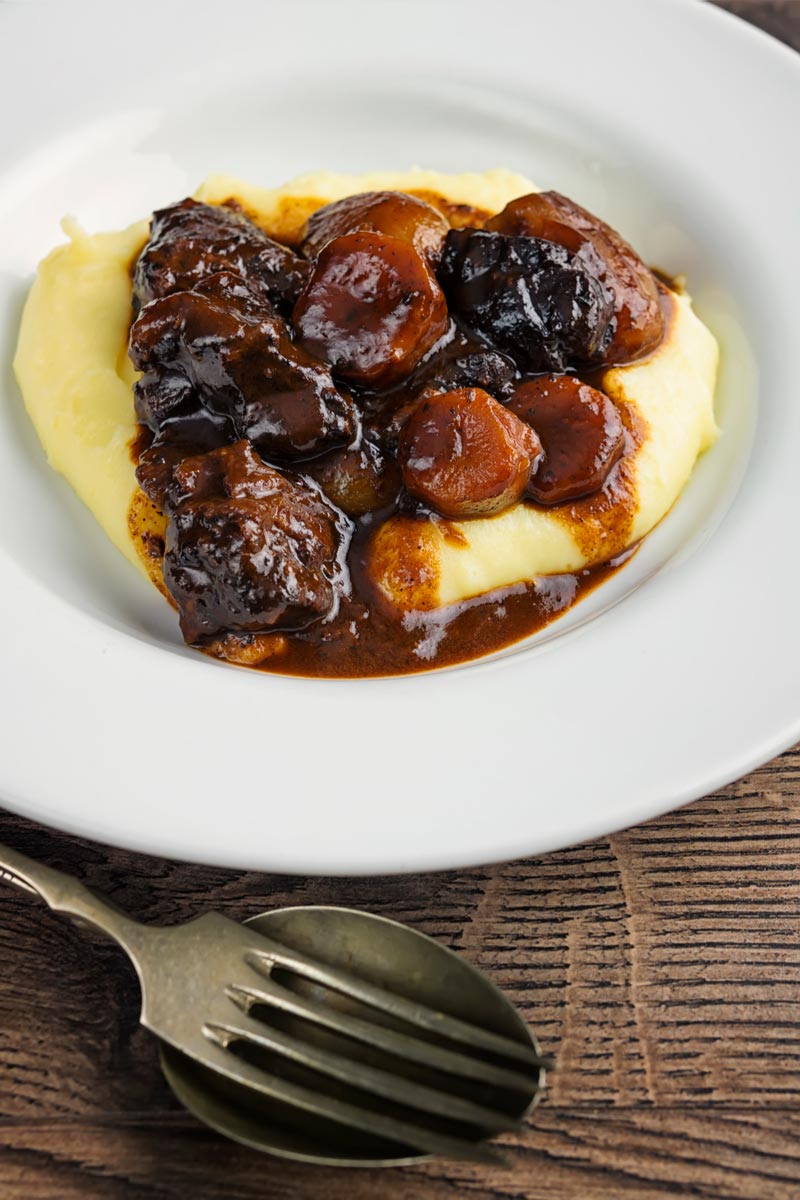 Sauces for Stews.
When cooking a stew in a slow cooker or pressure cooker there is one part of the dish that is often overlooked. That is the sauce!
Both of these ways of cooking almost eliminate all evaporation. Something that is not the case when cooking in using other methods.
This means that sauces and gravies can often be wishy-washy.
For me, the sauce or gravy defines a stew and a good one points to a recipe that has been loved.
So aside from good quality wine or stock, I always take an extra step when I am using one of these devices.
That is to reduce the sauce, it takes about 10 minutes.
You can do it whilst making the silkiest mashed potatoes. as that is just about the best side for this simple recipe!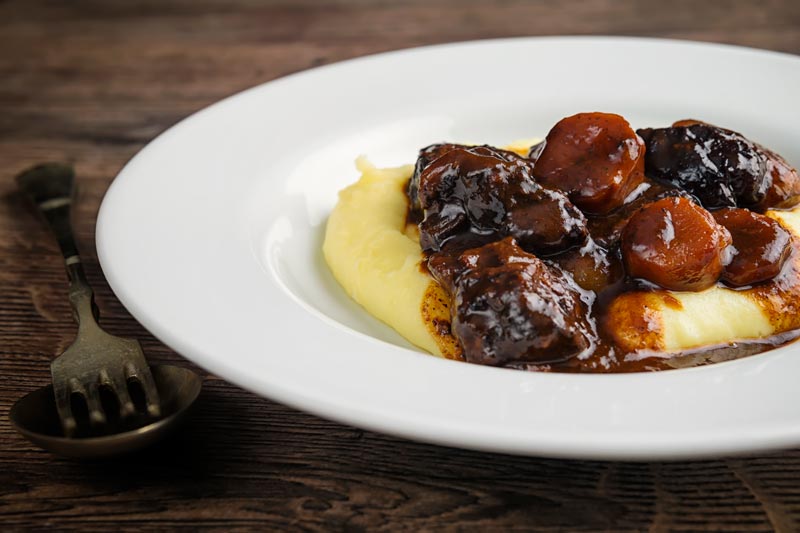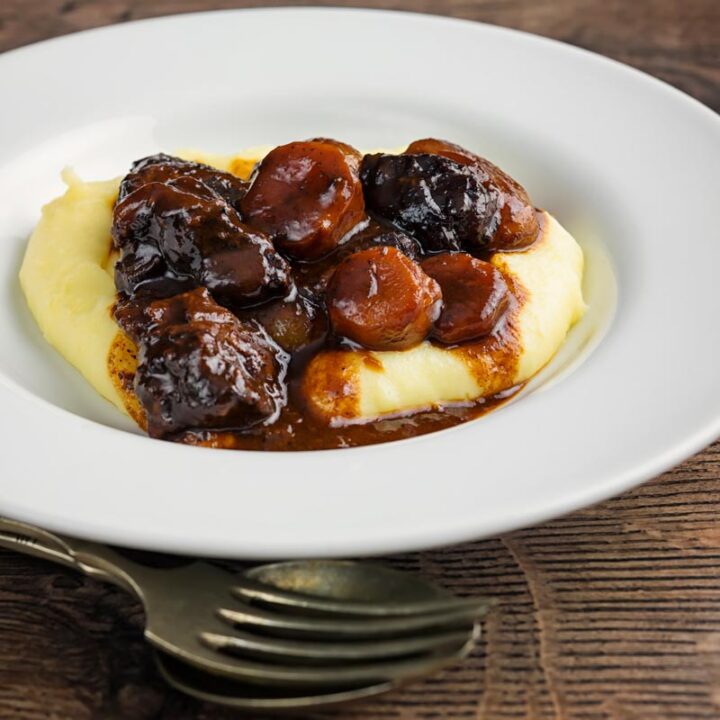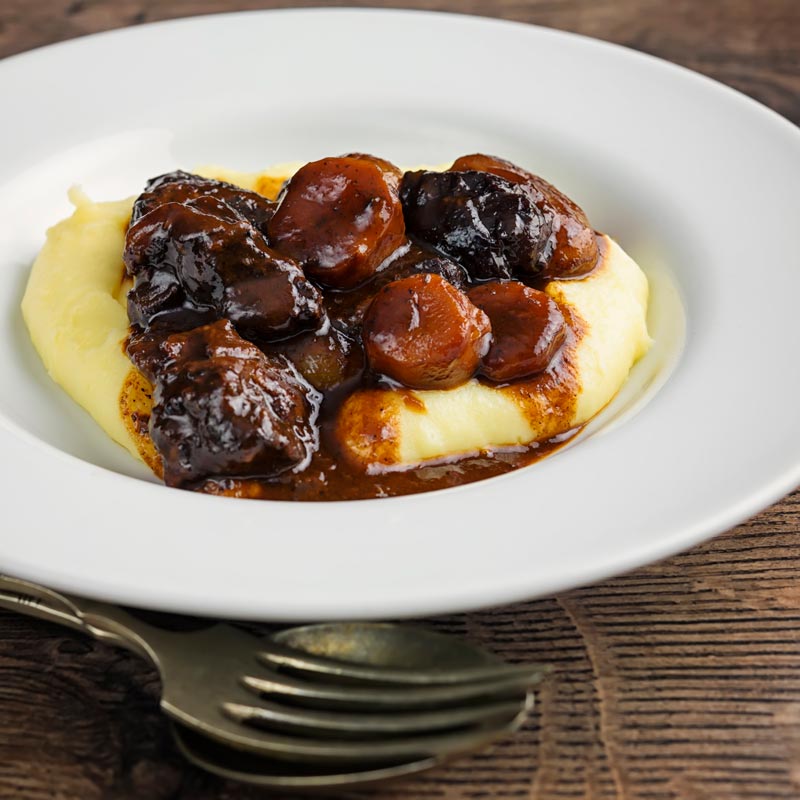 Yield:

2 Servings
Slow Cooker Daube of Beef
Cook Time:
8 hours
30 minutes
Total Time:
8 hours
45 minutes
Daube of Beef is a classic French beef stew, I cook mine in the slow cooker before reducing the cooking liquid down to create the richest of sauces.
Ingredients
400 g Stewing Beef
125 g Baby Onions
150 g Carrots
75 g Prunes
2 Garlic Cloves
1 Orange
6 Garlic Cloves
3 Tbsp Flour
1/4 Tsp Dried Thyme
1/4 Tsp Dried Rosemary
1/4 Tsp Dried Marjoram
1/4 Tsp Dried Savory
1/4 Tsp Salt
1/4 Tsp Pepper
250 ml Beef Stock
375ml Red Wine
1 Bay Leaf
1 Tbsp Red Wine Vinegar
1 Tbsp Tomato Paste
For the Mashed Potato:
500 g Floury Potatoes
50 g Butter
50 g Cream
Instructions
Peel, top and tail the onions.
Cut the carrot into 1-1.5cm thick coins.
Add half of the oil to a pan over a medium heat and fry the carrots and whole onions until golden.
Cut the beef into 2 -2.5cm chunks.
Mix together the flour, dried herbs, salt and pepper in a bowl.
When the vegetables are golden transfer to the slow cooker.
Dredge the beef in flour, patting off any excess.
Fry the beef until golden over a medium heat in the pan we cooked the vegetables in using the leftover oil if required. *
Whilst the beef is frying peel the zest from the orange using a vegetable peeler.
When browned add the beef to the slow cooker.
Turn the heat under the pan to high and deglaze it with the red wine.
Add the beef stock and when this comes to the boil pour into the slow cooker.
Bash the garlic cloves with the side of a knife then add the orange zest, prunes, tomato paste, red wine vinegar and bay leaves.
Stir then cook on low for 7-8 hours.
Bring a large pan of generously salted water to the boil.
30 minutes before the beef is cooked, peel and cut your potatoes into a 2cm dice.
Boil the potatoes until cooked, this will take around 25 minutes.
15 minutes before serving, remove the solids from the stew and pass the cooking liquid through a fine sieve into a pan.
Reduce the cooking liquid by 2/3rds.
When the potatoes are almost cooked gently heat the cream in a pan.
Put the potatoes through a potato ricer and add the butter and heated cream and mix.
Add the solids back into the reduced sauce and warm before serving.
Notes
*It is best to fry off the beef in batches.
Nutrition Information:
Yield:
2
Serving Size:
1
Amount Per Serving:
Calories:

1045
Total Fat:

39g
Saturated Fat:

22g
Trans Fat:

1g
Unsaturated Fat:

13g
Cholesterol:

119mg
Sodium:

823mg
Carbohydrates:

120g
Fiber:

14g
Sugar:

32g
Protein:

26g
Calorific details are provided by a third-party application and are to be used as indicative figures only.