Slow cooker beef daube is an old provencal French beef stew that features hints of orange and thyme in a bold red wine sauce.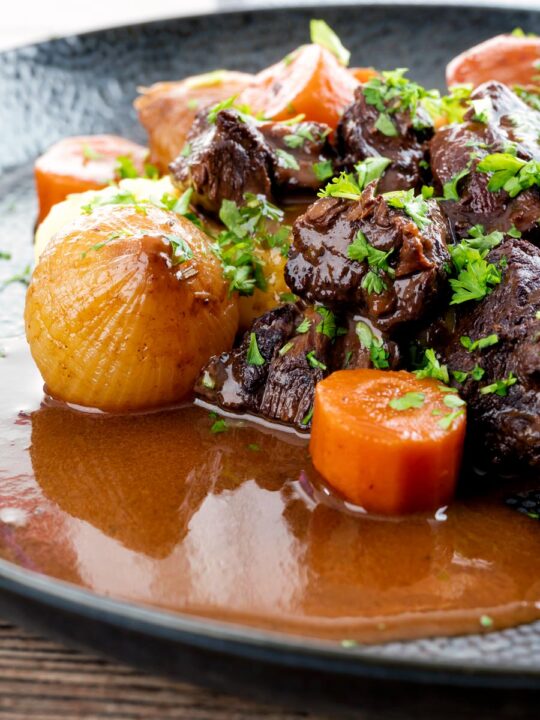 Simple Slow Cooker Classic French Beef Stew.
Ain't no finer winter warmer than a good beef stew and this one hails from the Provence region of France. Traditionally cooked in a terracotta pot called a daubière my version leans on the slow cooker.
France is often known as the home of lah-di-dah fancy food, but it has a wonderful portfolio of comfort food.
Whether it be Chicken in red wine, coq au vin blanc or another beefy stew, Beef Bourguignon the French rock homely simple comfort food!
A Traditional Boeuf en Daube or sometimes called daube of beef recipe would have been cooked over several days. Allowing an overnight rest in between each stage to intensify the flavour.
It is definitely a dish that is awesome on the second day. So feel free to double the recipe or even cook it a day before you eat it and store in the fridge overnight.
The prunes and orange zest may seem like an odd addition but they are very traditional variations in parts of France and I love them.
The orange adds a citrus headiness that I also use in my crispy chilli beef. The prunes an almost malty sweetness that balances the tartness of the orange.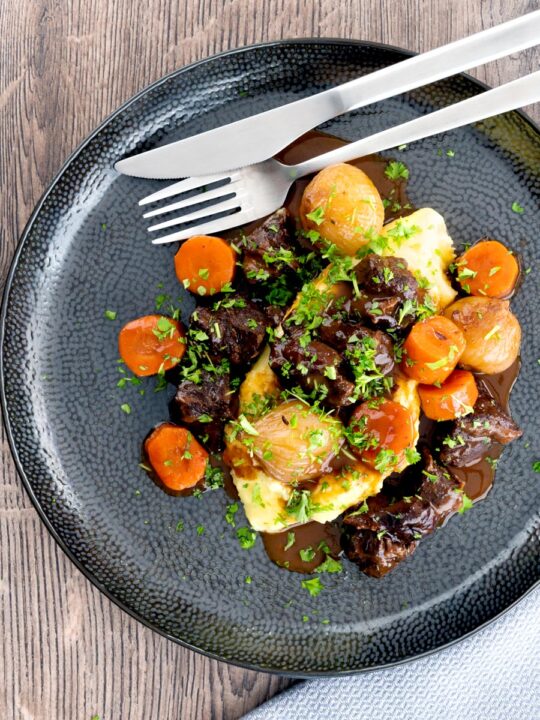 What Cut of Meat to Use.
My recipe for beef daube crudely calls for some stewing beef. Now that just means a fairly fatty cut of beef that does a lot of work.
My favourite cut of beef for a stew is shin of beef, it has a lot of connective tissue. When it is slow-cooked this breaks down it adds a body to the resulting sauce that cannot be replicated with another cut.
It is what I use in my traditional British Beef Stew along with so many other recipes.
Some recipes call for a combination of short rib and shin, but I actually made this recipe with beef cheek.
A less popular but wonderful piece of meat if you can get your hands on it. You simply must check out my beer braised beef cheek recipe.
However, you can use any of these cuts of meat or even chuck and the recipe will work out just fine!
Just trim off the majority of the sinew and off you go.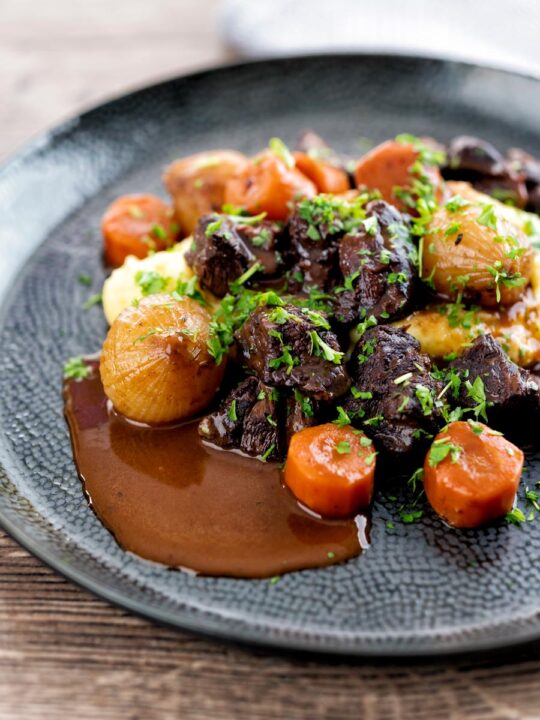 Serving Suggestions.
This slow cooker daube of beef recipe is pure comfort food and the sides should live up to that.
For me that means a buttery mashed potato although the flavours are also great with celeriac mash.
You could even cross European borders and serve this very French beef stew with an Italian polenta, although I would omit the cheese.
If you wanted to go a little lighter then some steamed greens like broccoli or green beans make a great side dish.
Or maybe just go for a big old bowl and a nice crusty French baguette.
Finally if you have any left over gravy, do not throw it away! Freeze it and serve it with sausages and mash, it is awesome!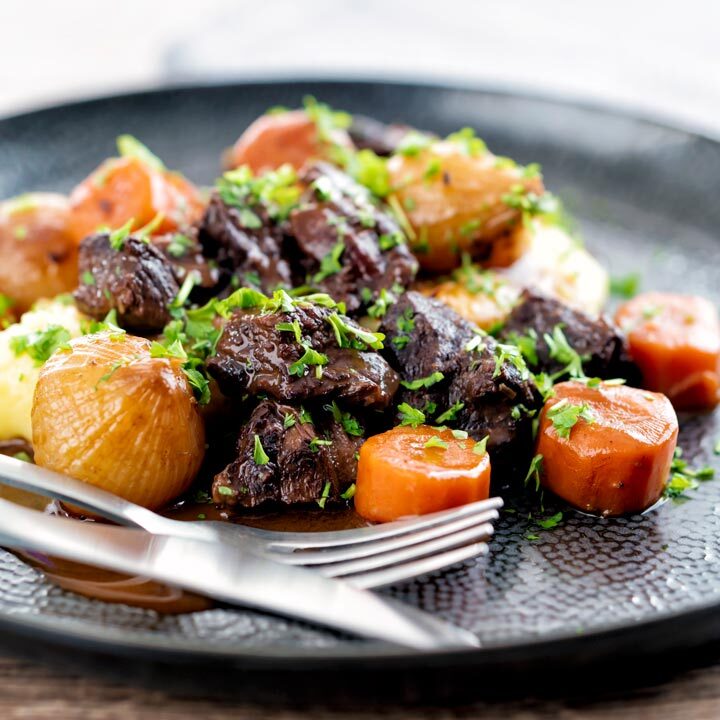 Yield:

2 Servings
Slow Cooker Beef Daube Recipe
Cook Time:
6 hours
45 minutes
Total Time:
6 hours
55 minutes
Beef daube is a classic French beef stew, I cook mine in the slow cooker before reducing the cooking liquid down to create the richest of sauces.
Ingredients
350g (12oz) Stewing Beef
250g Small (6 ping pong ball sized) Onions
150g (~1 Cup) Carrots
75 g (6-8 whole) Pitted Prunes
1 Orange
6 Garlic Cloves
3 Tbsp Flour
1/2 Tsp Dried Thyme
1/2 Tsp Dried Rosemary
1/2 Tsp Dried Marjoram
1/2 Tsp Dried Savory
1/2 Tsp Salt
1/4 Tsp Pepper
250ml (~1 Cup) Beef Stock
375ml (1/2 Standard Bottle) Red Wine
1 Bay Leaf
1 Tbsp Red Wine Vinegar
1 Tbsp Tomato Paste
2 Tbsp Cooking Oil
Instructions
Peel, top, and tail the onions.
Peel and cut the carrot into 1.5cm thick coins.
Cut the beef into 2 -2.5cm chunks and season with the salt and pepper.
Mix together the flour, dried herbs, salt and pepper in a bowl.
Add half of the oil to a pan over a medium heat and fry the carrots and whole onions until they start to get a bit of colour then transfer to the slow cooker.
When the vegetables are golden transfer to the slow cooker.
Add the remaining oil to the pan and fry the beef until coloured on all sides over a medium-high heat.
When browned add the beef to the slow cooker.
Sprinkle over the flour mix and stir thoroughly to coat.
Turn the heat under the pan to high and deglaze it with the red wine and then pour over the beef.
Mix the beef stock with the tomato paste and red wine vinegar and pour it into the slow cooker.
Peel the zest from the orange with a vegetable peeler and add it to the slow cooker.
Bash the garlic cloves with the side of a knife then add them to the slow cooker.
Finally, throw in the prunes and bay leaf and stir well.
Have a taste of the sauce and add more salt if required.
Cook on low for 6 hours or on high for 4 hours.
Remove the solids from the crockpot and pick out the beef, prunes, onions, and carrots and set aside, then discard the remaining solids.
Heat a frying pan over a high heat and pass the cooking juices through a fine-mesh sieve and reduce by 10-15%.
Return the beef and vegetables to the sauce bring them back to temperature and serve.
Nutrition Information:
Yield:
2
Serving Size:
1
Amount Per Serving:
Calories:

696
Total Fat:

23g
Saturated Fat:

4g
Trans Fat:

0g
Unsaturated Fat:

17g
Cholesterol:

37mg
Sodium:

923mg
Carbohydrates:

72g
Fiber:

10g
Sugar:

32g
Protein:

20g
Calorific details are provided by a third-party application and are to be used as indicative figures only.