Nothing says winter to me quite like a hearty Beef Stew with suet dumplings that soak up a rich beer-based gravy!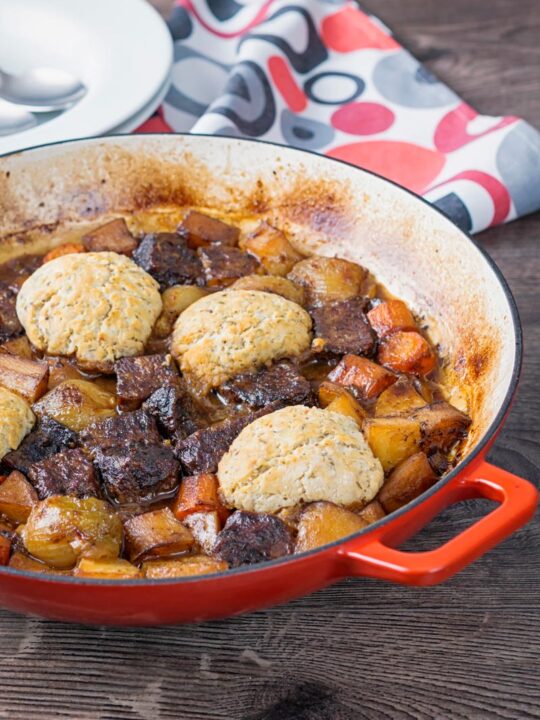 A Very British Stew with Suet Dumplings!
There ain't been any messing around with this recipe! It is pretty much the stew I remember eating growing up in the UK in the 1970's.
It is slowly cooked with pretty much the cheapest piece of beef you can get your hands on.
Shin or shank is invariably my go-to cut of meat for slow cooked recipes and this one is no different.
I use it in everything from my Beef vindaloo through to my beef and ale pie, I even use it in my sideways look at Osso Buco!
It contains lots of connective tissue that breaks down when slowly cooked. As a result of this, you get a beautifully rich gravy.
Aside from all of that it may very well be one of the first things that I taught myself to cook when I left home. After I ran out of money to buy takeaways that is!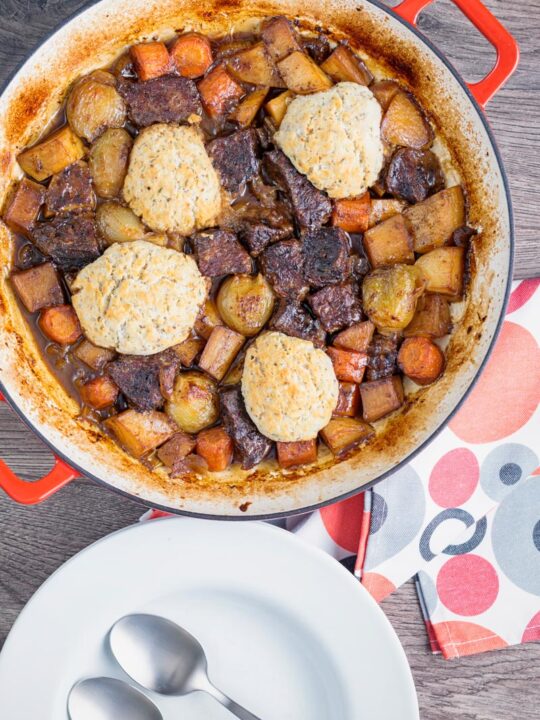 What are Suet Dumplings?
I'm not sure if suet dumplings are a thing in the US which, if my assessment is correct, where many of you guys live… But they should be!
A beef stew just ain't right without them and they were and remain my favourite part of this dish.
My suet dumpling recipe and method leads to a crispy topping and soft and squidgy underbelly.
But you could equally keep them soft by adding them and cooking with a lid on rather than off.
You should really give them a go, you can either use fresh suet, which is the fatty coating that covers the kidney and liver.
A good butcher is your friend here or even dried suet it really makes no difference.
I use dried suet made by Atora, it's the stuff my Gran used and most likely her Mum too!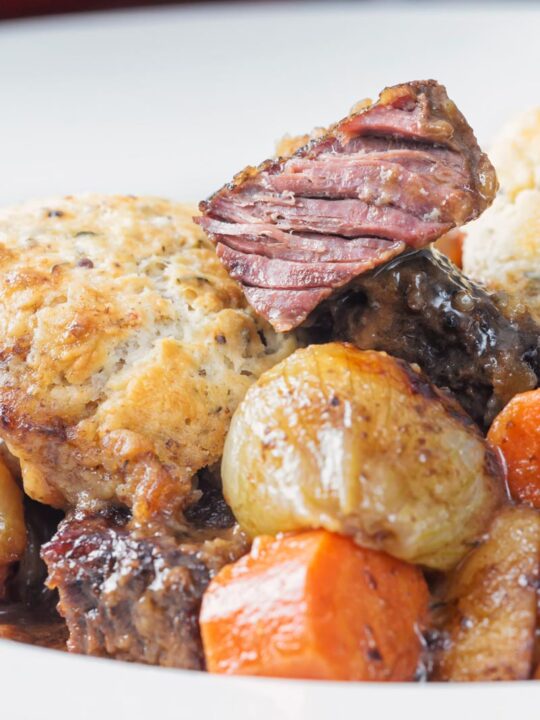 The Vegetables.
As far as I am concerned the very best vegetables for a stew are roots.
The dish is unashamedly cold-weather food, it was all about cooking up big grub when fresh produce hard to find.
Roots, on the other hand, would have been 'clamped' over winter and available all year round.
Sure we now get fresh vegetables from all over the world all year round but roots and winter are a match made in heaven!
This recipe calls for 350g of root vegetables. Do with that what you want, but they need to be the sort of hearty veg that can be 'wintered'.
Think potatoes, carrots, swede, turnip, celeriac, parsnip and of course onions!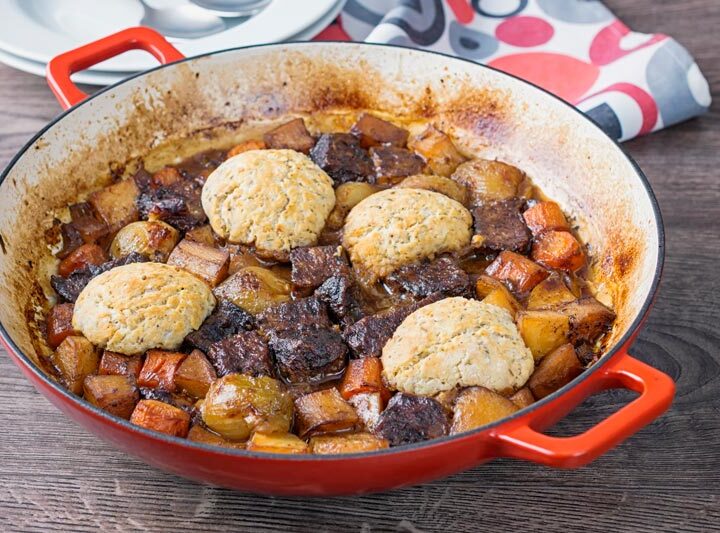 The Perfect Gravy.
Regular readers may have noticed that I am rather fond of cooking with beer!
This recipe is just one example of many that cook with beer. It ain't just falling over juice, it adds a rich and complex flavour to sauces and glazes.
This recipe calls for a dark beer, I recommend a porter in this recipe. You could use stout which will add a little more "bitterness" to the gravy.
I very much prefer darker beers for cooking. The flavours tend to be a little bolder and stand up better to cooking.
So, for instance, my pork meatballs in a beer sauce call for a darker wheat beer. My beer roasted pork knuckle like this recipe calls for a porter.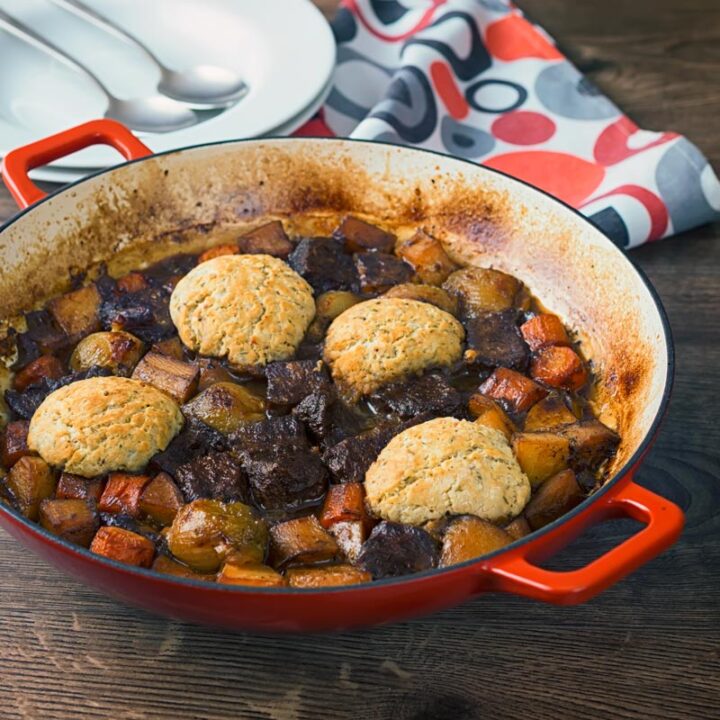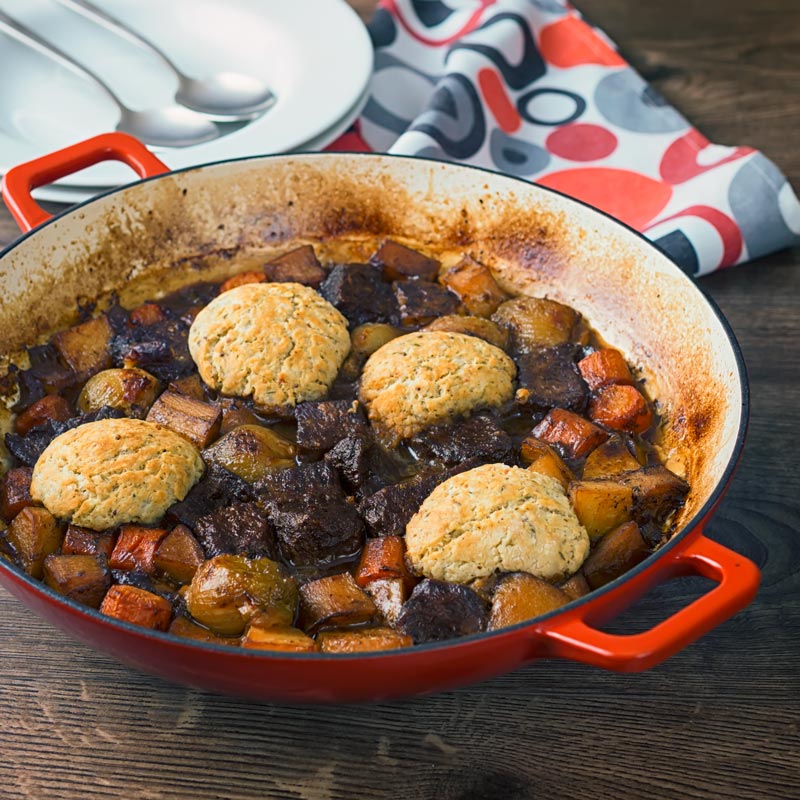 Yield:

2 Servings
Beef Stew With Suet Dumplings Recipe
Cook Time:
2 hours
30 minutes
Beef Stew with Dumplings... Welcome to my childhood, this recipe is about as British as it gets and if you have never tried suet dumplings, then you seriously are missing out!
Ingredients
2 Tbsp Cooking oil
150g Shallot
2 Tbsp Plain Flour
350 g Beef Shin
50 g Butter
150g Potatoes
100g Carrot
100g Parsnip
30 g Celery
2 Tbsp Worcestershire Sauce
250 ml Dark Beer
350ml Beef Stock
35 g Dried Suet
70 g Plain Flour
1 Tsp Baking Powder
1 Tsp Grainy Mustard
1/2 Tsp Dried Thyme
Salt and Pepper to taste
Instructions
Peel your shallots.
Chop your beef into 2cm cubes.
Cut your root vegetables into 2cm cubes.
Slice your celery into 1cm slices.
Heat a small amount of the cooking oil over a medium high heat in your cooking pan which should have a heavy base and be able to be transferred to an oven.
Cook your shallots until lightly coloured.
Mix together the 2 tablespoons of flour, with a generous amounts of salt and pepper and use it to coat the meat.
Once the shallots have a nice colour remove from the pan and set aside.
In the same pan cook the coated beef until nicely caramalised on all sides, adding oil as necessary, this is best done in 2 or 3 batches.
When cooked set aside with the shallots.
Add the butter to the pan throw in the celery, root vegetables and garlic and cook for a couple of minutes then turn the heat up to high.
Add in the Worcestershire sauce and allow to reduce over a high heat until almost dry.
Then pour in the beer and reduce by half ensuring you scrape and meat residue from the bottom of the pan.
When the beer has reduced return the beef and shallots to the pan along with the beef stock.
Check for seasoning and place in the oven covered with a tight fitting lid and cook for two and a half hours at 180°C or 350°F.
Mix together the suet with the 70g of plain flour, baking powder, grainy mustard, 1/2 tsp dried thyme 1/8 tsp salt and then bring together to form a light dough by adding a little cold water at a time. You will need around 50ml of water.
Form into 4 balls and once the stew has been cooking for 2.5 hours, nestle in the dumplings, removing the lid and returning to the oven for 30 minutes or until crispy and golden on top.
Notes
The root vegetables in this recipe can be swapped out for any other root veg you wish.
Nutrition Information:
Yield:
2
Serving Size:
1
Amount Per Serving:
Calories:

1400
Total Fat:

86g
Saturated Fat:

37g
Trans Fat:

1g
Unsaturated Fat:

41g
Cholesterol:

218mg
Sodium:

1180mg
Carbohydrates:

83g
Fiber:

9g
Sugar:

14g
Protein:

59g