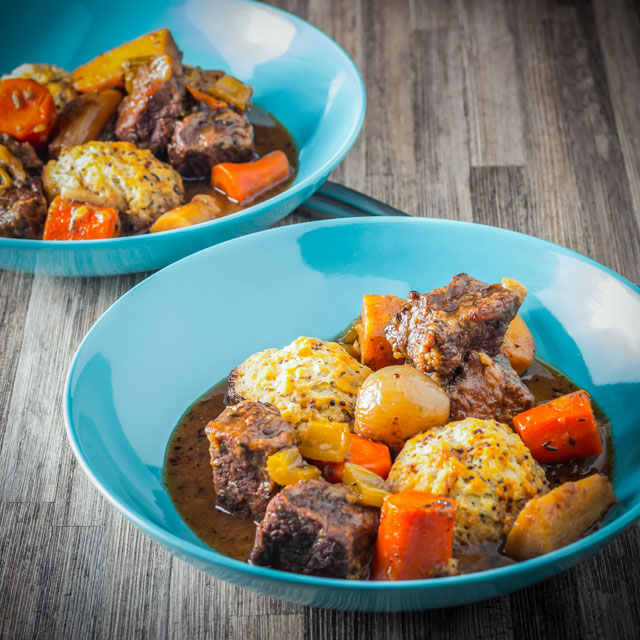 A hearty beef stew really is my kinda meal between Christmas and New Year, we tend not to do the big Turkey/Ham roast, but I still manage to use every single pan, dish and gadget in the kitchen to cook what was this year a wonderful and rather 'cheffy' Venison Haunch for Christmas Dinner. So a one pot wonder is most definitely called for to get a break from all that infernal washing up! Add that to the fact that our corner of Hungary has been blanketed in a fog that is so dense we have not seen the end of our garden for 2 weeks means it is definitely beef stew o'clock. I maybe fond of international food but this dish is as British as it comes and is a dish I have eaten hundreds of times whether that be as a child or by myself, in fact it may very well be one of the first taught myself to cook when I left home to go to college… After I ran out of money to buy take aways that is 😉
I have seen all sorts of pieces of beef recommended for cooking in stews but for me the long and slow cooking really lends itself to using something with a bit of connective tissue that breaks down in the cooking process. For me the ideal cut is a shin of beef, but you could use blade, skirt anything with a bit of fat and body you don't want anything too lean or it will dry out. I'm not sure if suet dumplings are a thing in the US which, if my assessment is correct, where most of you guys live, but they should be ;). A beef stew aint a beef stew without them and they were and remain my favourite part of this dish, I like my dumplings to have a crispy topping and to be soft underneath but you could equally keep them soft by just placing in the oven with the lid on. But you should really give them a go, you can either use fresh suet, which is the fatty coating that covers the kidney and liver, which you can get from a butchers or even dried suet it really makes no difference.
This time of the year always feels increasingly odd, all the talk of the end of the year and resolutions always feels just wrong since we became 'farmers'. The end of the year is nothing more than an arbitrary number for us and the end of Autumn really feels like the end of the year for us, when the final bit of winter wood is chopped and the harvest collected, that is the end. New year feels like nothing more than a mid season break, our new year will begin at the end of February when we can get out in our garden and get stuck in, something we are beginning to plan over the next week when we start juggling our crop rotation plans.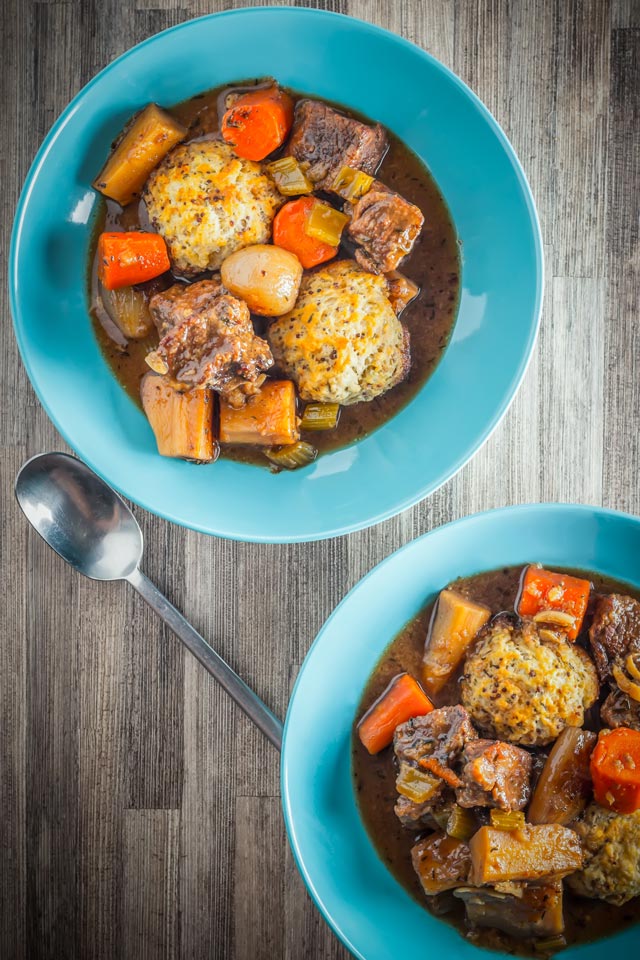 Print
Beef Stew With Suet Dumplings
Nothing says winter to me quite like a hearty Beef Stew with obligatory suet dumplings to soak up the beer that is loaded with dark beer!
Cook Time
3
hours
30
minutes
Ingredients
Cooking oil.

Neutral, for frying shallots and beef.

4

Small Shallot.

Topped tailed and peeled.

2

Tbsp

Plain Flour.

1

Tsp

Powdered Mustard .

Optional

1/8

Tsp

Coarse Sea Salt.

1/8

Tsp

Ground Black Pepper.

500

g

Beef Shin.

Cut into large chunks between 3cm and 5cm.

50

g

Butter.

400

g

Root Vegetables.

Cut into large 2cm chunks I used Carrots and Parsnip this time but it works equally well with celariac, potatoes, swede, sweet potato... So take your pick

50

g

Celery.

Cut into 1cm slices

4

Cloves

Garlic.

Peeled and bashed with the back of a knife.

2

Tbsp

Worcestershire Sauce.

300

ml

Dark Beer.

A porter or stout works wonderfully but I personally favour a dark wheat beer.

1

Tsp

Dried Thyme.

1

Bay Leaf.

35

g

Dried Suet.

70

g

Plain Flour.

1

Tsp

Baking Powder.

1

Tsp

Grainy Mustard.

1/2

Tsp

Dried Thyme.
Instructions
Preheat your oven to 150 C.

Heat a small amount of the cooking oil over a medium high heat in your cooking pan which should have a heavy base and be able to be transferred to an oven.

Cook your shallots until lightly coloured.

Mix together the flour, mustard, salt and pepper and use it to coat the beef.

Once the shallots have a nice colour remove from the pan and set aside.

In the same pan cook the coated beef until nicely caramalised on all sides, adding oil as necessary, this is best done in 2 or 3 batches. When cooked set aside with the shallots.

Add the butter to the pan when all of the beef is cooked and set aside and throw in the celery, root vegetables and garlic and cook for a couple of minutes then turn the heat up to high.

Add in the Worcestershire sauce and allow to reduce over a high heat until almost dry.

Then pour in the beer and reduce by half ensuring you scrape and meat residue from the bottom of the pan.

When the beer has reduced return the beef and shallots to the pan along with 1 tsp dried thyme, bay leaf and beef stock, then check for seasoning and place in the oven covered with a tight fitting lid and cook for 3 hours.

Mix together the suet with the plain flour, baking powder, grainy mustard, 1/2 tsp dried thyme 1/8 tsp salt and then bring together to form a light dough by adding a little cold water at a time.

Form into 4 balls and once the stew has been cooking for 2 hours, nestle in the dumplings, removing the lid and returning to the oven for 30 minutes or until crispy and golden on top.