Lemon pepper wings, crispy, zingy and spicy with lots of black pepper, this recipe contains instructions to bake, grill and air fry.
These chicken wings can be prepared in advance and are just as easy to cook for one as they are for a party.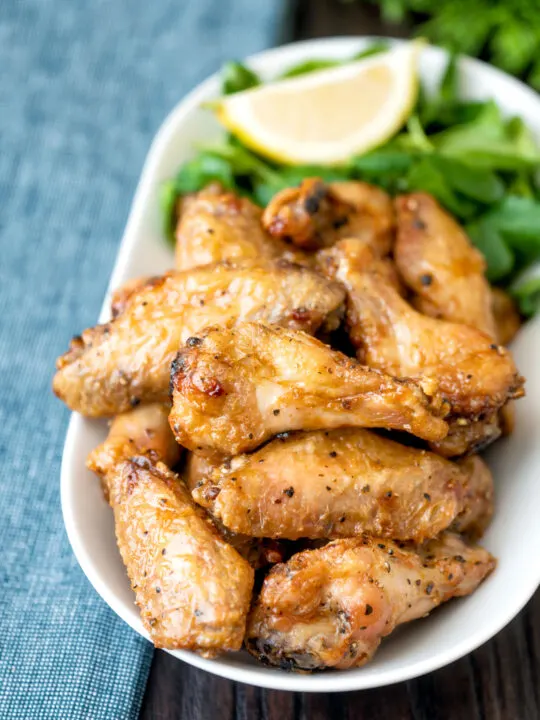 Spicy Lemony Chicken Wings
I love wings, in fact, I don't know anyone that does not love wings!
Now I love proper fried crispy chicken wings, but I am not a huge fan of maintaining the oil in a deep fat fryer.
As a result, most of the wings I cook are baked, air fried or grilled on the BBQ.
These lemon pepper chicken wings are super easy to make and taste delicious. Just like my Thai chicken wings, peri peri chicken wings and Korean chicken wings, this recipe comes with instructions for baking, grilling or air frying for you to make your choice.
Loaded with lots of black pepper and the most incredibly zingy lemon and honey glaze these easy wings are the perfect munch.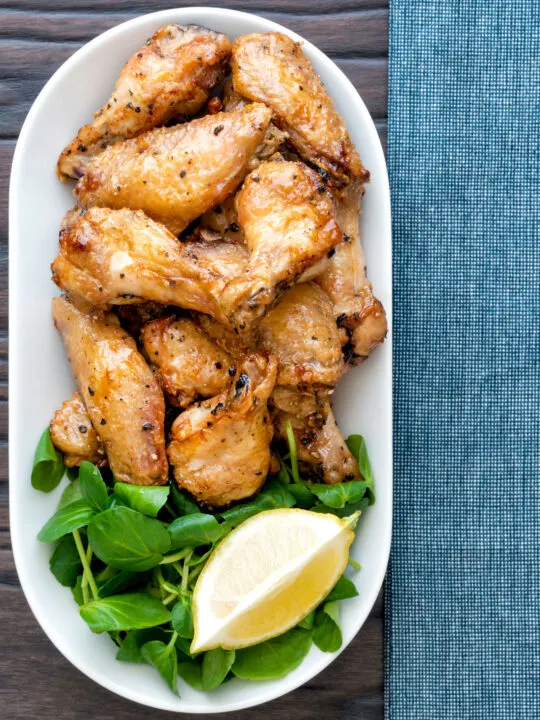 Frequently Asked Questions
What does the baking powder do?
The baking powder increases the PH level of the chicken skin, this helps it crisp and brown more quickly.

It is actually the bicarbonate of soda element that does it and you can use it on its own. However, it can add quite an unpleasant flavour and I find using baking powder eliminates this.
Do I have to use unwaxed lemons?
No, not at all. The wax used on citrus fruit is a food safe product and can be eaten.

I personally prefer not to and if I only have waxed lemons I scrub them in hot water to get rid of some wax.
What cooking method is best?
Now that is a question and a half! For flavour I prefer cooking these wings on the BBQ, the smokiness is pure genius.

But I'm not one who advocates firing up the BBQ in all weathers. As a result, we have a toss up between the air fryer and the oven.

The air fryer results are marginally better, but you need to make sure that you do not overcrowd the basket. This means that you need to batch cook them.

So having said all of that, baked lemon pepper wings are the way that I usually go. Although the main reason for this is logistics!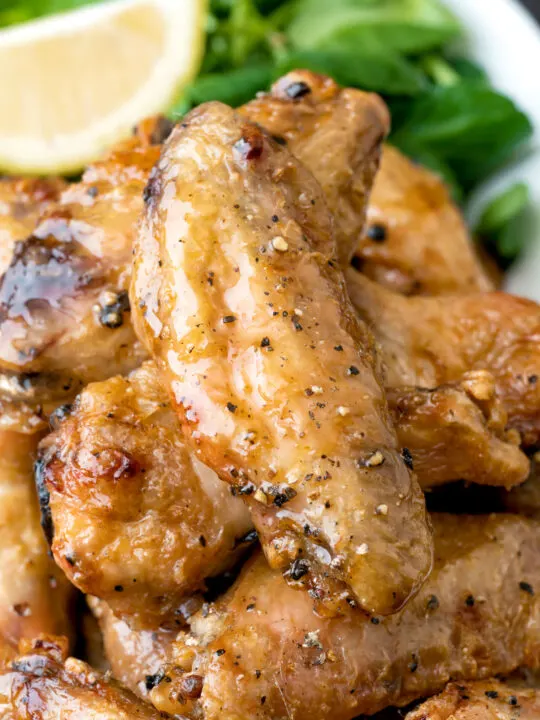 Serving suggestions
I'll quite often have these lemon pepper chicken wings served with a big bowl of green salad and lemon dressing.
You could also pick up on the peppery notes by adding either rocket (arugula) or watercress.
Obviously, if you are having a BBQ you can go full-on meat feast. Add dishes like my grilled stuffed onions and or even my venison burgers.
A side of potatoes is also a good option. I would usually opt for my air fried potato wedges, although my crispy fried potatoes would also be wonderful.
Sweet potato fries or even polenta chips would also be great options.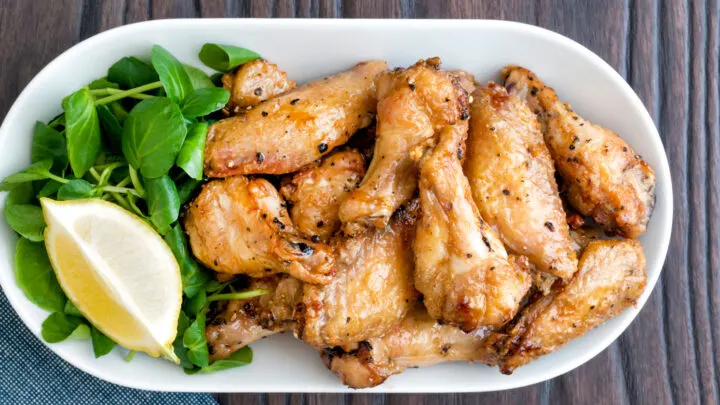 Equipment Used
I only mention specific brands of equipment if I think they make a material difference to a recipe. If you have any questions feel free to ask them in the comments section below the recipe.
Ari fryer, oven or barbeque.
Stovetop.
Baking tray if you are cooking them in the oven.
15cm or 6″ saucepan.
Kitchen knife.
Chopping board.
Ziploc bag or similar.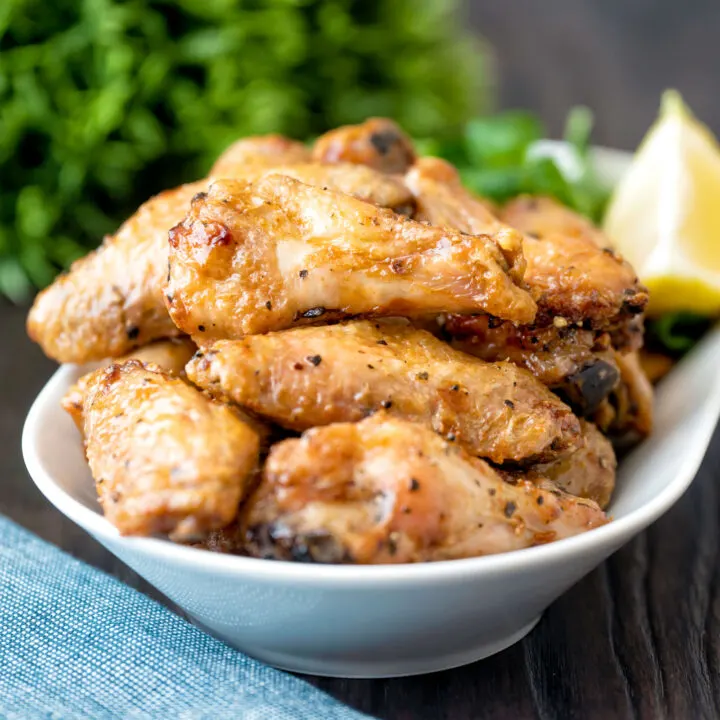 Yield:

2 Servings
Lemon Pepper Chicken Wings Recipe
Total Time:
3 hours
40 minutes
Freshly ground black pepper and vibrant lemon mellowed with a little honey are the star of these easy lemon pepper wings.
Ingredients
16-18 Chicken Wings
1 Tbsp (Plus ½ Tsp extra for serving) Black Peppercorns
3 Unwaxed Lemons
2 Tbsp Honey
½-¾ Tsp Salt
½ Tsp Baking Powder
Instructions
Remove the tips from the wings and set aside for a stock or discard.
Cut the remaining meat into winglets and drummettes, if you feel between the two parts you will find the joint, cut through here with a sharp large knife.
Zest the lemon.
Coarsely grind the tablespoon of black pepper.
Place the lemon zest and black pepper in a ziploc bag with the wings and allow to marinate for 3-4 hours, overnight is even better.
Remove your chicken wings from the refrigerator for around 30-40 minutes before you cook.
Juice the lemons into a small saucepan (14-15cm or 6") and bring it to a boil.
Add the honey to the lemon juice and reduce it by between half and two thirds. This syrup will be pokey and you will not need much and can be made up the day before cooking if you like.
To Grill:
Remove the wings from the bag and sprinkle with the salt and baking powder and toss to coat.
Have your grill set up with both a direct and indirect heating section with a temperature of around 250°C or 485°F.
Place the wings over the indirect heat section of the grill, presentation side up, close the lid and cook for 25 minutes.
Open the grill after 25 minutes and check that the temperature has reached around 70°C or 158°F, if not give them a little more time.
Place the pan with the lemon syrup on the grill to warm a little.
Move the wings from the indirect heat to the direct heat section and cook them on both sides until they get a pleasing charred colour.
Transfer to a bowl and pour over the lemon syrup and the final half teaspoon of ground pepper and toss to coat.
To Bake:
Remove the wings from the bag and sprinkle with the salt and baking powder and toss to coat.
Place the wings in a single layer on a cooling grid over a tray ensuring that they are presentation side down.
Place them in an oven at 130ºC or 250ºF for 30 minutes.
Remove the wings and turn the oven up to 200ºC or 400ºF.
Flip the wings over and then place them back in the oven and cook for another 30 minutes.
Remove the wings and place them in a bowl, pour over the lemon syrup and add the remaining black pepper and toss to coat.
To Air Fry:
Remove the wings from the bag and sprinkle with the salt and baking powder and toss to coat.
Spray the basket of the air fryer with oil and then add the chicken wings being sure not to overcrowd the tray. You may need to batch cook the wings.
Cook for 20 minutes at 160° or 320°F shaking halfway through.
Turn up the heat to 200ºC or 400ºF and cook for another 10 minutes shaking halfway through.
Transfer the wings to a bowl and pour over the lemon syrup and black pepper and toss to coat.
Nutrition Information:
Yield:
2
Serving Size:
1
Amount Per Serving:
Calories:

812
Total Fat:

53g
Saturated Fat:

19g
Trans Fat:

1g
Unsaturated Fat:

29g
Cholesterol:

176mg
Sodium:

1550mg
Carbohydrates:

53g
Fiber:

5g
Sugar:

21g
Protein:

38g
Calorific details are provided by a third-party application and are to be used as indicative figures only.