These simple Grilled Chicken Wings balance the zing of lots of lemon with a hint of honey to add a nice sticky coat with the magical background heat of pepper.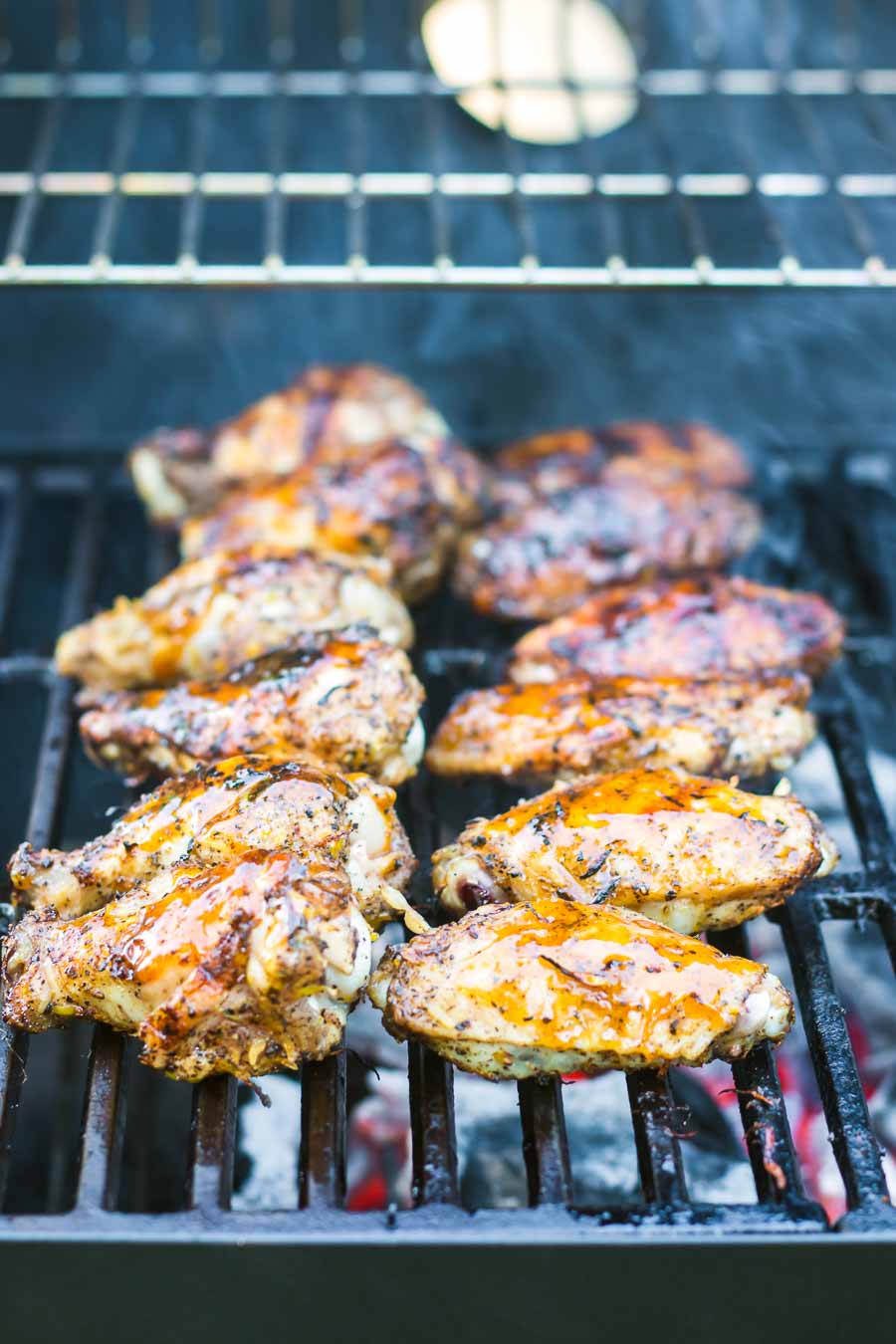 Lemon and Pepper Grilled Chicken Wings.
So I am back with playing with my BBQ in my latest recipe. These Grilled Chicken Wings were something I really wanted to try. Even whilst I was waiting in the queue to purchase my grill.
Yes, I am that sad, but I love these flavour combinations.
I have been cooking a baked version of this chicken wing recipe for years and love it. I had to try lemon and pepper Grilled Chicken Wings on my new grill as soon as possible.
In fact, there are loads of dishes I want to try, I seem to be like a small child at Christmas not knowing which toy to play with first.
I have a load of stuff coming your way expanding on my two grilling recipes but because I have a million ideas and no idea where to go first. Keep your eyes open for something exciting and new.
If you have some favourite grilling ideas please let me know in my comments section below I'll happily add them to my already lengthy list…
Now I am not necessarily new to grilling but it has been a while since I have indulged in alfresco cooking. There have been some disasters (Halloumi Cheese being the chief of these, a user error no doubt). Although I have certainly nailed Halloumi in the Kitchen as this Zaatar Halloumi recipe shows!
These wings were about as far removed from disaster as they possibly could be.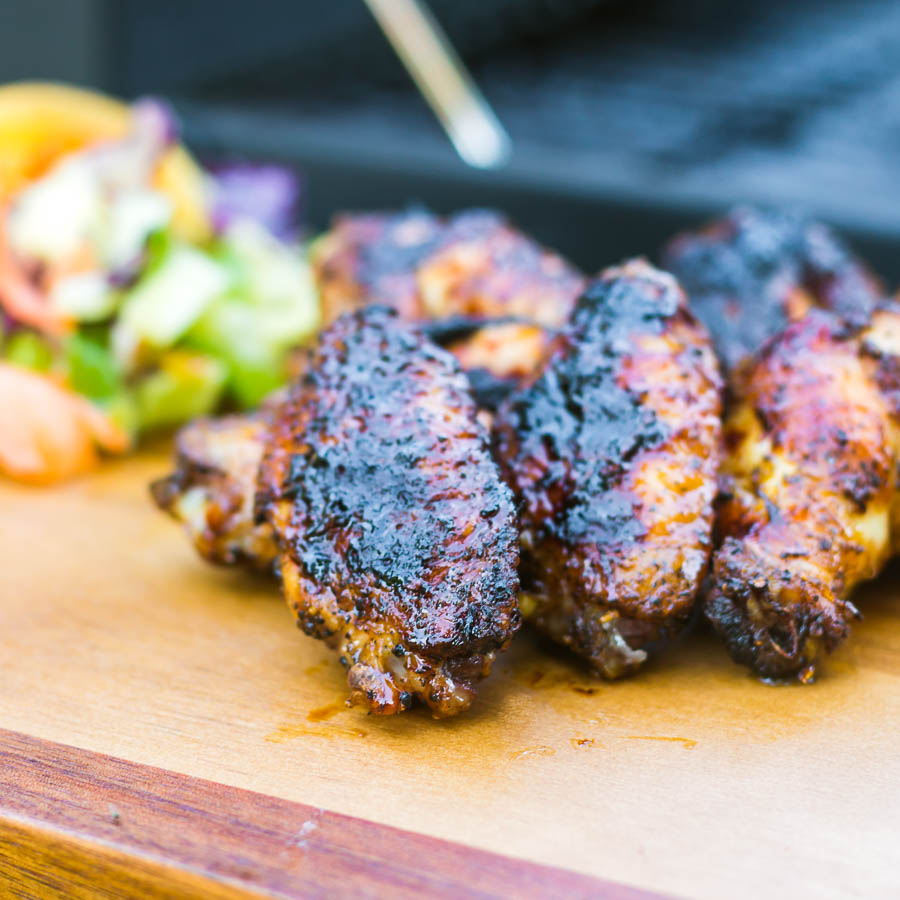 BBQ Chicken Wing Recipes.
I kinda pride myself on being able to cook decent wings, my oven baked hot wings recipe is one of the most popular here on Krumpli. They are insanely good!
These Grilled Chicken Wings, however, are beyond good. So good in fact that my wife demanded that I made them twice in a week and that is something that very rarely happens in our house.
These things are just tremendous, you get all that lovely caramalised sweetness from the honey in the syrup. This is beautifully balanced with the lemon and the black pepper adds that 'thing' that only black pepper can add.
I am glad I only do them a kilo at a time as I reckon I could keep on eating them until I run out of them.
Cooking BBQ Chicken wings on a grill adds a dimension you can't get when cooking them in the oven.
There is that whole smokey charred flavour that just adds that sprinkle of magic to a dish. I used to be really proud of my original oven-baked version was good, and they are, but they can be better.
As time has gone on BBQ Chicken wings have become a firm fixture over summers here on Krumpli. Here are a few more for you to check out: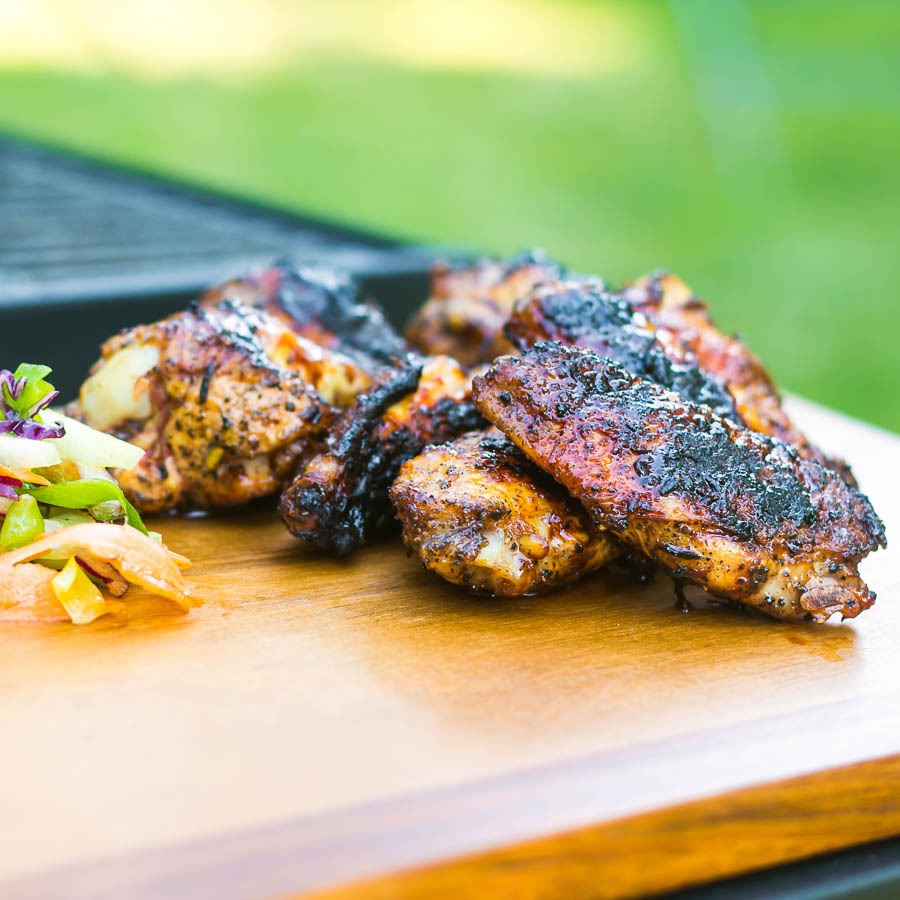 Marinade for Chicken Wings.
I'm definitely big on marinading meat before cooking. I do it all of the time. Food for me is all about flavour and your marinade is a way to add more flavour to whatever meat you are cooking.
The Marinade for these BBQ Chicken Wings features honey, lemon and pepper. In essence, hot sour and sweet.
The final part of the flavour profile is salty. That comes with seasoning the chicken before it goes on the grill.
If I am marinading for any longer than an hour or so I almost always leave out the salt. Salt has a tendency to draw out moisture from the meat and will cure it.
It can also lead to dryer meat and on the fierce heat of the grill that is never a good thing!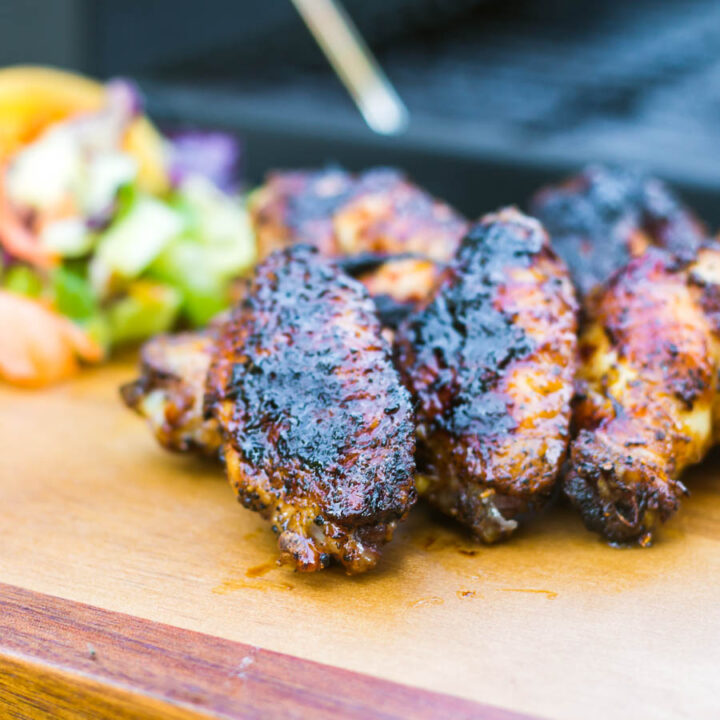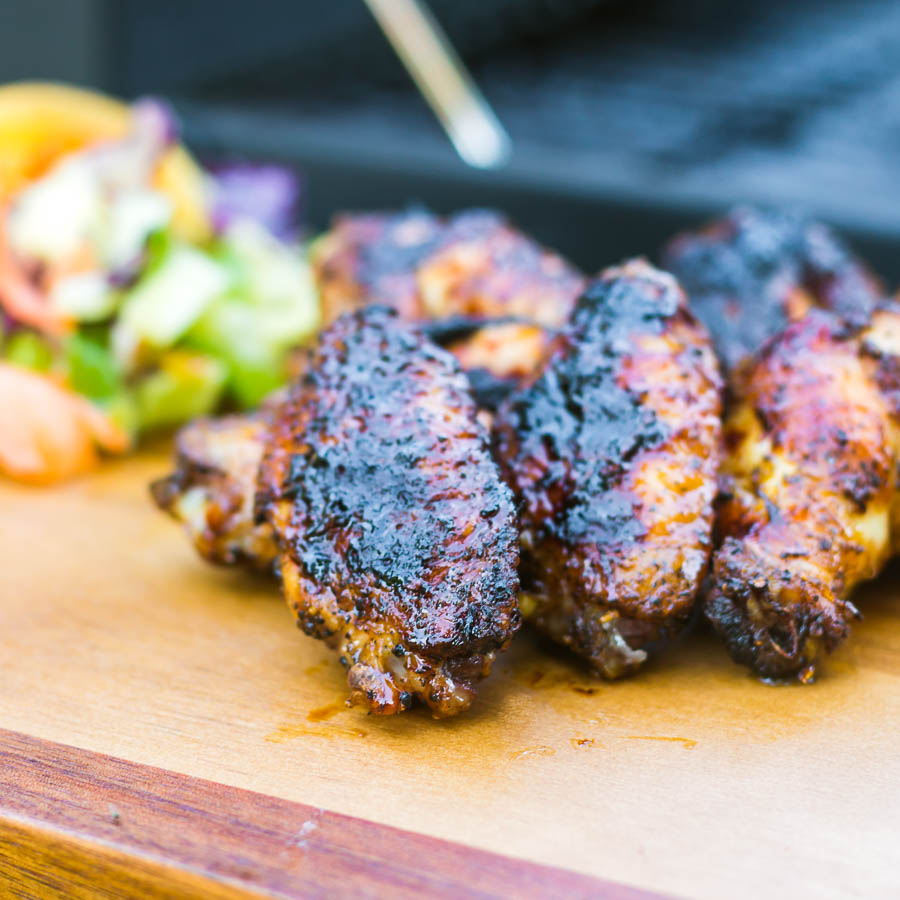 Yield:

4 Servings
Lemon and Pepper Grilled Chicken Wings
These simple Grilled Chicken Wings balance the zing of lots of lemon with a hint of honey to add a nice sticky coat with the magical background heat of pepper.
Ingredients
1 Kg Chicken Wings, Ends removed and then cut into two joints, save the ends they are great in stock
1 Tbsp Black Pepper Corns, Coarsely Ground
100 ml Lemon Juice
2 Tbsp Honey
Zest of 1 Large Lemon or 2 Small Lemons
Good pinch of salt
Instructions
Begin by jointing your wings then place in a ziplock bag with the freshly ground pepper and lemon zest and allow to marinade for at least 6 hours, although over night is better.
Remove your chicken wings from the refrigerator for around an hour before you are ready to grill to bring to room temperature as you should for all meat.
When your grill is ready to rock and roll place a small pan over the coals and add in the lemon juice and honey and reduce down until it forms a nice lemon syrup and set aside which should take 5 minutes.
Now lightly coat the wings with oil and sprinkle with salt and place over the coals.
Allow them to sizzle and when they have a nice colour, flip them over and repeat on the second side.
Now brush with the lemon syrup and flip back over and allow the syrup to caramlise.
Now coat the side facing you with syrup and flip, repeat this process until the wings are cooked through. This should take a maximum of 20 minutes.
Notes
As with all of my recipes I exclude the marinading time, lets face it I aint doing any work 😉
Nutrition Information:
Yield:
4
Serving Size:
1
Amount Per Serving:
Calories:

740
Total Fat:

44g
Saturated Fat:

13g
Trans Fat:

0g
Unsaturated Fat:

29g
Cholesterol:

354mg
Sodium:

372mg
Carbohydrates:

25g
Fiber:

3g
Sugar:

13g
Protein:

63g