My Venison burger takes the earthy meat and tops it with gin cooked peaches and blue cheese… Yes, I am that kinda cook! Whether you cook it on the BBQ or in your kitchen it is guaranteed to please the mob!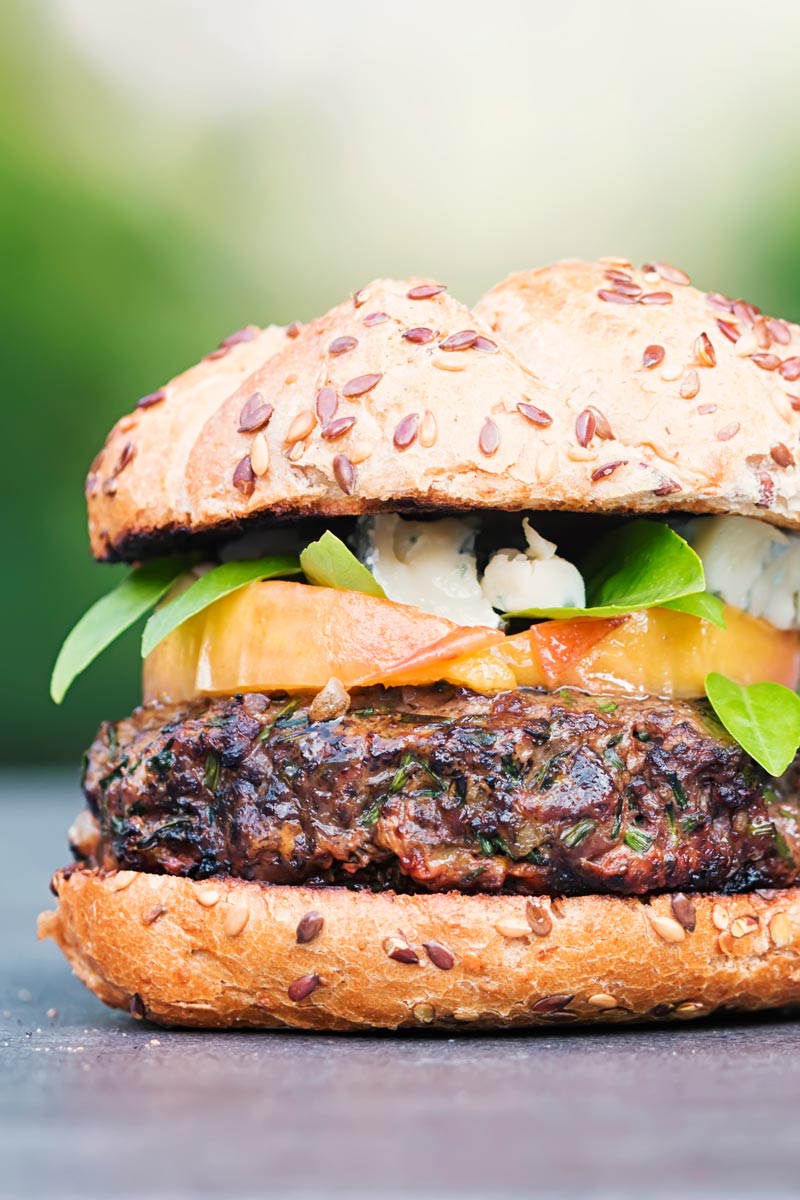 Venison Burger With Peaches And Blue Cheese.
My latest BBQ recipe is a burger, you cannot go wrong with a good burger and this venison burger is superb!
You could be forgiven for thinking that I don't necessarily think less is more when it comes to cooking. But for all of my recipes with dozens of ingredients I have many with just a few.
This burger is one of them a few simple ingredients that work with venison in the burger patty. Then some toppings that are all designed to do the same.
Flavour wise here we want the Venison to be front and centre it is, after all, a venison burger recipe.
The first flavour that venison screams for is Juniper, that is present in both the burger and the gin in which we cook the peaches. It is a classic flavour with venison that I also use in my slow cooker venison stew recipe.
Yes, you read that correctly, the summer peaches get flambeed in gin. Not only does it taste amazing you look like a cooking god/goddess.
Just be careful folks and remember if you are going to set fire to yourself, send me a video!
We then match those sweet and sour peaches and venison with some gloriously salty blue cheese. Don't go too heavy with cheese you want it to work as a seasoning for the burger.
Finally, we have some peppery and vibrant basil for a great fresh finishing flavour.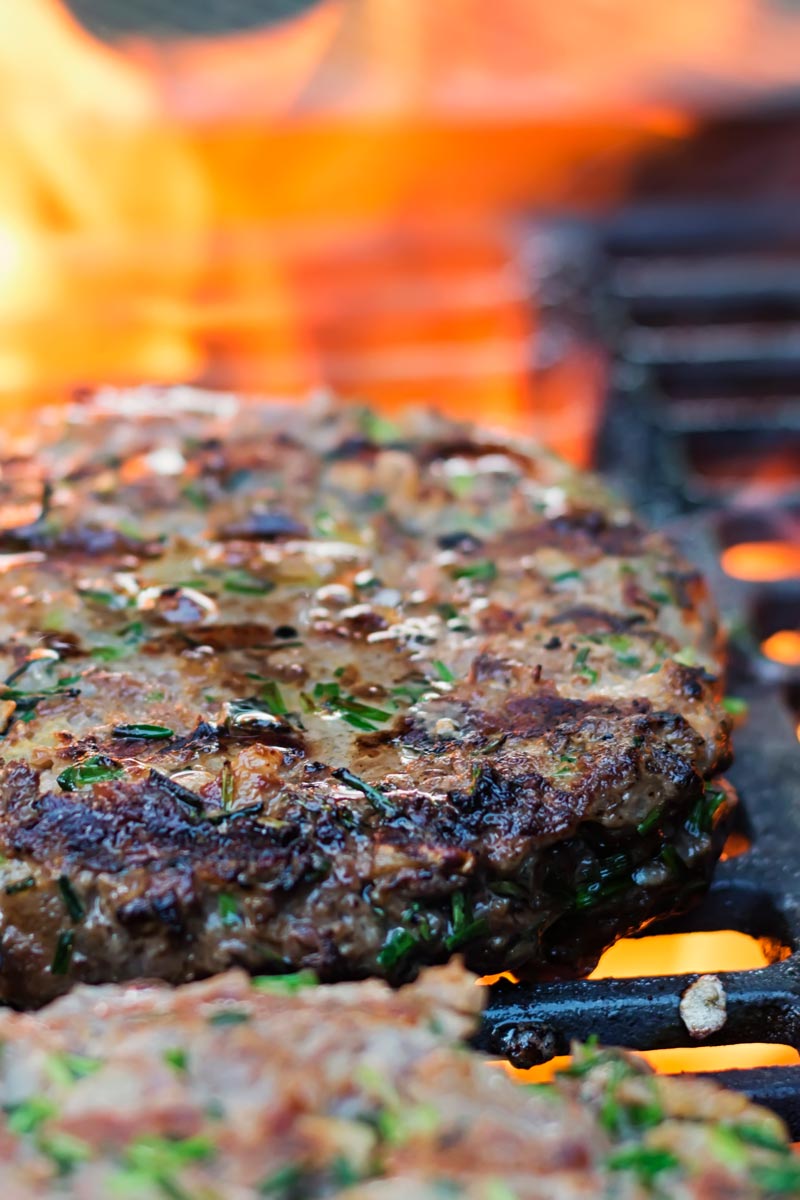 Burgers That Are Not Beef Burgers.
It would be easy to assume that I have a thing against the good old beef burger. This venison burger is the fifth Burger recipe to date here on my site and not one of them is a beef burger.
So why is that? Well to be perfectly honest I am predictable and boring when it comes to beef burgers!
Gimme some ketchup a little mustard, a little crisp lettuce, raw onion, maybe a little sweetcorn relish and some melted cheese and I am good to go.
I don't mess around with bacon or heaven forbid fried egg… That wee list above is perfection all the flavours and textures I need are there.
Fortunately, beef burgers are not the only game in town and when it comes to those I am really rather adventurous.
If you want to change up your burger game and look beyond beef you really should check out these bad boys:
Of course only if and when you have tried this Venison burger!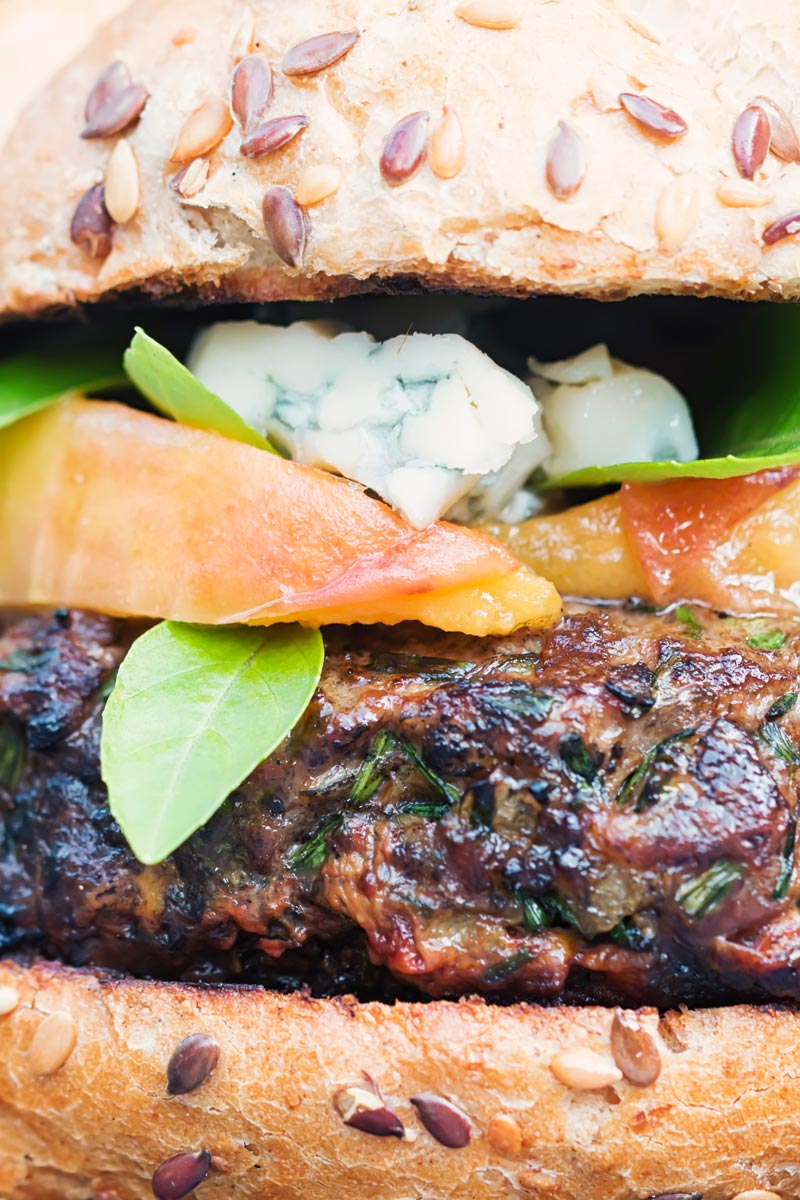 Burgers Made For Eating.
One thing that you will notice in all my burgers is that they are made for eating. There is no need for a knife or skewer to hold them together, for me that indicates a burger is poorly balanced.
You should be able to pick up a burger and eat it!
You should not have to work out how to remove the thing holding it together without it toppling over. Then deal with picking the toppings of your burger out of your lap as you go along.
Freak food is one of my bug-bears as a food writer, I get irrationally annoyed by it. I often browse through my FB feed or Instagram, which are both heavily filled with food, and think how the feck am I meant to eat that.
I have no idea how or why we ended up in a place where food is so often designed to be photographed rather than not eaten. But apparently, we did!
Anyway not for me. This Venison burger recipe like all my burgers is developed to go into your belly and not to drip down your t-shirt and end up in your lap!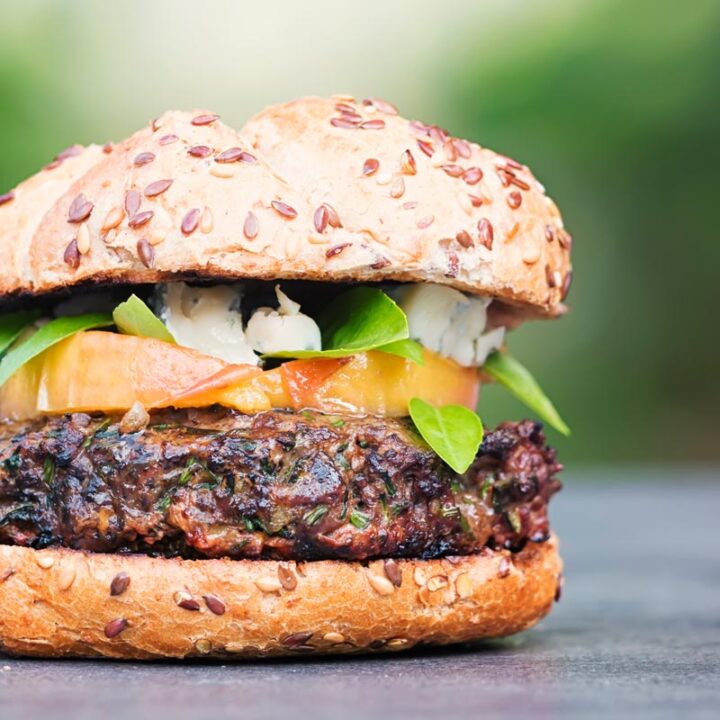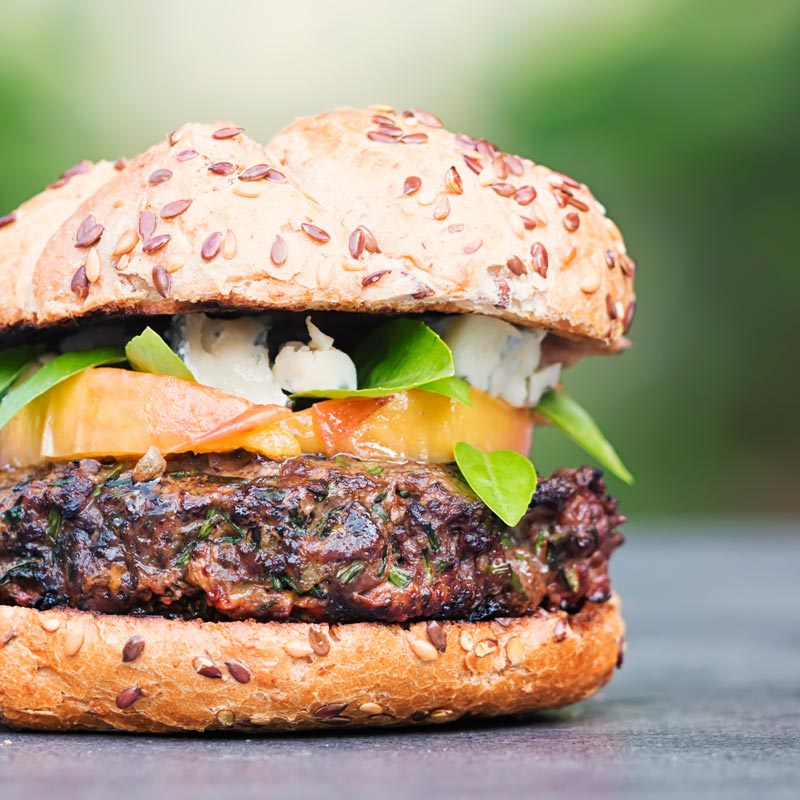 Yield:

2 Burgers
Venison Burger With Peaches And Blue Cheese
You can't beat a good grilled burger, but there is life beyond beef. This venison burger is topped with gin cooked peaches and blue cheese! It is both a head turner and a crowd pleaser!
Ingredients
For the Burger Patties
300 g Ground Venison
50 g Onion
1 Clove Garlic
20 g Snipped Chives.
1 Egg Yolk
1/2 Tsp Salt
1/2 Tsp Pepper
6 Juniper Berries
For the Toppings:
1 Peach
1 Tsp Cooking Oil
100 ml Gin
2 Burger Buns
100 g Roquefort Cheese
Fresh Basil Leaves
Instructions
Crush and chop your juniper berries.
Finely dice your garlic and onion.
Fry in olive oil for 3-4 minutes over a medium heat to soften but not colour.
Transfer to a large bowl to cool.
When cooled add in the venison, chives, egg yolk, salt and pepper.
Form into a burger around 1-1.5cm larger in diameter than your burger buns.
Whilst your BBQ is heating up remove the stone from your peach and cut into 16 wedges and crumble your blue cheese.
Heat a frying pan on your bbq and add the oil, then throw in the peaches.
Cook for 3-4 minutes flipping occasionally.
Now flambe the peaches in the gin, tip in the gin and then lean the pan back away from you and allow the gin to catch light.
Be careful and ensure you lean back and tilt the pan away from you!
Move the pan to the indirect heat and allow to sit whilst you cook the burgers.
Oil the grates and then add the burgers.
Flip after 3-4 minutes and then cook the other side for the same time.
Allow the burgers to rest before building.
Begin with your burger, followed by the peaches and then blue cheese and finally your basil leaves.
Notes
You can make up your burger patties a couple of days in advance and refrigerate them or even freeze them.
Nutrition Information:
Yield:
2
Serving Size:
1
Amount Per Serving:
Calories:

1017
Total Fat:

40g
Saturated Fat:

20g
Trans Fat:

0g
Unsaturated Fat:

15g
Cholesterol:

289mg
Sodium:

1765mg
Carbohydrates:

83g
Fiber:

20g
Sugar:

38g
Protein:

65g