My venison burgers prove that beef ain't the only game in town when it comes to patties, I top them with gin cooked peaches and blue cheese.

The gin picks up on the juniper in the burger patties the peaches are our sweet element and the blu cheese gives us a sweet and slightly sour vibe. All of it perfectly sized so that it ends up in your belly and not in your lap.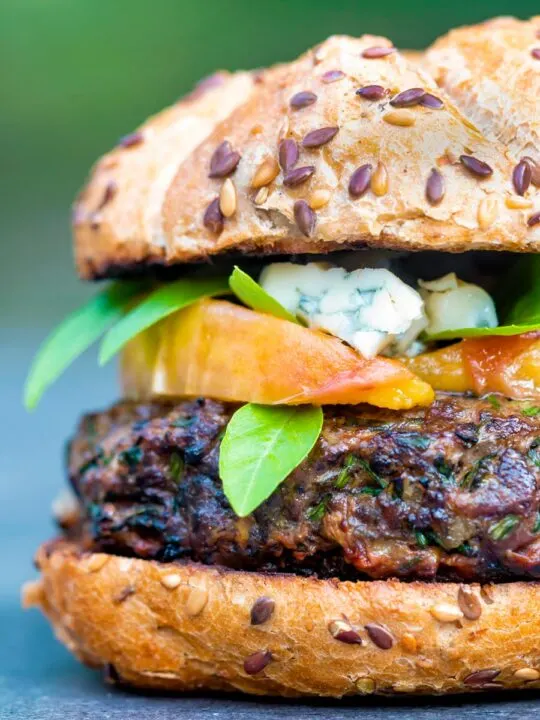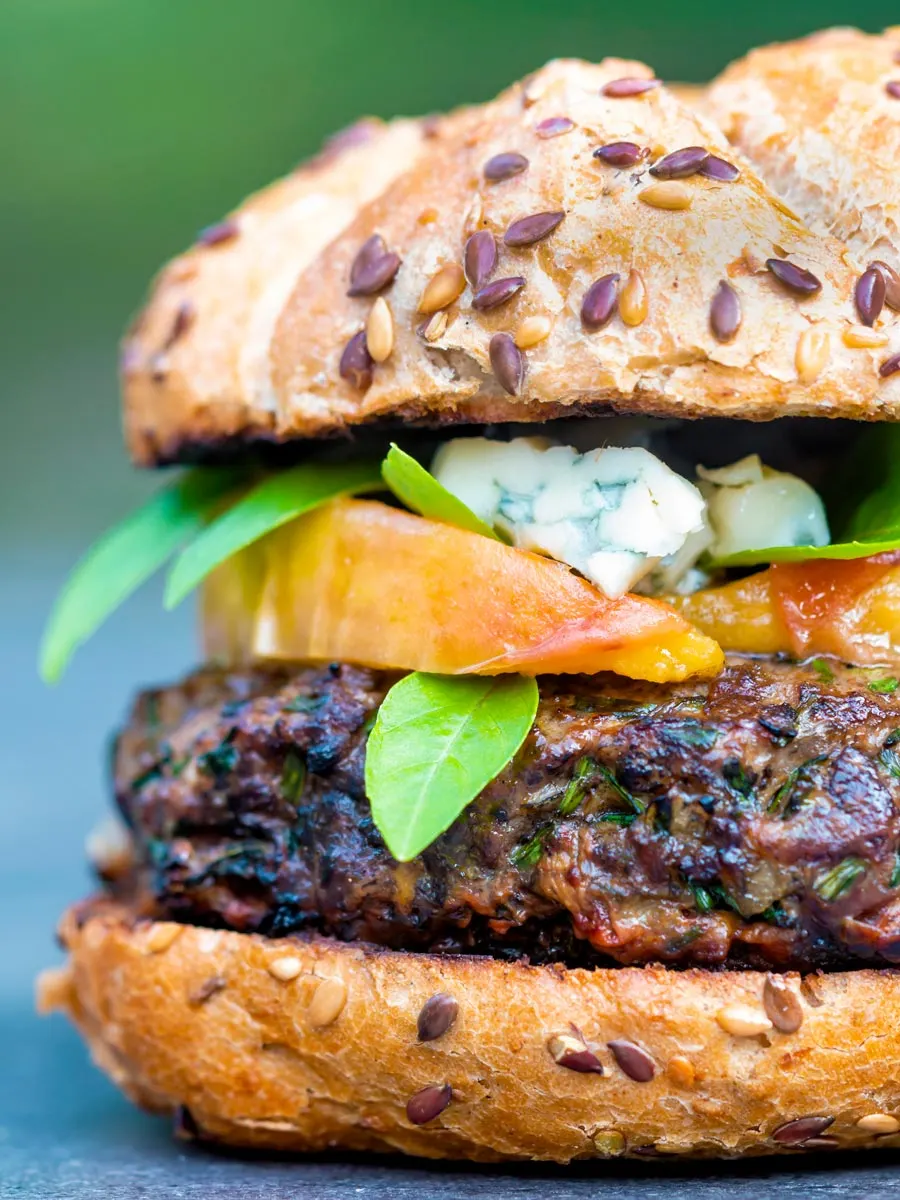 A Deer Burger
I adore a good burger and I am certainly not beholden to beef as my meat of choice.
These homemade venison burgers join recipes as diverse as a shredded duck burger to an Indian lamb burger, and it's not all about meat either! I have a fish burger with gentle Thai influences and wonderful halloumi burgers.
The venison pattie, features pretty simple flavours, juniper, garlic and chives.
Then we have the toppings. As far as I am concerned, burger toppings are essential in making a great burger.
My approach is typically less is more, and should usually hit a trio of flavour sensations, sweet, sour and salty!
For instance, my veal burger has a sweet and sour red onions and salty parma ham and my pork and apple burger has a perfectly balanced apple chutney topping.
We match the juniper in the venison burgers with some gin flambeed peaches… not only does it taste amazing you look like a cooking god/goddess!
But just be careful folks and remember if you are going to set fire to yourself, send me a video!
We then match those sweet and sour peaches with a little blue cheese. Don't go too heavy with cheese you want it to work as a seasoning for the burger.
Finally, we have some peppery and vibrant basil for a great fresh finishing flavour and as far as I am concerned the best homemade venison burgers.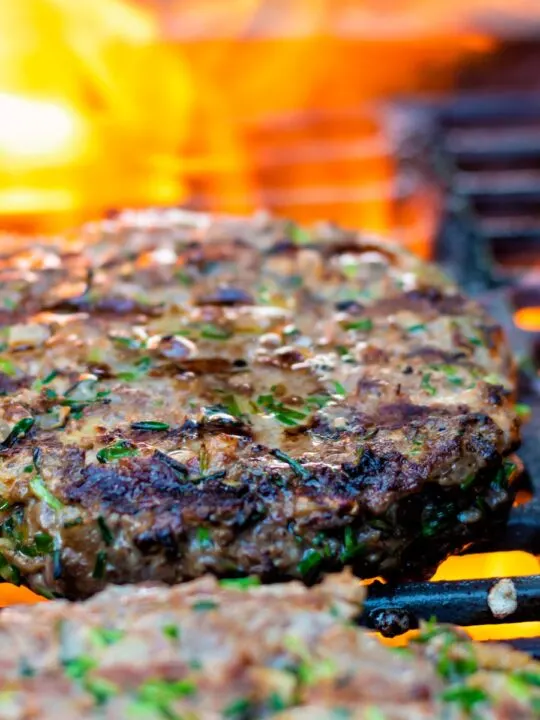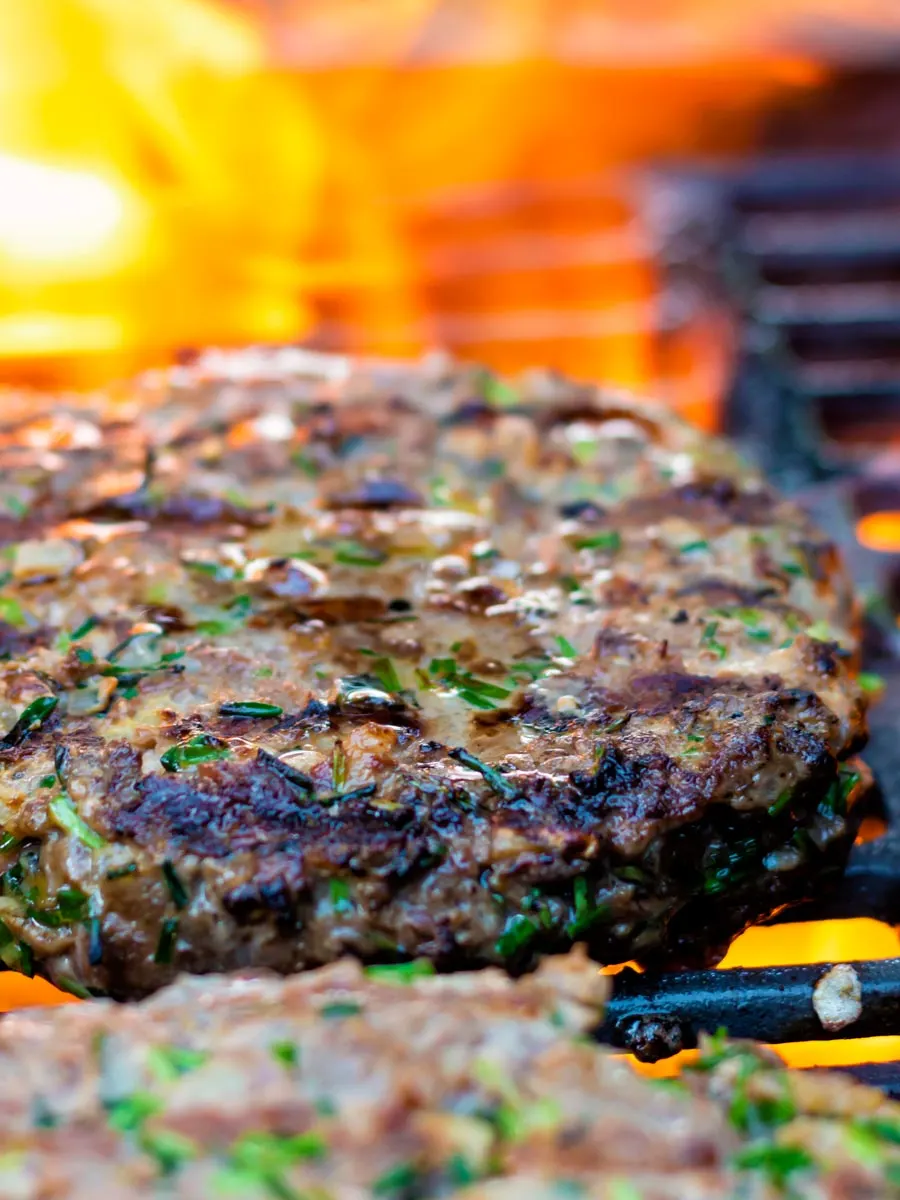 Frequently Asked Questions
Why do you add bacon to a burger pattie?
These venison burger patties rely on a pretty typical fat to meat ratio of 80:20 and because dear meat is so lean meat we use smoked streaky bacon to supplement the fat.
The adds a glorious flavour and saltiness that contrasts and complements the other flavours we have.
What's the best way to cook this burger?
I honestly think that every burger is better cooked over an open flame.
The smoky flavour and those little caramalised bits add a character that no other cooking technique can get close to.
But in reality, I live in Central Europe and the weather does not always play nice. These more often than not are cooked either on a griddle pan or in a frying pan.
What blue cheese is best?
I like Roquefort cheese for this recipe, it has a sharp flavour but it is not too intense.
Other cheeses that work well are gorgonzola, Danish blue and even stilton.
What burger bun works best?
I personally think that these venison burgers work well with seeded whole grain buns.
I would personally not serve them on Brioche buns they are a little too rich in comparison to our burger and toppings.
Can I make the patties in advance?
Yes! They are actually better having sat in the fridge for a couple of hours to relax, and even better after a couple of days.
They also freeze well, let them sit in the fridge for a day, then add a sheet of greaseproof paper top and bottom and freeze in a single layer.
Pop them in a bag and freeze. Be sure to remove them from the freezer to defrost the night before you are planning to use them.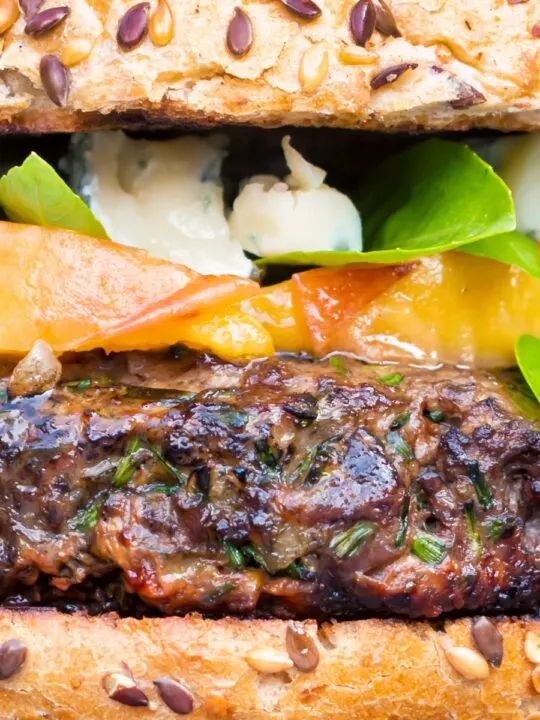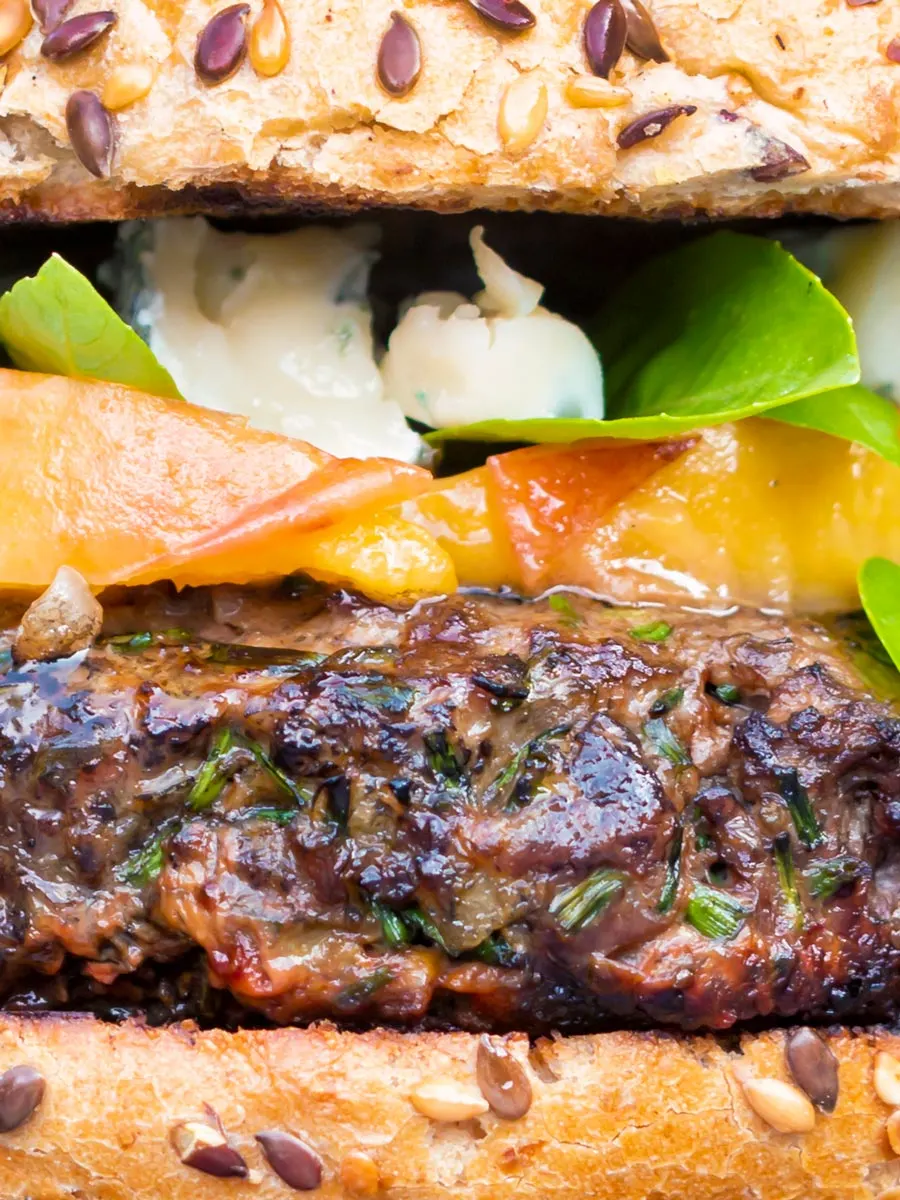 Serving Suggestions
Burgers are so often served with a potato side for good reason, they simply just work.
I like to serve my venison burgers with some potato wedges seasoned with celery salt and pepper. But my crispy fried potatoes would also work a treat.
Other vegetable fries are also a fun option, these sweet potato fries or these parmesan coated carrot fries would make a fantastic side dish.
You could also go with a simple green salad or even this rocket salad with sun dried tomatoes.
One final word on building a burger. Take care to not overfill your burgers, they are meant for eating and not picking out of your lap.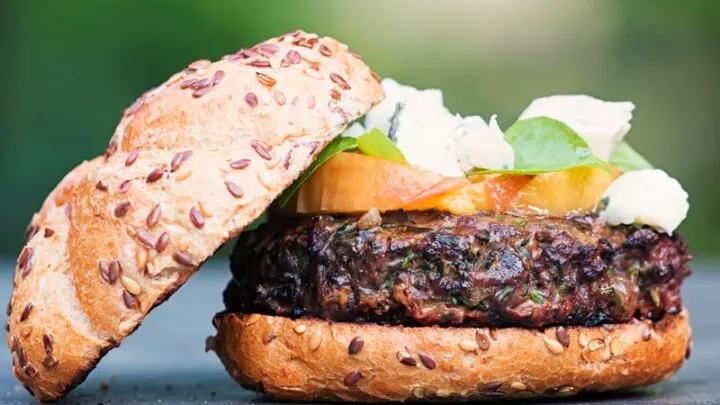 Equipment Used
I only name-check brands of equipment if I think that they make a material difference to a recipe. But if you have any questions feel free to ask them in the comments section below the recipe.
Stovetop or BBQ.
24cm or 10″ frying pan or skillet.
30cm or 12″ frying pan or skillet (not required if you are cooking on the BBQ).
Kitchen knife.
Chopping board.
Weighing scales and or measuring jug, cups and spoons.
Spatula or fish slice.
Mixing bowl.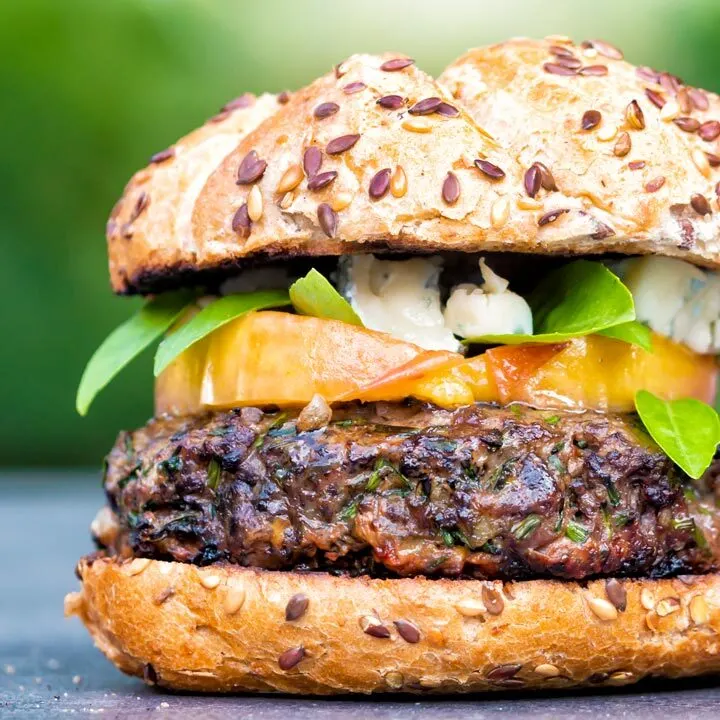 Yield:

2 Burgers
Venison Burgers with Blue Cheese Recipe
Juicy venison burgers topped with gin cooked peaches, blue cheese and basil make for the perfect gourmet burger.
Ingredients
For the Burger Patties
250g (9oz) Minced Venison
75g (3-5 Slices) Fatty Smoked Streaky Bacon
1 Clove Garlic
20g (½ Cup) Snipped Chives.
1 Egg Yolk
½ Tsp Salt
½ Tsp Pepper
6 Juniper Berries
For the Toppings:
1 Peach
1 Tsp Cooking Oil
125ml (½ Cup) Gin
1 Tbsp Brown Sugar
2 Burger Buns
50g (⅓ Cup) Roquefort Cheese
Fresh Basil Leaves
1 Tbsp Cooking Oil
Instructions
Crush and chop your juniper berries.
Finely the garlic.
Chop the bacon into a 2-3mm (⅛") dice.
Add all of the ingredients for the pattie to a bowl, mix well and allow to sit for 10 minutes.
Remove the stone from the peach and cut into 16 wedges.
Crumble the blue cheese into a bowl.
Heat a 24cm or 10" frying pan over a high heat and add the oil.
Add the peaches for 3-4 minutes flipping occasionally.
Now flambee the peaches in the gin, tip in the gin and then lean the pan back away from you and allow the gin to catch light. If you are working on an electric hob you will need to ignite the gin with a long-stem match or lighter. Be careful and ensure you lean back and tilt the pan away from you!
Once the flames die down add the brown sugar and stir before reducing the heat to low and simmering whilst you cook the burger patties.
Form into a burger mix into two patties around 1-1.5cm larger in diameter than your burger buns.
Rub each side of the burgers with a little oil.
Place in a hot pan and cook for 3-4 minutes
Flip and cook for a final 2-3 minutes.
Allow the burgers to rest for a minute or two before building the burger.
Use the resting time to toast your burger buns in the pan that you cooked the burgers in.
Begin with your burger, followed by the peaches and then blue cheese and finally your basil leaves.
Notes
You can make up your burger patties a couple of days in advance and refrigerate them or even freeze them.
Nutrition Information:
Yield:
2
Serving Size:
1
Amount Per Serving:
Calories:

858
Total Fat:

38g
Saturated Fat:

13g
Trans Fat:

0g
Unsaturated Fat:

23g
Cholesterol:

251mg
Sodium:

1972mg
Carbohydrates:

44g
Fiber:

4g
Sugar:

16g
Protein:

64g
Calorific details are provided by a third-party application and are to be used as indicative figures only.