Long after the BBQ has been put away these delicious herby pork burgers are the perfect burger recipe for Autumn and Winter.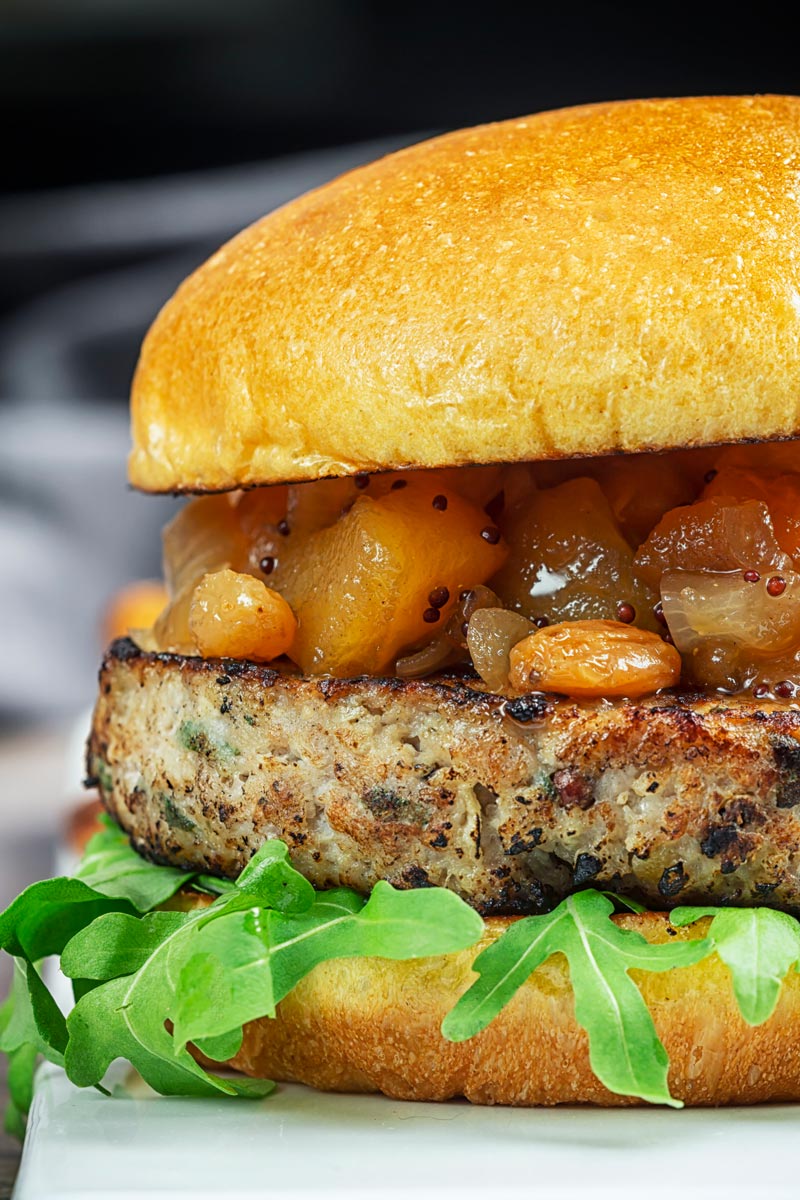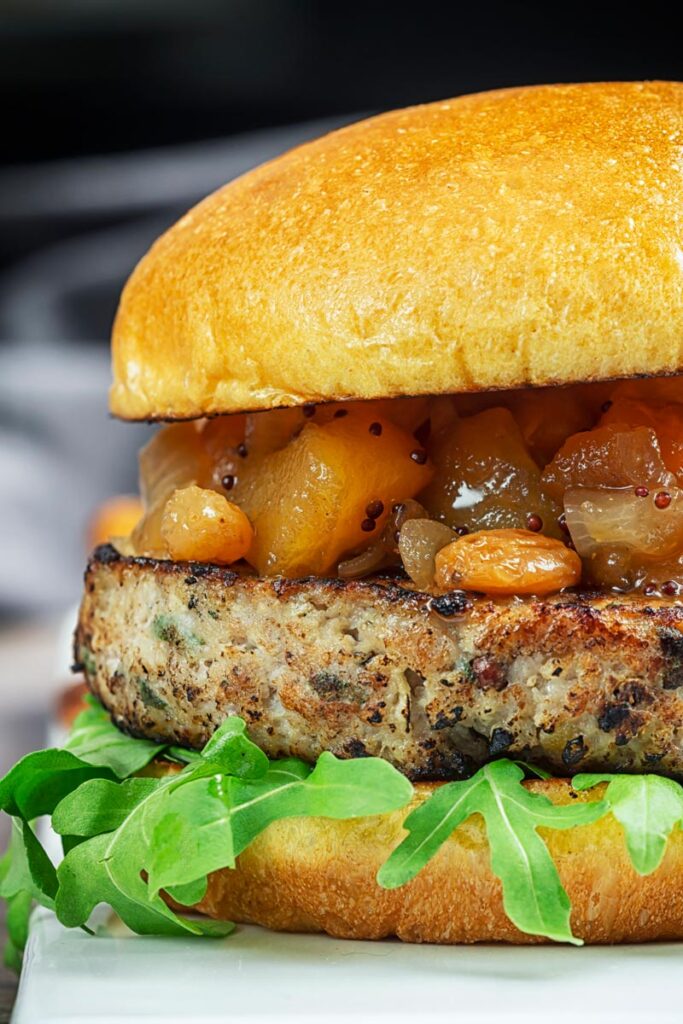 A Pork Burger?
Absolutely, I have duck burgers, bean burgers and even venison burgers here on my site. Why on earth would pork, my favourite meat, not get a look in?
These are loaded with classic European pairings with pork. Of course, we have apple but we also go with sage and thyme too.
They are quick and simple to make, cook in less than 10 minutes and are wonderfully juicy.
I am definitely a minimalist when it comes to burger toppings, any burger that drops ingredients into my lad is a terrible burger as far as I am concerned.
As a result, this one goes with beautifully peppery rocket and my homemade apple chutney, throw some wedges on the side and dinner is served.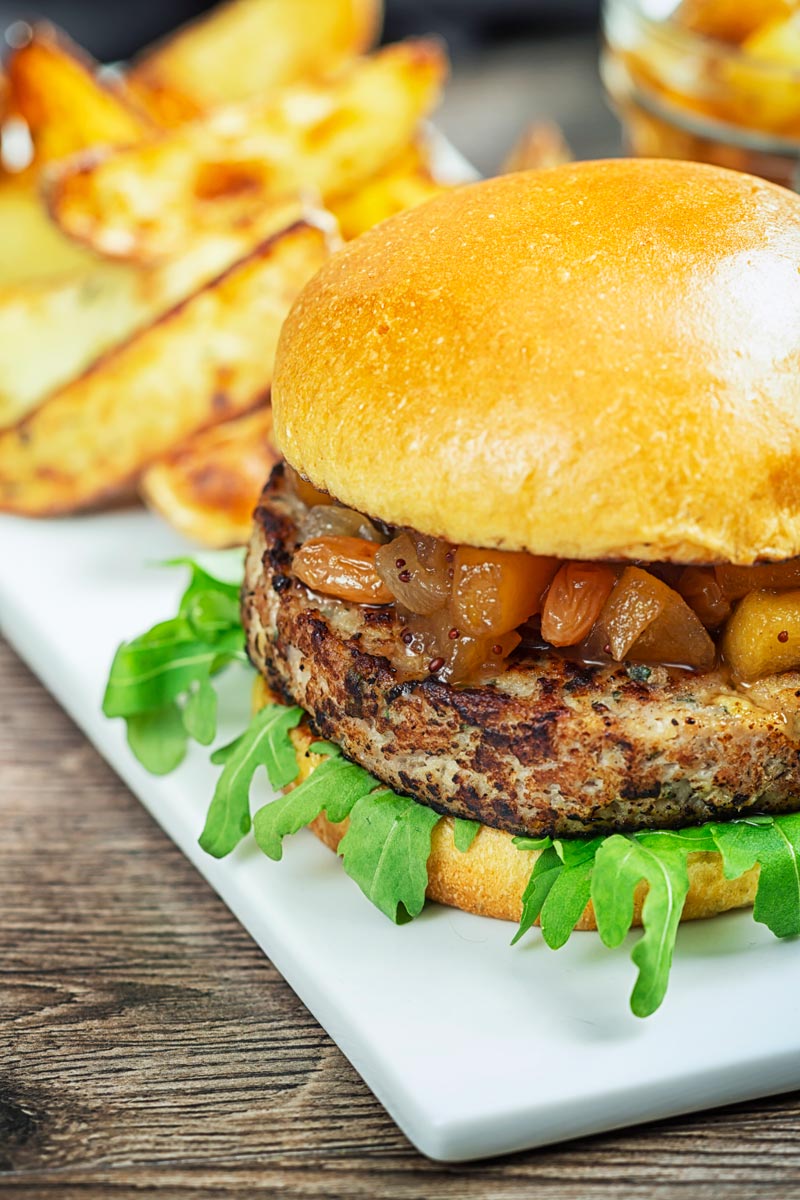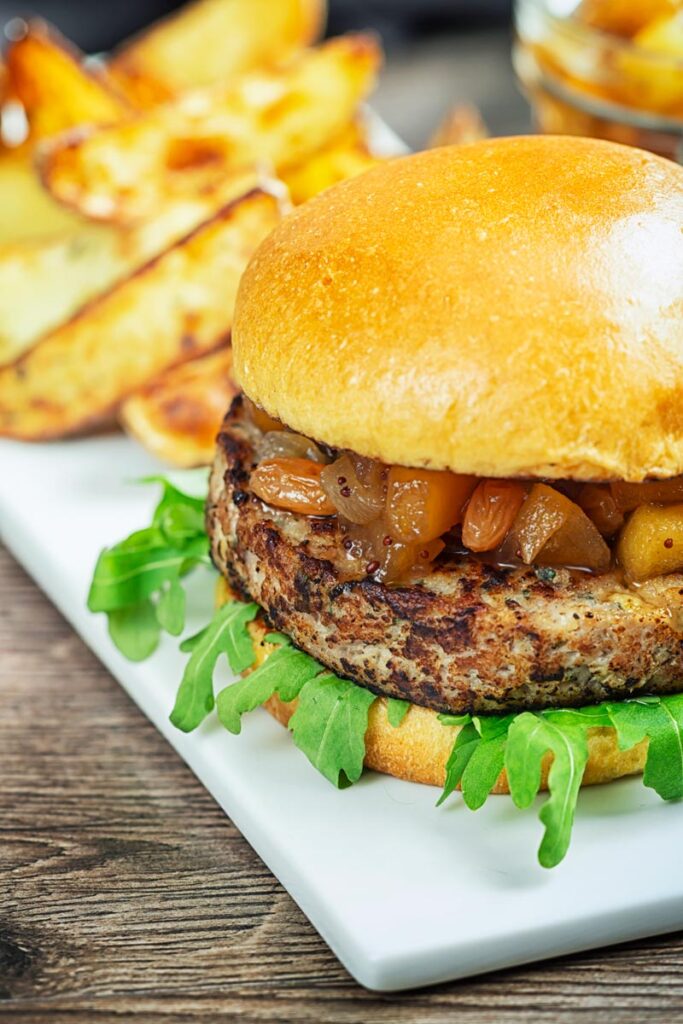 What Pork to Use.
A burger needs fat for moisture, flavour and to help it hold together.
This means that you need to go with a pork mince that has some fat in it, to be accurate you want around 20% fat.
Do not go for lean low-fat minced meat, your burger will be dry and will likely not hold together very well!
I have mentioned before that I always mince my own meat, it is one of those things I am funny about.
I have a "no name" generic meat grinder that I have had for nearly 10 years. It just keeps going, it cost around £30 or $40 and it gets used all of the time.
Most of them come packed with a variety of plates to grind to different sizes and a sausage stuffing nozzle.
This recipe uses pork blade from the upper shoulder area. It has plenty of good quality fat and I grind it to a fine-medium mince.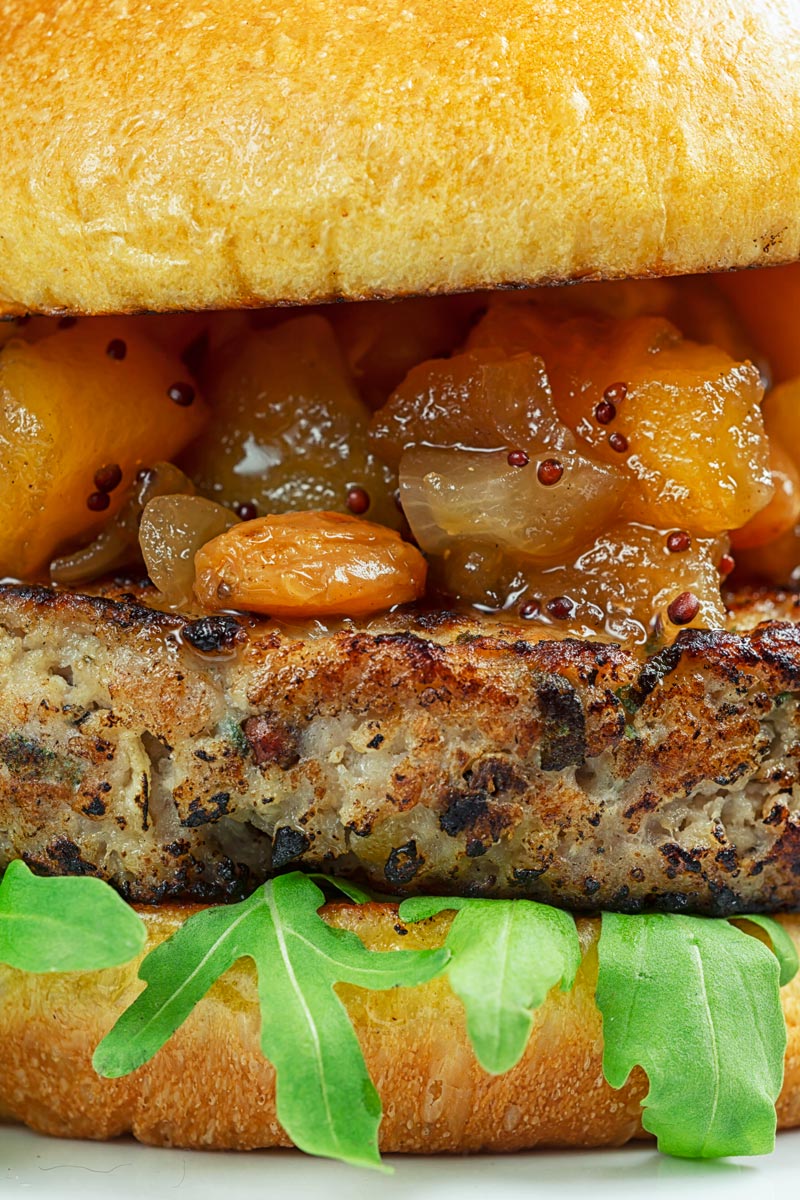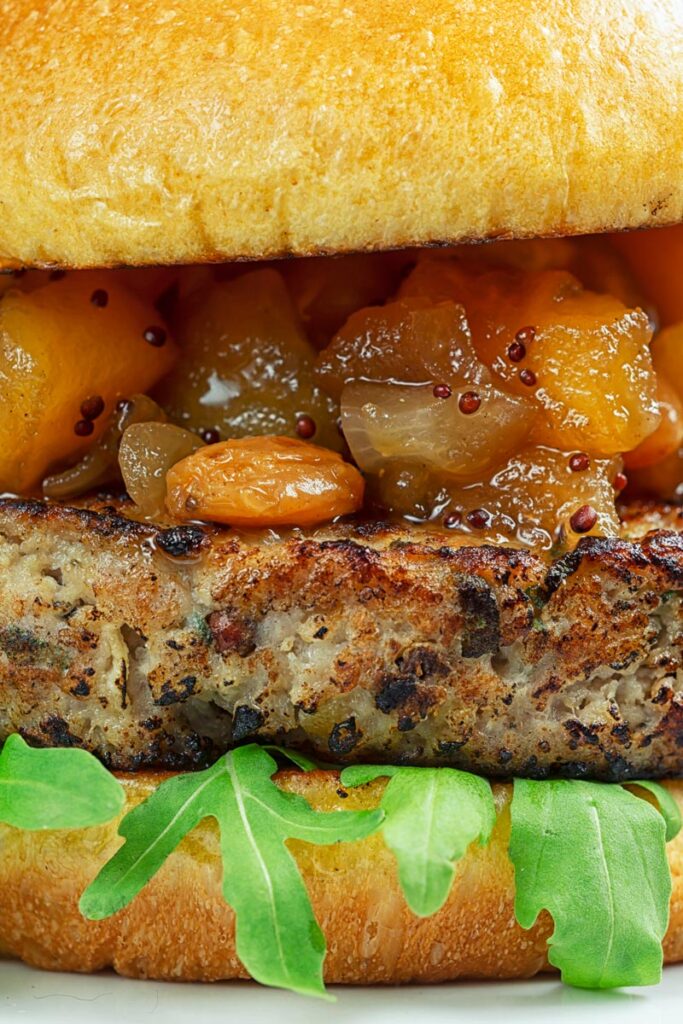 Hints and Tips for Making and Cooking Perfect Burgers.
The first thing that you want to do when making a burger with minced or ground meat is to not work it too hard!
You just need to bring it together, do not beat it, pound it or compress it too much. You will end up with something inedible.
I like to form my burger in a cookie cutter that is a 1-1.5cm larger than the bun I am going to use.
This makes a slab-sided pattie but also accounts for shrinkage so that it fits perfectly on your bun. You can, of course, skip this step if you like.
I also usually rest my burgers before cooking. Whilst we try not to overwork the meat, resting just helps things relax a little.
This leads to a more tender cooked pattie.
Most important is the seasoning, an underseasoned burger with a load of salt on the crust is just nasty!
Fry off a small patty and test that seasoning, before you form your final patties.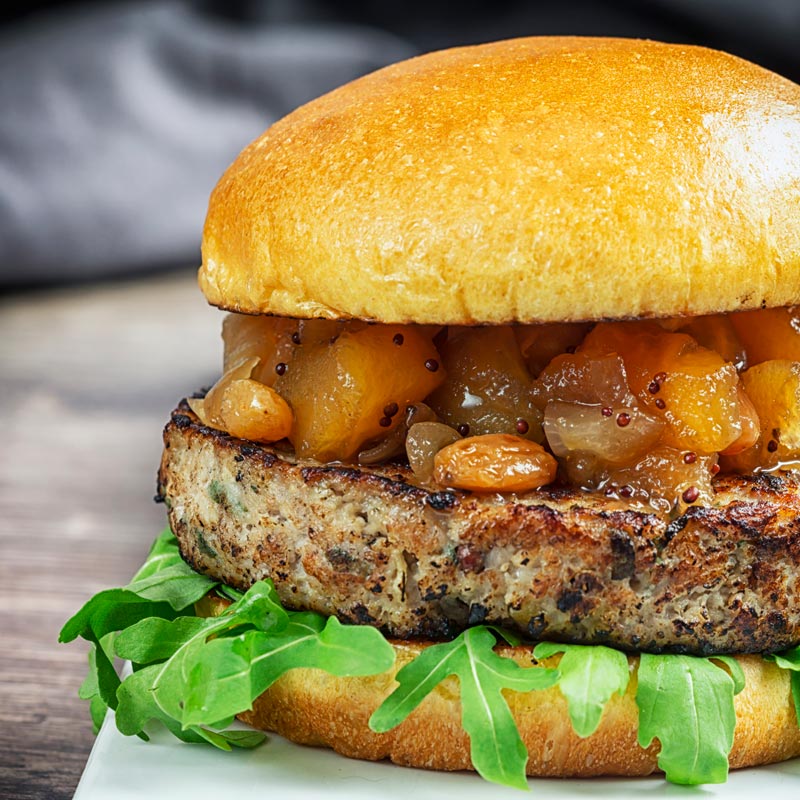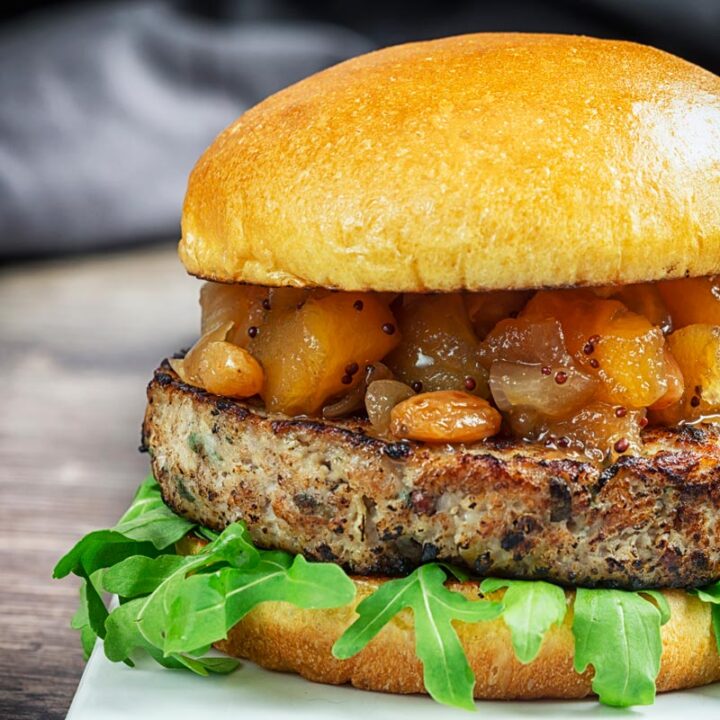 Pork and Apple Burgers Recipe
These pork and apple burgers are loaded with thyme & sage and demonstrate that beef ain't the only burger with game!
Ingredients
250 g Minced Pork
50 g Onion
50 g Apple
2 Sprigs Thyme
10 Sage Leaves
1/4 Tsp Black Pepper
1/2 Tsp Salt
25 g Breadcrumbs (approx)
For the Final Burger:
2 Burger Buns
Handful of Rocket
2 Tbsp Apple Chutney
1 Tbsp Cooking Oil
Instructions
Peel and grate the onion and peel core and grate the apple.
Place these in a large bowl with the minced pork.
Finely chop the sage leaves and strip the leaves from the thyme and add them to the mix.
Add the salt and pepper and mix to combine.
This mix will be quite wet, add enough breadcrumbs to hold it all together.
Now is a great time to fry off a small amount of the mix to test the seasoning.
If the seasoning is right, divide into two and form into patties.
When you are ready to make the burgers heat a pan over a high heat.
Pour the oil over the burger patties and rub it in on both sides.
Place the burger in the pan and cook for 2-3 minutes on each side.
When the burgers have cooked sear off the burger buns for 30 seconds
Add the rocket to the base of the bun, followed by the burger and then a generous topping of a chutney.
Nutrition Information:
Yield:

2
Serving Size:

1
Amount Per Serving:
Calories:

589
Total Fat:

27g
Saturated Fat:

7g
Trans Fat:

0g
Unsaturated Fat:

17g
Cholesterol:

110mg
Sodium:

987mg
Carbohydrates:

45g
Net Carbohydrates:

0g
Fiber:

3g
Sugar:

14g
Sugar Alcohols:

0g
Protein:

40g
Calorific details are provided by a third-party application and are to be used as indicative figures only.