Fish burger, cod fillet minced by hand and given a spicy Thai vibe with lemongrass, chilli & coriander, topped with an easy sriracha mayo.
The secret to the meaty texture of this burger is salting the cod and then adding a touch of bicarbonate of soda and a little bit of patience. The resting time is integral to this dish but cooking takes less than 10 minutes!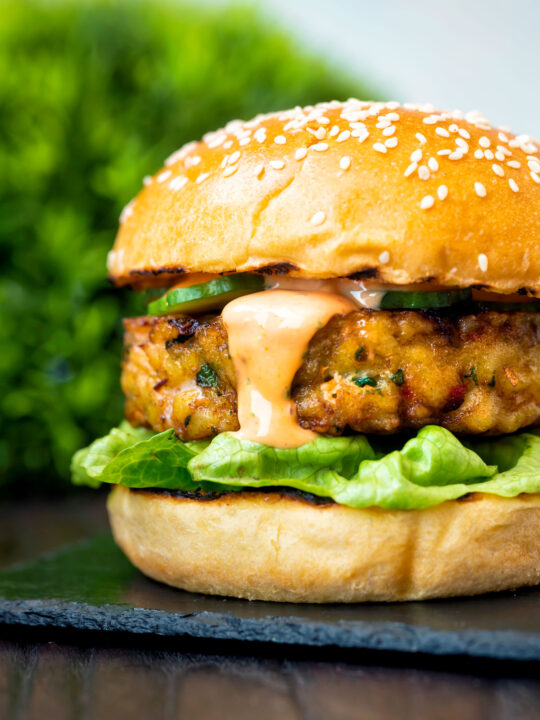 Cod Burgers with Spicy Thai Influences
I'm rather fond of the occasional burger, especially if it steps outside of the norms.
I have everything from venison burgers, and spicy chicken burgers to pork and apple burgers, but not all of my offerings are meaty and not one contain beef as yet!
This cod fish burger joins other non-meat burgers ranging from halloumi burgers to bean burgers.
Unlike many fish burgers this one does not bread a fillet of fish and fry it.
I use a technique I stumbled on by a chef called Tom Kerridge. The fish is salted for an hour which draws out moisture and firms it up, then it is minced, I use a knife for this to keep a nice chunky texture.
Then the really clever bit happens, a little bicarbonate of soda is added to the fish along with some flavourings. This firms up the burger more and helps it hold together.
The patty has a very definite meaty texture and holds together perfectly with no binding!
Just like many of my burger recipes I keep my toppings simple. Your burger should end up in your belly and not in your lap as far as I am concerned.
As a result, I opt for some cooling cucumber and lettuce and a very simple Sriracha mayonnaise. I usually use homemade mayonnaise but store-bought is fine!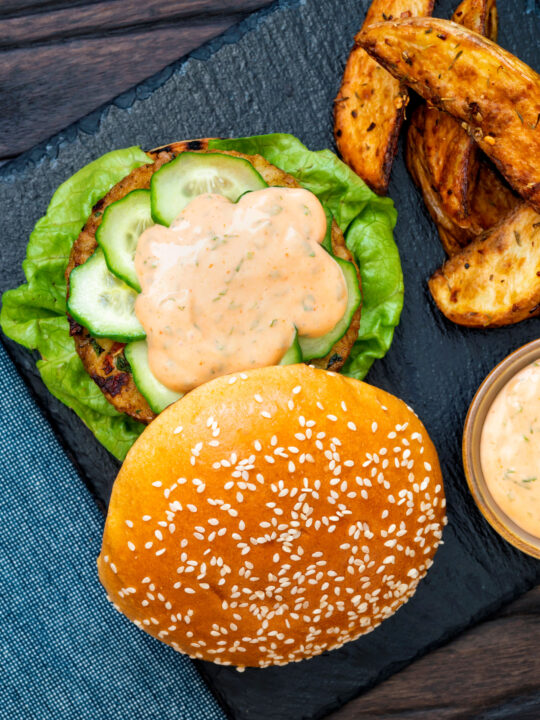 Frequently Asked Questions
Do I really have to rest the fish?
Yes, absolutely! The first resting period draws moisture from the fish which helps stop it from falling apart. The second resting period allows the bicarbonate of soda to do its thing.

Skipping either of these steps results in a burger that falls apart when cooking!
Can I use any other fish?
Yes, any firm white fish is perfect in this patty. Think about, pollock, coley, hake, haddock, all would work really well.
As we are mincing the fish you can mix whatever offcuts you have.
Can I use a mincer to mince the fish?
Yes, this works perfectly well. I personally prefer the slightly coarser texture that you get from cutting by hand, but knock yourself out.
Can I use any other hot sauce in the Mayo?
Of course, use something that you like and have at home.

As the sauce does not need cooking you can make it up as you go along, but remember, you can always add more, you cannot take any away!

Incidentally, I usually use homemade mayonnaise, it is much easier than you think and it tastes incredible!
Serving Suggestions
As with so many burger recipes I serve these fish burgers with potato wedges. Mainly because they are easy, I chuck them in the air fryer with some seasonings and job done.
But there are plenty of other options, you could add something like these carrot fries or sweet potato fries.
You could even knock up some polenta chips, just like this burger they take some planning but are easy to cook!
Salad is another great option, a sweet and sour spicy mango salad would be perfect, as would this cucumber salad.
In fact, you could even top the burger with this and it would be delicious!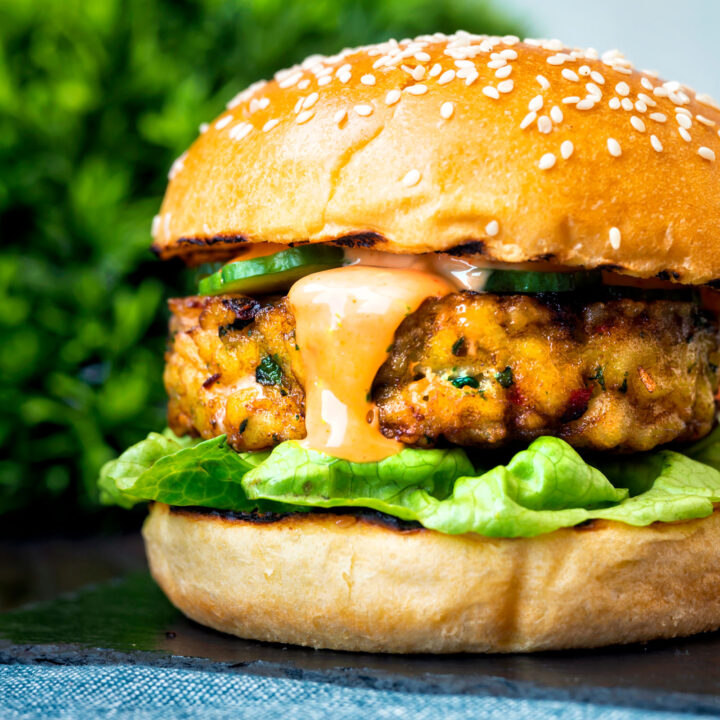 Yield:

2 Servings
Fish Burger Recipe
Total Time:
2 hours
30 minutes
This spicy cod fish burger has the most wonderful meaty texture and a mildly spicy Thai influence, finished with a simple sriracha mayonnaise you will love this sandwich!
Ingredients
250-300g (~10oz) Skinless White Fish Fillets
1 Tbsp Coarse Sea Salt
½ Tsp Bicarbonate of Soda (Baking Soda)
1 Medium Red Chilli pepper
1 Garlic Clove
1 Tsp Lemongrass paste
1 Lime
20g (~½ Packed Cup) Fresh Coriander
2 Burger Buns
Cucumber Slices
Iceberg Lettuce
3 Tbsp Mayonnaise
½-1 Tbsp Hot Sriracha Sauce
Oil for Frying
Instructions
Sprinkle the fish with the coarse sea salt and rub it all over the flesh before placing it in the fridge for an hour.
Remove the fish and wash it thoroughly before patting dry with kitchen paper.
Cut the fish into thin (3-4mm) strips along the length of the fish, then cut those strips into a 3-4mm dice. Finally using the knife in a rocking motion chop through the fish 3-4 times to mince it further before placing the fish in a bowl.
Add the bicarbonate of soda to the fish and mix well.
Dice the chilli as finely as you can and add it to the fish.
Peel the garlic and dice it as fine as you can and add it to the bowl.
Zest the lime and add it to the fish.
Finely chop 15g of the coriander and add it to the fish and mix well.
Form the mix into two burgers, I use a 9-10cm cookie cutter as a form to get a nicely shaped pattie.
Place the pattiess onto some baking parchment and then drop them in the fridge for an hour to firm up. It is important that you do not skip this step.
Mix the sriracha sauce with the mayonnaise and juice of the lime.
Finely chop the remaining coriander and add it to the sauce and mix well.
Finely slice the cucumber.
Heat a pan with 3-4mm of oil to a temperature of 170°C or 340°F.
Add the fish burgers and fry for 3 minutes before flipping and cooking for another 3 minutes.
Heat a griddle pan over a high heat and toast the buns for 2-3 minutes.
Build your burger, I start with lettuce, followed by the pattie, then cucumber and finally the sriracha mayonnaise.
Nutrition Information:
Yield:
2
Serving Size:
1
Amount Per Serving:
Calories:

601
Total Fat:

34g
Saturated Fat:

4g
Trans Fat:

0g
Unsaturated Fat:

28g
Cholesterol:

91mg
Sodium:

4185mg
Carbohydrates:

34g
Fiber:

3g
Sugar:

8g
Protein:

41g
Calorific details are provided by a third-party application and are to be used as indicative figures only.