Homemade spinach and ricotta ravioli may sound lahdedah but it is really easy as is the delicious lemon caper butter sauce!

Spinach and ricotta is a classic filling for either tortellini or ravioli for good reason, it is delicious!

Rather than adding the traditional nutmeg this recipe runs with lemon zest and lots of black pepper in the filling.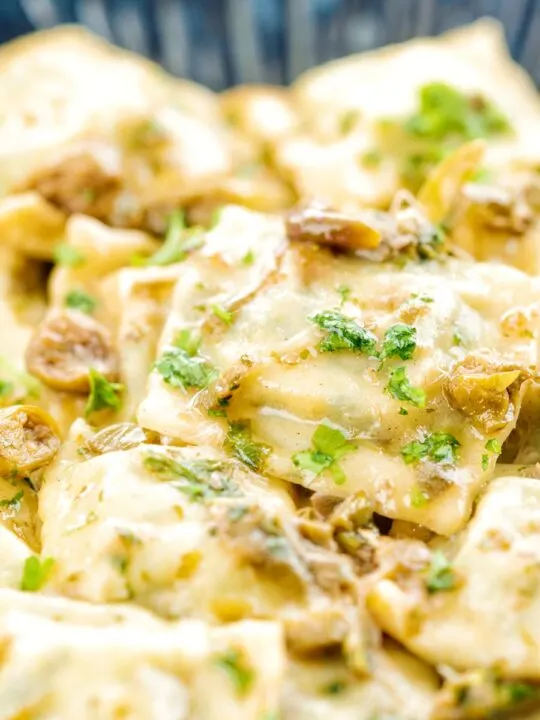 Spinach and Ricotta Pasta
I love making pasta. Of course, I do not do it all of the time and sometimes dried pasta is better.
But when it comes to homemade ravioli you cannot beat fresh pasta. It is also super simple to make.
You could use my duck egg pasta recipe or make up a batch as per the recipe below.
The vibrant lemon caper butter sauce that we serve with the ravioli is the perfect complement to our ricotta cheese filling.
I adore these flavours, they feature in everything from my ricotta cheese gnocchi to my tuna steak with a capers.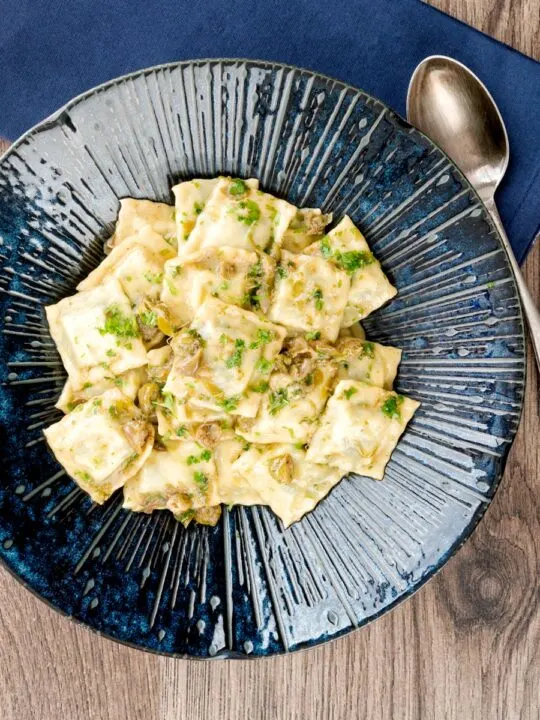 Frequently Asked Questions
Can I make ravioli in advance?
Yes, in fact, in many ways they are best left sitting for an hour or so before cooking although it is not vital. Just sit them on some greaseproof paper.

You can make the pasta up to two days in advance and keep it wrapped in film in the fridge.

The filling can be made up to 8 hours in advance although it is best used within 2 hours. I find leaving it overnight leads to some liquid separation.
Can I Freeze Ravioli?
Yes, you will need a larger freezer though as you need to freeze them in a single layer on a tray. Then you can bag them when frozen solid.

Cook them from frozen in well-salted boiling water for 4-5 minutes.
Should I use salted or jarred capers?
All of my recipes use jarred capers and this spinach and ricotta ravioli is no different.

Sure dried salted capers taste better, but they are both more expensive and require much more work before you get to eat them.

I personally do not find the extra cost or time is worth it.
What's the best ratio of egg to flour for pasta?
I personally advocate weighing the eggs when making fresh pasta and multiplying that by 1.5 to get the amount of flour required.

This allows me to the precise and get perfect pasta every single time. It also means I can add extra egg yolk, this makes for a much richer pasta.

It also allows me to use duck or goose eggs to make pasta whenever I get my hands on them.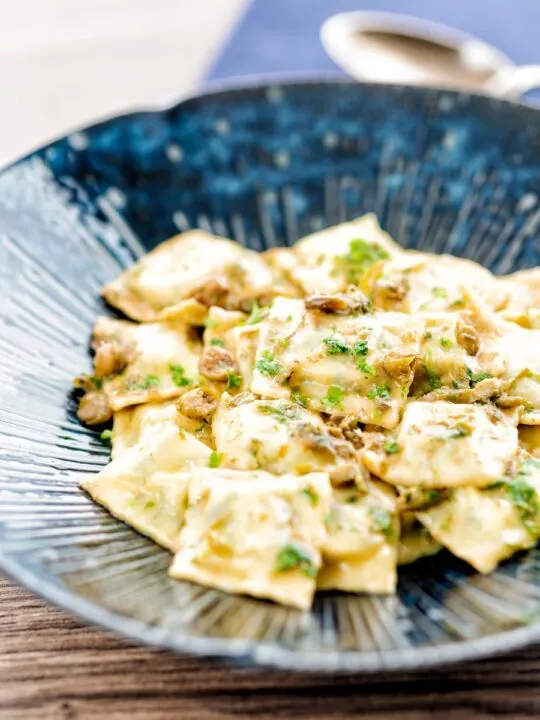 Pros and Cons of Ravioli Moulds
This recipe joins my balsamic mushroom ravioli recipe and in that one, I make hand-formed ravioli.
In this recipe, just like my crab ravioli recipe, I use a ravioli mould. You should use whichever you are most comfortable with.
Both my pasta machine and ravioli moulds are made by Imperia.
I personally find a mould a little slower to work with than making ravioli by hand.
However, I do find that they create ravioli that are better sealed and are less likely to burst when cooked. This is probably because it is more difficult to rush.
The mould has become my go-to way of producing ravioli in recent years.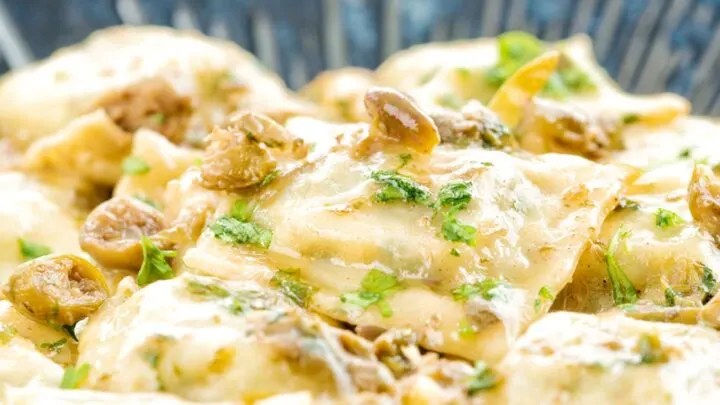 Equipment Used
I only name-check brands of equipment if I think that they make a material difference to a recipe. But if you have any questions feel free to ask them in the comments section below the recipe.
Pasta rolling machine, you could in theory do it by hand with a long rolling pin! My machine is made by Imperia.
Ravioli moulds, you can make ravioli by hand, however, I strongly prefer using a mould. I use moulds made by Imperia.
Ravioli cutter or roller. You could use a knife.
Stovetop.
24cm or 10″ saucepan.
30cm or 12″ saucepan with a lid.
Mixing bowl.
Weighing scales and or measuring cups and spoons.
Citrus zester.
Chopping board.
Kitchen knife.
Kitchen towel to squeeze out the liquid from the spinach.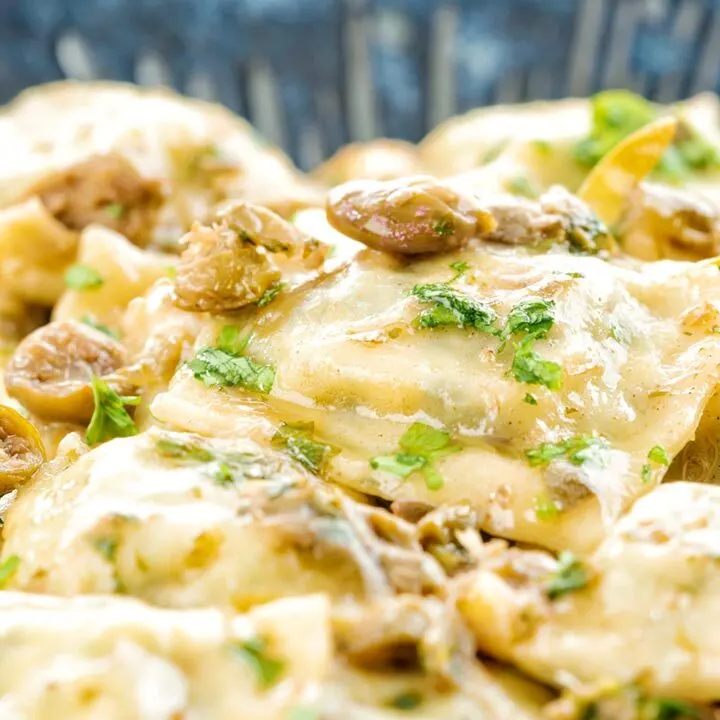 Yield:

2 Servings
Spinach and Ricotta Ravioli Recipe
Total Time:
1 hour
30 minutes
Light bright and zingy, these homemade spinach and ricotta ravioli are delicious and are the perfect way to learn how to make homemade pasta.
Ingredients
1 Large Egg + 1 Egg Yolk
105g (~1 Cup) 00 Flour
150g (5 Cups) Spinach
100g (~½ Cup) Ricotta Cheese
1 Lemon
25g (¼ Cup) Parmesan Cheese
½ Tsp Freshly Ground Black Pepper
50g (3 Tbsp + 1 Tsp) Butter
35g (¼ Cup) Capers
10g (~¼ Cup) Fresh Parsley
Salt to taste
Instructions
Place the flour on a clean work surface and create a well in the centre.
Add the egg and egg yolk and bring together slowly with a fork, working from the edges to the centre.
Once most of the flour is incorporated knead for 10 minutes, then wrap in cling film and rest for 30 minutes.
Heat a dry 30cm or 12" frying pan over a high heat, when hot add the spinach and a tablespoon of water, then drop on a lid and cook for 2 minutes.
Remove the lid stir and continue to cook off any liquid until the base of the pan is dry, then cool the spinach.
Zest the lemon.
When cooled place the spinach in a dry clean tea towel and squeeze out as much liquid as possible.
Chop the spinach then place it in a bowl with the ricotta cheese, lemon zest, parmesan cheese and black pepper, then mix well. Have a taste of the filling and add salt to taste, remember that the pasta with be cooked in salted water!
Bring a 24cm or 10" saucepan of well-salted (I use 2 teaspoons of salt in a pan this size) water to the boil
Roll out the pasta as thinly as you can using a pasta machine.
Dust a ravioli mould with flour and add a sheet of pasta.
Fill the holes with the stuffing and cover with a second sheet of pasta. Then dip your finger in water and run around the edges of each ravioli "hole". Roll with a rolling pin to seal, then turn out and cut into ravioli.
Heat the frying pan you used to wilt the spinach over a medium-high heat and add the butter.
Drop the ravioli into the boiling water and cook for 1-2 minutes or until they begin to float.
Add the capers to the butter when it begins to foam.
Add the drained ravioli to the butter, squeeze in the juice of half a lemon and add the parsley.
Stir to combine and serve whilst hot.
Nutrition Information:
Yield:
2
Serving Size:
1
Amount Per Serving:
Calories:

418
Total Fat:

15g
Saturated Fat:

7g
Trans Fat:

0g
Unsaturated Fat:

6g
Cholesterol:

213mg
Sodium:

226mg
Carbohydrates:

53g
Fiber:

3g
Sugar:

2g
Protein:

18g
Calorific details are provided by a third-party application and are to be used as indicative figures only.