This halloumi burger has been my main summer squeeze this year and you can use those spicy harissa onions in so many places!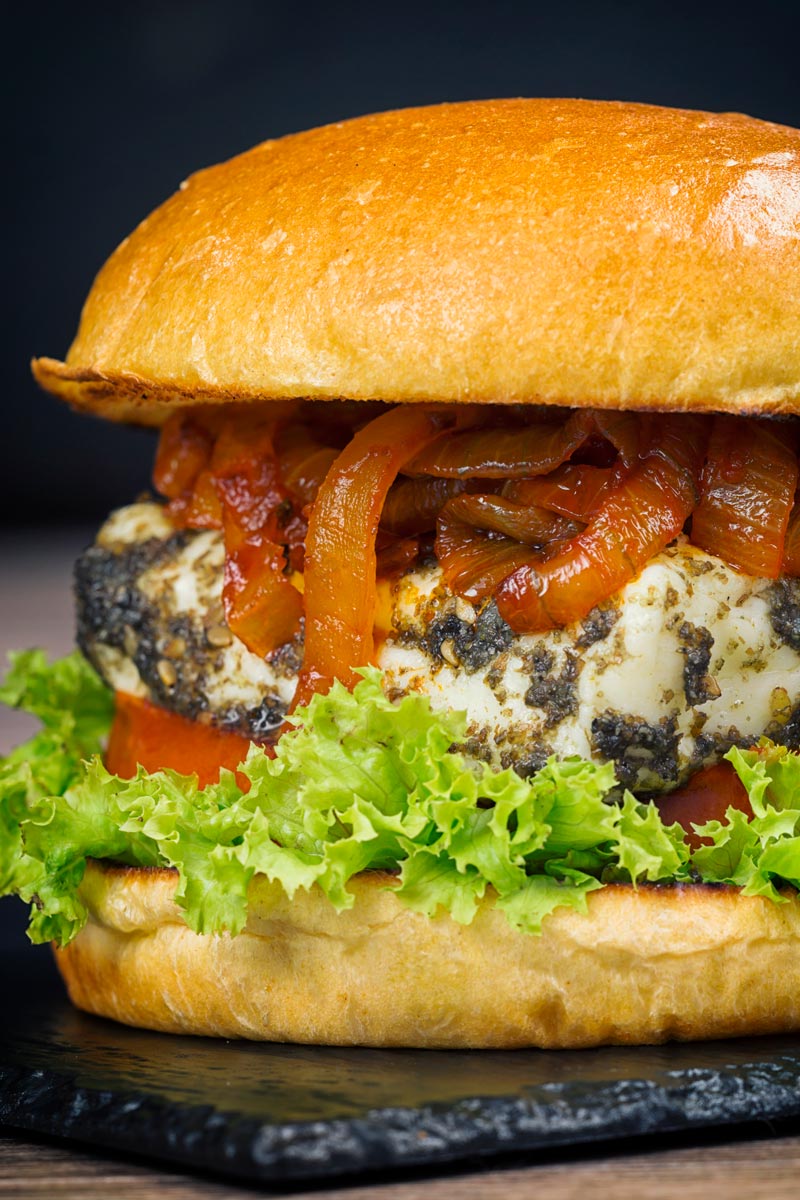 The Perfect Halloumi Burger.
This recipe is a bit of a revelation recipe as it is one that made my wife smile. She is less than enthusiastic about halloumi, that squeaky texture is a bit polarising.
I personally love it and this recipe leans on similar flavours to my zaatar halloumi cheese with couscous recipe.
Like many fresh cheeses like mozzarella or paneer, halloumi is not blessed with huge amounts of flavour.
It is slightly acidic and quite salty but that is about it.
But it does deliver flavour so well. Here I rely on North African/Middle Eastern flavours.
The fragrant and heady spice mix zaatar coats our cheese and gets a little sprinkle of sumac to serve.
Other than that I keep this burger simple, a thick slice of seared beef tomato and some bitter frisee lettuce.
Then we have the onions and what great onions they are.
Add some perfectly cooked wedges and you are good to go!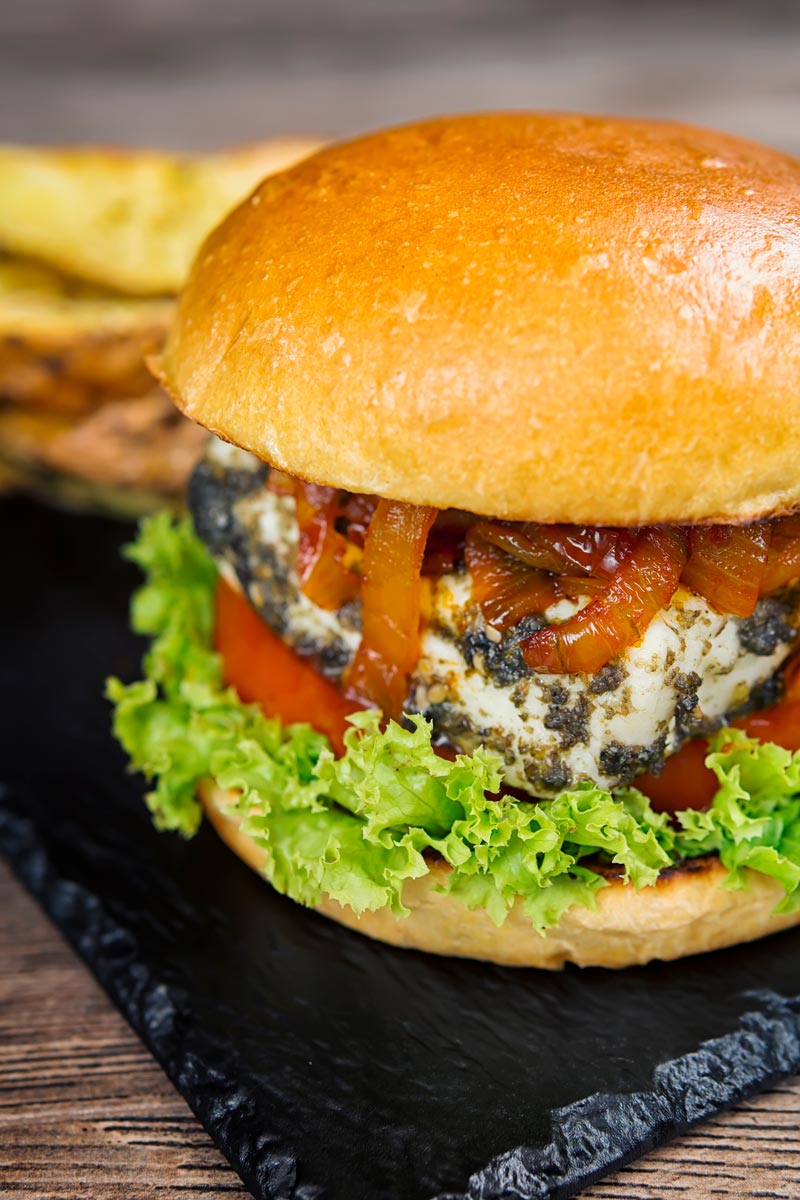 Harissa Onions!
Onions are always closely associated with burgers and I like to get a little creative with mine.
My Indian lamb burger uses lightly pickled red onions, my veal burger runs with slow-cooked sticky port onions.
This veggie burger goes with the slow cooked 'thang' and some gorgeous harissa spiked onions.
The key to cooking them is not rushing… Like so many things in the kitchen allowing food to develop slowly is so important.
Trying to speed up slow cooked onions will just create a bitter crispiness to the onion. It is not nice, these are sweet and spicy and all sorts of yummy.
The burger itself takes just 10 minutes to cook, but the onions take an hour.
The good news is that you can make them in advance and set them aside and just heat up before serving.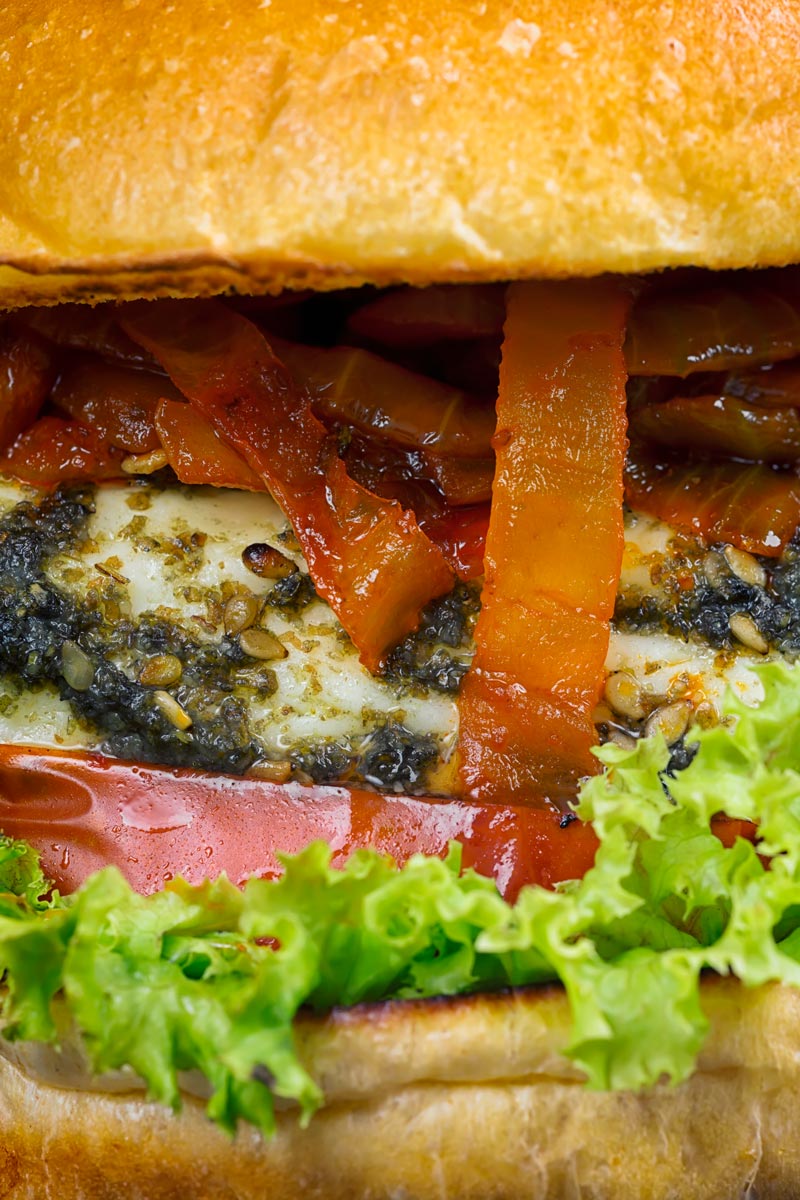 Why Doesn't Halloumi Cheese Melt?
Halloumi cheese starts its life as milk just like cheese does.
But it does not melt like most cheeses. When processed it gets split into curds and whey like all other cheese.
However, halloumi takes a turn from the norm here and the curds are cooked at a high temperature before being formed.
This process gives halloumi cheese it's telltale texture!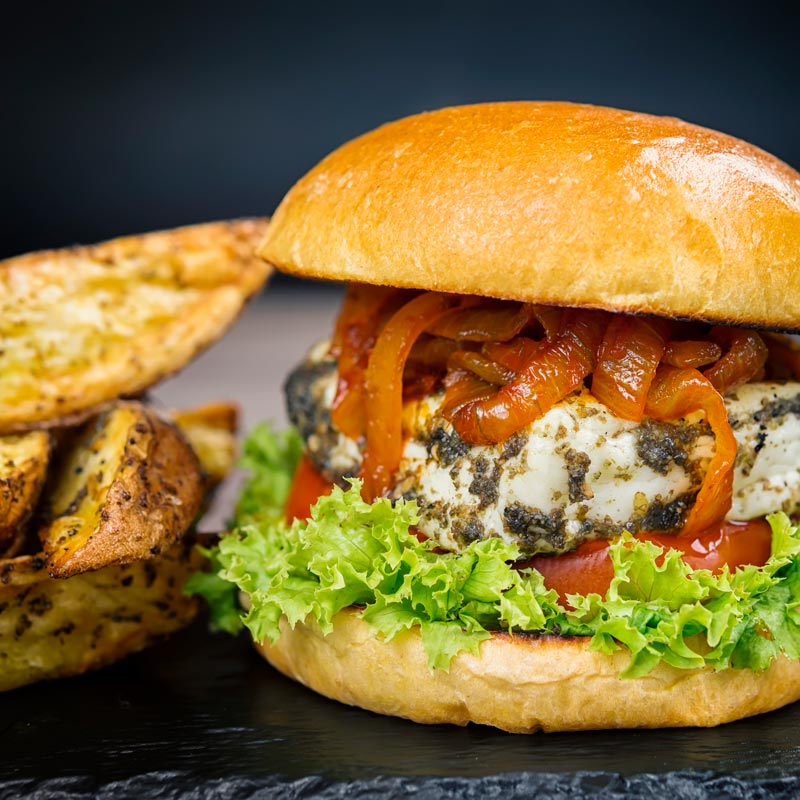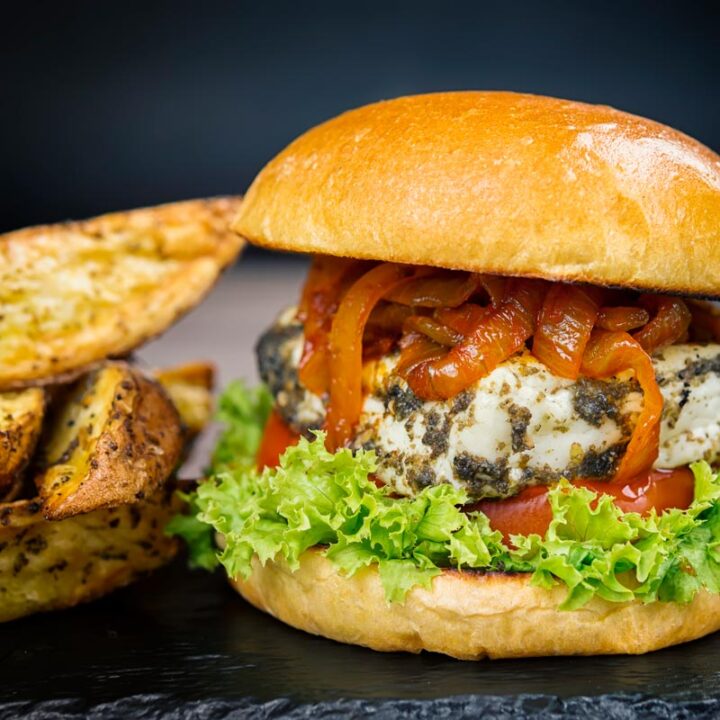 Halloumi Burger with Harissa Onions
Total Time:
1 hour
5 minutes
These Halloumi Burgers feature a massive punch of North African flavours and a healthy kick of chilli from harissa paste that helps make the most incredible onions.
Ingredients
250 g Halloumi Cheese
1 Tbsp Olive Oil
2 Tbsp Zaatar
350 g Onions
1 Tbsp Cooking Oil
2 Tbsp Harissa Paste
1 Large Tomato
Frisee Lettuce
2 Burger Buns
Pinch of Sumac
Instructions
Cut the halloumi cheese into slices that are good to fit on a bun.
Pour the olive oil over these slices and then rub in the zaatar.
Place in the fridge and allow to sit whilst we make the onions.
Heat the oil for the onions over a medium heat.
Drop the onions into to pan with the oil and allow to cook for 10 mins.
Add in the Harissa Paste and stir to combine.
Reduce the heat to medium low and then cook for a further 50 mins stirring occasionally.
Don't worry about the onions catching a little, you want them to caramalise a bit, but not burn. Just scrape them off the bottom of the pan.
After half an hour or so taste the onions and season with salt to taste.
When the onions are almost done slice your tomatoes into thick 1cm slices.
Chop the frisee lettuce and refresh in iced water.
Heat a frying pan over a high heat and sear off the tomatoes. You are just aiming to get a little colour and not cook them.
Dry the frisee lettuce and set aside.
Add the marinated halloumi to the pan over a high heat and cook for two minutes a side.
Finally, build the burger.
I like to split my buns and sear them cut side down in the halloumi pan for 30 seconds.
On with the frisee lettuce, then tomato slices with a pinch of sea salt, followed by the halloumi.
Sprinkle the cheese with sumac and then add onions.
Nutrition Information:
Yield:

2
Serving Size:

1
Amount Per Serving:
Calories:

792
Total Fat:

49g
Saturated Fat:

19g
Trans Fat:

0g
Unsaturated Fat:

25g
Cholesterol:

99mg
Sodium:

1431mg
Carbohydrates:

55g
Fiber:

9g
Sugar:

16g
Protein:

38g
Calorific details are provided by a third-party application and are to be used as indicative figures only.